5 meal prep strategies that can help you eat healthier through the week!
When it comes to meal prep, it's not going to look the same for each individual or family. Some people can't stand eating the same thing for dinner each night, while others are happy to do so. Some people don't want to cook at all on a week night while others don't mind it.
Through trial and error, you can try out these meal prep strategies to find out which one works best for you and your family.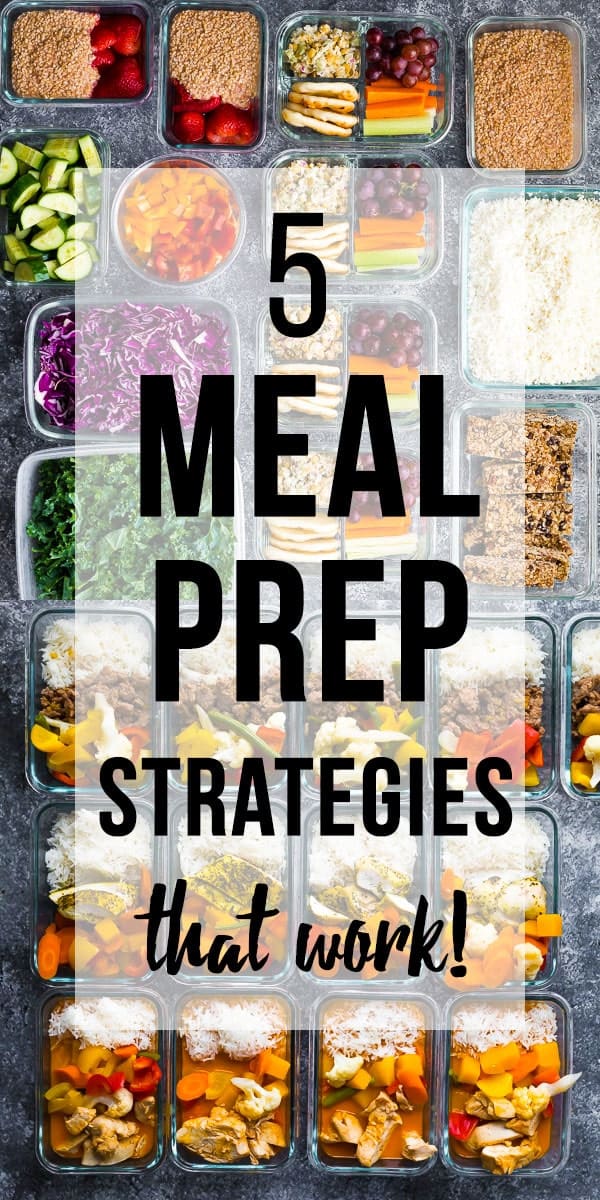 I also want to remind you that you don't need to prep all your meals ahead to feel the benefits of meal prep! Even just picking one meal to prep ahead is going to help you out through the week.
If you are new to meal prep, I highly recommend starting with just one or two recipes and adding in more as you feel more comfortable and get a feel for what strategy works best for your family.
1. Buffet Style Meal Prep
A lot of people enjoy prepping their veggies, protein and carbs ahead, then using them for easy meals.
This is great for tacos, salads, burrito bowls and that sort of thing. You can also prep a big portion of protein and use that as a base for several meals through the week.
Some ideas:
Rice cauliflower (see my tutorial + video on how to make cauliflower rice)
chop & peel veggies for veggies & dip
wash & shred kale and/or romaine
give your berries a quick vinegar wash
chop up salad components like cucumber (lasts 2-3 days), bell peppers (last 4-5 days), onions (lasts up to 4 days)
cut up veggies for roasting like zucchini (lasts up to 4 days), red onions (lasts up to 1 week depending on freshness), brussels sprouts (up to 4 days), broccoli & cauliflower (great for 1 week), and so many more!
spiralize zucchini, carrots, cabbage, butternut squash and more! (note- sweet potato cannot be pre-spiralized as it hardens)
roast up vegetables or potatoes in some seasoning (here are 7 spice blends you can use!)
shake together vinaigrettes, stir fry sauces, etc
cook up grains, pasta, quinoa (in your rice cooker)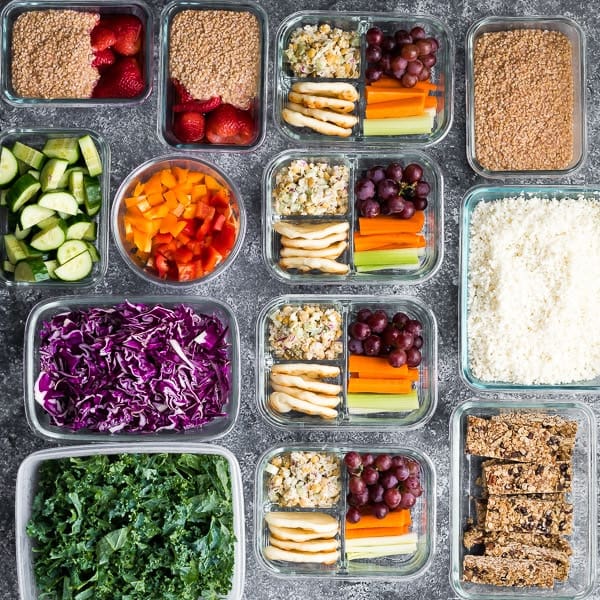 Example of a buffet-style meal prep with chopped cucumbers, chopped cabbage, chopped bell peppers, washed & shredded kale, and riced cauliflower (among other things)
2. Batch cooking
Aka: cook up a big batch of something and enjoy it through the week. This way, you simply need to reheat for easy meals
Some ideas:
Easy big batch slow cooker recipes:
Easy big batch Instant Pot recipes:
Easy big batch oven recipes:
3. Portion things out
Whether it is an entire meal or just a component, portioning out is one of the most important steps of meal prep because it means you can just grab your meal and go.
Some ideas: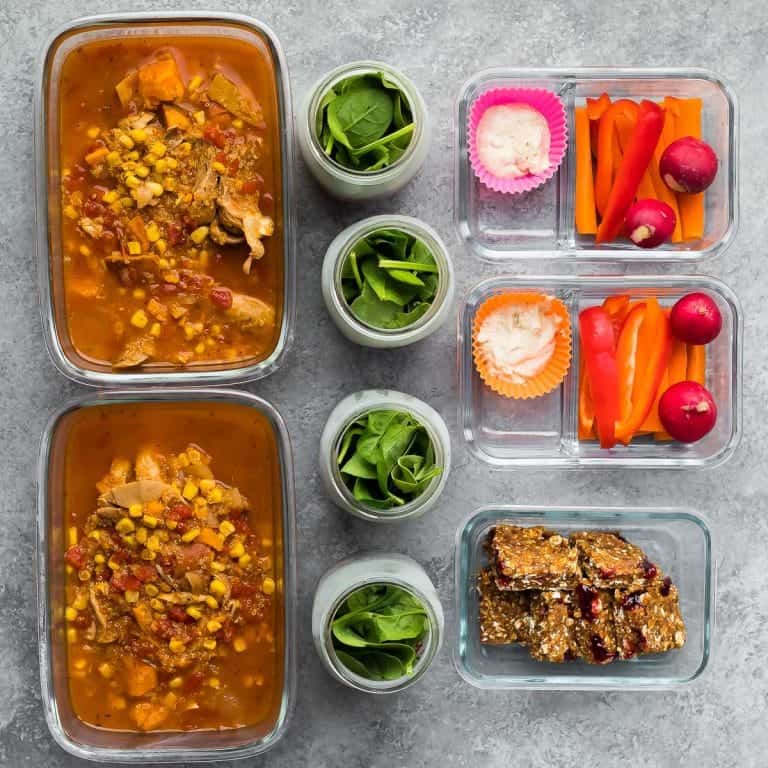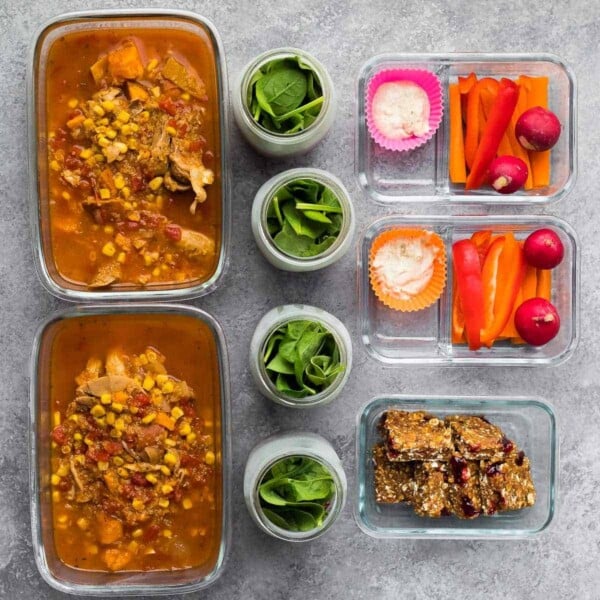 Example of batch prepped chili & portioned out smoothie packs, veggies & dip
4. Assemble ingredients but don't cook
I love to do this with crockpot freezer or Instant pot freezer meals. Typically, this refers to freezer meals, but you can often store in the fridge as well. By assembling your meals ahead, when it comes time to cook, you simply need to dump them in the slow cooker, Instant Pot, skillet or oven and let them cook!
Some ideas:
portion chicken into marinades (here are 7 marinades and here are 7 more!)
make some freezer crockpot chicken packs (here are 7 Slow Cooker Chicken Recipes you can freeze)
here are some other freezer crockpot recipes that take under 15 minutes to assemble:
make some freezer Instant Pot chicken packs (here are 7 Instant Pot Chicken Breast Recipes you can freeze)
here are some other freezer Instant Pot recipes that take under 15 minutes to assemble:
portion out some meals that you can cook up in a skillet or in the oven: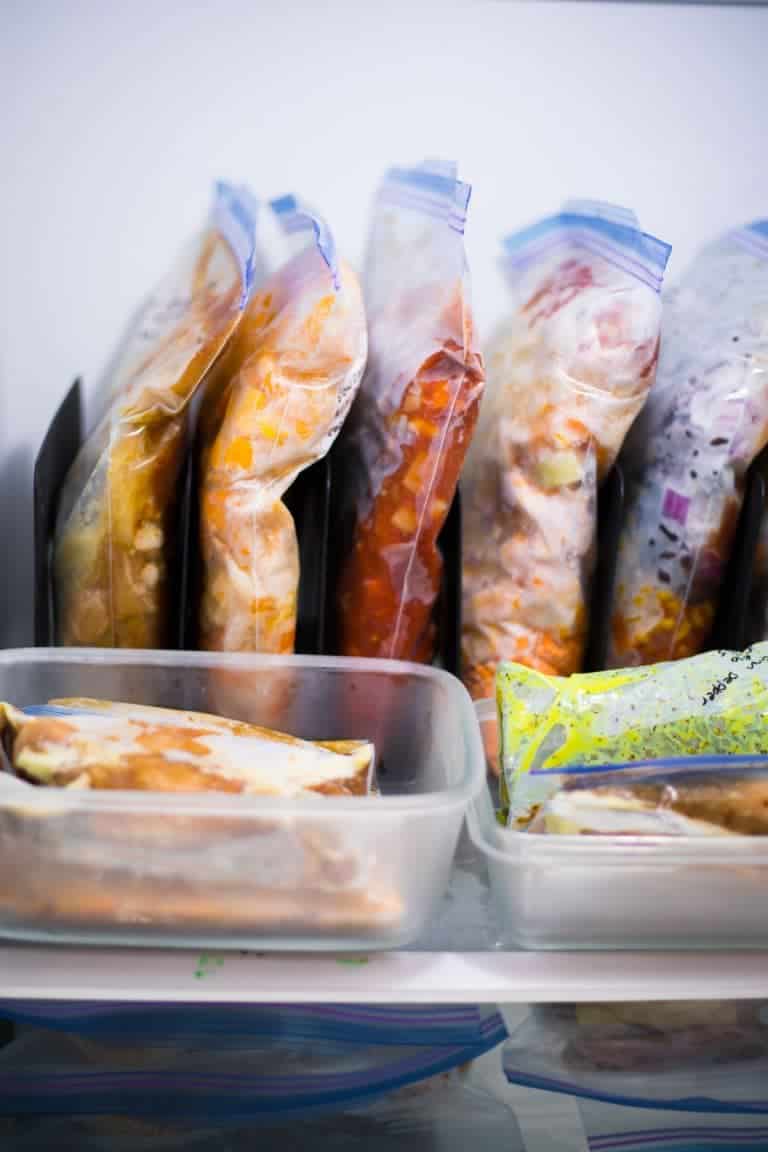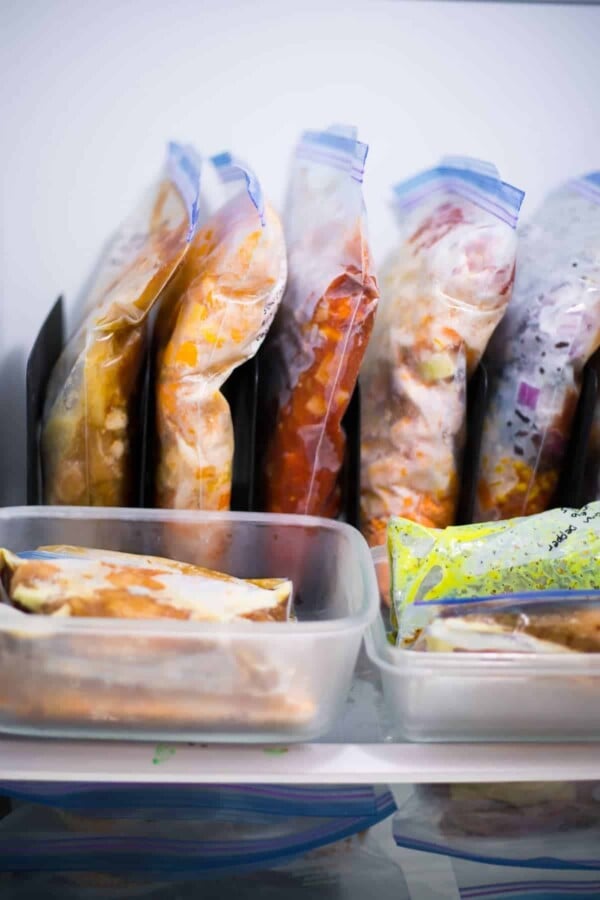 Crockpot freezer meals and freezer chicken marinades are two examples of 'assemble but don't cook' meals.
5. Pre-cooked meals
This is my approach for breakfasts and lunches, and is perfect for meals that you don't have time to prep on the days you will eat. All you need to do is grab them from the fridge, re-heat if necessary, and enjoy!
Some ideas: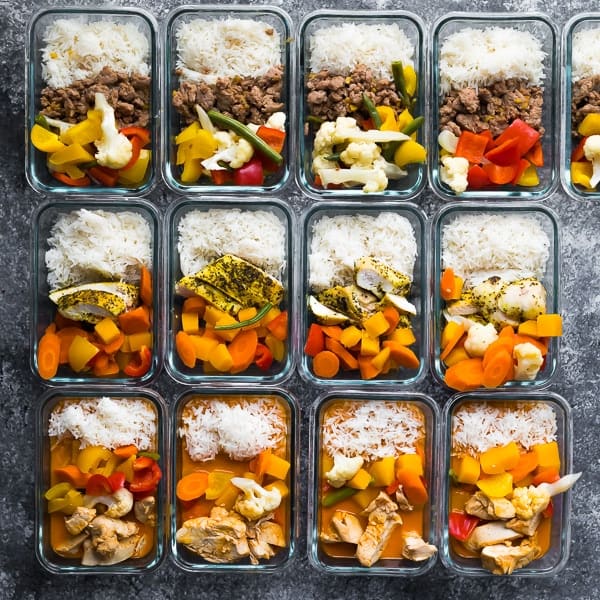 Examples of fully cooked meals: Korean Turkey Meal Prep Bowls, Lemon Pepper Chicken and Instant Pot Thai Curry
Pick one of these meal prep strategies and get started. You can refine the process over time and find what works best for you. 
For my family, I pick a combination of pre-cooked meals (breakfasts & lunches), portioned out snacks, and freezer slow cooker or Instant Pot meals (dinners).


You really do!
The benefits of meal prep are so worth the effort. You will save yourself time and money. You will feel less stress. You will eat healthier. Just remember this if you start to feel the resistance (the one that tells you you'd rather watch Netflix).
Feel free to leave a comment with any questions you might have. I love sharing the meal prep love and I'm here to help!
XO