7 easy dry rub recipes for chicken or veggies– these rubs are absolutely perfect to mix up the flavors in your meal prep! They are great on sheet pan dinners, roasted or grilled veggies, meat and seafood.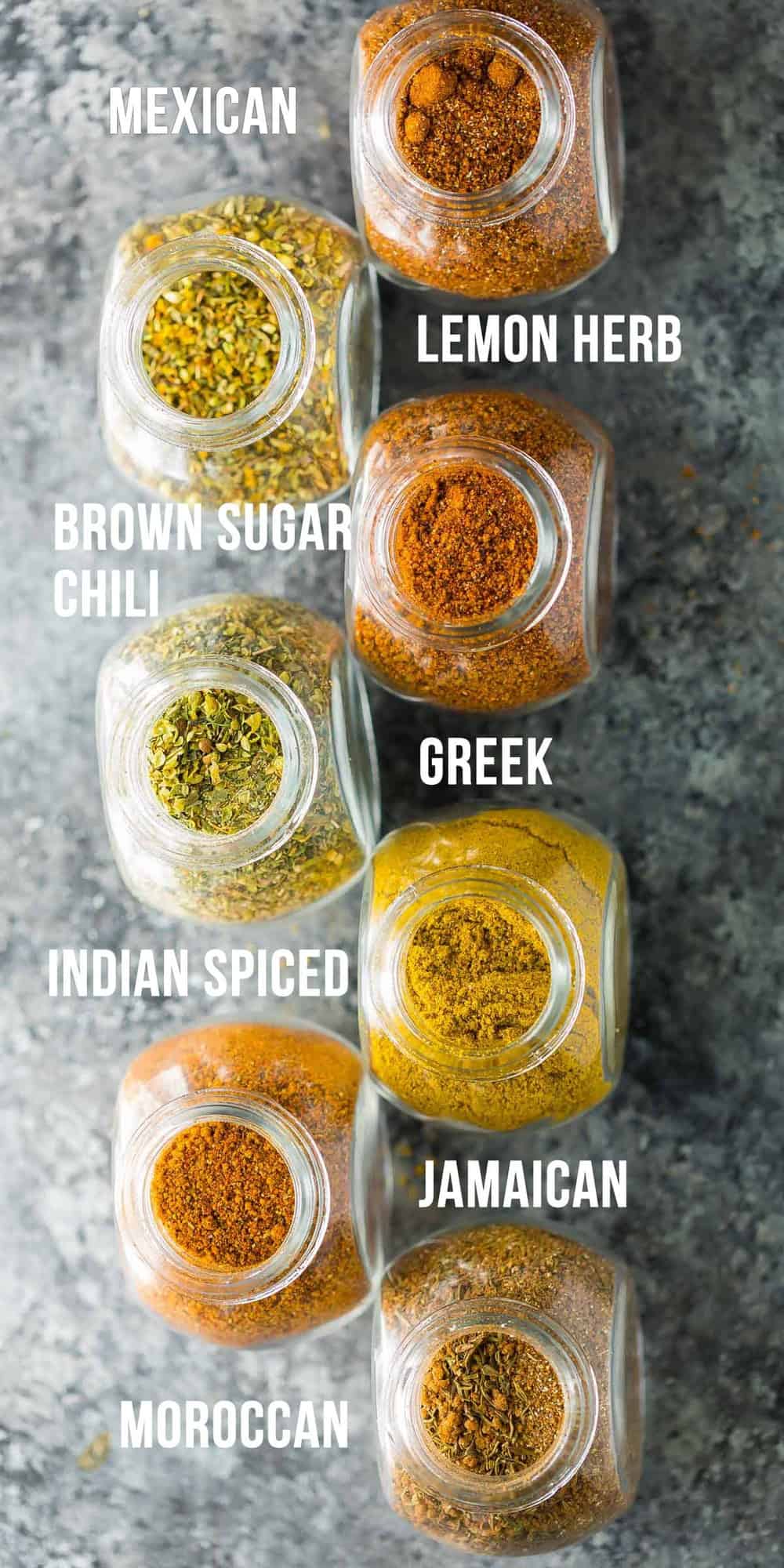 NEW: get a free printable with all seven dry rub recipes here!
After the huge popularity of these 7 Chicken Marinade Recipes You Can Freeze, I thought it would be really great to share some dry rub recipes with you!
If you ask me, dry rub recipes are even more useful than marinades, because you don't need to plan ahead. Having salmon/chicken/roasted veggies for dinner? Any one of these rubs will work, and they will all give a completely different flavor profiles. PLUS: you don't need to do anything ahead of time!
Some of these dry rub recipes are ones I've used in previous posts, and some of them are brand new. And look out because I may start adding new rubs to this post as I come up with them! I have a number of rubs on my list that I didn't quite get around to making.
So let's get into it, shall we?
Don't forget to pin this recipe to save it for later!
Watch the video below to see exactly how I prepped four of these dry rub recipes. It's so easy! You can find more of my recipe videos on my YouTube channel, or on Facebook.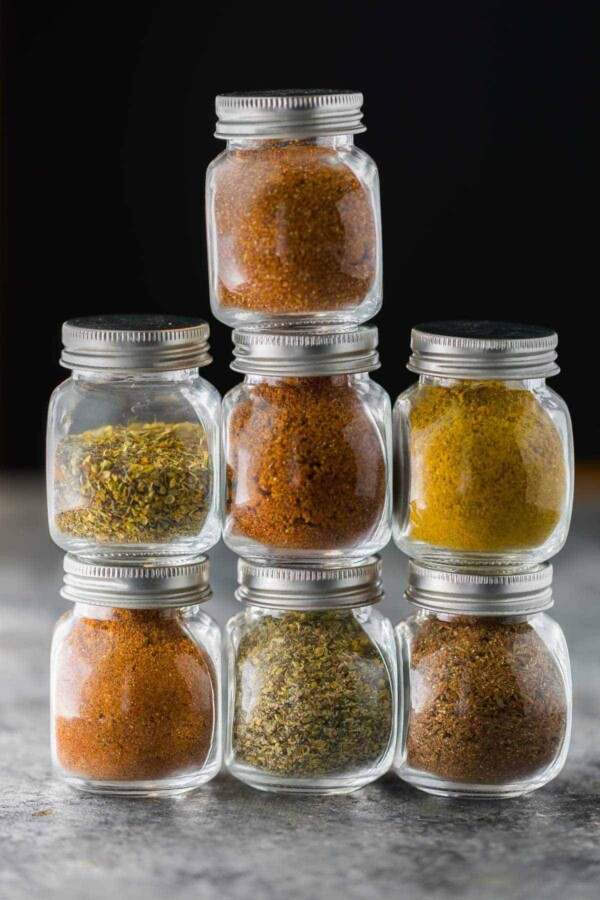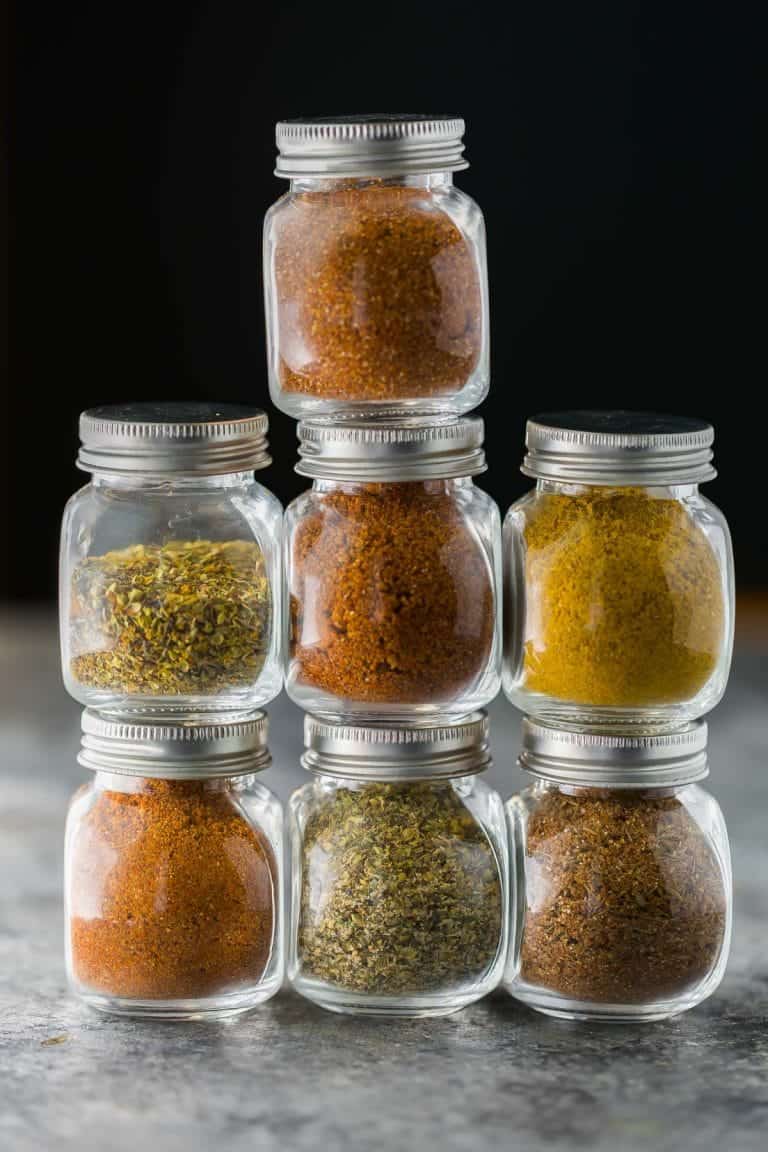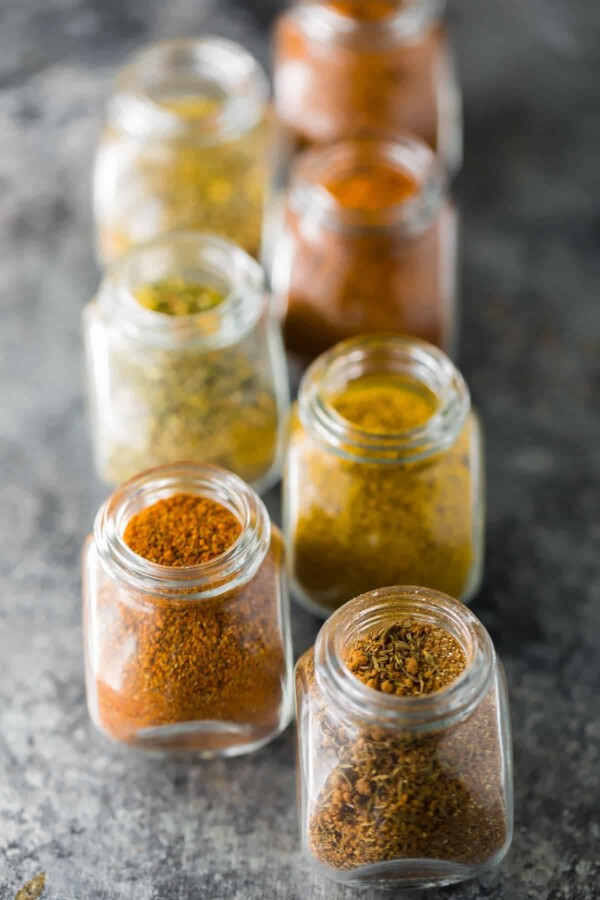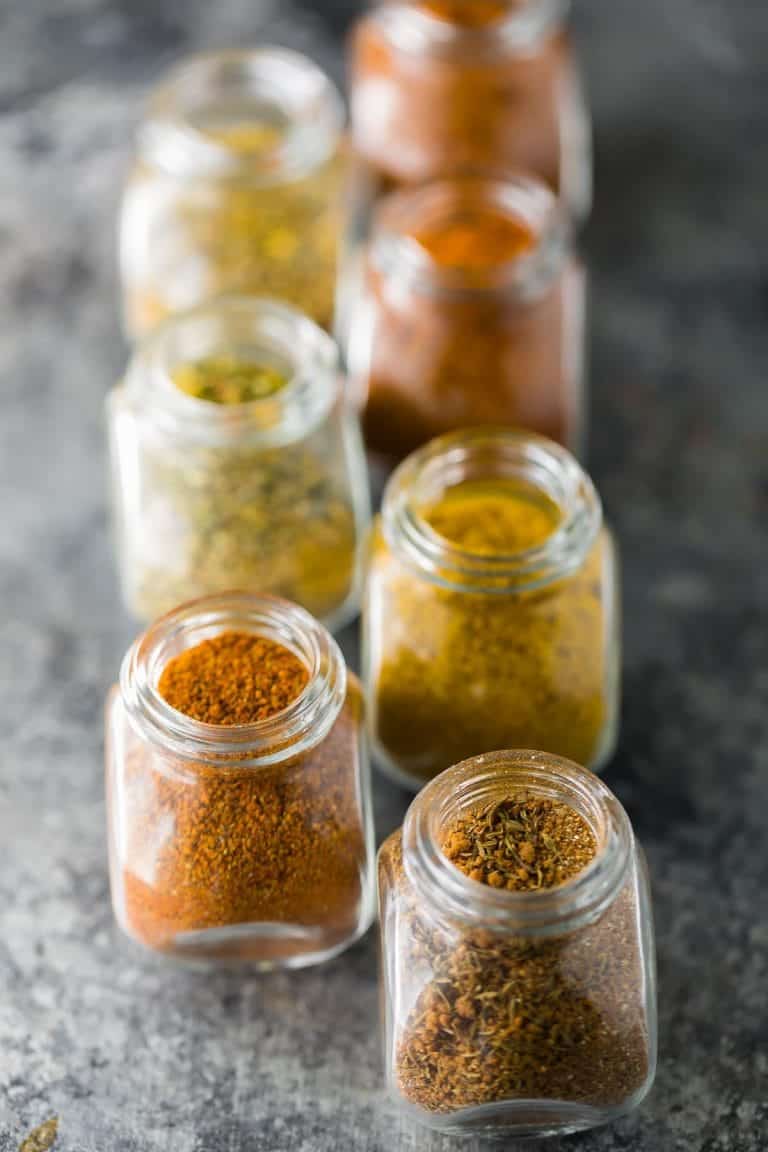 What equipment will you need to make these dry rubs?
some measuring spoons
some 3-4 oz spice jars (I couldn't find these exact jars on Amazon, but these ones look great and have cute chalkboard labels to go with them!)
a spice funnel would be useful but is not necessary
spices galore! None of these spices are obscure or hard to find, so you should be able to stock up at your grocery store or bulk foods store!
Let's check out these 7 easy dry rub recipes for chicken and veggies!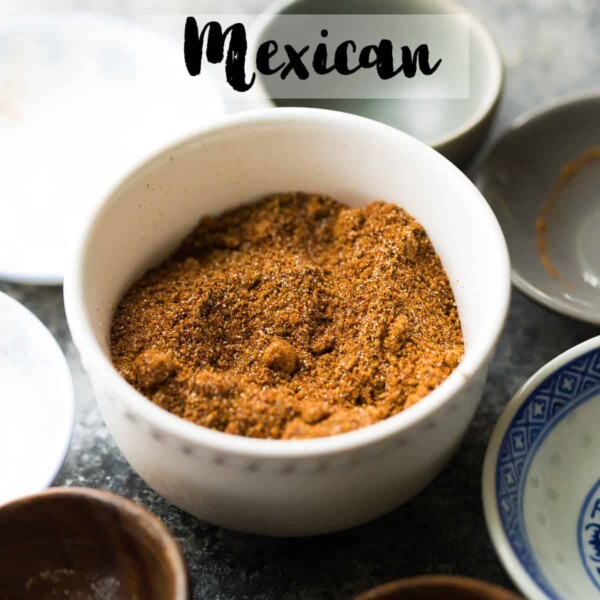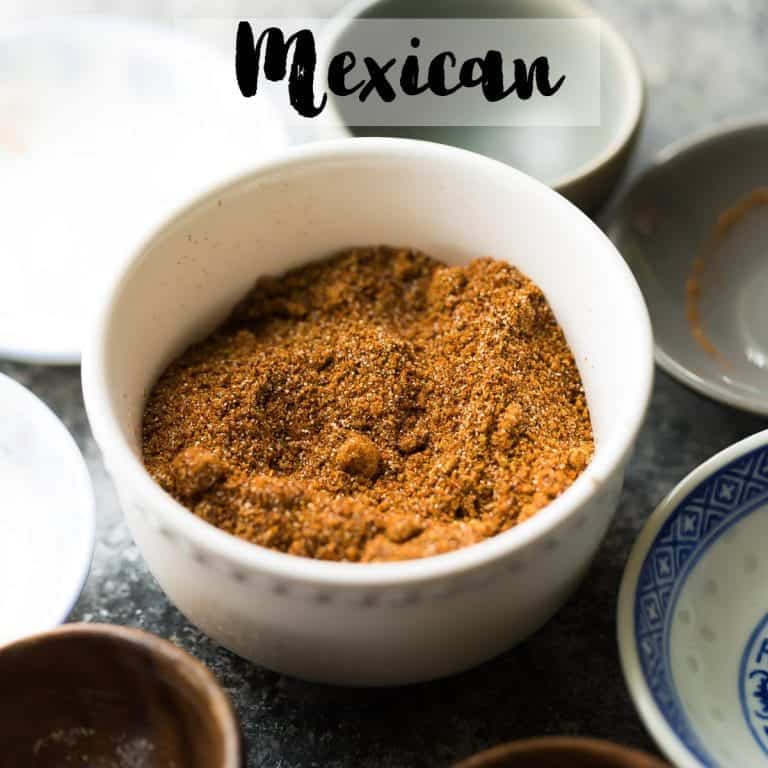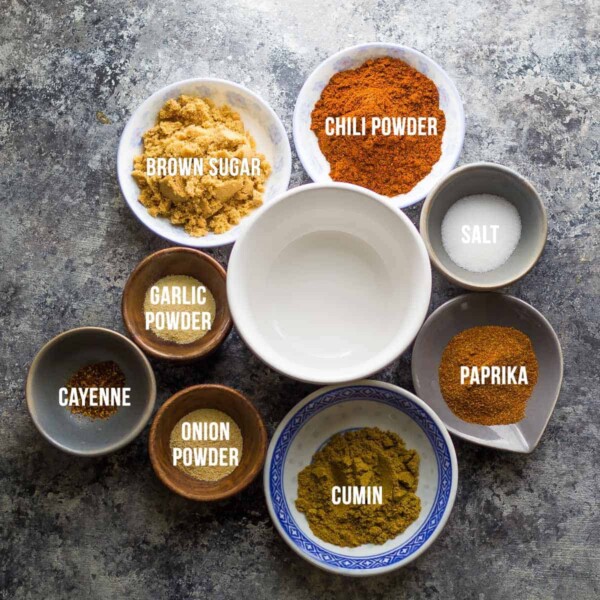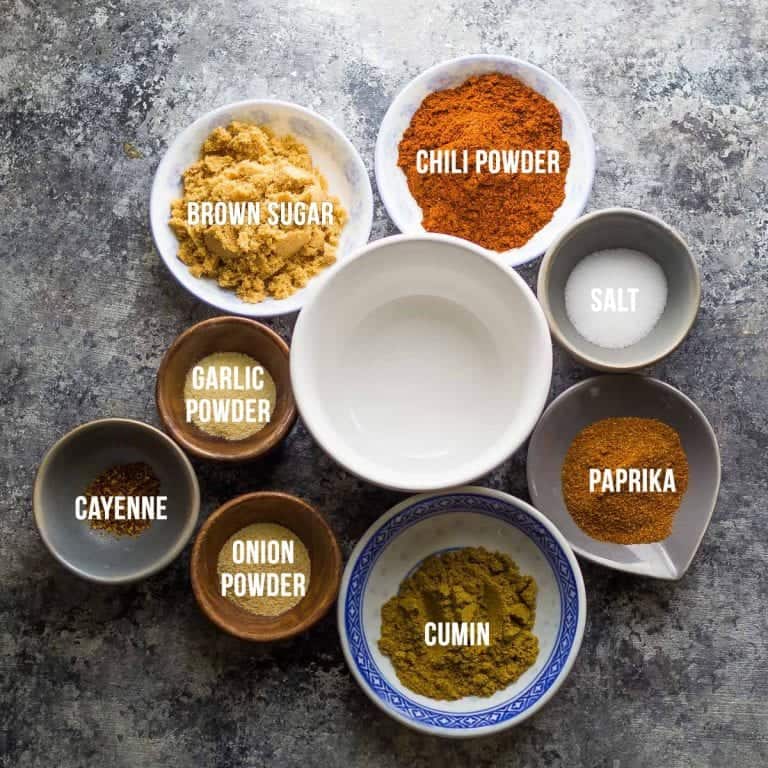 GRAB THE PRINTABLE RECIPE FOR THIS HOMEMADE FAJITA SEASONING HERE
1. Mexican (Fajita) Dry Rub
If this dry rub looks familiar, you may have participated in our April 2017 Lunch Prep Challenge, where we made sheet pan fajitas. This is my favorite fajita seasoning, and while it makes great fajitas, you can use it on so many other meals as well: salmon, grilled veggies, potatoes (<–so good!). There is a touch of sugar, and this is important to balance out all of the savory flavors, but this dry rub doesn't taste sweet at all.
Try this fajita dry rub on:
grilled potatoes & grilled salmon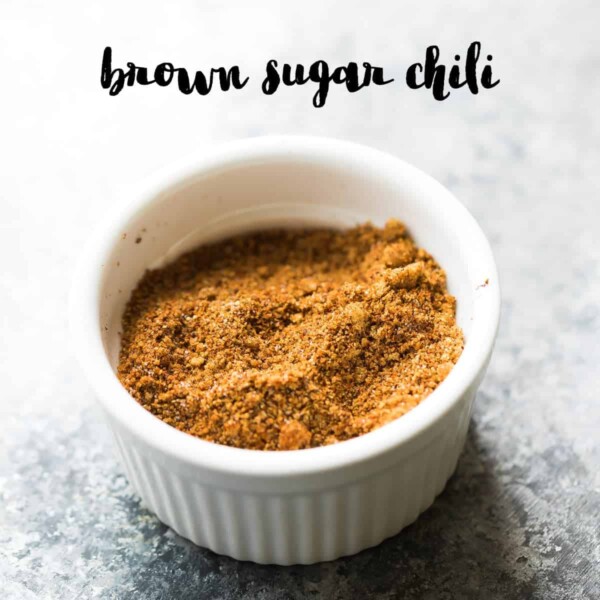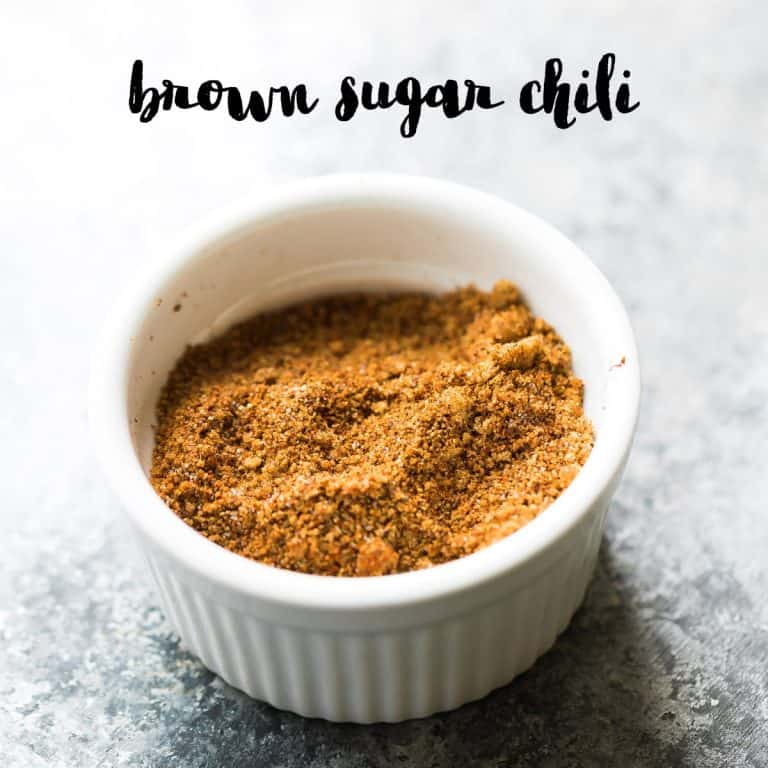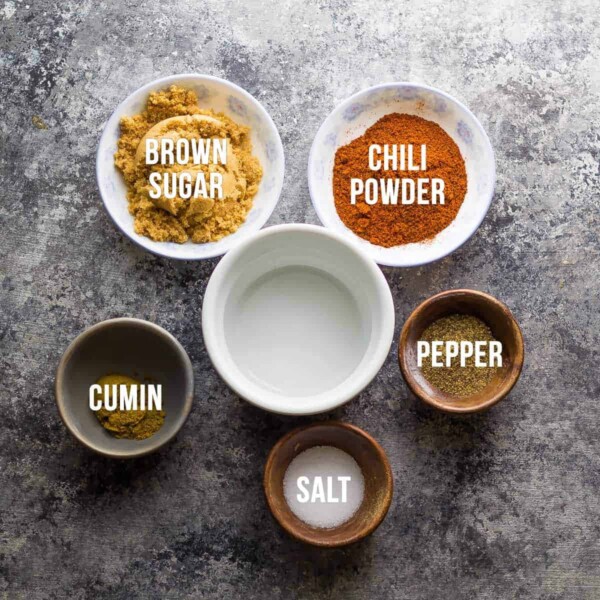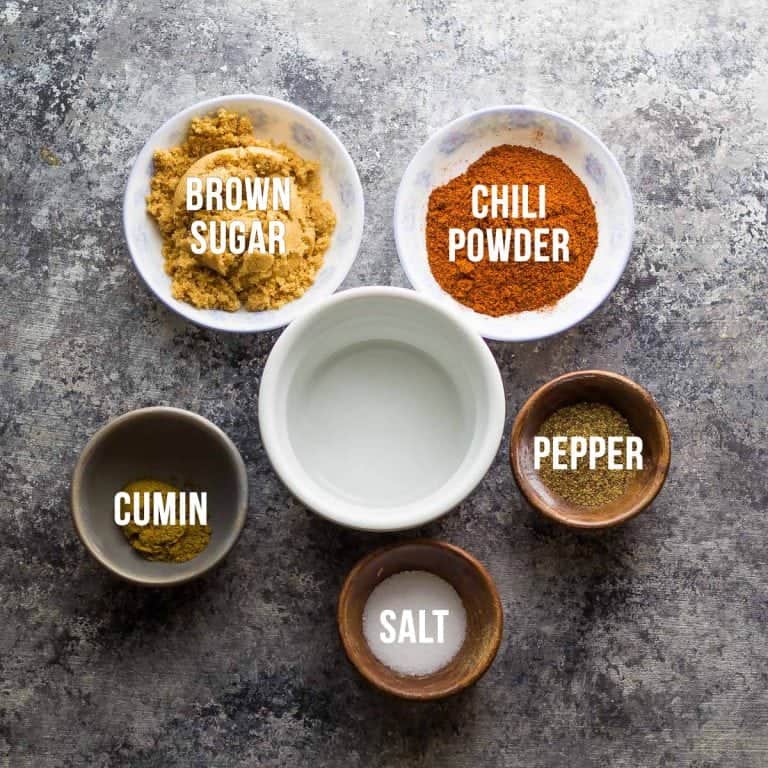 GRAB THE PRINTABLE BROWN SUGAR CHILI SEASONING RECIPE HERE
2. Brown Sugar Chili Rub
This rub recipe has been used on several recipes on the site already, and is one of my all time favorites! I love the contrast between the sweet brown sugar and savory chili powder. It is not spicy, but you can crank it up a notch by adding in some cayenne. And I love that it only has 5 ingredients, which makes it super simple to whip up.
Try this Brown Sugar Chili Rub on: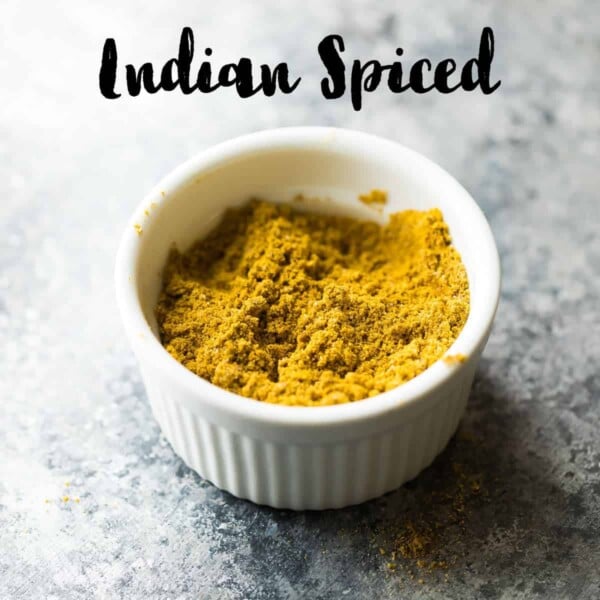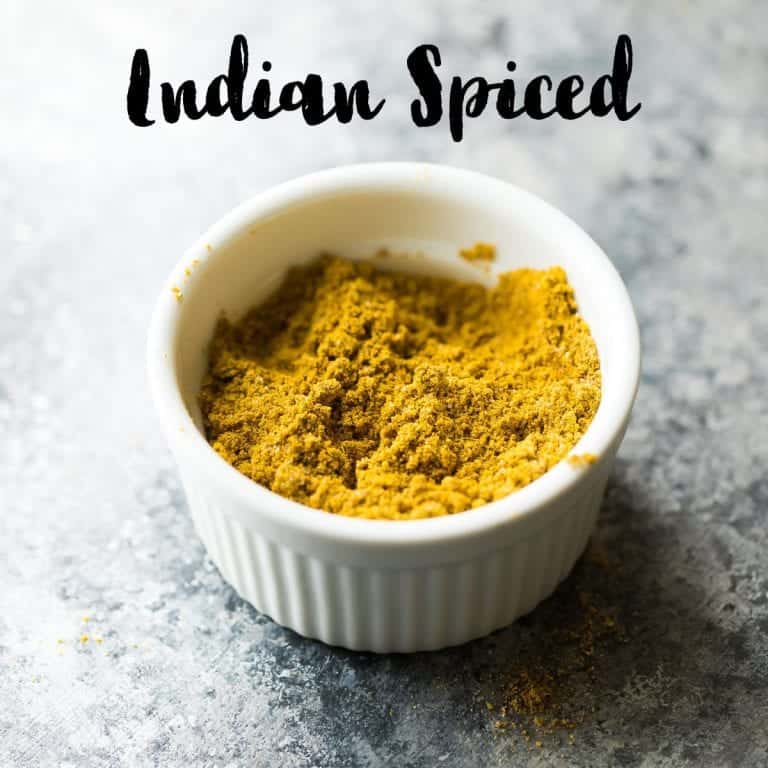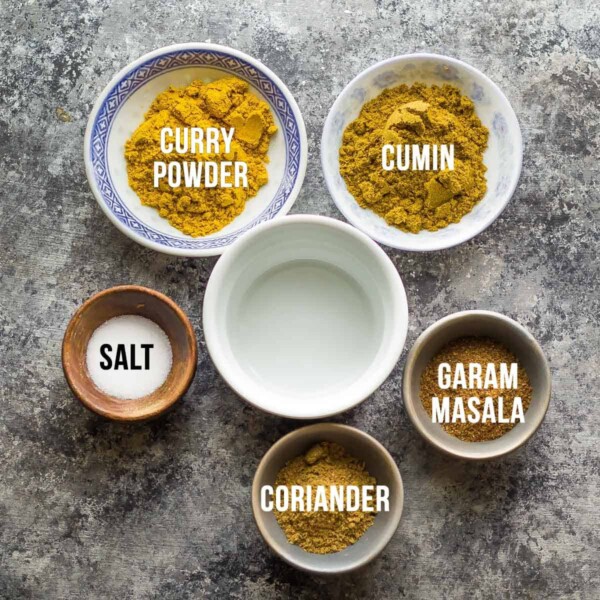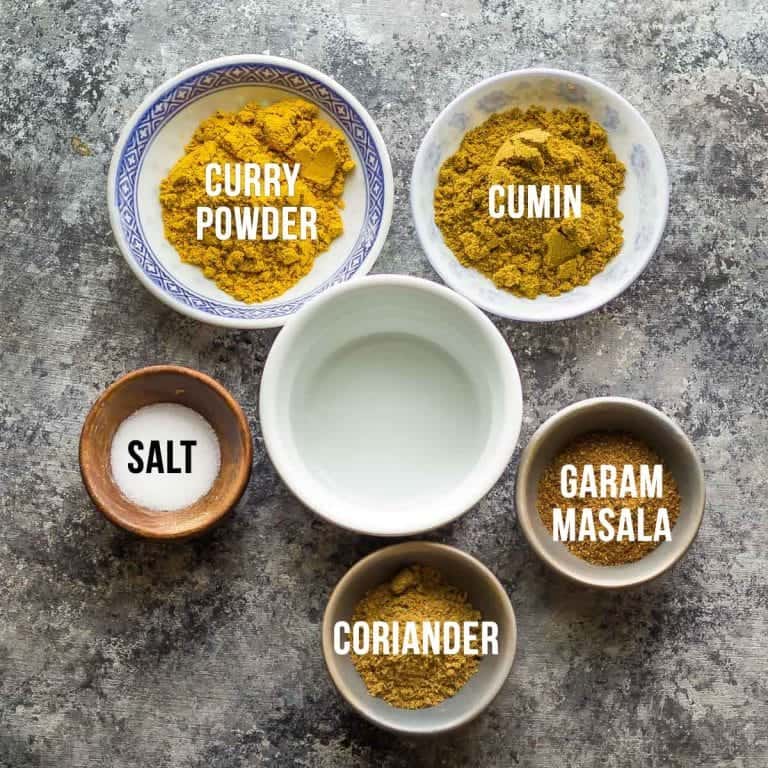 GRAB THE PRINTABLE HOMEMADE INDIAN SPICE MIX RECIPE HERE!
3. Indian Spiced Dry Rub (Curry)
This is a fairly new-to-me recipe, but I used the same spice ratios in the filling for last month's samosas and loved the flavors that it gave…plus the simplicity of only five simple spices. This is particularly great on grilled or roasted cauliflower, and even better served with some raita or yogurt sauce.
Use this Indian Spiced Dry Rub on:
grilled or roasted cauliflower
chicken kebabs served with some yogurt sauce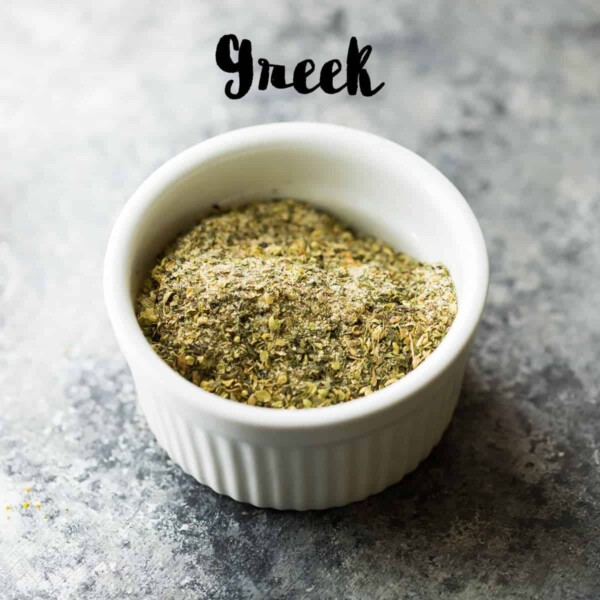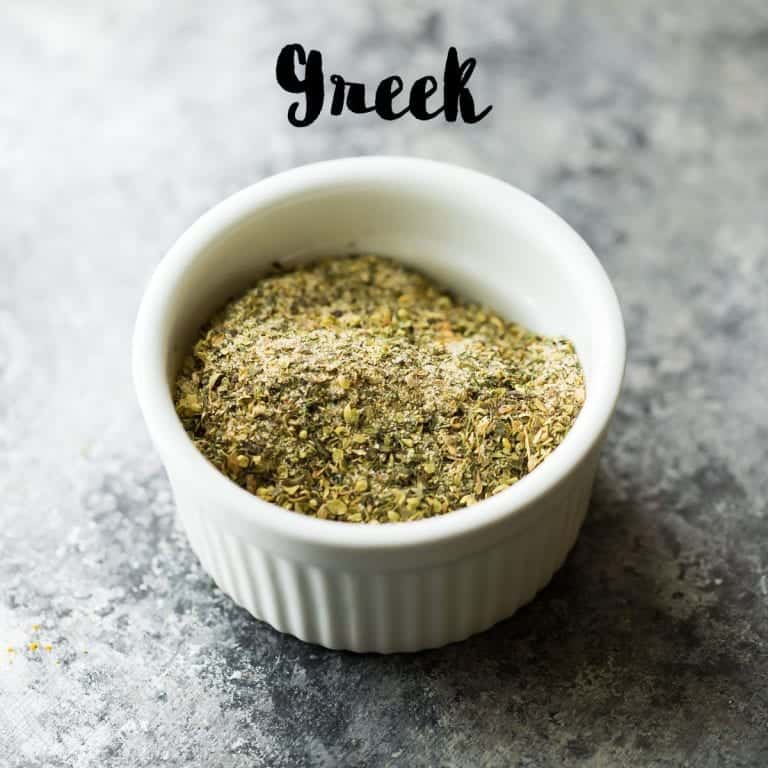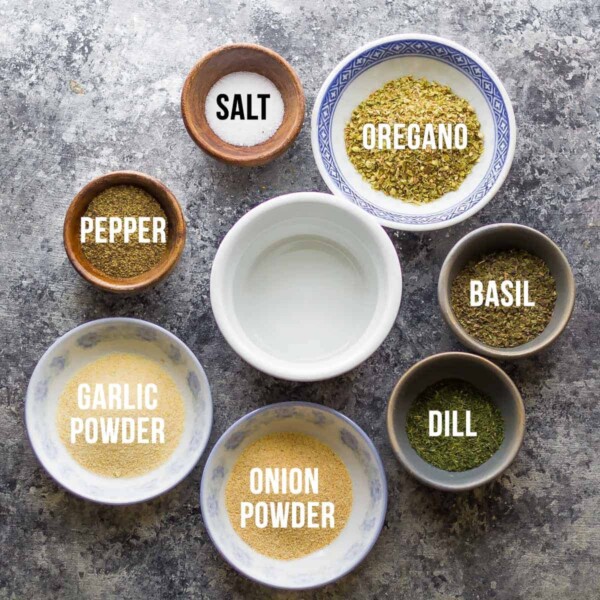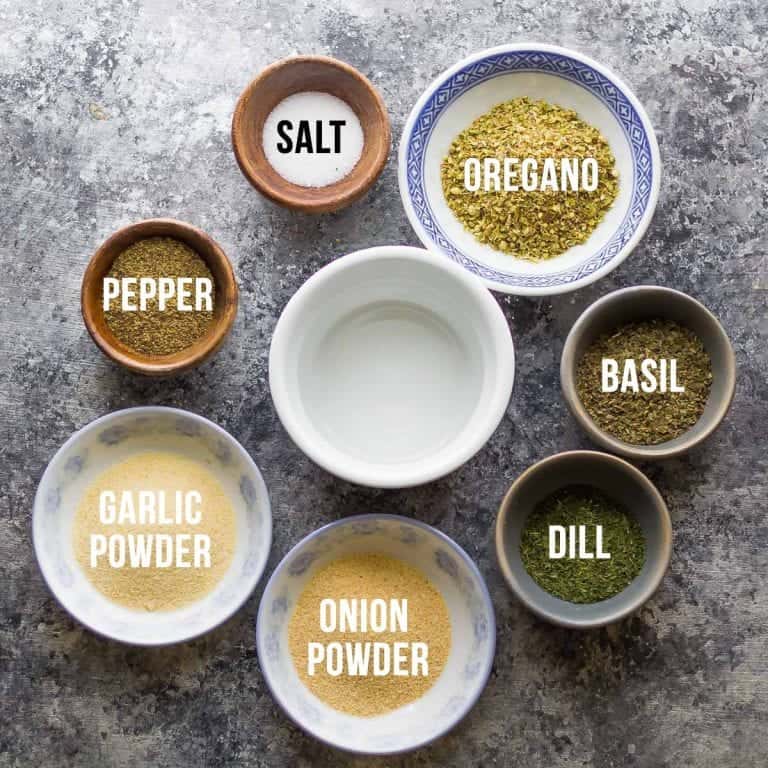 GRAB THE PRINTABLE GREEK SEASONING BLEND RECIPE HERE!
4. Greek Rub
This is a brand new rub that I'm absolutely obsessed with! Packed full of savory flavor thanks to the garlic and onion powder, and that herby flavor characteristic of Greek cooking thanks to some dried basil, oregano and dill. This rub is great on a variety of proteins and veggies! Tip: make sure you shake up your seasoning well, as the herbs & powders can separate a touch.
Use this Greek rub on:
fish, especially white fish
Greek Salmon Sheet Pan Dinner (recipe coming August 10)
skewers, especially if you add some slices of lemon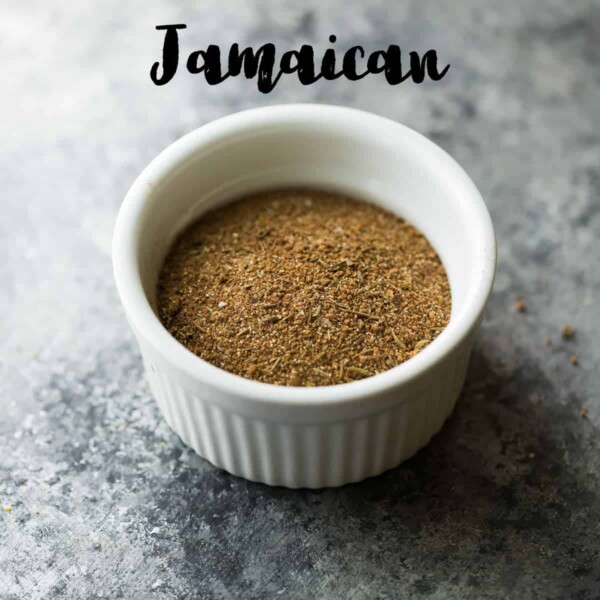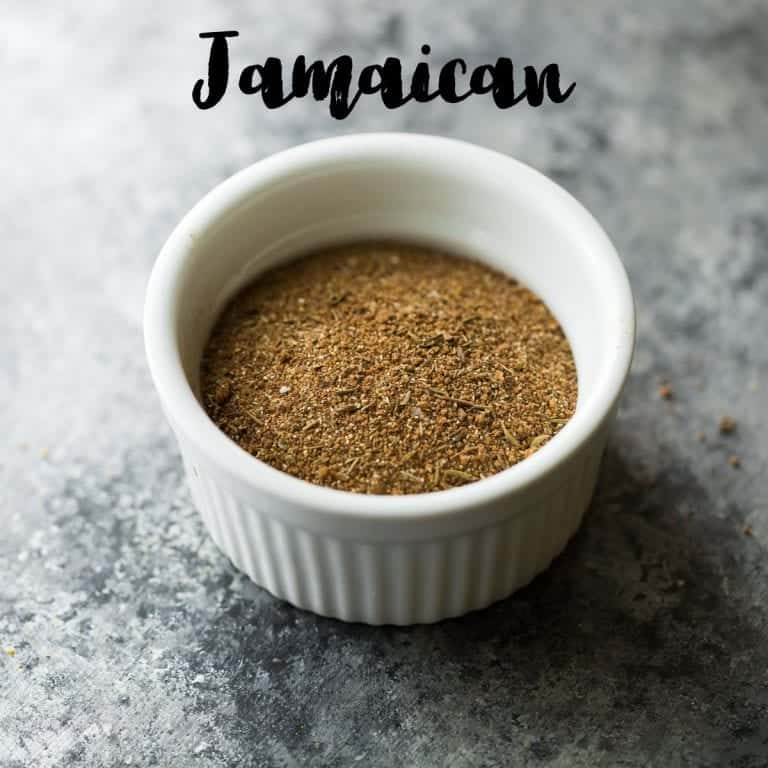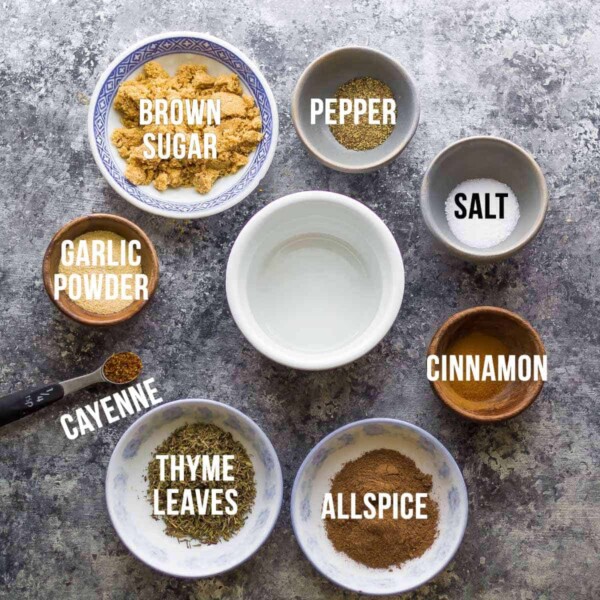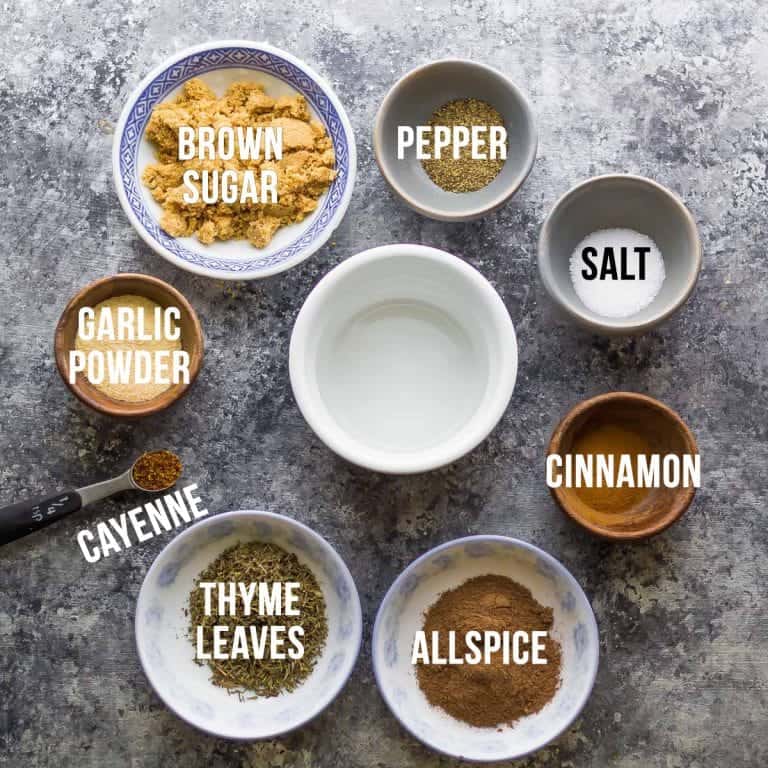 GRAB THE PRINTABLE JAMAICAN JERK SEASONING RECIPE HERE!
5. Jamaican Rub
Now this is definitely a familiar rub around here…I used it as the base for the Jamaican jerk chicken marinade in this post, and it is also great on sheet pan dinner recipes. Is it a truly authentic Jamaican recipe? Probably not. But it tastes darn good, and you don't need your food processor to make it! This rub goes amazingly well with fresh mango or a mango salsa!
Use this Jamaican rub on:
chicken & seafood
sweet potatoes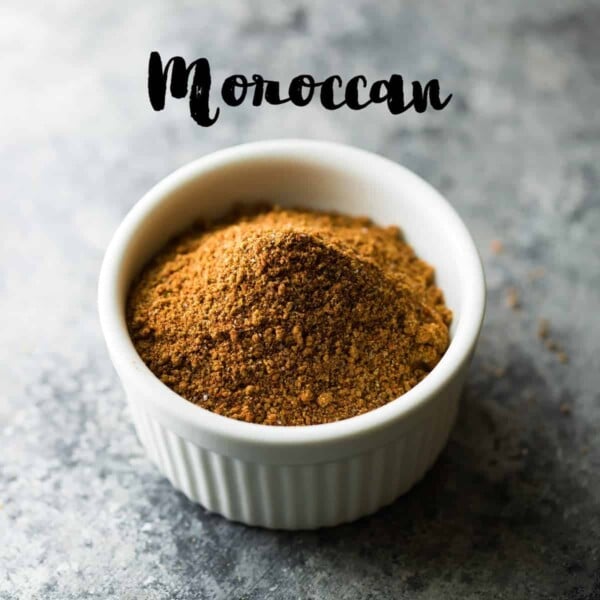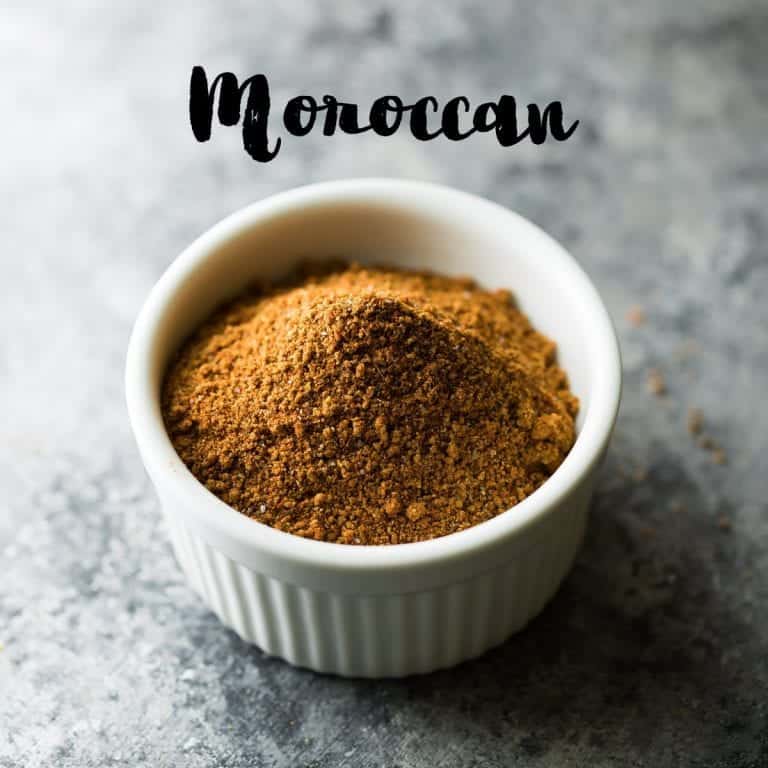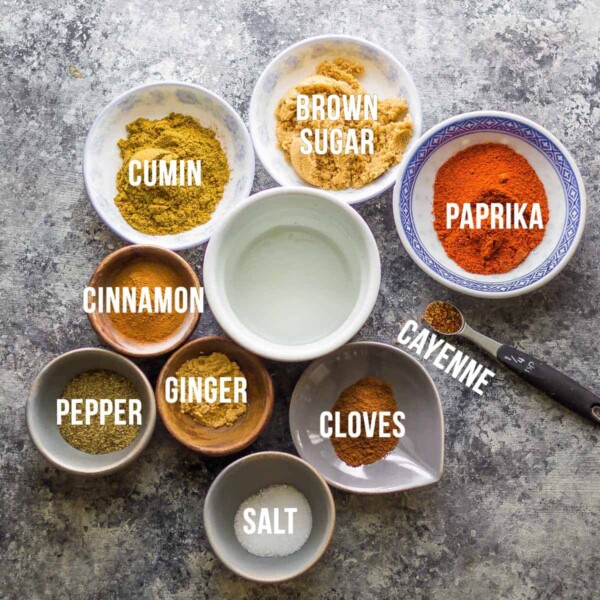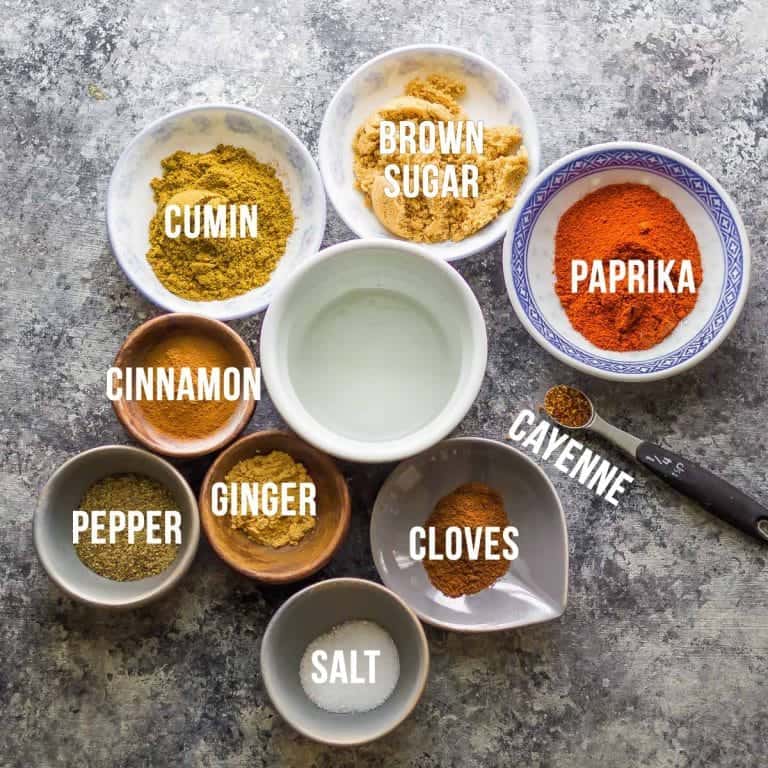 GRAB THE PRINTABLE MOROCCAN SPICE BLEND RECIPE HERE!
6. Moroccan spice rub
I love love LOVE this dry rub recipe! It is somewhat similar to the brown sugar chili spice rub but it has a few extra notes of cinnamon, ginger and cloves that give it a distinctive flavor. The sweet/savory contrast is beautiful, and you can spice it up as much as you'd like. We enjoyed a kid-friendly version with no cayenne but crank it up if you'd like! Start with 1/4 teaspoon, taste, and add more as needed.
Use this Moroccan spice rub on:
lamb, chicken
roasted cauliflower, potatoes & sweet potatoes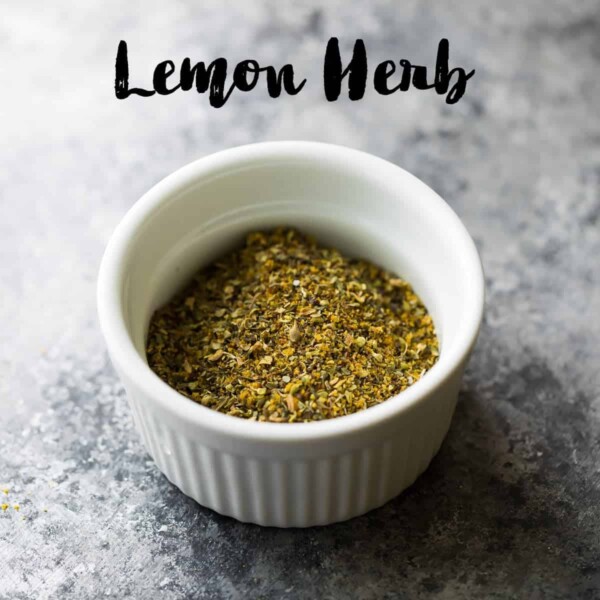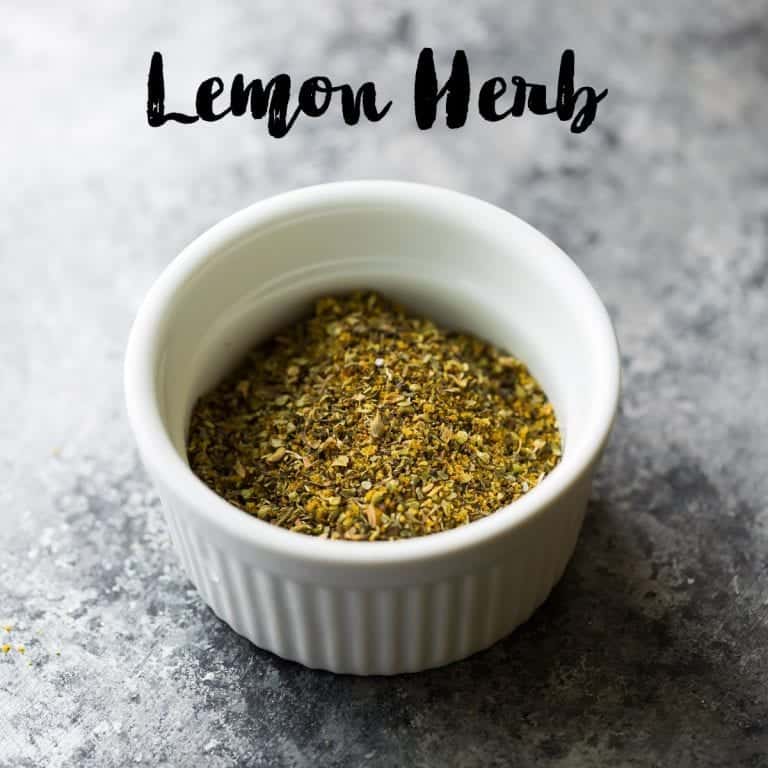 GRAB THE PRINTABLE LEMON HERB SEASONING RECIPE HERE!
7. Lemon Herb Spice Rub
Taking a break from some of the more intense spice rubs, this one is light, fresh and perfect for summer. It goes well especially well on seafood, and if you'd like to boost the lemon flavor even more, add a few slices of fresh lemon!
Use this lemon herb spice rub on:
asparagus, green beans, zucchini
7 Easy Dry Rubs for Meat & Veggies
these rubs are absolutely perfect to mix up the flavors in your meal prep! They are great on sheet pan dinners, roasted or grilled veggies, meat and seafood.
Ingredients
Instructions
Stir together all ingredients and store in an airtight container for up to a year.

Each spice blend makes approximately between 1/3-2/3 cup.

Use aggressively: 1 tablespoon per 7 oz chicken breast, 0.5 tablespoon per 4 oz salmon fillet, and roughly 2 tablespoons per lb of vegetables.
Nutrition
Serving:
1
tablespoon
|
Calories:
15
kcal
|
Carbohydrates:
3
g
|
Sodium:
328
mg
|
Fiber:
1
g
|
Sugar:
2
g