Perfect baked chicken breast- a no fail method for perfect juicy chicken breast each and every time! Rubbed with the most delicious seasoning and baked to perfection, this is a crowd pleaser recipe.
Sick of bland, dried out chicken? Look no further, because like my Perfect Baked Chicken Thighs, this perfect baked chicken breast recipe is a game changer!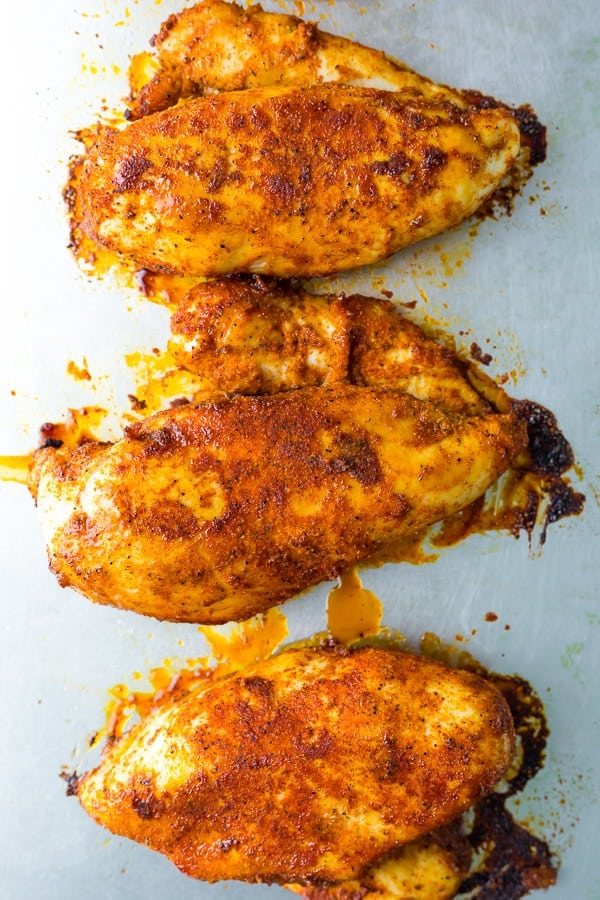 Did you know that it's actually possible to get delicious, juicy baked chicken breast in the oven WITHOUT brining, using weird parchment paper tricks, or searing and finishing in the oven? I know, I was shocked too.
This recipe has yet to fail me. With the combination of the right temperature and cook time, that seasoning (♡!), and the all-important resting step, you seriously cannot go wrong here.
The BEST PART- it's simple. You can have it ready for your family in under 30 minutes!
Don't forget to pin this post to save it for later!
Reasons you're going to ♡ this recipe
it's ready in under 30 minutes
it is kid and picky eater approved
it is easy and perfect for new cooks
Don't forget to pin this post to save it for later!
Recipe Video
Watch the video below for all the tips and ticks to getting perfect, juicy baked chicken breast! You can find more of my recipe videos on my YouTube channel.
Ingredient notes
chicken breast- this post covers how to cook a boneless skinless chicken breast. Bone-in and skin-on will require longer. Here's a tutorial on cooking it!
oil- the oil helps the rub stick to the chicken, and helps the outside brown up. I recommend extra virgin olive oil or avocado oil.
spice rub- using paprika, brown sugar, onion powder, garlic powder, black pepper and salt brings such a delicious blend of flavors

brown sugar- the sugar turns liquid in the oven and gets golden and caramelized, making the outside of the chicken breast even more flavorful. However, if you are low carb, you can skip it (it still tastes great without it!)
---
Step by step directions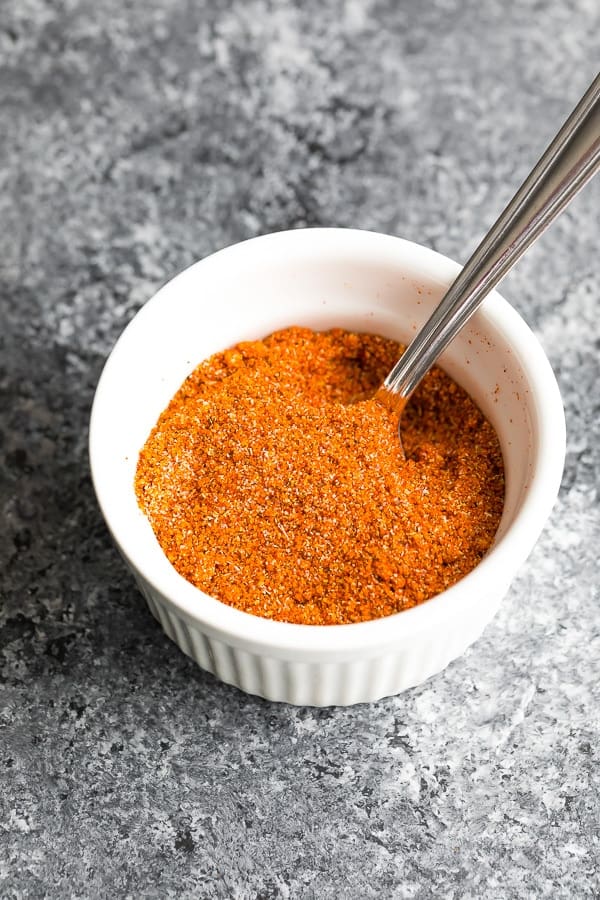 1. Prepare rub- in a small bowl, mix together the spices.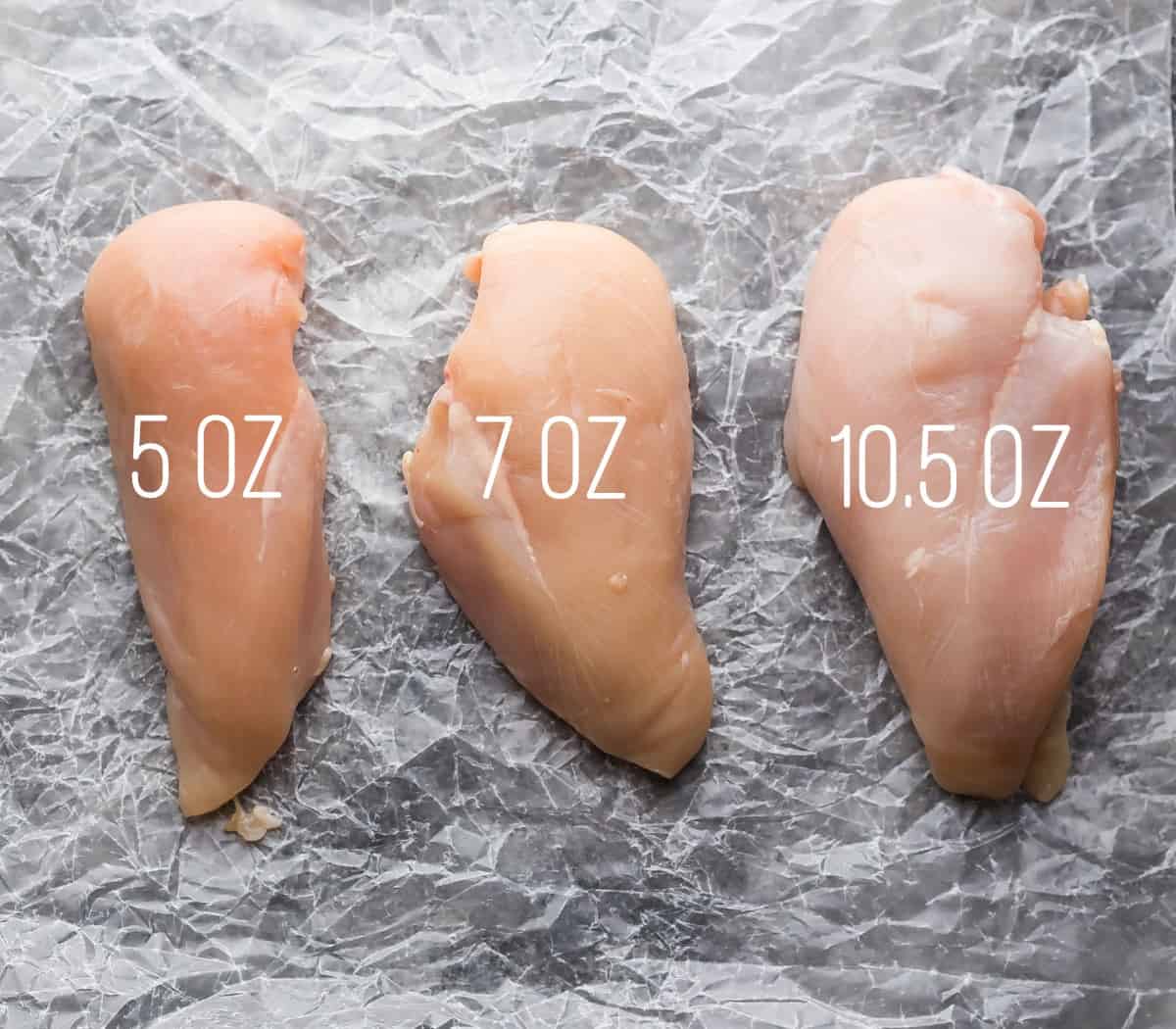 2. Weigh chicken- Cook time for this recipe depends on the size of your chicken, so it's best to weigh them (or estimate based on the image above).
Estimated cook time for chicken breasts at 450°F
5 oz 12-15 min
7 oz 15-20 min
10 oz 20-25 min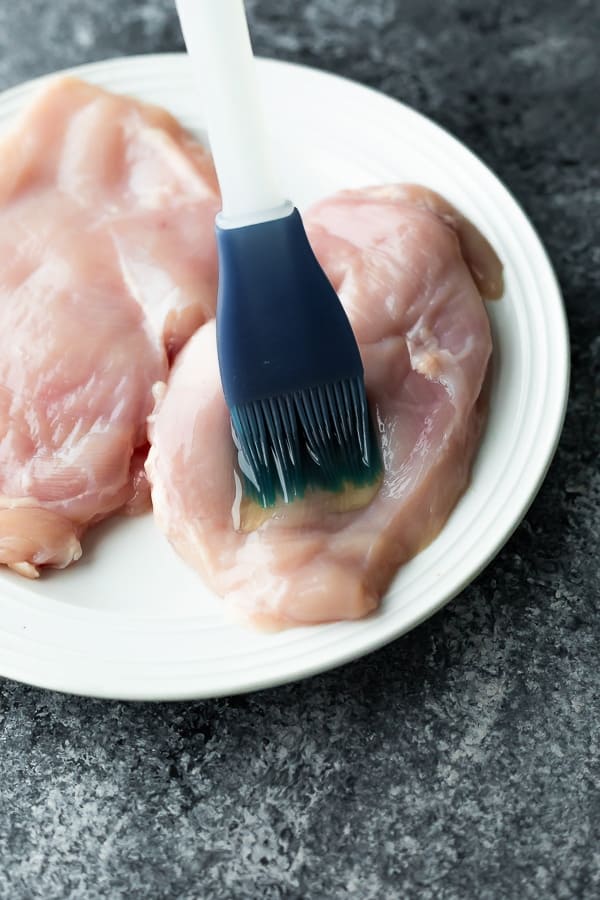 3. Oil chicken- Begin by tossing or brushing chicken in a thin coating of extra virgin olive oil.
4. Apply rub- Sprinkle the chicken in rub, then use your hands to rub and press it in. This helps the rub to stick.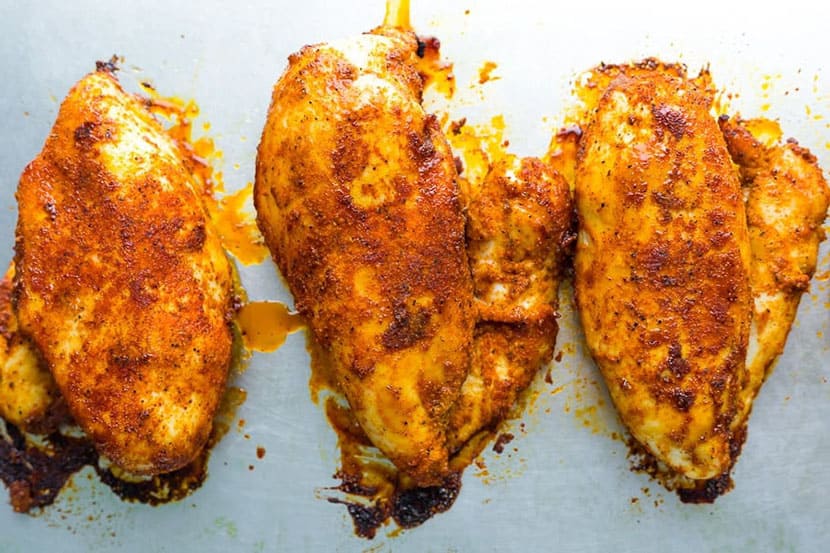 5. Bake- Bake chicken at 450°F, using the chart above to determine how long to bake your chicken for. Flip the chicken halfway though to ensure it cooks evenly. Use a digital thermometer to ensure your chicken has reached an internal temperature of 165°F.
💡 TIP- In a side by side comparison of chicken breasts baked at 400°F, 425°F and 450°F, the 450°F chicken breast was noticeably juicier!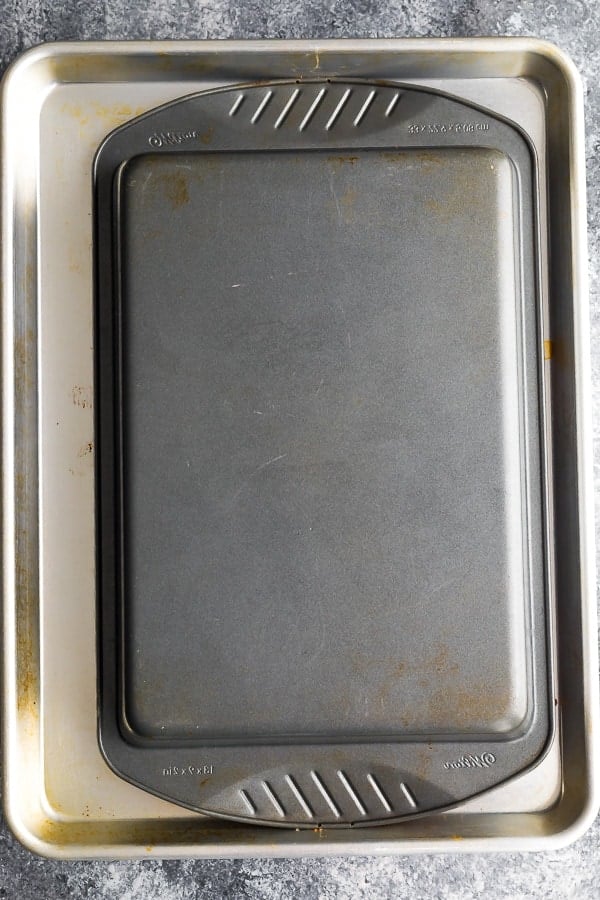 6. Cover + rest- when baked through, remove the chicken from the oven. Cover with a metal baking dish or aluminum foil, and allow the chicken to rest for 5-10 minutes.
💡 TIP- Resting the chicken helps the juices settle into the meat. If you cut into it too soon, all those juices will rush out!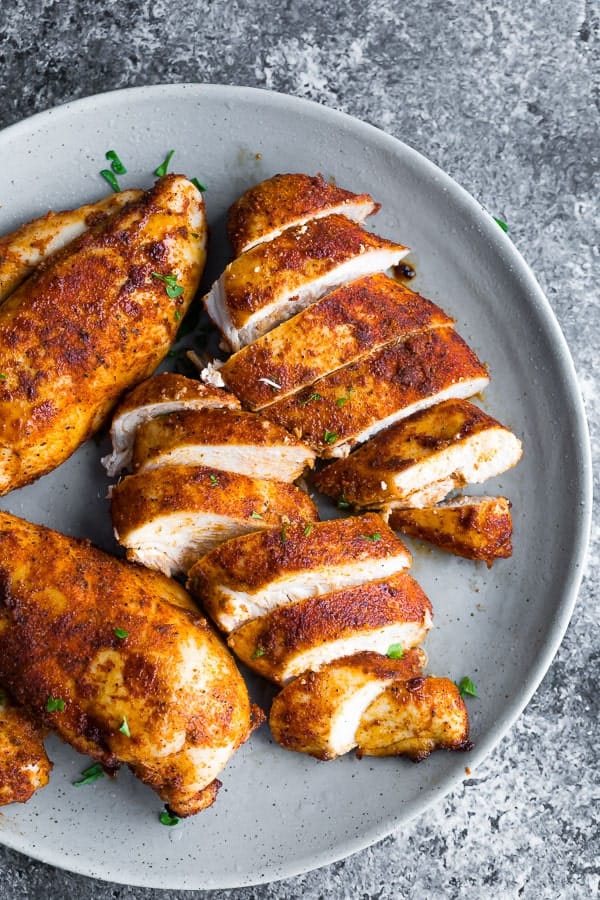 7. Slice- When slicing chicken breast, it's important to slice against the grain. If you cut with the grain, the chicken will be gnarly and chewy.
💡 TIP- Here is a great tutorial on how to slice baked chicken breast against the grain (they are using raw chicken but the same principle applies to cooked chicken!)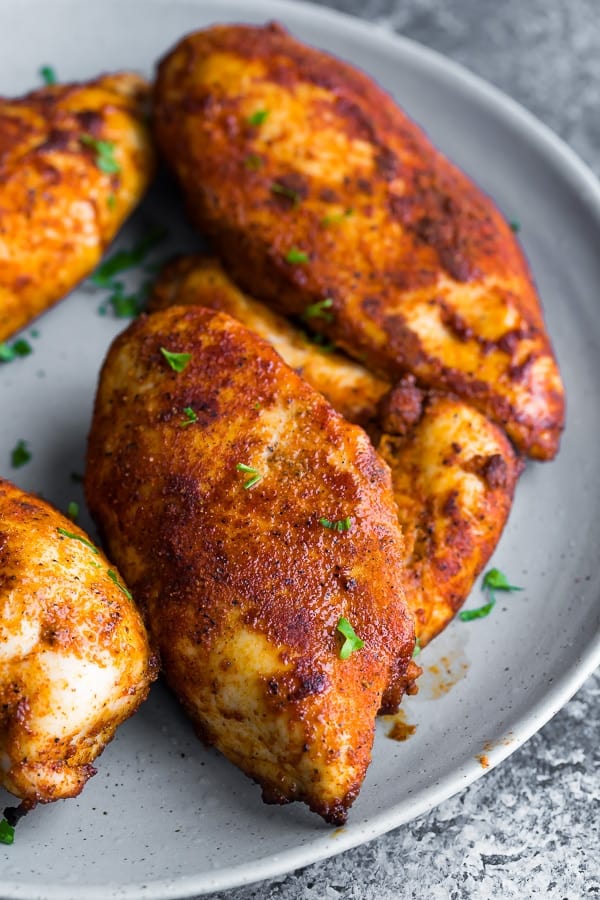 FAQ
How do I bake chicken breast without drying it out?
The most important thing is to pull out your chicken breasts when they are at (or close to) an internal temperature of 165°F. I highly suggest investing in a digital thermometer so you can eliminate guesswork.

It's also very important to rest your chicken for at least 5 minutes, and to slice it against the grain.
Do you flip chicken when baking?
Yes, I recommend flipping the chicken breast halfway through so that the top and bottom cook evenly.
Is it better to bake chicken in glass or metal?
For this recipe, we use a 450°F oven temperature, which is getting quite hot for glass, so I suggest using metal. I recommend a sturdy baking sheet over a dish, as this allows for good air circulation around the chicken breasts as they bake.
Can I cook this recipe on the grill?
Yes, however there are a few modifications you'll need...check them out in this Perfect Grilled Chicken Breast recipe!
---
Storage
Fridge- Cool completely, then store in an air tight container in the fridge for up to 4 days.
Freezer- Cool completely, then wrap in plastic wrap or parchment paper. Store in a larger meal prep container or freezer bag. Freeze for up to 3 months.
Reheat- heat up single servings in the microwave until steaming hot. Warm larger portions in a covered dish in a 350°F oven for 15-20 minutes, until warmed through.
💡 TIP- if you plan to use this recipe for meal prep, allow chicken to cool completely before slicing. This helps to seal in all the juices and keeps it moist for multiple days.
Serve it with
More chicken recipes
This recipe was originally posted 07/2018 ...same great recipe!
Did you make this? Tag me on social @sweetpeasandsaffron and be sure to leave a comment and rate the recipe!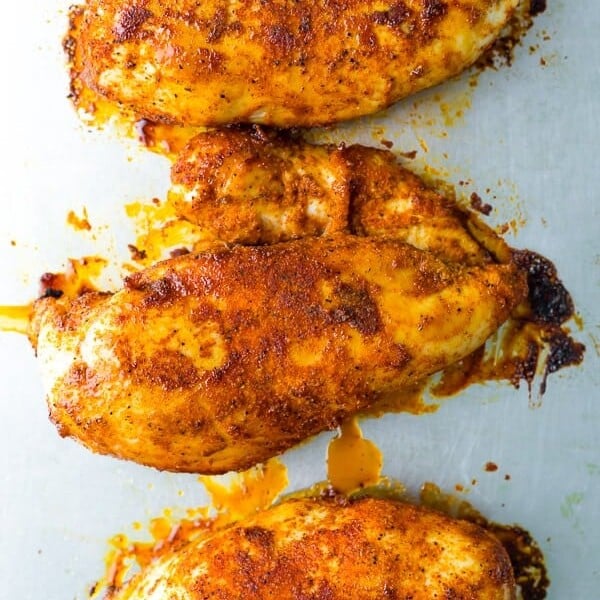 Perfect Baked Chicken Breast (juicy + flavorful)
Perfect baked chicken breast- a no fail method for perfect juicy chicken breast each and every time! Rubbed with the most delicious seasoning and baked to perfection, this is a crowd pleaser recipe.
Ingredients
4

boneless, skinless chicken breasts

see note 1

1

tablespoon

olive oil
Rub
4

teaspoons

paprika

4

teaspoons

brown sugar

see note 2

1

teaspoon

onion powder

1

teaspoon

garlic powder

1

teaspoon

black pepper

1

teaspoon

salt
Instructions
Toss or brush chicken with olive oil.

Stir together the rub and sprinkle over chicken breasts. Turn chicken breasts until completely coated in rub.

Place on sturdy baking sheet, leaving 1-2 inches between the chicken breasts.

Bake for 10 minutes. Flip and return to the oven. Bake chicken for total time according to size of chicken breast: 

5 oz (12-15 min) 

7 oz (15-20 min) 

10 oz (20-25 min)

or until the internal temperature reaches 165°F.

Remove from oven and cover with a baking dish for 5-10 minutes.

Remove baking dish and transfer to a cutting board. Cut against the grain and serve.
Tips:
1- I advise weighing your chicken breasts so that you can cook them as precisely as possible; the average grocery store chicken breast weighs 7 oz, small ones are around 5 oz and large ones weigh as much as 10 oz.
2- this rub is still really tasty without the sugar
Storage
Store in an air tight container in the fridge for up to 4 days; chicken breast stays moist for longer if you wait until it's completely cool before slicing.
You can freeze cooked chicken breast for up to 3 months, though it will have the best flavor if thawed within one month.
Video
Nutrition Information
Serving:
1
/2 chicken breast
,
Calories:
157
kcal
,
Carbohydrates:
3
g
,
Protein:
24
g
,
Fat:
4
g
,
Saturated Fat:
0
g
,
Cholesterol:
72
mg
,
Sodium:
423
mg
,
Potassium:
445
mg
,
Fiber:
0
g
,
Sugar:
2
g
,
Vitamin A:
525
IU
,
Vitamin C:
1.3
mg
,
Calcium:
10
mg
,
Iron:
0.6
mg
© Sweet Peas & Saffron - Content and photographs are copyright protected. Sharing of this recipe is both encouraged and appreciated. Copying and/or pasting full recipes to any social media is strictly prohibited.