Perfect baked chicken breast- a no fail method for perfect juicy chicken breast each and every time! Rubbed with the most delicious seasoning and baked to perfection, this is a crowd pleaser recipe.
Sick of bland, dried out chicken? Look no further, because like my Perfect Baked Chicken Thighs, this perfect baked chicken breast recipe is a game changer!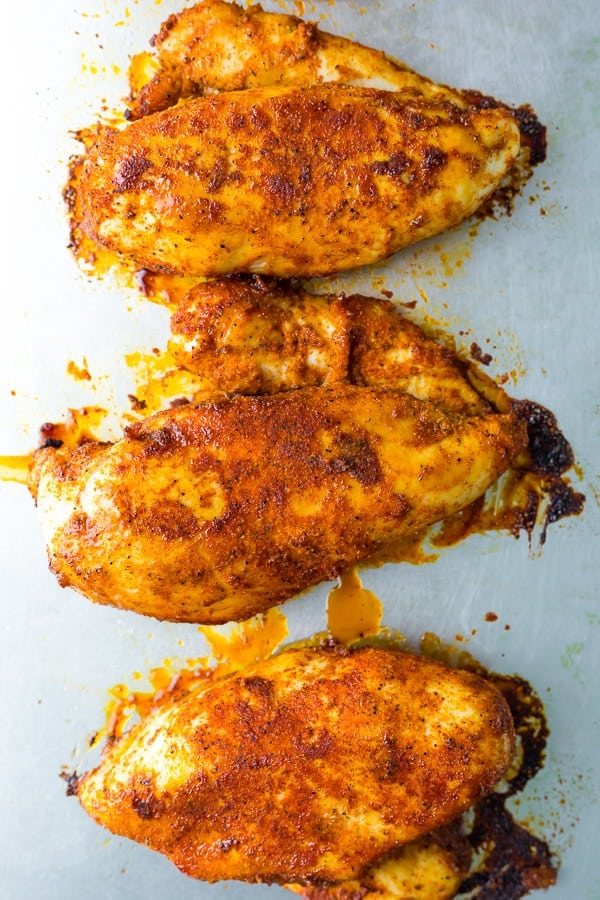 Did you know that it's actually possible to get delicious, juicy baked chicken breast in the oven WITHOUT brining, using weird parchment paper tricks, or searing and finishing in the oven? I know, I was shocked too.
This recipe has yet to fail me. With the combination of the right temperature and cook time, that seasoning (♡!), and the all-important resting step, you seriously cannot go wrong here.
The BEST PART– it's simple. You can have it ready for your family in under 30 minutes!
Reasons you're going to LOVE this recipe
it's ready in under 30 minutes
it is kid and picky eater approved
it is easy and perfect for new cooks
Don't forget to pin this post to save it for later!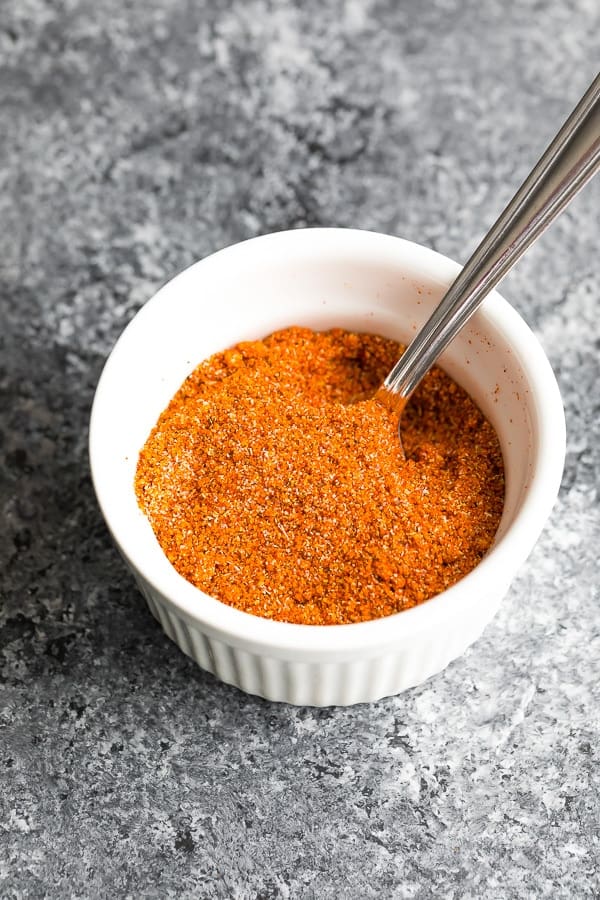 Use a high temperature
In the course of my experiments, I tried three different temperatures. 400°F, 425°F and 450°F. By far, 450°F produced the juiciest chicken breast!
It could be that cooking at such a high temperature 'sears' the chicken to keep the juices inside, or it could be that the chicken bakes in the oven for less time, resulting in less loss of moisture. Whatever the reason, the baked chicken breast was noticeably more juicy when baked at 450°F.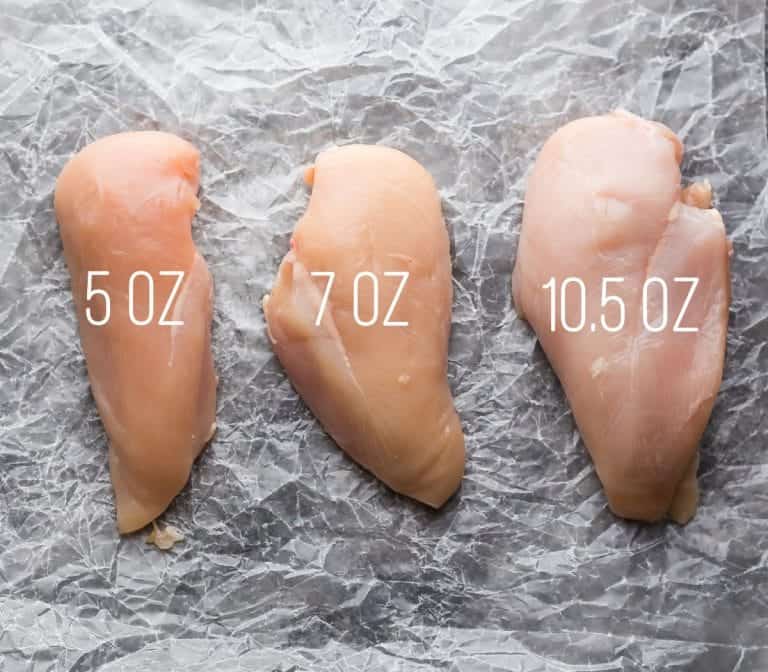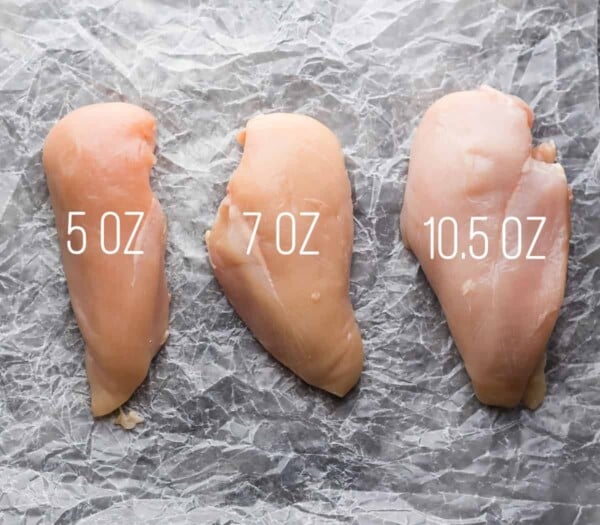 Bake time depends on size
Now I think we all know, not all chicken breasts are the same. In fact, you could have a variety of chicken breast sizes in one package from the grocery store! The best way to know how long to cook your chicken breast is to weigh it, then cook according to the chart below.
Let's just agree that this chart is an estimate! Please use your best judgment to determine if your chicken breast is cooked through. One way I test is to touch the middle of the breast with my finger. If it is still wobbly, it's not cooked through. If it is firm and springy, it may be cooked through.
You can also test if your chicken is cooked through by using a  digital thermometer
, checking that it has reached an internal temperature of 165°F.
Estimated cook time for chicken breasts at 450°F
5 oz 12-15 min
7 oz 15-20 min
10 oz 20-25 min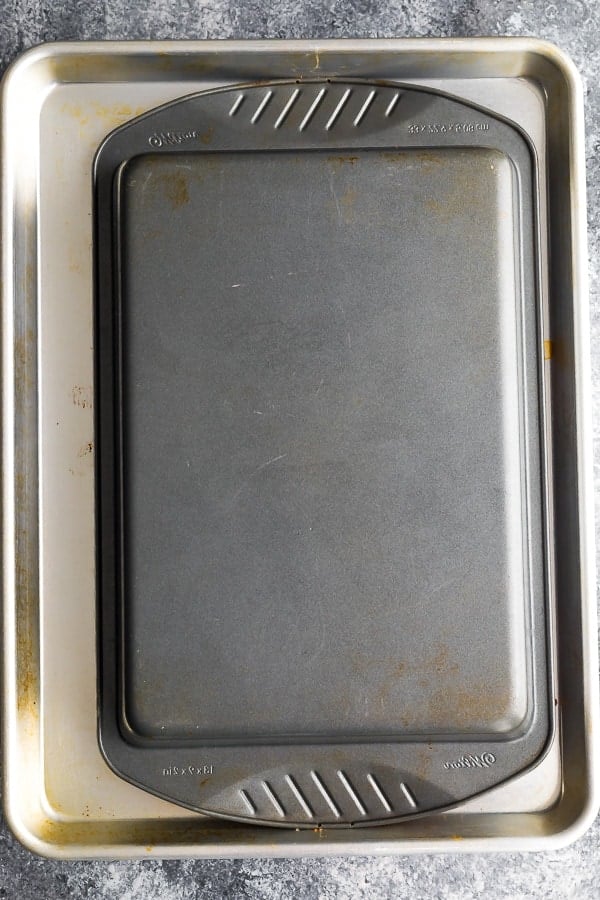 Always rest your chicken
Resting chicken after cooking is important because it allows the juices to settle. If you try to cut them right away, all that juice is going to run right out of the chicken breasts and you will end up with dry dry dry.
In my experimentation, I've found covering the chicken breasts while resting them is extremely beneficial in keeping them nice and juicy.
To avoid wasting foil while resting your chicken: cover with a baking pan! I used my 9 x 13 baking pan which easily covered the four large chicken breasts pictured here.
Slice against the grain
Slicing chicken breast against the grain is another important tip in getting perfect, juicy chicken breasts. You will know right away if you've sliced with the grain, as your chicken breast will be stringy and gnarly looking, rather than smooth.
Now admittedly it can sometimes be a little tricky to tell where the grain lies in your chicken breast, especially with a thick rub that covers the surface of the chicken. I look for the small end of the chicken breast and start there (pictured above!), cutting on an angle across it, then keep slicing on the same direction all the way along the chicken breast. After after doing this a few times you will be able to tell where it is and slice like a pro!
Here is a great tutorial on how to slice baked chicken breast against the grain (they are using raw chicken but the same principle applies to cooked chicken!)
MEAL PREP TIP- if you are going to use your chicken later in the week, slice it after refrigerating overnight…it will retain so much moisture!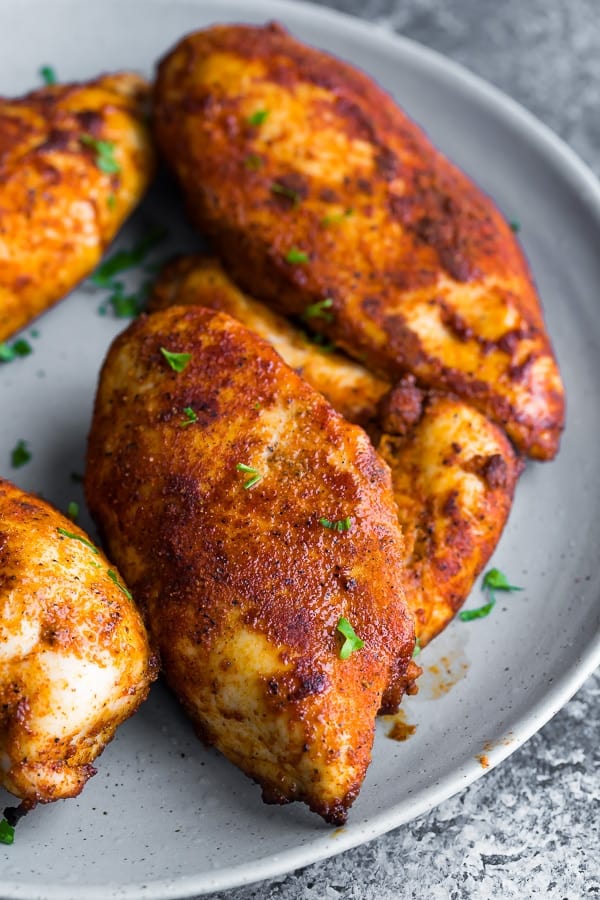 Can I skip the brown sugar in the rub to make this keto-friendly?
Yes! The rub is really delicious even without the brown sugar.
Can I use this method with bone-in chicken breasts?
I bet you could but I have not tried. I would rely on my digital thermometer to tell when the chicken breasts were ready to come out of the oven. Look for 165°F.
Can I cook this on the grill?
Yes, however there are a few modifications you'll need…check them out in this Perfect Grilled Chicken Breast recipe!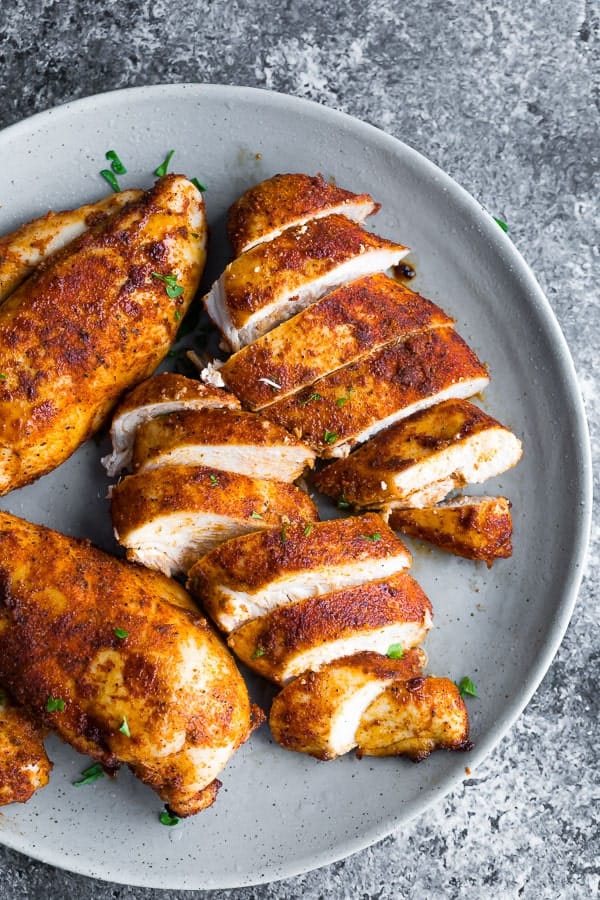 What goes well with this recipe?
More chicken recipes
Recipe Video
Watch the video below for all the tips and ticks to getting perfect, juicy baked chicken breast! You can find more of my recipe videos on my YouTube channel.
This recipe was originally posted 07/2018 and was rewritten & republished in 08/2019. Same great recipe!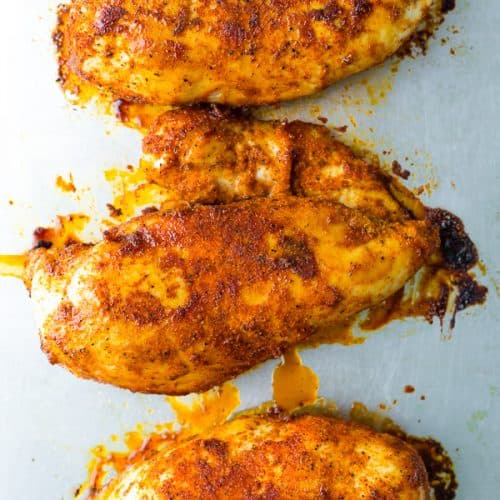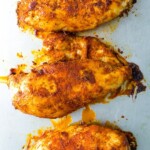 Print Recipe
Perfect Baked Chicken Breast
Perfect baked chicken breast- this post shows exactly how to bake chicken breasts to tender, juicy perfection! Delicious served as is or using up in your weekly meal prep.
Ingredients
4

chicken breasts

1

tablespoon

olive oil
Rub
4

teaspoons

paprika

4

teaspoons

brown sugar

1

teaspoon

onion powder

1

teaspoon

garlic powder

1

teaspoon

black pepper

1

teaspoon

salt
Instructions
Toss chicken with olive oil.

Stir together the rub and sprinkle over chicken breasts. Turn chicken breasts until completely coated in rub.

Place on sturdy baking sheet, leaving 1-2 inches between the chicken breasts.

Bake for 10 minutes. Flip and return to the oven. Bake chicken for total time according to size of chicken breast:

5 oz (12-15 min),

7 oz (15-20 min),

10 oz (20-25 min), or until the internal temperature reaches 165°F.

Remove from oven and cover with a baking dish for 5-10 minutes.

Remove baking dish and transfer to a cutting board. Cut against the grain and serve.
Storage
Baked chicken breast may be stored in the fridge for up to 4 days, or in the freezer for 1 month.
Nutrition
Serving:
1
/2 chicken breast
|
Calories:
157
kcal
|
Carbohydrates:
3
g
|
Protein:
24
g
|
Fat:
4
g
|
Saturated Fat:
0
g
|
Cholesterol:
72
mg
|
Sodium:
423
mg
|
Potassium:
445
mg
|
Fiber:
0
g
|
Sugar:
2
g
|
Vitamin A:
525
IU
|
Vitamin C:
1.3
mg
|
Calcium:
10
mg
|
Iron:
0.6
mg