These 46 easy lunch meal prep ideas prove that eating healthy can be delicious and is anything but boring! A little prep work on the weekend will set you up to eat healthier, save money, and reduce your stress through the week.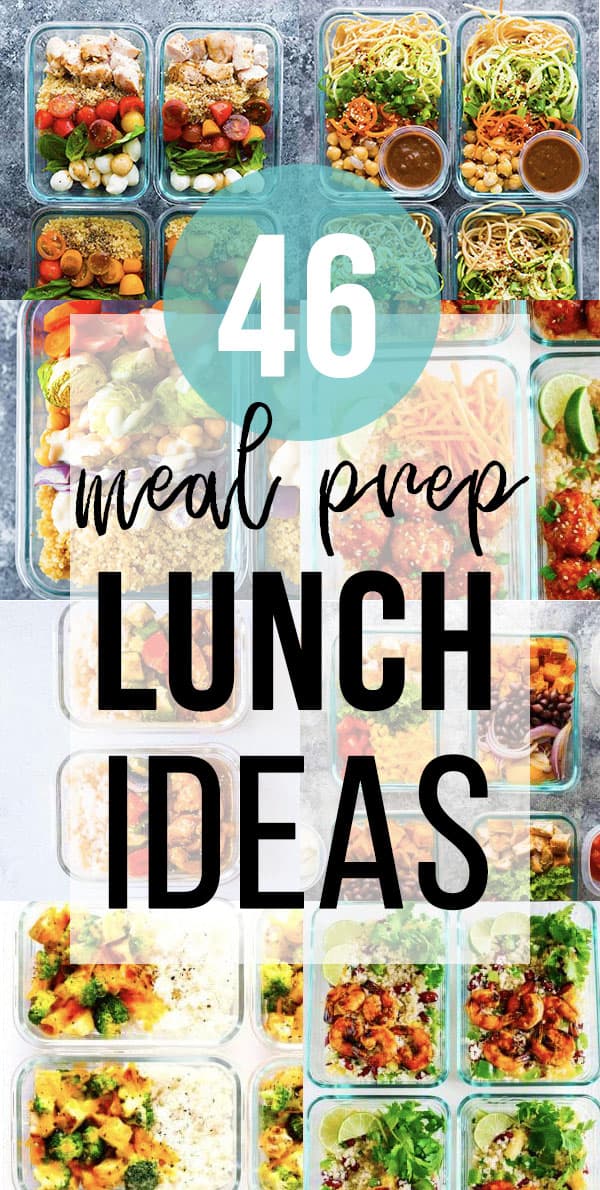 Eating healthy can be a real challenge sometimes. One thing that makes it EASY to stick to your healthy eating goals? Preparing some of your meals ahead of time!
These 46+ meal prep ideas will have you looking forward to your lunch…no more boring sandwiches! Spending 30 minutes-1 hour on the weekend meal prepping these recipes is going to make a huge difference through the week.
Benefits of meal prep
you will save money (no more buying your lunch!)
you will eat healthier (no impulsive choices when you are overly hungry)
you will reduce your stress (lunch is just waiting for you in the fridge!)
Tips for getting started
Start small. You DO NOT have to meal prep all your meals in order to feel the benefits. Start with one meal that pains you- breakfast, lunch, or snacks are a great place to start!
Schedule it.  For the first month, you have to work your meal prep into your routine, so it is smart to schedule off a block of time dedicated to your meal prep. Set a reminder in your phone. At first you might feel like it's a chore, but I'm betting once you get going, and you see how AWESOME it is to not have to worry about your meals during the week, you'll look forward to it!
Find a core set of recipes you can depend on.  Over time, you can find a set of recipes you love and that you know work. You may even have them memorized! This makes the meal prep routine so. easy.
Find what you need
This post covers a lot! Click on the links below to get exactly where you need to go:
Don't forget to pin this post to save it for later!

1. Hot lunch ideas

Look forward to your hot lunch all morning long! From stir fries to meal prep bowls to meatballs and more, these meal prep ideas each have a healthy grain, protein and plenty of vegetables. Reheat in the microwave and enjoy!

How to meal prep– Cook and portion out into meal prep containers. Check recipe directions for whether sauce can be added immediately or must be stored separately.

How to store– I highly recommend these 2 cup glass meal prep containers. Store in the fridge for up to 4 days.

How to serve– heat in the microwave until steaming hot and enjoy!

1. Easy Buddha Bowls   // 2. Honey Sriracha Glazed Meatballs

3. Honey Sesame Chicken Lunch Bowls from Sweet Peas & Saffron // 4. Meal Prep Carnitas Burrito Bowls from Fit Foodie Finds

5. Cheesy Broccoli Chicken Rice Bowls from Gimme Some Oven // 6. Caribbean Jerk Shrimp with Cauliflower Rice from Eat Yourself Skinny

7. Honey Chipotle Meatball Meal Prep Bowls from Sweet Peas & Saffron // 8. Italian Chicken Meal Prep Bowls from Eazy Peazy Mealz

9. Maple Ginger Chicken Meal Prep Lunch Bowls  // 10. Banh Mi Bowls with Lemongrass Meatballs

11. Jerk Chicken Meal Prep Lunch Bowls from Sweet Peas & Saffron // 12. Cajun Honey Chicken Bowls from The Weary Chef

13. Teriyaki Chicken Stir Fry Meal Prep from My Food Story // 14. Mix & Match Meal Prep Burrito Bowls

15. Creamy Black Bean Taquito Meal Prep  // 16. Low Carb Cheesy Chicken & Rice

2. Cold lunches

With healthy grains, vegetables and proteins, these meal prep salads are perfect for lunch. Making them ahead will ensure that you get an extra serving of veggies in your day! From meal prep bowls to jar salads, these recipes all look tasty and easy to prep.

How to meal prep– Cook and portion out into meal prep containers or jars. For jar salads, ensure that the dressing and heartier ingredients go at the bottom of the jar, and layer up placing delicate ingredients at the top. Make sure crispy ingredients + avocados are stored separately until you are ready to serve.

How to store– Some options for storing salads include:

these 2 cup glass meal prep containers
store in 1 pint mason jars, then dump into a clean bowl to toss everything up in the dressing.

How to serve– for meal prep containers, mix everything up with the dressing and enjoy. For jar salads, dump it out into a clean bowl so the dressing covers all the ingredients evenly.

1. Turkey Taco Meal Prep Bowls // 2. Southwestern Sweet Potato Lentil Jar Salads

3. Caprese Chicken Salad Meal Prep Bowls // 4. Cold Sesame Noodle Meal Prep Bowls (Vegan)

5. Grilled Veggie & Black Bean Meal Prep Bowls // 6. Moroccan Chickpea Quinoa Power Salad

7. Chicken Fajita Lunch Bowls // 8. Ratatouille Barley Salad

9. Meal Prep Chopped Chickpea Salads // 10. Satay Chicken Meal Prep Lunch Bowls

11. Mason Jar Burrito Bowls  // 12. Slow Cooker Chipotle Honey Taco Salad Lunch Bowls

3. Soups

During the cold winter months and even sometimes in the summer, soups are on my meal plan for lunch! They are a great way to squeeze in extra veggies.

How to meal prep– Cook a big batch ahead and portion out through the week. Leftovers can often be frozen for long term storage.

How to store– Some options for storing soup include:

How to serve– bring crackers or your favorite soup dipper!

 1. Crockpot Butternut Squash Chicken and Quinoa Soup  // 2. Homemade Instant Noodle Cups

3. 30 Minute Garden Veggie Barley Soup  // 4. Stuffed Pepper Soup

5. Healthier Broccoli Cheese Soup  // 6. Ultra Creamy Butternut Squash Soup

7. Lightened Up Beef & Barley Soup  // 8. Vegan Carrot Ginger Soup

9. Hearty Vegetable Soup  // 10. Hearty Lentil Soup

4. Wraps + pitas

Sandwiches can get SO boring! Here are some delicious wrap and pita meal prep ideas that are so much more exciting.

How to meal prep- Make the fillings ahead and store separately from the lettuce wraps, tortillas or pitas until just before serving. *note- the pinwheels may be prepared up to 3 days ahead and the quesadillas hold up OK with the filling.

How to pack-

Lettuce wraps– You may want one of these 2 compartment meal prep containers to keep filling and lettuce separate.
Pitas & tortilla wraps– bring the whole bag of pitas/tortillas to work. Only cut the pitas just before serving and scoop the filling in.
Pinwheels & bento– you may want one of these 3 compartment meal prep containers to store them.

How to serve–

wraps/pitas- heat filling before spooning into lettuce, pita or tortilla.
quesadillas– best crisped up in a frying pan before serving but are OK reheated in the microwave
pinwheels & bentos– enjoy cold.

1. Thai Turkey Meal Prep Lettuce Wraps  // 2. Smashed White Bean & Spinach Quesadillas

3. Healthy Turkey Lettuce Wraps  // 4. Chickpea Shawarma Stuffed Pitas

5. Pesto Chicken Pita Pockets  // 6. Spring Strawberry Bento Lunch Boxes

7. Cajun Chicken Wraps  // 8. Easy Turkey Pinwheels Meal Prep

9. Greek Chicken Wraps  // 10. No Cook Greek Pita Bento Box

Meal Prep FAQ

How many days can I meal prep for at a time? That depends on whether you choose freezer-friendly meals or not. Most ingredients will keep in the fridge for up to 4 days. Check out these Freezer-Friendly Lunch Meal Prep Recipes for recipes that will keep longer!

Is rice really safe to reheat? Absolutely! The important thing with rice is that you don't leave it at room temperature for long periods of time. Cool it quickly, refrigerate, and do not reheat more than once. Ref

Which meal prep containers should I use? Check out this post I wrote about the 5 Best Glass Meal Prep Containers!

Which vegetables work best for meal prep? You will want to check out this post on How to Meal Prep Vegetables.

Do I really have to eat the same thing four days in a row? NO! Check out this post on 3 Ways to Add Variety to Your Meal Prep. Although I will say that the most efficient way to meal prep is to bulk prep the same meal.

Shortcuts

I am ALL about the shortcuts if they help me eat healthier through the week! Here are some of my favorite meal prep short cuts:

use pre-cut & washed veggies- carrot sticks, cabbage slaw, and pre-riced cauliflower are super convenient on meal prep day!
buy a pre-cooked rotisserie chicken– shred it and use in multiple meals
use pre-made dressings and dips– cuts down on prep time
just portion stuff out– when I'm really short on time I made bento-style boxes and add my favorite meats, cheese, veggies and dip
use your appliances– cook your quinoa in a rice cooker so you can focus on other things. Cook a big batch of protein in the slow cooker. Using your appliances frees up your hands (and mind) to focus on other tasks.
use 'no cook' recipes– such as overnight oats or salads

Recipe Video

Watch the video below to see my four favorite meal prep lunch recipes in this post. They are the most popular recipes on my site! You can find more of my recipe videos on my YouTube channel, or on Facebook.

Honey Sesame Chicken Lunch Bowls

Southwestern Sweet Potato Jar Salads

Build Your Own Meal Prep Bowl + More Meal Prep Ideas!

This formula shows how to mix and match ingredients to build your own meal prep bowl. Prepping your meals ahead will help you eat healthier during the work week!

Ingredients

Protein (pick one of the following):

1

lb

boneless skinless chicken breast

(cut into 1 inch cubes)

1

lb

shrimp

(deveined and tails removed)

1

can

chickpeas or black beans

(drained + rinsed)

1

lb

lean ground beef

(or ground turkey)

Vegetables (use 4 cups)

zucchini noodles

broccoli

(cut into florets)

cauliflower

(florets or rice)

bell peppers

(sliced)

Carbohydrates (pick one)

3/4

cup

uncooked rice

(white or brown)

3/4

cup

uncooked quinoa

4

oz

whole wheat spaghetti

(cooked)

2

sweet potatoes

(roasted; small-medium)

Sauces (use 1/4 of one of these options)

Instructions

Cook your protein in a frying pan until fully cooked through. Skip this step if using beans.

Cook your vegetables in a pan or roast in the oven until tender. Skip this step if using zucchini noodles or cauliflower rice (they will cook when reheated in the microwave).

Cook your grains in a pot, rice cooker, or the oven until cooked through.

Shake up your sauce. If you use the honey sesame sauce or teriyaki sauce you will want to thicken in a pan for a few minutes, then toss with your protein. For almond butter sauce + green goddess sauce, store in a separate condiment container until just before serving.

Assemble: in each meal prep container, add 4 oz of protein, 1 cup vegetables, 1/2 cup (roughly) of cooked carbohydrates, and 1-2 tablespoons of the sauce.

Storage

Store in an air tight container in the fridge for up to 4 days.

Reheat until steaming hot, or serve cold as desired.

Notes

Nutritional information is for 4 oz chicken, 1 cup broccoli, 1/2 cup cooked rice and 1 tablespoon of teriyaki sauce.

Nutrition

Serving:

1

bowl

|

Calories:

303

kcal

|

Carbohydrates:

37

g

|

Protein:

30

g

|

Fat:

4

g

|

Saturated Fat:

1

g

|

Cholesterol:

73

mg

|

Sodium:

853

mg

|

Potassium:

788

mg

|

Fiber:

3

g

|

Sugar:

4

g

|

Vitamin A:

601

IU

|

Vitamin C:

83

mg

|

Calcium:

63

mg

|

Iron:

2

mg