These 25 lunch meal prep ideas prove that eating healthy can be delicious and is anything but boring! A little prep work on the weekend will set you up to eat healthier, save money, and reduce your stress through the week.
It can be a challenge to find nutritious meal prep recipes that still taste amazing on day 4. After years of experience, I'm sharing the meal prep recipes that have been the most popular with our community!
I've sifted through nearly 150 meal prep lunch recipes on the blog to curate this list of the 25 most popular meal prep lunch ideas. These recipes will have you looking forward to your lunch...no more boring sandwiches! Spending 30 minutes-1 hour on the weekend prepping these recipes is going to make a huge difference through the week.
Benefits of meal prep
you will save money (no more buying your lunch!)
you will eat healthier (no impulsive choices when you are overly hungry)
you will reduce your stress (lunch is just waiting for you in the fridge!)
Meal Prep FAQ
---
1. Hot lunch ideas
Look forward to your hot lunch all morning long! From stir fries to meal prep bowls to meatballs and more, these meal prep ideas each have a healthy grain, protein and plenty of vegetables. Reheat in the microwave and enjoy!
How to meal prep - Cook and portion out into meal prep containers. Check recipe directions for whether sauce can be added immediately or must be stored separately.
How to store- I highly recommend these 2 cup meal prep containers. Store in the fridge for up to 4 days.
How to serve- heat in the microwave until steaming hot and enjoy!
2. Cold lunches
With healthy grains, vegetables and proteins, these meal prep salads are perfect for lunch. Making them ahead will ensure that you get an extra serving of veggies in your day! From meal prep bowls to jar salads, these recipes all look tasty and easy to prep.
How to meal prep - Cook and portion out into meal prep containers or jars. For jar salads, ensure that the dressing and heartier ingredients go at the bottom of the jar, and layer up placing delicate ingredients at the top. Make sure crispy ingredients + avocados are stored separately until you are ready to serve.
How to store- Some options for storing salads include:
store in 1 pint mason jars, then dump into a clean bowl to toss everything up in the dressing.
How to serve- for meal prep containers, mix everything up with the dressing and enjoy. For jar salads, dump it out into a clean bowl so the dressing covers all the ingredients evenly.
3. Soups
During the cold winter months and even sometimes in the summer, soups are on my meal plan for lunch! They are a great way to squeeze in extra veggies.
How to meal prep - Cook a big batch ahead and portion out through the week. Leftovers can often be frozen for long-term storage.
How to store - Some options for storing soup include:
How to serve- bring crackers or your favorite soup dipper!
4. Wraps + pitas
Sandwiches can get SO boring! Here are some delicious wrap and pita meal prep ideas that are so much more exciting.
How to meal prep- Make the fillings ahead and store separately from the lettuce wraps, tortillas or pitas until just before serving. *note- the pinwheels may be prepared up to 3 days ahead and the quesadillas hold up OK with the filling.
How to pack-
Lettuce wraps- You may want one of these 2 compartment meal prep containers to keep filling and lettuce separate.
Pitas & tortilla wraps - bring the whole bag of pitas/tortillas to work. Only cut the pitas just before serving and scoop the filling in.
Pinwheels & bento - you may want one of these 3 compartment meal prep containers to store them.
How to serve-
wraps/pitas- heat filling before spooning into lettuce, pita or tortilla.
quesadillas- best crisped up in a frying pan before serving but are OK reheated in the microwave
pinwheels & bentos- enjoy cold.
White Bean & Spinach Quesadillas (Freezer Friendly)
Make these smashed white bean and spinach quesadillas ahead of time and stash them in the freezer for an easy and healthy lunch that actually fills you up!
Check out this recipe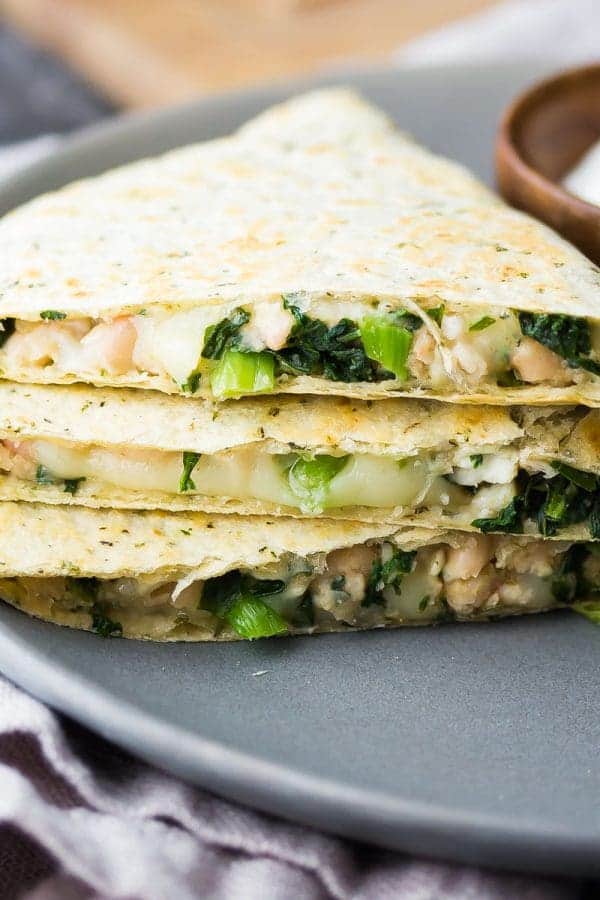 Recipe Video
Watch the video below to see my four favorite meal prep lunch recipes in this post. They are the most popular recipes on my site! You can find more of my recipe videos on my YouTube channel, or on Facebook.
Honey Sesame Chicken Lunch Bowls
Southwestern Sweet Potato Jar Salads