These 38 easy lunch meal prep ideas prove that eating healthy can be delicious and is anything but boring! A little prep work on the weekend will set you up to eat healthier, save money, and reduce your stress through the week.

It's round up time gain!  These Easy Lunch Meal Prep Ideas go hand in hand with these 28 Healthy Breakfast Meal Prep Ideas and these 17 Healthy Dinner Meal Prep Ideas.  Today we're talking lunches…tons and tons of great lunch meal prep ideas that you can make on the weekend!
I have really committed myself to breakfast and lunch meal prep this year and it makes an absolute world of difference.  I don't even consider buying lunch, because I just reach in the fridge and pull out my pre-made lunch and I am good to go!  I feel so much better about my food choices lately because of meal prep.  And all it takes is 30 min-1 hour on the weekend (and really, it's actually fun!)
Tips for getting started with meal prep
Start small.  You know those people who prep 30 freezer meals in one day?  You don't have to do that to feel the benefits of meal prep.  Start with one meal that pains you- breakfast (check out this round-up which has 28 Healthy Breakfast Meal Prep Ideas!), lunch, or snacks are a great place to start!
Schedule it.  For the first month, you have to work your meal prep into your routine, so it is smart to schedule off a block of time dedicated to your meal prep.  Set a reminder in your phone.  At first you might feel like it's a chore, but I'm betting once you get going, and you see how AWESOME it is to not have to worry about your meals during the week, you'll look forward to it!
Find a core set of recipes you can depend on.  Over time, you can find a set of recipes you love and that you know work.  You may even have them memorized!  This makes the meal prep routine so.  easy.
Watch this video to see how easy these lunch meal prep ideas are to prepare:
Now, let's check out these lunch meal prep ideas and get inspired:
1. Easy lunch bowl meal prep ideas:
1. Moroccan Couscous Meal Prep Bowls from Sweet Peas & Saffron // 2. Honey Sriracha Glazed Meatballs from Eat Yourself Skinny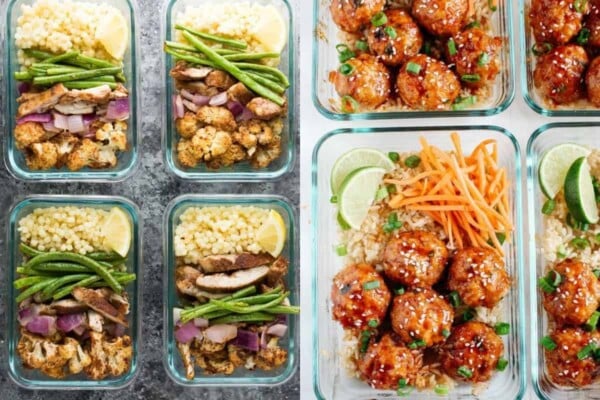 3. Honey Sesame Chicken Lunch Bowls from Sweet Peas & Saffron // 4. Meal Prep Carnitas Burrito Bowls from Fit Foodie Finds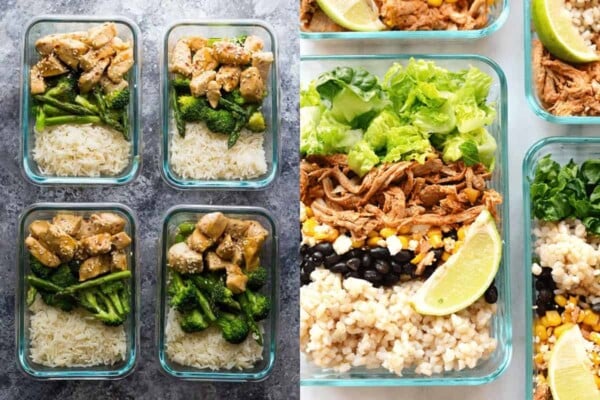 5. Turkey Taco Lunch Bowls from Sweet Peas & Saffron // 6. Cheesy Broccoli Chicken Rice Bowls from Gimme Some Oven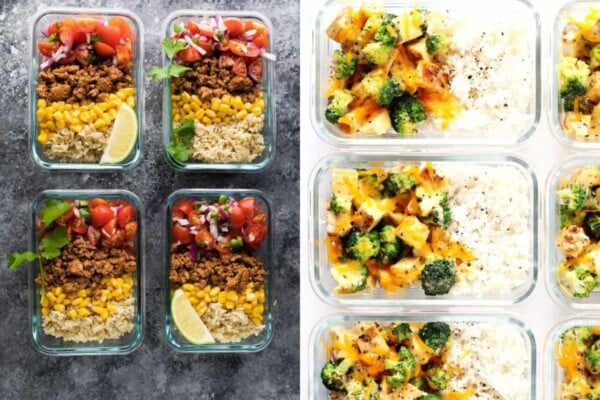 7. Honey Chipotle Meatball Meal Prep Bowls from Sweet Peas & Saffron // 8. Italian Chicken Meal Prep Bowls from Eazy Peazy Mealz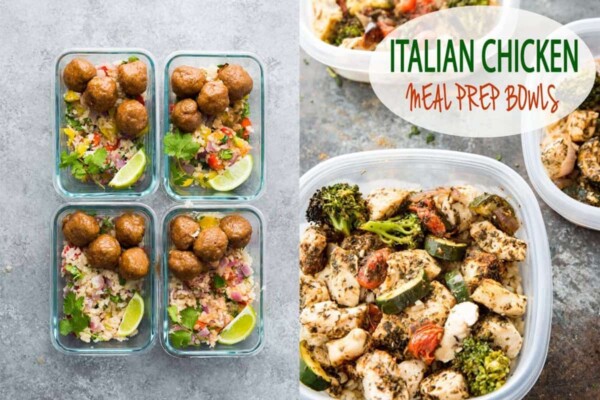 9.  Southwestern Sweet Potato and Lentil Jar Salads from Sweet Peas & Saffron // 10. Caribbean Jerk Shrimp with Cauliflower Rice from Eat Yourself Skinny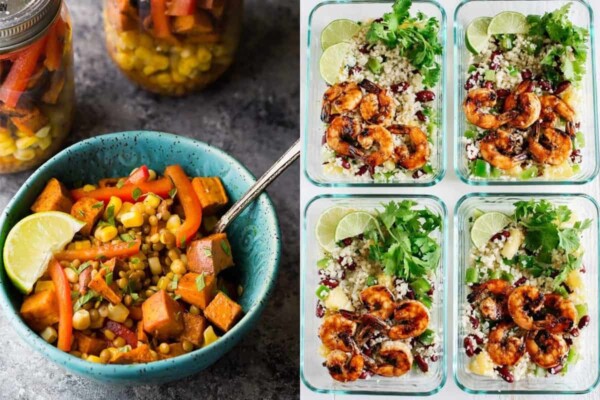 11. Chicken Fajita Lunch Bowls from Sweet Peas & Saffron // 12. Banh Mi Bowls with Lemongrass Meatballs from Pinch Of Yum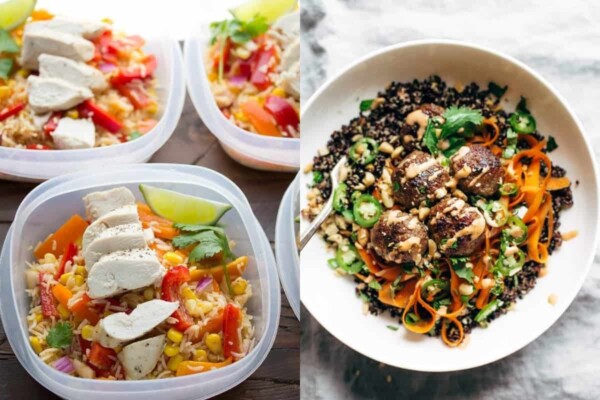 13. Mediterranean Farro Chicken Lunch Bowls from Sweet Peas & Saffron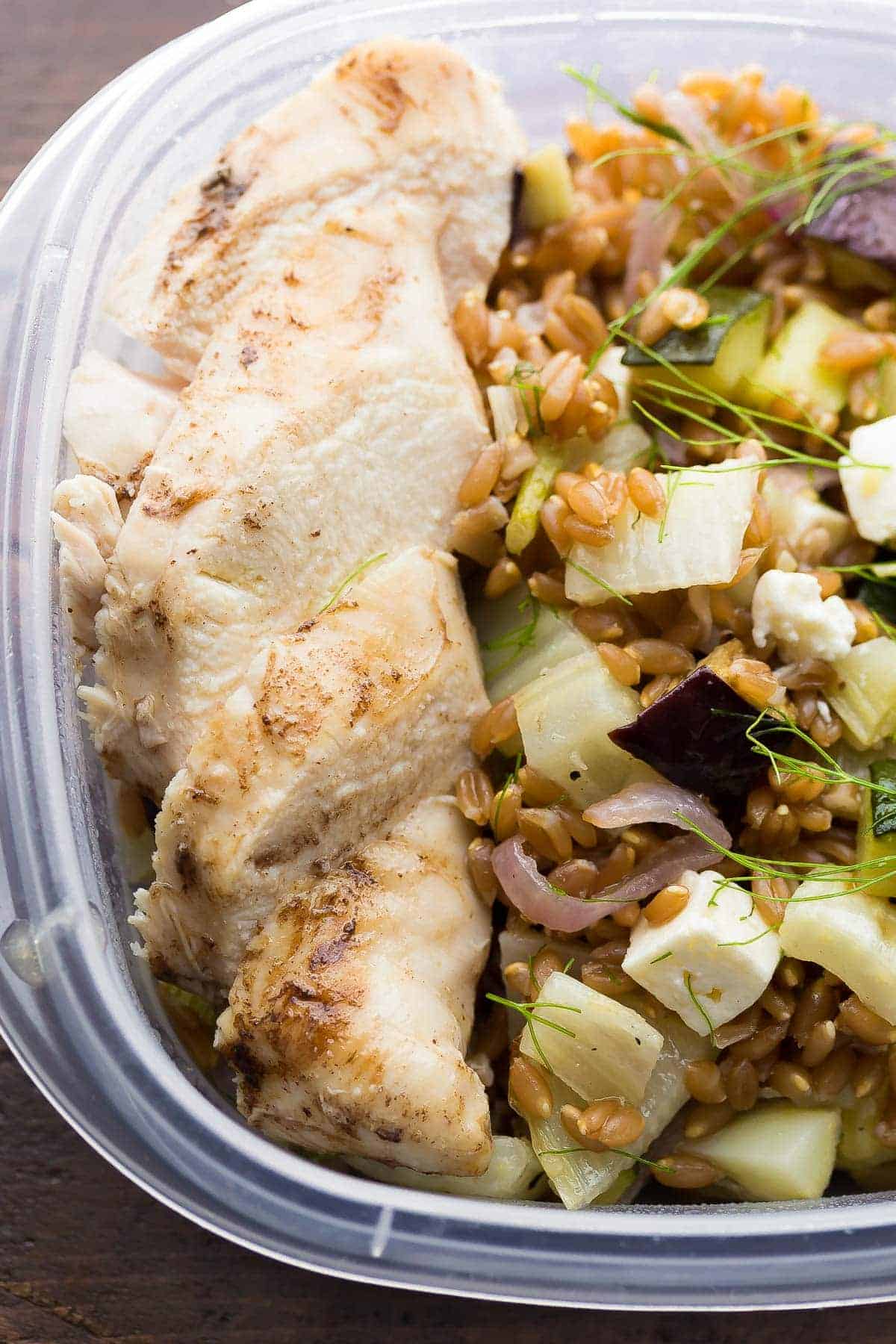 14. Spicy Chicken Meal Prep with Rice & Beans from Pinch of Yum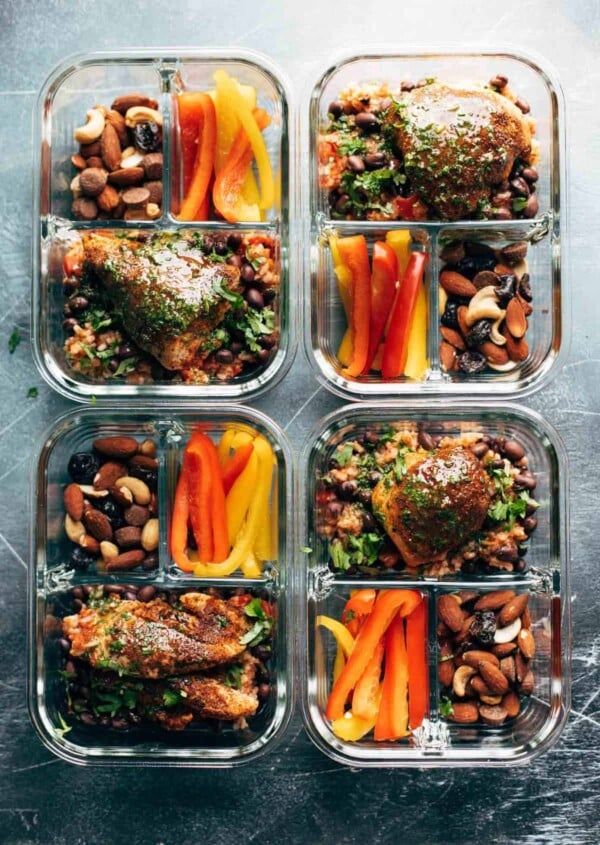 15. Maple Ginger Chicken Meal Prep Lunch Bowls from Sweet Peas & Saffron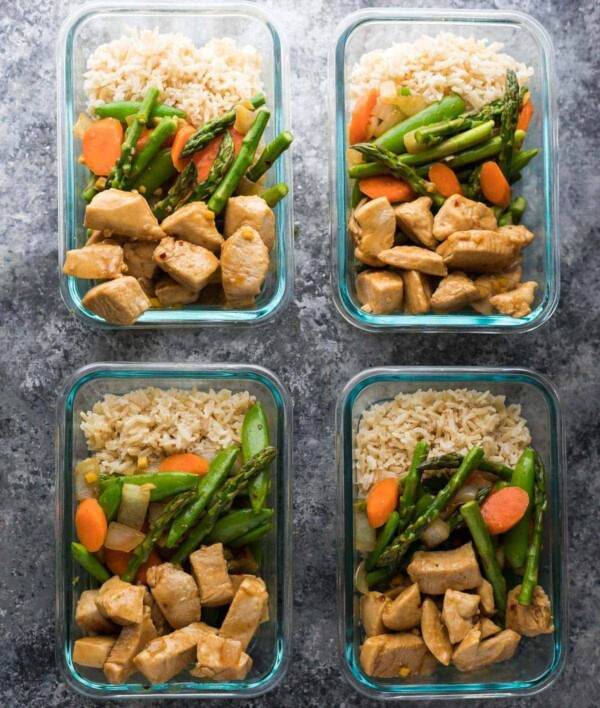 16. Ratatouille Barley Salad from Sprouted Kitchen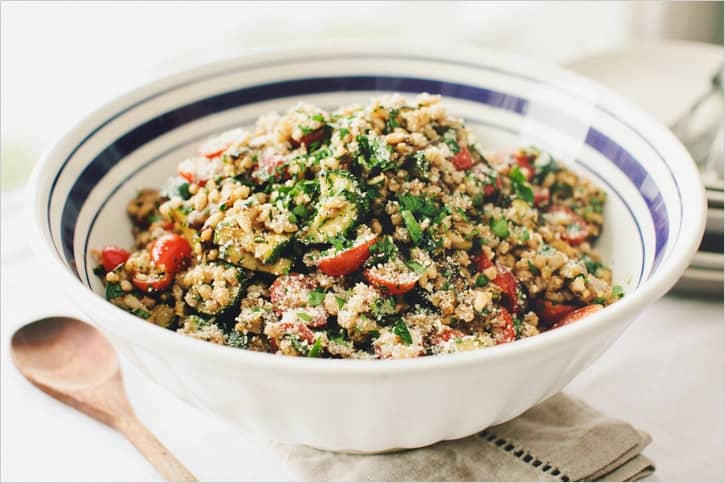 17. Jerk Chicken Meal Prep Lunch Bowls from Sweet Peas & Saffron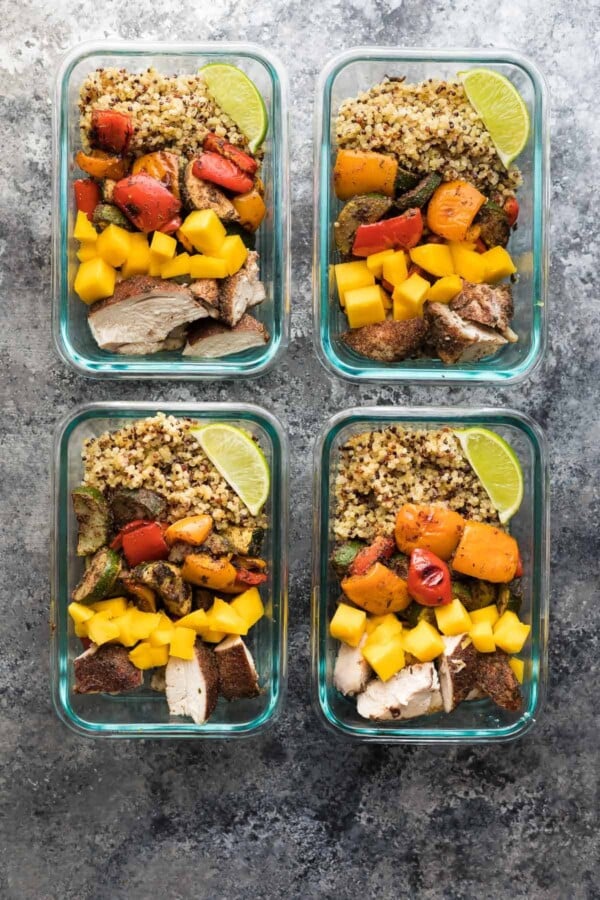 18. Cajun Honey Chicken Bowls from The Weary Chef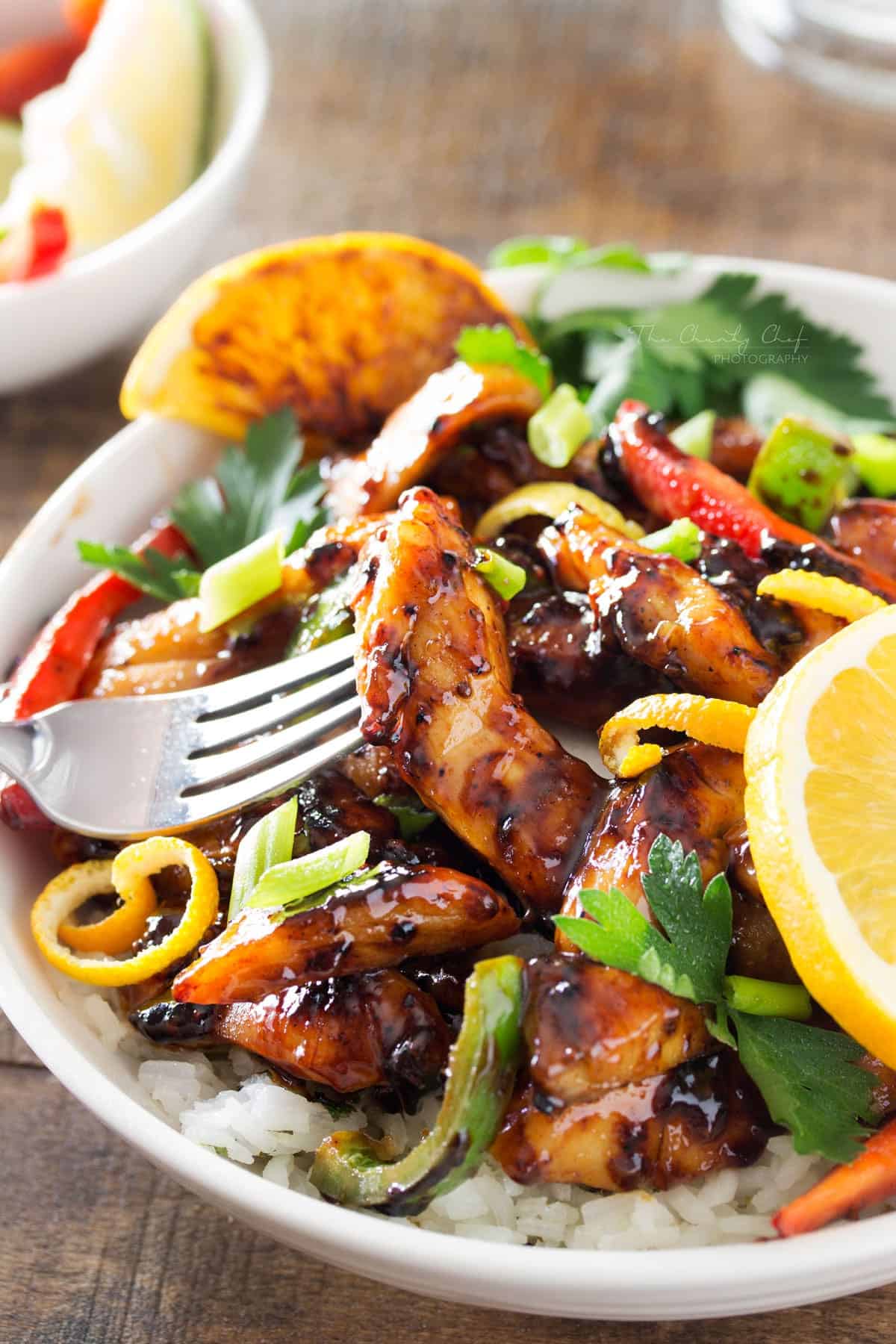 19. Grilled Veggie & Black Bean Meal Prep Bowls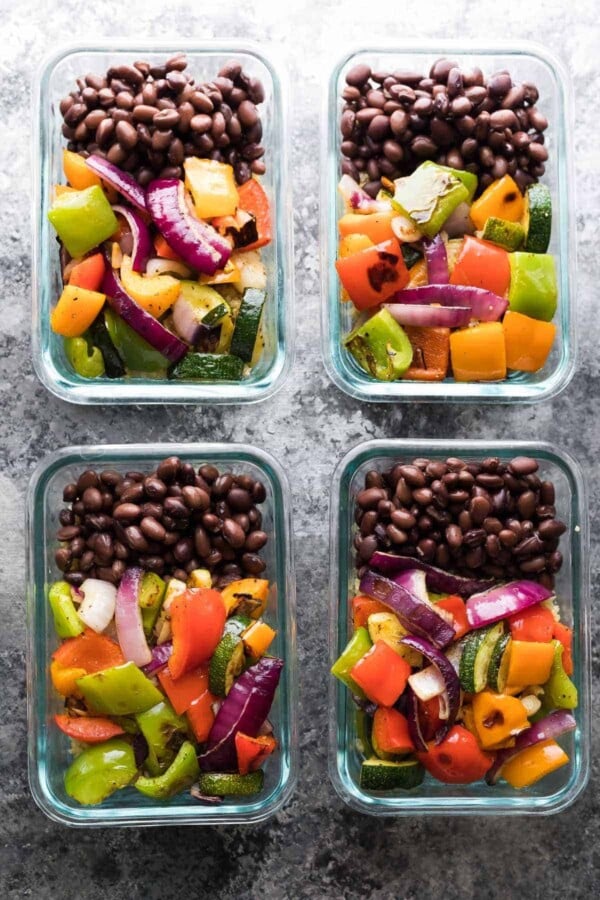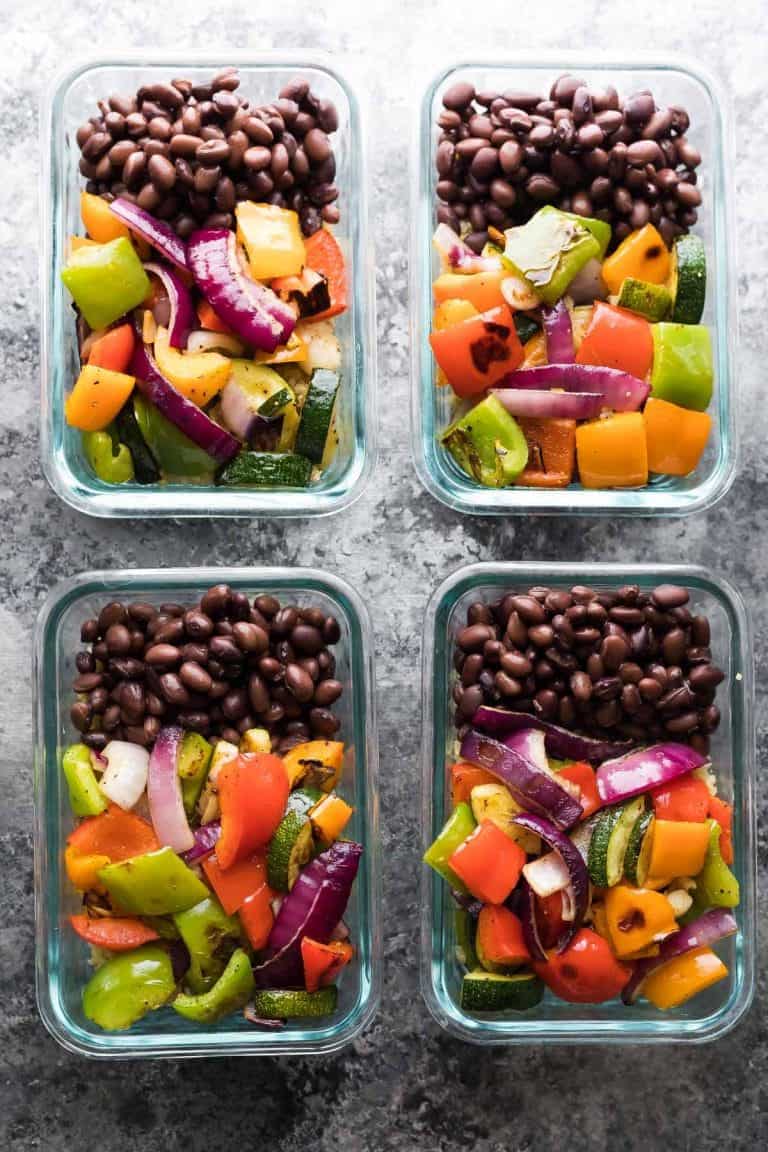 20. Moroccan Chickpea Quinoa Power Salad from Little Spice Jar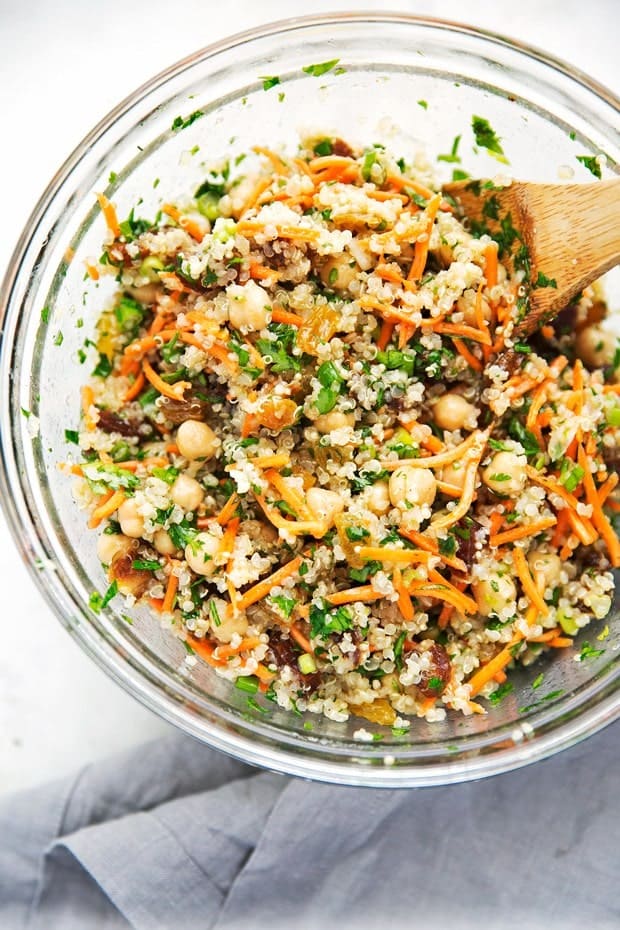 21. Meal Prep Chopped Chickpea Salads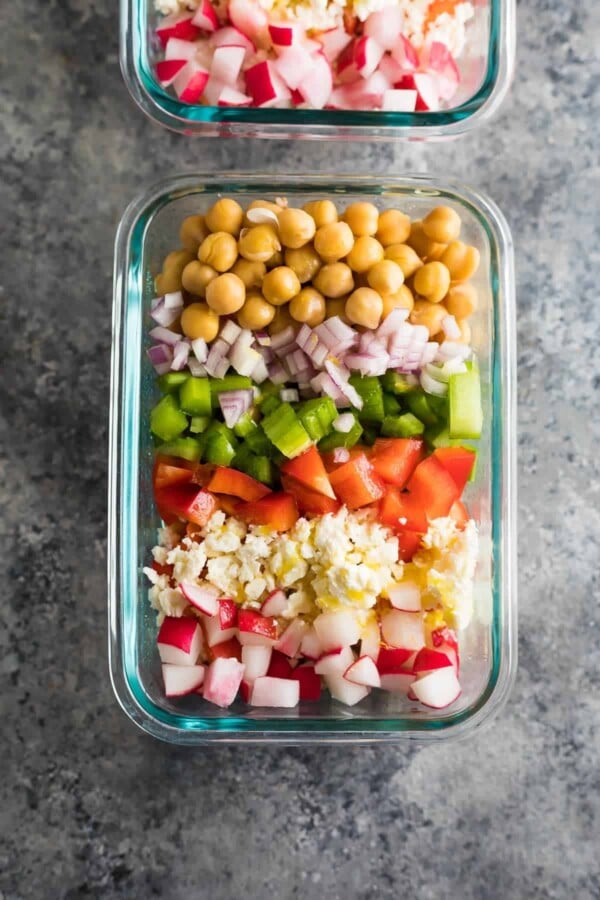 22. Teriyaki Chicken Stir Fry Meal Prep from My Food Story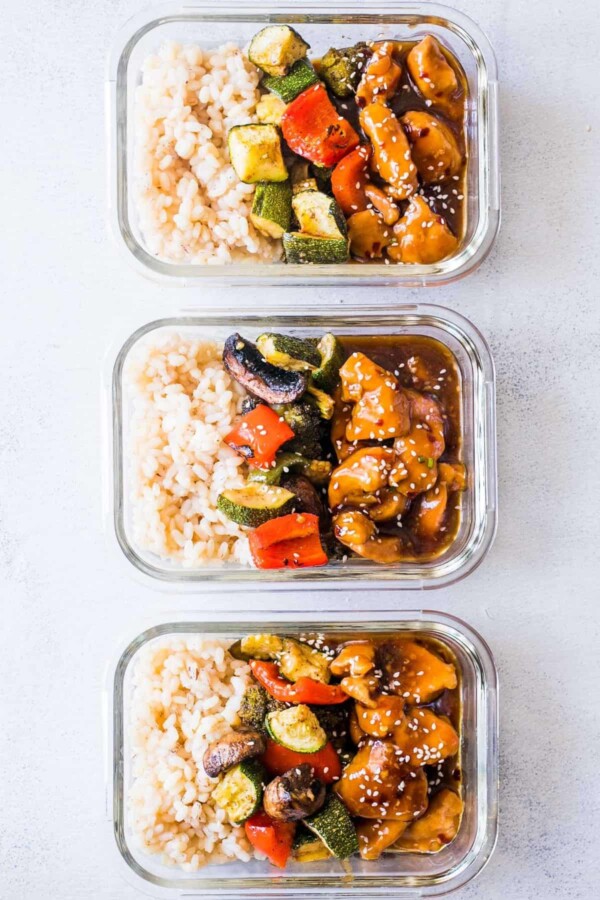 23. Satay Chicken Meal Prep Lunch Bowls from Sweet Peas & Saffron
24. Mix & Match Meal Prep Burrito Bowls from Sweet Peas & Saffron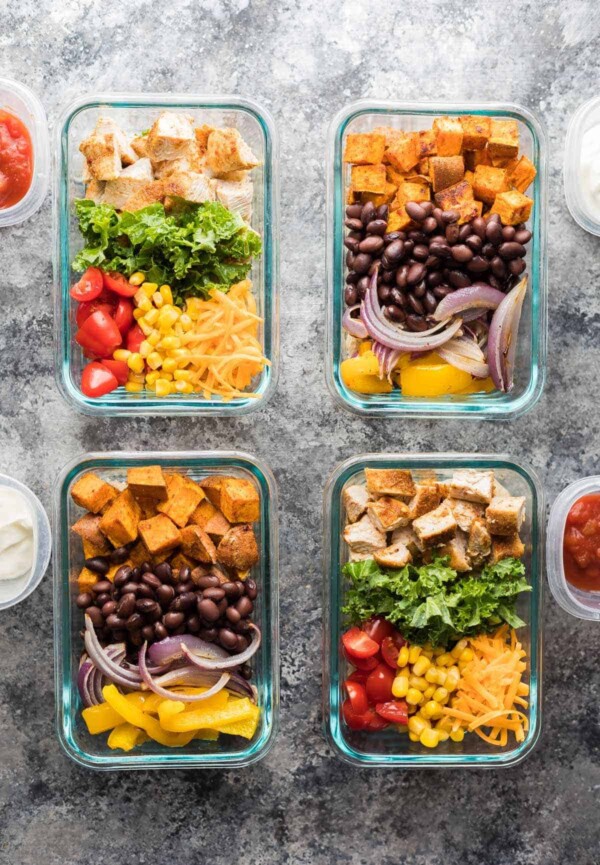 25. Mason Jar Burrito Bowls from Gimme Delicious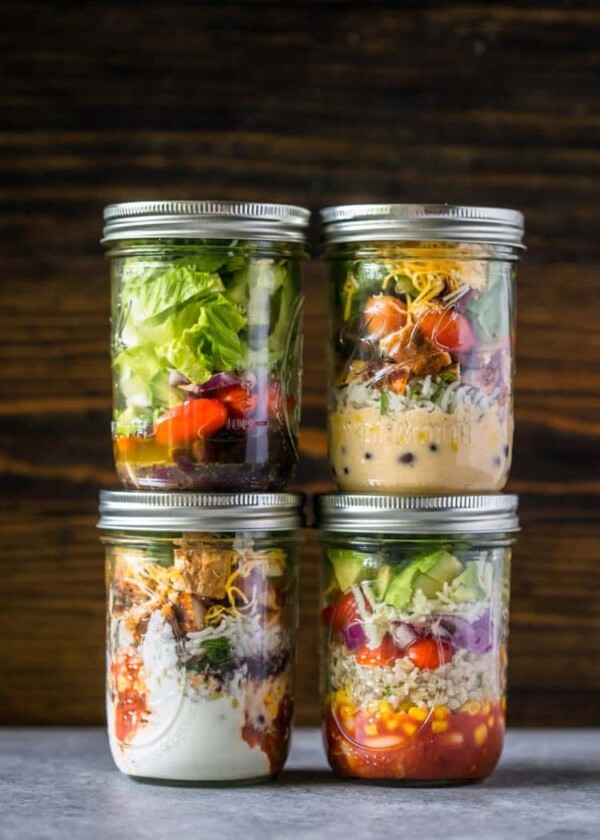 26. Mexican Chicken & Cauliflower Rice Meal Prep Bowls from Sweet Peas & Saffron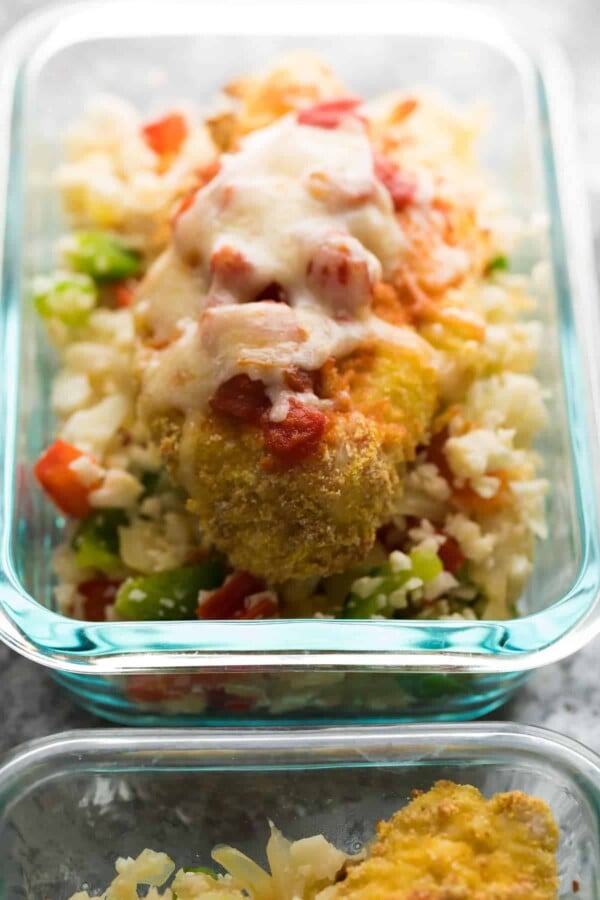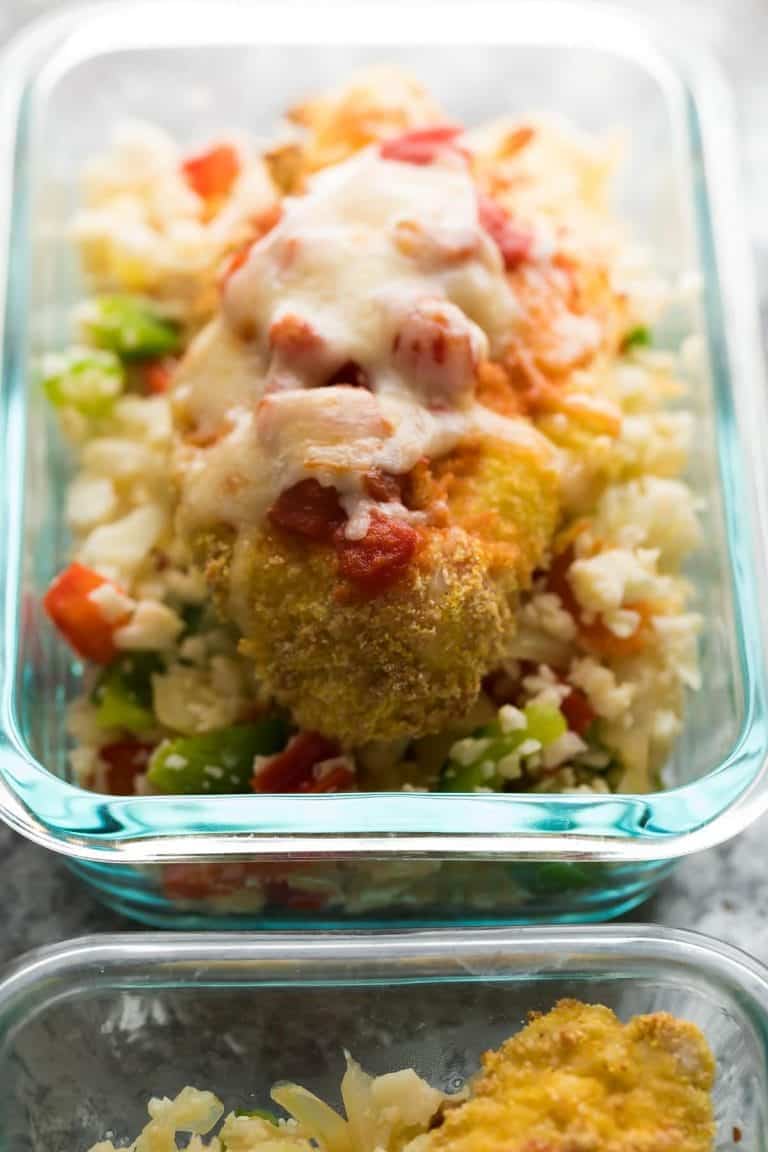 27. Creamy Black Bean Taquito Meal Prep from Budget Bytes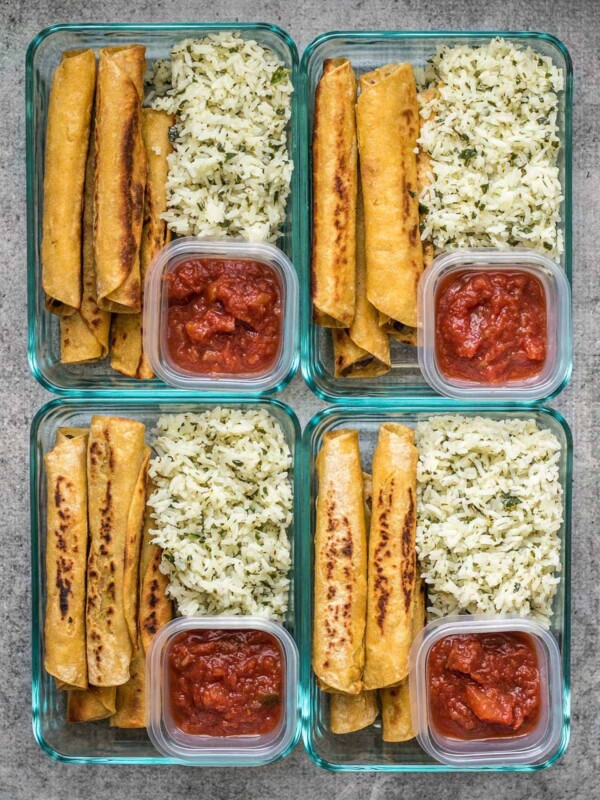 28. Slow Cooker Chipotle Honey Taco Salad Lunch Bowls from Sweet Peas & Saffron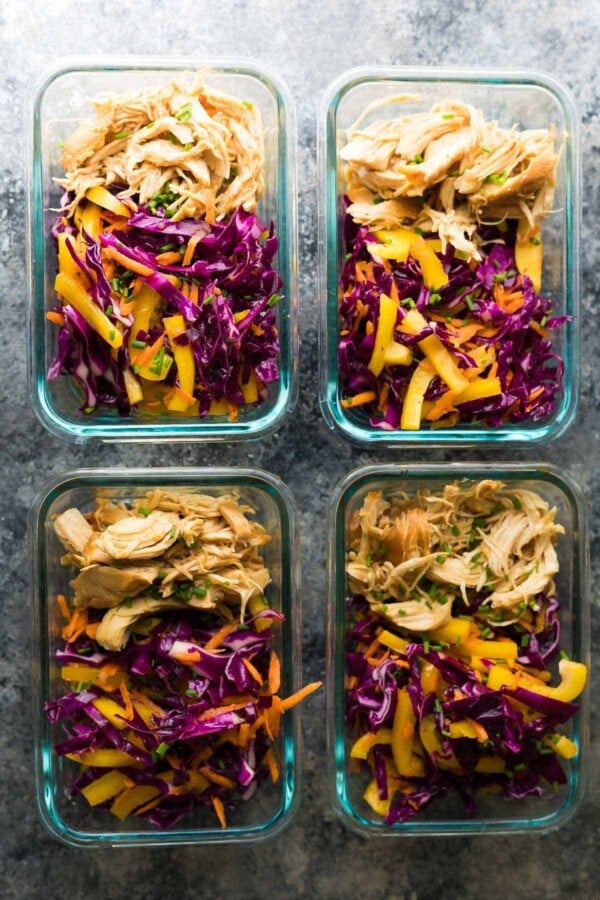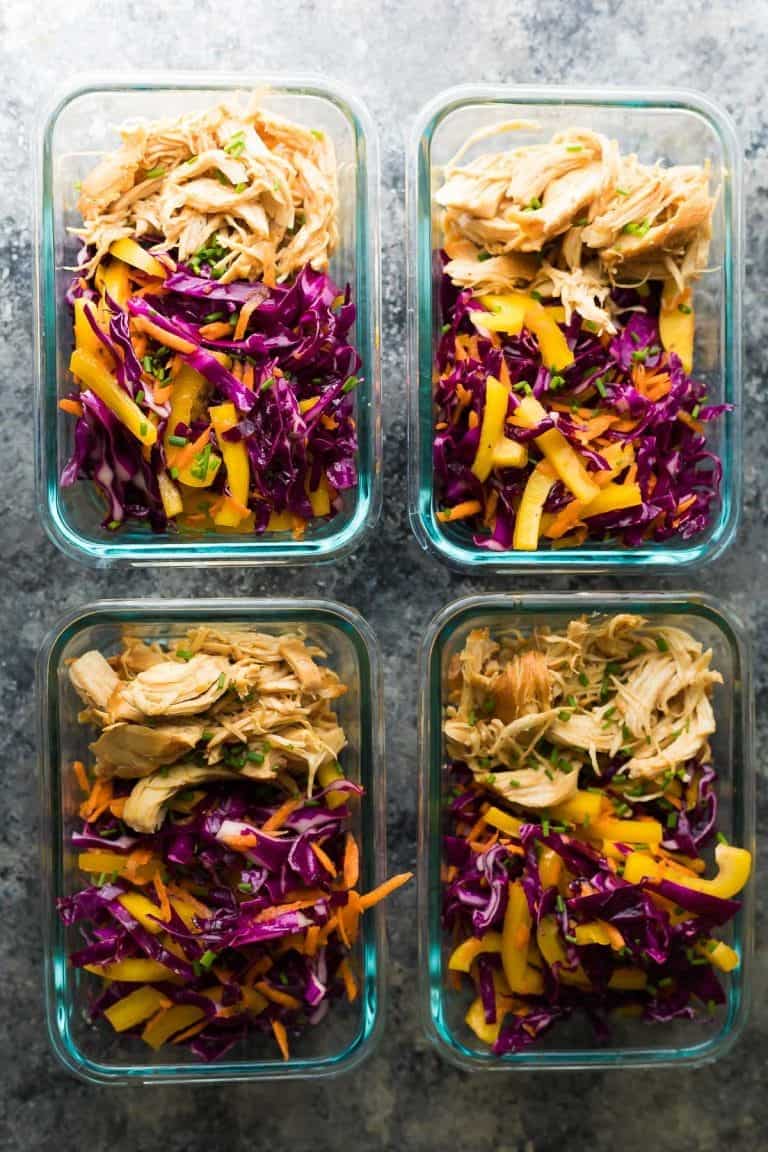 2. Easy soup lunch meal prep ideas:
29. Thai Coconut Healthy Homemade Instant Noodles from Sweet Peas & Saffron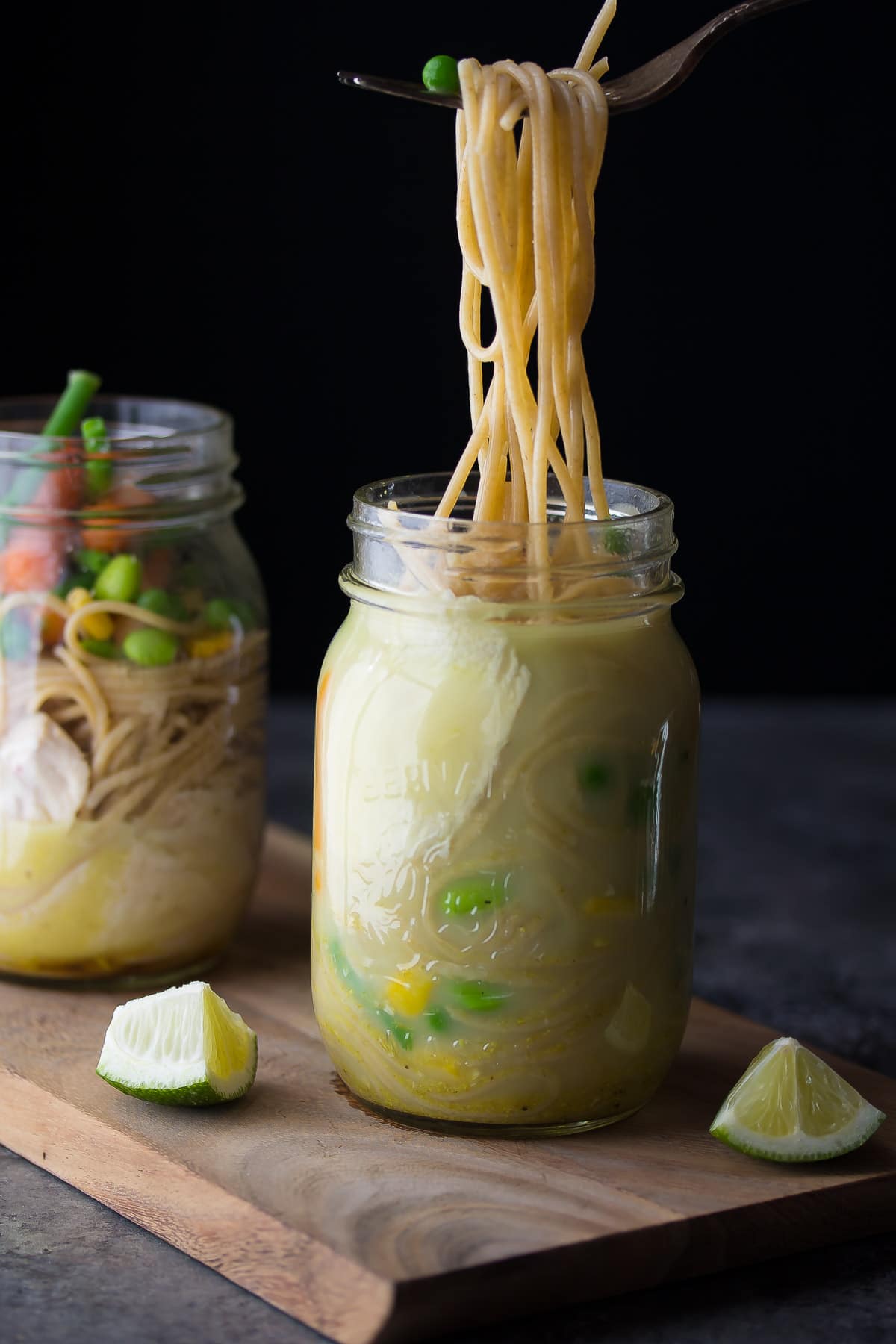 30.  Crockpot Butternut Squash Chicken and Quinoa Soup from Chelsea's Messy Apron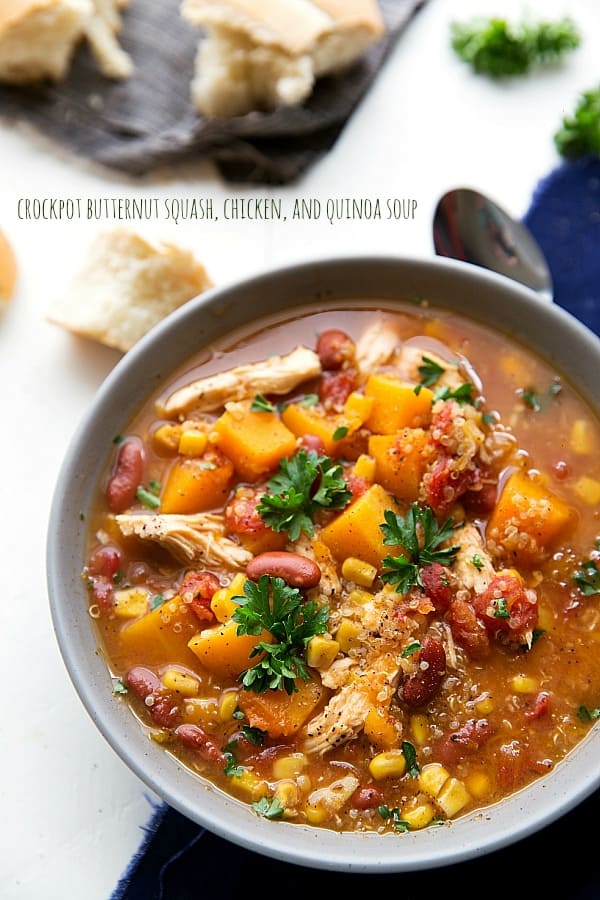 31. Caribbean Sweet Potato Soup from Sweet Peas & Saffron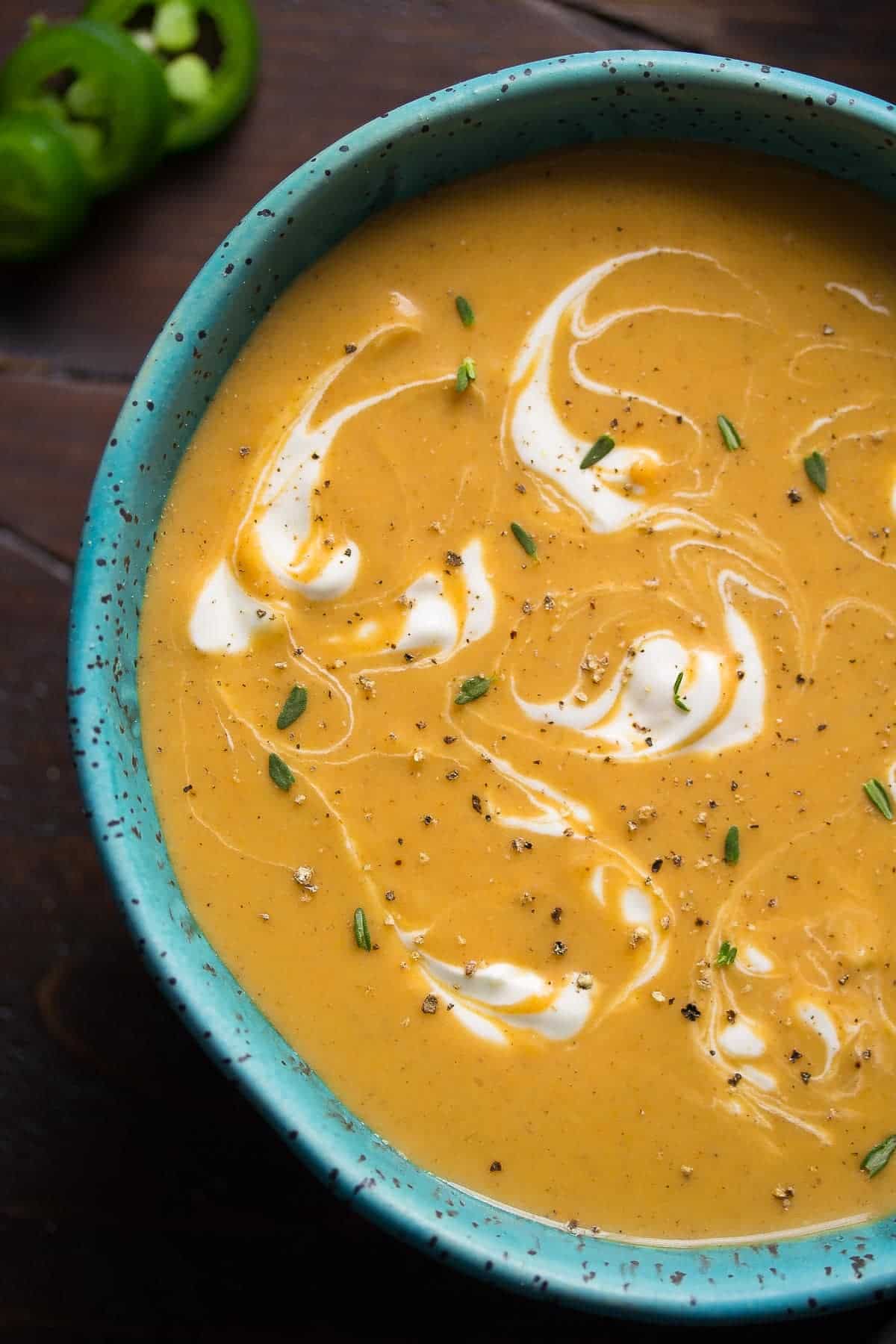 32. 30 Minute Garden Veggie Barley Soup from Stacey Homemaker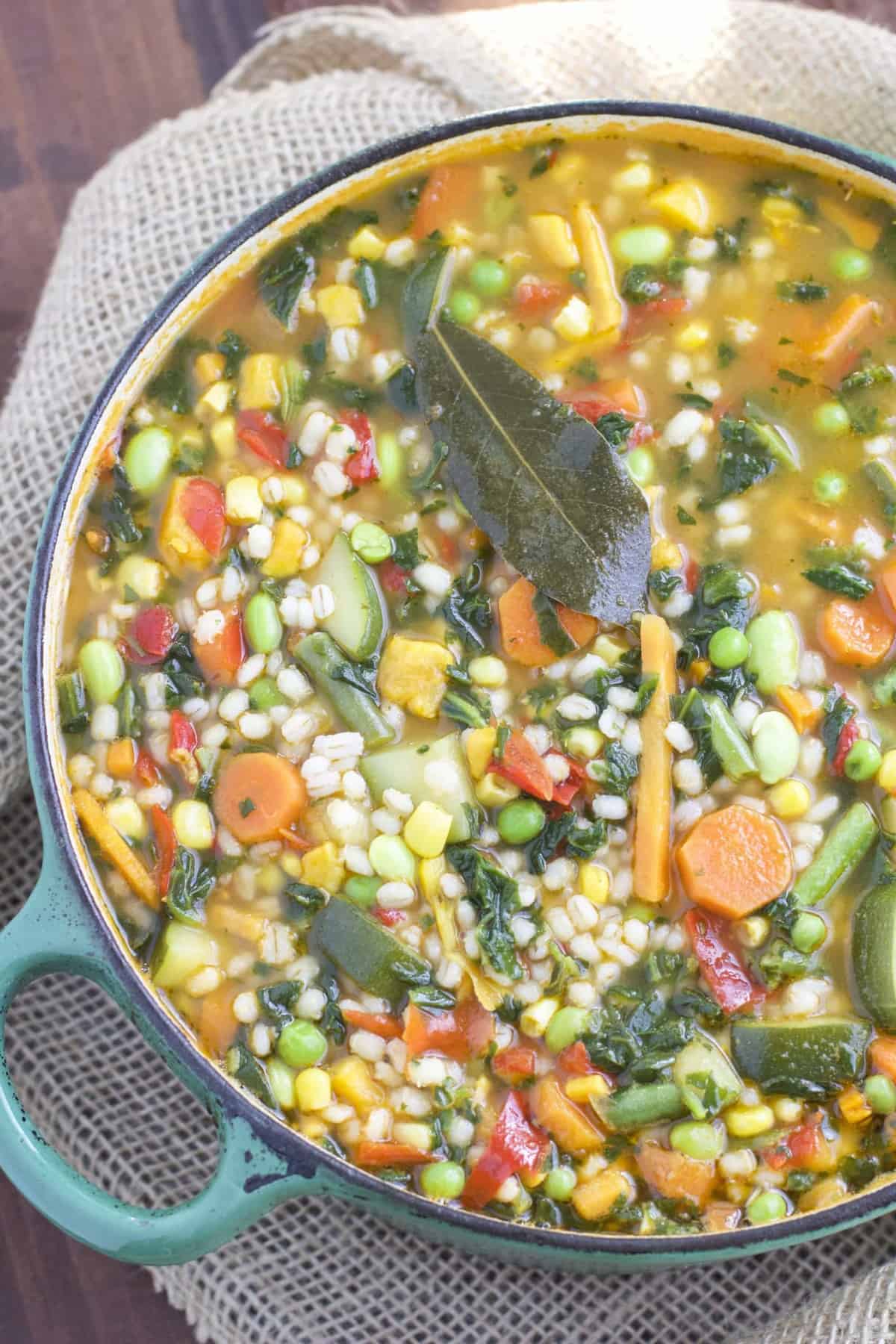 33. Thai Butternut Squash Soup (Vegan) from Sweet Peas & Saffron
3. Easy wrap lunch meal prep ideas:
34. Thai Turkey Meal Prep Lettuce Wraps from Sweet Peas & Saffron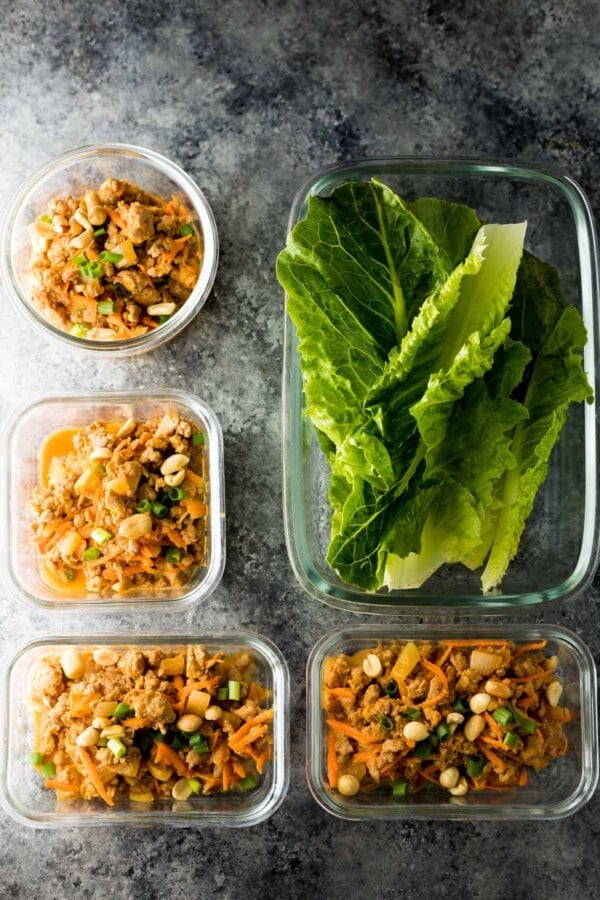 35. Smashed White Bean & Spinach Quesadillas from Sweet Peas & Saffron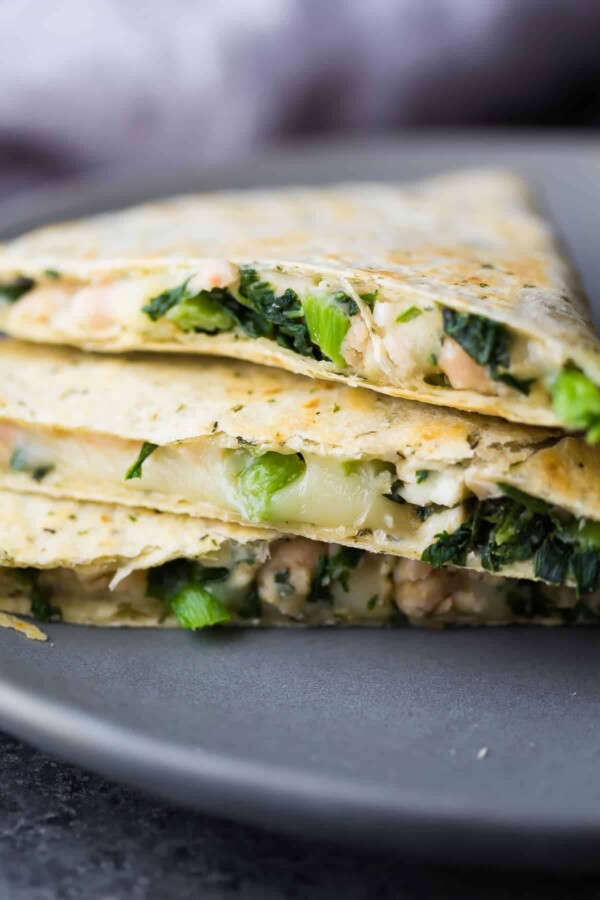 36. Healthy Turkey Lettuce Wraps from Eat Yourself Skinny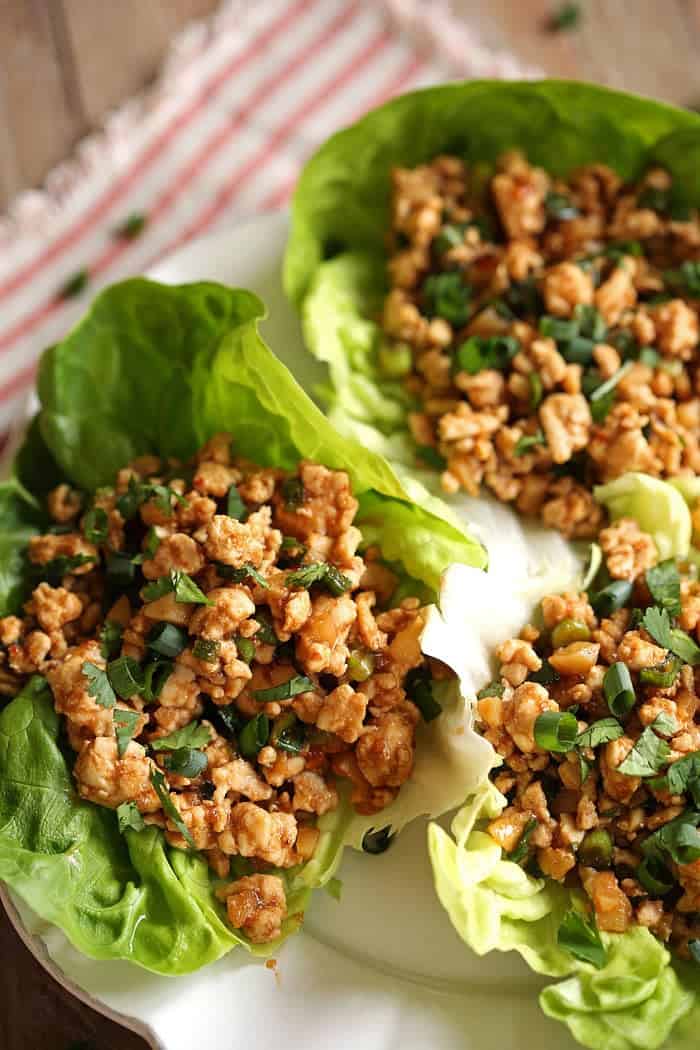 37. Chickpea Shawarma Stuffed Pitas from Naturally Ella (keep pita + filling separate until just before serving)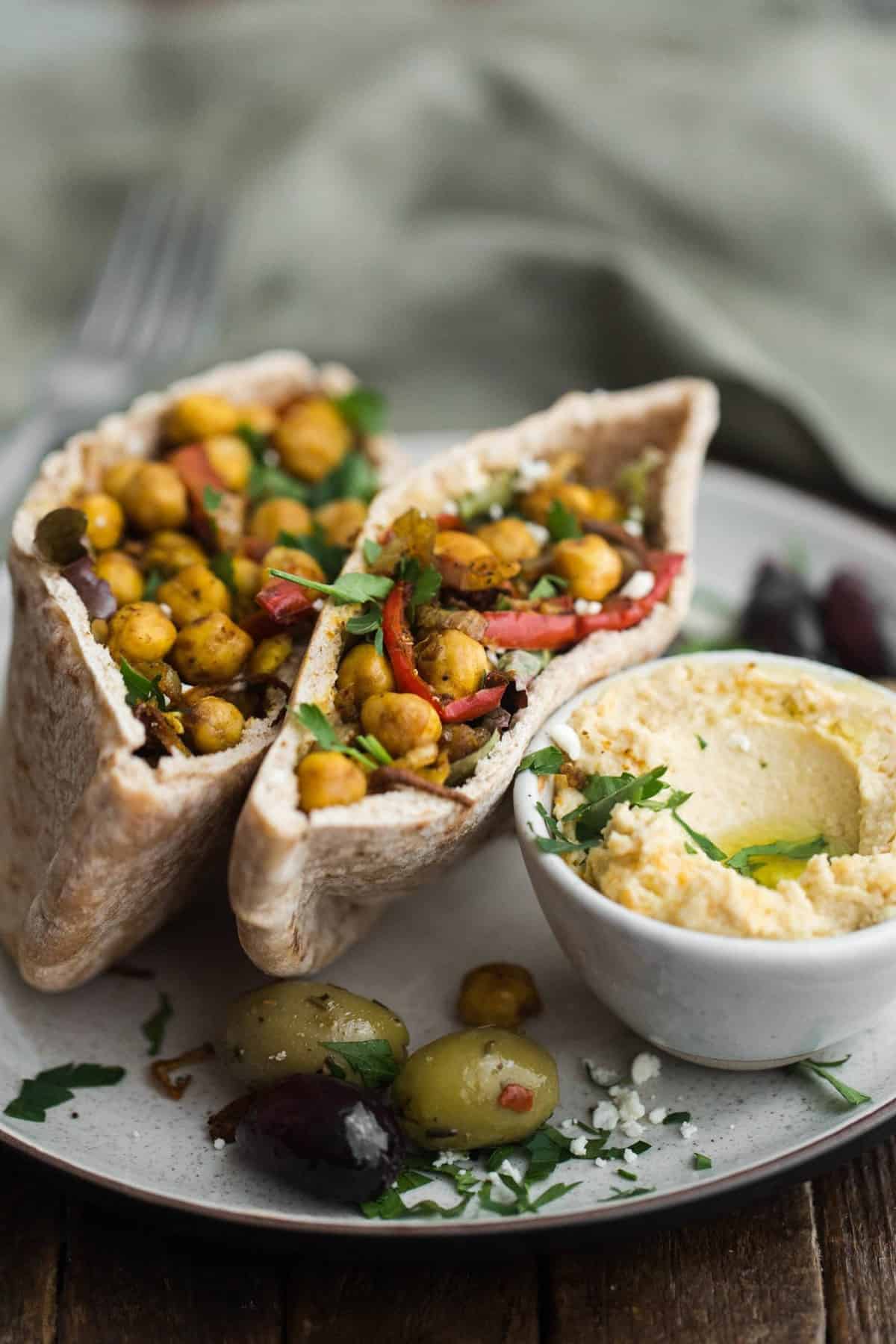 38. Pesto Chicken Pita Pockets from Sweet Peas & Saffron