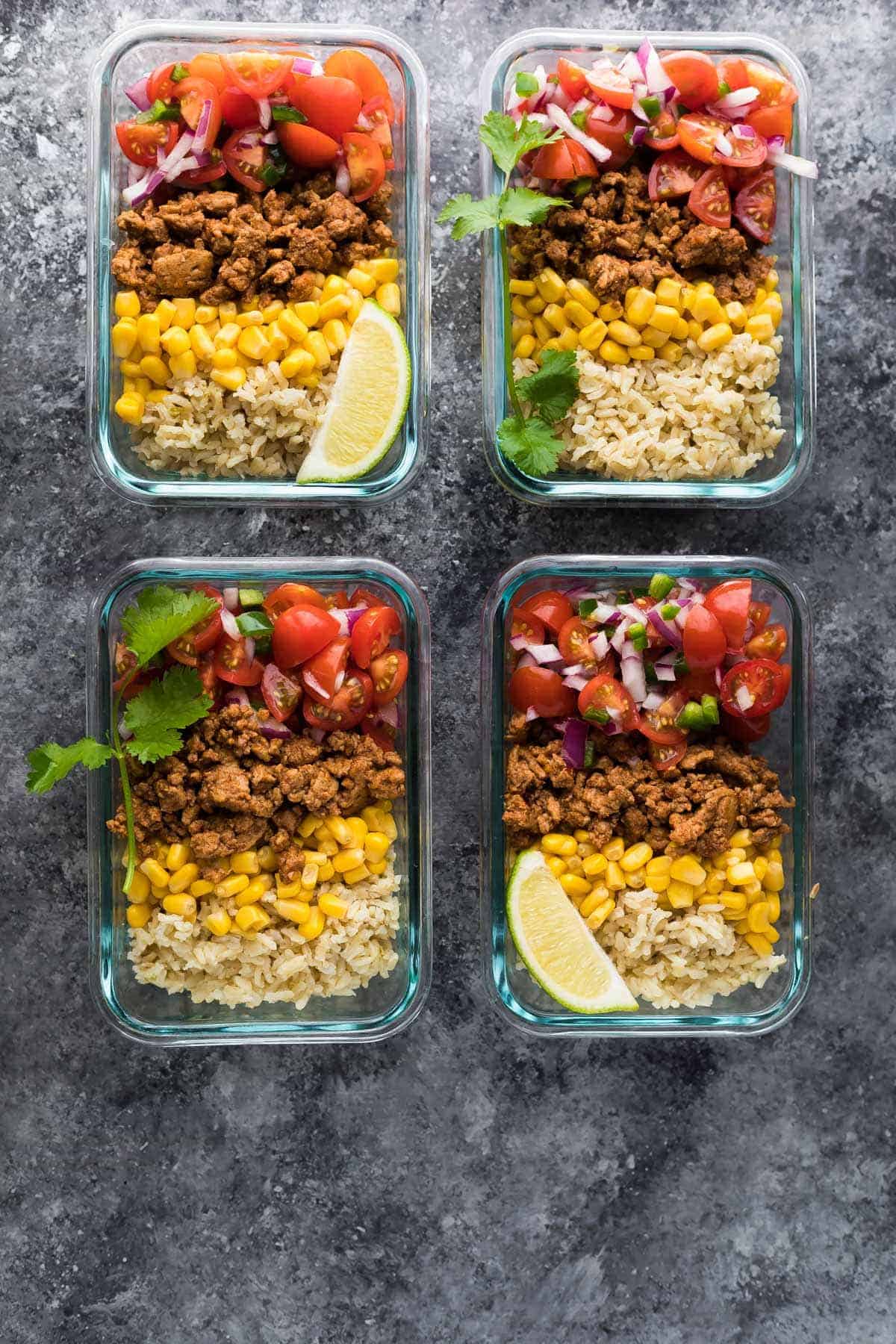 Make these turkey taco lunch bowls on the weekend and you'll have four healthy, delicious and filling lunches ready for the week!
Are there any healthy foods that you dislike?  For me, it's brown rice.
I remember being so excited to embrace brown rice, but quickly became disenchanted when I realized it had to cook for forty minutes.  And then even more disenchanted when I tasted my bland, dry brown rice.
I think that was ten years ago and I still can't seem to shake those memories.  But I decided to give it another try, because it is far less refined than white rice and retains a ton of healthy vitamins and nutrients.  That plus it takes longer to digest which means you feel full for longer after eating it.
So I finally gave brown rice another try, and I'm so glad I did!
PSST!  Looking for some lunch containers?  These
are my favorite!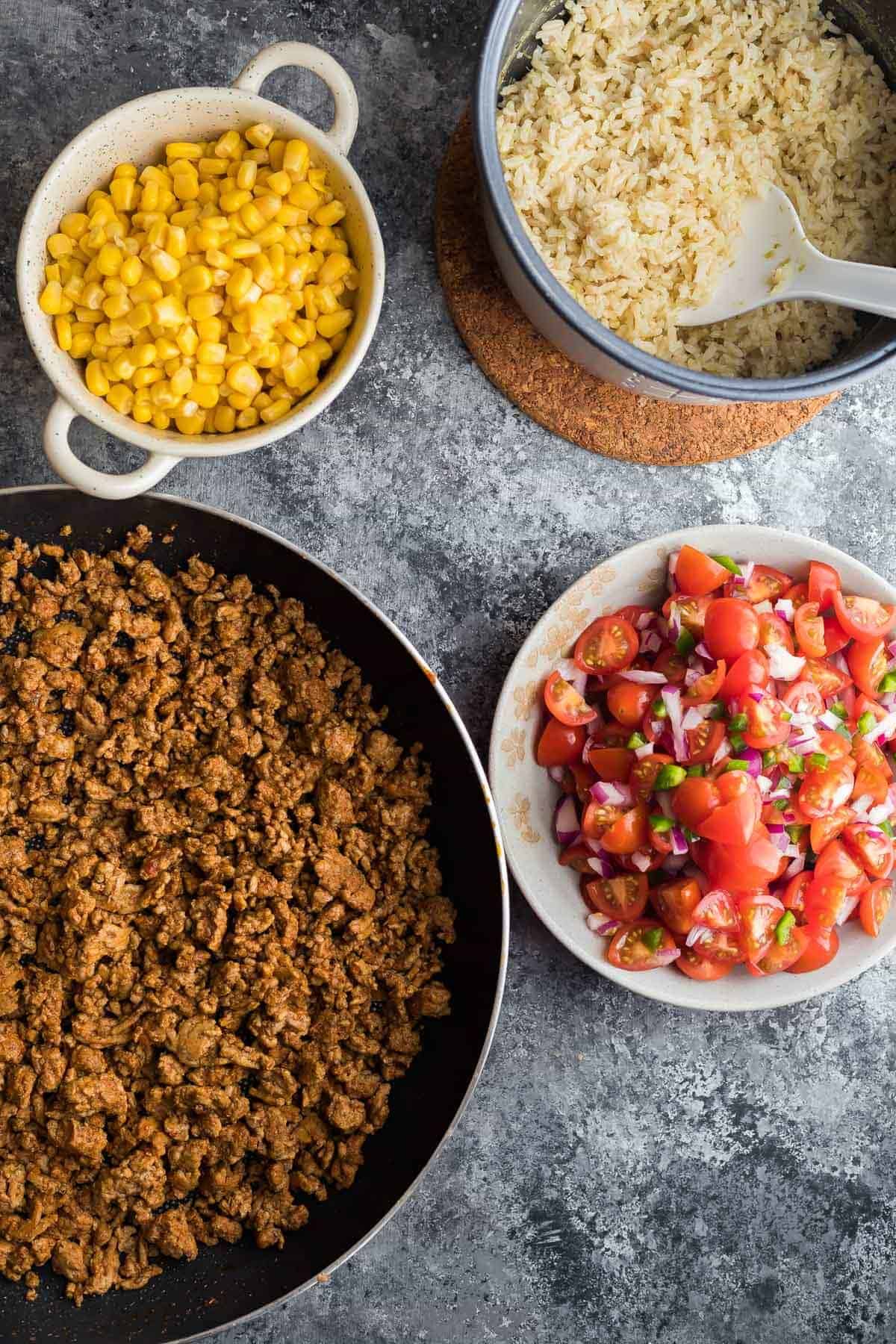 Did my brown rice take forever to cook?  Yes it did.  But I cooked it in my rice cooker for a super hands off approach, and was rewarded with the softest brown rice!  I added a touch of salt and some lime zest to liven things up.
This brown rice went straight into these turkey taco lunch bowls.  Maybe we could call them burrito bowls?  I dunno.
Whatever we call them, me likey!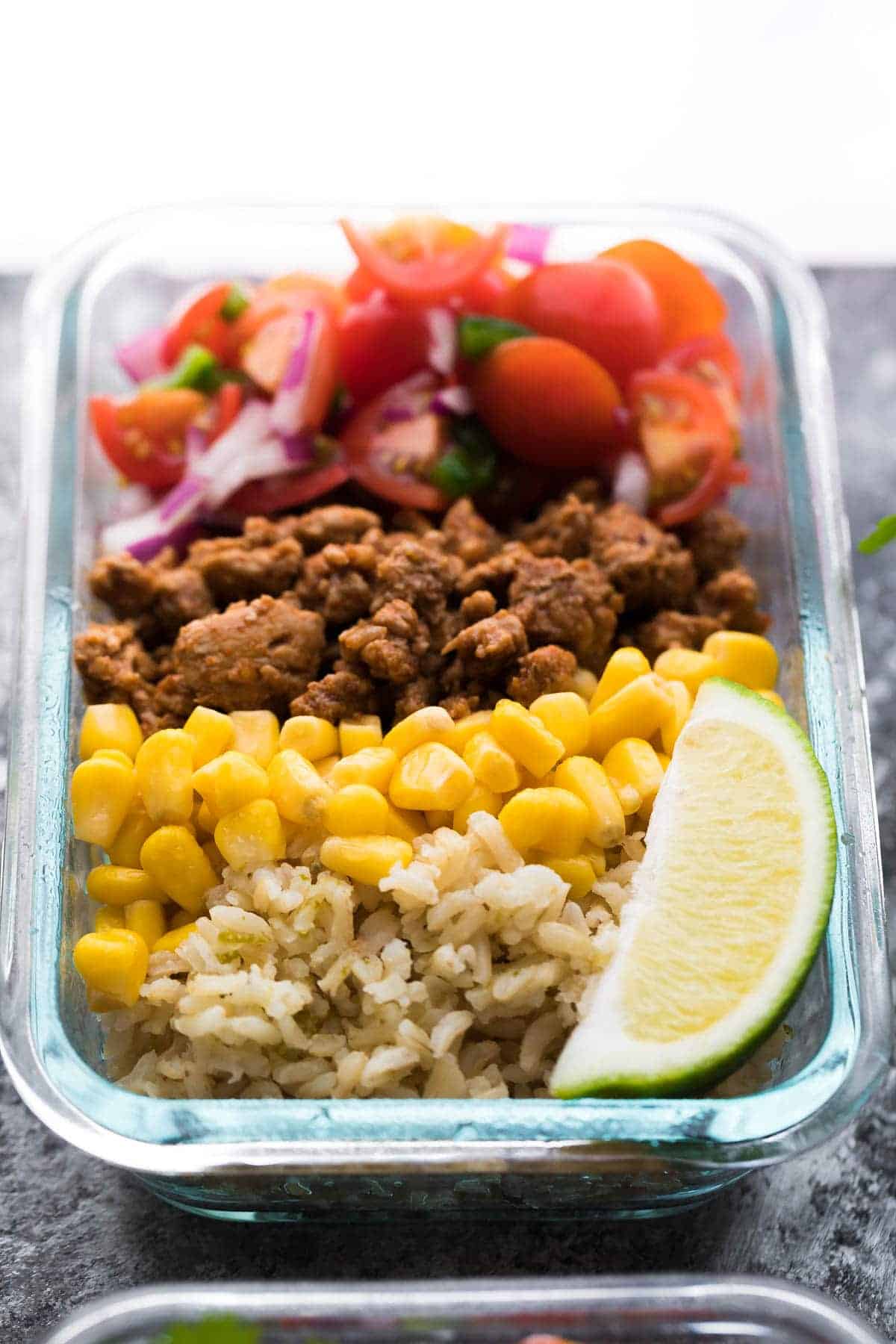 I cooked up a batch of ground turkey with some taco seasoning, and chopped up a fresh tomato salsa.
I'm often leery of make ahead recipes that contain tomatoes because they will soften a lot by day four, but I don't mind that one bit mixed in with these lunch bowls!
I completely loaded these bowls up with the tomato salsa…and some corn.  Feel free to use what you have in your fridge!
Also: cheese.  Not pictured, but a tablespoon or two is not a bad decision at all in these lunch bowls 😉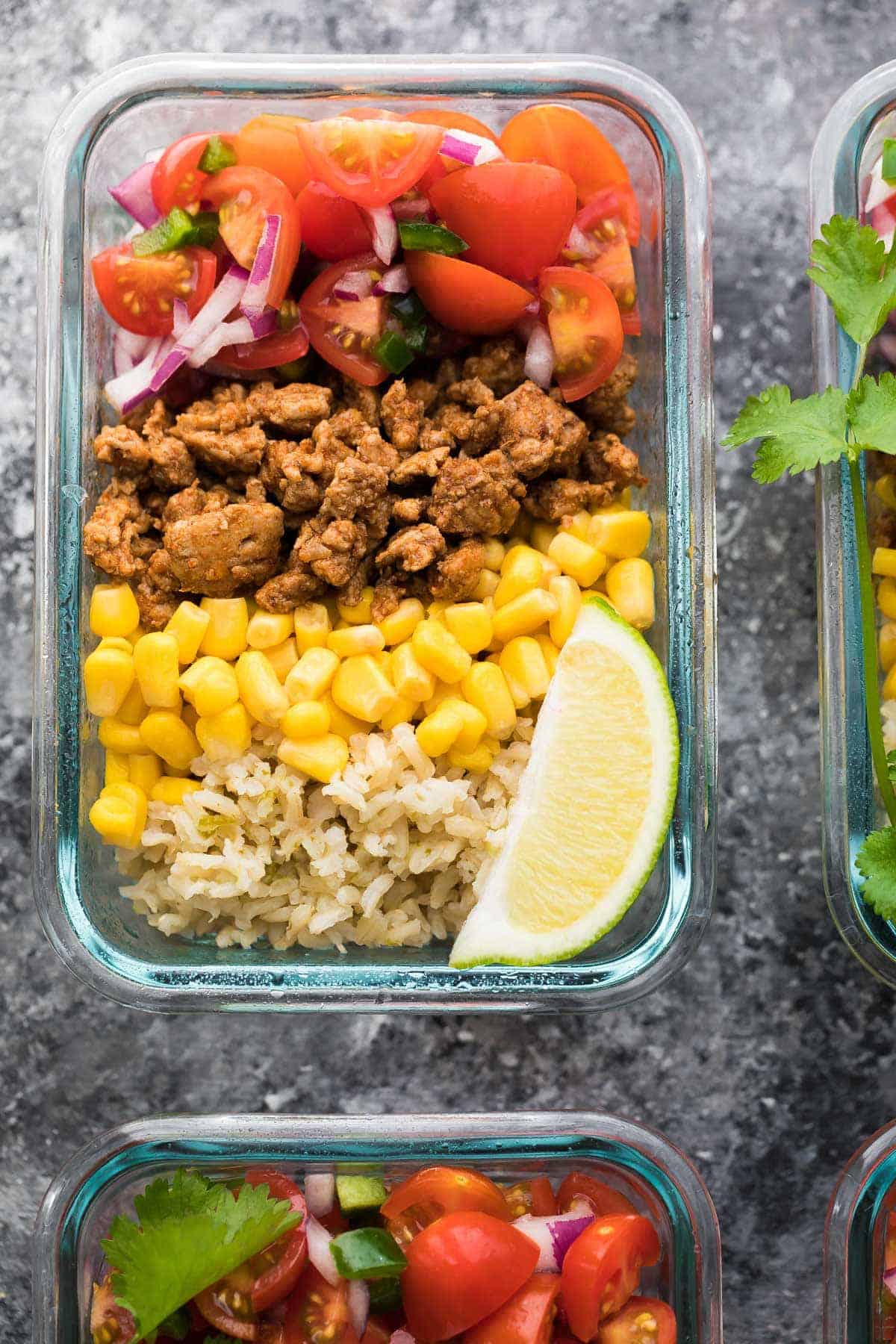 Not only are these bowls loaded with fresh veggies, but they are actually filling!  Does anyone else get super annoyed when you get hungry an hour after lunch? I DO.
These turkey taco lunch bowls are so versatile!  You can mix them up in so many ways:
a couple tablespoons of shredded cheese
swap the turkey for black beans (you may want to cook them up in some taco seasoning for the added flavor it gives)
swap the fresh salsa for jarred
add some yogurt or sour cream
add crunchy cabbage, shredded carrots, or bell peppers.  Clean out your fridge!
Alrighty.  That's it for today!  Happy Monday!
More make ahead lunch recipes for us!
Turkey Taco Lunch Bowls (Meal Prep)
Ingredients
Rice
3/4 cup uncooked brown rice
1/8 tsp salt
zest of 1 lime
Turkey
3/4 lb lean ground turkey
2 tablespoons taco seasoning of choice
Salsa
1 pint cherry tomatoes, quartered
1 jalapeno, minced
1/4 cup red onion, minced
juice from 1/2 a lime
1/8 tsp salt
Other
one 12 oz/341 mL can corn kernels, drained & rinsed
1/4 cup shredded cheese (cheddar or mozzarella)
Directions
Cook brown rice according to package directions, adding the lime zest and salt to the cooking water.
Cook turkey over medium heat, tossing in the taco seasoning and breaking it up as you cook. Cook for 10 or so minutes, until cooked through.
Combine all salsa ingredients and toss together.
To assemble lunch bowls: (I love these containers)
-1/4 portion of cooked rice (roughly ½ cup)
-1/2 cup corn kernels
-1/2 cup cooked taco meat
-1/4 portion of salsa (just over ½ cup)
Recipe Notes
Nutritional Information:
Calories 387 // Fat 10 g // Saturated Fat 3 g // Cholesterol 72 mg // Sodium 872 mg // Carbohydrate 52 g // Fiber 5 g // Sugars 9 g // Protein 23 g
Loading nutrition data...
Products used in this recipe: