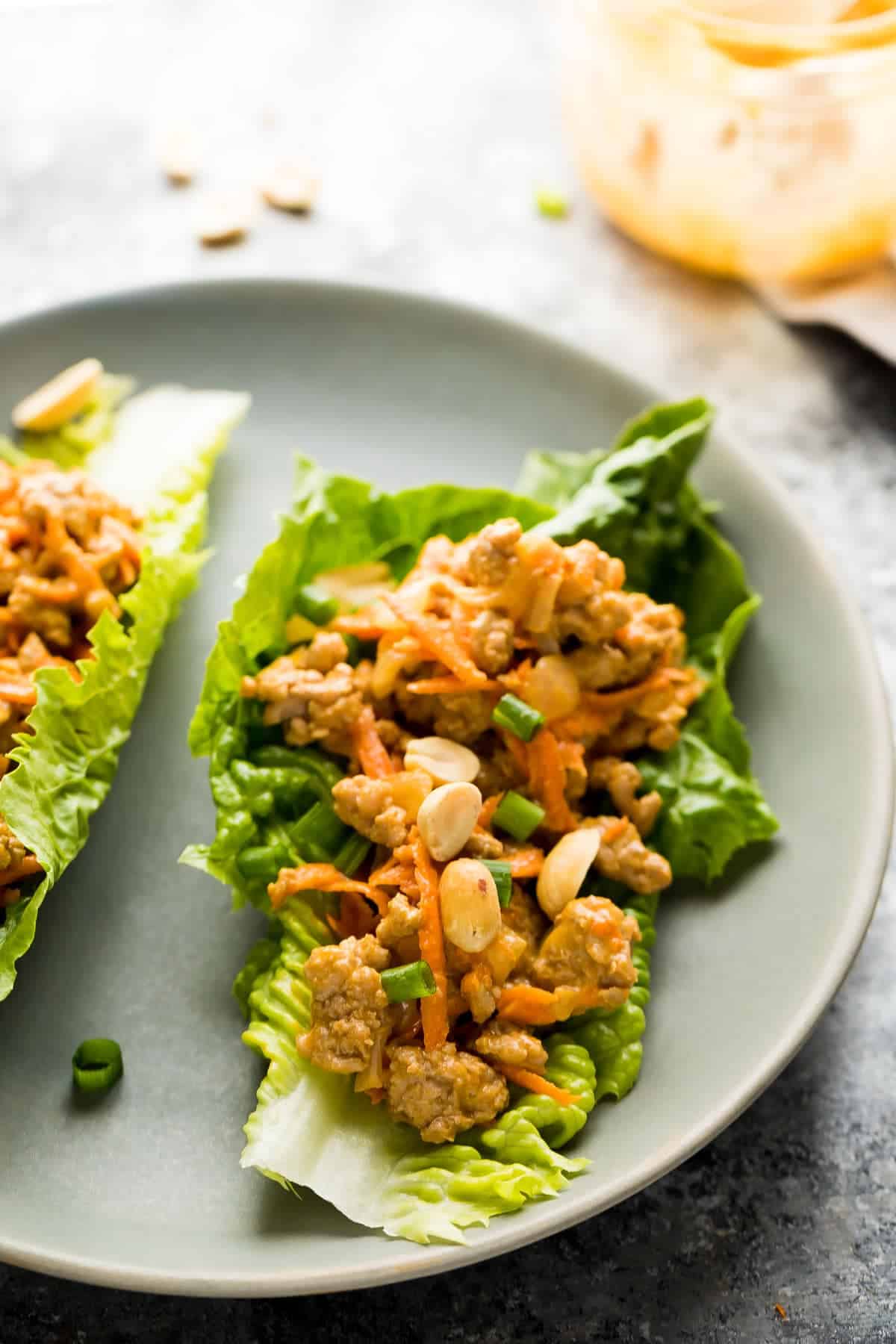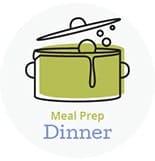 Thai turkey meal prep lettuce wraps make for an easy, low carb meal prep dinner or lunch.  Prep the Thai peanut turkey filling ahead and serve on crunchy romaine lettuce leaves.
The whole family is verrrry happy that I'm now in the second trimester of pregnancy, because we've (mostly) returned to our normal eating habits!
First trimester I pretty much shunned all meat, any strong flavors like curry, and pretty much all veggies.  Happily, I'm welcoming them all back into my life.  Oh how I've missed you all!!
Today's recipe is an easy meal prep dinner or lunch recipe that you can make ahead and store in the fridge or freezer.  That's convenient whether you are a student, working full time, or just want to relieve meal time stress.
When you're ready to serve these Thai turkey meal prep lettuce wraps, simply heat your pre-made filling and serve on a crispy Better Romaine Leaf lettuce from Mann's!  Easiest dinner ever.  Want proof?  Check out this video: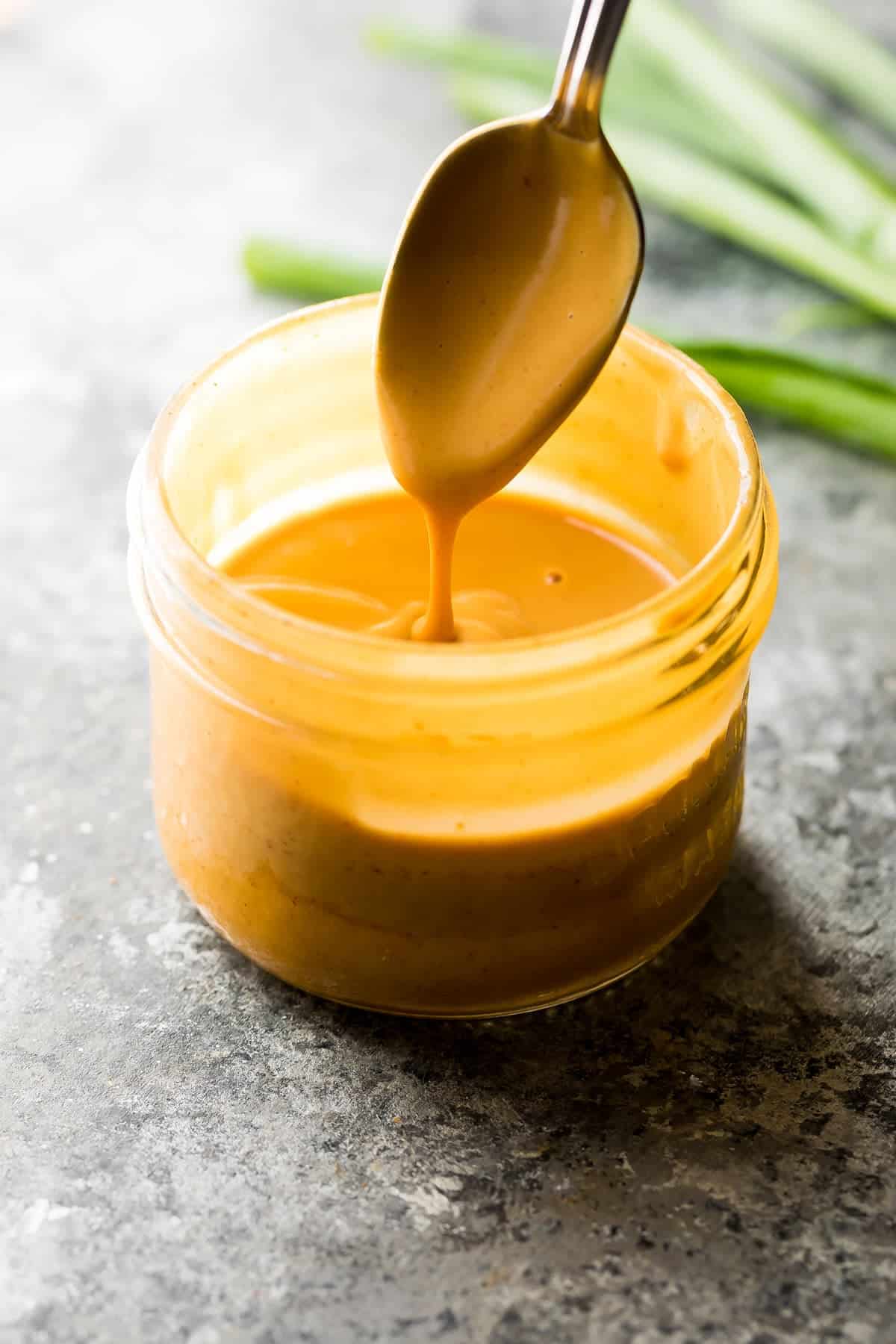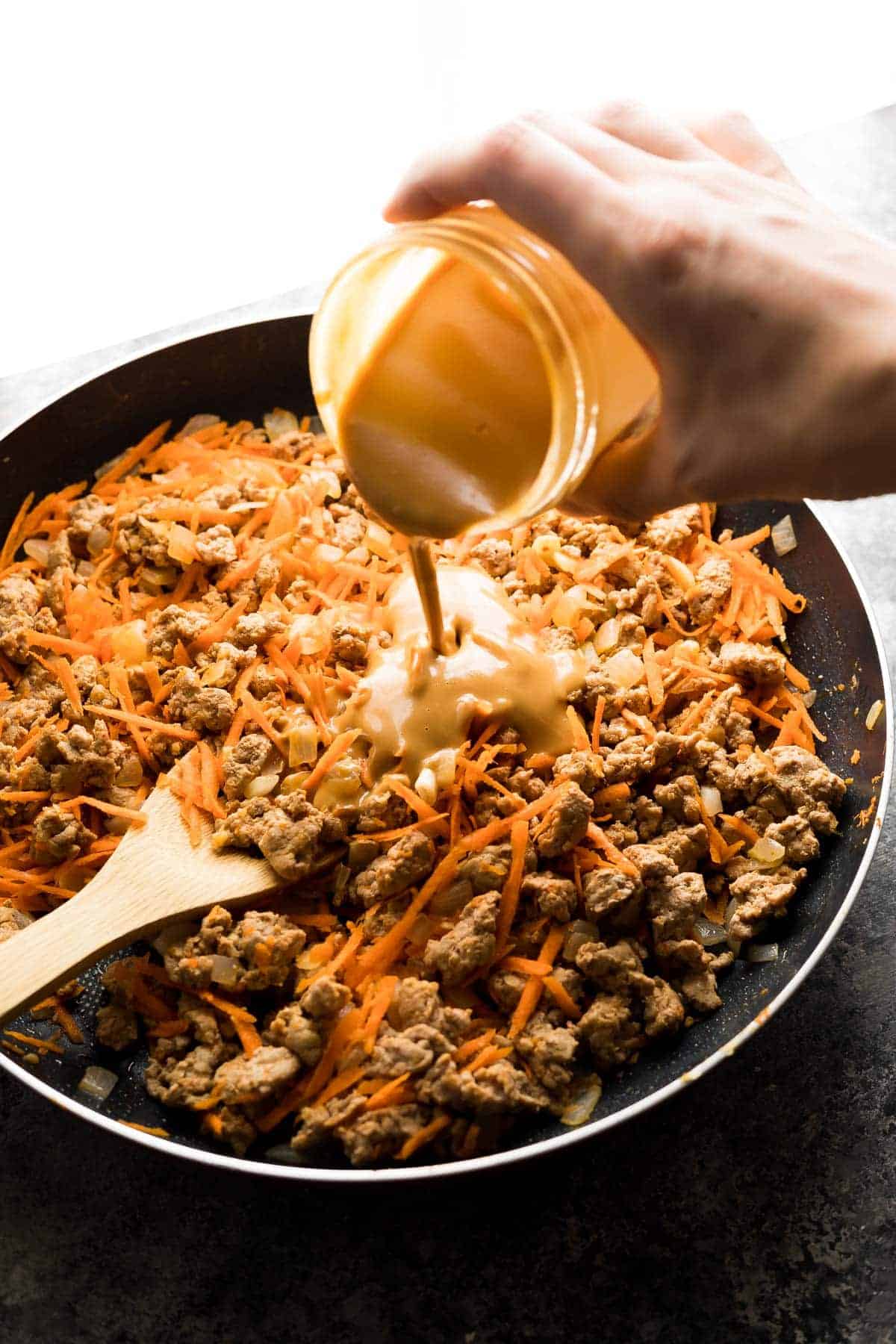 Today's recipe is in partnership with Mann's, whose Better Romaine Leaf lettuce is the definition of convenience: cut, washed and ready to go!
Not only that, but because it is packaged quickly after harvesting and is stored in a specialized tray, Better Romaine Leaf has an incredible shelf life.  We enjoyed crispy romaine lettuce for well over a week after purchasing it.  Basically, it's perfect if you're looking to shave some time off your meal prep routine!
I've always used butter lettuce for my lettuce wraps, but from now on, I'm sticking with romaine!  Romaine lettuce is so sturdy for wrapping, and it also has that important crunch factor.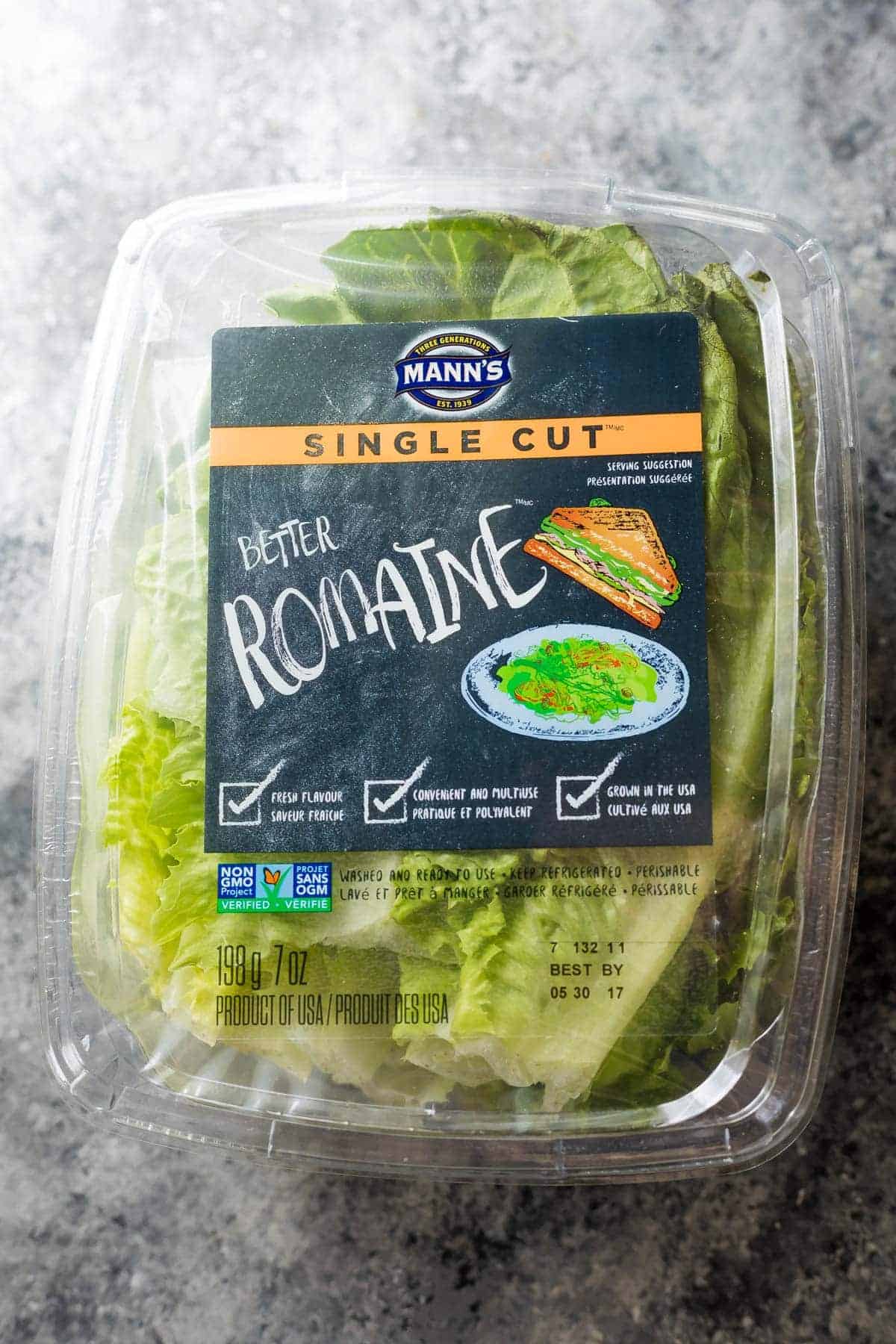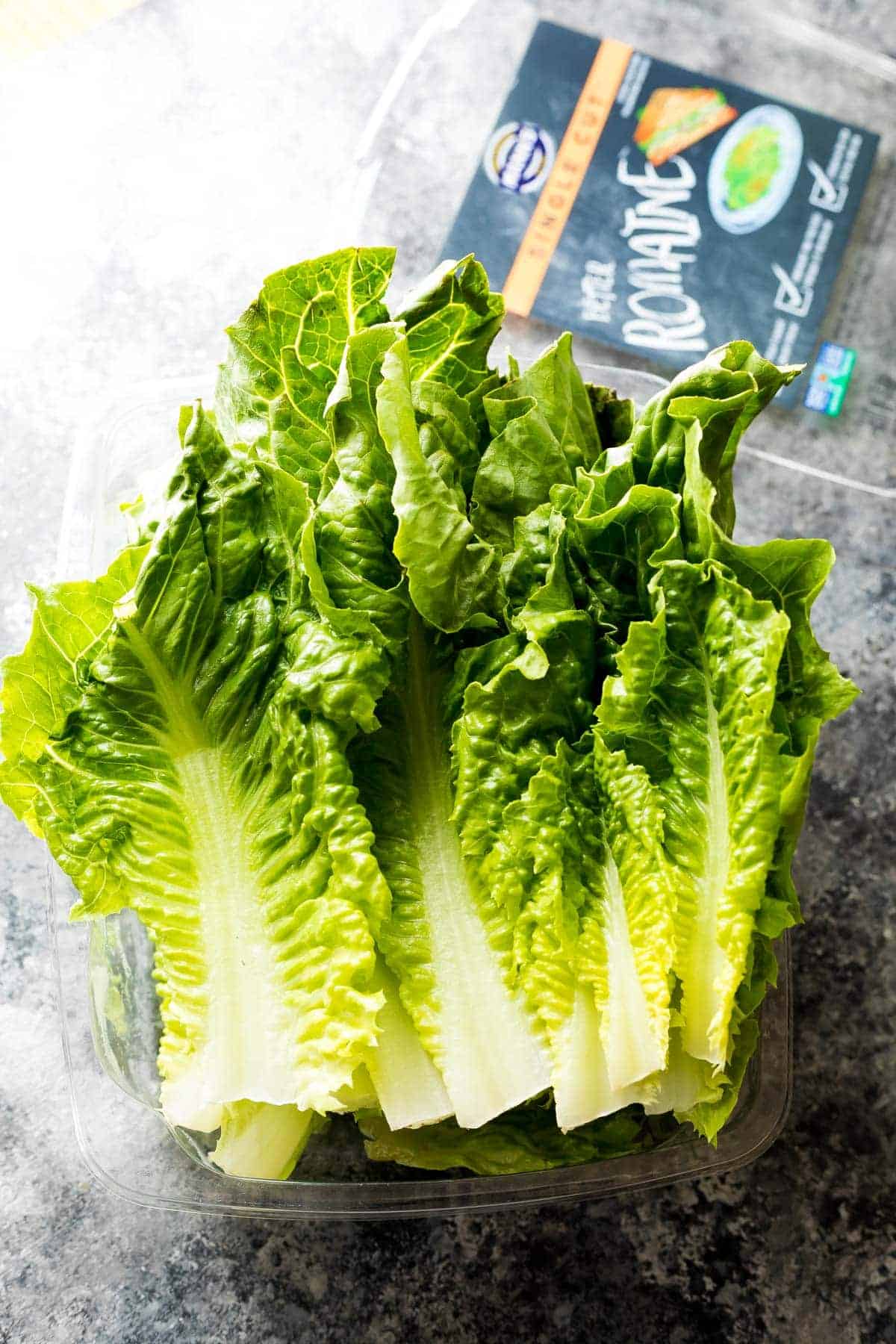 Not only are these Thai turkey meal prep lettuce wraps a versatile meal prep recipe (perfect for lunch or dinner), but they are super duper easy to whip up.
First, you prep your peanut sauce, then cook up some ground turkey with onions, garlic and curry paste.  I bet it would be great with ground beef or chicken, too!
I added some shredded carrots, because they will freeze/thaw and last in the fridge, but you could definitely add some more veggies, too.  I was thinking shredded zucchini, thinly sliced bell peppers, and even some bean sprouts (fresh only, they won't stay crunchy in the fridge/freezer), would be great additions to add more veg.
Toss everything up in the creamy dreamy peanut sauce and that's it!  Total cook/prep time: 20-30 minutes.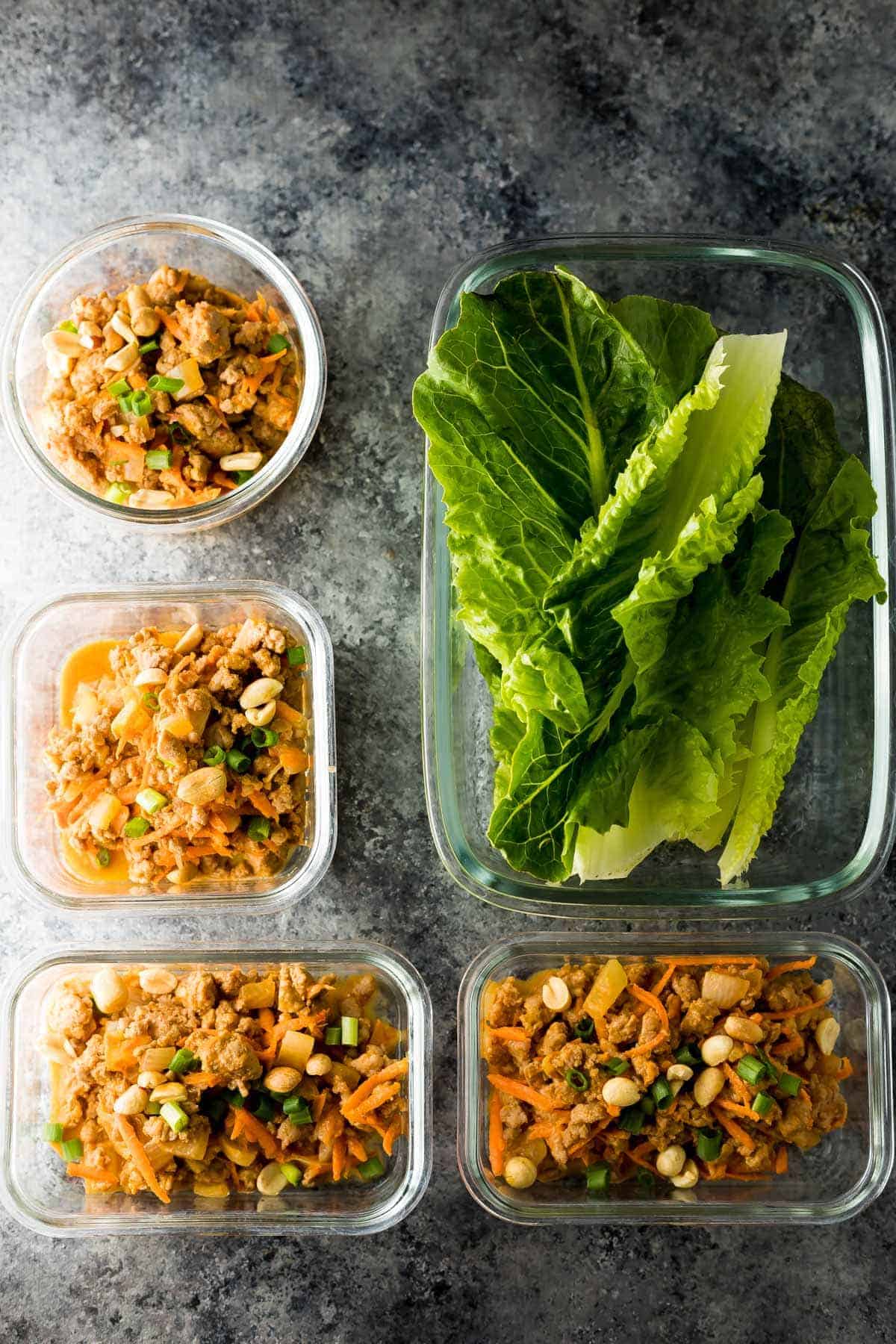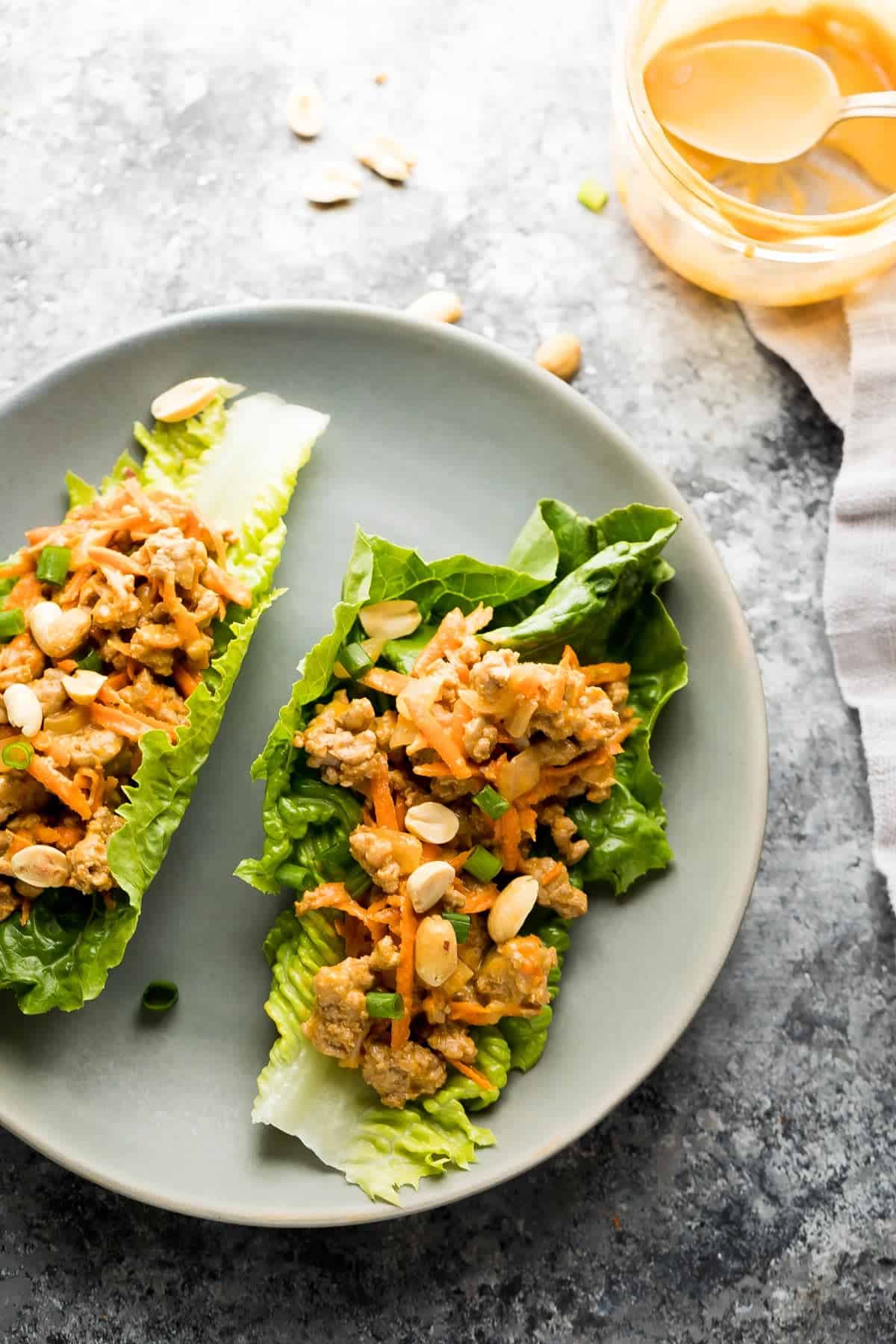 Note: because you are adding some Thai red curry paste
, these are going to have a bit of spice to them.  You can reduce or omit the curry paste (although I really enjoyed the flavor it brings), to make these more kid friendly.
Looking for some variety in your meal prep lunch/dinner?
Chop up the Better Romaine Leaf and serve wrapped in a tortilla with the Thai ground turkey
Chop up the romaine and serve as a salad with the Thai ground turkey, plus some additional veggies
Add some shredded zucchini or sliced bell peppers to the turkey, or top with fresh bean sprouts for extra veggies
Tips for your perfect Thai turkey meal prep lettuce wraps:
Thank you to Mann's for sponsoring this post!  As always, all opinions are my own.
Thai Turkey Meal Prep Lettuce Wraps
Ingredients
Sauce
1/4 cup peanut butter
3 tablespoons soy sauce
2 tablespoons rice vinegar
2 tablespoons water
1 teaspoon sesame oil
1 tablespoon lime juice
Filling
1 tablespoon olive oil
1 onion, finely chopped
3 cloves garlic, minced
1 tablespoon Thai red curry paste
1 lb lean ground turkey
1 cup carrots, shredded
To serve
7 oz Better Romaine Leaf
green onions to garnish
peanuts to garnish
Directions
Shake together all peanut sauce ingredients and set aside.
Heat oil in a large pan and add the onions, garlic and Thai red curry paste. Stir until red curry paste is heated through and mixed in evenly with the onions (2-3 minutes).
Add the ground turkey and cook, breaking it up with a spatula, for 5-7 minutes, until no pink remains and the turkey is cooked through.
Stir in the shredded carrots.
Pour the peanut sauce evenly over the ground turkey mixture and stir to combine.
Remove from heat.
To serve:
Spoon ¼ cup of the ground turkey into a Better Romaine Leaf. Sprinkle with green onions and peanuts and enjoy.
To store in the fridge:
Allow ground turkey mixture to cool completely. Portion out into ½-3/4 cup portions and store in the fridge for up to 4 days.
Re-heat till steaming hot in the microwave before serving.
To freeze:
Allow ground turkey mixture to cool completely, then portion out into desired serving size in the freezer.
Thaw completely before re-heating in the microwave.
Recipe Notes
Nutritional Information:
2-3 lettuce wraps; ⅙ portion of the filling
Calories 264 // Total Fat 15 g // Saturated Fat 2 g // Cholesterol 45 mg // Sodium 723 mg // Carbohydrate 13 g // Fiber 4 g // Sugars 6 g // Protein 20 g
Note: this recipe makes roughly 6 servings but only keeps in the fridge for up to 4 days. If you plan on using for 6 lunches, you may need to store some portions in the freezer.
Loading nutrition data...