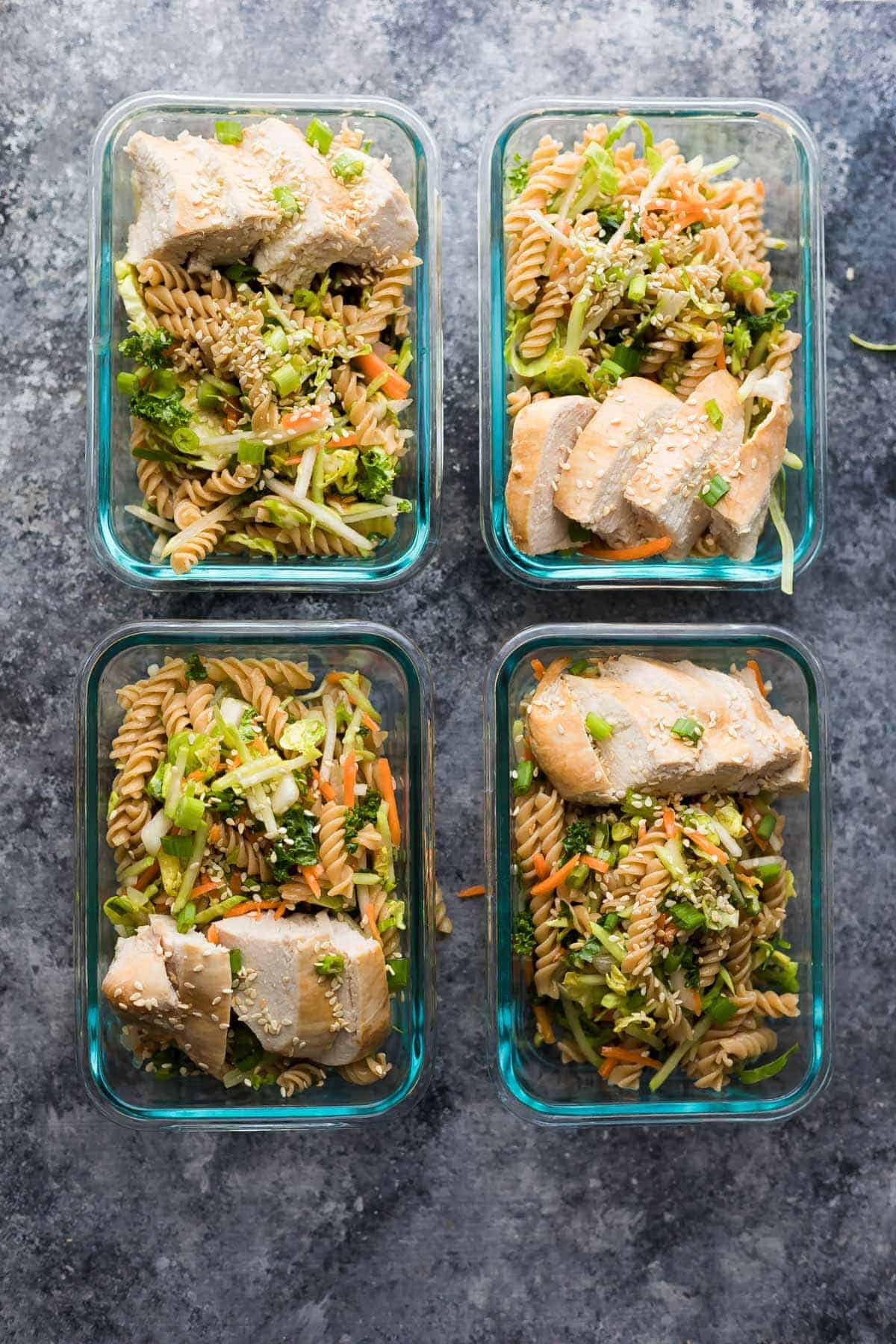 Spend thirty minutes making this meal prep sesame chicken pasta salad and you will be good to go for work lunches during the week!  Packed full of healthy ingredients and tossed in a tangy sesame dressing.
When it comes to lunch, I'm always looking for new ideas, particularly ones that can be made on the weekend.  There is just something so nice about knowing that your delicious, healthy lunch is waiting for you in the fridge.
It gives you just a little something special to look forward to, and it helps keep you from making vending machine runs.
I'm super excited to share today's meal prep sesame chicken pasta salad recipe with you, because I've actually never done a pasta meal prep recipe…how can that be?!
Pasta salad always reminds me of summer, of picnics, and sunshine and warm weather.  And maybe I'm in need of a little sunshine these days (you hear that, Mother Nature?!)  But really, pasta salad is enjoyable year-round, and makes for an awesome lunch.
Today's meal prep sesame chicken pasta salad recipe is a fun twist on the regular pasta salad, with a tangy sesame vinaigrette tossed with whole wheat pasta, chicken breast and Mann's Power Blend.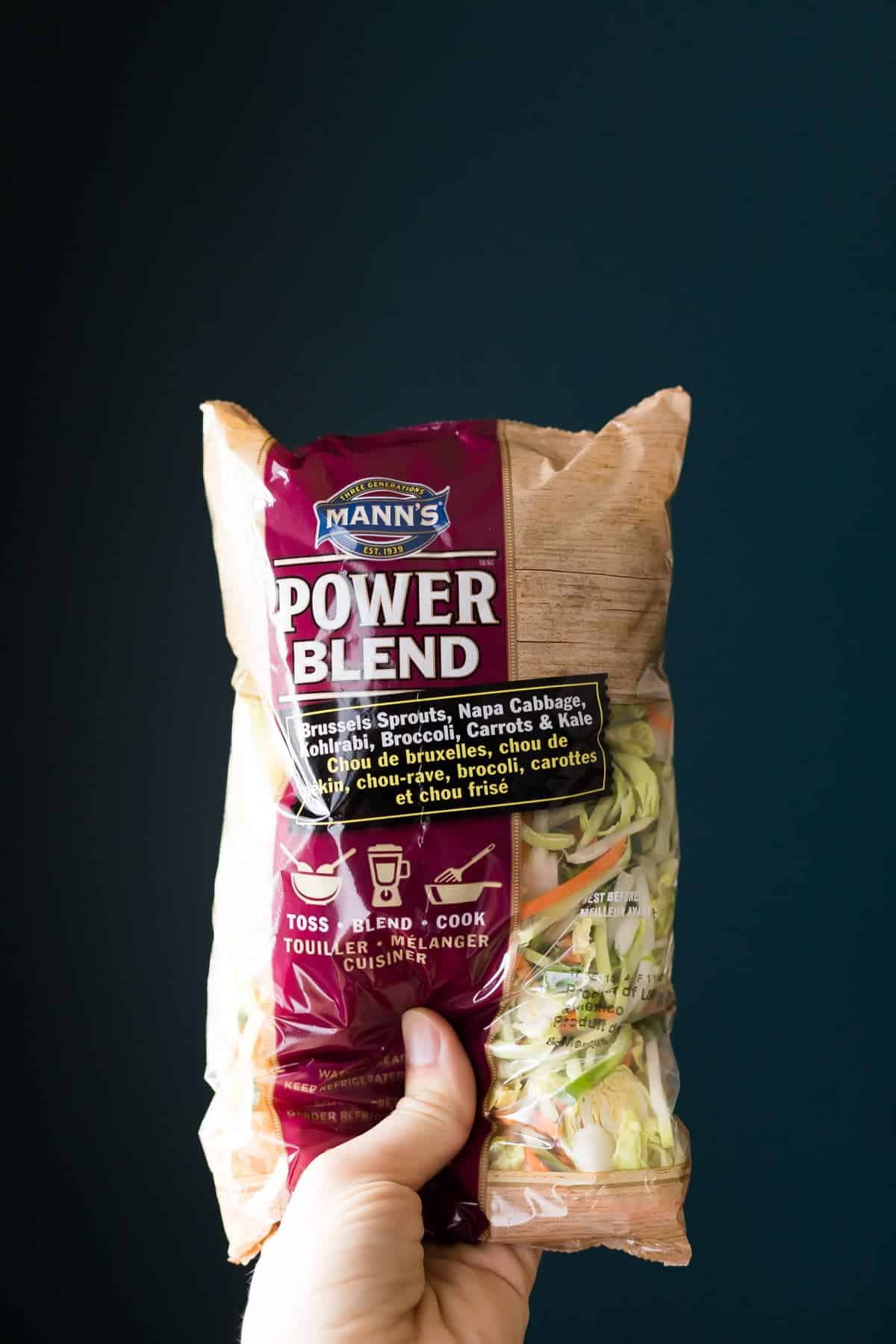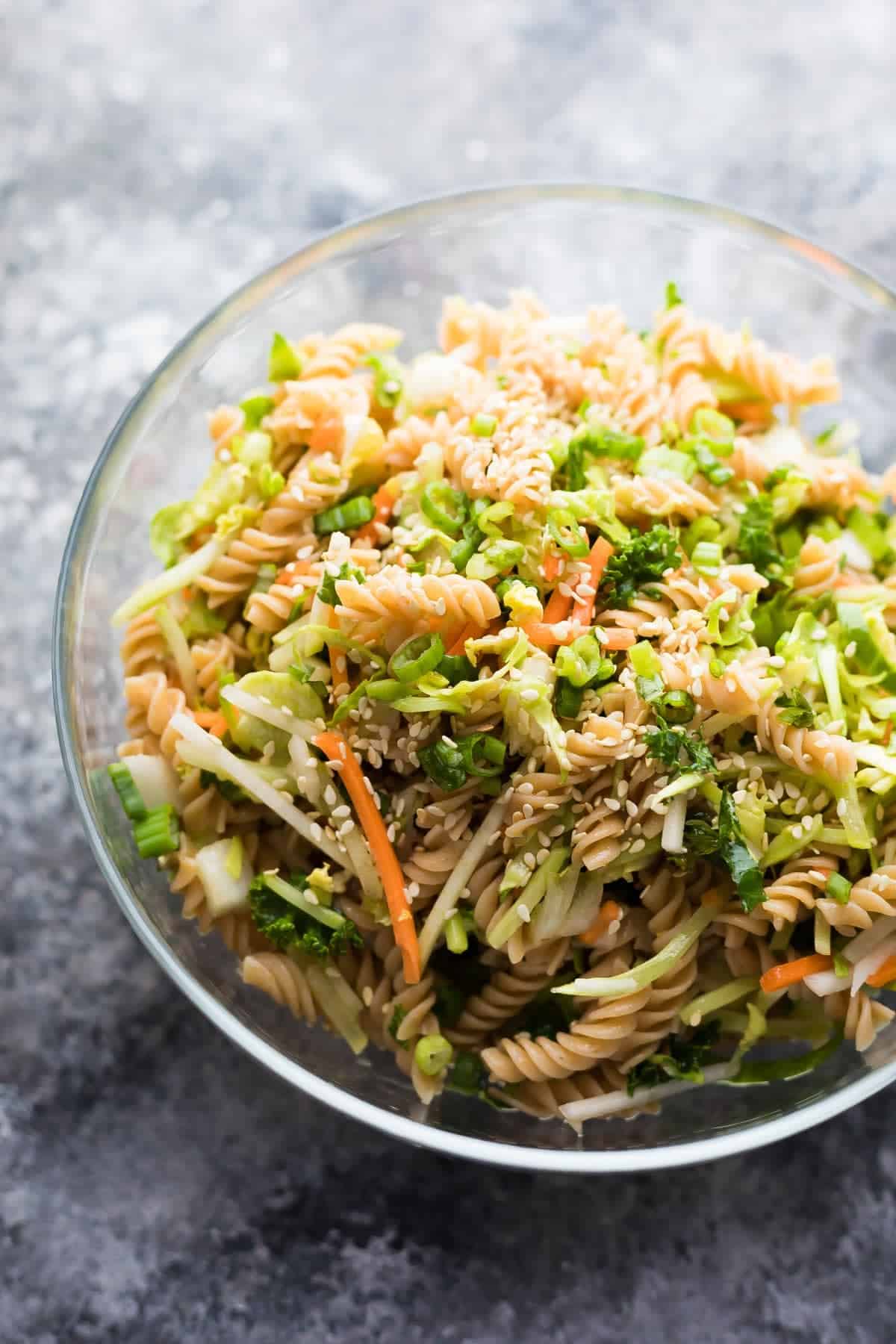 Did you know it's Heart Health Month?  Today I'm partnering with Mann's to bring you a heart-healthy recipe using Mann's Power Blend.  It is packed full of heart-healthy superfoods: brussels sprouts, napa cabbage, kohlrabi, broccoli, carrots and kale, and is so versatile; use it to boost your salads, smoothies or stir fries.
The Power Blend veggies are packed full of nutrition to fuel you up and keep you going through the afternoon lull, and also happen to be hearty veggies that hold up great in the vinaigrette, making them perfect for meal prep.
And having them pre-shredded and washed for you means that you can shave some serious time off your meal-prep routine!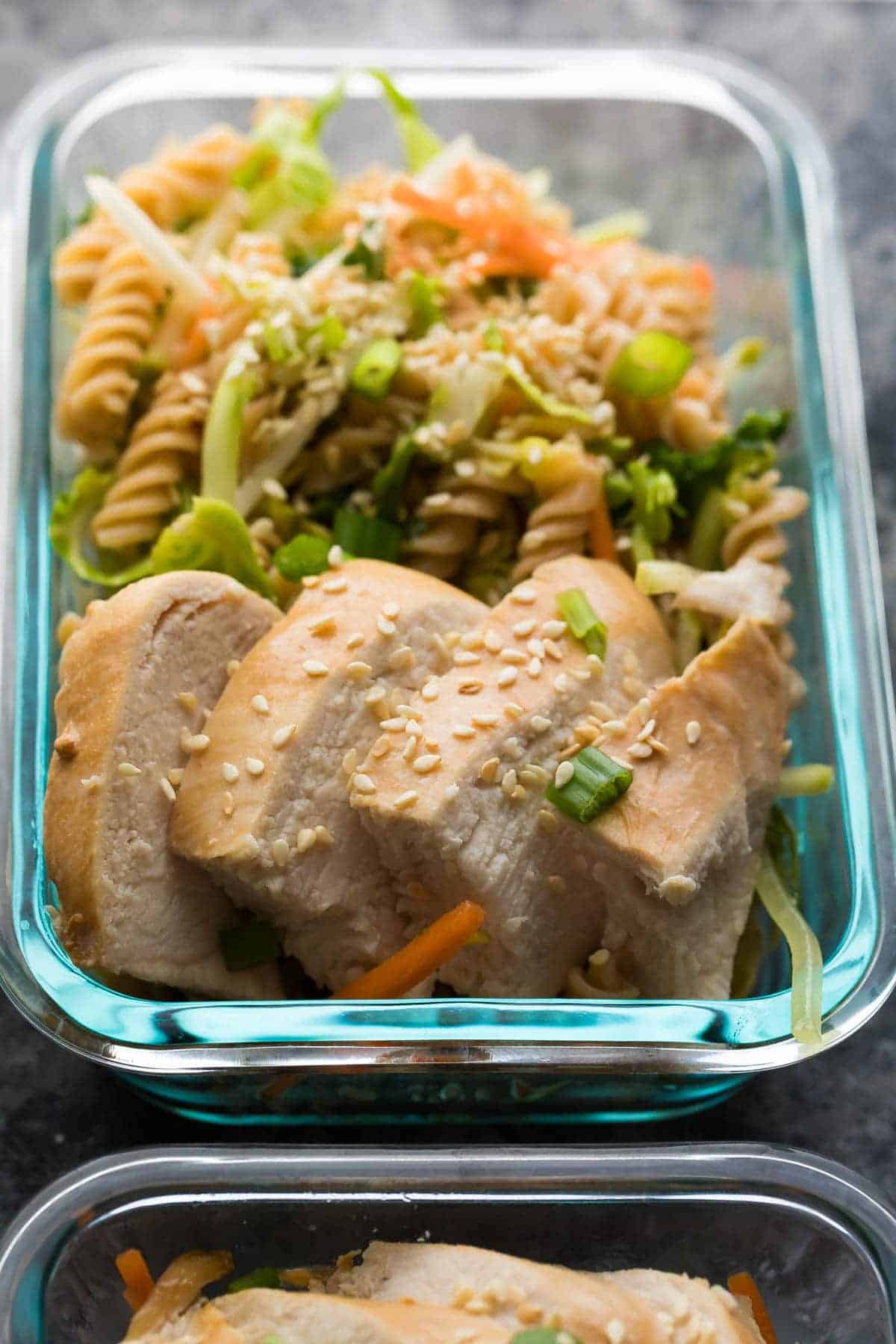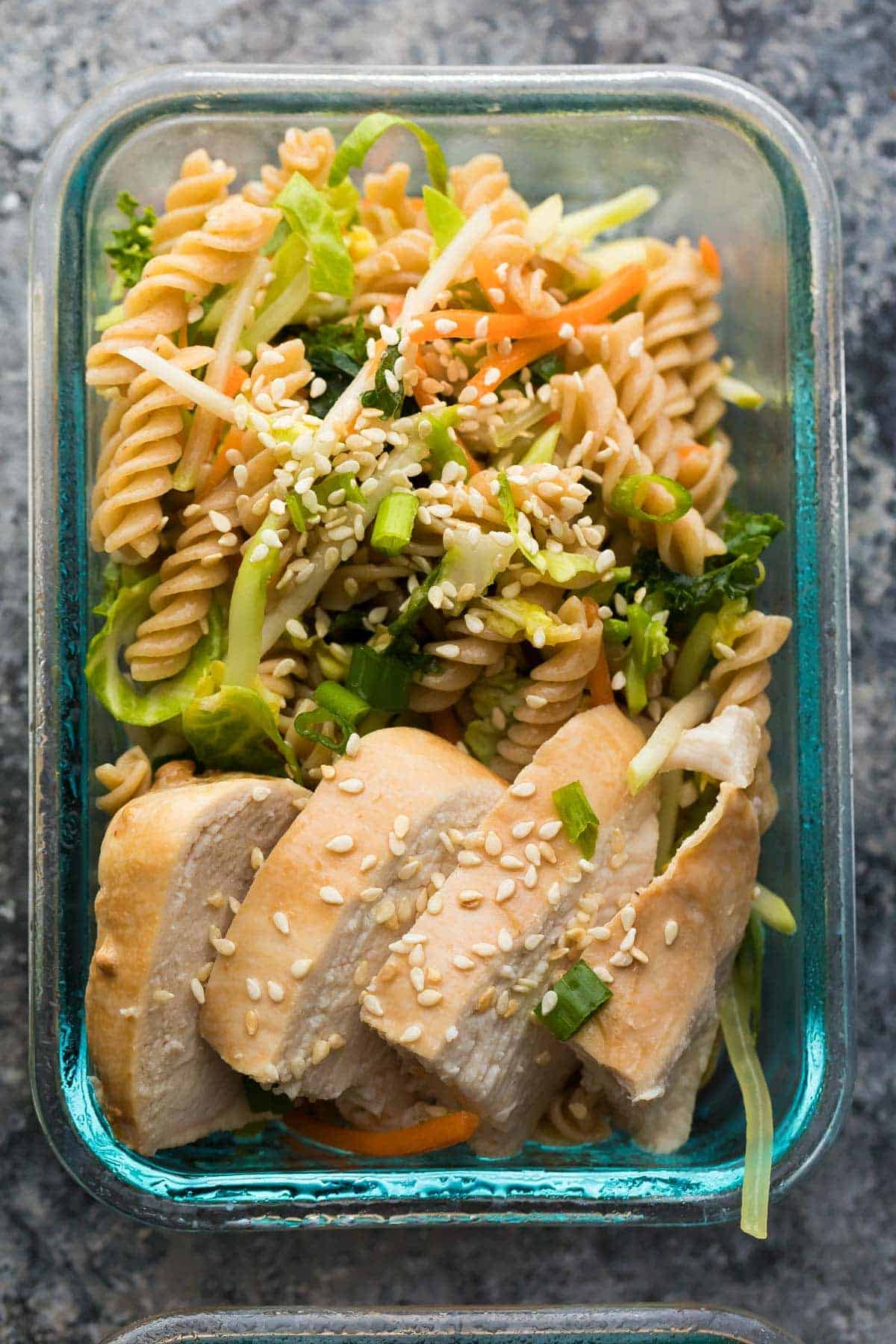 This recipe comes together super quickly: cook your pasta, bake your chicken breasts (or use rotisserie chicken for an even quicker prep!), and shake together a simple vinaigrette.
Toss it all together with one 10 oz bag of Mann's Power Blend, divide into four containers, and you are good to go!
Total prep time for this meal prep sesame chicken pasta salad: 30 minutes.  How's that for easy?
You can find Mann's Power Blend at Sobey's, Save-On-Foods, Loblaws, and Metro in Ontario.
Thank you to my friends at Mann's for sponsoring this post!  And thank you for supporting the brands that keep Sweet Peas & Saffron going.  As always, all opinions are my own.
Sesame Chicken Pasta Salad
Ingredients
Pasta
2 cups (4.6 oz) uncooked pasta
Chicken
2 large chicken breasts
1 tablespoon sesame oil
1 tablespoon soy sauce
Sesame Vinaigrette
2 tablespoons olive oil
2 tablespoons rice vinegar
1.5 tablepoons honey
1.5 tablespoon sesame oil
3/4 teaspoons soy sauce
1 clove garlic (optional)
1/8 tsp salt
Other
10 oz bag of Mann's Power Blend
sesame seeds
green onions
Directions
Cook the pasta according to package directions.
Heat oven to 425°F.
Toss the chicken breasts in the sesame oil and soy sauce and bake in a small baking dish for 10 minutes.
Flip and return to the oven for 10 (small chicken breasts) to 15 (large chicken breasts) minutes, until cooked through.
Allow to rest for 5 minutes on a cutting board before slicing into strips.
Shake together all vinaigrette ingredients, and toss in a large bowl with the cooked chicken, pasta, and Mann's Power Blend, until completely coated.
Divide amongst 4 storage containers (at least 2 cup capacity), sprinkle with sesame seeds and green onions, and refrigerate.
Recipe Notes
Nutritional Information:
1 lunch bowl
Calories 450 // Fat 19 g // Saturated Fat 3 g // Cholesterol 70 mg // Sodium 577 mg // Carbohydrate 35 g // Fiber 5 g // Sugars 11 g // Protein 32 g
Refrigerate for up to 4 days.
Loading nutrition data...