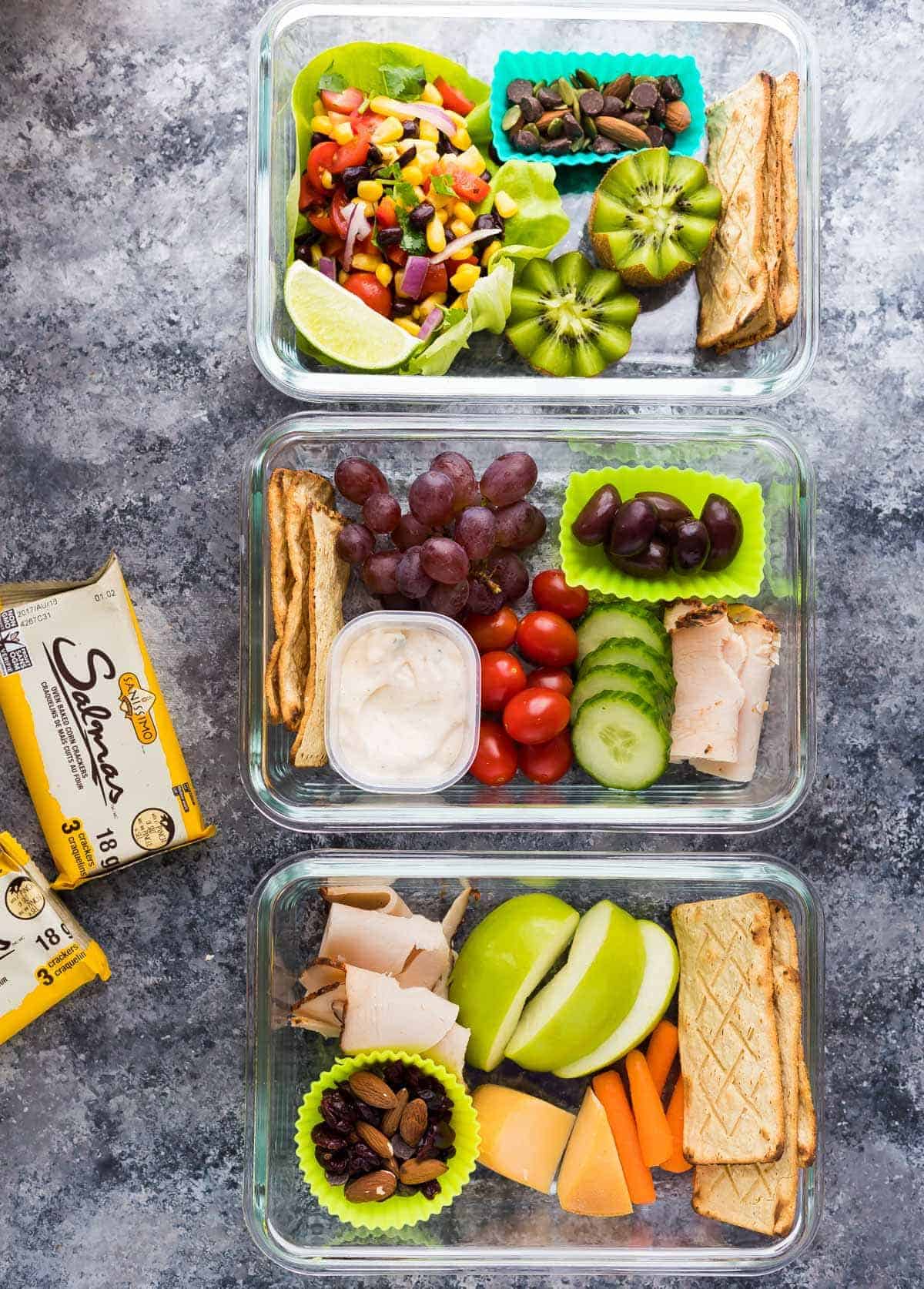 These easy bistro lunch boxes can be prepared ahead of time for an easy grab and go lunch!
The biggest complaint I hear when it comes to meal prep is "do you really eat the same thing four days in a row?!"
Well, today's post is going to give you some super delicious alternatives that can help mix things up throughout the week, and that you can whip up in a matter of minutes.
Have you heard of Bistro Boxes?  They are perfectly packed (grown up!) lunch boxes sold at Starbucks, and are great for lunch on the go.  I thought it would be fun to put my own spin on their lunch boxes so we can make our own at home, saving us some money!
These easy bistro lunch boxes also happen to be gluten free, thanks to Sanissimo Salmas oven-baked corn crackers!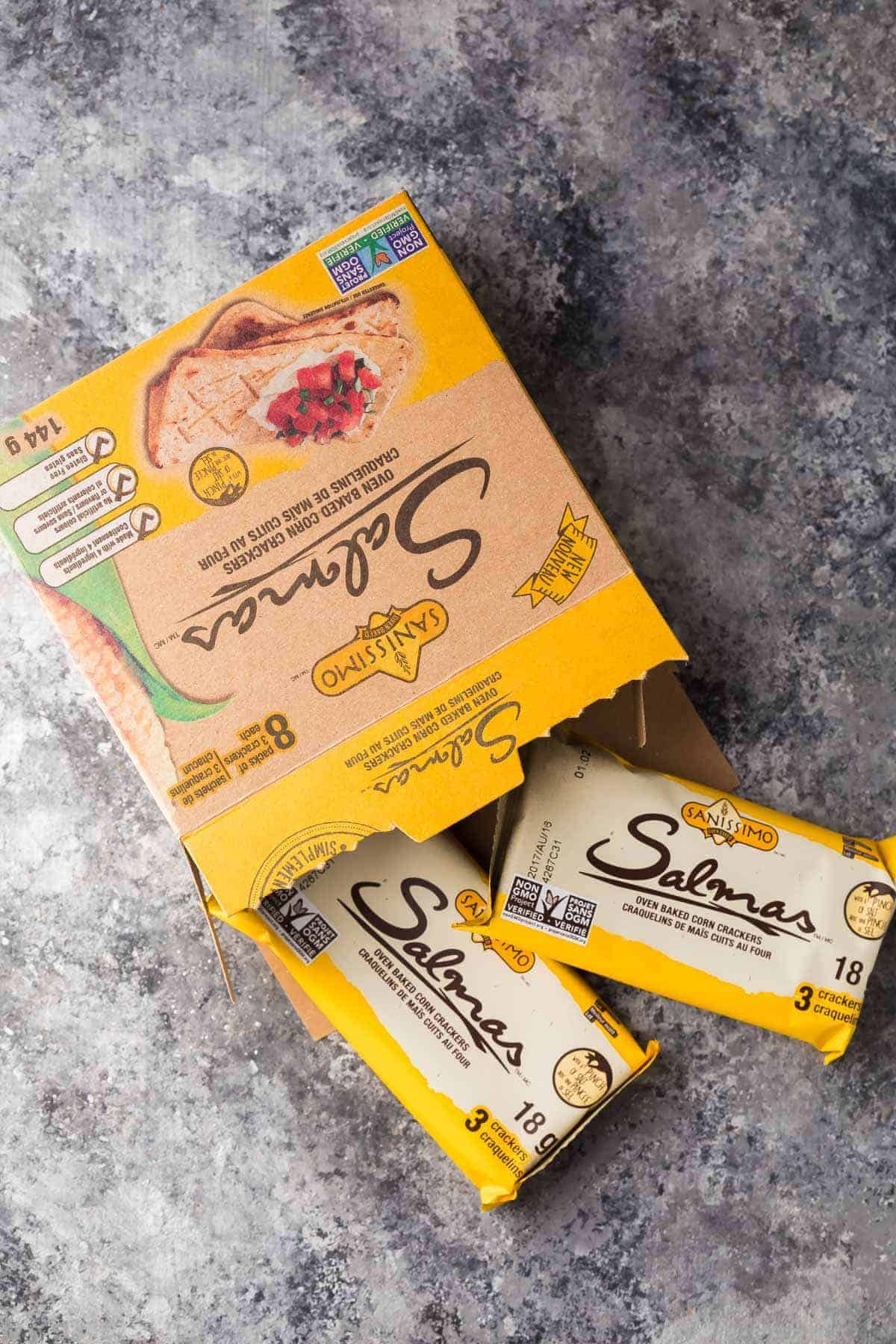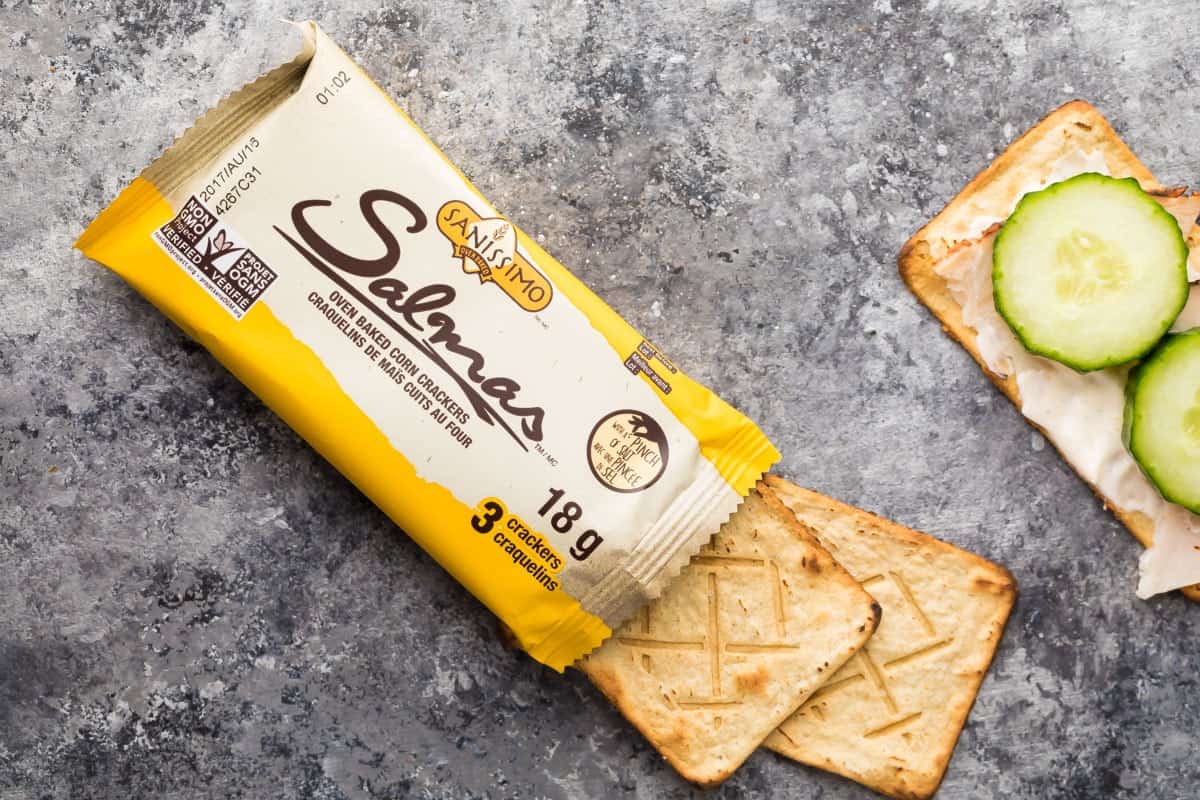 Today's post is in partnership with Sanissimo Salmas, whose delicious corn crackers are absolutely perfect for a packed lunch.  And because they are individually portioned, they will stay perfectly crispy in these bistro lunch boxes!
Sanissimo Salmas crackers contain four simple, wholesome ingredients, including non-GMO whole corn flour.  I really loved the flavors of these crackers; they are perfect for loading up with different toppings, using as a 'tortilla chip' for dipping, or just enjoying straight up.  Because they have only 70 calories per package of three crackers, you can feel great about your lunch choices.
Unlike some of my lunch bowl recipes, these bistro lunch boxes won't stay fresh for 4+ days.  However, they each take 5 minutes to assemble, which should make throwing them together a breeze!  For specific storage instructions, refer to the individual recipe.
Shall we check out these three different bistro lunch boxes?
Thank you to Sanissimo Salmas for sponsoring this post, and thank you to my readers for supporting the brands that help keep Sweet Peas & Saffron going!  As always, all opinions are my own.
You can find Sanissimo Salmas crackers at:
Walmart, Sobeys, Safeway, IGA, FreshCo, Foodland, Metro, Longos, Fortinos, Highland Farms, Hy Louie, Buy Low Foods, Coppas and Rabba Nationally.
1. Mexican Black Bean Salad Bistro Lunch Boxes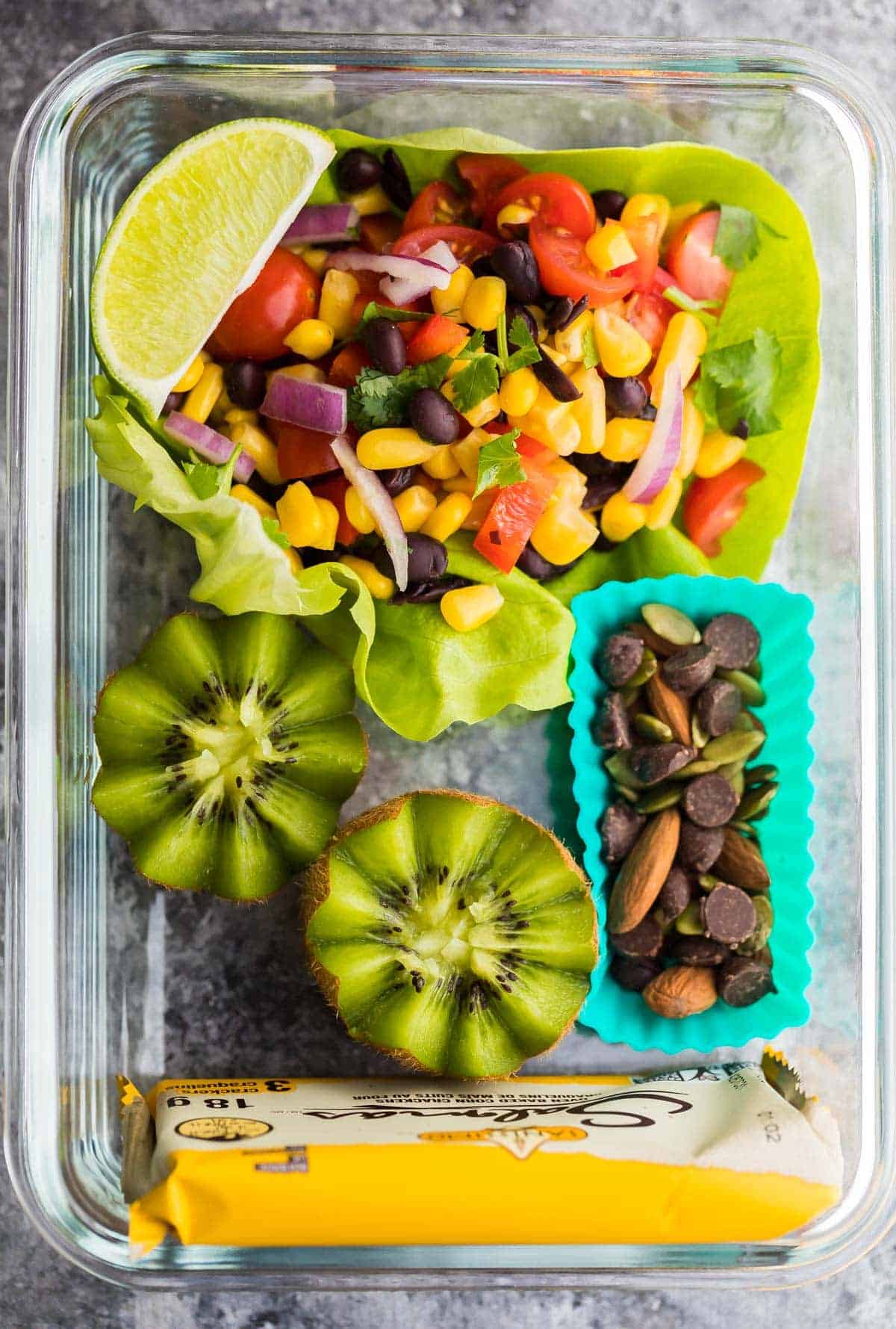 This protein-packed bistro lunch box has a tasty Mexican bean salad, which I recommend scooping onto your crackers. Bean salad is one of my favorite things to make ahead (it keeps great!), and the flavors go perfectly with the corn crackers. Tropical fruit like kiwi or pineapple and a pepita-filled trail mix round out these delicious lunch boxes.
2. Apple, Smoked Gouda and Turkey Bistro Lunch Boxes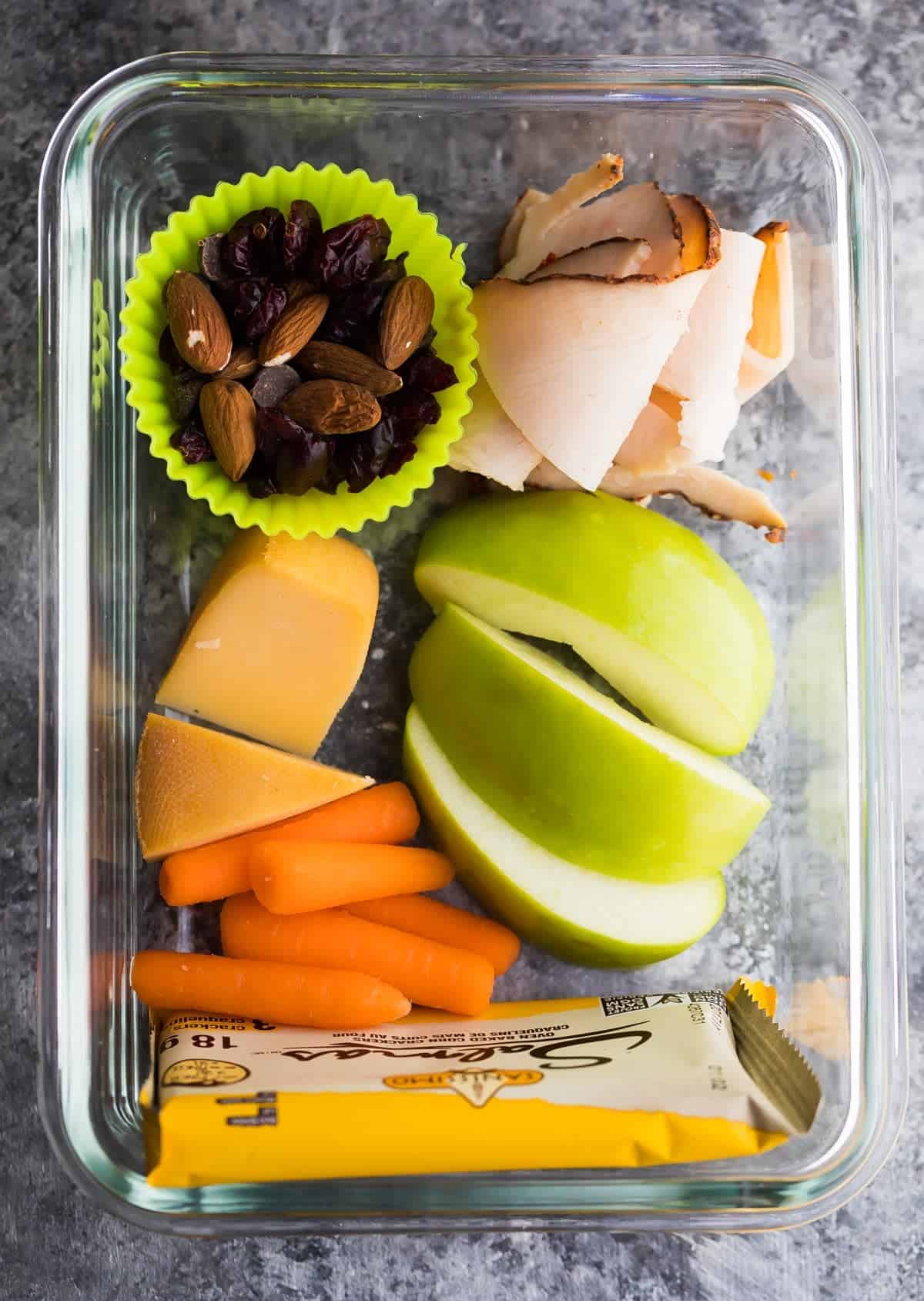 This one might just be my favorite because I personally don't think you can ever go wrong with apple and gouda!  You can slice your apples ahead and dip them in a mixture of 1 cup water with a tablespoon of lemon juice.  Otherwise, bring your apple and slice it fresh!  Make some apple/gouda/turkey stacks on your crackers for a super delicious lunch.
 3. Deconstructed Greek Salad Bistro Lunch Boxes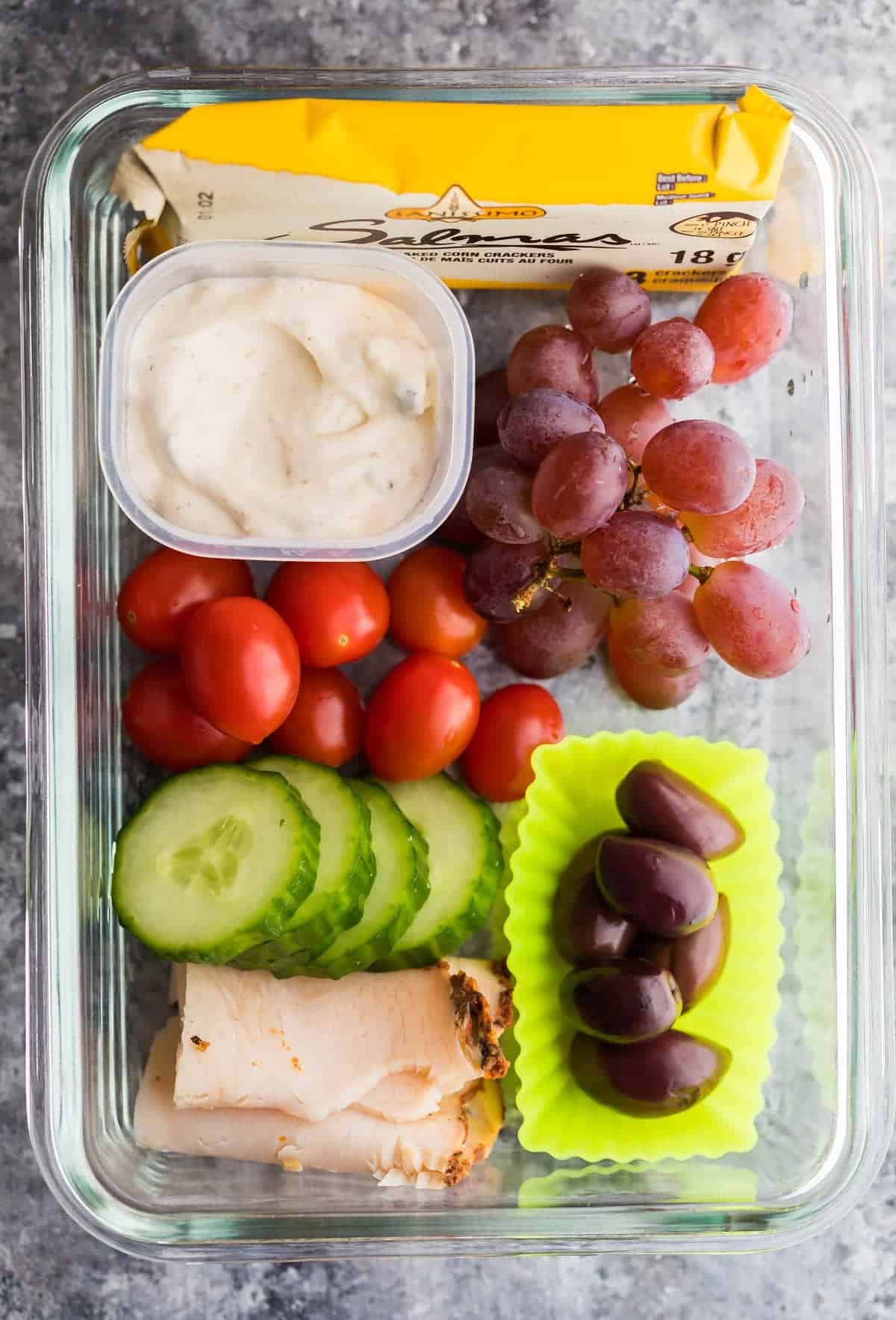 What do you do when you want a Greek salad, but don't have time to make one?  Make a deconstructed Greek salad, and serve over crackers of course!  I didn't include feta cheese, but it would be a great addition.  Cucumber slices, tomatoes, turkey, olives, crackers and tzatziki are easy and ready to go in 5 minutes!  These ingredients are delicious stacked on crackers.  Add some grapes or fruit to round out your healthy lunch.