Spring strawberry bento lunch boxes are easy to whip up in under 15 minutes! With fresh strawberries, maple cinnamon pecans, balsamic reduction and more.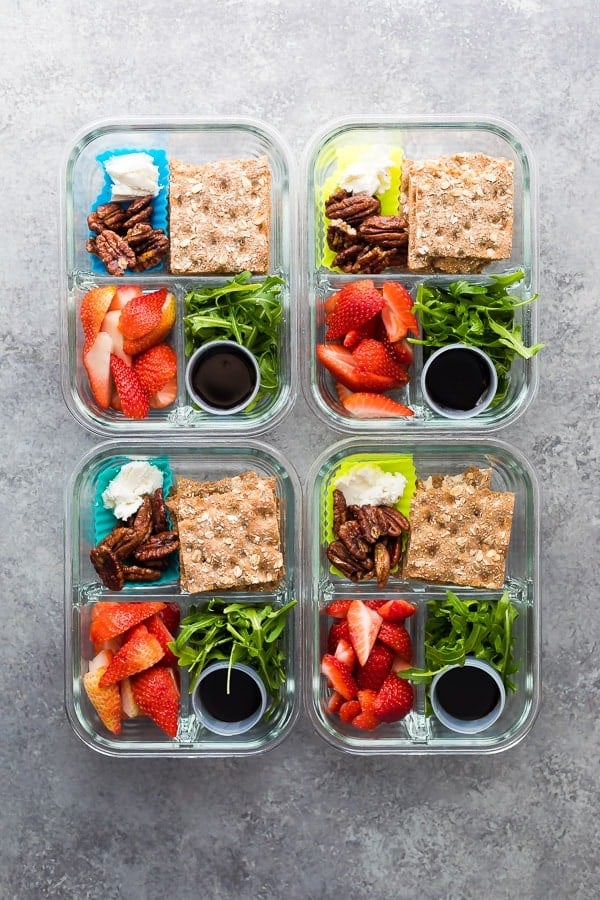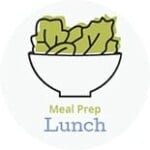 After polling my Facebook page to see if there was any interest in some no-cook adult lunch boxes, the response was an overwhelming YES!!
I totally get the interest: lunch boxes = so much faster to prep…in fact these spring strawberry bento lunch boxes are ready in under 15 minutes. Not only that, but this one is served cold, so if you don't have access to a microwave, it's just perfect.
For our first bento lunch box recipe, I had to go with spring flavors….strawberries and arugula…because spring is just around the corner and I am not so patiently waiting!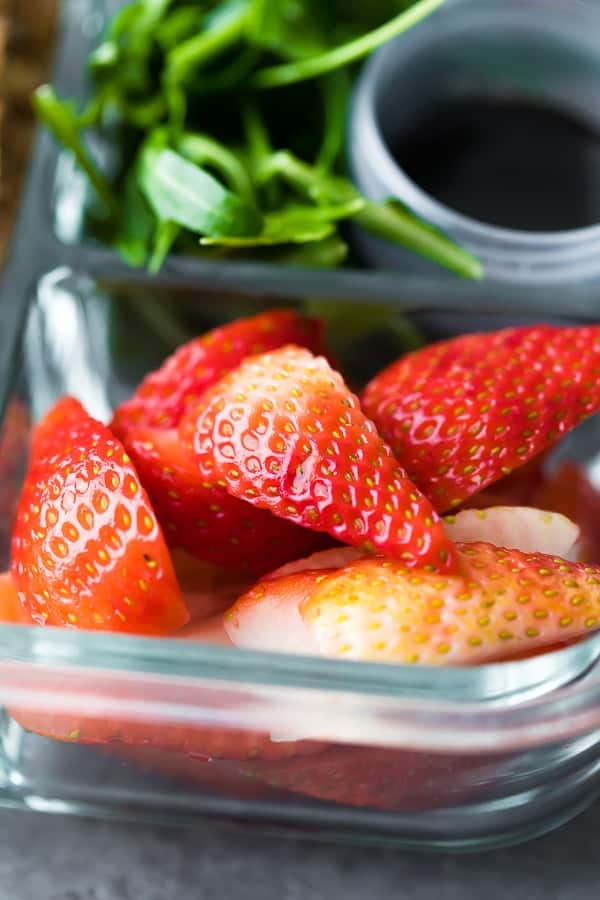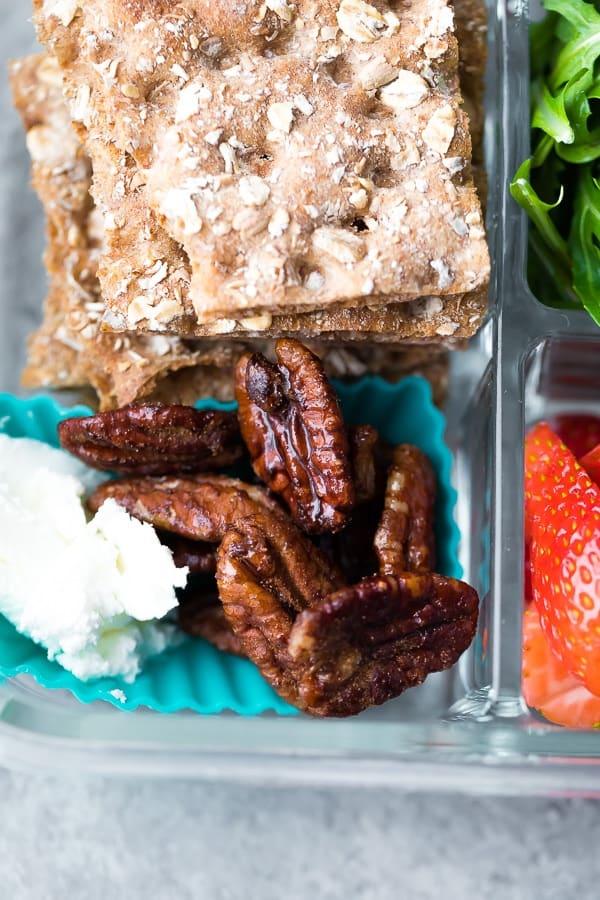 I always thought lunch box/bento box recipes were kind of 'non-recipes', and they really are more of an idea of how you can assemble some lunch boxes. You can totally go nuts with these and swap ingredients out to make them suit your diet and taste preferences.
Swap the pecans for almonds, the goat cheese for cream cheese, add in some chicken for extra protein, swap the flatbread crackers for a wrap or even pasta!
Just promise me you won't omit the balsamic reduction, m-kay? It's the best part of these bento lunch boxes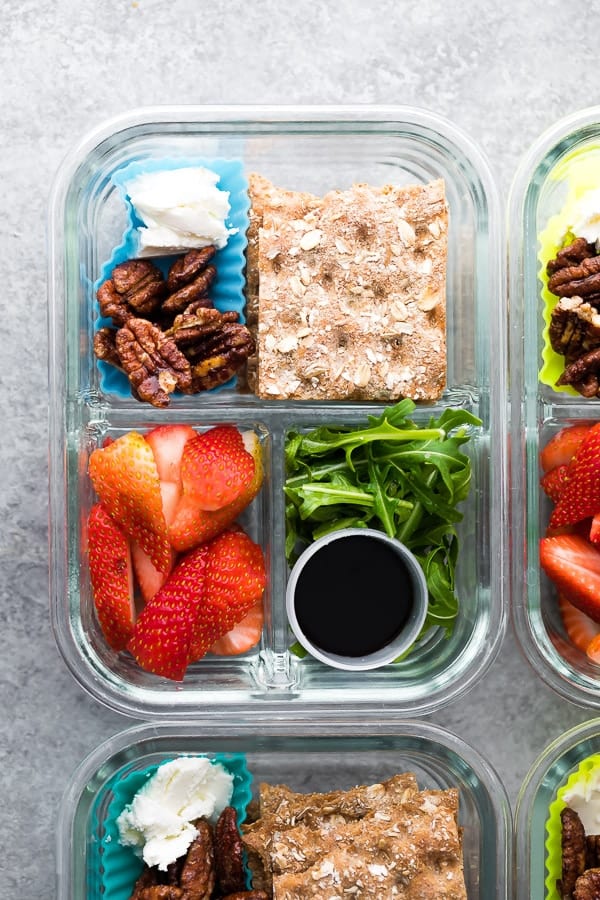 How to make these spring strawberry bento lunch boxes:
chop some strawb's
portion out some balsamic reduction and goat cheese
toast some pecans and toss them in a touch of cinnamon and maple syrup
That's literally it…so simple and everything is ready in under 15 minutes.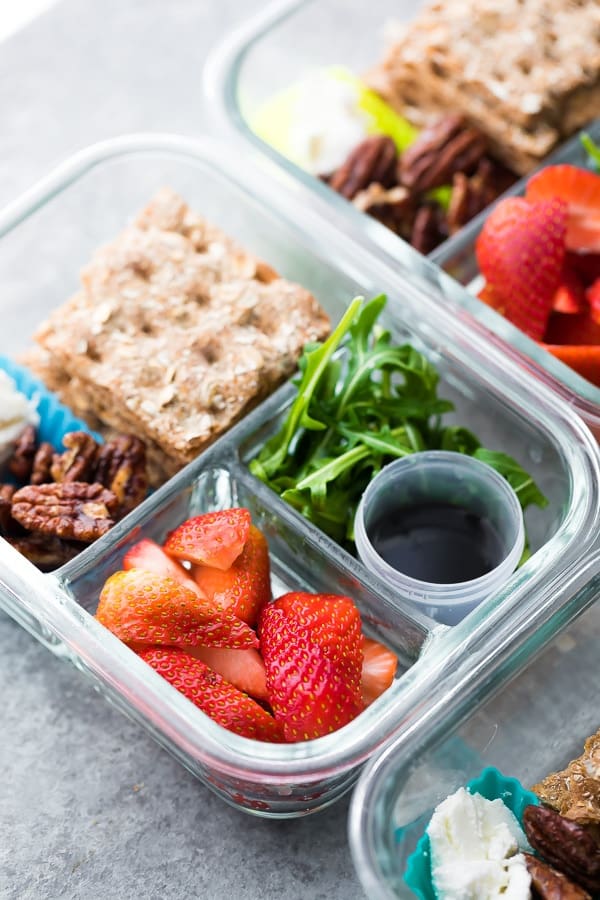 Tips for perfect spring strawberry bento lunch boxes
Spring Strawberry Bento Box
Ingredients
3

cups

strawberries

sliced

4

cups

arugula

4

tablespoons

balsamic reduction

4

tablespoons

goat cheese

(or cream cheese)

12

flatbread crackers

broken in half
maple cinnamon pecans
3/4

cup

pecans

1

tablespoon

maple syrup

1/4

teaspoon

ground cinnamon
Instructions
Arrange strawberries, arugula and flatbread crackers in compartments in your lunch containers. Use small condiment containers for the goat cheese and balsamic reduction.

For maple cinnamon pecans: toast pecans in a frying pan for 5-7 minutes, until lightly toasted. Add the cinnamon and toss; then add the maple syrup and stir everything up to coat. Allow to cool before adding to the lunch boxes.

Store in the fridge for up to 4 days.
Notes
Make sure to use the freshest berries you can find; to help them last longer you may wish to do a vinegar wash:
soak in 1 part vinegar 5 parts water for 5 min
rinse thoroughly under water
allow to dry completely before slicing and portioning into bento boxes