Sharing 36+ cold lunch ideas, perfect for when you don't have access to a microwave! With wraps, salads, lunchables, noodles and more, these recipes are perfect for meal prep.
I'm asked all the time about cold lunch ideas for those of you who don't have access to a microwave, so it's about time I rounded up my favorite picks from around the web!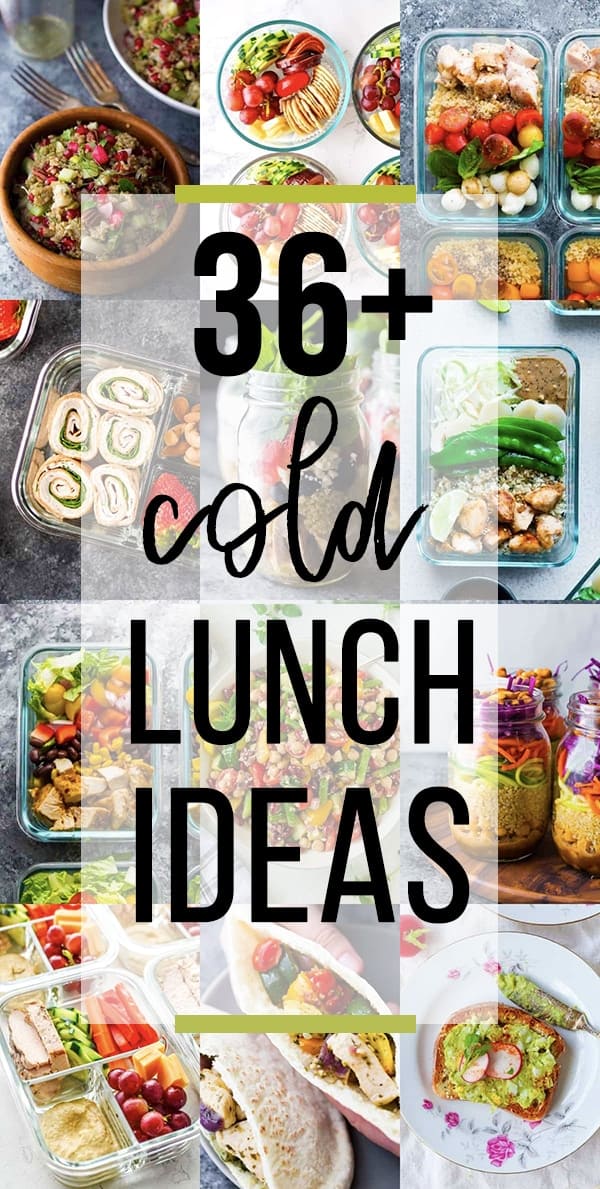 Today it's all about the no heat lunches. Guess what? You don't have to eat a sandwich every day! There are so many great cold lunch ideas out there.
This is perfect for students, trades workers, people working out of a vehicle, or anyone who doesn't have access to a microwave on the fly.
Not only are these recipes healthy, but they work for meal prep as well!
Before we get into it, let's talk equipment, because these days, there are some pretty cool tools and equipment at your disposal that can make eating lunch without a microwave super easy!
Don't forget to pin this post to save it for later!
Equipment for cold lunch boxes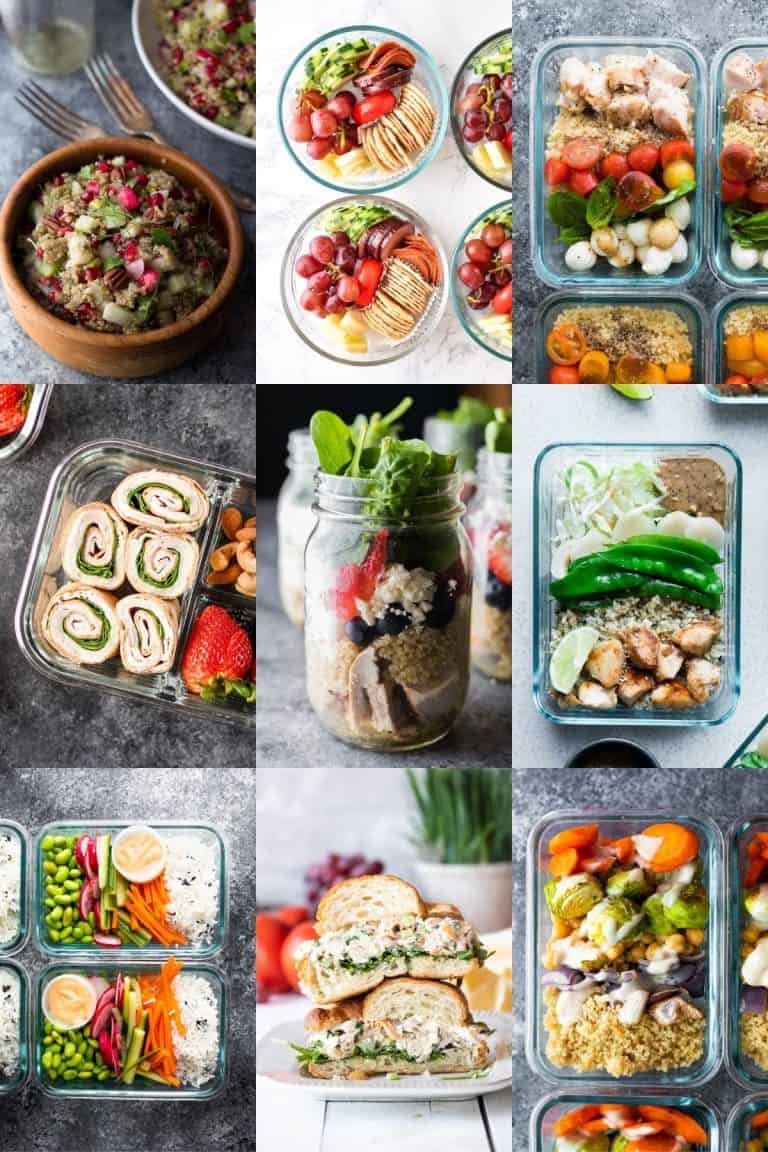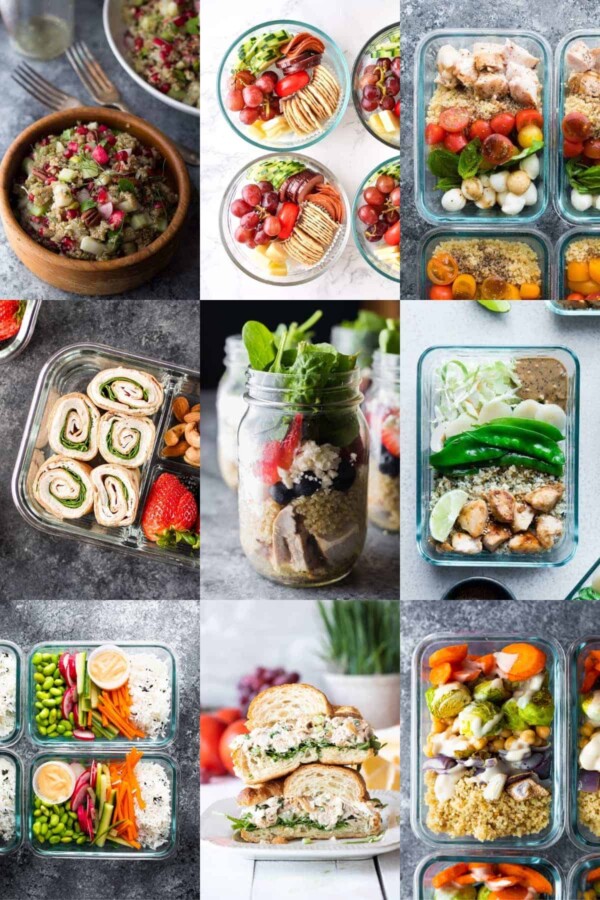 1. Fennel & Pomegranate Quinoa Salad from Sweet Peas and Saffron
2. How to Turn Cheese and Crackers into DIY Adult Lunchables from Project Meal Plan
3. Caprese Chicken Salad Meal Prep Bowls from Sweet Peas and Saffron
4. Easy Turkey Pinwheels Meal Prep from Project Meal Prep
5. Strawberry Spinach Quinoa Salad in a Jar from Sweet Peas and Saffron
6. Chicken Satay Meal Prep Bowls from Food Faith Fitness
7. Vegan Sushi Bowl Meal Prep from Sweet Peas and Saffron
8. Easy Rotisserie Chicken Salad from Go Go Go Gourmet
9. Buddha Bowl Recipe from Sweet Peas and Saffron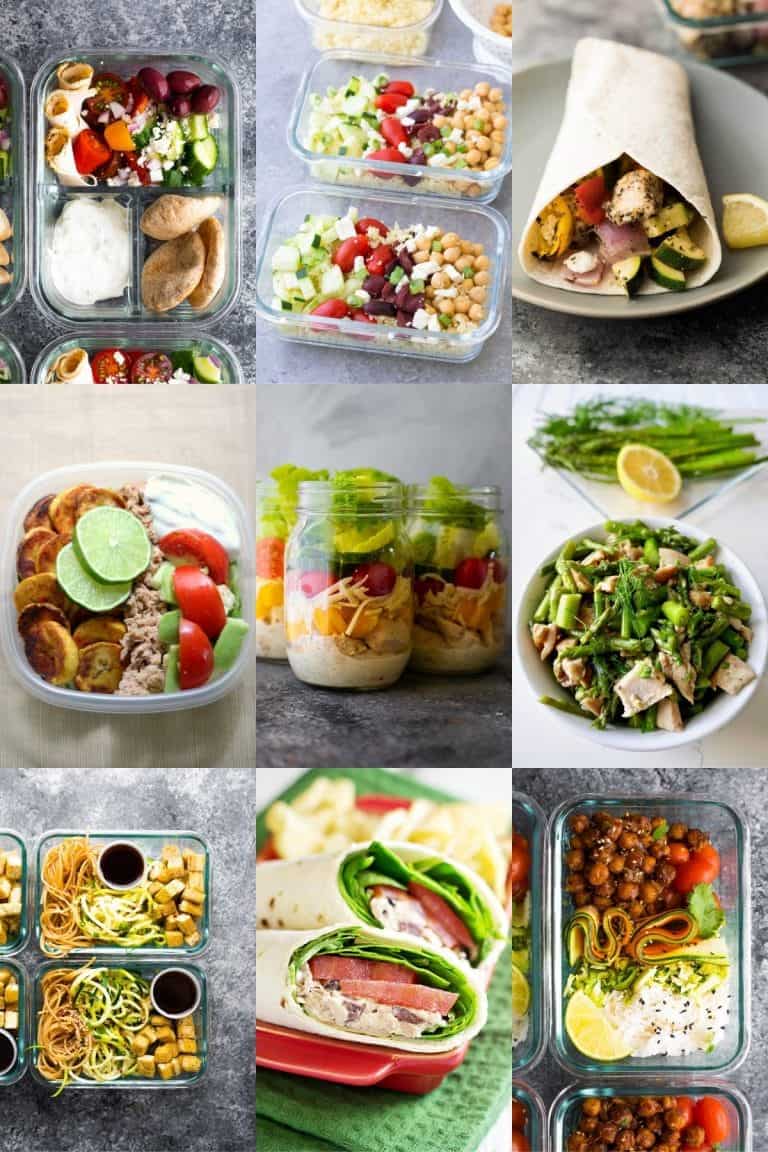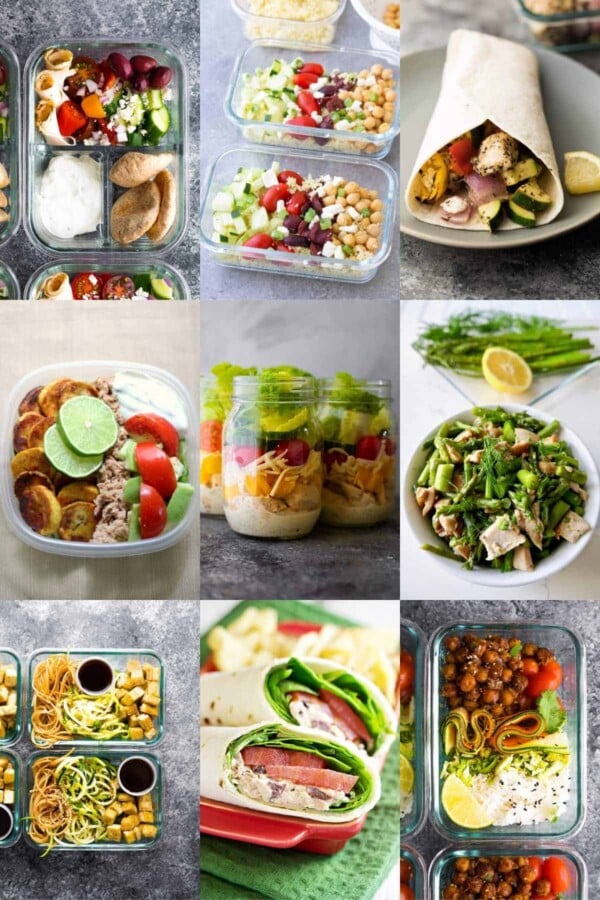 10. No-Cook Greek Pita Bento Box from Sweet Peas and Saffron
11. Meal Prep Greek Couscous Salad from Kristine's Kitchen
12. Greek Chicken Wraps for Meal Prep from Sweet Peas and Saffron
13. Cuban-Style Tuna Meal Prep Bowls (Gluten-Free, Paleo) from Strength & Sunshine
14. Ranch Chicken Jar Salads from Sweet Peas and Saffron
15. Avocado Asparagus Chicken Salad {Paleo, Mayo Free} from Tasting Page
16. Spicy Tofu Noodle Meal Prep Bowls (vegan) from Sweet Peas and Saffron
17. Greek Tuna Salad Wraps Recipe from Home Cookie Memories
18. Korean BBQ Chickpea Bento Bowls from Sweet Peas and Saffron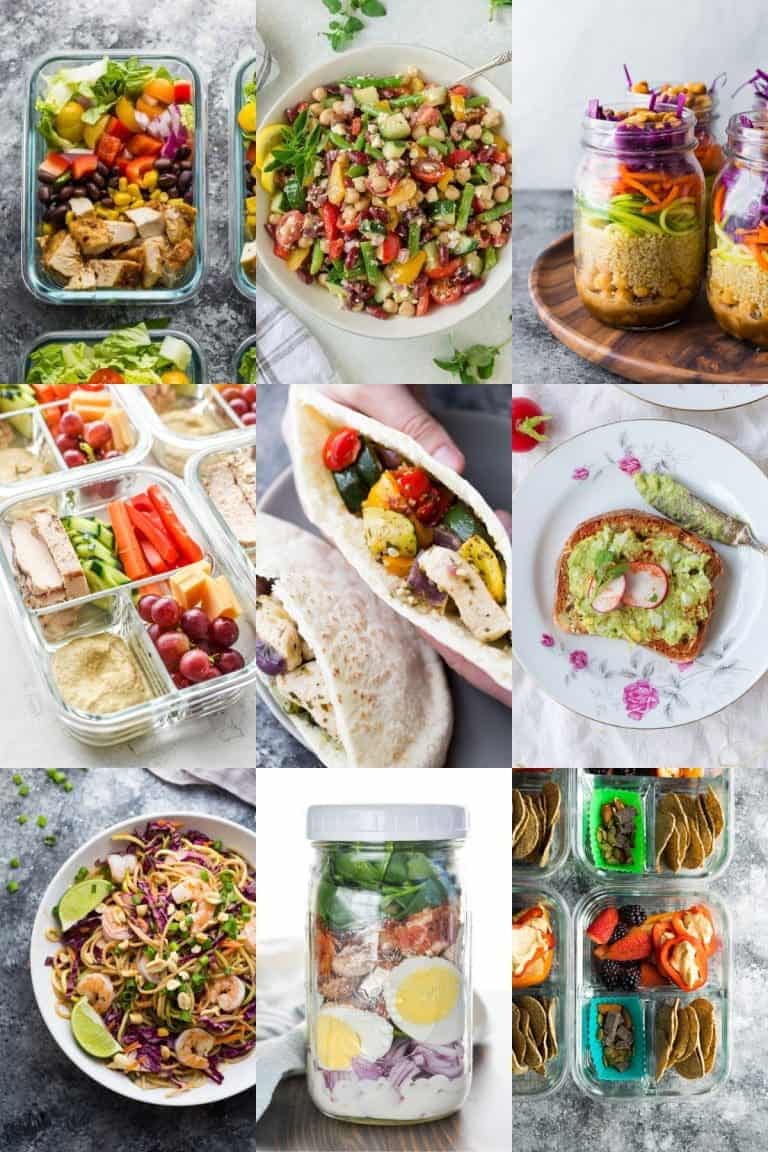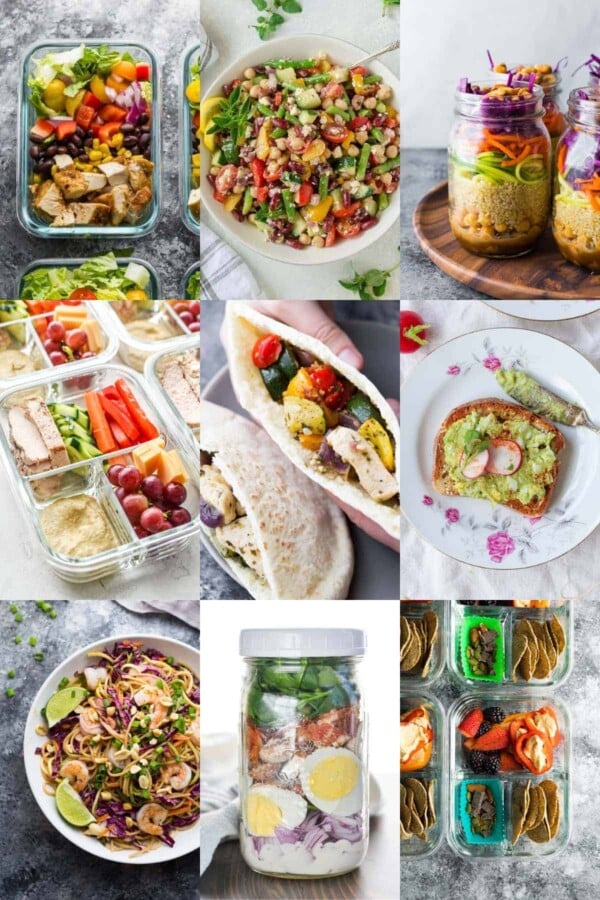 19. Southwestern Chopped Chicken Salad (Meal Prep) from Sweet Peas and Saffron
20. Greek Three Bean Salad from Flavor the Moments
21. Thai Chickpea Mason Jar Salad from Sweet Peas and Saffron
22. Chicken & Hummus Plate Lunch Meal Prep from Project Meal Plan
23. Meal Prep Pesto Chicken Pita Pockets from Sweet Peas and Saffron
24. Mayo-Free Avocado Egg Salad from The Roasted Root
25. Spiralized Veggie Thai Noodle Bowls from Sweet Peas and Saffron
26. Mason Jar Spinach Salad from The Seasoned Mom
27. No-Cook Vegan Bento Snack Box recipe from Sweet Peas and Saffron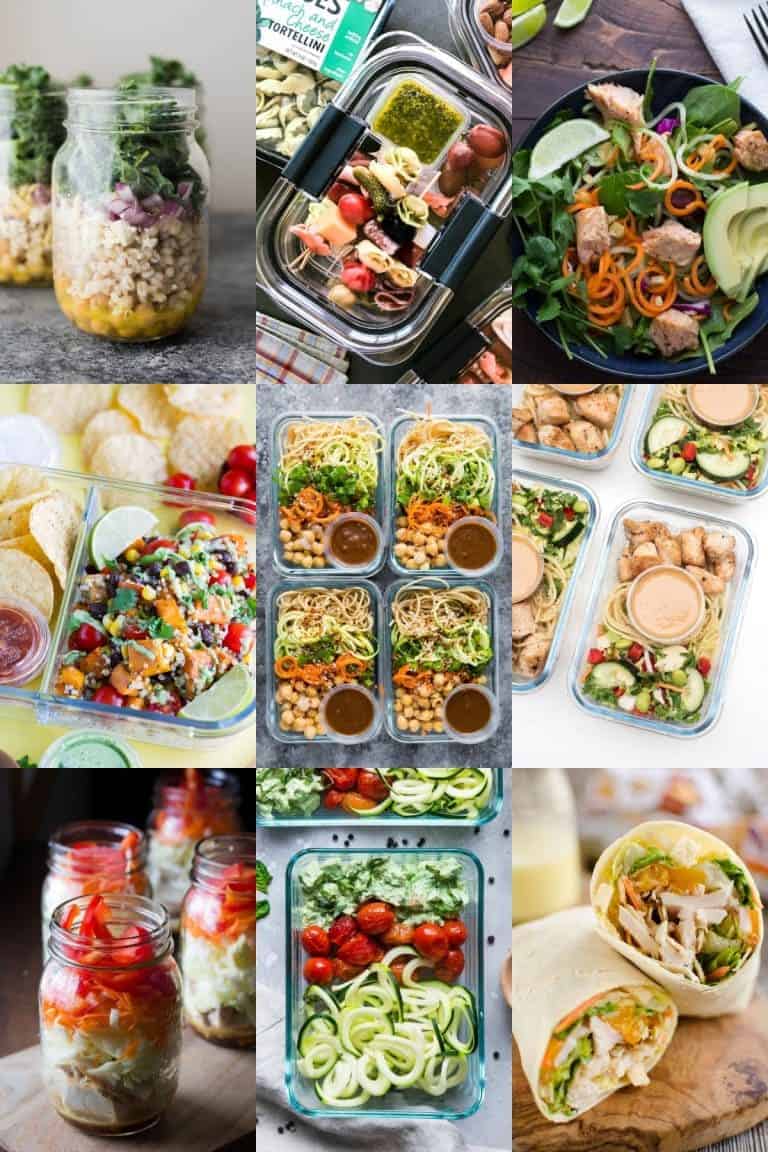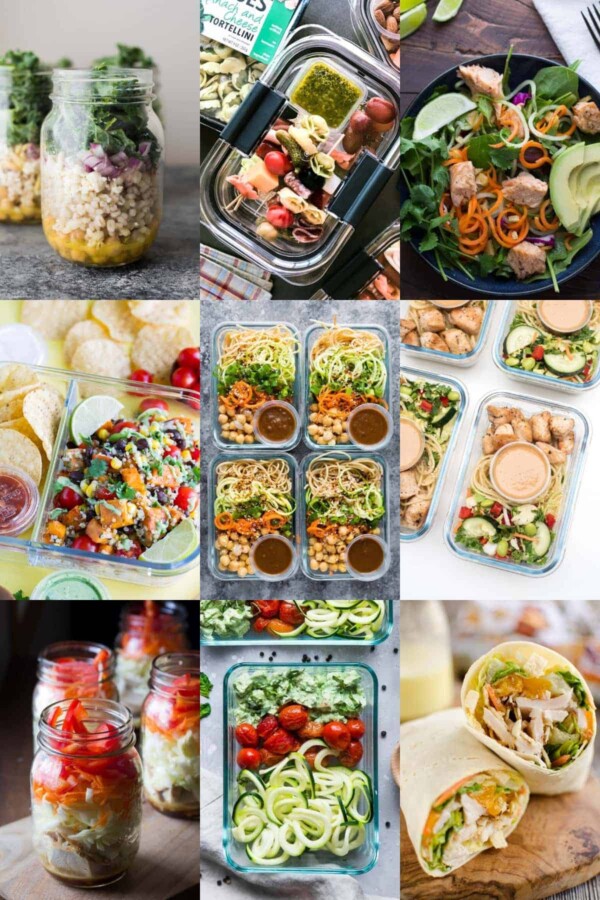 28. Kale Barley Salad with Feta and a Honey-Lemon Vinaigrette from Sweet Peas and Saffron
29. Easy Lunch Prep Protein Boxes from The View from Great Island
30. Asian Salad with Salmon, Ginger, and Lime Dressing from Sweet Peas and Saffron
31. Black Bean Quinoa Salad from Peas and Crayons
32. Cold Sesame Noodle Meal Prep Bowls (Vegan) from Sweet Peas and Saffron
33. Thai Peanut Chicken Meal Prep Bowls from Valerie's Kitchen
34. Asian Chicken Mason Jar Salads from Sweet Peas and Saffron
35. Creamy Basil Pesto Chicken Pasta Meal Prep Bowl from Food Faith Fitness
36. Light & Crunchy Orange Chicken Wrap from The Creative Bite