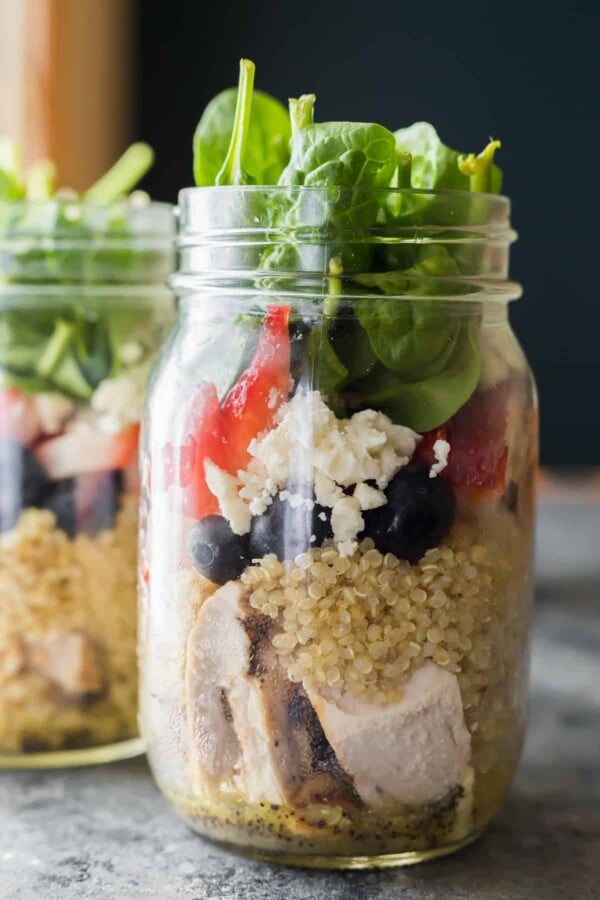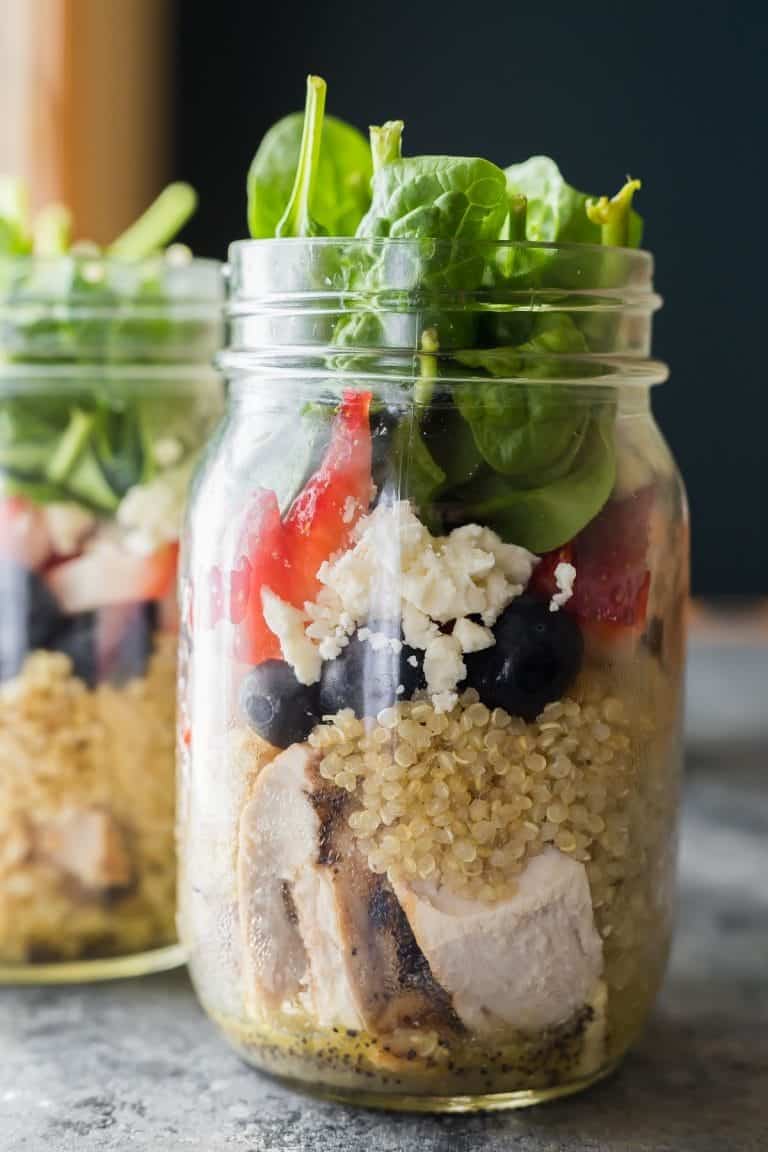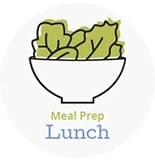 This strawberry spinach quinoa salad in a jar is the perfect fresh summer meal prep lunch!  Spend a bit of time prepping your lunches on the weekend and you'll be the envy of your office.
Summer is here…officially here!!
Summer to me means berries and corn and berries and cherries and berries and peaches.  And more berries.
I have a little thing for berries.  I put them in my parfaits and my vinaigrettes and my smoothies, but they are best eaten fresh, just as they were intended.
So to ring in the official start of summer, I'm sharing this summery strawberry spinach quinoa salad in a jar recipe with you today!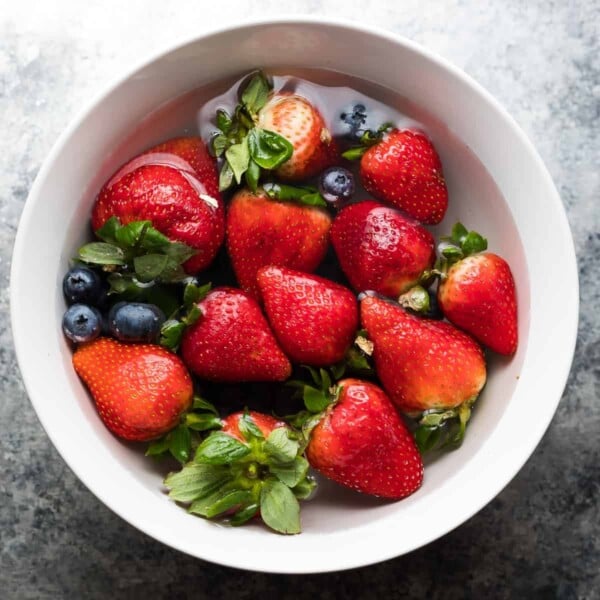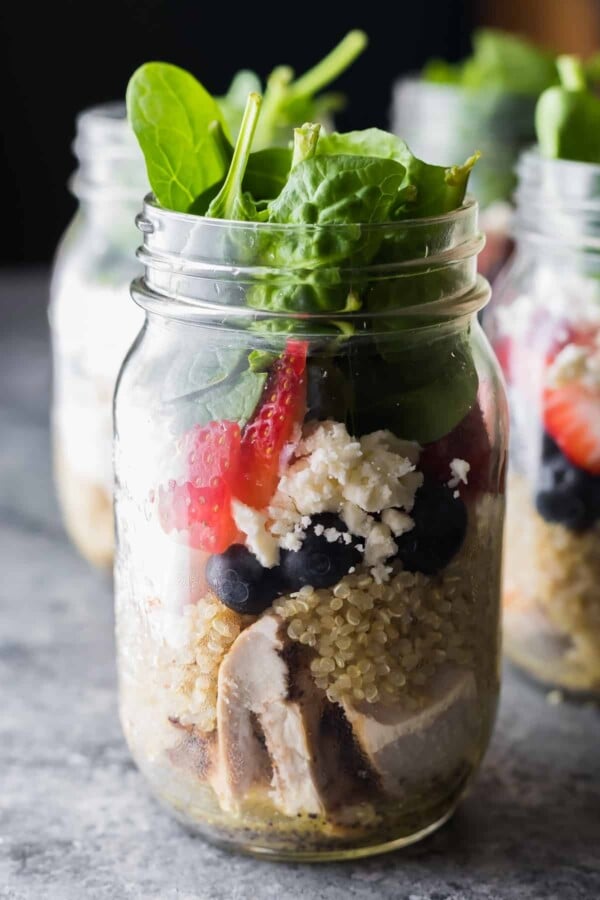 Today's strawberry spinach quinoa salad in a jar was adapted ever so slightly from the recipe in my 30 Minute Dinners eCookbook.
For one thing, I served them in jars to make them meal prep appropriate (this keeps the berries and spinach out of the vinaigrette until just before serving).  I added some blueberries.  And I upped the dressing a touch because it got a little stuck in the jar and didn't coat the salad quite as well as the original did.
But other than that, I stayed true to the original recipe: berries, quinoa, feta cheese, chicken and spinach plus a dreamy poppyseed dressing.  I think you're going to like this one.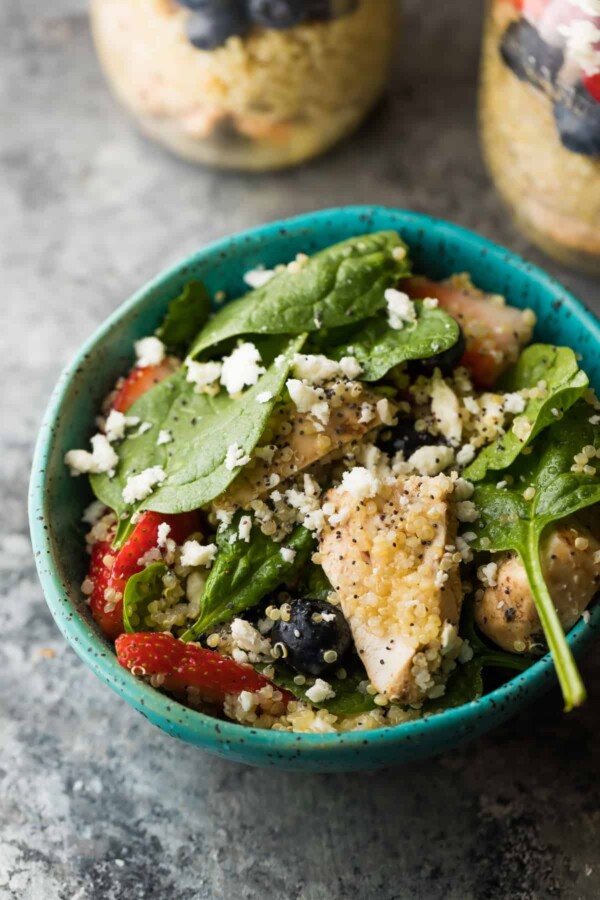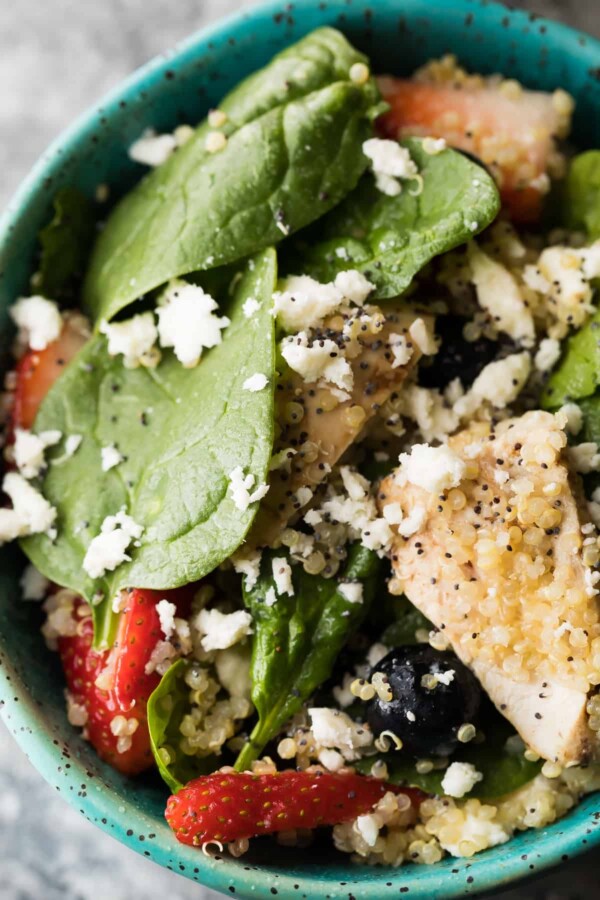 Now to make sure your perfect summer berries stay fresh until day 4, I have a little tip for you: vinegar wash.  Soak them in 1 part vinegar, 3 parts water for 5 minutes before rinsing and allowing to dry.  This kills off any things that might…grow…on your strawb's and your blueb's.
It's a little extra effort but it will ensure that your salad will still be super tasty after 4 days.
More tips for your perfect strawberry spinach quinoa salad in a jar:
Strawberry Quinoa Spinach Jar Salads
4
adjust servings
Ingredients
Salad
2/3

cup uncooked quinoa

6

cups spinach

2

cups sliced strawberries

1/2

cup feta cheese, crumbled

1/4

cup red onion, diced
Chicken
2

large chicken breasts

1

teaspoon olive oil

1

teaspoon balsamic vinegar

salt & pepper
Vinaigrette
1/4

cup white wine vinegar

1/4

cup olive oil

1

tablespoon honey

2

teaspoons poppy seeds

1/2

teaspoon dijon mustard

fresh ground pepper
Instructions
Cook quinoa according to package directions. Set aside to cool.
While quinoa is cooking, pre-heat the oven to 425°F. In a small baking dish, combine the olive oil and balsamic vinegar. Place the chicken breasts in the dish, turning to coat in olive oil/balsamic. Season with salt and pepper.
Place chicken in the oven and cook for 10 minutes. Flip and cook for 10-15 more minutes. Remove from oven and allow to rest for 5 minutes before slicing.
Assemble jar salads by dividing ingredients between four 1-pint jars in the following order: vinaigrette, chicken, quinoa, berries, feta, red onion and spinach.
Storage:
Seal and store in the fridge for up to 4 days.
To serve:
Shake out jar contents into a large bowl. Mix to combine all ingredients with the vinaigrette and enjoy!
Recipe Notes
Nutritional Information:
1 jar salad
Calories 463 // Fat 23 g // Saturated Fat 5 g // Cholesterol 78 mg // Sodium 289 mg // Carbohydrate 32 g // Fiber 5 g // Sugars 9 g // Protein 33 g
I recommend soaking your berries in 1 part vinegar and 3 parts water to keep your berries fresh for longer. Rinse and allow to dry on a towel before packing into the jars.