These 10 healthy mason jar salad recipes can be prepped ahead and stored in the fridge for meal prep lunches! Layering your salad in jars helps them to last for longer.
Salads in jars are not just a cute Pinterest fad, they are actually really functional! Like these make ahead salads, these mason jar salad recipes were developed so that they can work for meal prep...and still taste amazing on day 4!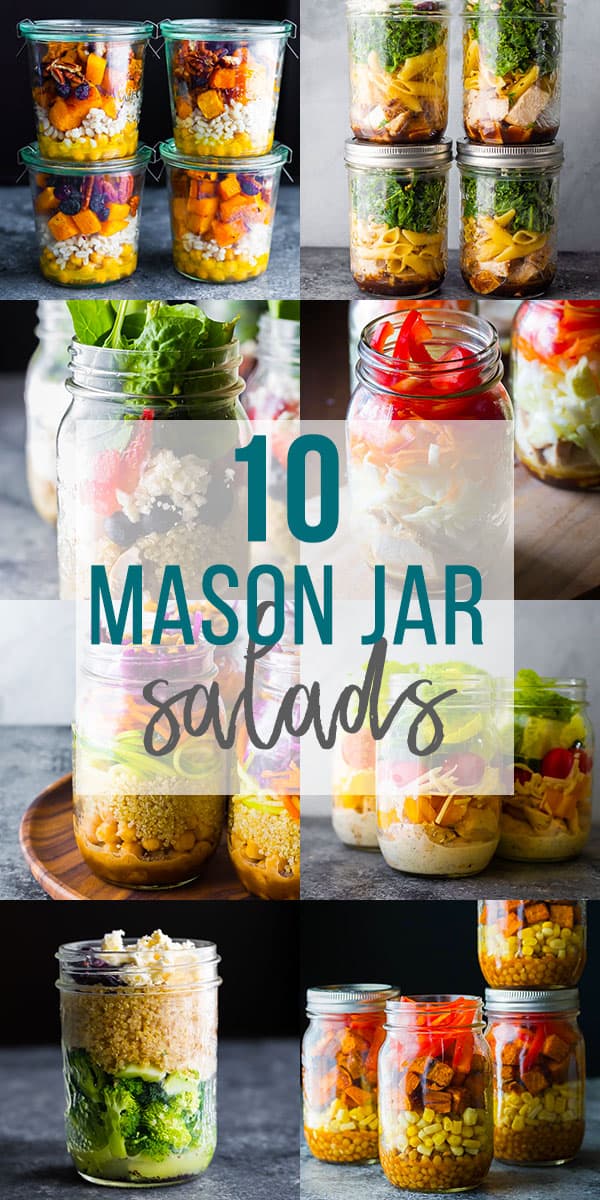 What's the deal with mason jar salads? It's all about the layering. By placing the dressing at the bottom of the jar, and delicate greens towards the top, we are able to keep them from wilting.
How to layer mason jar salads
dressing in bottom
protein (chickpeas or chicken) next
somewhat durable ingredients next (chopped vegetables)
leafy greens at the top (kale, romaine, spinach)
How to serve mason jar salads
There are two ways to serve your salad: eat it right out of the jar, or dump it into a bowl.
Eat out of the jar
You will need a large jar for this (quart mason jars work well). Layer your salad, and when you're ready to serve, shake it all up, and eat out of the jar.
it can be tough to get your fork all the way into the bottom of the jar
make sure to use wide mouth jars as tapered jars are hard to eat out of!
Dump into a bowl
For this method, a smaller (1 pint) jar will work just fine. When you are ready to serve, dump everything out into a bowl. Since the dressing comes out last, it will pour over everything evenly!
wide mouth or tapered jars work fine for this method
Tips for jar salads
nuts and seeds will still soften, even when placed at the top. Consider storing them separately to keep them crunchy
wide mouth jars should be used if you plan to eat out of the jar
if you don't have a jar, try layering your salads this way in a meal prep container
find my favorite jars in this post
Chickpea, Barley & Butternut Squash Jar Salads
Make ahead chickpea, barley and butternut squash jar salads will have you looking forward to lunch all morning! Vegetarian, ready in under 1 hour, and tastes amazing, even on day 4.
Check out this recipe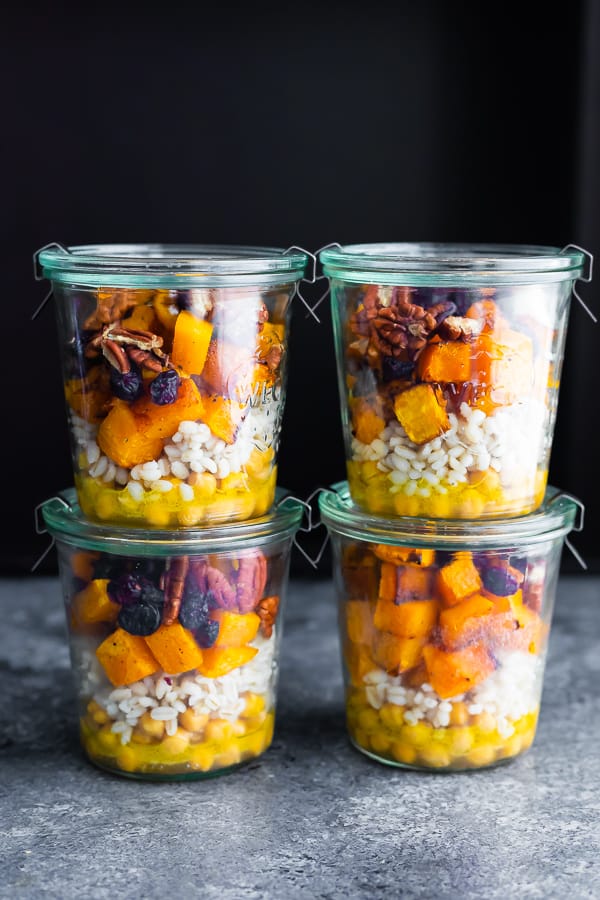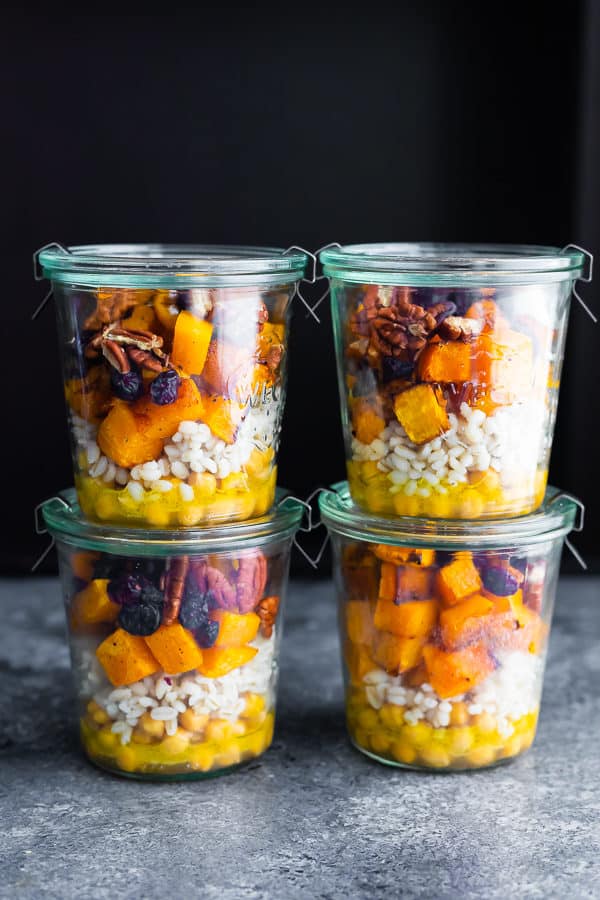 Thai Chickpea Mason Jar Salad
Thai chickpea mason jar salad has a tangy peanut dressing, quinoa, zucchini, carrots and cabbage and is topped with honey roasted peanuts! Ready in under 25 minutes.
Check out this recipe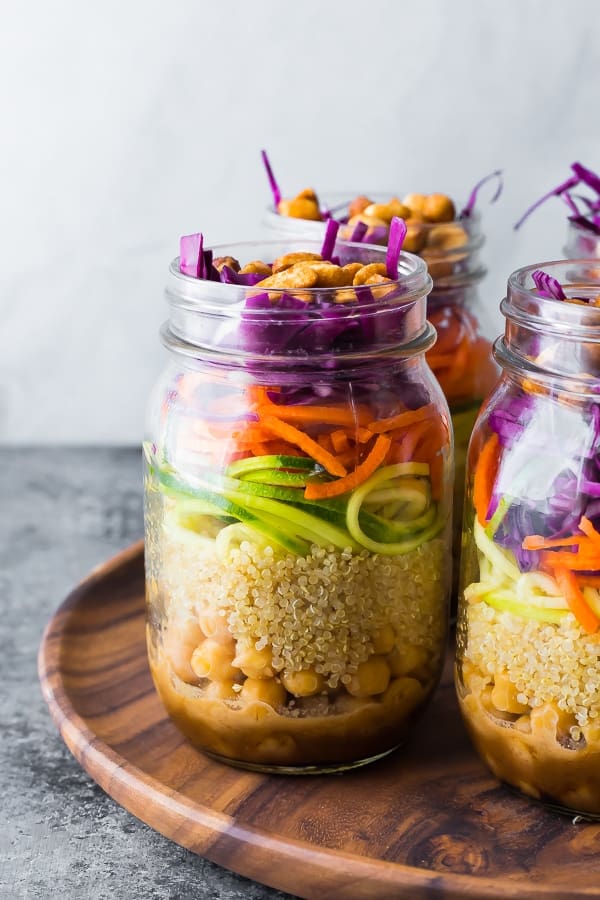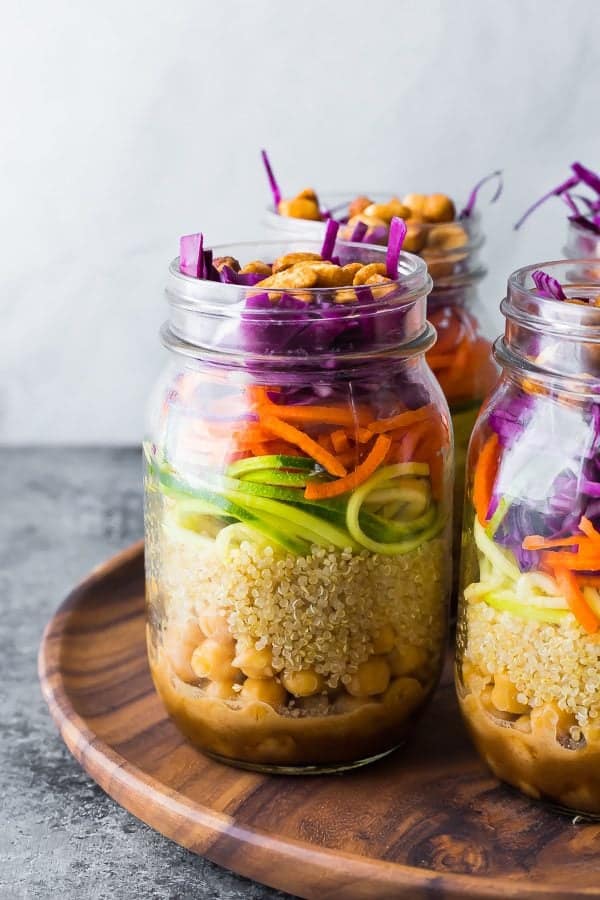 Southwestern Sweet Potato & Lentil Jar Salads
These sweet potato & lentil jar salads have the most amazing chili lime vinaigrette! Make them ahead and enjoy throughout the week for an easy, healthy on-the-go lunch.
Check out this recipe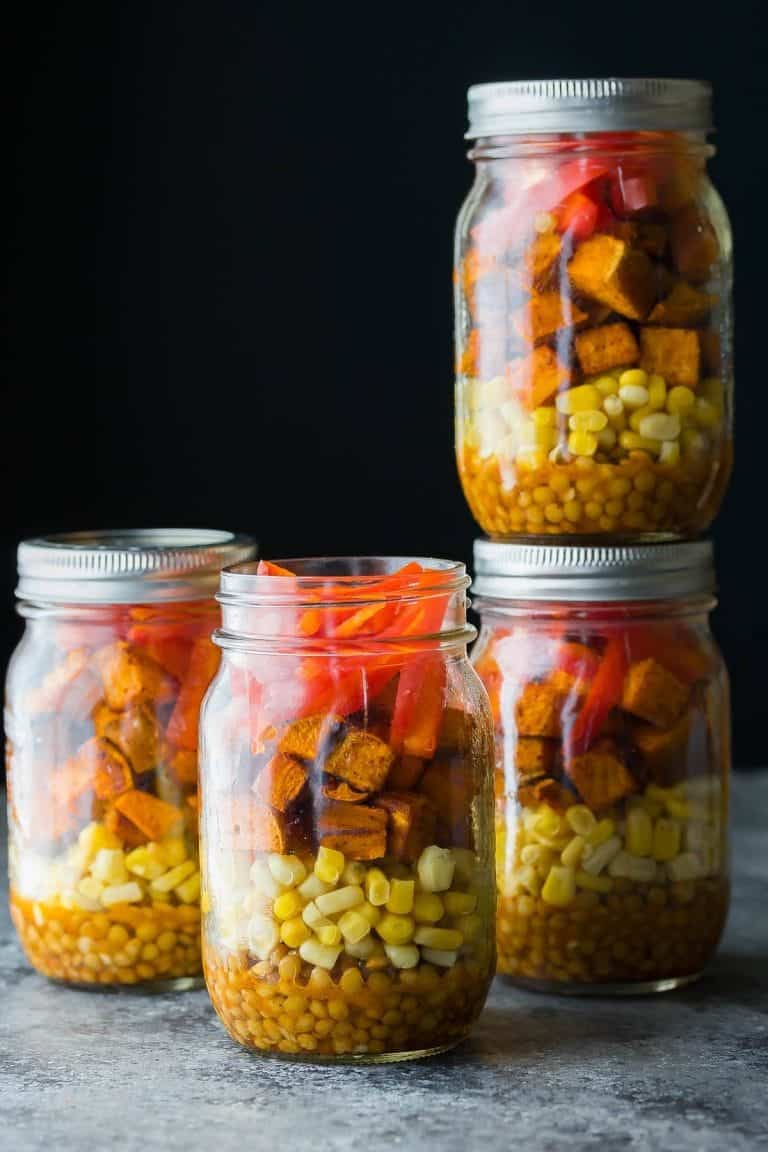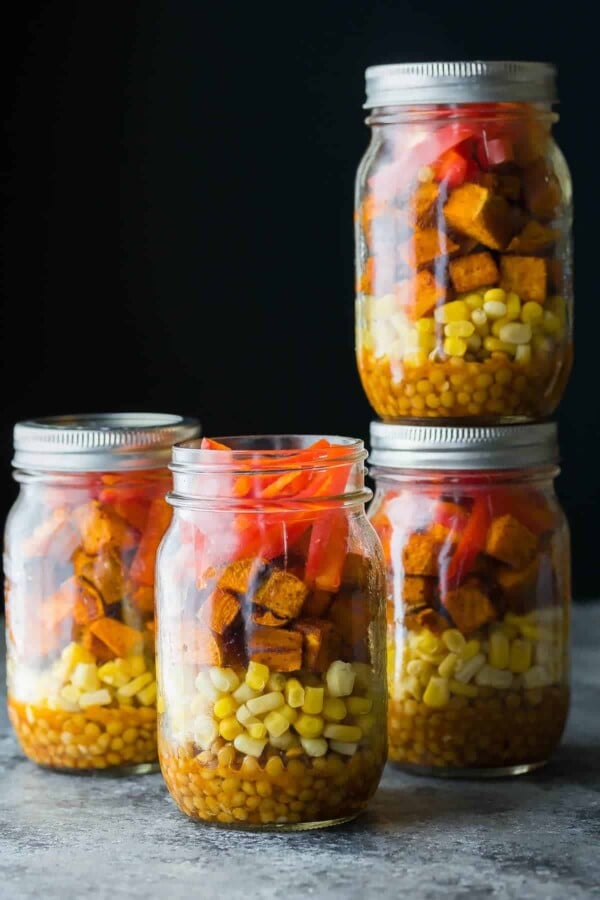 Kale Barley Salad with Feta and a Honey-Lemon Vinaigrette
This kale barley salad is full of whole grain, nutrient-rich ingredients that will nourish your body and fill you up! Easy to prepare, vegetarian, and meal prep-friendly!
Check out this recipe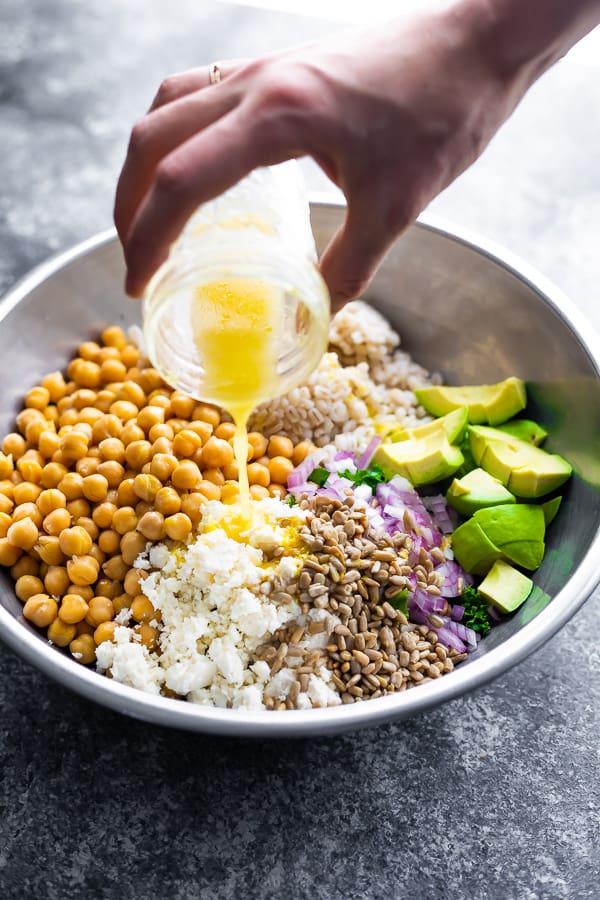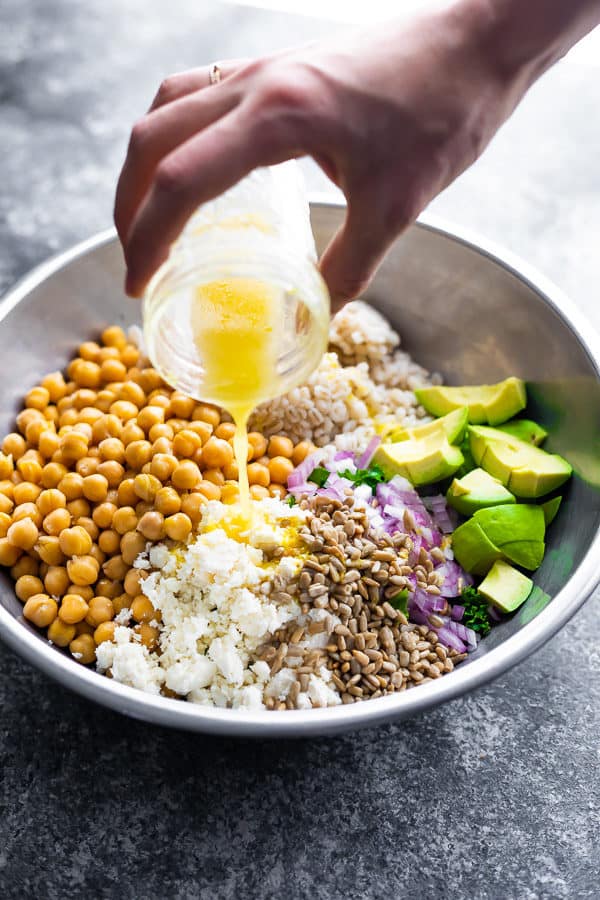 Broccoli Salad Recipe with Almonds and Quinoa
This broccoli salad recipe is a delicious blend of flavors and textures- with almonds, quinoa and an apple cider poppy seed vinaigrette. Easy to prep for a barbecue or for meal prep!
Check out this recipe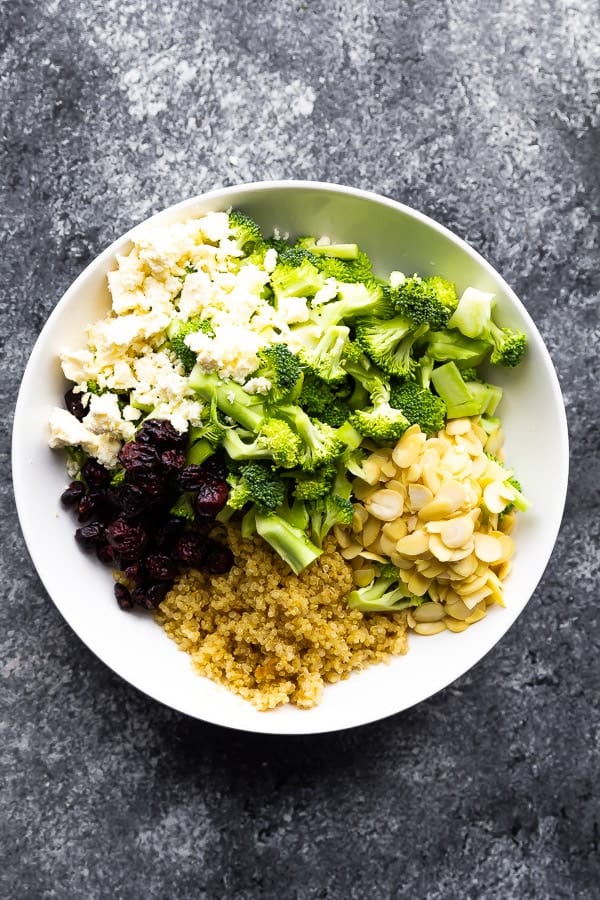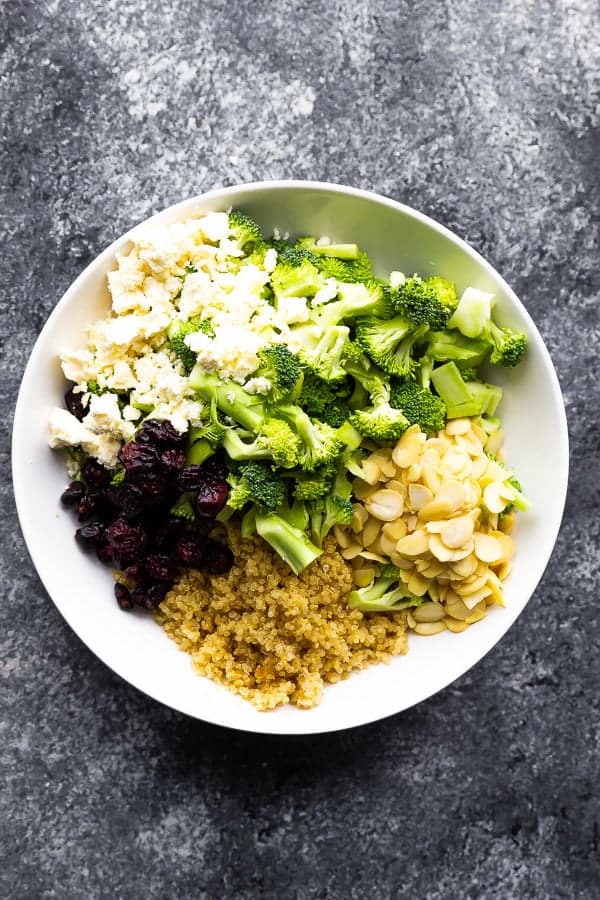 Ranch Chicken Jar Salads
These ranch chicken jar salads are made with homemade ranch dressing, baked chicken breast, shredded cheese, and lots of veggies! Low carb with 6 g net carbs, and gluten-free, they are a healthy grab-and-go lunch.
Check out this recipe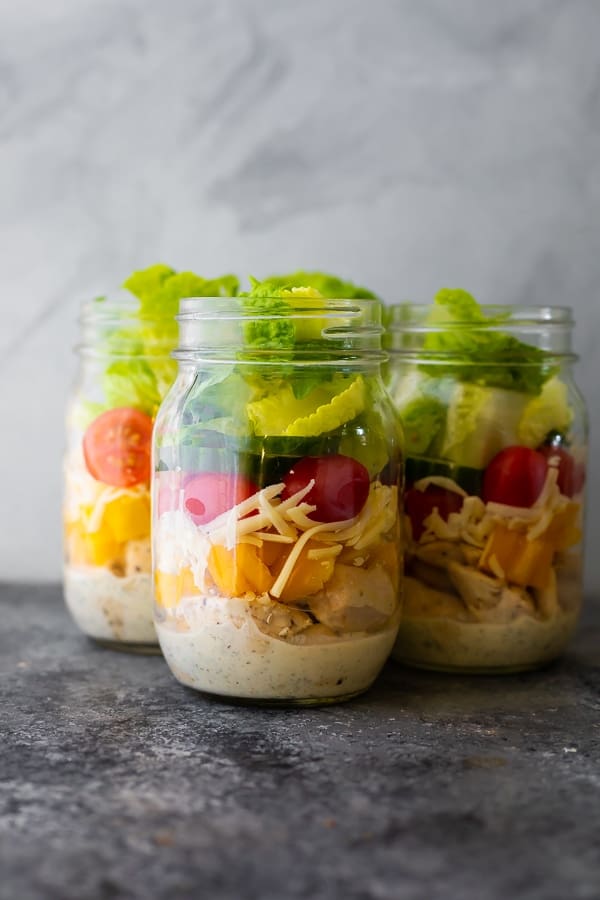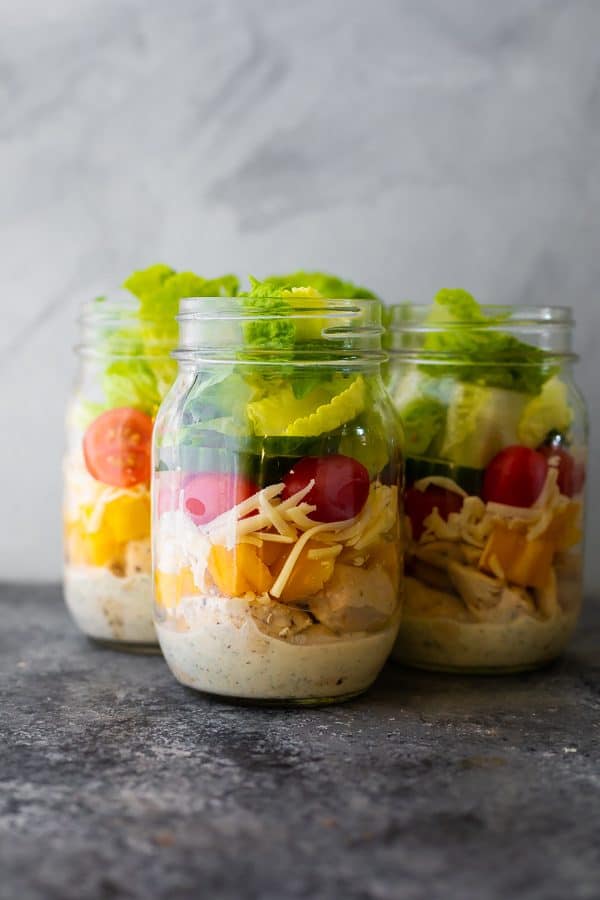 Strawberry Quinoa Spinach Jar Salads
This strawberry spinach quinoa salad in a jar is the perfect fresh summer meal prep lunch! Spend a bit of time prepping your lunches on the weekend and you'll be the envy of your office.
Check out this recipe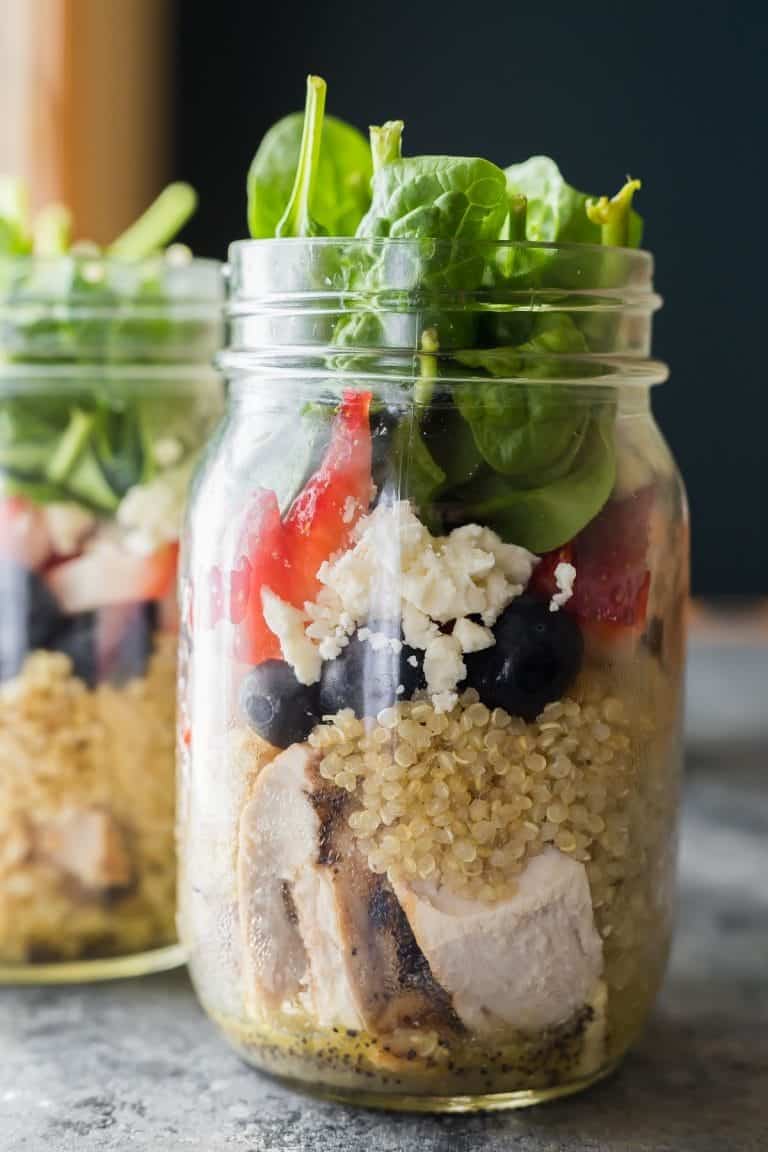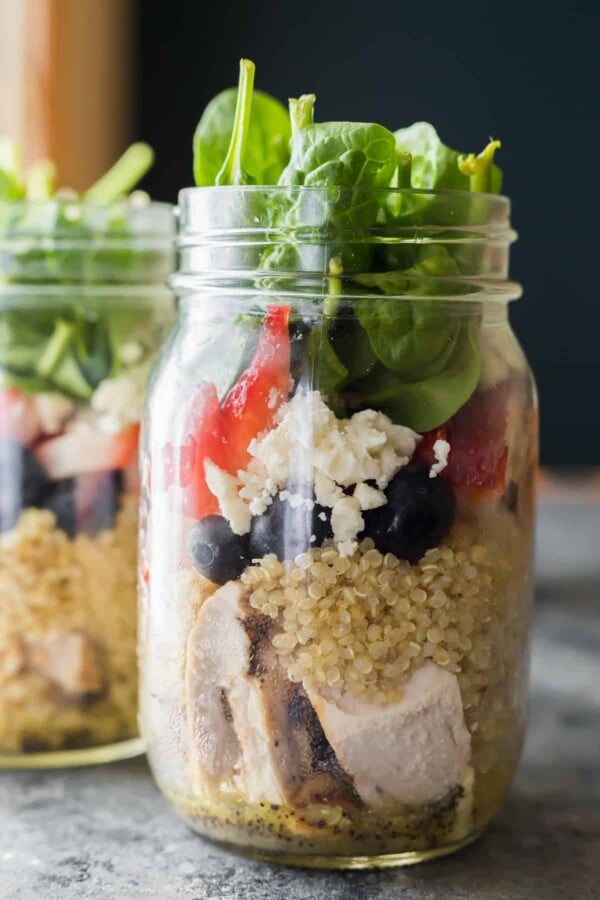 Kale Chicken Pasta Salad
This kale chicken pasta salad is made with a tangy balsamic vinaigrette, sunflower seeds, and dried cranberries. A healthy meal that works great for meal prep, or an easy weeknight dinner!
Check out this recipe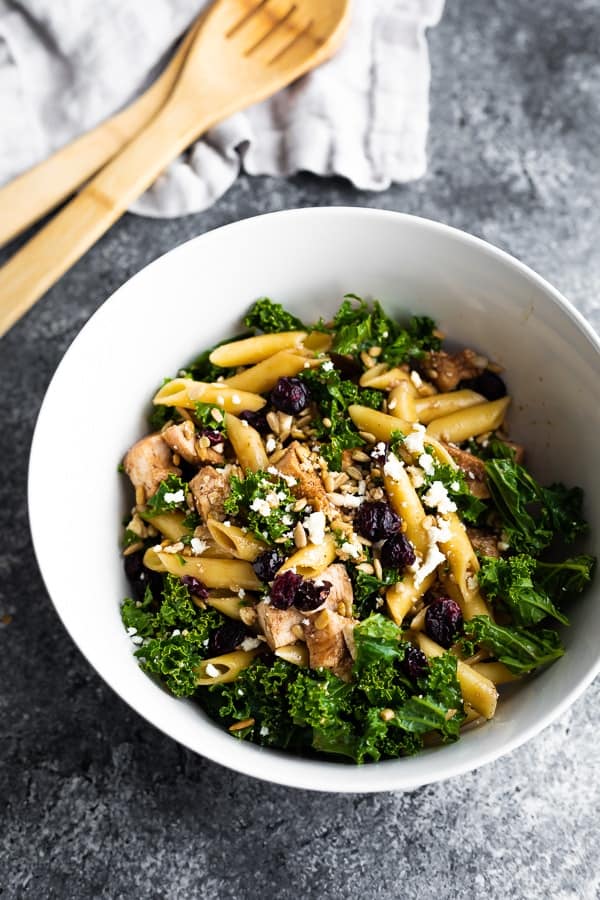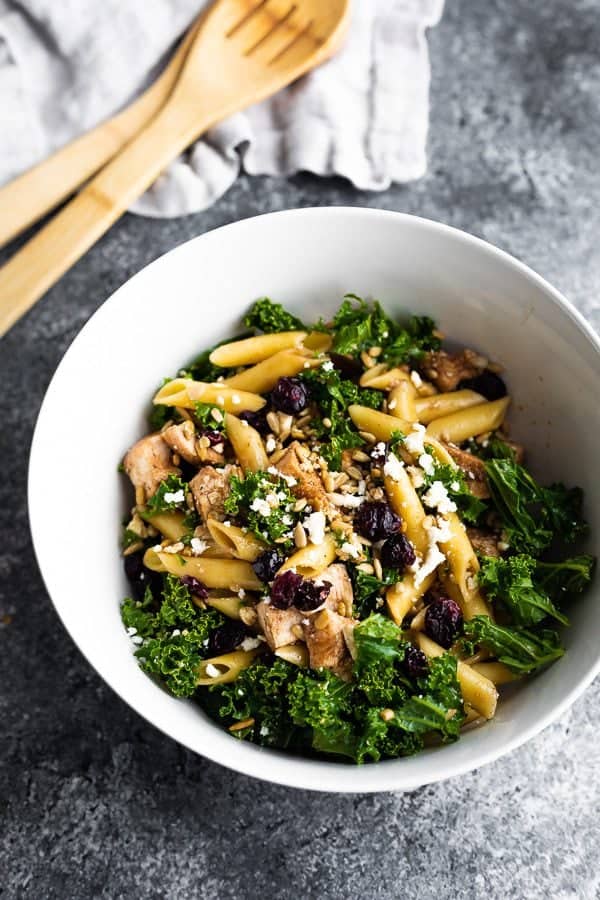 Asian Chicken Mason Jar Salads
These Asian chicken mason jar salads make for an easy and healthy work lunch! They can be made ahead of time and stored in the fridge for 4 days.

Check out this recipe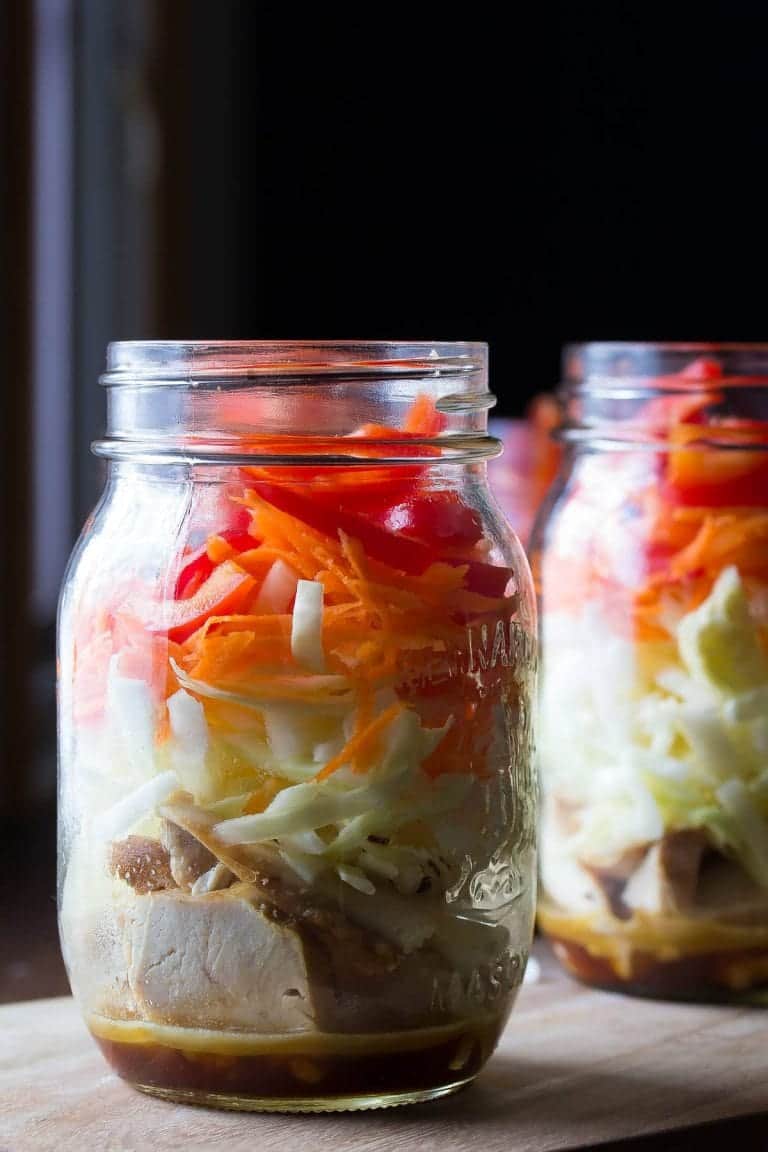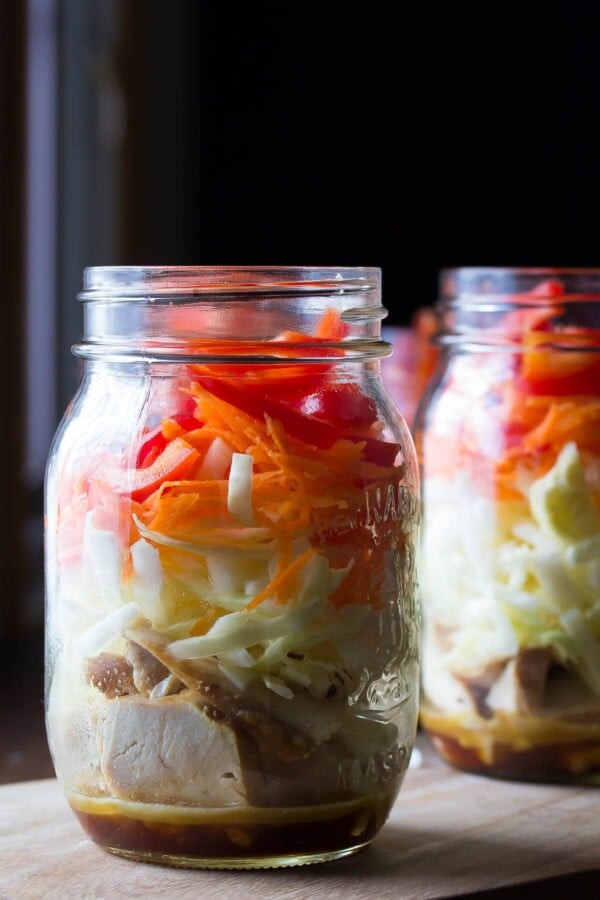 Arugula and Watermelon Salad in a Jar
Arugula and watermelon salad in a jar is the perfect picnic food! Layering the salad means it will be fresher when you eat it and makes it perfectly portable.
Check out this recipe