21 make ahead salads that are perfect for meal prep. Prepping your salads ahead of time ensures you will have a healthy, veggie-packed lunch, and will save you time!

Looking to increase your veggie intake and eat a healthier lunch?
Then meal prep is going to be your next best friend. Prepping your lunches ahead on the weekend is the BEST way to make sure you stay on track with your healthy eating goals. Not to mention you're going to reduce your morning stress (of OMG!! What am I going to pack for lunch today?!) and save you some money too (less food wastage and less money spent eating out).
Today we're talking make ahead salads, because salads are one of my favorite things to meal prep!
These make ahead salads are so versatile: they can be lunch, a main course or a side, and often these salads will taste better as they sit and marinate together in the fridge!
Now one tip on these recipes...some of the salads included contain avocado. Make sure to leave it off until just before serving, otherwise it will brown. Other than that, here are 21 make ahead salads that will be absolutely perfect to incorporate into your summer meal prep routine!
1. Roasted Sweet Potato & Wild Rice Salad from Sweet Peas & Saffron // 2. Kale Superfood Salad with Quinoa and Blueberries from Kristine's Kitchen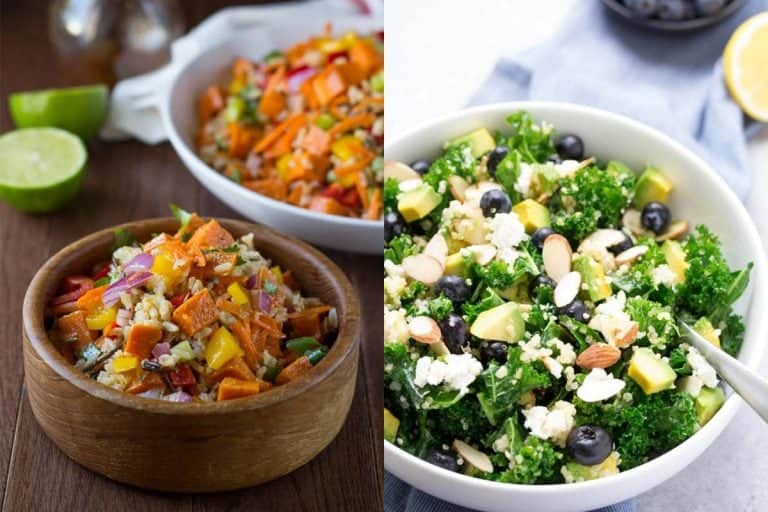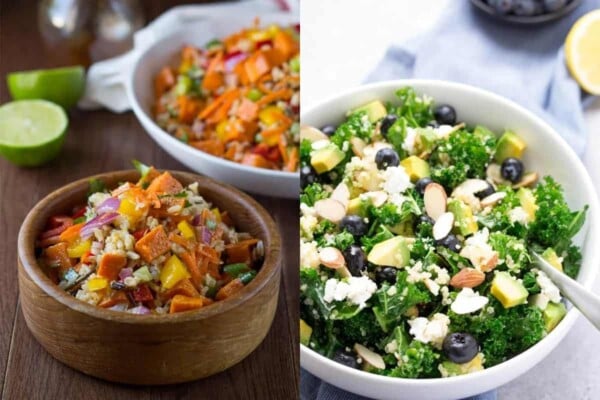 3. Summer Barley Salad with Grilled Corn & Blueberries from Sweet Peas & Saffron // 4. The Ultimate Detox Salad from The Roasted Root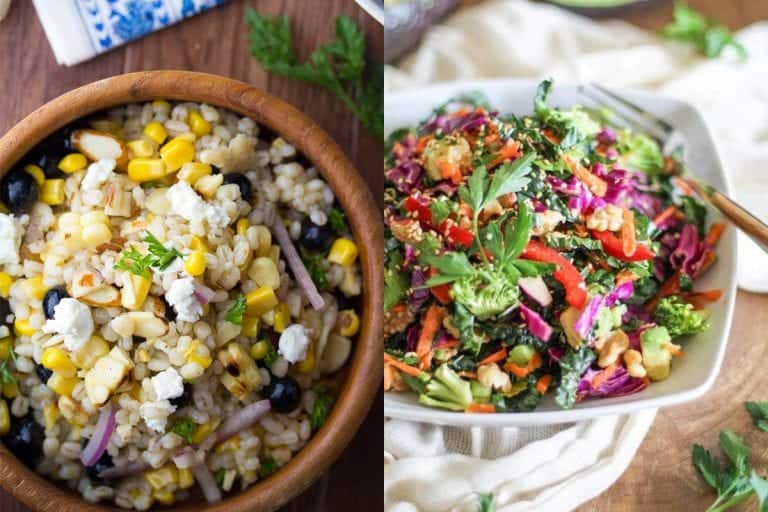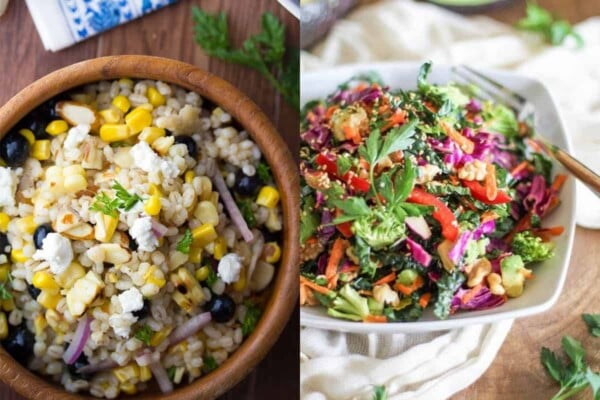 5. Meal Prep Sesame Chicken Pasta Salad from Sweet Peas & Saffron // 6. Greek Quinoa Salad from Wholefully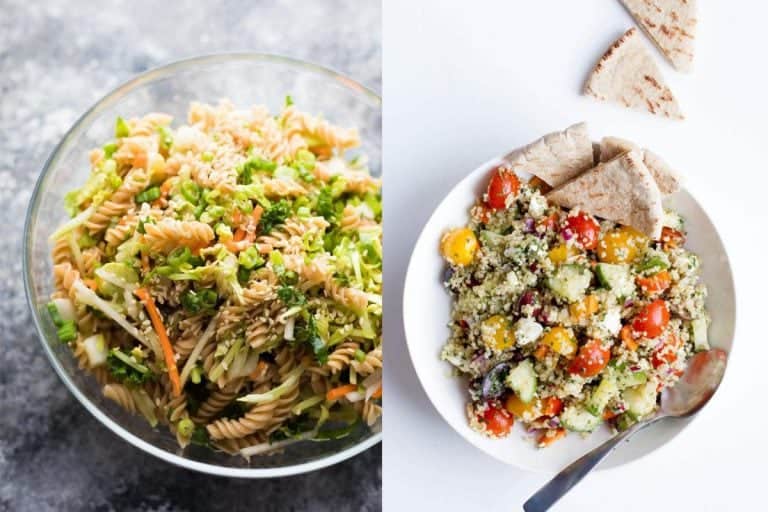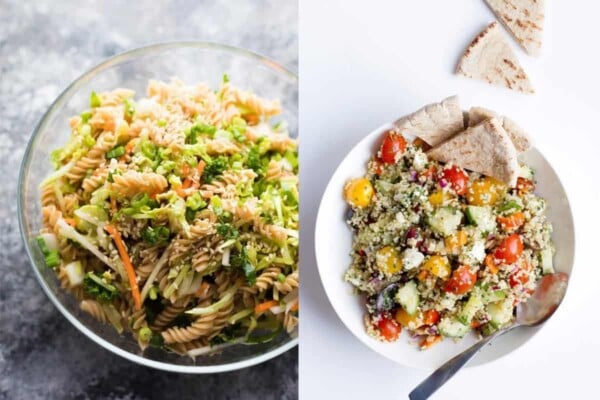 7. Honey Lime Chicken & Soba Noodle Salad from Sweet Peas & Saffron // 8. Mediterranean Bean Salad from The View From Great Island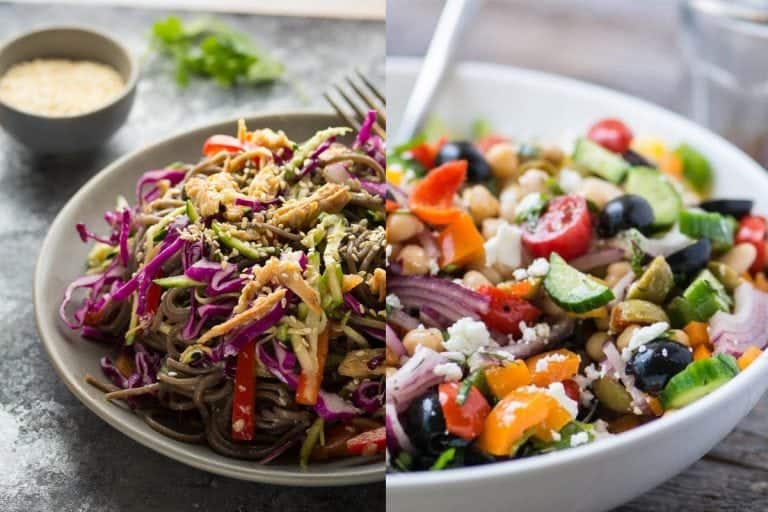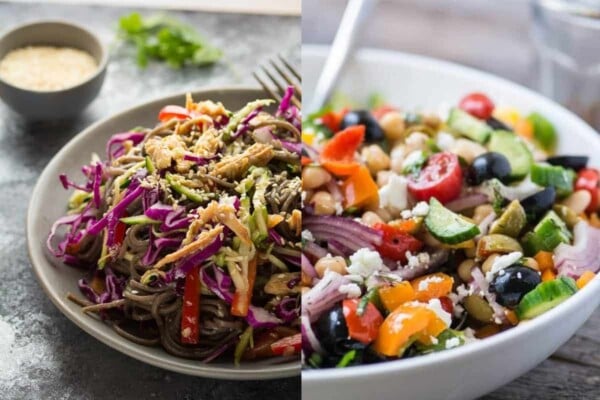 9. Fennel & Pomegranate Quinoa Salad from Sweet Peas & Saffron // 10. Healthy Greek Freekah Salad from Peas & Crayons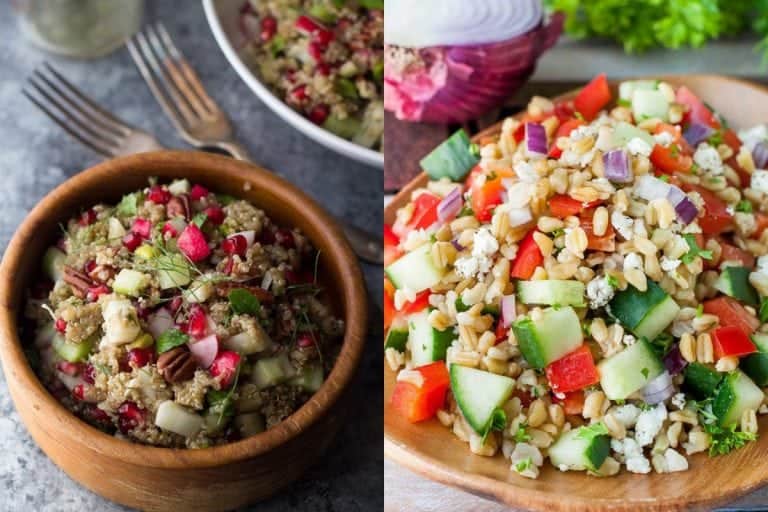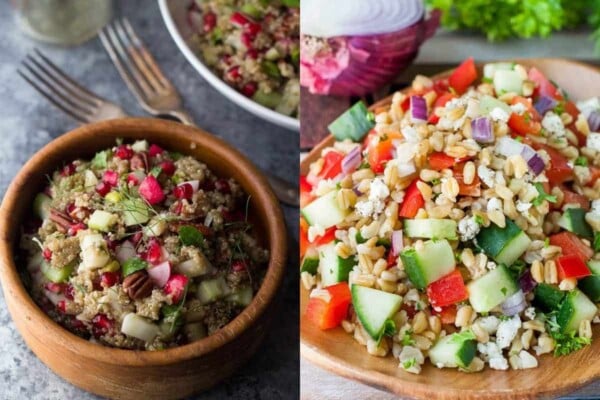 11. Herb Orzo Pasta Salad with Feta from Sweet Peas & Saffron // 12. Marinated Vegetable Salad from Iowa Girl Eats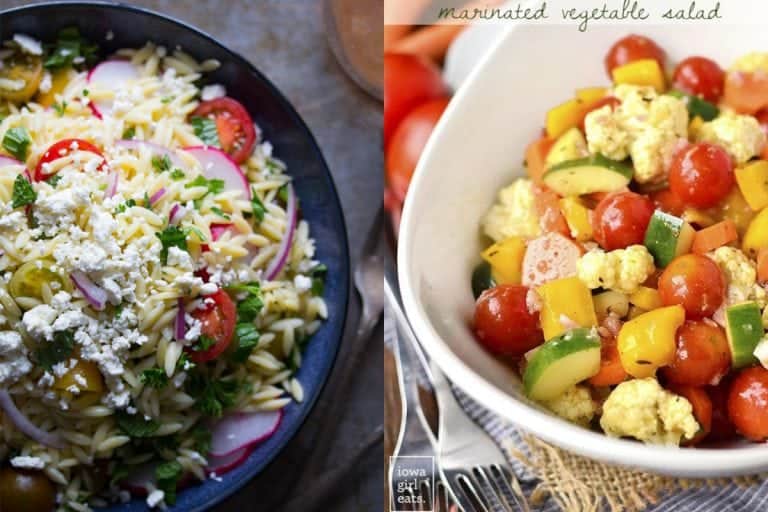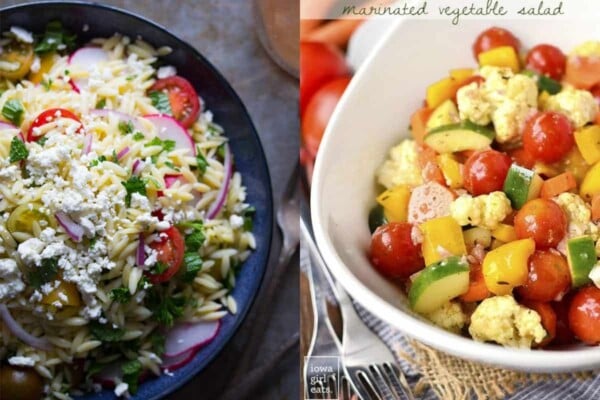 13. Meal Prep Chopped Chickpea Salad from Sweet Peas & Saffron // 14. Quinoa Mango Black Bean Salad with Smoky Pepitas and Chipotle Lime Vinaigrette from Vanilla and Bean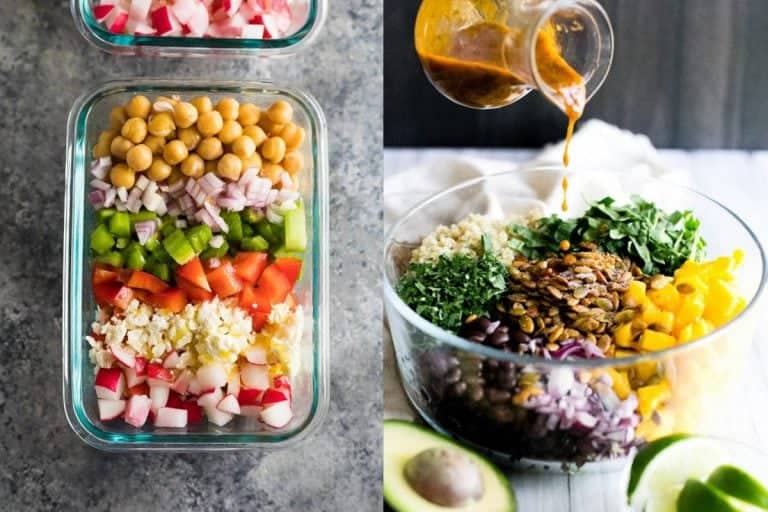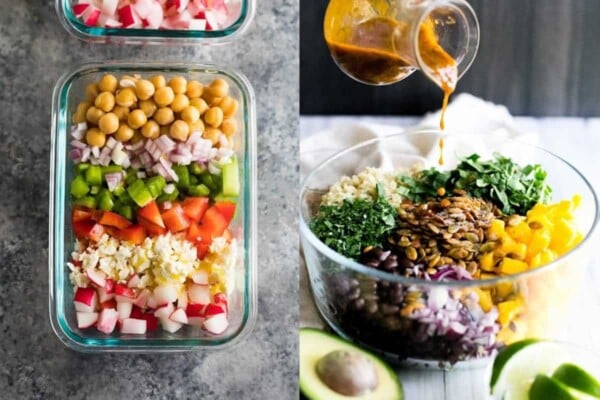 15. Kale Barley Salad with Honey Lemon Vinaigrette from Sweet Peas & Saffron // 16. Best Southwestern Couscous Salad from Savory Tooth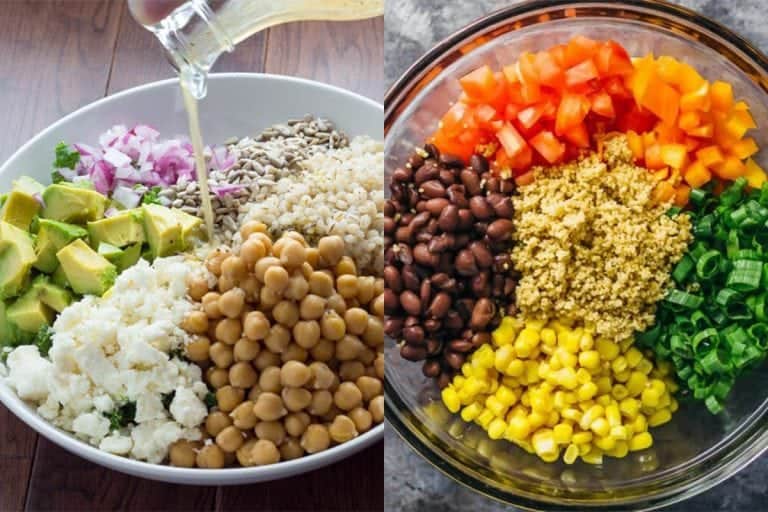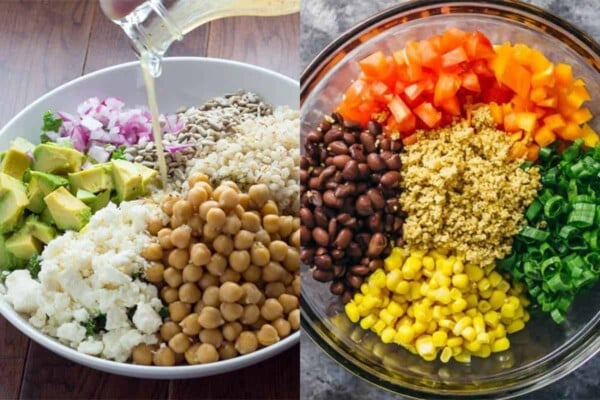 17. Strawberry Caprese Quinoa Salad from Sweet Peas & Saffron // 18. Southwestern Power Salad with Creamy Cilantro Lime Dressing from She Likes Food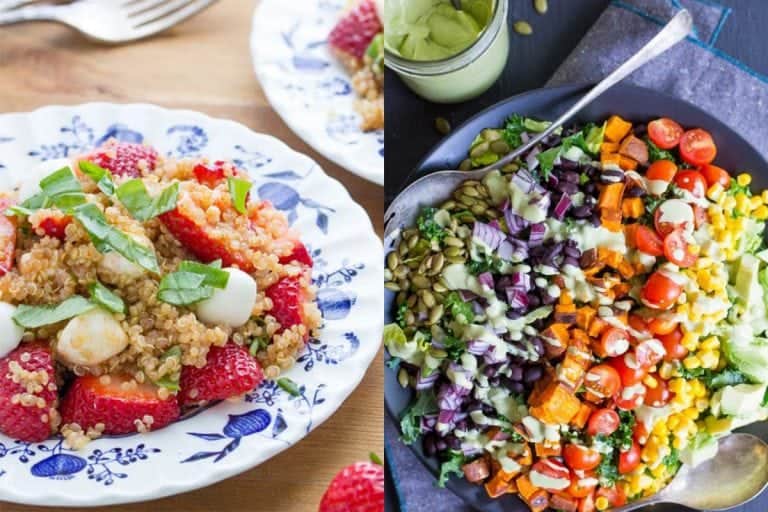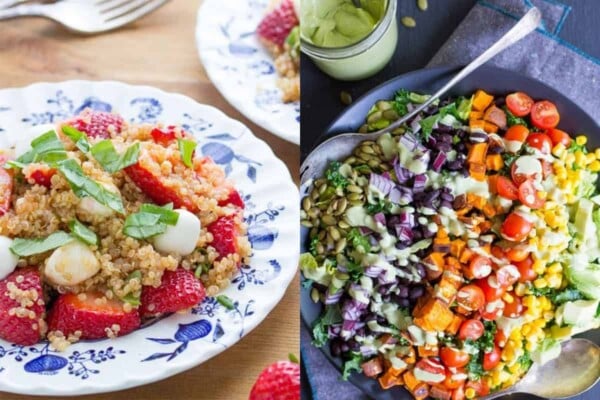 19. Charred Corn Salad with Feta, Mint & Quinoa from Sweet Peas & Saffron // 20. Chinese Chicken Salad Recipe from Stupid Easy Paleo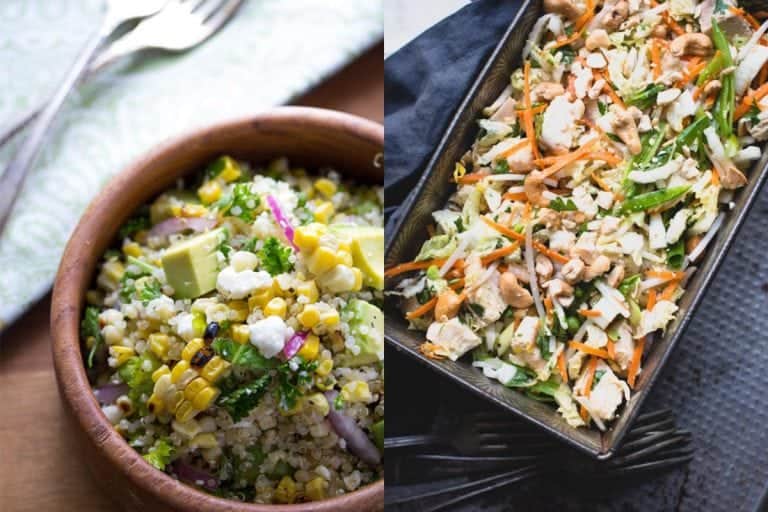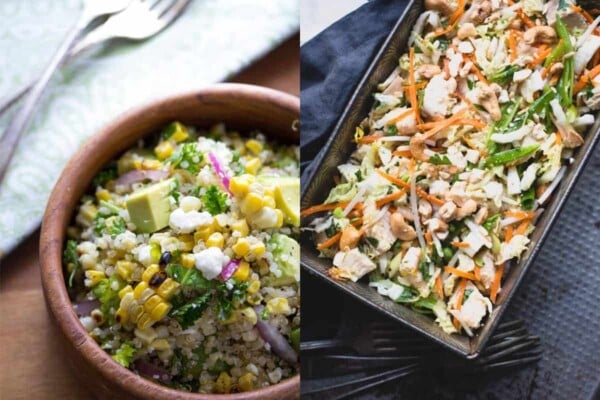 21. Broccoli Quinoa Salad with Creamy Lemon Dressing from Well Plated