Vegetarian meal prep recipes- a little meal prep can go a long way in helping you eat a balanced and nutritious vegetarian diet. Check out these 40 delicious vegetarian meal prep recipes that are packed with protein to keep you full!!
Making vegetarian meal prep recipes, whether it is breakfast, lunch or dinner, sets you up for healthy eating through the week. Not only that, but you will save yourself time, stress and even save some money!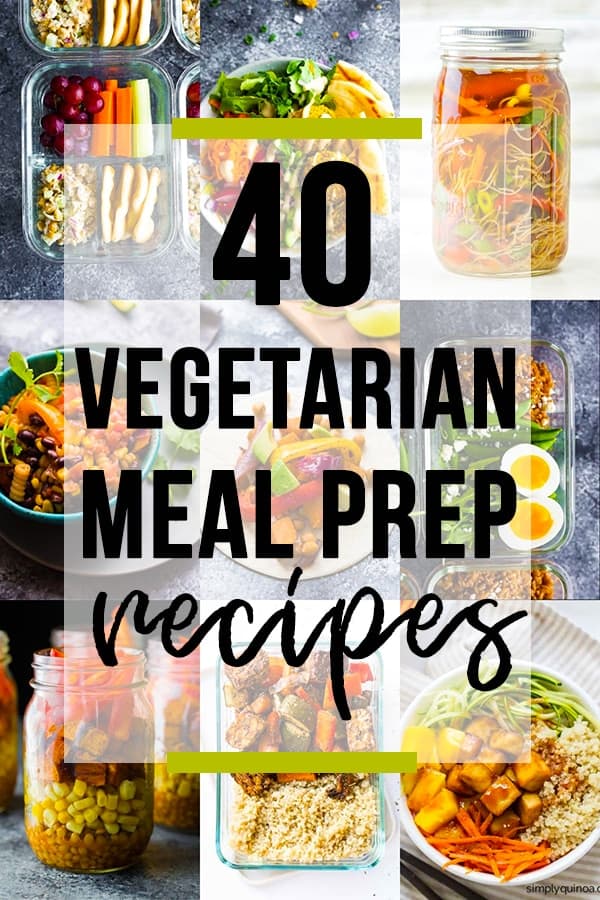 Vegetarian Meal Prep
One thing I love about vegetarian meal prep recipes is that the proteins are super easy to work with, often as simple as opening a can of beans! That makes prepping your meals even more efficient.
Today I'm sharing with you 40 vegetarian meal prep recipes…these are all lunch and dinner recipes since they are the harder recipes to find.
If you are looking for meal prep breakfast recipes, check out this round-up of 28 Healthy Breakfast Meal Prep Ideas; most of them are already vegetarian. Looking for 100% plant based vegan meal prep recipes? Check out this round-up of Vegan Meal Prep Recipes.
Meal Prep FAQ
How many days can I meal prep for at a time? That depends on whether you choose freezer-friendly meals or not. Most ingredients will keep in the fridge for up to 4 days. Check out these Freezer-Friendly Lunch Meal Prep Recipes for recipes that will keep longer!
Is rice really safe to reheat? Absolutely! The important thing with rice is that you don't leave it at room temperature for long periods of time. Cool it quickly, refrigerate, and do not reheat more than once. Ref
Which meal prep containers should I use? Check out this post I wrote about the 5 Best Glass Meal Prep Containers!
Which vegetables work best for meal prep? You will want to check out this post on How to Meal Prep Vegetables.
Do I really have to eat the same thing four days in a row? NO! Check out this post on 3 Ways to Add Variety to Your Meal Prep. Although I will say that the most efficient way to meal prep is to bulk prep the same meal.
Make Ahead Vegetarian Ideas
These meatless meal prep ideas are packed with veggies and a solid source of protein. Some are served cold and some are best warmed up.
How to meal prep– Specific instructions are found on each individual recipe post. Stir fries, burritos, casseroles, pastas (etc) are cooked ahead. Salads- chop, portion out, and keep dressing separate until just before serving (unless otherwise stated). Soup- assemble in mason jars.
How to store– Some options for storing these meal prep recipes include:
How to serve– rewarm until steaming hot (if recipe calls for it). Toss salad in dressings and enjoy cold. Pour hot water into mason jar soup.
QUESTION? Ask me below!
1. Cauliflower Rice Black Bean Burritos from Sweet Peas & Saffron // 2. Meal Prep Veggie Stir Fry from Wholefully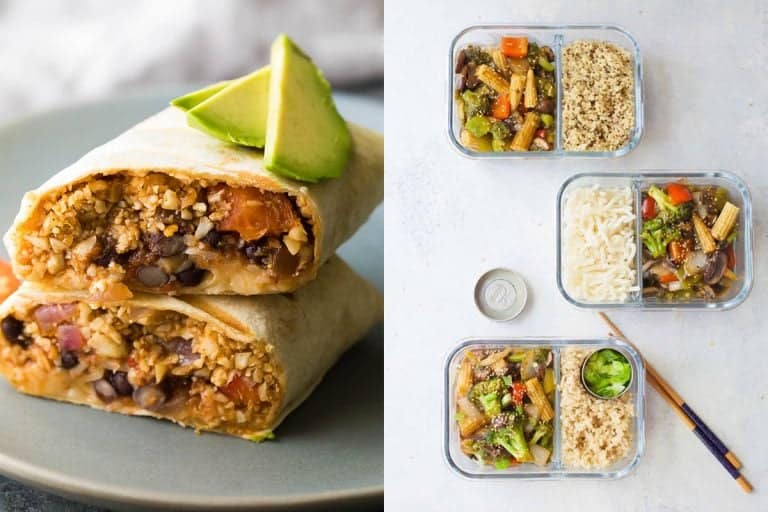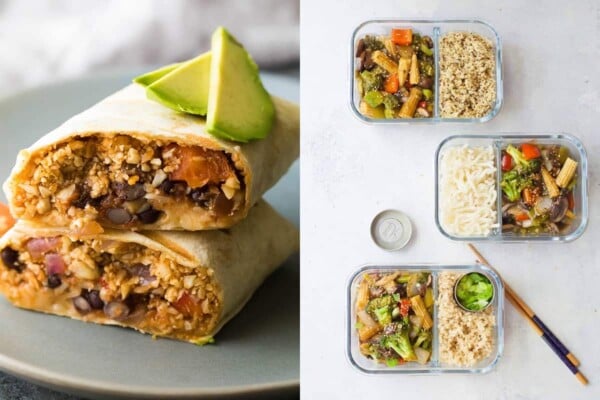 3. Sundried Tomato Chickpea One Pot Pasta (Meal Prep) from Sweet Peas & Saffron // 4. Pho Soup Made In Mason Jar by Veggie Balance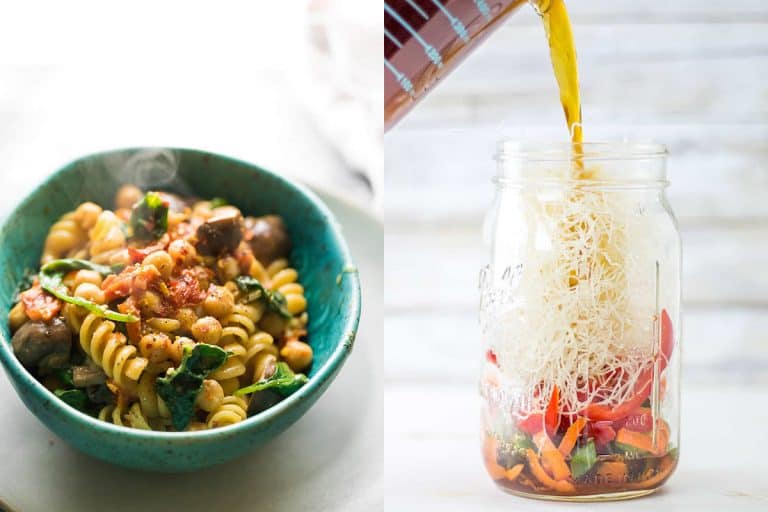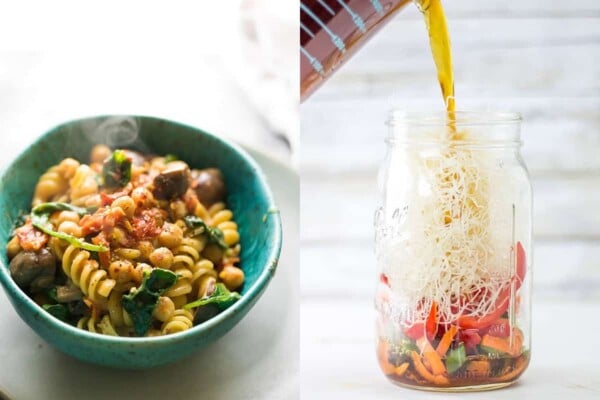 5. Grilled Veggie & Black Bean Meal Prep Bowls from Sweet Peas & Saffron // 6. Roasted Broccoli Chickpea Quinoa Bowls from Nourished The Blog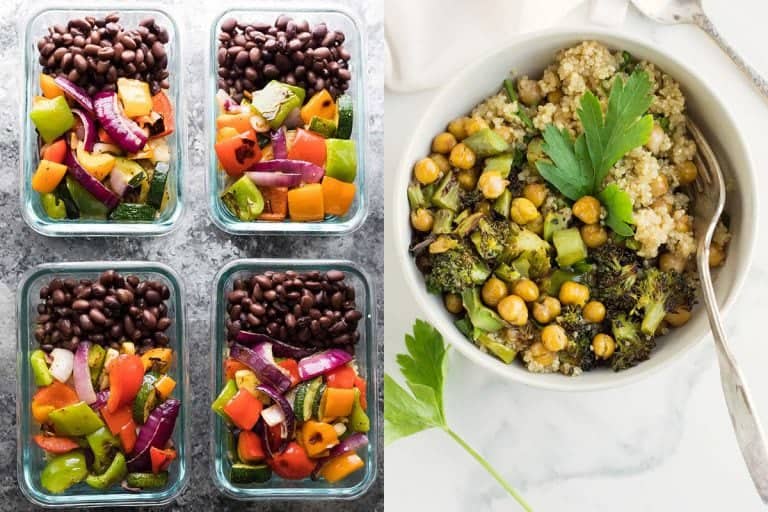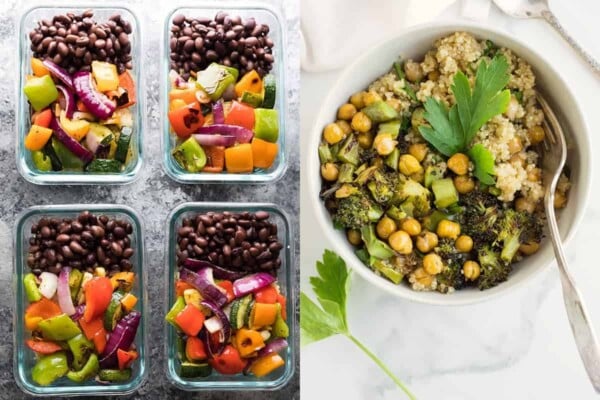 7. Slow Cooker Chickpea Tortilla Soup (Freezer to Crock Pot) from Sweet Peas & Saffron // 8. Curried Chickpea Bowls with Garlicky Spinach from Eating Bird Food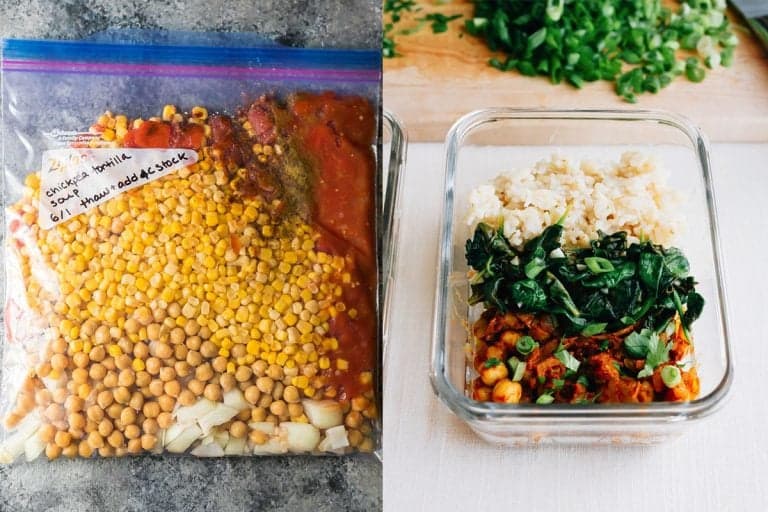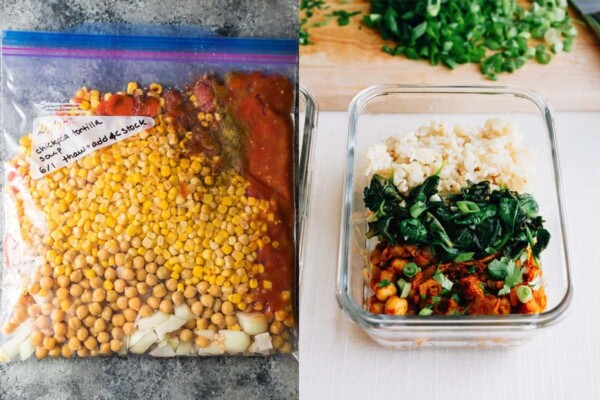 9. Meal Prep Chopped Chickpea Salad from Sweet Peas & Saffron // 10. Crockpot Vegetarian Curried Lentils from New Leaf Wellness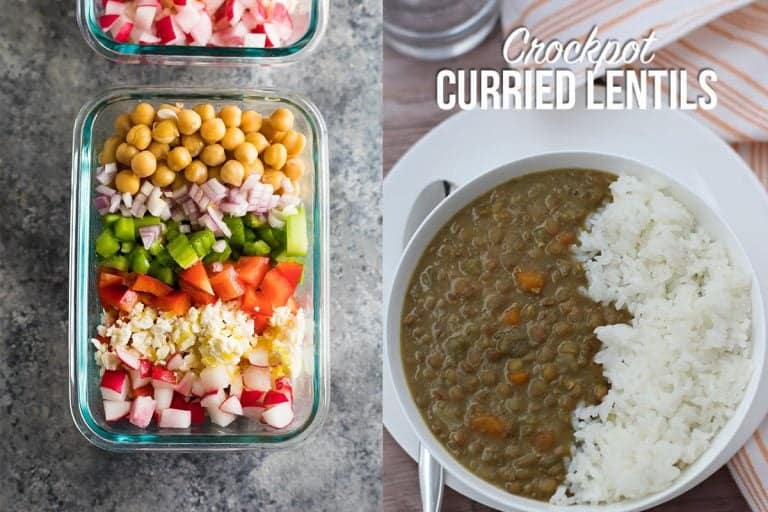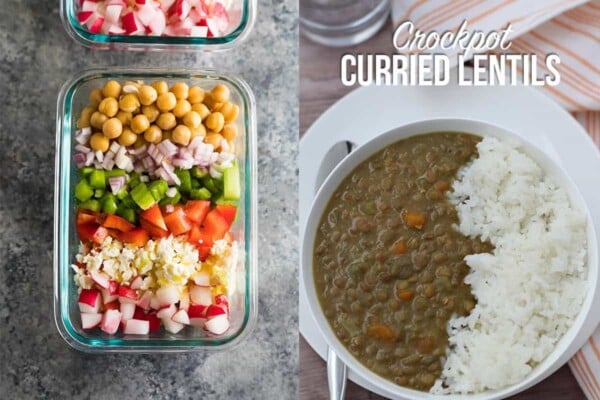 11. Lasagna Stuffed Portobellos (Freezer to Oven) from Sweet Peas & Saffron // 12. Teriyaki Quinoa Bowls from Simply Quinoa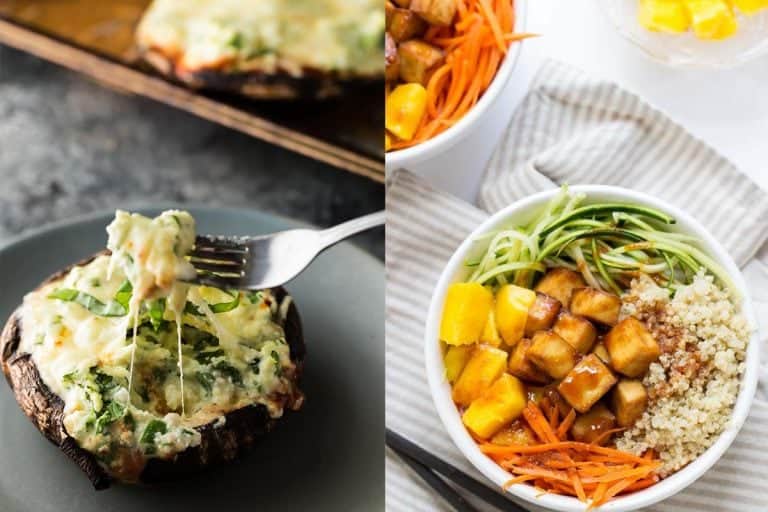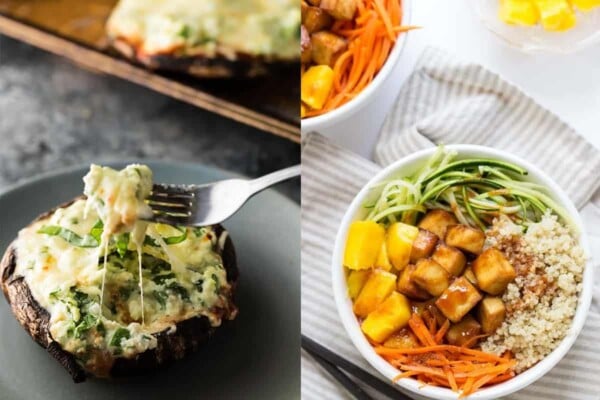 13. Freezer to Oven Enchilada-Stuffed Sweet Potatoes from Sweet Peas & Saffron // 14. Rainbow Power Salad from Pinch of Yum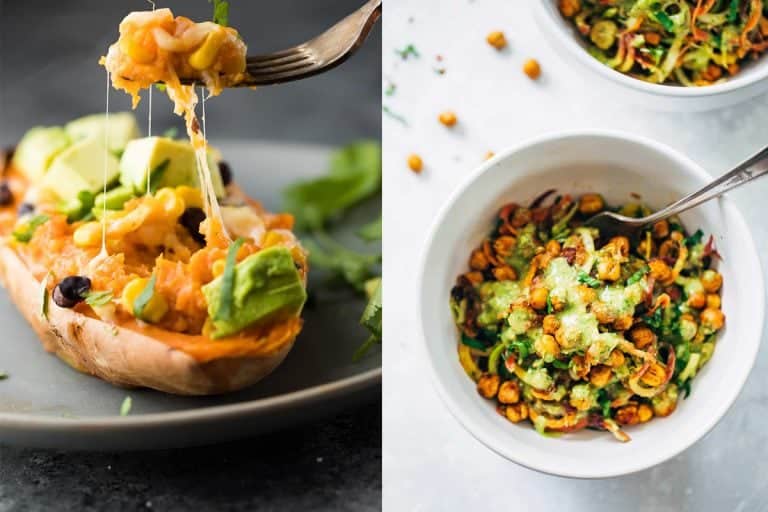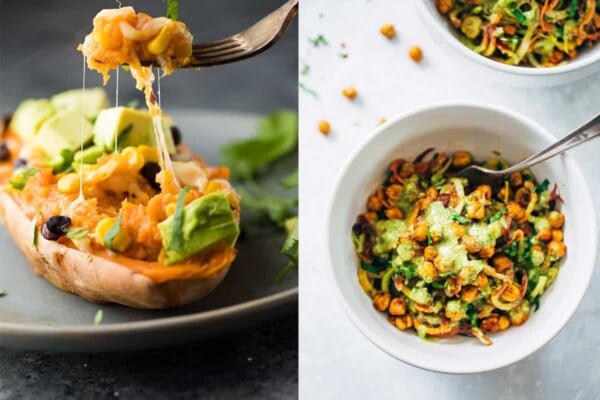 15. (Make Ahead) One Pot Black Bean Fajita Pasta from Sweet Peas & Saffron // 16. Black Bean Salad with Roasted Sweet Potatoes from Naturally Ella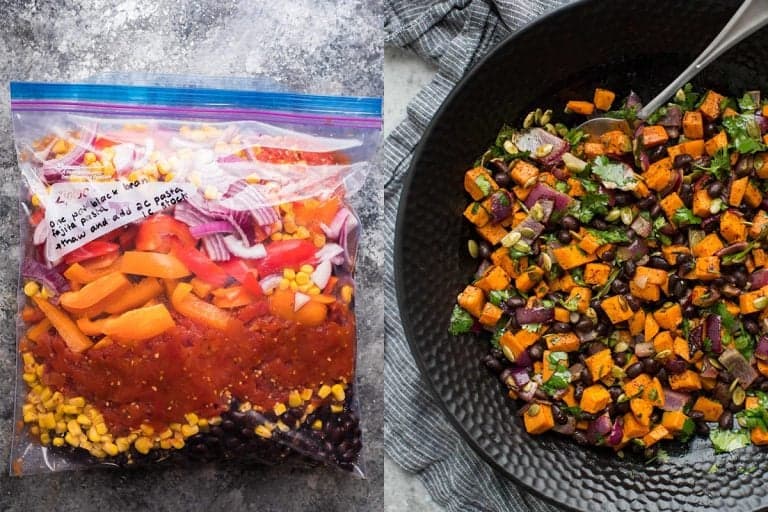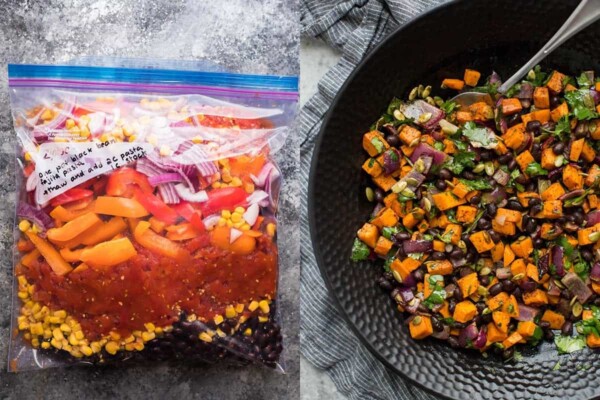 17. Smashed White Bean Spinach Quesadillas (Freezer Friendly) from Sweet Peas & Saffron // 18. Healthy Make-Ahead Burritos from Yummy Mummy Kitchen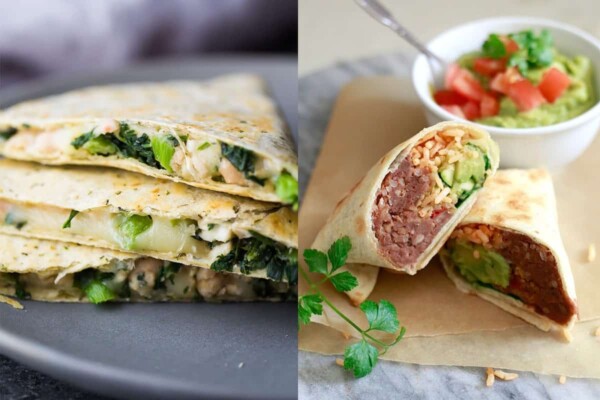 19. Make Ahead Chickpea Butternut Squash Fajitas // 20. Meal Prep Balsamic Tempeh & Roasted Vegetable Quinoa Bowls from Simply Quinoa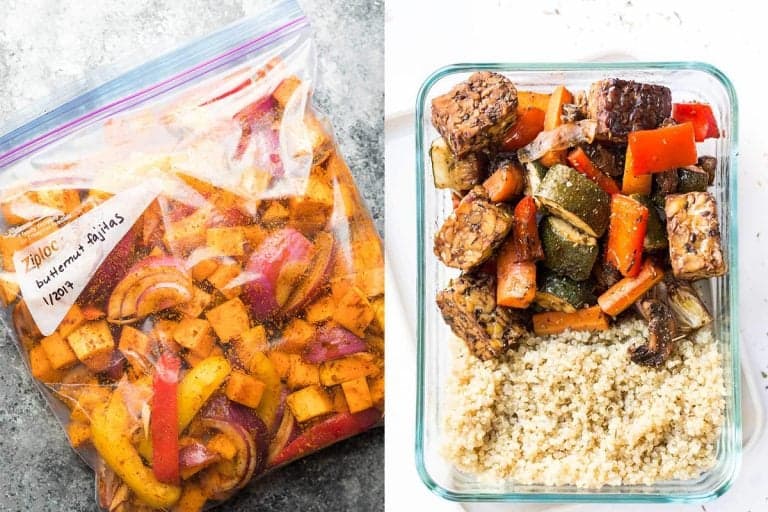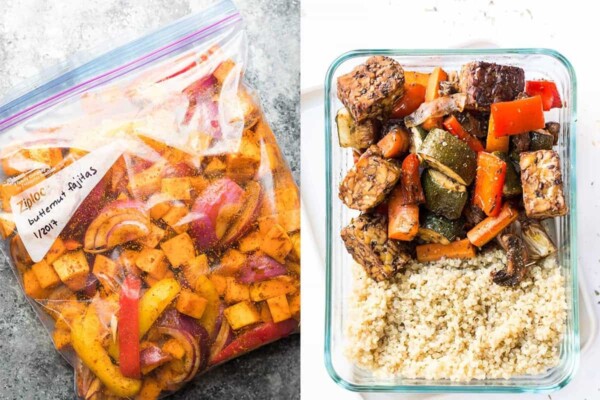 21. Chickpea, Barley and Butternut Squash Lunch Bowls from Sweet Peas & Saffron // 22. Vegetarian Black Bean Enchiladas from A Cedar Spoon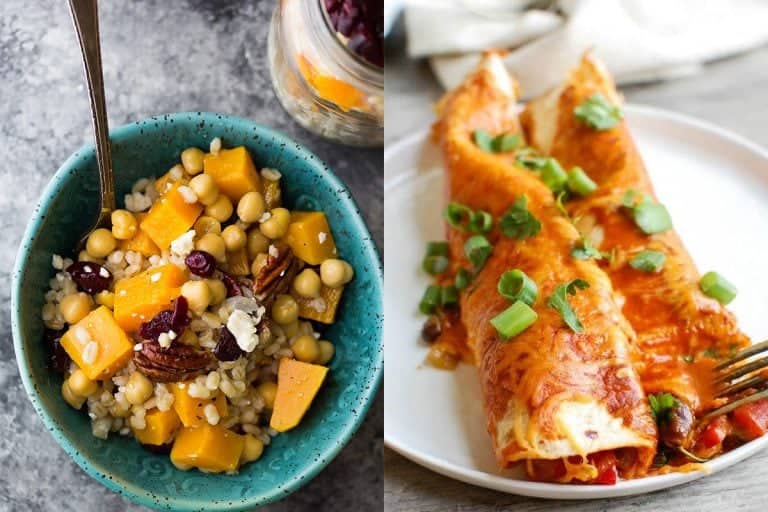 23. Southwestern Sweet Potato Jar Salads from Sweet Peas & Saffron // 24. Broccoli Quinoa Casserole from Eat Good 4 Life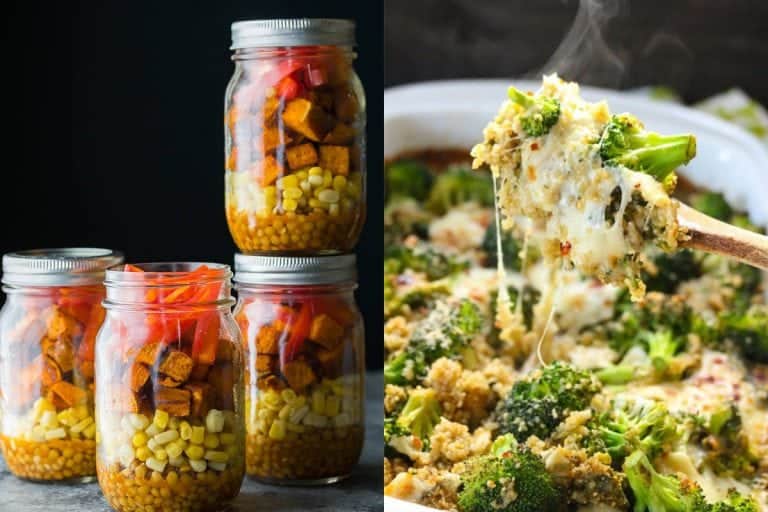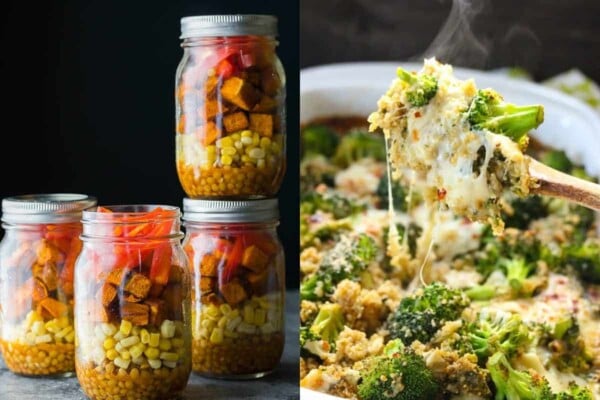 25. Cauliflower Cashew Lunch Bowls from Sweet Peas & Saffron // 26. Butternut Squash Enchilada Casserole from Sweet Peas & Saffron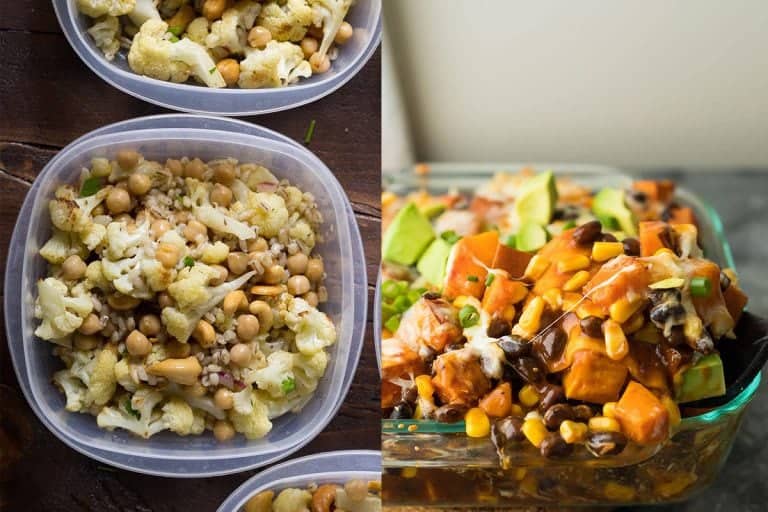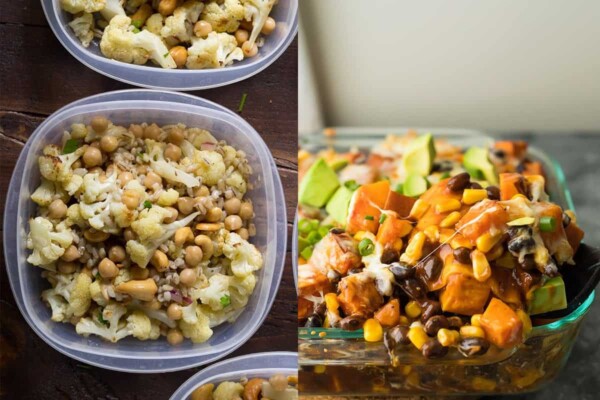 27. Falafel Salad Bowls (Meal Prep) from Sweet Peas and Saffron // 28. Spicy Tofu Noodle Meal Prep Bowls from Sweet Peas and Saffron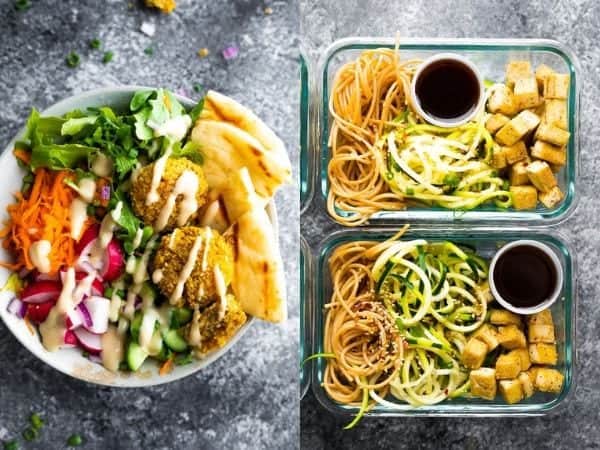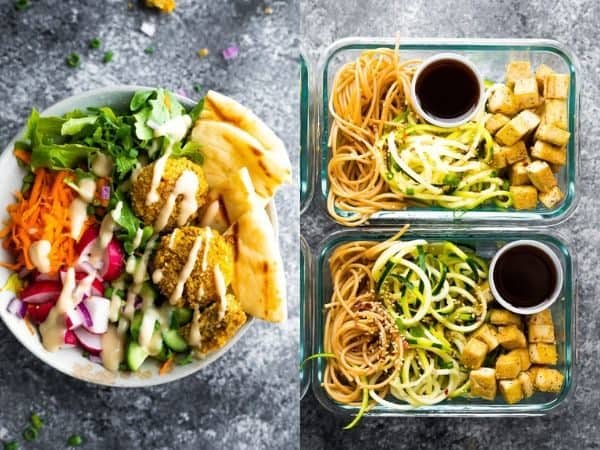 29. Farro Arugula Salad from Sweet Peas and Saffron // 30. Vegan Slow Cooker Tikka Masala from Sweet Peas and Saffron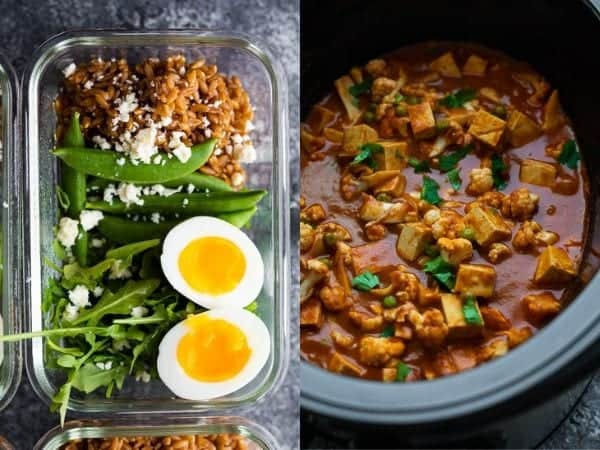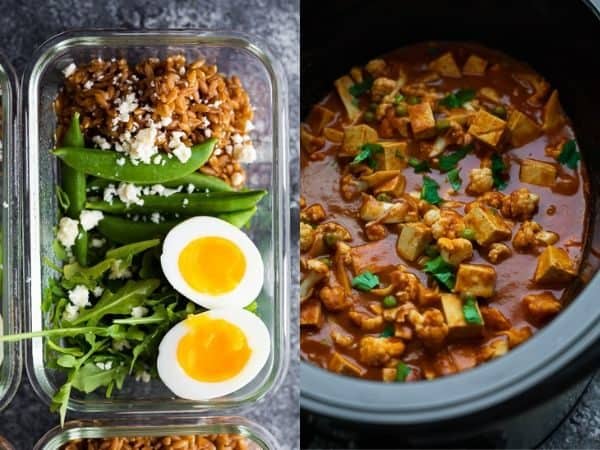 31. Chickpea Salad Bento Box from Sweet Peas and Saffron // 32. Meal Prep Vegetarian Fried Rice from Sweet Peas and Saffron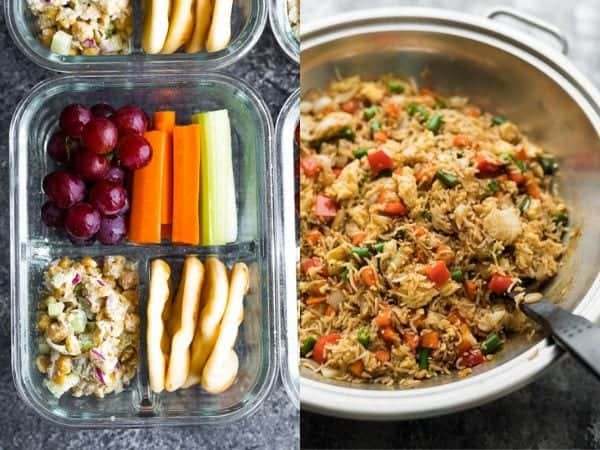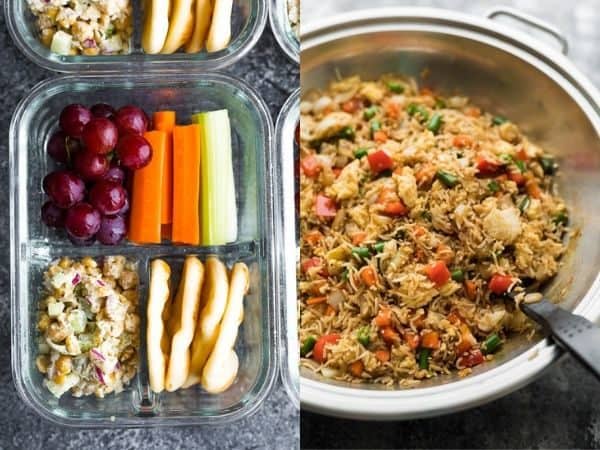 33. Instant Pot Cauliflower Korma from Sweet Peas and Saffron // 34. Buddha Bowl Recipe from Sweet Peas and Saffron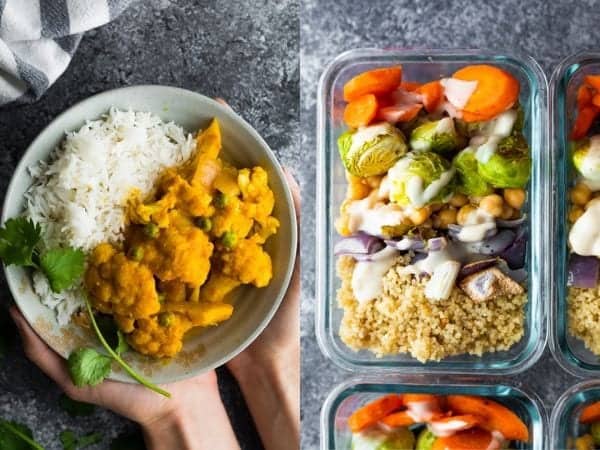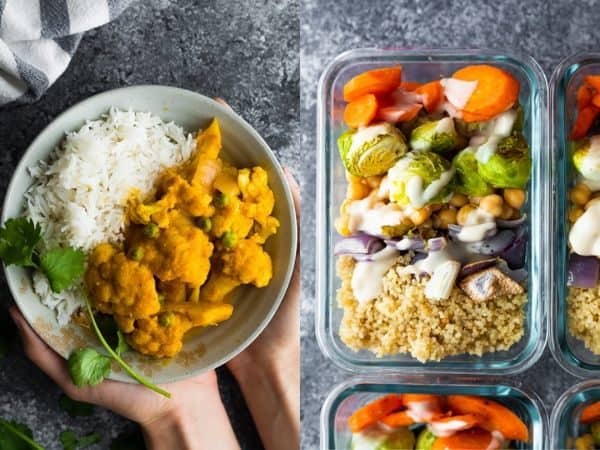 35. Moroccan Instant Pot Lentils from Sweet Peas and Saffron // 36. Chickpea Salad from Chelsea's Messy Apron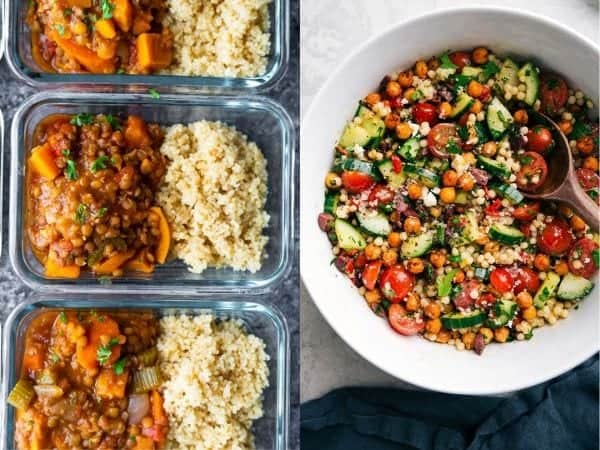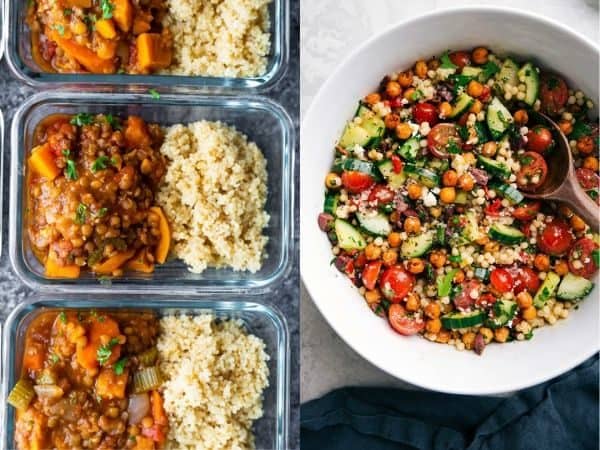 37. Korean BBQ Chickpea Bento Bowls from Sweet Peas and Saffron // 38. Sweet Chili Tofu Bowls from Build Your Bite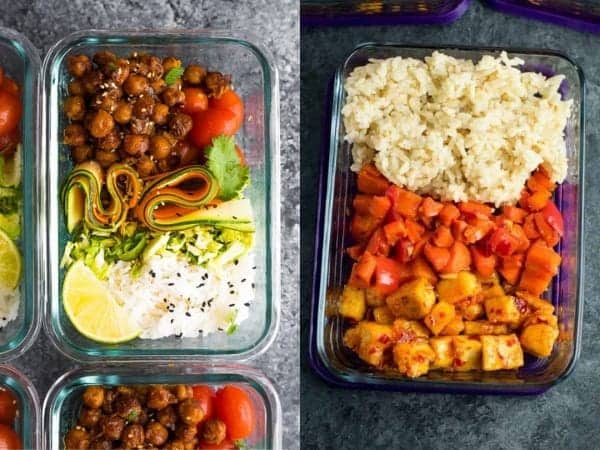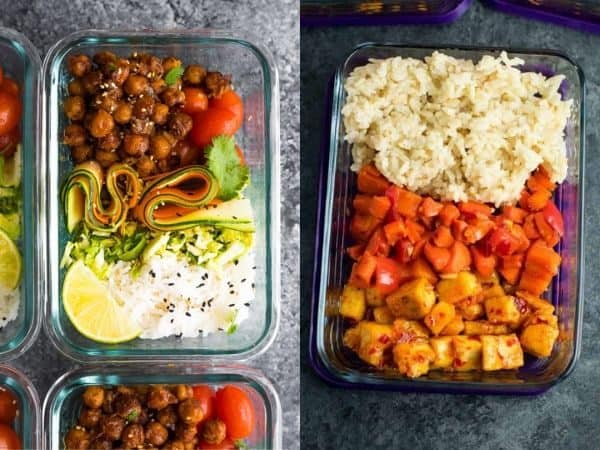 39. Easy Chickpea Curry from Fox and Briar // 40. Vegan Sushi Bowl Meal Prep from Sweet Peas and Saffron