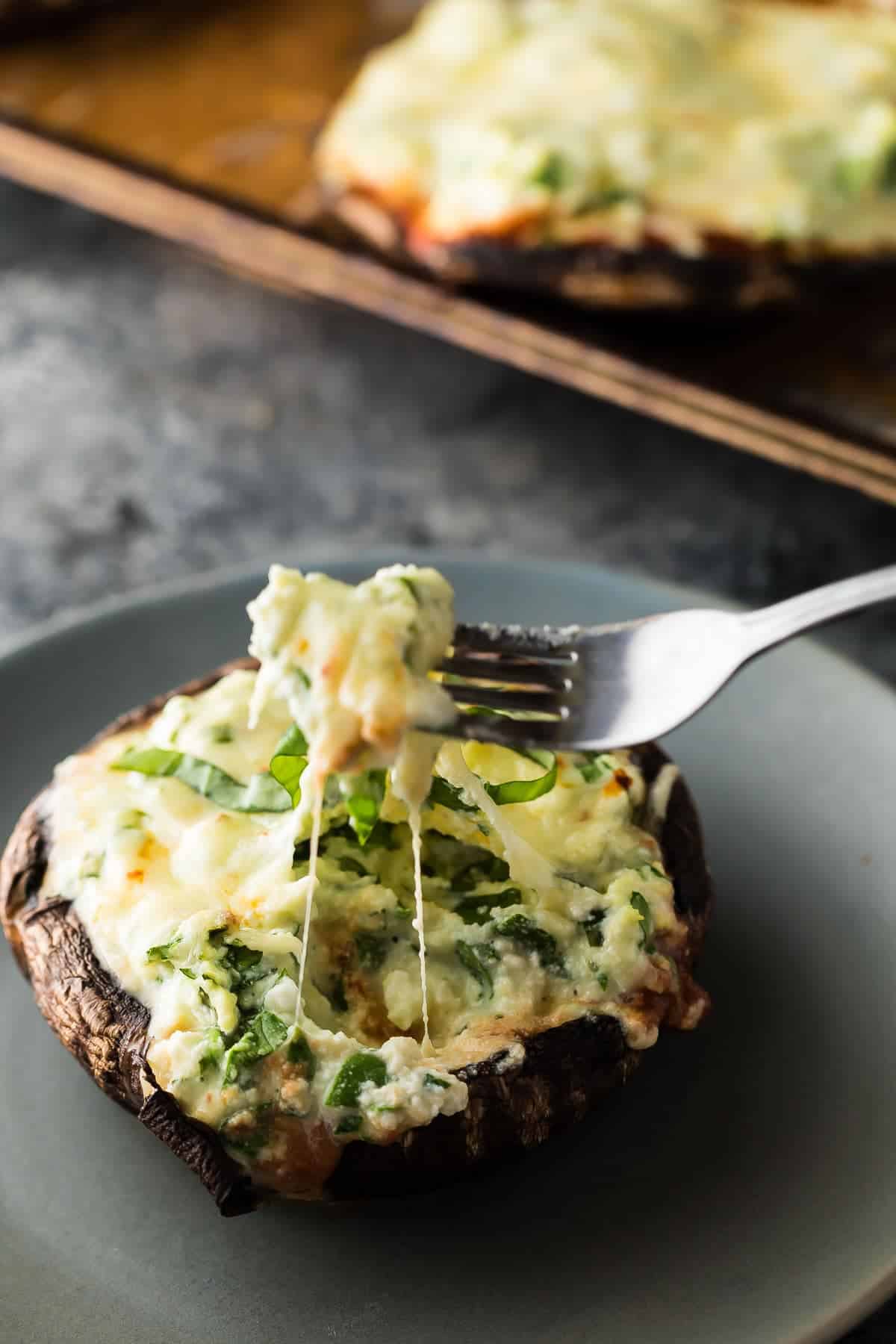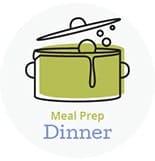 These lasagna stuffed portobello mushrooms can be prepped ahead and frozen.  When you're ready to serve, you can bake them up directly from the freezer!
It is my favorite time of year…when spring is springing, it's warm enough to leave your jacket or sweater at home, and the weekends are spent exploring new parks and trails.
It is not necessarily the time of year when one worries about stocking up the freezer…unless you are trying to sell your house, that is!
These lasagna stuffed portobellos came in really handy when we were showing our house.  I didn't want to mess up the kitchen, so dinners were pretty much exclusively from the freezer.  Both Ben and I loved these portobellos!
I absolutely love the fact that you don't have to thaw them first.  Pop them right into the oven from frozen and bake away.  Now that's convenience!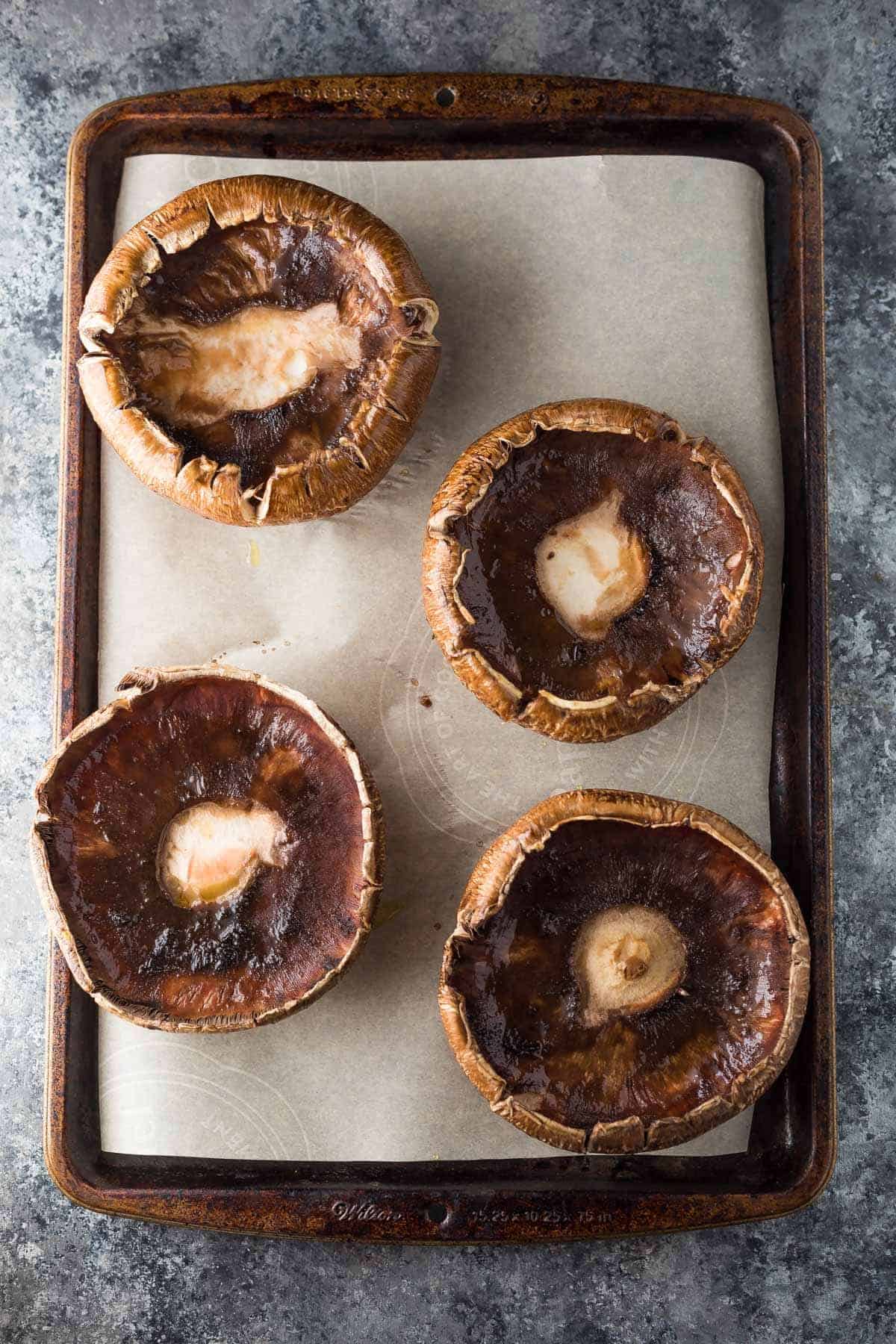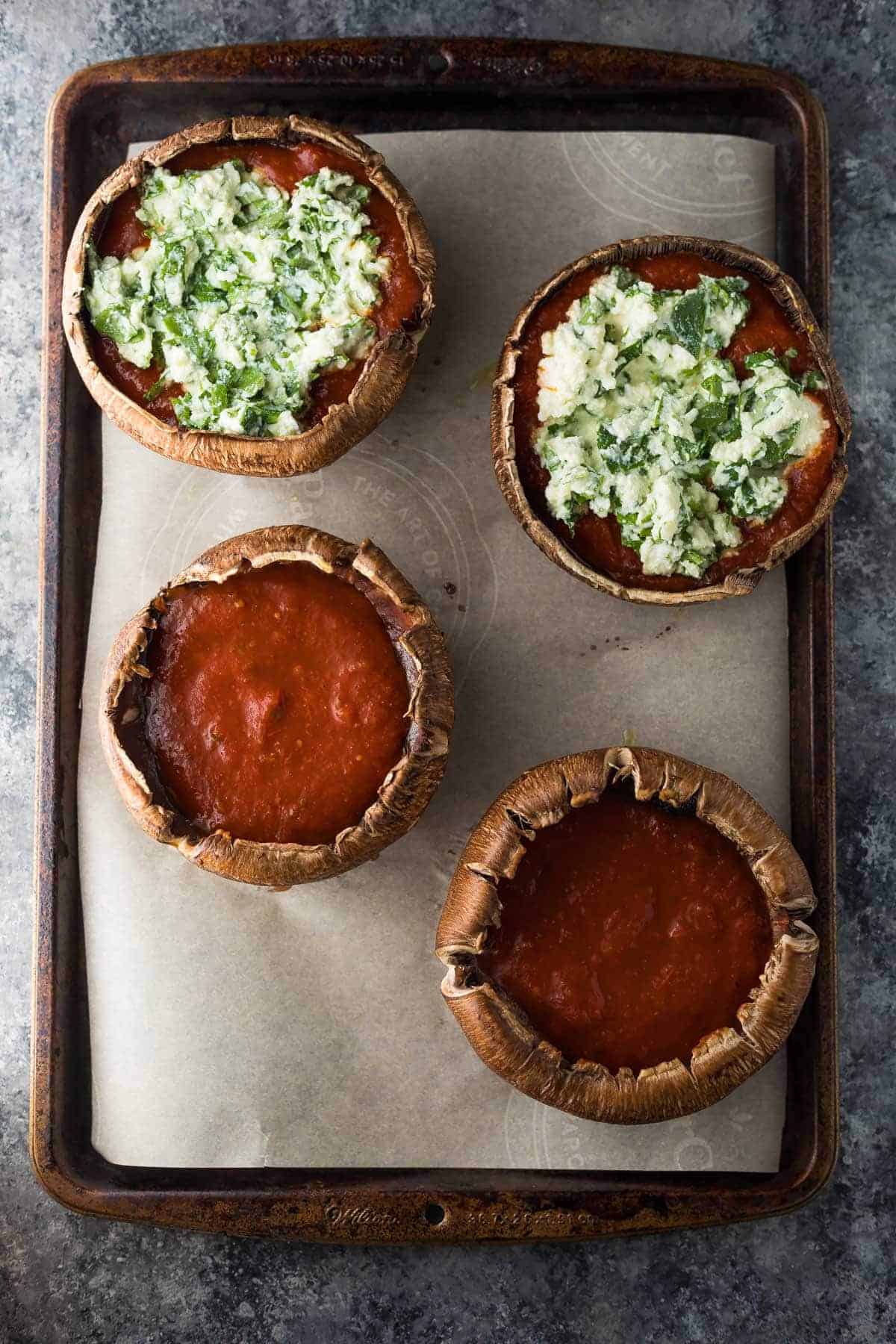 Ever since these Enchilada Stuffed Grilled Portobellos took off last year, I've been thinking of a new stuffed portobellos recipe…and I was keeping my fingers crossed that these stuffed portobellos would also be freezer-friendly.
Well, what freezes better than lasagna?  So with that inspiration in mind, I tried out these lasagna stuffed portobello mushrooms.
While I thought this was a completely original idea, of course it has been done (d'oh!).  I love the looks of Gina from Skinnytaste's Veggie Lasagna Stuffed Portobello Mushrooms, and I adapted her baking technique, since I didn't think the broiler method I used for the Enchilada Stuffed Portobellos would work well with the ricotta filling this time around.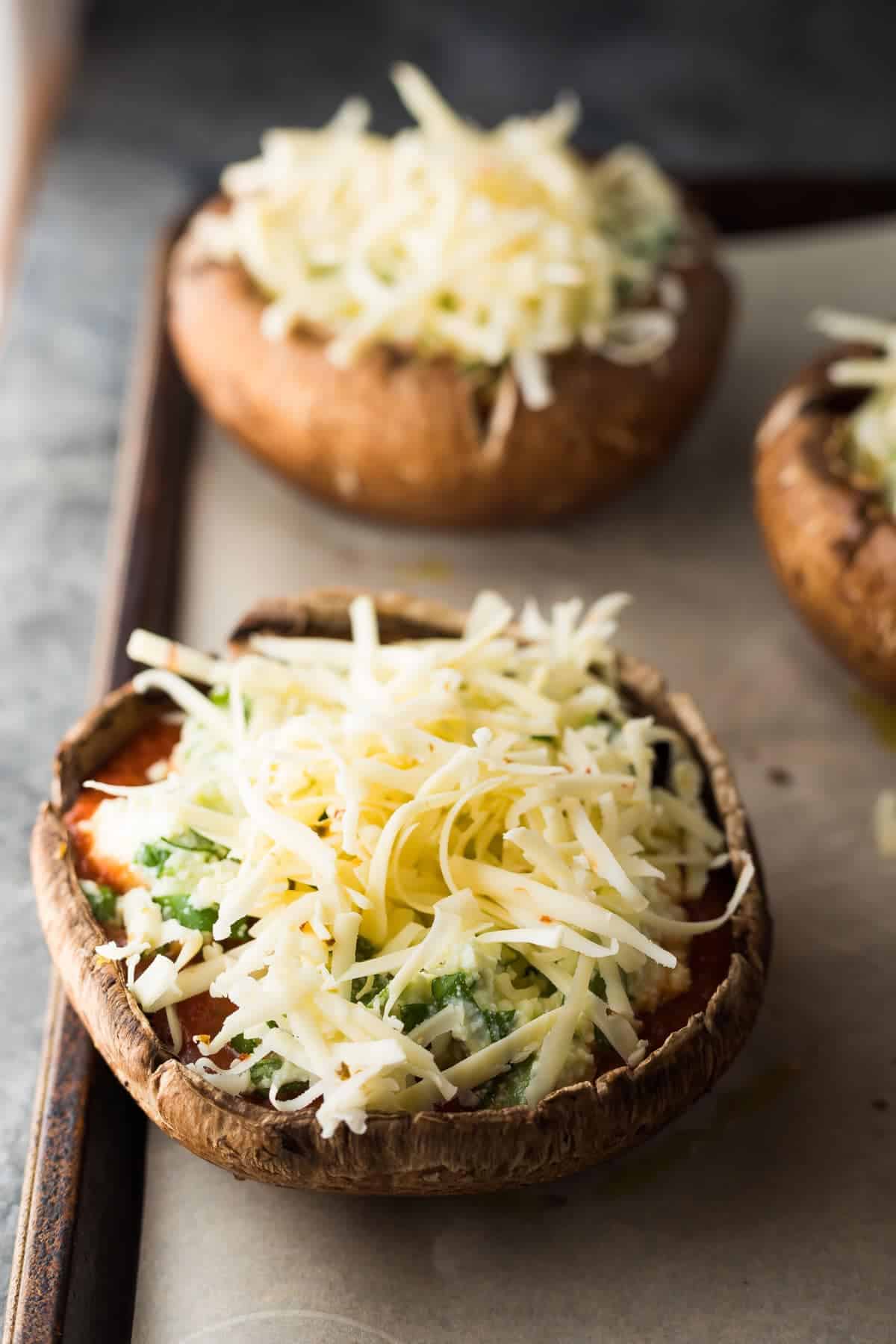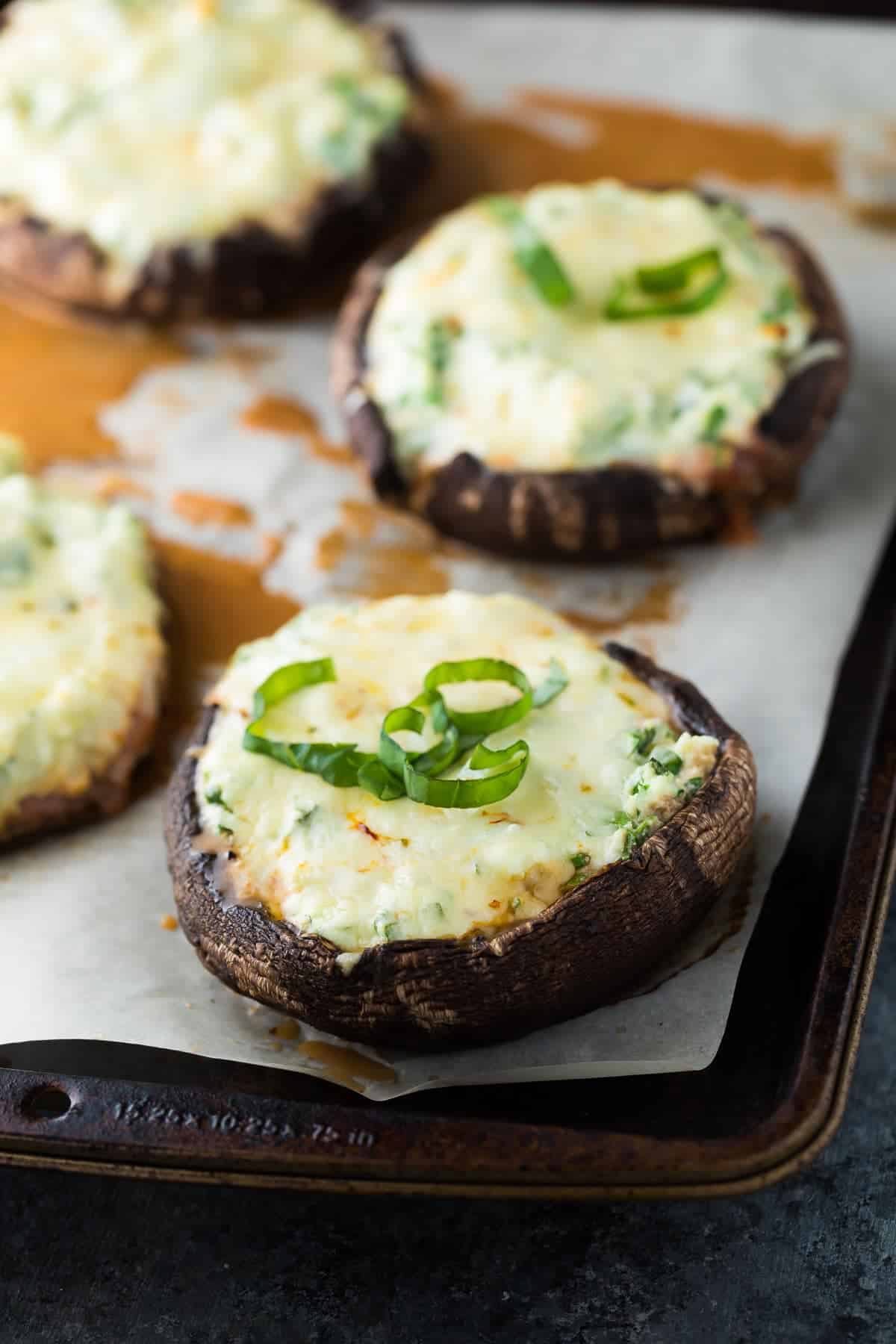 They are not much to look at, but boyyyyy are they tasty!!
The portobello mushrooms are covered with a layer of marinara sauce, followed by a mixture of ricotta, basil and chopped spinach.  I also added an egg to help set the filling up in the mushroom.
Everything is topped off with a sprinkling of mozzarella and baked up for 20 minutes.  As you can see in the photo above, the mushrooms will leak some liquid, and warning: they leak even more if you bake directly from frozen.
HOWEVER.  These mushrooms retain a delicious chewy texture (NOT mushy at all) and still manage to hold in the filling.  Let's be honest though: lasagna is kind of messy to eat and so are these lasagna stuffed portobello mushrooms!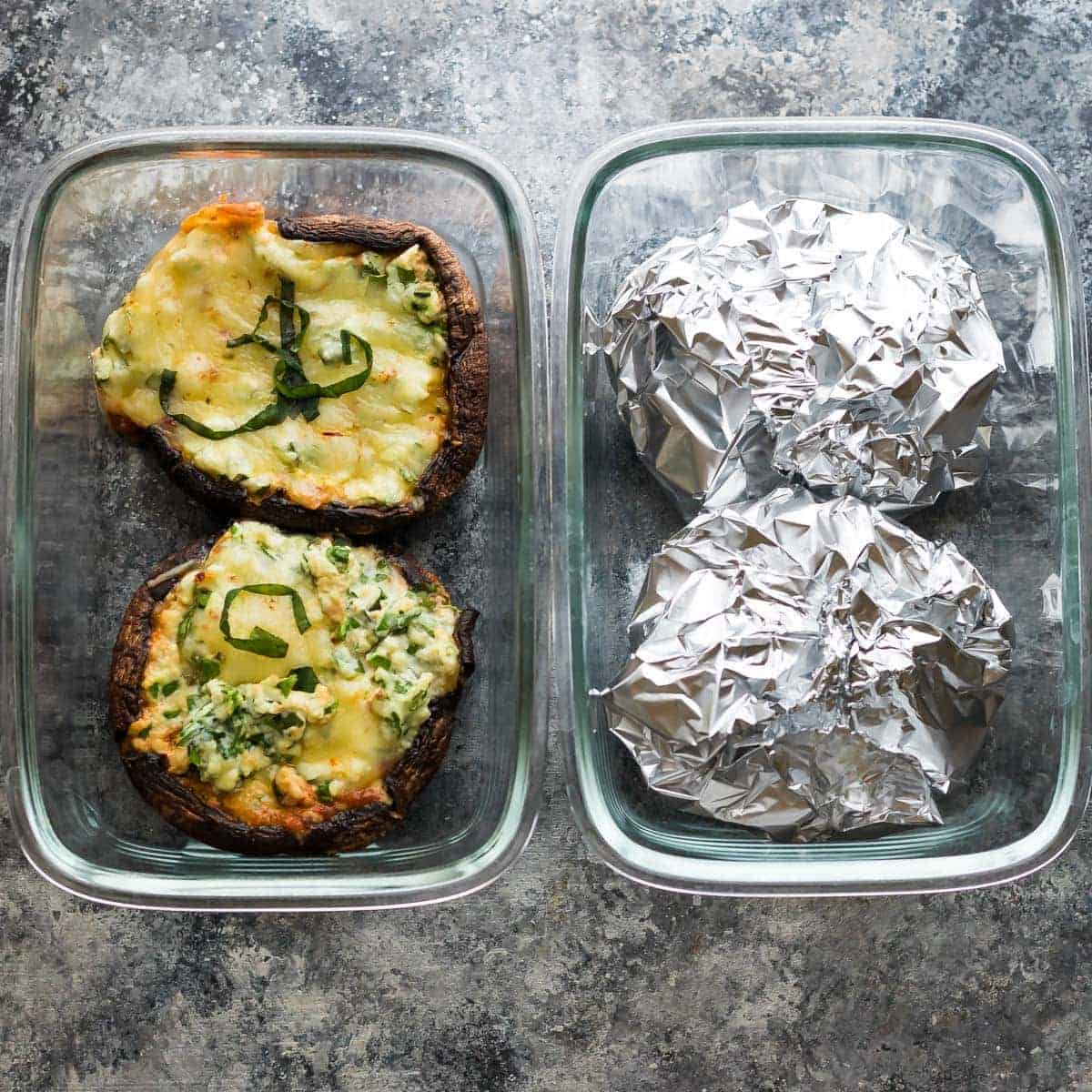 To freeze these lasagna stuffed portobello mushrooms, once completely cool, I wrapped them in foil.  I recommend wrapping in a layer of wax paper first, as well, since the foil can stick to the moist mushrooms and become difficult to peel off after freezing.  Then I froze them in a storage container.
To bake up: simply unwrap, place in a baking dish, and cover with foil.  I re-used the foil that I froze them in!  I hate using foil but for this recipe, it is difficult to avoid.  Bake at 350°F for 30-45 minutes, until completely heated through.  That's it.  So so simple!
Get your perfect lasagna stuffed portobello mushrooms:
make sure you pick intact, round mushrooms with no major damage (which allows filling to escape)
before wrapping in foil, wrap mushrooms in a layer of wax paper
I used these glass storage containers to freeze, which perfectly fit two portobello mushrooms
try these Enchilada Stuffed Portobellos, although I haven't tried freezing them (the filling is much runnier and may not freeze/thaw well)
Lasagna Stuffed Portobello Mushrooms (Make Ahead, Freezer)
4
adjust servings
Ingredients
4

large portobello mushrooms

1-2

tablespoons olive oil

1

cup marinara sauce

1 1/2

cups light ricotta

1/4

teaspoon salt

1

egg

1 1/2

cup chopped spinach

1/2

cup basil chopped

1

cup shredded mozzarella
Instructions
Heat oven to 400°F. Line a baking sheet with parchment or use a 9 x 13 baking dish to catch the mushroom juices.
Remove the stem and scoop out the gills of the mushrooms. Wash gently and allow to dry.
Brush tops and insides of mushrooms with olive oil.
Spoon ¼ cup of marinara sauce into each mushroom.
In a medium bowl, mix together the ricotta, salt, egg, spinach and basil. Divide it evenly amongst the four mushrooms.
Sprinkle each mushroom with ¼ cup of shredded mozzarella.
Bake for 20 minutes, or until mushrooms are baked through.
Enjoy immediately, or store in the fridge or freezer to enjoy later.
Freezer storage instructions:
Allow each mushroom to cool completely. Wrap in foil, then place in a larger storage container.
Freeze for up to 3 months.
To re-heat:
Heat oven to 350°F. Place frozen (un-thawed) mushroom(s) in a baking dish and cover with foil (I just re-use the foil from wrapping them).
Bake for 50 minutes, or until heated through and cheese is bubbling.
Recipe Notes
Nutritional Information: 1 portobello mushroom
Calories 261 // Fat 16 g // Saturated Fat 7 g // Cholesterol 89 mg // Sodium 457 mg // Carbohydrate 11 g // Fiber 2 g // Sugars 5 g // Protein 21 g
Cook method adapted from
Skinnytaste