Showing step by step instructions on how to cook bacon in the oven– the EASIEST way to cook bacon for a crowd or for meal prep!
Looking to cook a big batch of bacon without standing over the stove? BAKE IT!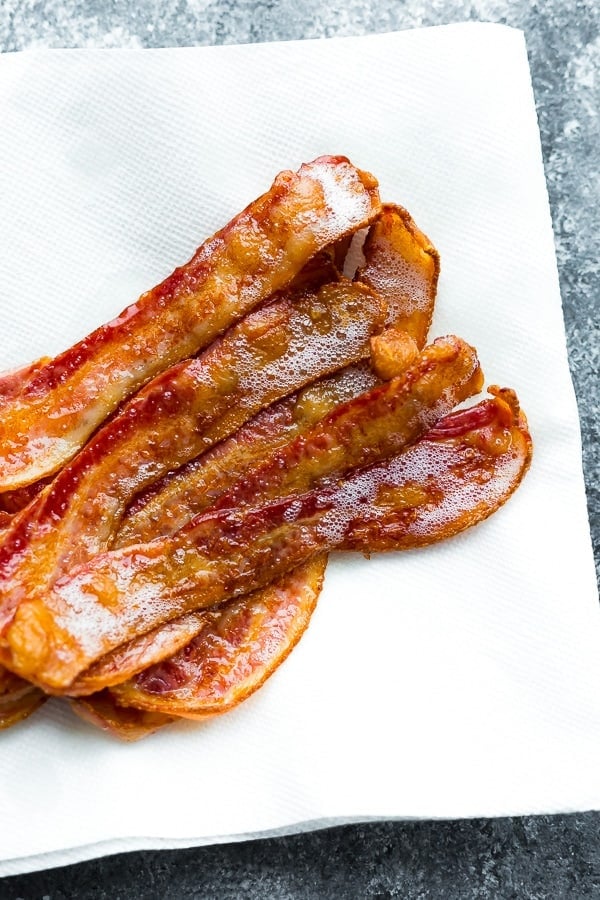 Baking bacon in the oven is the easiest way to cook it. You end up with evenly cooked bacon that is also perfectly straight, which is perfect for sandwiches or freezer breakfast sandwiches.
Not only that but it's so much more hands off. Pop it in the oven and you have your hands (and your stove top) free for other things. You just need to keep an eye on it during the last few minutes of cooking, and voila! Perfect bacon, every time.
Don't forget to pin this post to save it for later!
Reasons you'll love baking bacon in the oven
it cooks evenly and ends up perfectly straight
your hands and stove top are free to prep other things
it's just so easy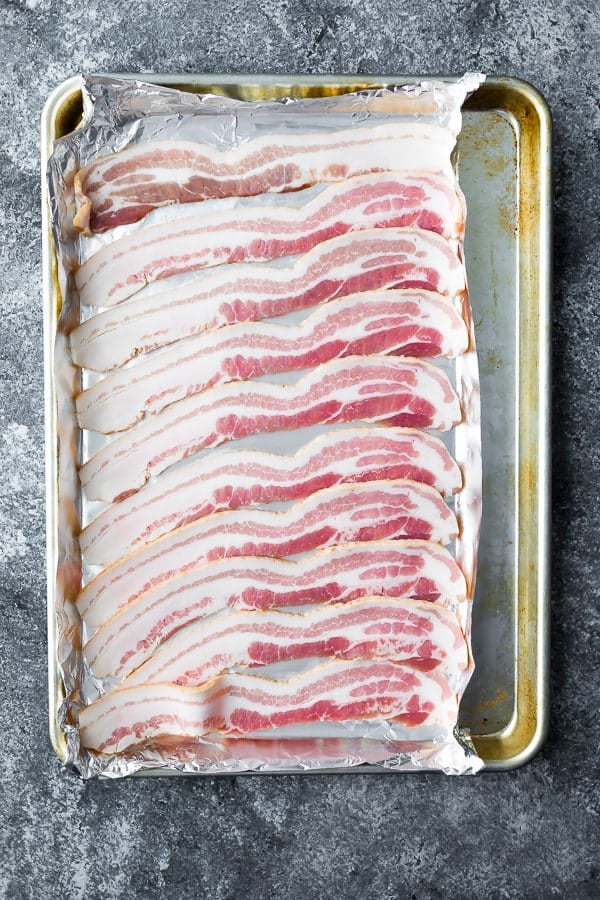 How to cook bacon in the oven
All you need is a good cookie sheet and some foil (or if you have really long & wide parchment, you could use that instead!).
line rimmed baking sheet with foil, folding the edges up so they trap any bacon grease
arrange bacon in a single layer across the foil
bake at 400 for 15-20 minutes. Mine was ready in 17 minutes!
transfer bacon to a paper towel-lined plate to drain
That's it!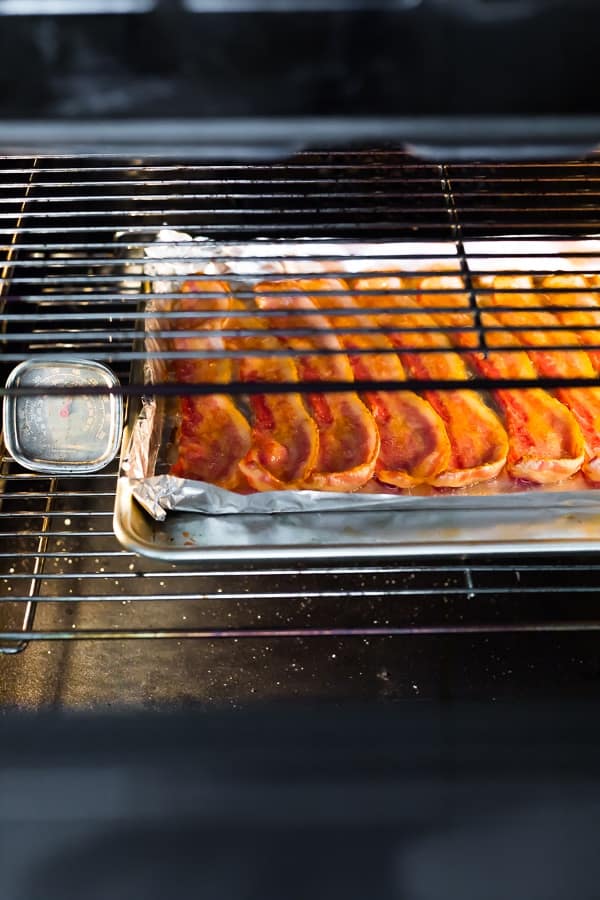 Do you get grease splatter in the oven? Surprisingly, no!
Do I need foil to make oven baked bacon? You can swap the foil with parchment paper if you have paper wide enough to fit the width of your baking sheet (sadly I did not). You can also bake without the foil, but your pan will require soaking and scrubbing.
Can I bake bacon on a rack over the foil? I tried this but the bacon just didn't taste as crispy and delicious as the bacon that simmered in the grease. I recommend skipping the wire rack.
Do I need to flip the bacon? Nope! Isn't that awesome?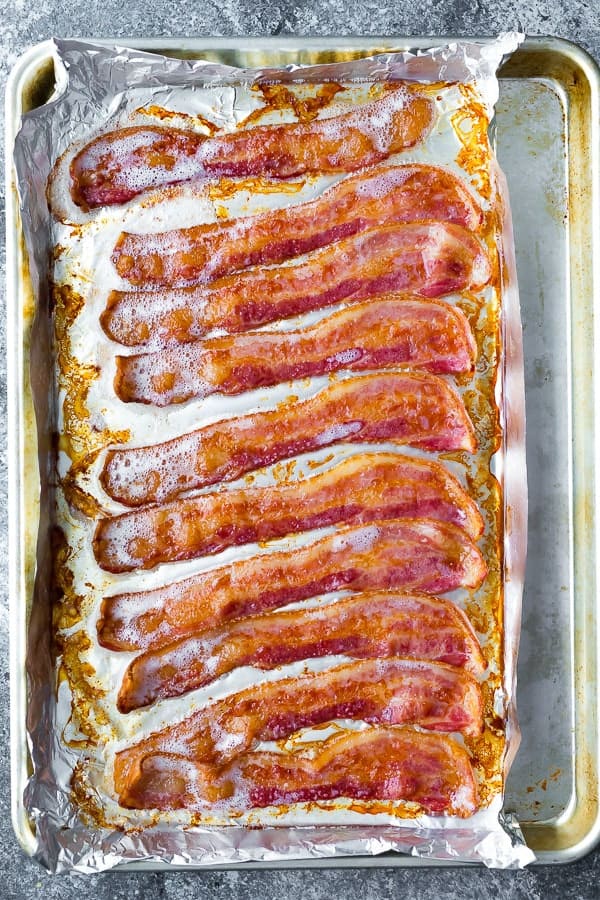 How to use your bacon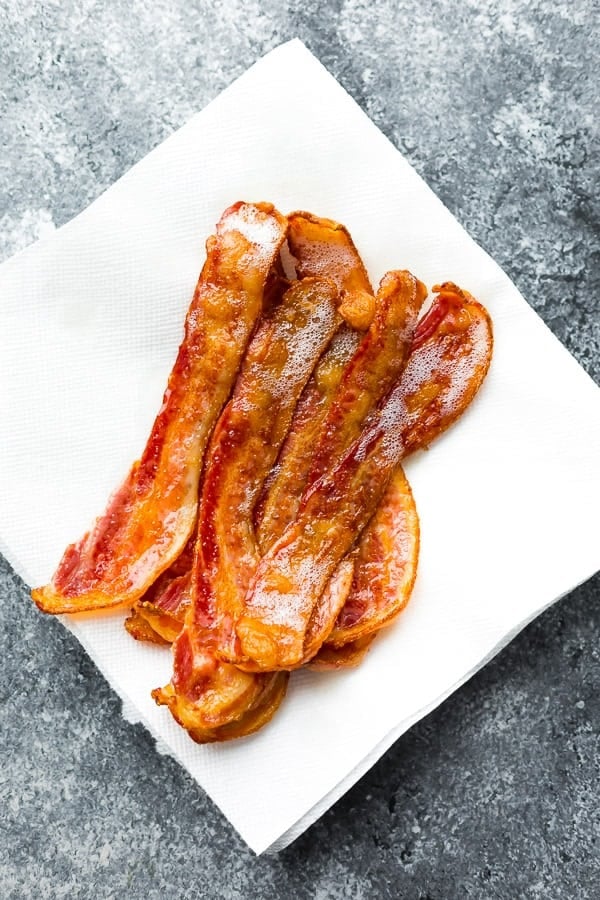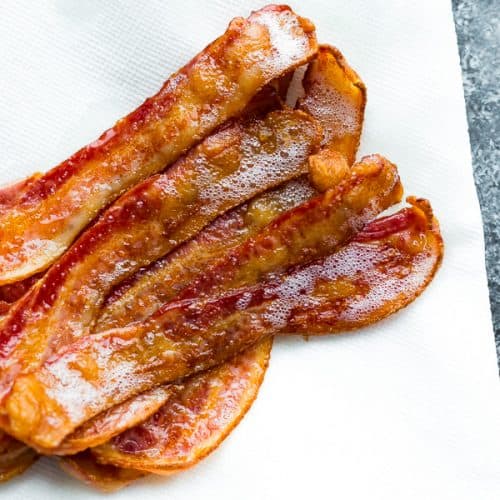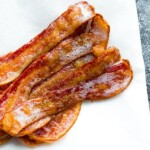 Print Recipe
How to Cook Bacon in the Oven
Showing you exactly how to cook bacon in the oven with step by step photos. This is the EASIEST way to cook perfectly crisp and perfectly straight bacon!
Ingredients
1

package

bacon

(16-20 slices)
Instructions
Prepare baking sheet- line a rimmed baking sheet with foil (or don't use foil- it's fine without!). Arrange bacon in a single layer with little to no overlap. If you want to cook a full package, use two sheet pans.

If using foil, you can fold the side up to contain the bacon grease and make clean up easy!

Bake- once the oven is up to temperature, place the pan in the oven. Bake for 15-20 minutes (mine takes 17 min). Bacon can go from perfect to over-done quickly, so start really paying attention at 15 minutes!

If you have two sheet pans, rotate them halfway through.

Drain- Transfer bacon to a paper towel-lined plate and allow excess grease to drain off.
Notes
To avoid foil
I regularly cook bacon directly in the sheet pan to avoid foil. To clean the pan, use a paper towel to remove excess grease, then soak in very soapy water before using a bristle brush to scrub clean.
Storage
Cooked bacon may be stored in an air tight container in the fridge for up to 1 week or frozen for up to 3 months.
Nutrition
Serving:
2
slices bacon
|
Calories:
230
kcal
|
Carbohydrates:
0
g
|
Protein:
6
g
|
Fat:
21
g
|
Saturated Fat:
7
g
|
Cholesterol:
36
mg
|
Sodium:
365
mg
|
Potassium:
109
mg
|
Sugar:
0
g
|
Vitamin A:
20
IU
|
Calcium:
3
mg
|
Iron:
0.2
mg