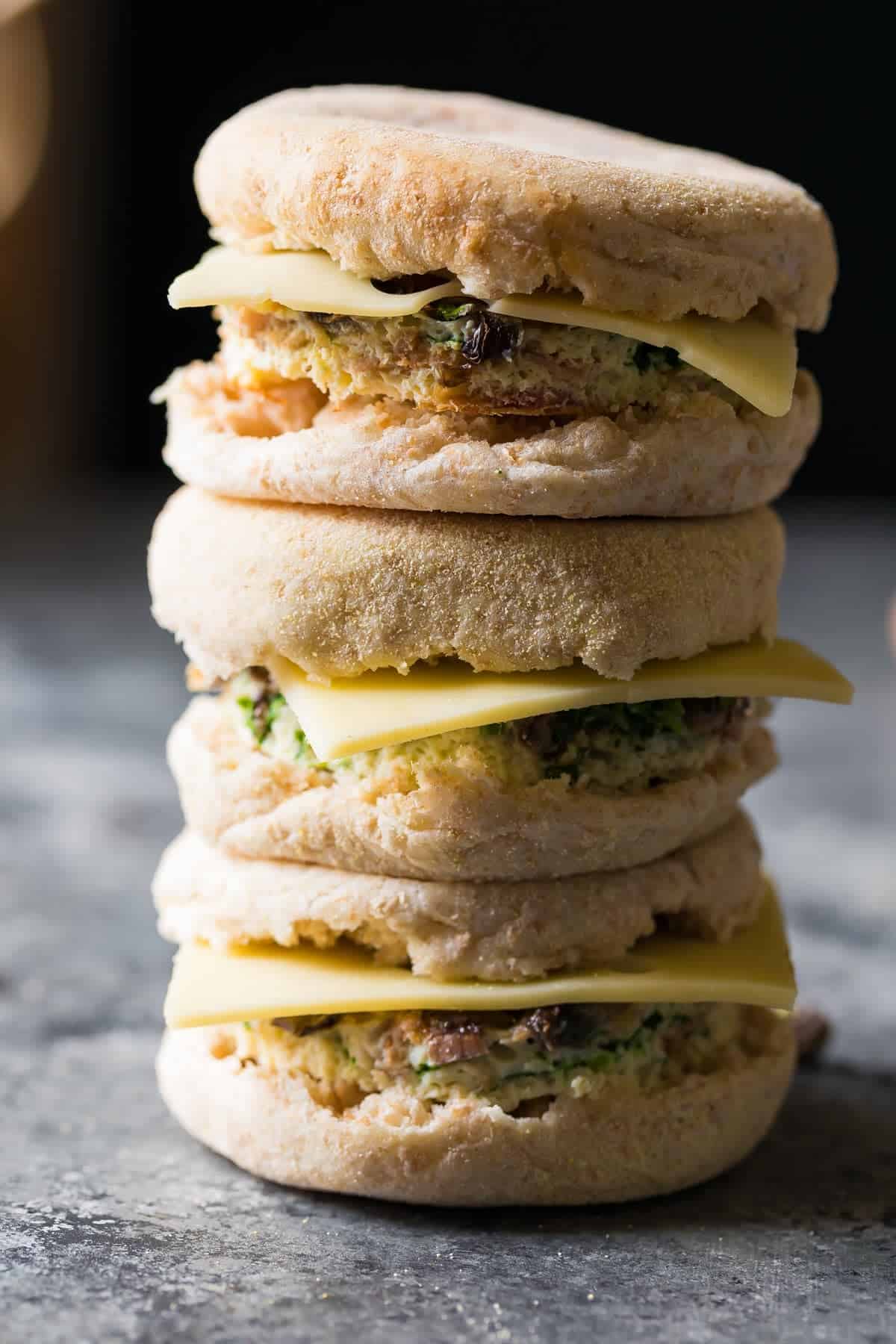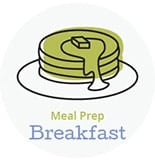 Mushroom bacon freezer breakfast sandwiches make breakfast on the go an absolute breeze!  Make them on meal prep Sunday and freeze for up to a month.
I hope I don't jinx us, but WOW.  Our house sold in under two days!  I thought we had a good chance of it selling but this exceeded our expectations.
Now it feels like we can finally relax a bit…not keep the faucets sparkling and the fridge fingerprint-free.  And some of Kai's toys can come back in the house (poor kid had NO toys for awhile!).
Not to mention all those thoughts of getting the house on the market…which were at the front of our thoughts for the last three months.
I meant to post these mushroom bacon breakfast sandwiches last Thursday, but house preparations got in the way…so I'm happily sharing with you today!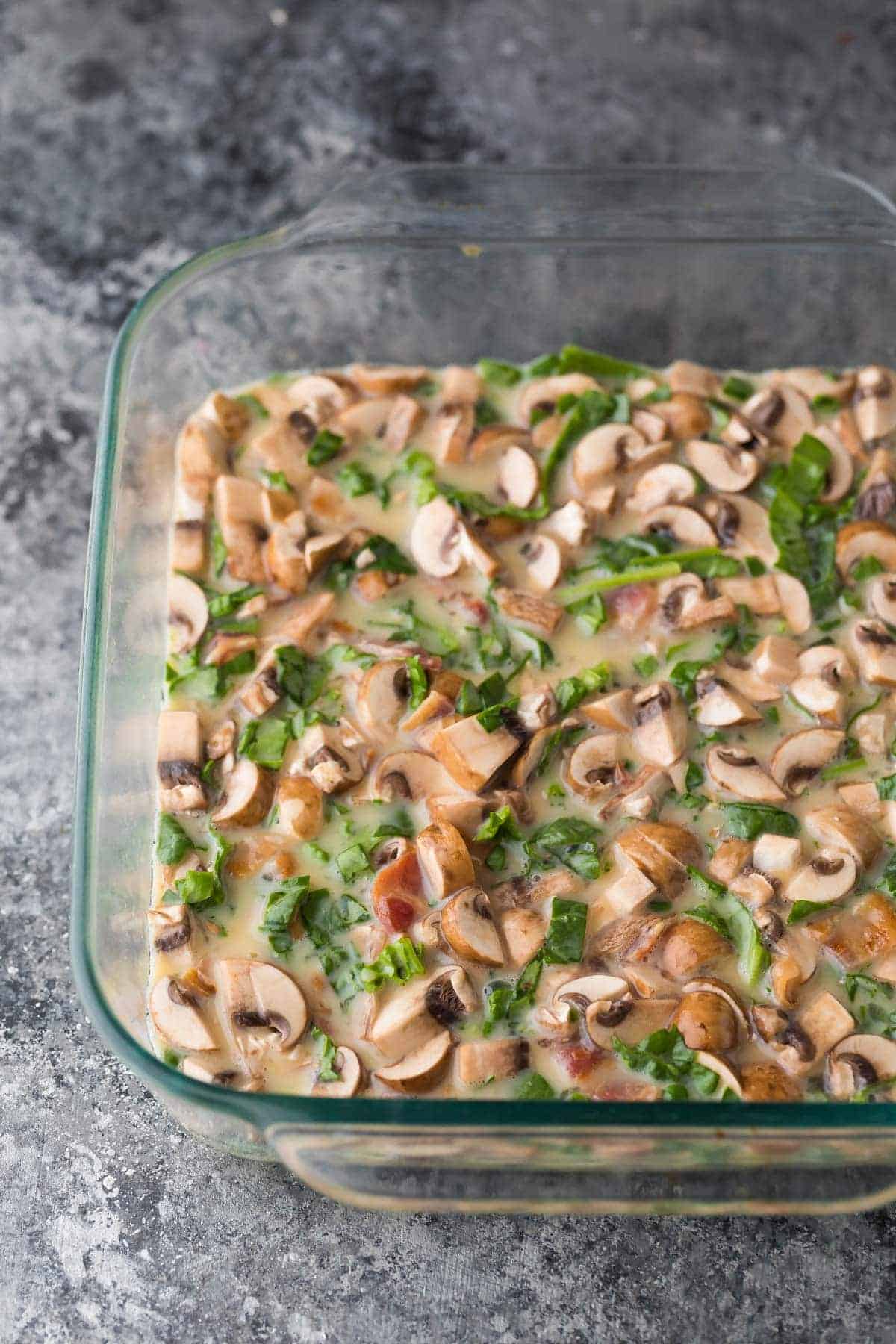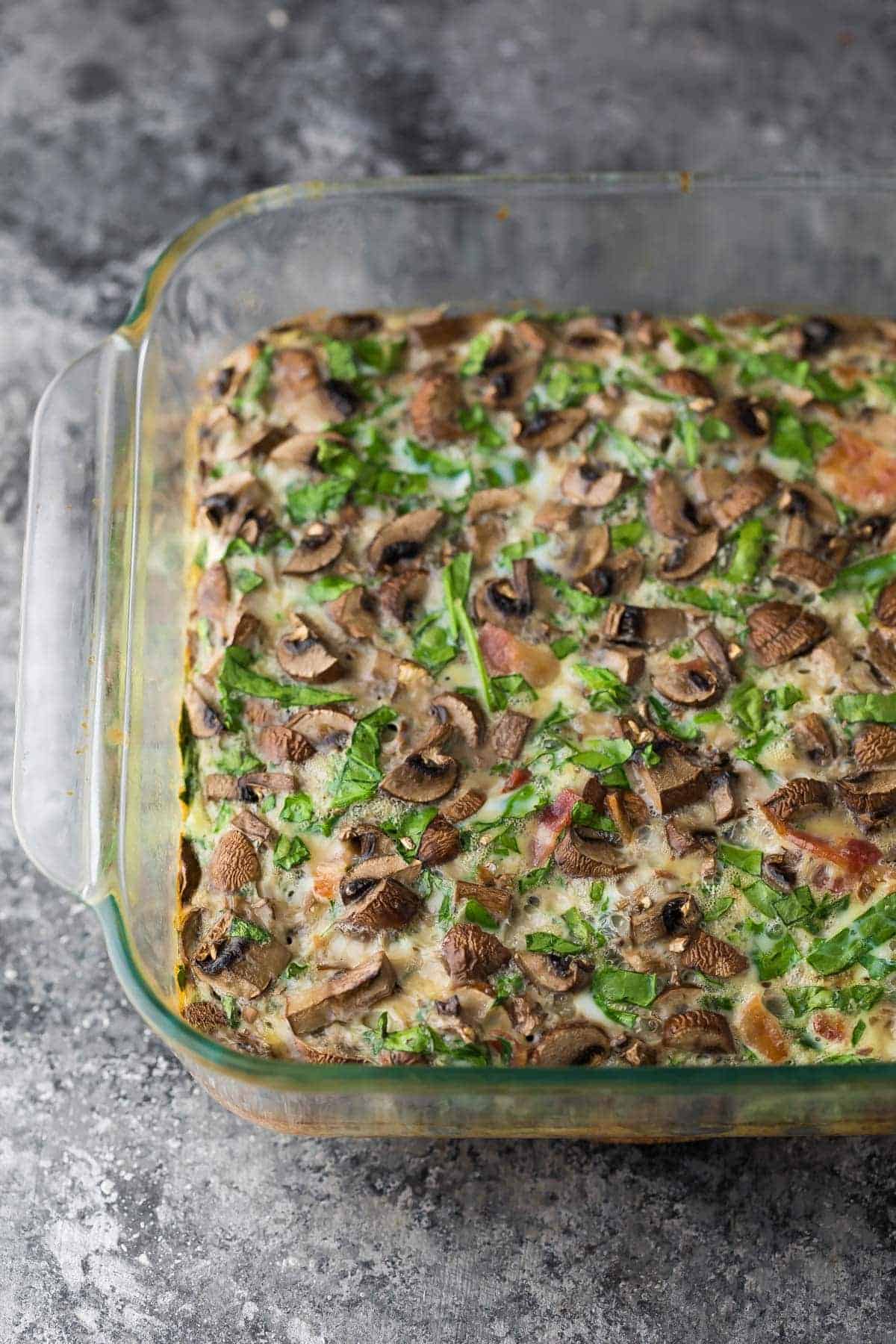 I'm just a tiny bit obsessed with these mushroom bacon freezer breakfast sandwiches!  Ever since the second trimester kicked in, my appetite has returned and it seems to be making up for all that morning sickness.  I am HUN-GRAY!
I love breakfast sandwiches (check out these Spinach & Feta Freezer Breakfast Sandwiches from the fall) because they are so protein-packed that they actually fill you up.  I thought it was time to come up with another flavor, and here we are.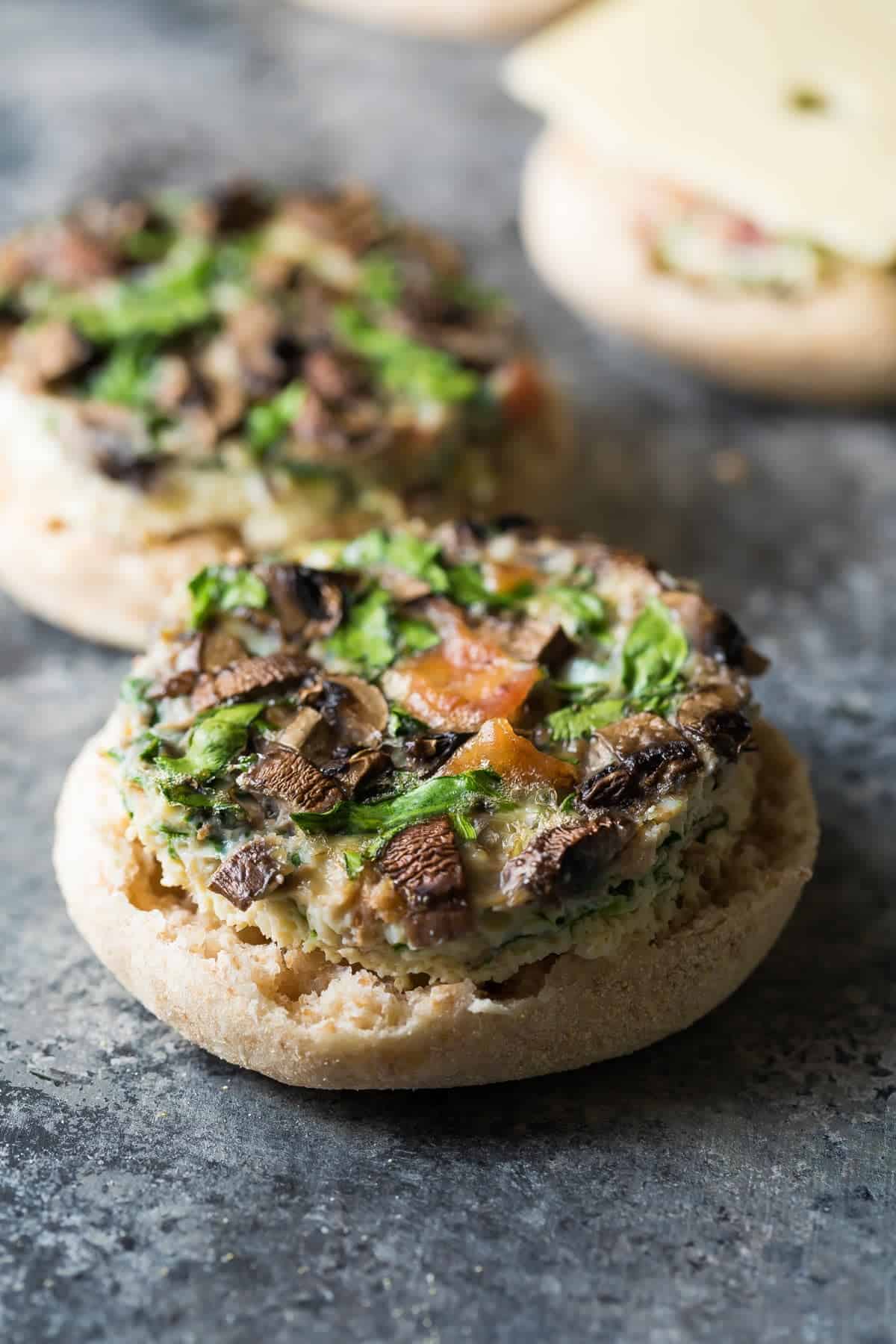 This freezer breakfast sandwich version has a few slices of chopped bacon, which is a bit of extra prep time, but so worth your effort….so much delicious flavor!
I also packed in a TON of mushrooms, you can use button or cremini, or your favorite mushroom so long as you chop them up.
And I also added a few handfuls of spinach, because why not?  I'm always trying to squeeze every bit of extra veggies into my breakfast, and if you use spinach, you will not even notice it's there (versus kale which had a stronger flavor and ended up a bit…stringy).
I topped it all off with a slice of swiss cheese.  It goes perfectly with the bacon and mushrooms.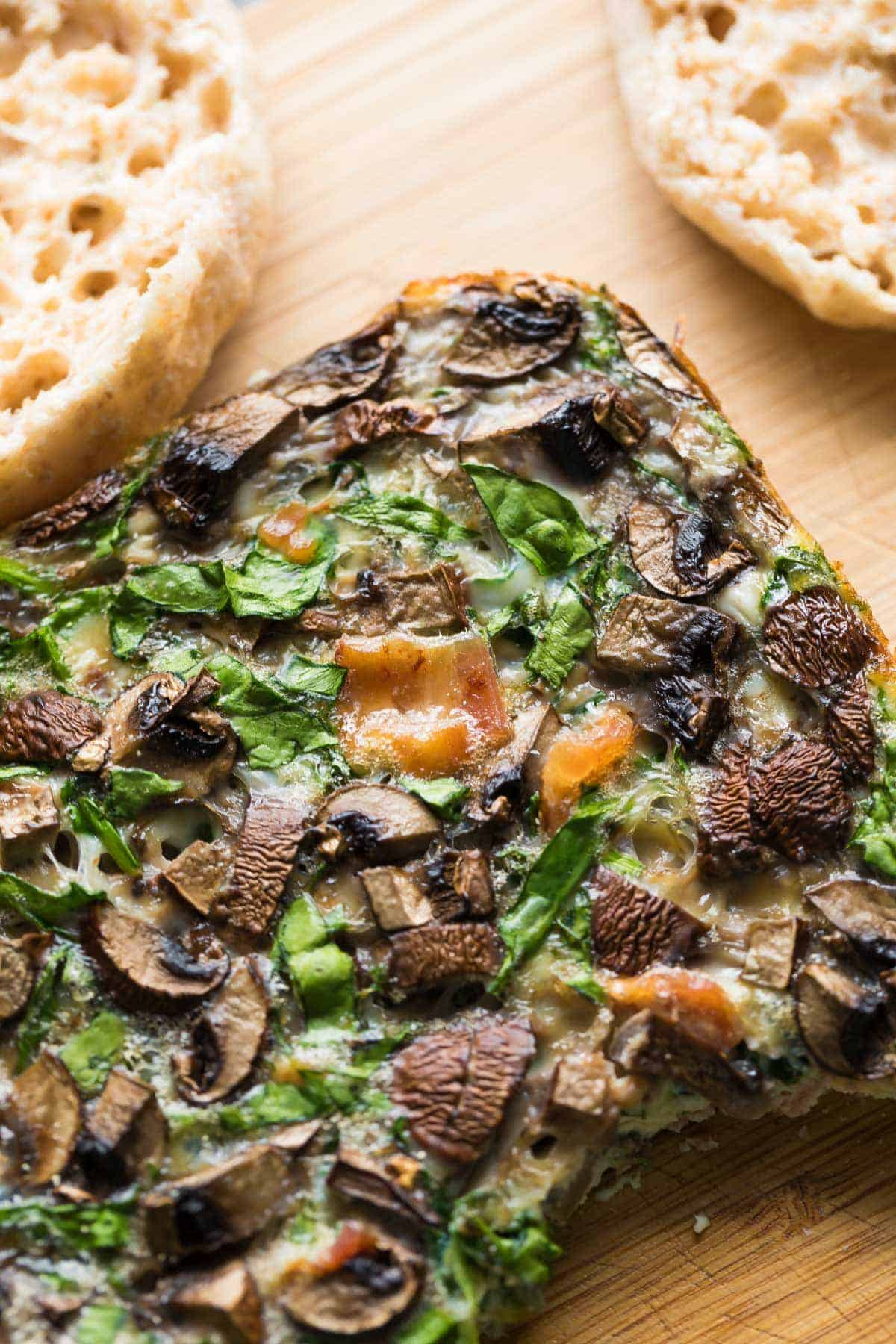 This batch only makes 4 but I recommend doubling it up and making at least 8 of these sandwiches, because they won't last long!
Make your perfect freezer breakfast sandwiches:
Mushroom Bacon Freezer Breakfast Sandwiches
4
adjust servings
Ingredients
4

slices of bacon, cooked and cooled, chopped

6

eggs

1/4

cup milk

1 1/2

cups mushrooms, chopped

1

cup loosely packed chopped spinach

1/8

teaspoon salt

4

english muffins

4

slices swiss cheese
Instructions
Heat oven to 375°F.
Spray a 8x8 inch baking dish with spray oil and set aside.
In a large bowl, beat the eggs and milk together. Fold in the bacon, mushrooms, spinach and salt. Pour the egg mixture into the baking dish.
Bake for 20-25 minutes or until cooked through (center should not jiggle).
Allow to cool completely, then cut into 4 circles (using a glass or measuring cup) or into 4 squares.
Assemble the sandwiches: one serving of egg with a slice of cheese between the english muffin.
Storage Instructions
Wrap each sandwich in a small ziplock bag, and store in the fridge (up to 4 days) or in the freezer (up to 3 months)
Re-heating instructions:
Thaw overnight in the fridge (if frozen).
Heat in the microwave for 30 seconds to heat through.
Crisp up in the frying pan or on a George Foreman grill.
Recipe Notes
Nutritional Information: (1 sandwich)
Calories 394 // Total Fat 20 g // Saturated Fat 9 g // Trans Fat 0g // Cholesterol 314 mg // Sodium 574 mg // Carbohydrate 30 g // Fiber 2 g // Sugars 4 g // Protein 25 g