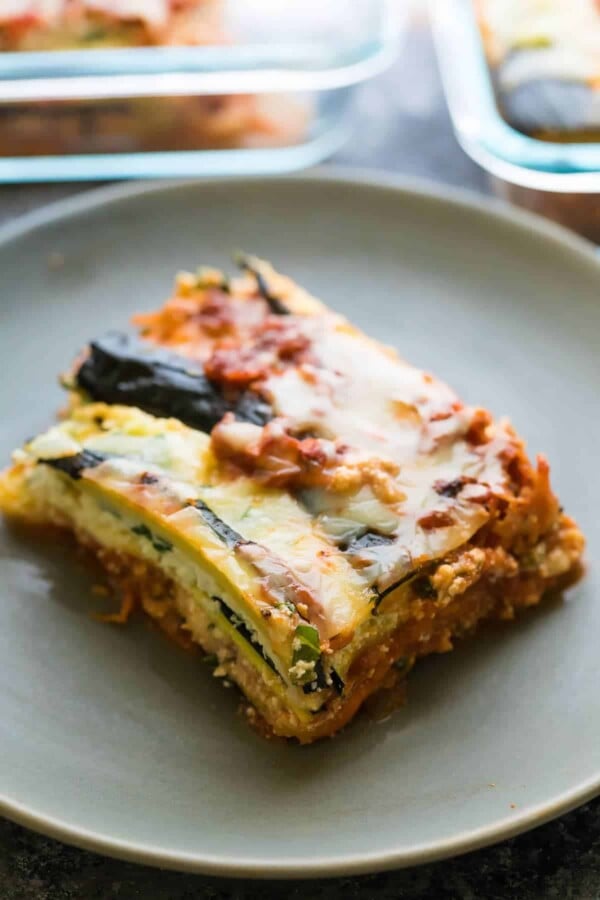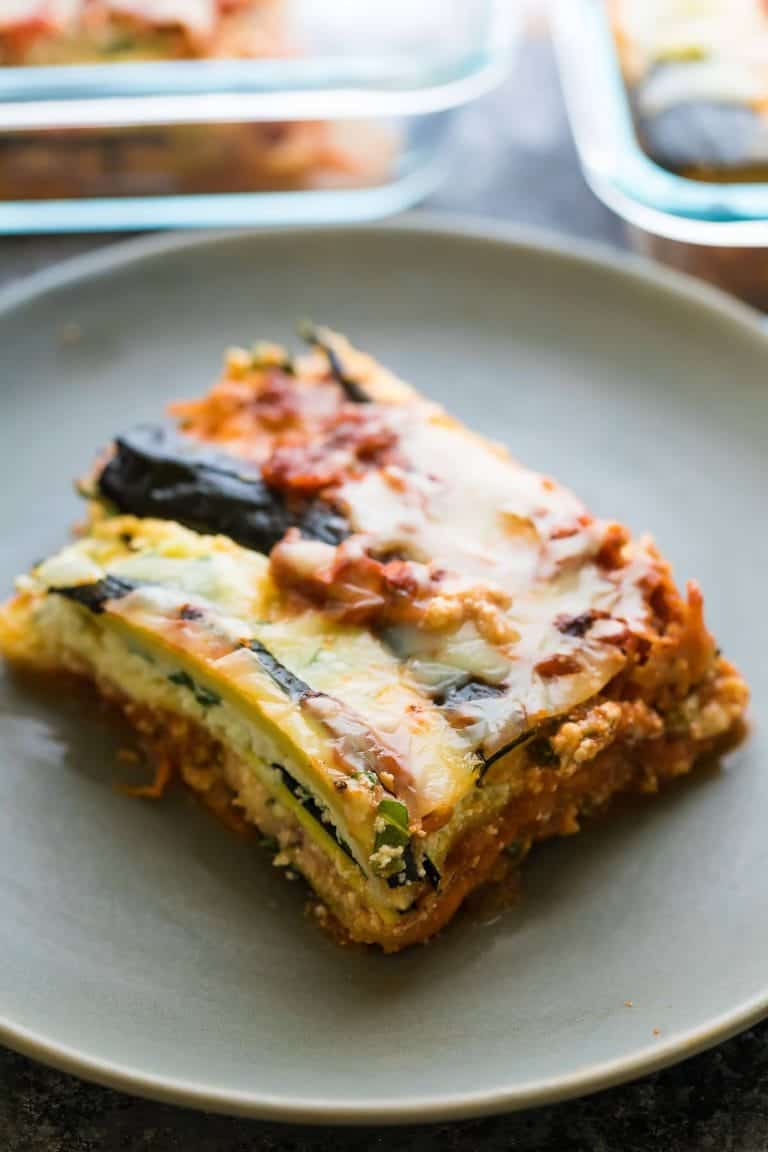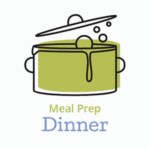 This turkey zucchini noodle lasagna is the perfect low carb meal prep lunch or dinner!  Make it ahead and freeze for when those lasagna cravings hit you.  Turkey and vegetarian recipe options included.
All I can hear right now is "La-la-sagna" over and over in my head.
The other night we were discussing how somehow I know the Weird Al lyrics to certain songs better than the actual lyrics…and that prompted us to listen to Weird Al during dinner, and when "Lasagna" came on (to the tune of La Bamba), we were all hysterically laughing, and now it's pretty much Kai's favorite song ever.
So now I don't think La Bamba will ever be the same, and every time I make this turkey zucchini noodle lasagna, I'm going to be singing Weird Al from here on in!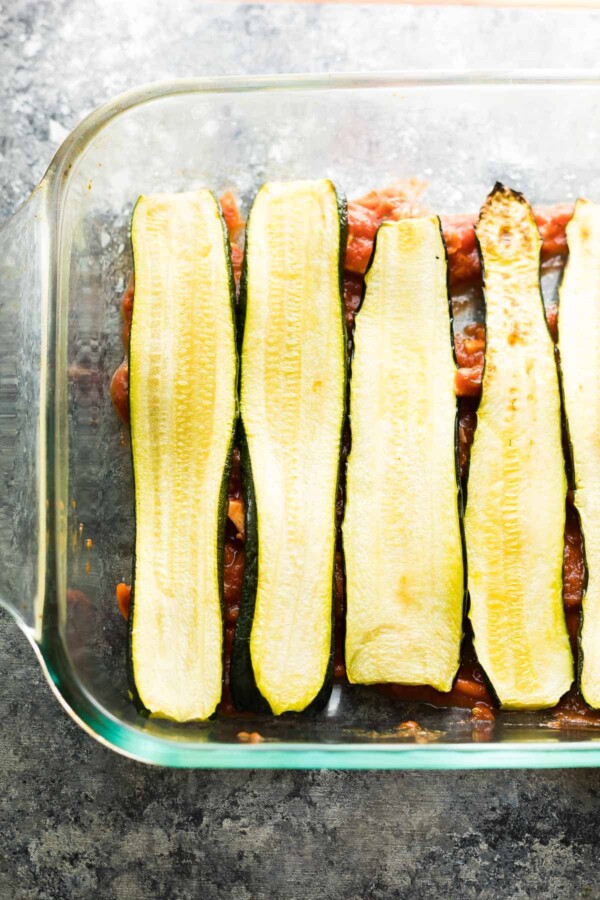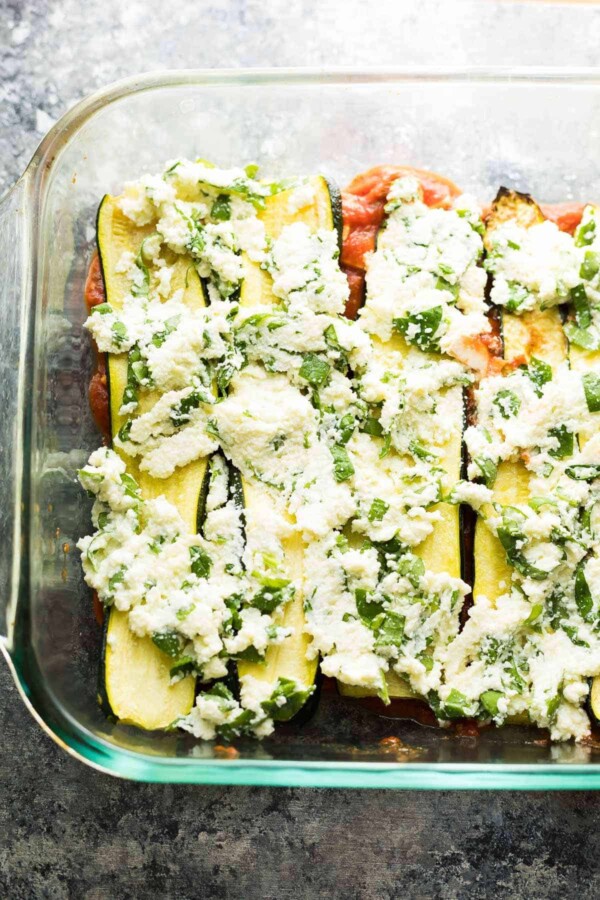 I actually wasn't sure how I should label this lasagna…as a meal prep lunch or a meal prep dinner?  It really can fulfill either role.
To make this a ridiculously easy meal prep dinner, I assembled all the components and froze it, unbaked.  Then, you can toss it in the oven, completely frozen, and bake away for an easy dinner.
For meal prep lunches?  Bake it up, portion out into meal prep containers
, and stash in the fridge (short term) or freezer (long term).  Re-heat in the microwave for a supremely comforting but surprisingly light meal.
I have been trying to come up with more freezer-friendly meal prep lunch options, because this gives you the freedom to mix up your meals more often, and they can last for so much longer.  These Cauliflower Rice Black Bean Burritos are another great freezer-friendly meal prep lunch option.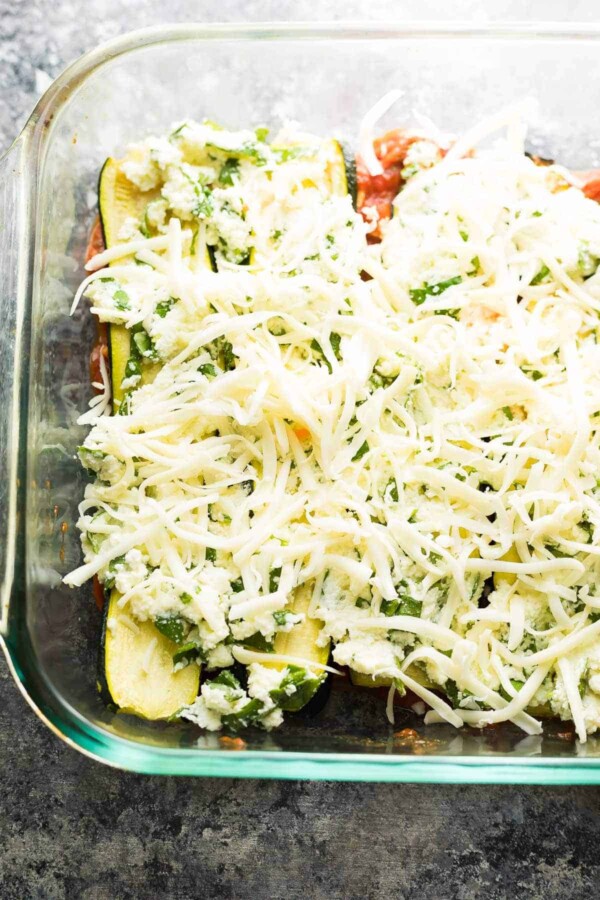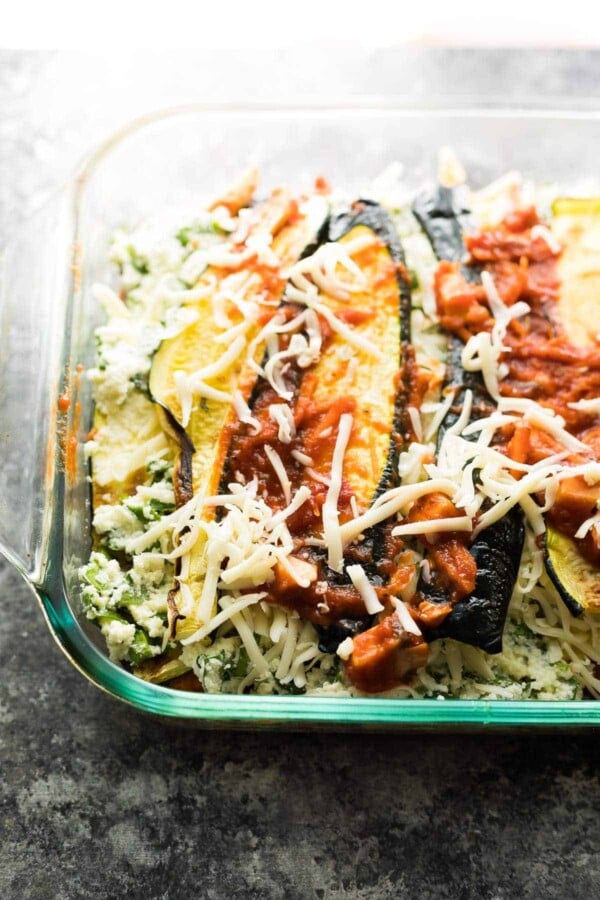 The other thing I wasn't totally sure about was whether this should be a vegetarian zucchini noodle lasagna or a turkey zucchini noodle lasagna.
We actually enjoyed it both ways, but the turkey zucchini noodle lasagna definitely edged out the vegetarian version for a few reasons: 1) it was more satisfying and kept us full for longer and 2) it wasn't as liquidy.
The vegetarian version, (which is what you see pictured here) is a touch liquidy.  It didn't bother us at all, but to make sure you minimize liquid in the lasagna, broil your zucchinis well, drain your ricotta cheese, and drain the pan after cooking your onion/veggie mixture.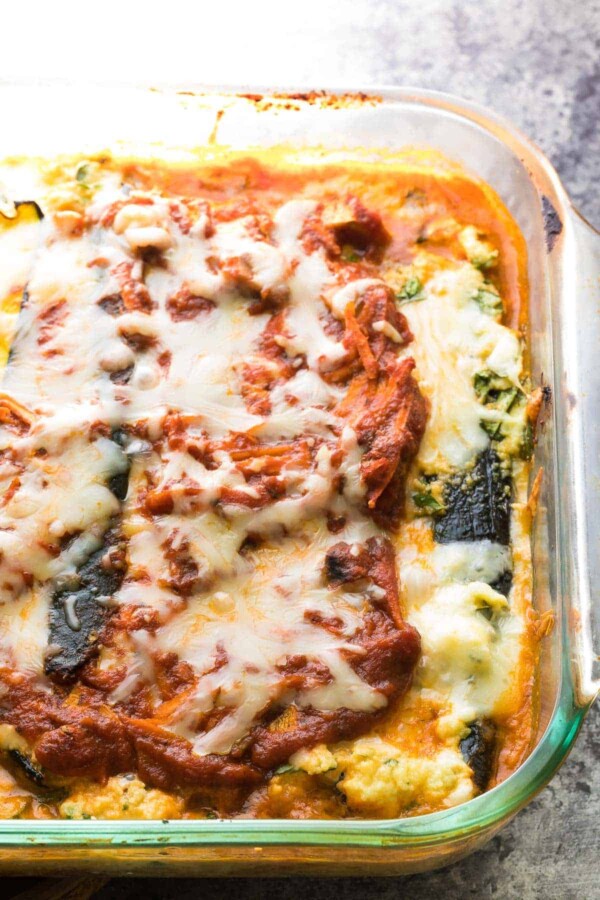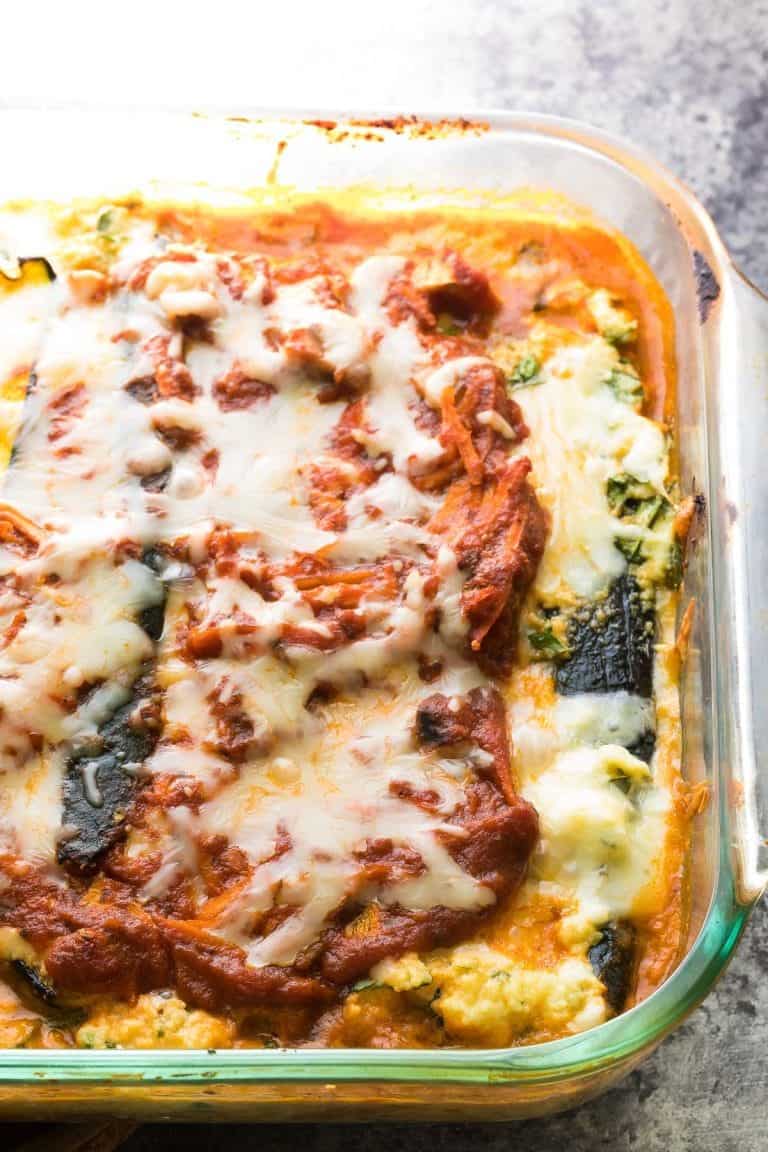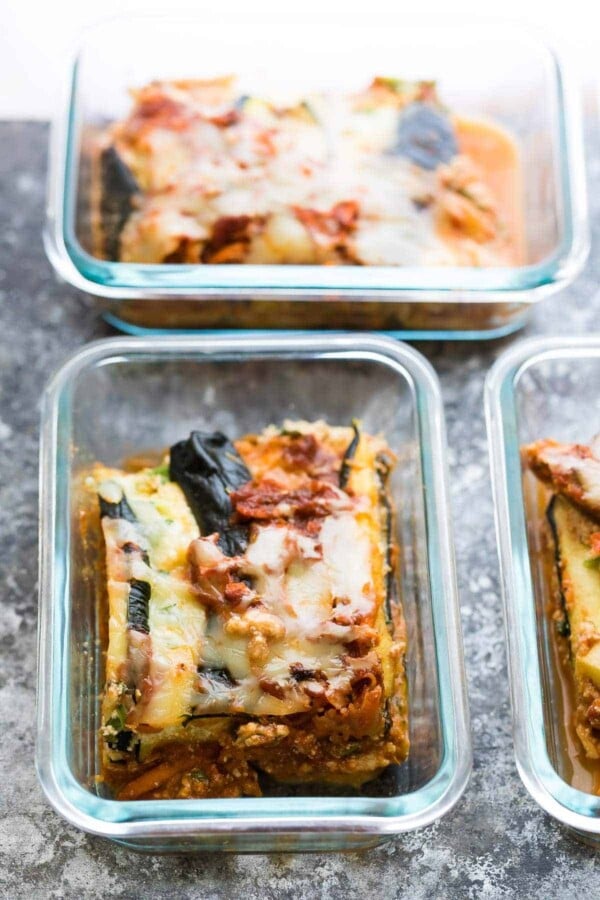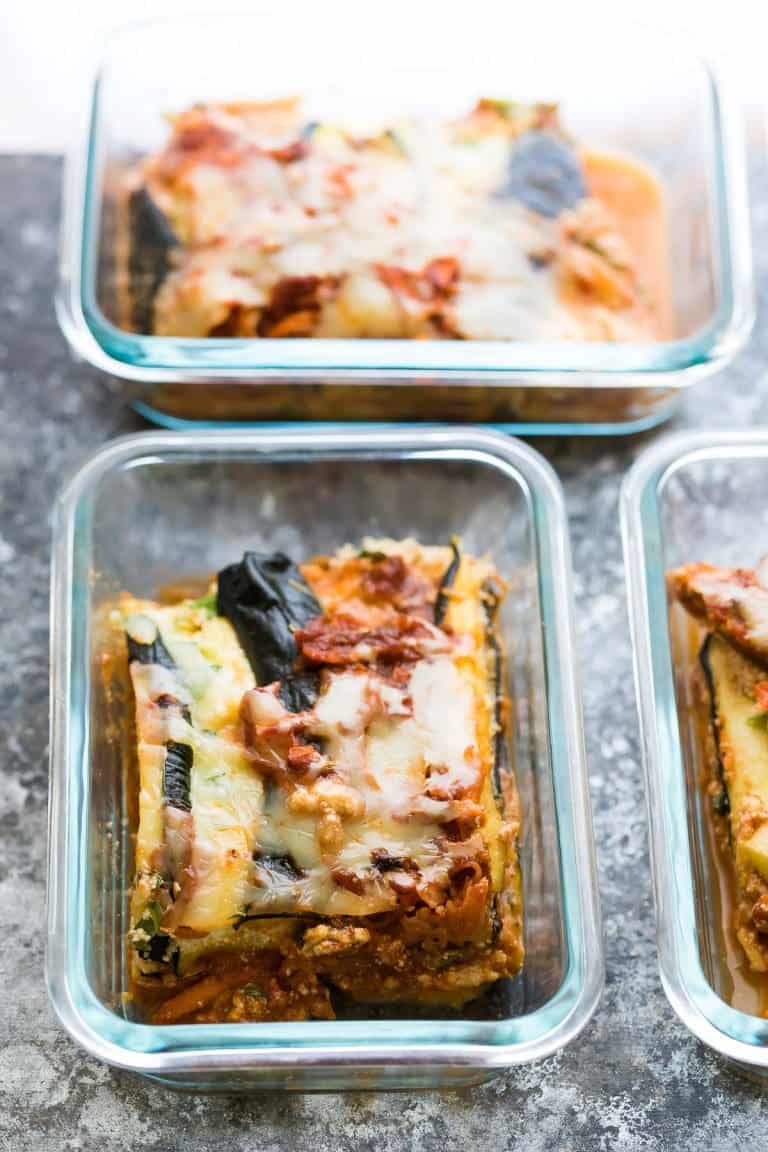 Ben and I were completely blown away by the fact that we did not at all miss the noodles in this recipe!  Whether you enjoy the vegetarian version or the ground turkey version of this zucchini noodle lasagna, you are in for a totally delicious, totally healthy, low-carb and veggie packed meal.
PS- Make sure you look up the Weird Al Lasagna song to play while you're prepping, (and tell me it doesn't make you smile 😉 )
Tips for your perfect turkey zucchini noodle lasagna:
broiling the zucchini is an important step to reduce liquid emitted from the noodles into the lasagna; grilling may work as well but has not been tested
for a meal prep dinner, assemble the lasagna in a 9 x 13 inch pan (or two 9 x 9 inch pans), cover with foil, and freeze for up to 3 months
for meal prep lunches, bake as directed, then portion out into meal prep containers.  Store in the fridge (up to 4 days) or freezer (up to 3 months; thaw completely before re-heating).  Heat in the microwave until heated through.
looking for more healthy comfort food?  Check out this Healthier Butternut Squash Lasagna Recipe and these Lasagna Stuffed Portobellos
Turkey Zucchini Noodle Lasagna (Meal Prep)
Ingredients
4-5 medium/large zucchini sliced into 1/4 inch thick slices
Sauce
1 tablespoon olive oil
1 medium onion, chopped
2 cloves garlic, minced
1 lb lean ground turkey
1 teaspoon oregano
1/4 teaspoon fennel crushed (double it if you love fennel!)
1/4 teaspoon salt
650 mL (22 oz) jar of pasta sauce
Ricotta mixture
500g (17 oz) light ricotta, any extra liquid discarded
1 egg
1/4 teaspoon salt
2 cups loosely packed spinach, chopped
1/4 cup fresh basil, chopped
Other
2 cups shredded mozzarella cheese
Directions
Prepare Zucchini 'Noodles'
Heat oven to broil.
Place a wire rack over a baking sheet and arrange zucchini slices on the rack. (You may need to do this part in 2 batches to fit all of the zucchini slices).
Spray both sides of zucchini slices with oil, and broil for 6 minutes per side (turn half-way through), or until lightly browned. Keep an eye on them as all broilers are different and you do not want to burn them!
Reduce oven temperature to 375°F.
Sauce:
Heat oil in a large non-stick pan over medium heat. Sautee onion for 7 or so minutes, until soft and translucent. Add 2 cloves garlic and cook for 1 more minute.
Add lean ground turkey and cook for 10 or so minutes, until cooked through and no pink remains. Drain the pan if necessary.
Add the oregano, salt, crushed fennel seeds and pasta sauce, and cook for 2-3 more minutes until warmed through.
Ricotta Mixture
Stir together the ricotta, egg, salt, spinach and basil in a large bowl.
Assemble Lasagna
In a 9 X 13 inch baking pan, spread out 1 cup of the tomato sauce.
Top with half of the lasagna 'noodles', followed by half of the ricotta mixture, ¾ cup of shredded mozzarella, and half of the remaining sauce.
Repeat, finishing with the tomato sauce.
To bake immediately:
Bake uncovered at 375°F for 20 minutes, spread with the remaining ½ cup mozzarella, and return to the oven for 10 more minutes.
Allow lasagna to stand for 10-15 minutes before serving (this helps it set up).
To freeze for later:
Assemble lasagna as directed above, then cover with foil. Freeze for up to 3 months.
To bake from frozen, pre-heat oven to 375°F. Bake (covered) for 45 minutes.
Remove foil, and bake for 15 more minutes, until cheese is bubbly and lasagna is heated through.
Recipe Notes
Nutritional Information for Vegetarian Lasagna:
1 slice (1/8 of the pan)
Calories 246 // Fat 13 g // Saturated Fat 7 g // Cholesterol 62 mg // Sodium 735 mg // Carbohydrate 15 g // Fiber 4 g // Sugars 8 g // Protein 20 g
IMPORTANT Avoid freezing lasagna in a glass dish (including pyrex) as extreme temperature shifts (such as placing a frozen lasagna into a hot oven) can lead to explosions or shattering. I used a metal baking dish.
For a vegetarian zucchini noodle lasagna:
Swap the ground turkey for 1 cup shredded carrots and 1.5 cup chopped mushrooms.
Cook the veggies with the onion and drain any liquid from the pan before adding the tomato sauce.
Loading nutrition data...
This recipe was adapted from BHG