These 20 basic Instant Pot recipes are perfect for beginners and experienced Instant Pot users alike! The best vegetables, proteins and grains to cook in the pressure cooker to save you time and free up your hands.
The Instant Pot has become absolutely indispensable in my cooking routine; I've been known to use it 3 times in a day! I love that it can cook food in a fraction of the time as the stove or slow cooker, and it also often eliminates the need to stir or babysit a pot on the stove.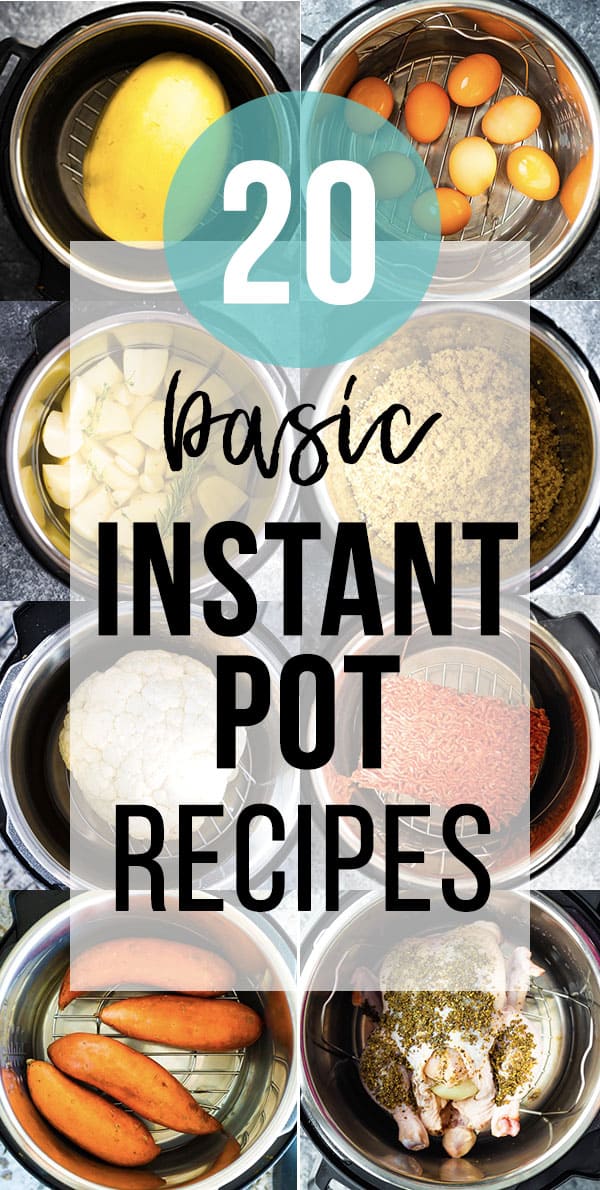 If you are new to Instant Pot cooking, you might be wondering which are the best ingredients to cook in your Instant Pot. After years of trial and error, I can tell you with certainty that the ingredients in this post are the best ones!
These basic Instant Pot recipes will save you time in the kitchen and get food on your table quickly. Some of these recipes are cooked all the way through before a pot of water can come to boil on the stove!
If you are looking for full Instant Pot recipes, check out my Instant Pot page. This post focusses on how to cook the basics: from single ingredients to a handful of ingredients, each of these basic Instant Pot recipes deserves to be in your recipe box!
Don't forget to pin this post to save it for later!
Recipe video
Visual learner? Watch the video below to see how I cook six of my favorite basic Instant Pot recipes! You can find more of my videos on my YouTube channel.
Chicken
Cooking chicken in the Instant Pot is a great idea! Since the Instant Pot cooks using wet heat, the chicken comes out perfectly juicy each and every time. The other benefit of the Instant Pot is that unlike the slow cooker, it is safe to cook chicken from frozen in the Instant Pot! Here are my favorite resources for cooking chicken in the Instant Pot:
Pork
The Instant Pot is great for cooking a few different cuts of pork, my favorites being pork shoulder (to make into pulled pork), and pork tenderloin.
Beef + Turkey
We don't eat a lot of tough cuts of beef, but the Instant Pot is great for cutting down the cook time for those cuts of beef. What else is it good for? Cooking ground beef (or turkey) from fresh or frozen!
Vegetables
The Instant Pot is particularly useful for cooking vegetables that require a long cook time. Cooking the vegetables under high pressure speeds the cooking process immensely, and also makes it much more hands off.
Grains + Beans
Grains and beans are also so great to cook in your Instant Pot. From oatmeal to farro to black beans and more, the Instant Pot can help you fit more beans and grains into your diet by making the cooking process quick and easy.
Misc
A few odds + ends that don't really fit in any category, these recipes are easy and convenient to prep in your Instant Pot.