This simple method to cook Instant Pot black beans gives you perfect black beans each and every time! No soaking, the perfect texture, and so much more flavor than canned beans.
Prior to owning an Instant Pot, I considered beans to be one of those things that I just didn't have time to cook. But ever since the Instant Pot came into my life, I'm cooking Instant Pot Chickpeas and Instant Pot black beans from scratch, because they take just 5 minutes of prep time.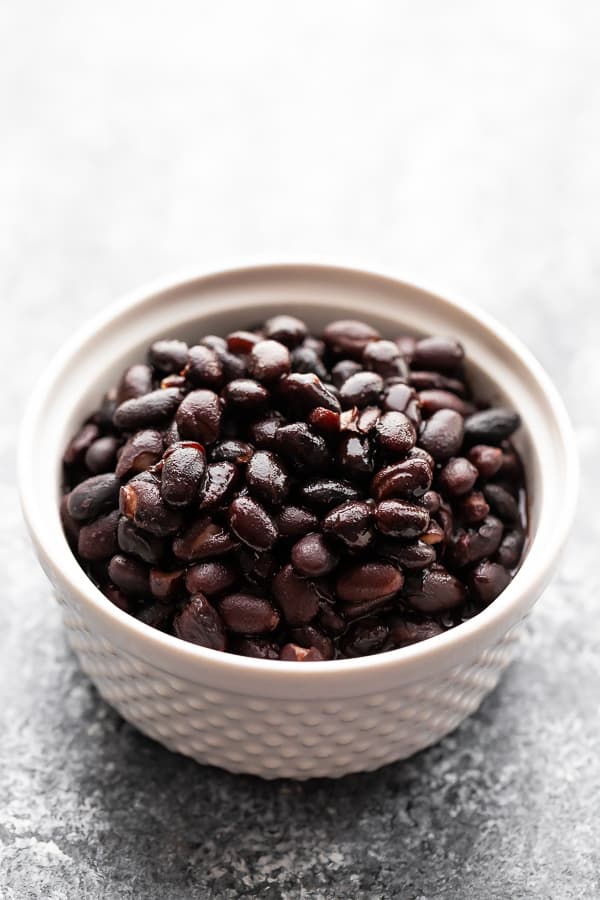 The Instant Pot makes cooking black beans easy for a few reasons, but the biggest one? No need to babysit a pot to make sure it doesn't boil over or over-reduce, just set it and go about your day!
The method I'm sharing today can get into the Instant Pot with under 5 minutes of effort and yields 6 cups of perfectly tender and delicious black beans. We often freeze our black beans for later, so I'll share how I do that as well.
We love Instant Pot black beans because
they save us money
they taste way better than canned
thanks to the Instant Pot, they are so quick & easy to make
you don't need to soak them first
you can freeze them for later
Recipe Video
Want to see exactly how to cook black beans in a pressure cooker? Watch this 1-minute video! You can find more recipe videos on my YouTube channel.
Don't forget to pin this post to save it for later!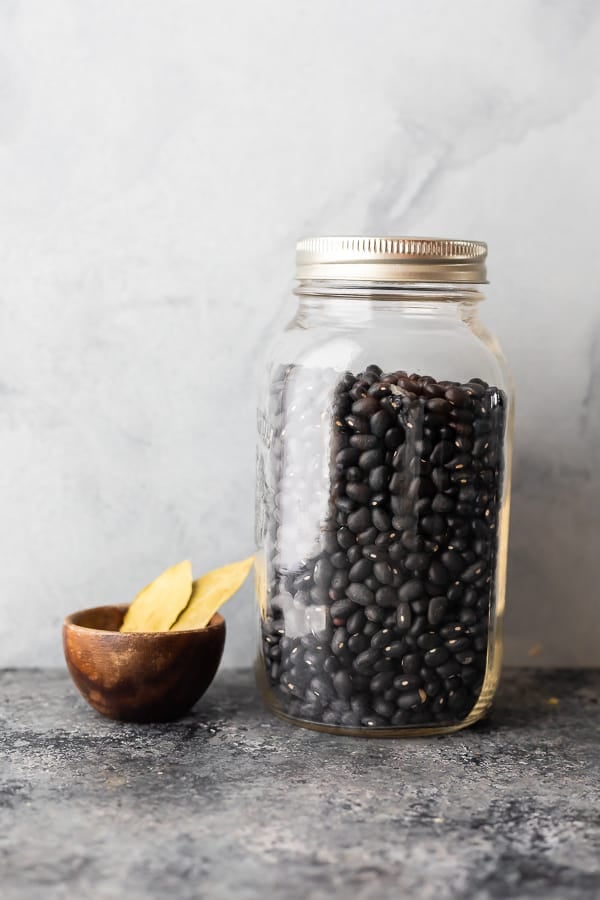 Let's talk ingredients
You'll need:
1 lb dried black beans
2 bay leaves
salt
water
These ingredients make a basic (but still very flavorful) batch of black beans that you can use up in a variety of meal prep recipes.
You can boost the flavors by adding additional spices:
add ½ an onion and 4 garlic cloves to the cooking liquid
try a squeeze of lime after cooking
add 1 teaspoon of ground cumin and 1 teaspoon of ground coriander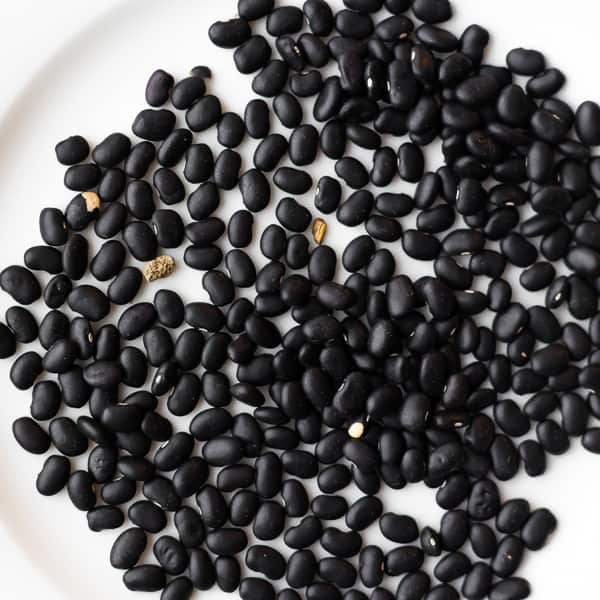 How to prep your black beans
Before cooking, we will do a tiny bit of prep work to get them ready.
weigh out 1 lb of black beans (I highly recommend using a kitchen scale, but this works out to roughly 2 ¼ cups of dried black beans)
pick through and look for any stones, moldy beans or off-color beans
rinse- if your beans are old and dusty you might want to soak them in water for 2 minutes, but I generally rinse mine under the tap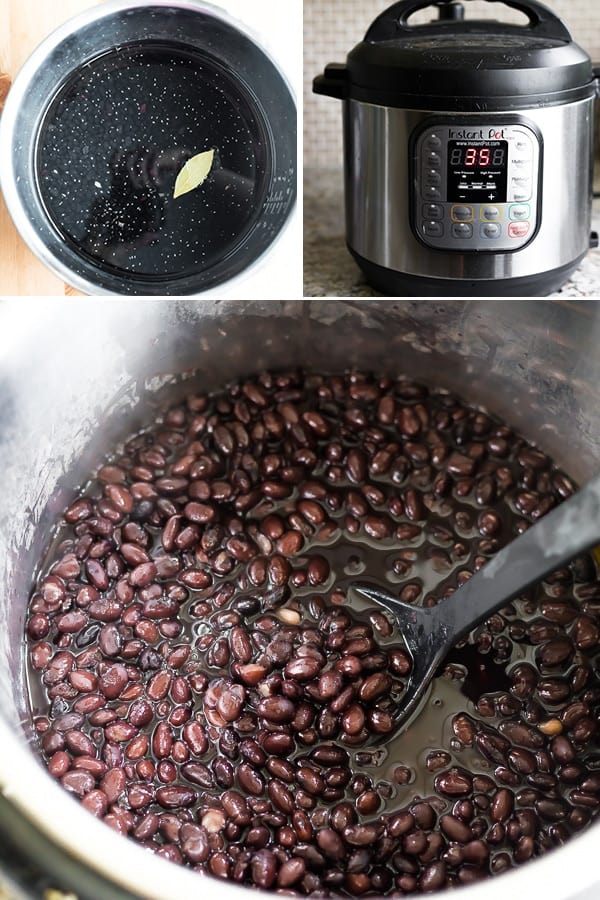 How long to cook black beans in the Instant Pot?
35 minutes on high pressure followed by a 25 minute natural pressure release is the sweet spot for perfect black beans.
If you have a 6 quart Instant Pot, this will be a full natural pressure release
If you use the 8 quart Instant Pot, it might take longer than 25 minutes to fully release the pressure, and I recommend manually releasing any remaining pressure at the 25 minute mark
Do I need to soak my beans?
Some people swear by soaking their beans overnight and claim that it makes the beans easier to digest. Personally, I have never had an issue digesting un-soaked beans, so I skip this step (I was always forgetting to do it anyways!)
This cook time is for un-soaked black beans only. If you soak your beans overnight, this will significantly cut down on the cook time. I would recommend trying 9 minutes with a 25 minute natural pressure release.
How much water do I add?
For 1 lb of dry black beans, we are using 4 cups of water. This yields just enough liquid to cover the beans in jars if you plan to store for later.
How much does this recipe yield?
For 1 lb of black beans you will get roughly 6 cups of cooked beans + liquid. I divide this between three 2-cup Weck jars or three 1-pint mason jars.
Can I cook these on the stovetop?
Absolutely, please check my Perfect Black Beans post for stove top directions.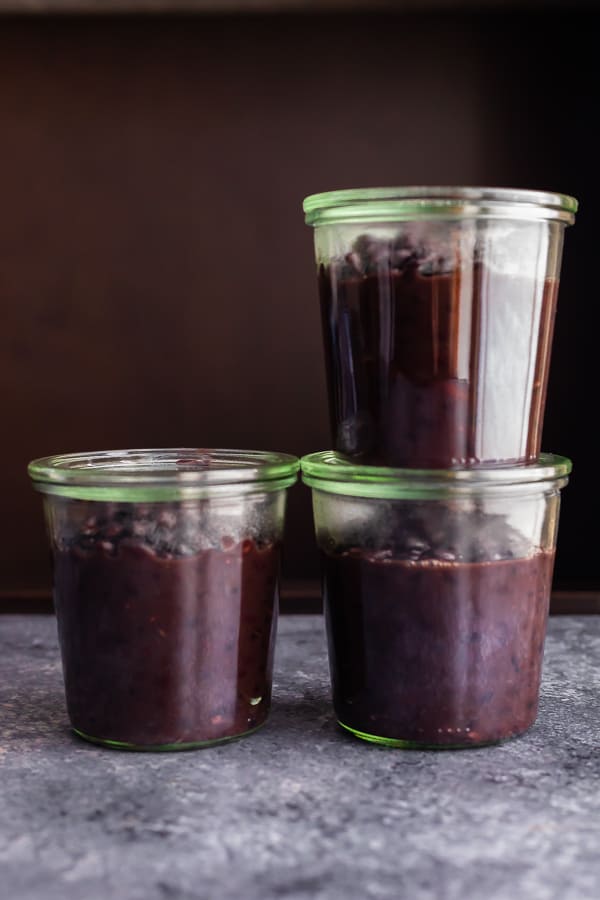 Meal prep tips
half batch- if you don't need 6+ cups of cooked black beans, you can cut this recipe in half. Use the same cook time.
storage- after cooking, your black beans can be stored in the fridge for 4 days or in the freezer for up to 6 months.
freezer- portion out your black beans into mason jars and top with the cooking liquid. Cool completely before freezing (leave lids ajar and ¼ of the jar empty to allow for expansion during freezing).
old beans- if you are using old beans, they may take longer to cook.
Find my Instant Pot models, jars and other kitchen equipment in my shop!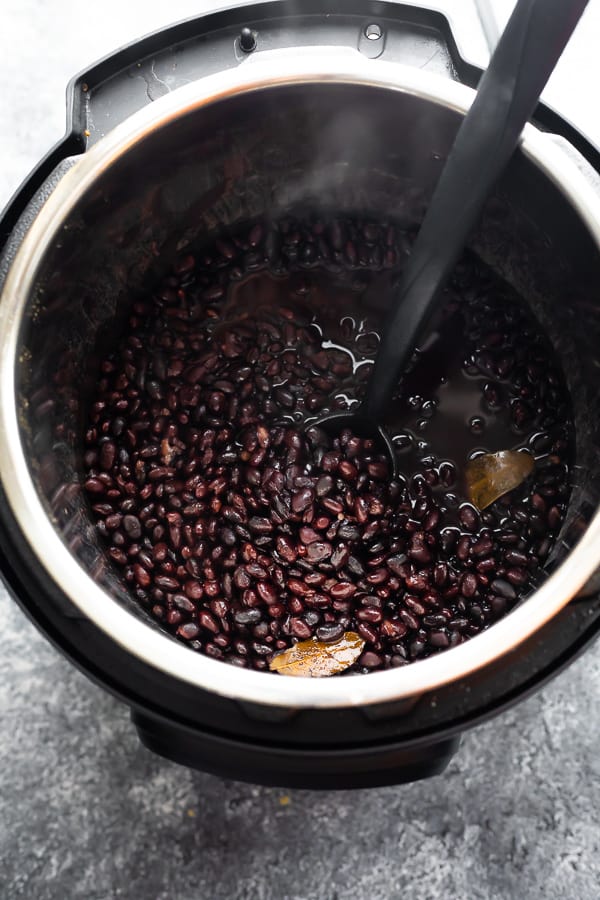 How to use up your black beans?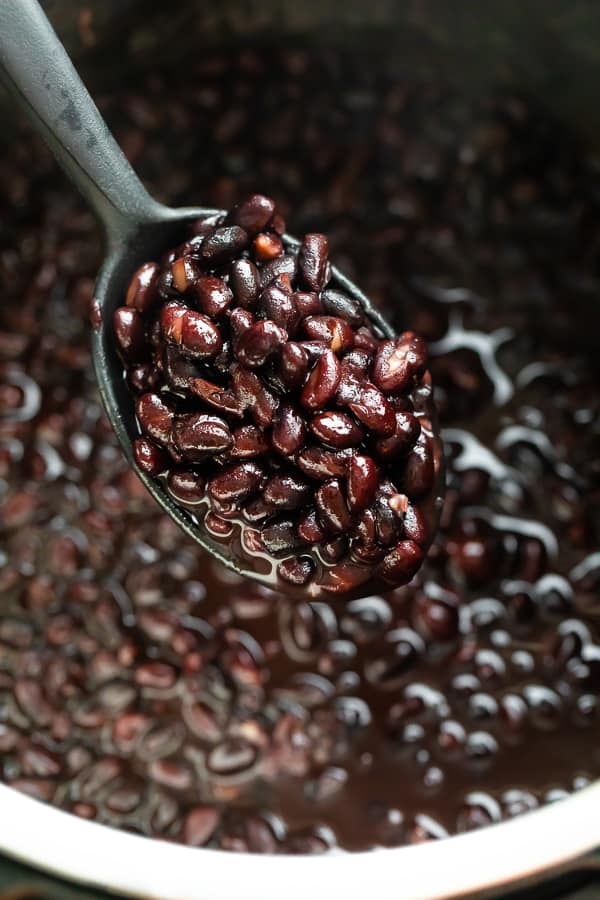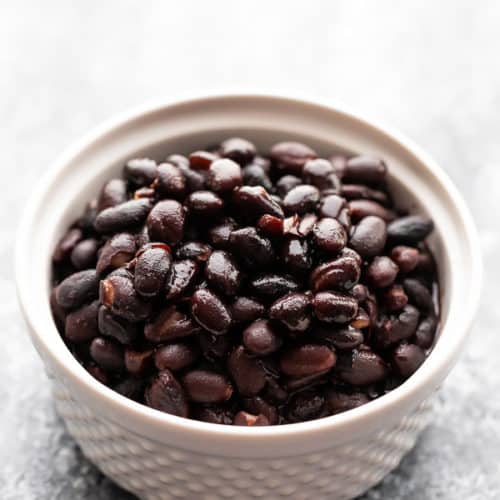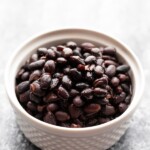 Print Recipe
Perfect Instant Pot Black Beans (no soaking required!)
This simple method to cook Instant Pot black beans gives you perfect black beans each and every time! No soaking, the perfect texture, and so much more flavor than canned beans.
Ingredients
1

lb

dry black beans

1

teaspoon

salt

2

bay leaves

4

cups

water
Instructions
Weigh out 1 lb of dry black beans (or use 2 ¼ cups).

Pick through and remove any stones, discoloured or moldy beans.

Rinse beans under the tap or swirl in 1-2 inches of water.

Place beans into the insert of a 6 or 8 quart Instant Pot (mini will not fit this recipe).

Add salt, bay leaves and water.

Set the valve to 'seal' and cook on high pressure for 35 minutes. The pot will take 30 minutes or so to come to pressure.

Allow pressure to naturally release for 25 minutes. If you have an 8 quart Instant Pot you may have to manually release the pressure at this point.

Remove bay leaves and enjoy!
Storage
Portion out into three 1-pint jars and cover with cooking liquid.

Store in the fridge for up to 4 days.

To freeze- cool completely before placing in the freezer with lids ajar. Screw lids on once frozen solid. Freeze for up to 3 months.
Notes
You can boost the flavors by adding additional spices:
add ½ an onion and 4 garlic cloves to the cooking liquid
try a squeeze of lime after cooking
add 1 teaspoon of ground cumin and 1 teaspoon of ground coriander
Nutrition
Serving:
0.5
cup
|
Calories:
129
kcal
|
Carbohydrates:
24
g
|
Protein:
8
g
|
Fat:
1
g
|
Saturated Fat:
1
g
|
Sodium:
200
mg
|
Potassium:
561
mg
|
Fiber:
6
g
|
Sugar:
1
g
|
Vitamin A:
6
IU
|
Calcium:
49
mg
|
Iron:
2
mg