Sharing four one pot pasta recipes that can be assembled ahead and frozen in freezer packs. To cook, simply thaw, add pasta and cook up in a single pot!
One pot pasta involves cooking your sauce and pasta together in one pot. Not only is this simple to prepare, reducing the number of dishes you'll need to wash, but it also infuses the pasta with so much extra flavor as it cooks.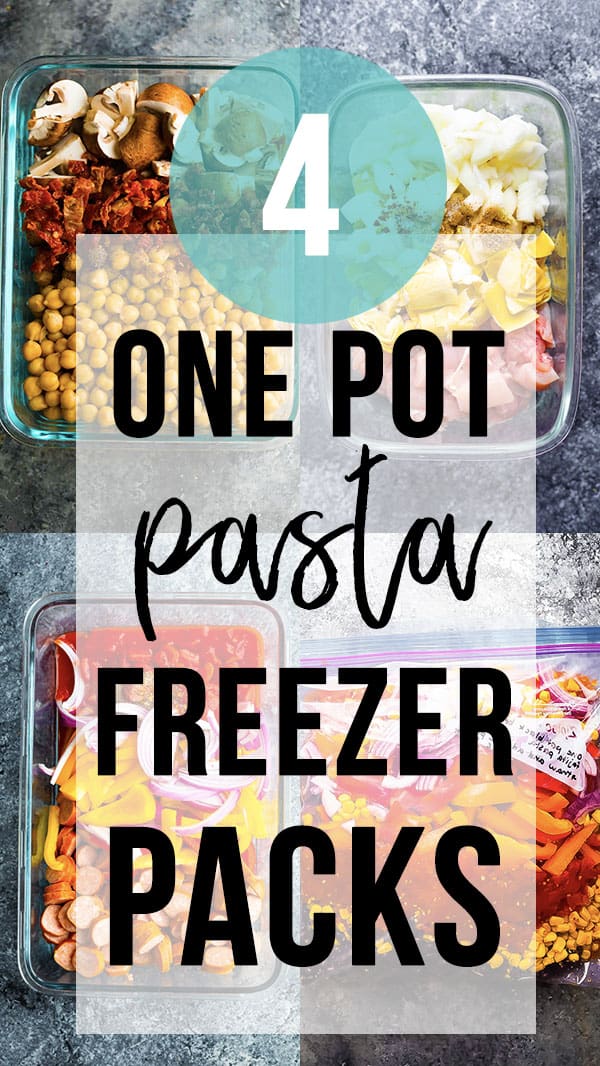 One pot pasta recipes can also work well for meal prep, either by assembling the ingredients ahead so that you do not need to chop or measure on cook day, or by cooking ahead and reheating leftovers.
Today I am sharing four pasta recipes that can be assembled ahead and stored in the fridge or freezer as 'freezer packs'. When you are ready to cook, simply thaw, dump into the pot, add pasta + stock, and cook!
Watch the video below to see how I prep and cook these pasta freezer packs! You can find more of my videos on my YouTube channel.
Reasons you'll ♡ one pot pasta freezer packs
they are simple to assemble
to cook, dump the contents into a pot and mix in the pasta
they have so much incredible flavor!
Don't forget to pin this post to save it for later!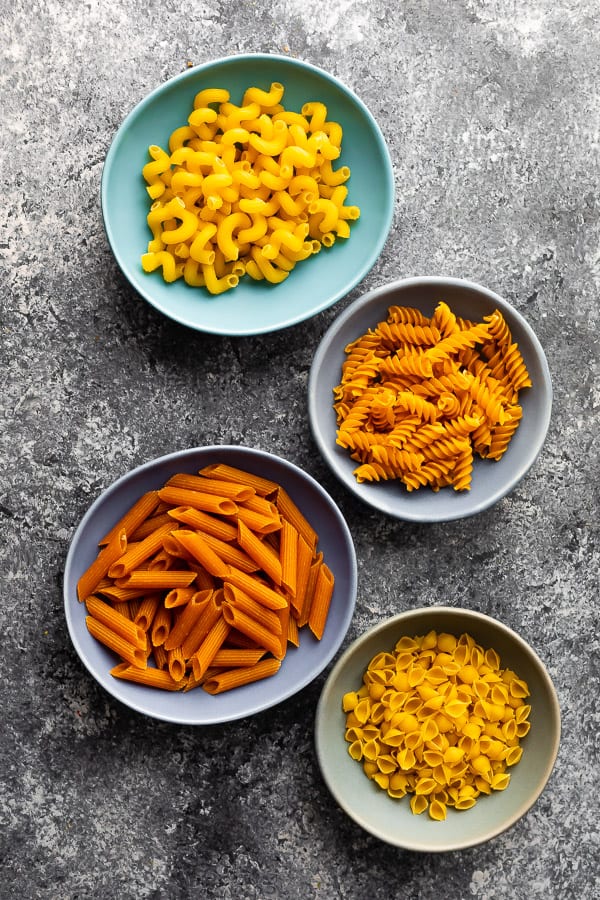 Choose small pasta shapes
These pasta recipes work well with a variety of pasta shapes including:
penne
shells
rotini
macaroni
bow tie
Types of pasta to avoid:
orzo (too small)
lasagna noodles (too large)
rigatoni (too large)
any extremely large pasta shapes (like the large shells)
Regular pasta works best
Whole wheat pasta may work, but alternative pastas like chickpea, gluten-free or lentil pasta are finicky. Often they have very specific cook times and get mushy if over cooked. They also may absorb different amounts of water. It is possible that they would work in these recipes, but it would require additional testing.
If you try an alternative type of pasta in these recipes, would you let us know in the comments how it works out for you?
Cheese thickens the sauce
At the end of cooking, each of these pasta recipes requires the addition of cheese. This not only adds flavor, but helps to thicken the sauce. I am not sure if vegan cheese would work the same, and if you skip the cheese, your pasta may be thinner or lacking flavor.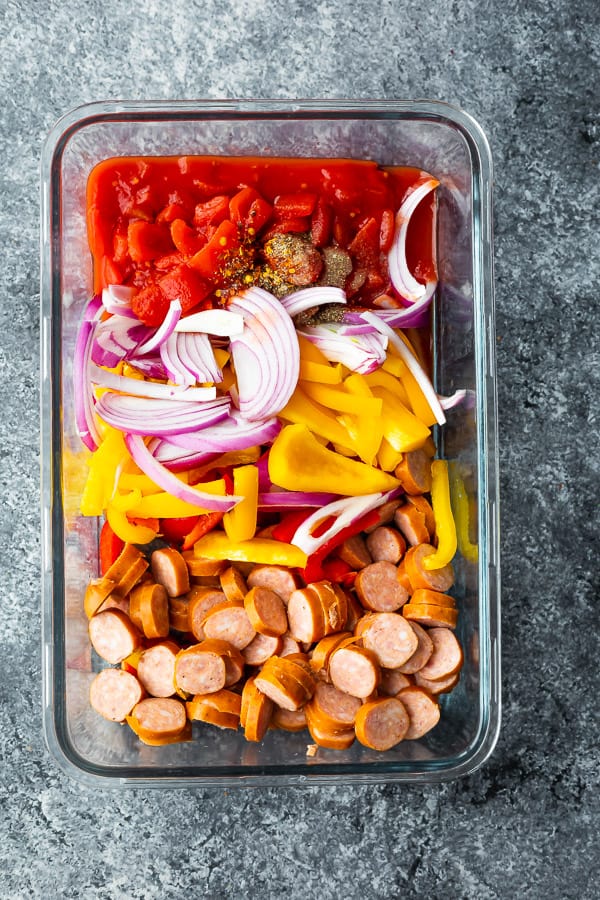 How to assemble pasta freezer packs
For each of these recipes, the process is the same:
chop up all ingredients
assemble in a freezer bag (resuable or plastic) or a meal prep container
freeze for up to 3 months
thaw completely
add to the pot with pasta and stock
cook as directed
Find my favorite storage containers in my shop!
Do not add pasta until cook day
Adding the pasta to the freezer packs will cause it to soften and could lead to soggy pasta. It helps to write measurements + cook directions on the bag or meal prep container so that on cook day you don't have to track the recipe down again!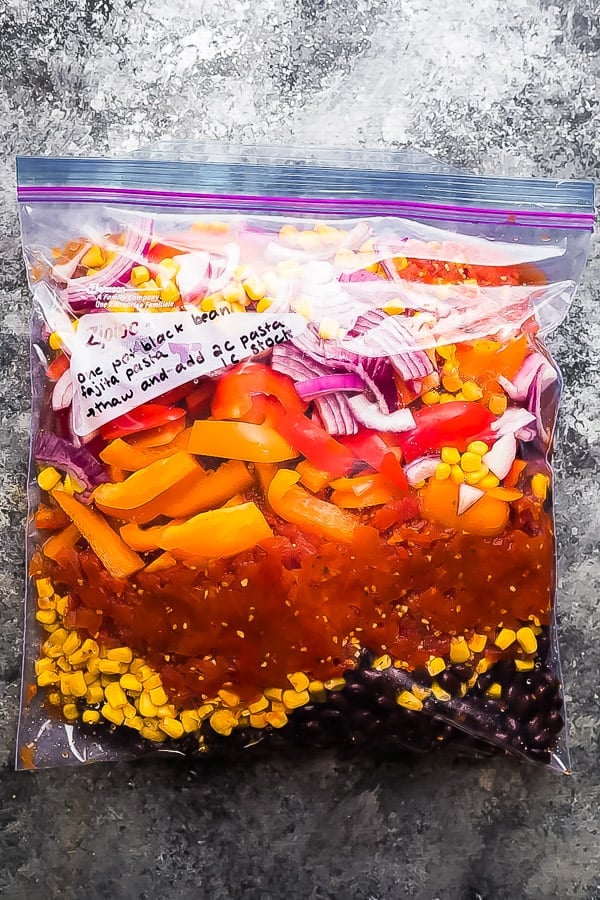 Ingredients that work well in one pot pasta
There are a million ways you could make freezer pasta packs. The key is you will need to be careful which ingredients go into the freezer, because many veggies must be blanched before freezing. An alternative to these veggies is to purchase pre-frozen veggies, as they have already been blanched.
Here are the staples in these recipes:
Proteins:
black beans
chickpeas
chicken thighs- cut small (½ to ¾ inch cubes)
fully cooked sausage (sliced)
Veggies
bell peppers
red onion
brown onion
corn
tomatoes (cans of diced tomatoes or sun dried tomatoes)
artichokes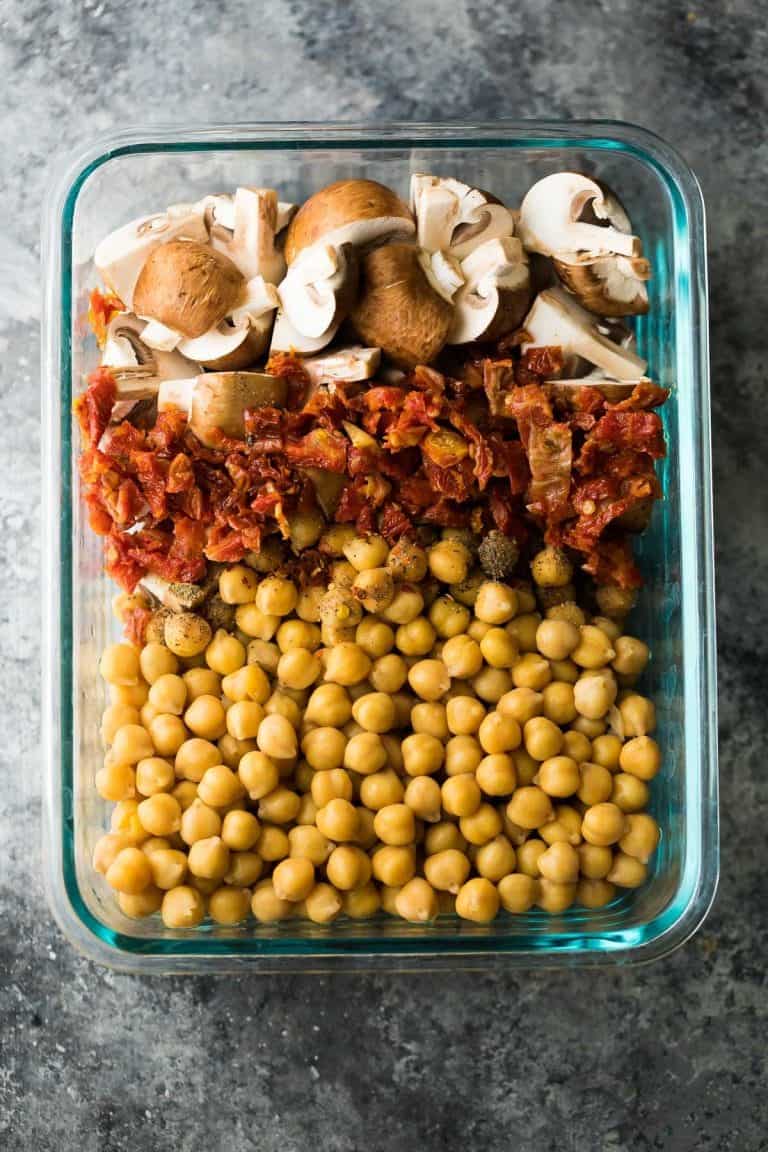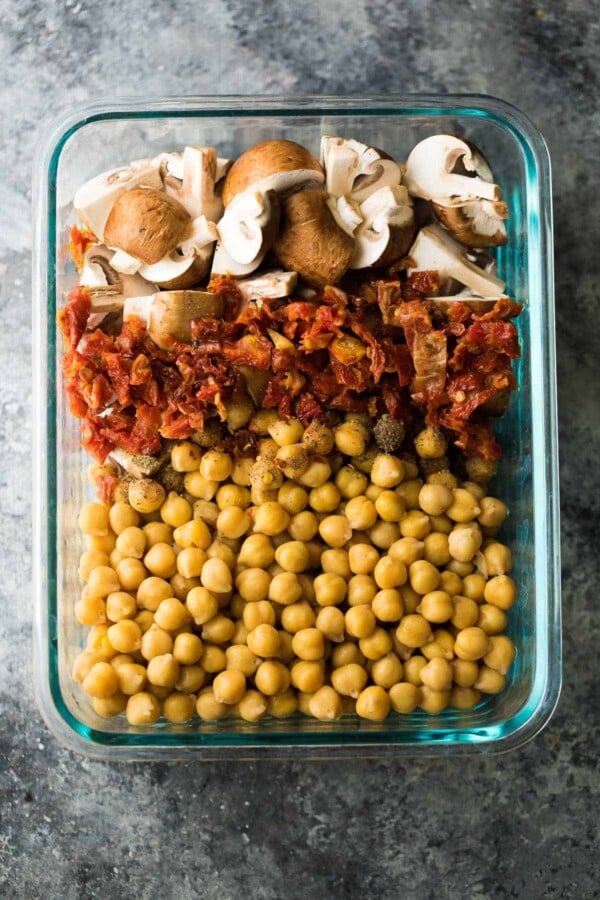 The recipes
Here are four of my favorite tried + true pasta freezer pack recipes:


I hope you give these recipes a try! If you do, I'd love if you left a review + star rating on the recipe. This helps me and others who want to make the recipe.
XO