12 healthy one pot pasta recipes made with protein and vegetables to fill you up! These are simple to prepare, flavorful, and makes clean up a breeze.
We are big fan of one pot meals, because they mean that clean up is extra easy. One pot pasta is at the top of the list because not only is clean up easy, but so much flavor absorbs into the pasta while it cooks!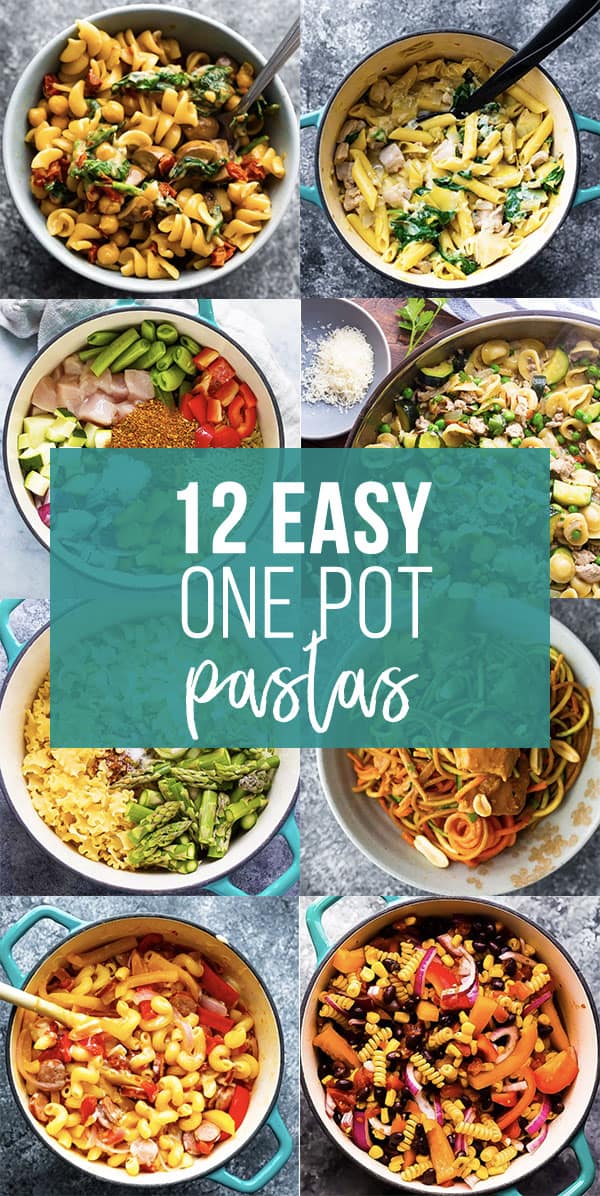 How does it work?
One pot pasta involves cooking the pasta right in the sauce. This simplifies the cooking process and reduces the number of dishes for us to wash up. As the pasta cooks, the starches and cheese help thicken the sauce, and so much flavor absorbs into the noodles.
One pot pasta tips
pasta shapes- for my one pot pasta recipes, unless the recipe calls for orzo, you can change up the shapes. Penne, rotini, macaroni, bow tie, and small shells can be swapped in with the same liquid ratios, but you will need to adjust the cook time as needed.
stir frequently- it's important that you stir the pasta frequently during the cook time so that it doesn't stick to the bottom of the pot and burn. Do it quickly, and replace the lid.
Instant Pot- some of the one pot pasta recipes in this round up have been successfully cooked in the Instant Pot! It's smart to put tomato products or anything 'thick' on top of the pasta, and I've found that half the cook time on the pasta box + 2 minutes works well for us.  Some people prefer it al dente (just do half the cook time on the box). Always do a quick pressure release.
meal prep- several of the one pot pasta recipes in this round up can be prepared ahead, so that all you need to do is dump the ingredients into the pot, add the pasta, and start cooking! Refer to directions on the recipe card to determine if the recipe can be prepped ahead. Check out one pot pasta freezer packs for tried & true recipes.
Don't forget to pin this post to save it for later!