45 healthy skillet recipes that will get dinner on the table quickly and produce minimal dishes! Includes chicken, vegetarian and low carb options, and more!
When it comes to easy clean up, one pan meals are the way to go! Today we are sharing 45 delicious, healthy dinners that can be prepared in a cast iron or stainless steel skillet.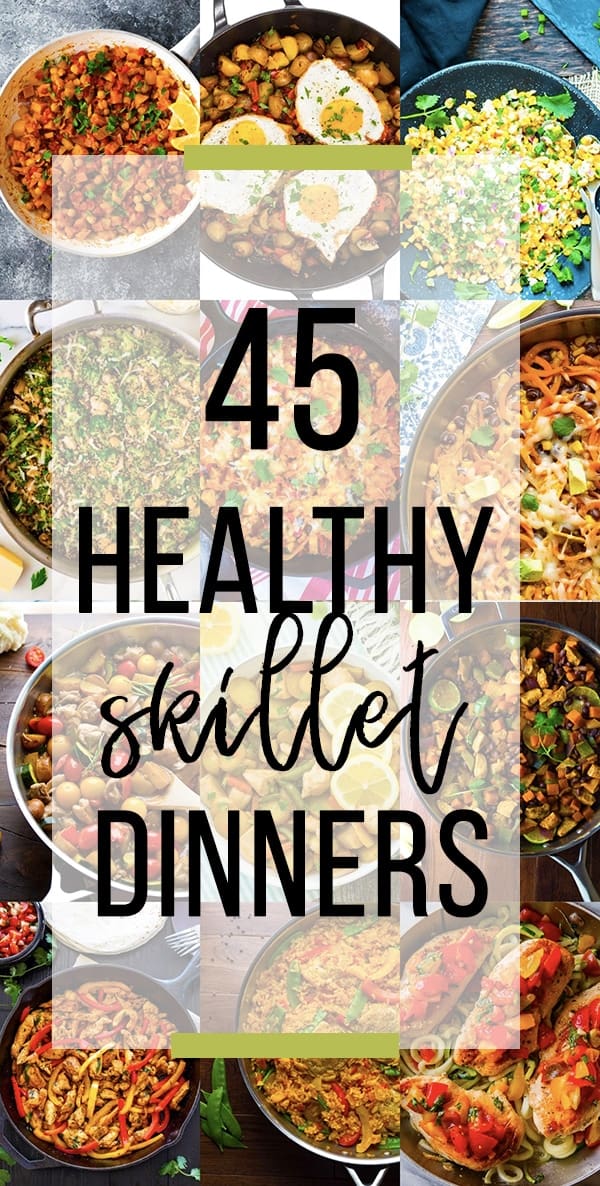 This post was originally published in 2016 but was long overdue for an update! We've added 26 brand new skillet recipes to the mix, and have broken them down by category.
These easy skillet dinners are perfect for busy weeknights. Not only do they produce minimal dishes, but the majority of them are ready quickly!
Many of these skillet dinners are heavy on the veggies, making them a healthy dinner choice. You might want to serve with some pasta or healthy grains to make them filling, or enjoy them as is!
Don't forget to pin this post to save it for later!
We have broken these one pan meals down into five different categories:
chicken skillet recipes
30 minute one pan meals
vegetarian skillet dinners
low carb skillet recipes
seafood skillet dinners
With a ton of different protein and flavor choices, there should be something for everyone!
Skillet FAQ
Why should I use a skillet? A skillet is a great kitchen tool that holds and transfers heat really well. This makes it excellent for foods that you want to get a crust: steak, shrimp, chicken thighs and more.
The other benefit of skillets is that they are non-toxic. The non-stick coating on pans is potentially hazardous to your health, and this is something you don't need to worry about with a skillet.
Which skillet should I buy? With more than 15,000 five star reviews, it seems that this Lodge Cast Iron Skillet
is a pretty solid choice. For stainless steel, I own the Le Creuset. It's pricey, and to be honest, this Cuisinart Stainless Skillet
looks like a great, affordable alternative.
How do you clean a cast iron skillet? When cleaning a cast iron skillet, you should avoid soap. I scrub with coarse salt, or if it's really stubborn, a plastic dish brush. Rinse the skillet out, towel dry completely, and season each time with oil. Here's a great tutorial!
Why use a skillet versus a non stick pan? It depends on what you are cooking! For food that is prone to sticking, like eggs or fish, I prefer to use a non-stick pan. To get crispy skin on chicken thighs, or a good crust on my steak, I reach for my cast iron skillet.
Let's check out these delicious healthy skillet recipes.
Chicken Skillet Recipes
These chicken skillet recipes are keeping dinner exciting and keeping the clean up to the minimum! Leftovers for most of these would work great for meal prep as well.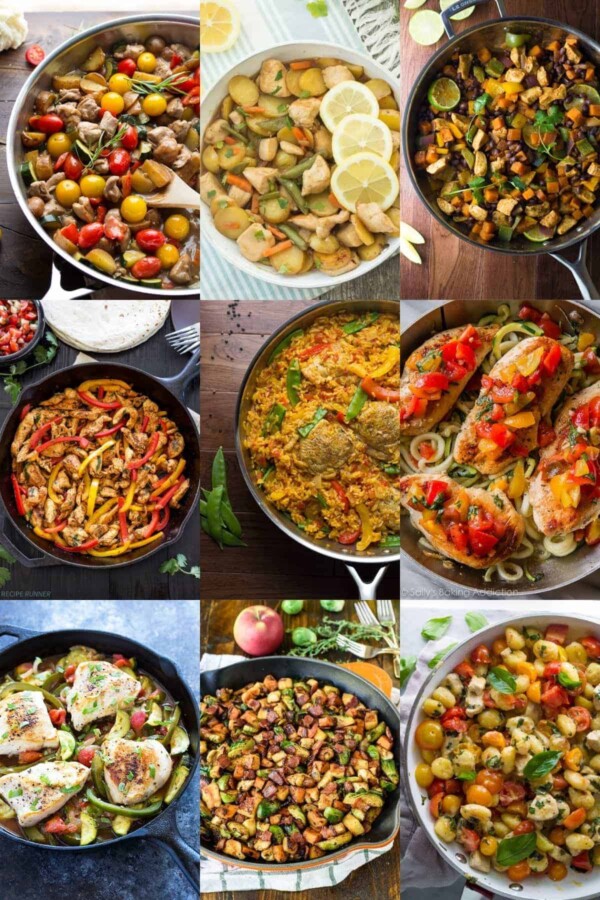 1. Easy Balsamic Chicken Skillet with Tomatoes and Tarragon from Sweet Peas and Saffron
2. 30 Minute Honey Lemon Chicken and Potato Skillet from The Recipe Rebel
3. Chili Lime Sweet Potato and Chicken Skillet from Sweet Peas and Saffron
4. Skillet Chicken Fajitas from Recipe Runner
5. Spanish Chicken and Rice Skillet from Sweet Peas and Saffron
6. Skillet Bruschetta Chicken Dinner from Sally's Baking Addiction
7. One Skillet Italian Chicken from The Blond Cook
8. Harvest Chicken Skillet with Sweet Potatoes Brussels Sprouts and Sautéed Apples from Well Plated
9. Caprese Chicken Gnocchi Skillet from Sweet Peas and Saffron
30 Minute One Pan Meals
Keeping dinner nice and simple with a short prep time! These 30 minute one pan meals are perfect for busy weeknights.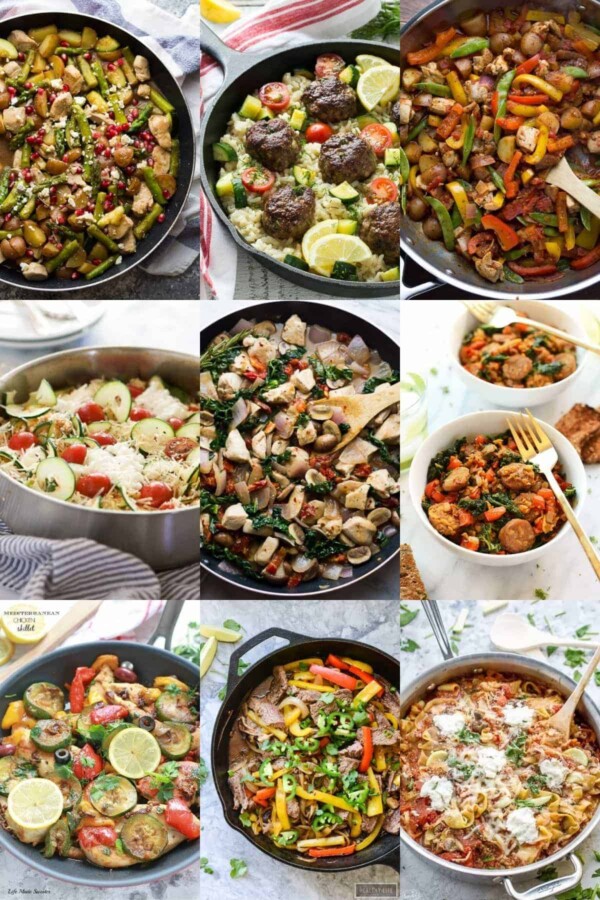 10. Healthy Balsamic Chicken Skillet with Pomegranates and Feta from Sweet Peas and Saffron
11. Greek Meatballs with Lemon Dill Rice from Dinner at the Zoo
12. Healthy Chicken Skillet with Cajun Potatoes and Veggies from Sweet Peas and Saffron
13. Spinach Artichoke Skillet Zucchini Lasagna from With Salt and Wit
14. 30 Minute Tuscan Chicken Skillet from Sweet Peas and Saffron
15. Sweet Potato Hash Protein Bowl from Fit Foodie Finds
16. One-Pan Mediterranean Chicken Skillet from Life Made Sweeter
17. Paleo Skillet Beef Fajitas from A Healthy Life for Me
18. One Pan Skillet Lasagna Zoodles from Life Made Sweeter
Vegetarian Skillet Dinners
Delicious meatless options for any day of the week! These vegetarian skillet dinners are hearty and delicious.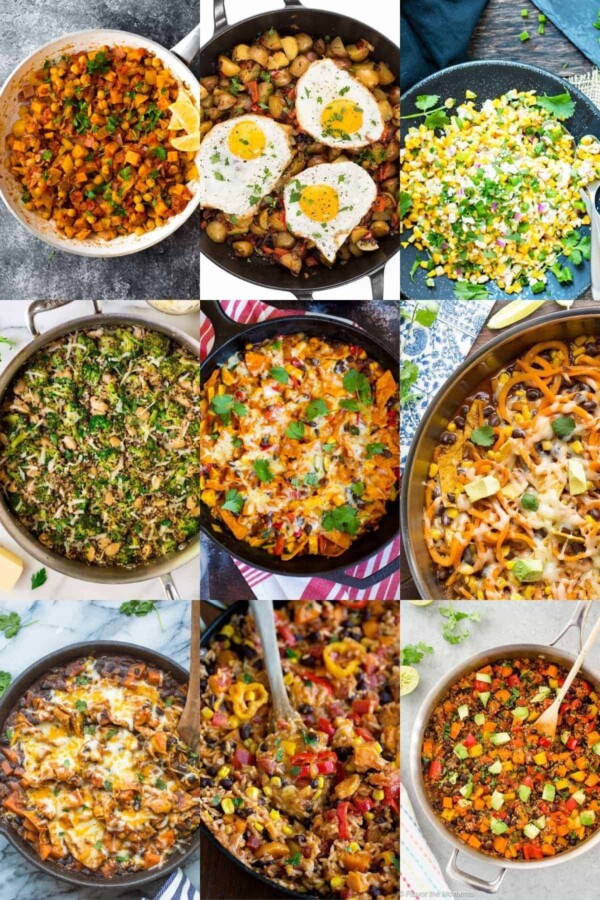 19. Vegan Moroccan Chickpea Skillet from Sweet Peas and Saffron
20. Vegetable Hash Breakfast Skillet from The Lemon Bowl
21. Skillet Mexican Street Corn Salad from Evolving Table
22. One Pan Broccoli Quinoa Skillet with Parmesan and White Beans from Well Plated
23. One Pot Stove Top Enchiladas from She Likes Food
24. Spiralized Sweet Potato Enchilada Skillet from Sweet Peas and Saffron
25. Sweet Potato & Black Bean Enchilada Skillet from A Saucy Kitchen
26. One Skillet Sweet Potato Burrito Bowls from Chelsea's Messy Apron
27. One Pot Mexican Black Bean Sweet Potato Quinoa from Flavor the Moments
Low Carb Skillet Recipes
Keeping things light with these low carb skillet recipes! From cauliflower rice to spaghetti squash, these veggie-heavy meals all look delicious.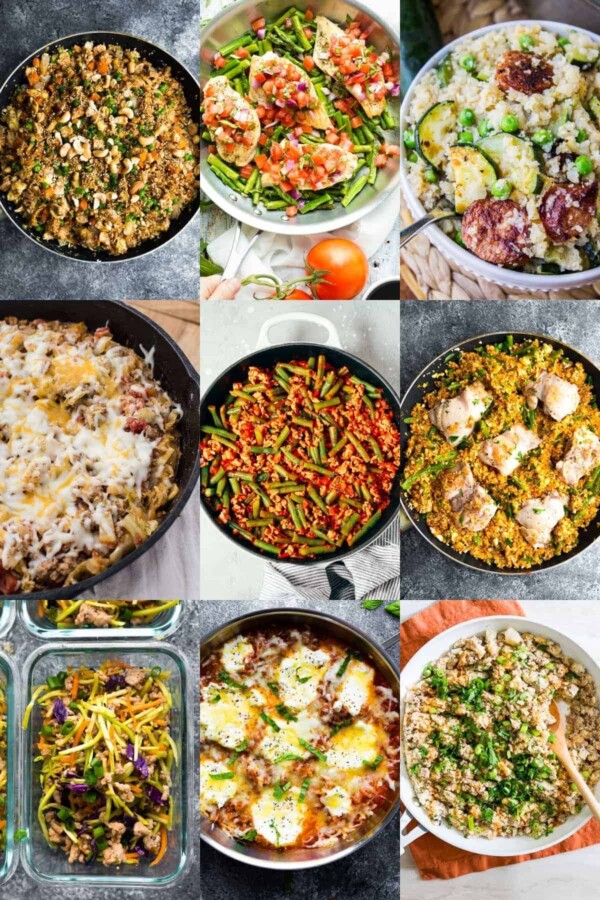 28. Easy Cauliflower Fried Rice Recipe from Sweet Peas and Saffron
29. Easy Bruschetta Chicken and Asparagus from Evolving Table
30. Cauliflower Rice Skillet with Zucchini and Kielbasa from The Food Charlatan
31. One Pan Cabbage Casserole (Keto+Low Carb) from Maebells
32. Ground Turkey Skillet with Green Beans from Primavera Kitchen
33. Low Carb Indian Chicken Skillet from Sweet Peas and Saffron
34. Egg Roll in a Bowl from Sweet Peas and Saffron
35. Low Carb Lasagna Skillet from Sweet Peas and Saffron
36. Buffalo Turkey Cauliflower Skillet from Running to the Kitchen
Seafood Skillet Dinners
The skillet is my go-to when it comes to seafood because it cooks quickly and evenly. These seafood skillet dinners are giving me so many new ideas for weeknight dinners!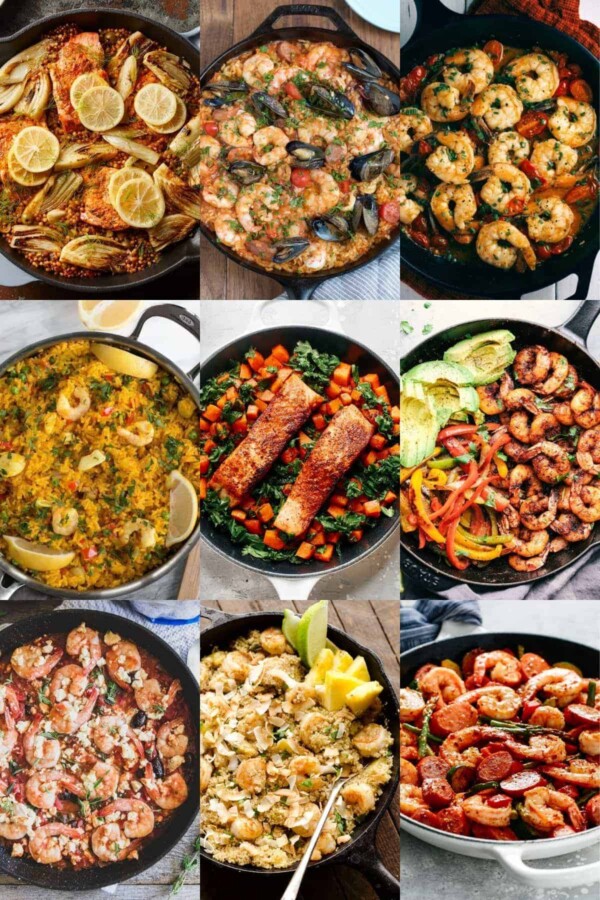 37. One-Skillet Salmon with Fennel & Sun-Dried Tomato Couscous from Eating Well
38. Spicy Seafood Paella from Hip Foodie Mom
39. Jumbo Spicy Garlic Shrimp and Tomato Skillet from Jessica Gavin
40. Seafood Rice Skillet from Budget Bytes
41. Spicy Salmon Sweet Potato Skillet from Primavera Kitchen
42. 20 Minute Skillet Blackened Shrimp Fajitas from The Recipe Critic
42. Greek Shrimp Skillet from Running to the Kitchen
44. Light Coconut Shrimp & Pineapple Quinoa Skillet from The Creative Bite
45. Shrimp and Sausage Vegetable Skillet (Meal-Prep) from Primavera Kitchen