36 healthy snacks that are perfect for kids, for taking to work, or just having around the house. These healthy snack ideas will keep you out of a snack rut, with lots of options for both sweet and savory snacks.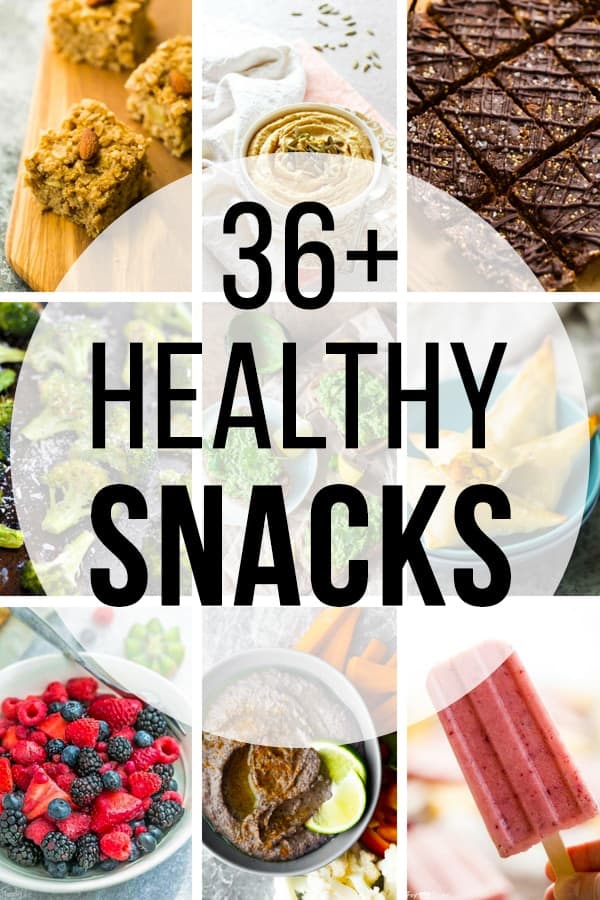 Healthy snacks
I don't know about you, but sometimes, I can get hangry. If I skip a snack or eat a light lunch, sometimes that bag of tortilla chips whispers my name. And other times, it screams my name.
Having healthy snacks around the house keeps me from getting hangry. Instead of reaching for the tortilla chips, I reach for a healthy snack, and it keeps me going till dinner time.
Today, we're rounding up more than 36 healthy snack ideas...and there really is something for everyone! Whether you have a sweet tooth, or prefer savory...whether you need a healthy late night snack while you watch TV, or healthy snacks for work.
Some of these healthy snacks are even freezer-friendly, making them perfect for prepping ahead and stocking up the freezer. No more hangry episodes necessary!
Don't forget to pin this post to save it for later!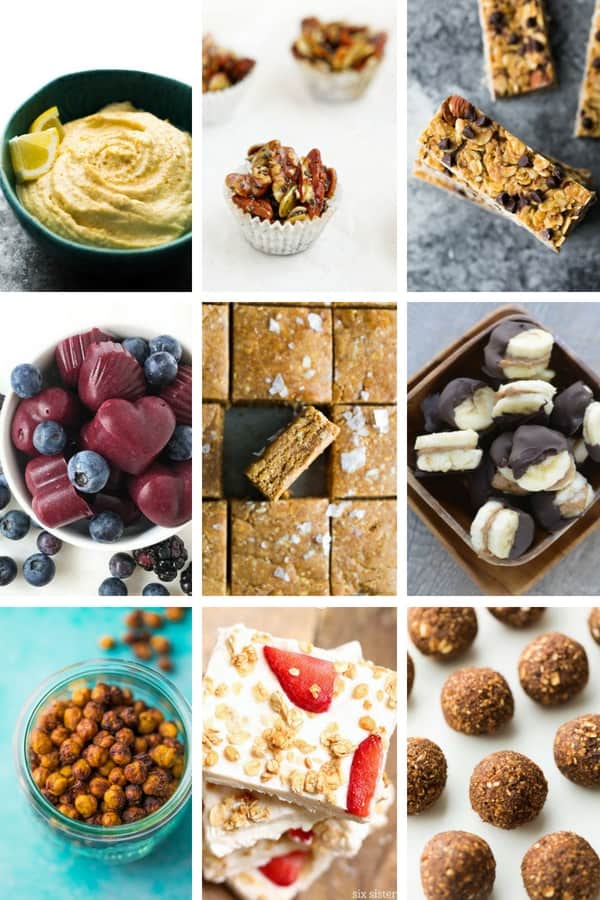 1. The BEST easy Homemade Hummus from Sweet Peas & Saffron
2. Salted Vanilla Maple Nut & Seed Clusters from Good Life Eats
3. Chewy No Bake Peanut Butter Peanut Butter Granola Bars from Sweet Peas & Saffron
4. Berry Delicious Vegan Gummies from Karissa's Vegan Kitchen
5. Easy Homemade Cinnamon Roll Protein Bars from Sweet Peas & Saffron
6. Frozen Banana Bites from No Biggie
7. Crispy Air Fryer Chickpeas from Sweet Peas & Saffron
8. Strawberry & Granola Yogurt Bark from Six Sister Stuff
9. Nut Free Energy Bites from Sweet Peas & Saffron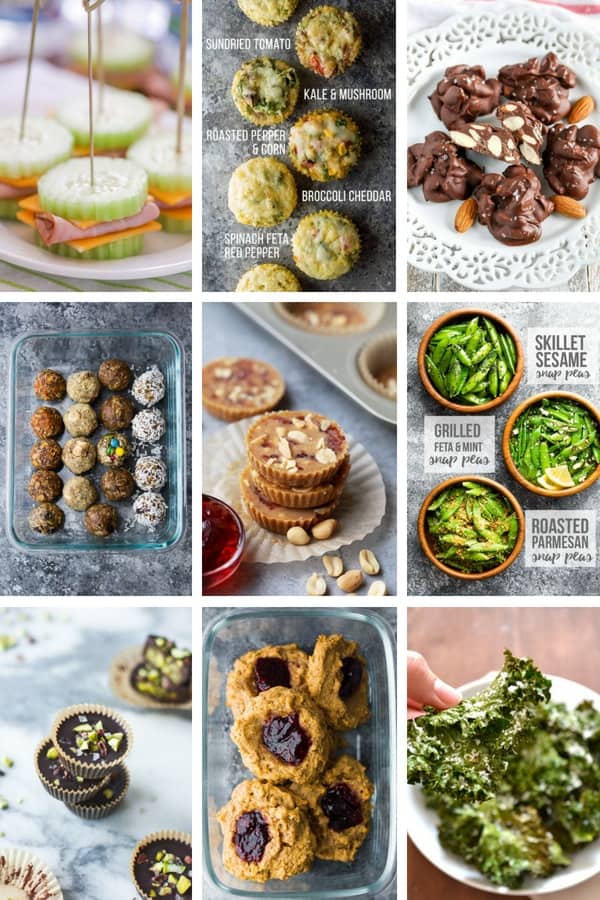 10. Cucumber Sandwiches from Lil Luna
11. 7 Healthy Breakfast Egg Muffins from Sweet Peas & Saffron
12. Chocolate Espresso Almond Clusters from Live Well Bake Often
13. No Bake Energy Bites 7 Ways from Sweet Peas & Saffron
14. Crunchy Peanut Butter & Jelly Cups from Fit Foodie Finds
15. Sugar Snap Peas from Sweet Peas & Saffron
16. Pistachio Butter Cups from Bojon Gourmet
17. Peanut Butter & Jam Breakfast Cookies from Sweet Peas & Saffron
18. Italian Herb Kale Chips from Maebells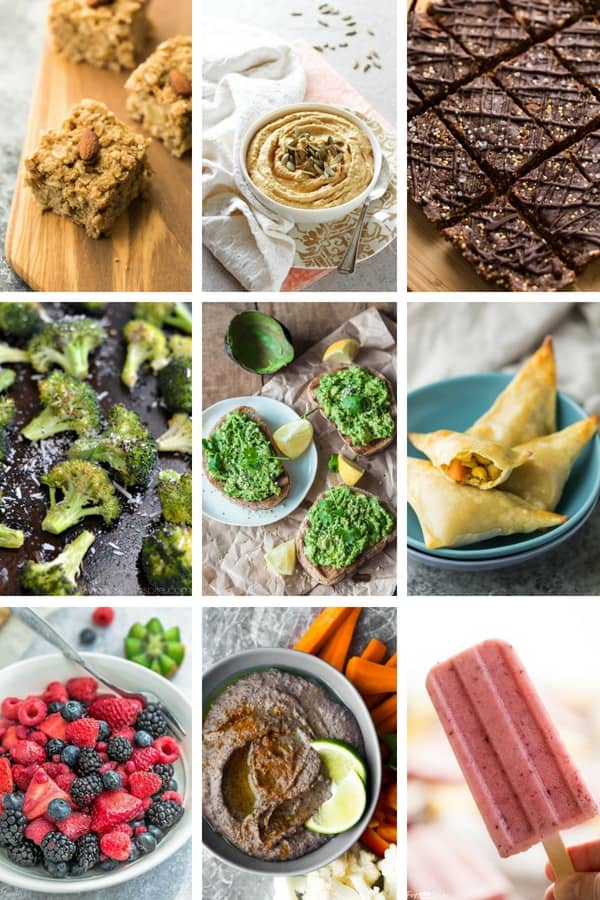 19. Apple Quinoa Breakfast Bars from Sweet Peas & Saffron
20. Sweet Potato Hummus with Roasted Garlic from Cook Nourish Bliss
21. Chocolate Almond Quinoa Snack Bars from Sweet Peas & Saffron
22. Roasted Broccoli from To Simply Inspire
23. Avocado Toast from Vibrant Plate
24. Healthy Baked Cauliflower Chickpea Samosas from Sweet Peas & Saffron
25. Berry Fruit Salad from Life Made Sweeter
26. 5 Minute Black Bean Hummus from Sweet Peas & Saffron
27. Post Workout Smoothie Popsicles from Fox and Briar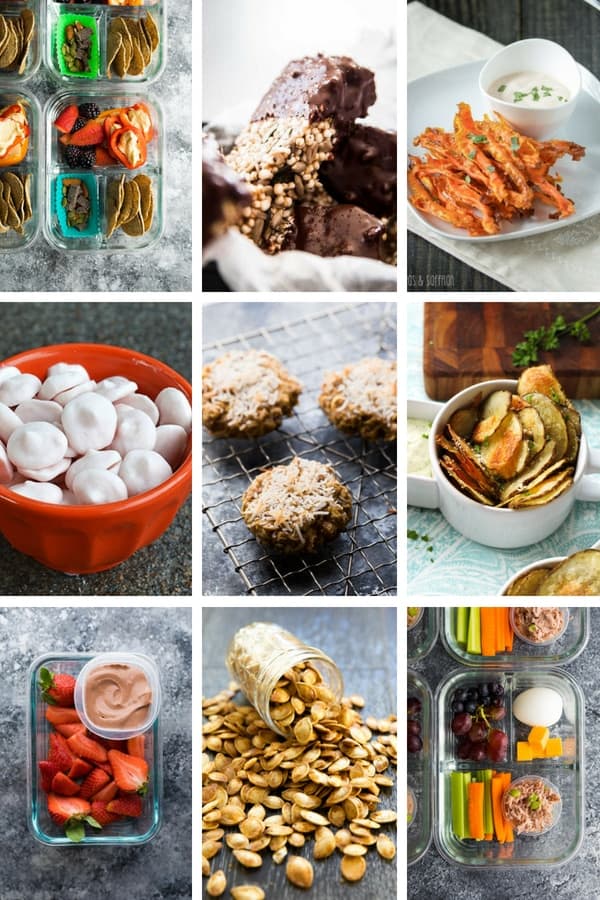 28. No Cook Vegan Bento Snack Box recipe from Sweet Peas & Saffron
29. Peanut Butter & Chocolate Puffed Quinoa Bars from Savory Nothings
30. Carrot Chips with Spicy Harissa Yogurt Dip from Sweet Peas & Saffron
31. Greek Yogurt Melts from Simplistically Living
32. Healthy Apple Almond Butter Snack Cookies from Sweet Peas & Saffron
33. Oven Baked Potato Chips from The Two Bite Club
34. Creamy Greek Yogurt Fruit Dip 3 Ways from Sweet Peas & Saffron
35. Roasted Spicy Pumpkin Seeds from Tastes Lovely
36. Tuna Protein Box from Sweet Peas & Saffron