These freezer mini pizzas will make you feel like a kid again AND stave off the 4-pm tortilla chip cravings!  They are so easy to prep ahead and freeze for an easy meal prep snack.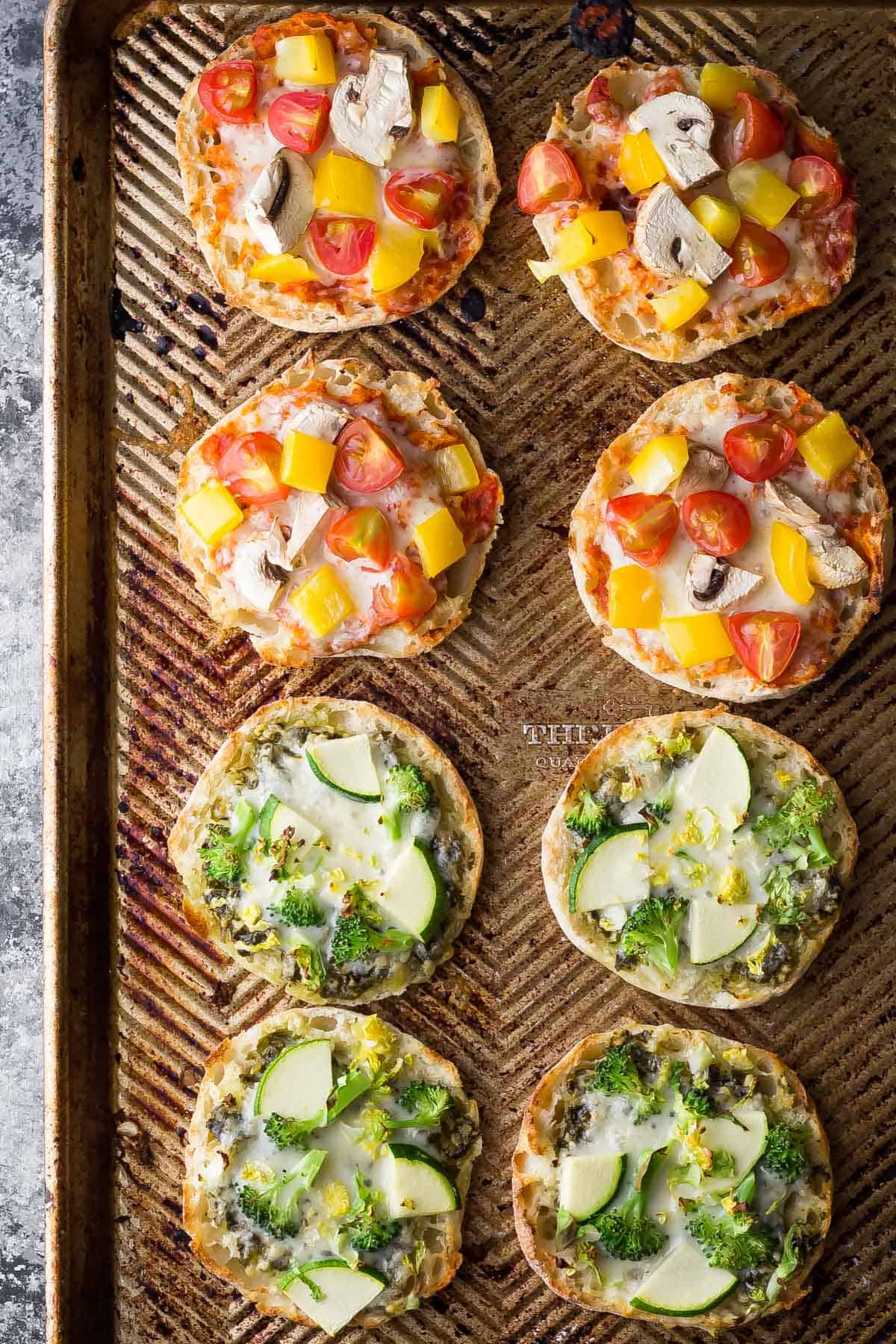 I'm on a mission to make 2017 the year where I finally kick my 4-pm tortilla chip addiction.
4-pm is hard.  We're tired.  Dinner can feel so far away.  Kids are grumpy.  Husbands are grumpy.  I'm grumpy.  The tortilla chips beckon and it's hard to say no.
This year I've been posting lots of fun freezer-friendly snack recipes (check out these Cheesy Spinach Quinoa Cups and these Freezer Sweet Potato Baked Taquitos).  They could be labeled 'in case of 4-pm emergency', but really they're to prevent the tortilla chips not replace.
I figure if we actually feed ourselves something with a bit of substance earlier in the afternoon, then 4-pm might not feel so bad.  So today I have another fun freezer-friendly snack recipe for us: these freezer mini pizzas!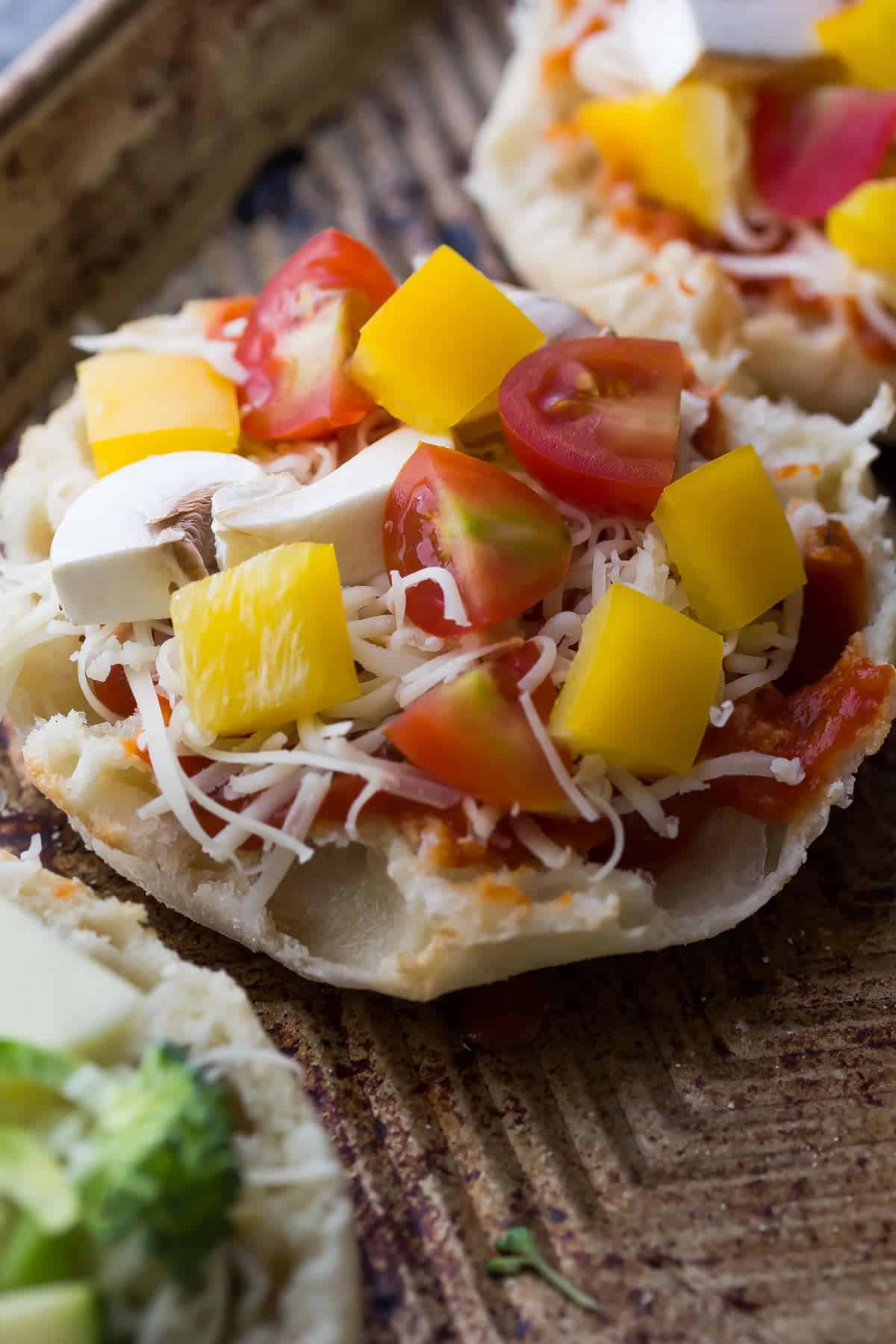 There is absolutely nothing new about this 'recipe', if you can even call it that.  In fact, my mom used to make these for us as kids.
What's 'new' here is the realization that you can make them ahead and freeze them.  Now why didn't I think of that sooner?
These mini pizzas are part of our January 2017 Lunch Prep Challenge!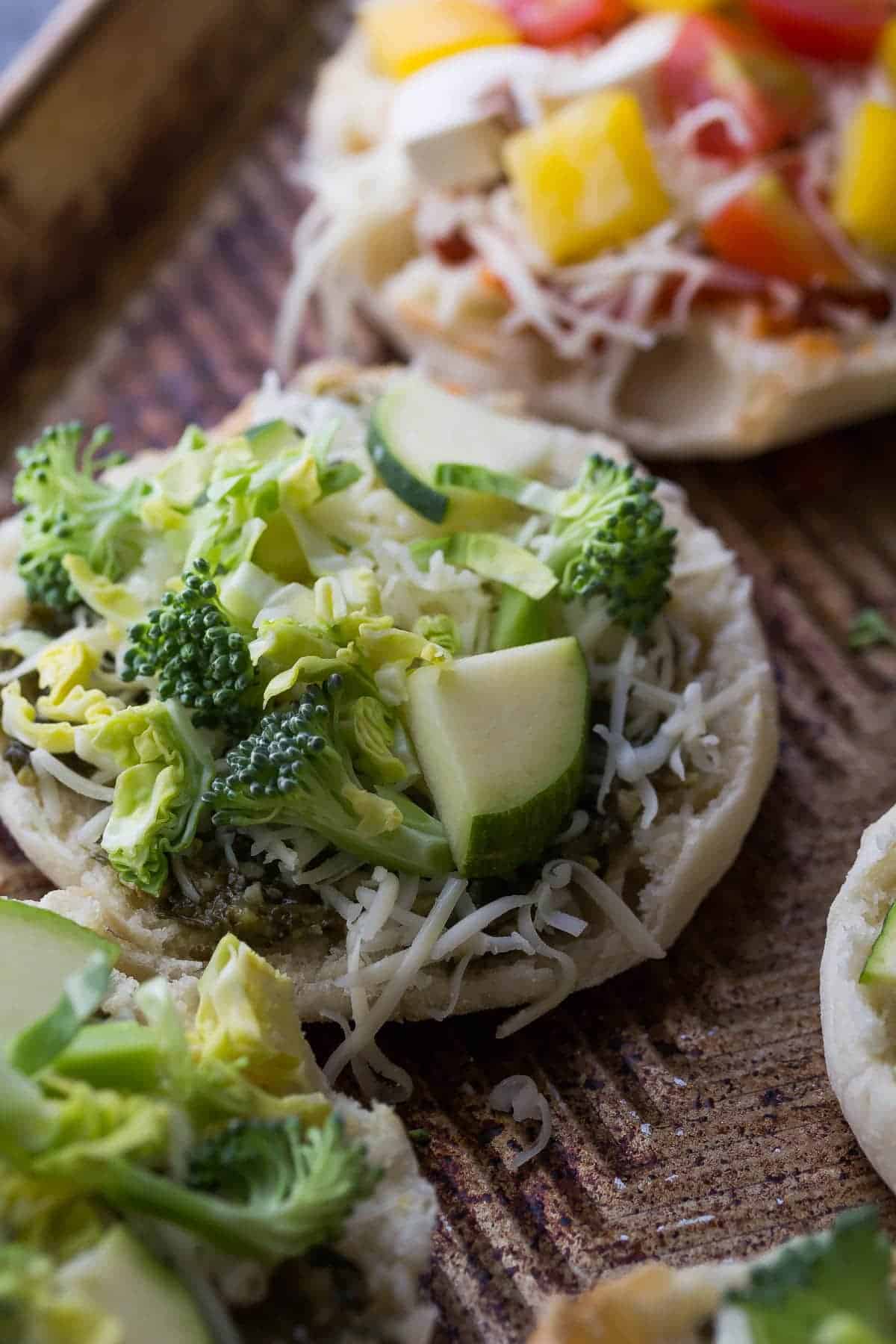 Even though I'm an adult, these mini pizzas are still so fun to eat.  They are fun for our inner child, whom I think we should indulge more often.  Don't you think?
And I'd definitely have mini pizza envy if someone whipped out one of these at work.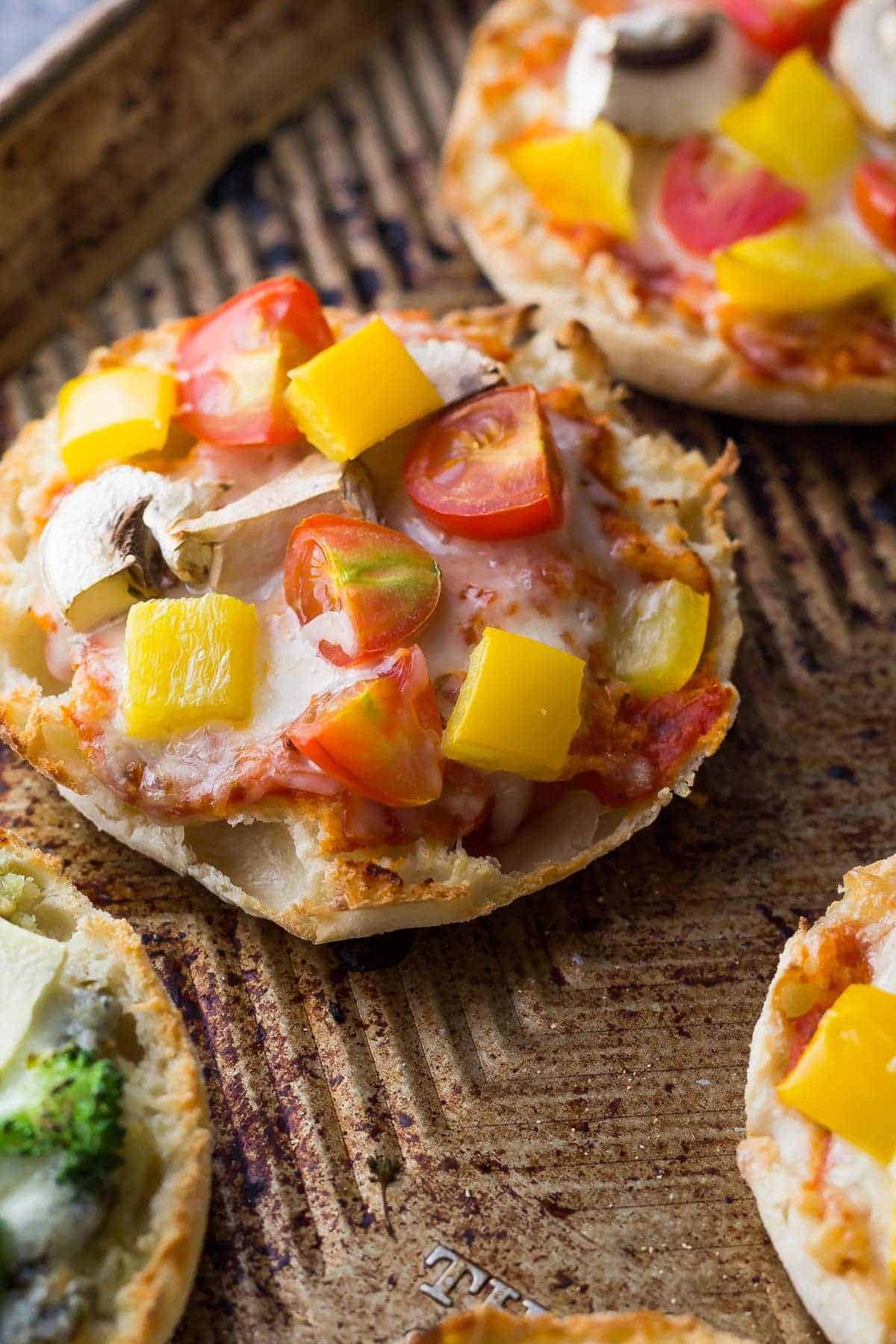 So if you're interested in prepping some of these freezer mini pizzas on the weekend and stashing them in the freezer for the week, you won't be disappointed, because:
A.  They are so flipping easy to prep.
B. You can use almost anything you have in your fridge.
C. They freeze/thaw really well!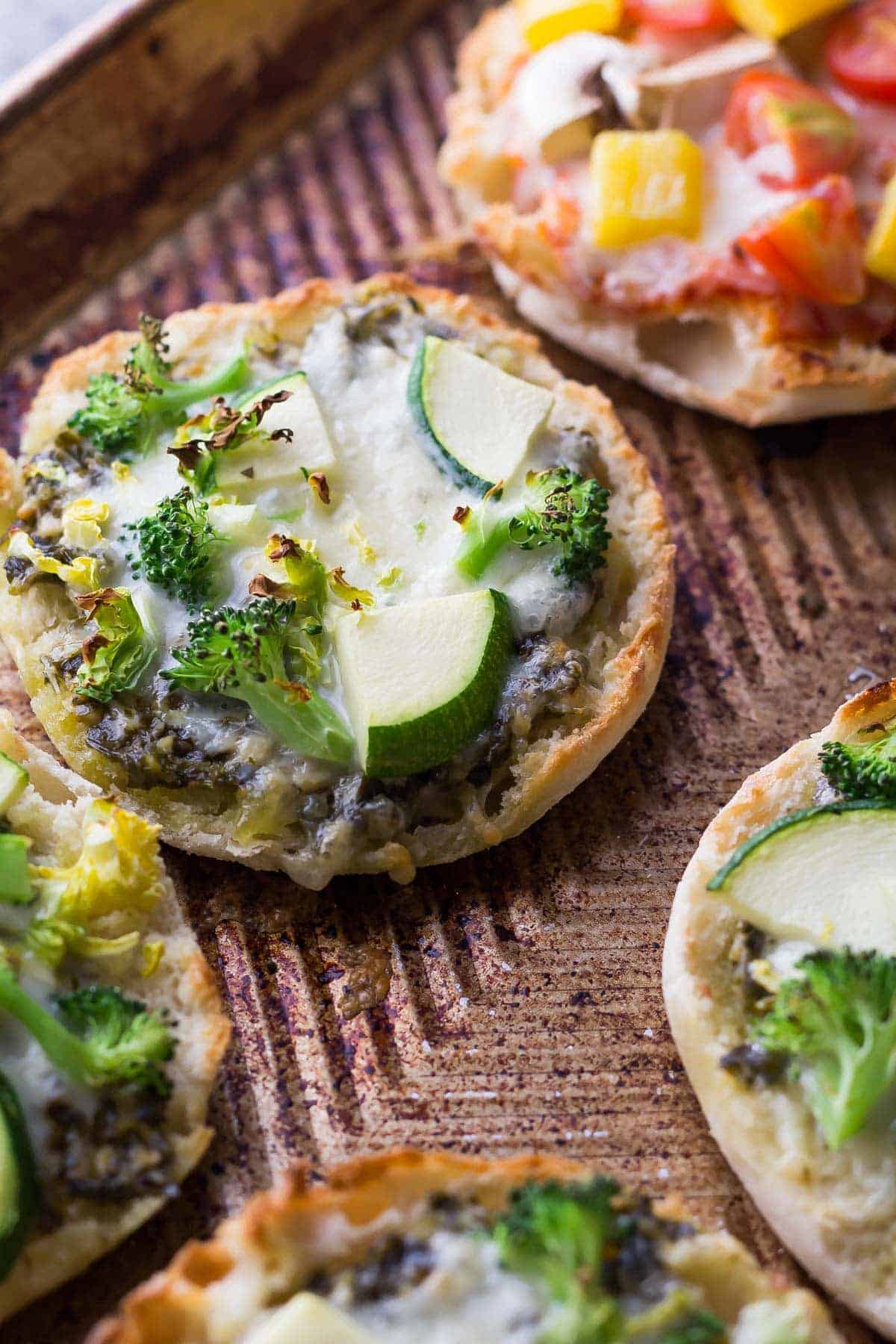 I made two versions here…regular old pizza sauce mini pizzas, and green goddess mini pizzas.  Because sometimes, I like to pretend I'm a goddess during my afternoon snack 😉
I do recommend you bake them up right away, because the cheese melts all the toppings into place.  I tried freezing them unbaked and it was tricky getting them in and out of the bags…all the toppings kept falling off.
Besides, then when you get to work, all you need to do is reheat them gently in the microwave.  You can even microwave them completely frozen and get a tasty (and NOT soggy!) mini pizza.  Woohoo!
More freezer-friendly snack recipes for us!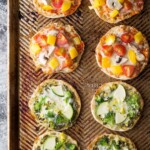 Freezer Mini Pizzas 2 Ways
These freezer mini pizzas will make you feel like a kid again AND stave off the 4-pm tortilla chip cravings! They are so easy to prep ahead and freeze for an easy meal prep snack.
Ingredients
1

package english muffins

5-6 muffins total

10-12

tablespoons

pizza sauce

roughly 3/4 cup

1

cup

vegetables for pizza toppings

suggest: 3-4 mushrooms, 10-12 cherry tomatoes, 1/2 bell pepper, sliced

10-12

tablespoons

3/4 cup shredded cheese
Instructions
Arrange the english muffin halves on a baking sheet.

Spread 1 tablespoon of pizza sauce on each half, followed by 1-1.5 tablespoons shredded cheese.

Top with vegetables.

Broil for 5 or so minutes. Keep an eye so you don't burn them!

StorageCool completely and wrap two halves together (stacked) in plastic.

Store in the freezer (place in a sealed container for long term storage of up to 1 month).

To Re-HeatThaw in the fridge overnight, or in 30 second increments in the microwave.

Heat gently in the microwave.

These are also great eaten cold!
Recipe Notes

Green Goddess:
swap the pizza sauce for pesto and top with green veggies: spinach, broccoli, chopped brussels sprouts & zucchini slices
Nutrition Facts
Freezer Mini Pizzas 2 Ways
Amount Per Serving (2 mini pizzas)
Calories 185
Calories from Fat 45
% Daily Value*
Total Fat 5g 8%
Cholesterol 10mg 3%
Sodium 445mg 19%
Total Carbohydrates 31g 10%
Protein 8g 16%
* Percent Daily Values are based on a 2000 calorie diet.