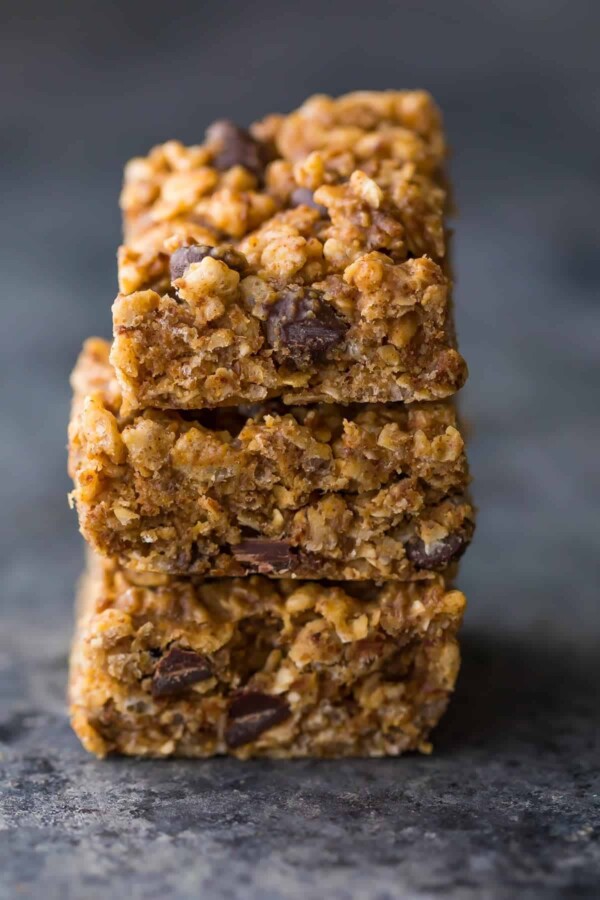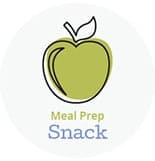 These no bake healthy snack bars are the perfect way to satisfy your sweet tooth and keep you going in the afternoon.  Filled with healthier ingredients so you can feel good knowing exactly what is in your snack bar!
I used to think I was a 'lazy food blogger', because my recipes have a certain 'lazy girl' pre-requisite.  Would I actually be prepared enough to marinate the chicken for four hours before cooking?  Nooo?  Well scrap that recipe.
Would I reallllly dirty a pot for pasta, a pan for veggies and yet another pot for a sauce? Heck no?  Well there goes that one.
And I can honestly say that I was turned off the whole energy bite idea for quite awhile because the rolling….it can be so tedious.  <–like I said.  Lazy girl.  But eventually I got on the energy bite train and even found a few tricks to make the rolling easier (chilling + wet hands).
Yet still.  The rolling.  It takes a whole 5-10 minutes.  These no bake healthy snack bars are my solution to the tediousness of energy bite rolling.  Energy bites in bar form.  YES.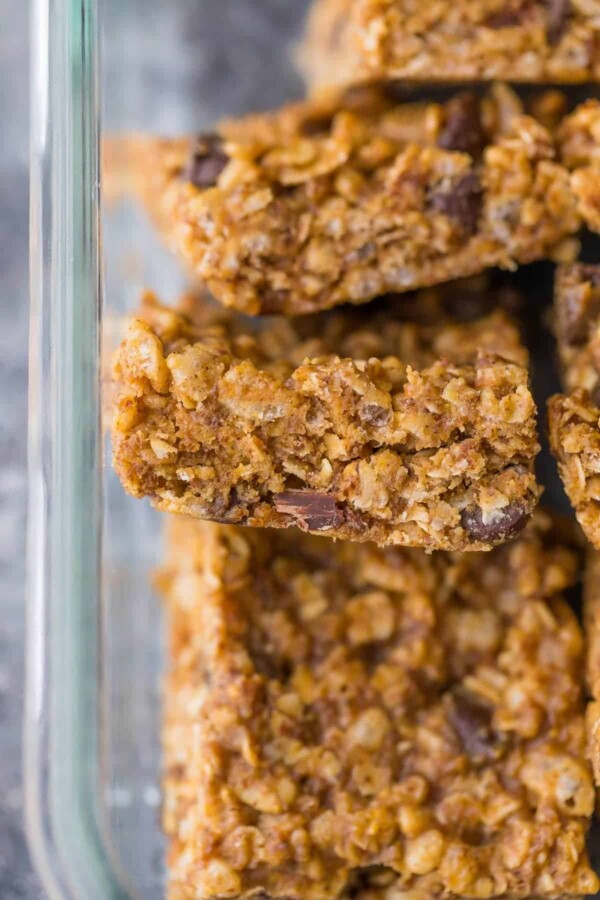 If you participated in our April Lunch Prep Challenge, these bars are going to look awfully familiar.  They were our week 1 snack recipe!
I based the recipe off of my favorite no bake energy bites recipe, but ended up adding 1/2 cup of Rice Krispies to bulk them up a bit and add a nice crunch.  I am such a texture eater and that crunch gets me every time!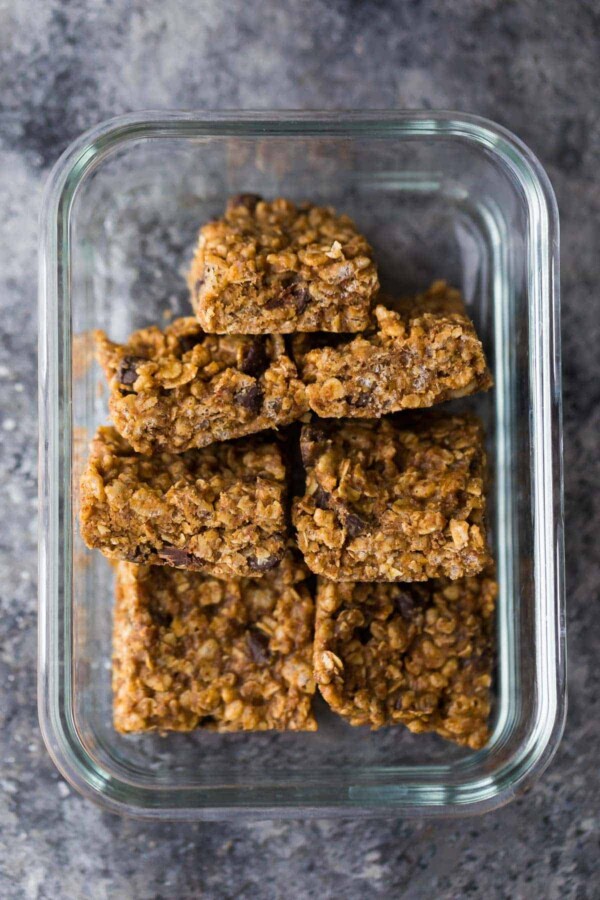 This is a total 'base recipe'.  You can add all sorts of fun ingredients to make these your own.  I suggest checking out the flavors in this post for some ideas…the proportions should be fairly similar.
Like the No Bake Energy Bites, these babies need to chill.  They have a nut butter/coconut oil/honey base, and if this warms, your bars will become soft and crumbly.  So repeat after me: keep these bars cool!
It's also important to note that I tested these with a natural nut butter, which happened to be oily.  If your nut butter is getting dry (you know…when you get to the bottom of the jar?), you may want to add an extra tablespoon of coconut oil, just to be safe.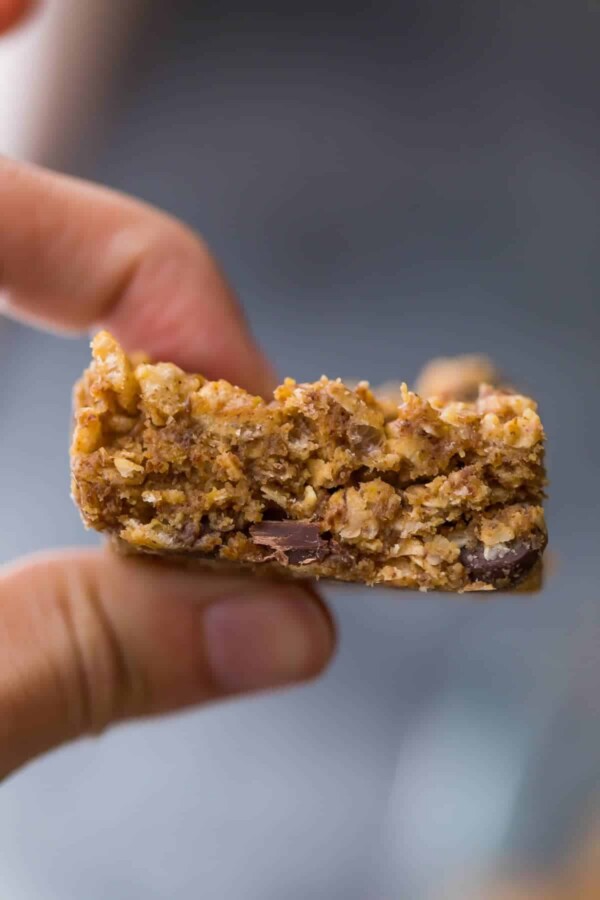 Things to love about these no bake healthy snack bars?  They are sweet enough to satisfy your sweet tooth, but filling enough to keep you going through the afternoon lull.  They are freezer-friendly.  They are full of ingredients you can pronounce.
And most importantly: NO ROLLING.
Tips to get the perfect no bake healthy snack bars:
No Bake Healthy Snack Bars
8
adjust servings
Ingredients
2

tablespoons coconut oil

1/3

cup natural almond butter (or other natural nut butter)

1/4

cup maple syrup or honey

1/4

tsp cinnamon

1/2

cup old fashioned (rolled) oats– not quick oats

1/2

cup Rice Krispies

1/4

cup ground flax

1/4

cup chocolate chips

2

tablespoons chia seeds (optional and not pictured)
Instructions
Melt coconut oil in a large bowl.
Stir in the almond butter, maple syrup and cinnamon until smooth.
Stir in the oats, Rice Krispies, flax and chocolate chips.
Line a 9 x 5″ loaf pan with foil (spray with oil) or parchment. Press the mixture into the pan until smooth across the top.
Refrigerate for at least 2 hours, then cut into bars and portion out for the week.
Storage Instructions
Store in a sealed container in the fridge
These bars are also freezer-friendly
Recipe Notes
Nutritional Information: 1 bar
Calories 181 // Fat 11 g // Saturated Fat 4 g // Cholesterol 0 mg // Sodium 26 mg // Carbohydrate 19 g // Fiber 3 g // Sugars 10 g // Protein 4 g