Chocolate chia pudding makes an excellent meal prep breakfast or snack. This method improves the texture of the traditional chia pudding and means you don't have to wait for it to gel!
I have wanted to share a chia pudding recipe with you guys for a long time, but I just couldn't do it...because I've had an issue with the texture. Until now!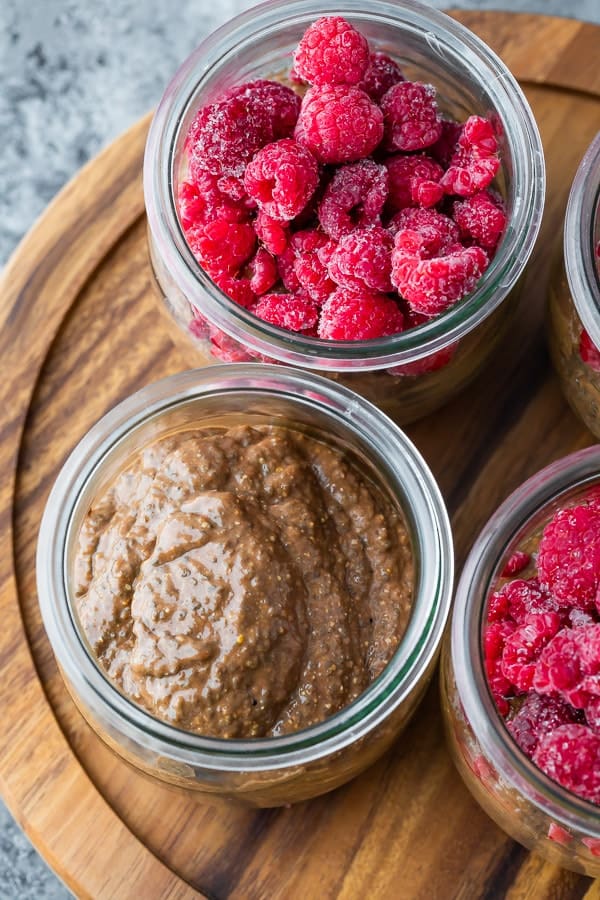 Traditional chia seed pudding reminds me of tapioca...which I just can't do. My friend used to call tapioca pudding 'fish eye pudding' and that, friends, was the end of it for me.
I don't know why I didn't think to blend chia seed pudding...the texture is SO much more agreeable, and this still makes FOUR meal prep breakfasts in under 10 minutes. The bonus to blending your chia seed pudding? It sets immediately...these photos were taken within minutes of blending. Look how thick it gets immediately!
These are vegan, gluten-free, and oh...did I mention? CHOCOLATE.
We love this chocolate chia pudding recipe because
you can have four breakfasts ready in under 10 minutes
customize with your favorite fruit
it's vegan, gluten-free, and easy to make keto-friendly
Recipe video
Watch the video below to see exactly how I prepped this recipe. It's so easy! You can find more of my recipe videos on my YouTube channel, or on Facebook.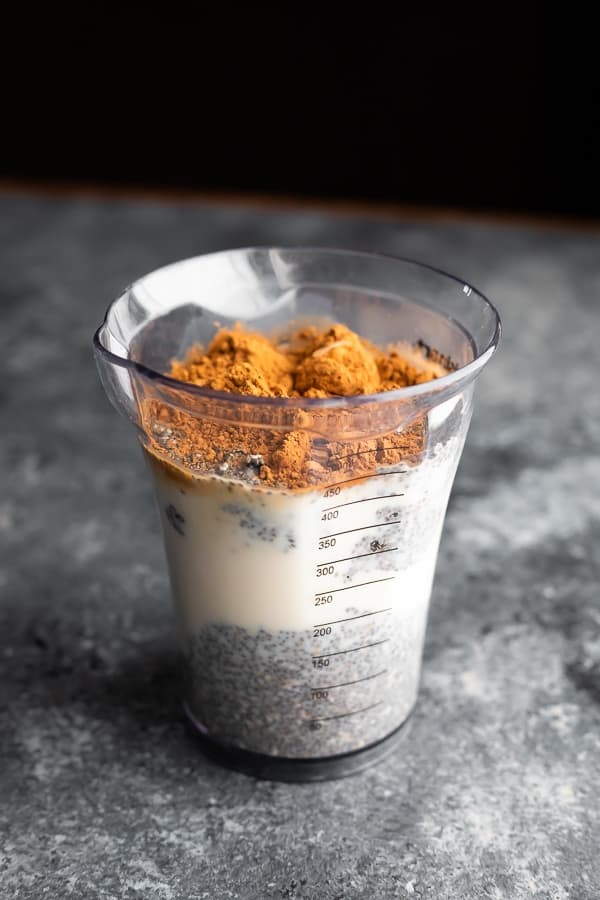 How to make it
Simply combine chia seeds with almond milk (or dairy milk), cocoa powder, vanilla, sweetener of choice, and some flavorings...for this recipe I added cinnamon and a touch of espresso powder to bring out the chocolate flavors even more!
For a traditional chia pudding, just mix the ingredients together, portion out into containers, and let them sit overnight
For a less 'tapioca pudding' type of texture*, blend it all together using an immersion blender, then portion out. You can enjoy right away because it thickens immediately!
*note- this is not silky smooth like most puddings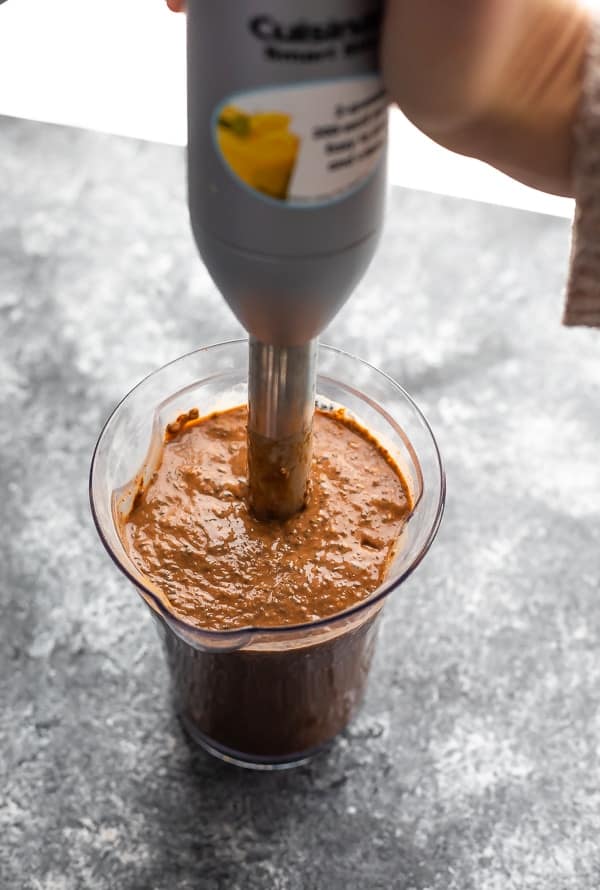 Can I make chia pudding keto? Absolutely! Simply swap the sweetener for a keto-compliant sweetener like stevia or monk fruit sweetener reduces the net carbs to just 3 g per serving.
How long does this recipe last in the fridge? I enjoyed my chia pudding for four days (and it tasted just as good on day 4 as on day 1!). I wouldn't store for longer than that.
Can I make it with dairy milk? Yes! You can use almond, dairy, cashew, coconut or really any liquid you'd like!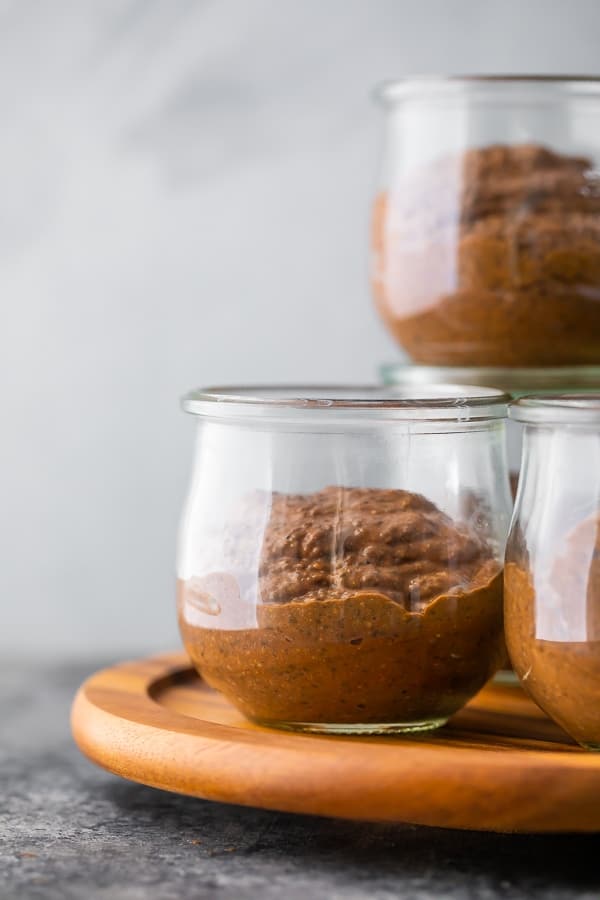 Flavor variations
Try making it 'fruit on the bottom' like these overnight oats
Change up the fruit you add. Some suggestions: mango, strawberry, blueberry, banana, pumpkin and applesauce or steamed apples
Add some nut butter: almond, peanut or cashew butter would be great
Sprinkle seeds on top: hemp seeds, sunflower seeds and pumpkin seeds would add a nice crunch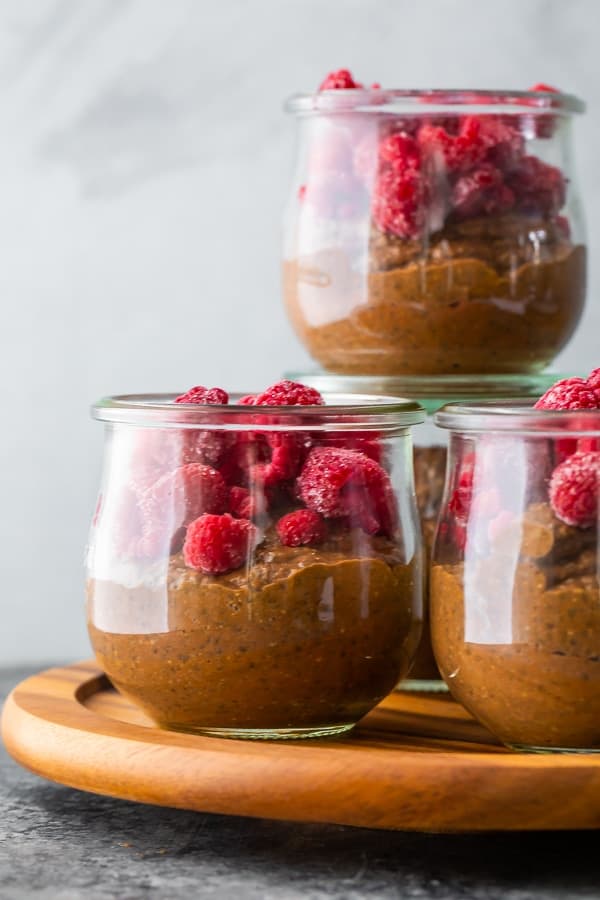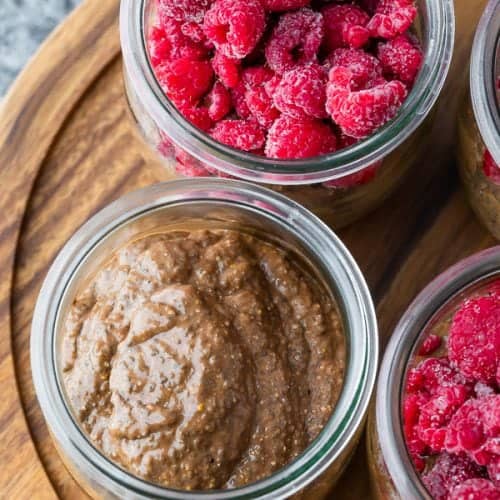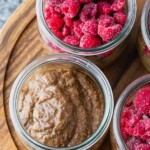 Print Recipe
Chocolate Chia Pudding
Chocolate chia pudding makes an excellent meal prep breakfast or snack. My method improves the texture of the traditional chia pudding and means you don't have to wait for it to gel!

Ingredients
1

cup

chia seeds

3

cups

almond milk

1

teaspoon

vanilla

½

teaspoon

cinnamon

¼

teaspoon

espresso powder

(optional)

2

tablespoons

cocoa powder

¼

cup

maple syrup

(honey or low carb sweetener may be subbed)
Instructions
Working in two batches (if using the cup that comes with your immersion blender; you may also be able to use a high powered blender), blend up the ingredients until most chia seeds are broken down. It should become thick and creamy.

Portion out into jars and top with fruit of choice.
Storage
Store in airtight containers in the fridge for up to 4 days. Enjoy cold.
Notes
Nutritional information excludes fruit.
Low carb
Swapping maple syrup for 4 teaspoons monk fruit sweetener reduces carb count to 25 g total carbs/22 g fiber (so 3 g net carbs).
Nutrition
Serving:
1
jar
|
Calories:
321
kcal
|
Carbohydrates:
36
g
|
Protein:
13
g
|
Fat:
14
g
|
Saturated Fat:
2
g
|
Cholesterol:
0
mg
|
Sodium:
137
mg
|
Potassium:
450
mg
|
Fiber:
22
g
|
Sugar:
12
g
|
Vitamin A:
25
IU
|
Vitamin C:
0.7
mg
|
Calcium:
518
mg
|
Iron:
3.6
mg