These healthy dinner meal prep ideas cover a range of options including freezer meals, big batch proteins, ingredient prep and more.  Get a head start on your dinner to reduce your stress and eat healthier!
When it comes to meal prep, often we think of pre-cooked meals that we simply need to reheat. That is all well and good for breakfast and lunch, but when it comes to dinner, my family and I like a freshly cooked dinner. These healthy dinner meal prep ideas will help you get a head start on dinner.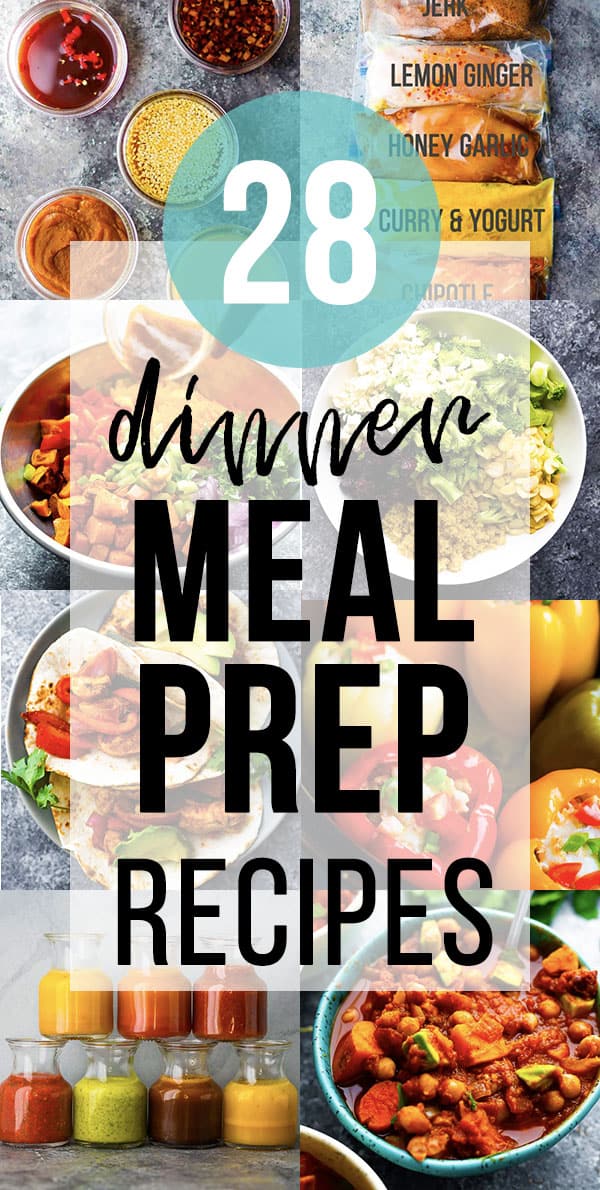 Meal prep has revolutionized the way I cook. It reduces our meal time stress, saves us money, and helps us eat healthier.
When it comes to meal prepping dinner, it isn't as clear cut as meal prepping lunch or breakfast. Cooking a full week of dinners ahead and reheating is a LOT of work, and most of us don't have the time to do that.
Here's an alternative: by being strategic in pre-cooking or pre-chopping certain ingredients, we can save a ton of time during the week, and get a big leg up on dinner.
I'm sharing meal prep dinner ideas that will help you get a head start, while still eating 'fresh' food.
Don't forget to pin this post to save it for later!
Freezer Meals
Stocking up the freezer with dinner components or fully assembled meals is always a good idea. Sometimes even just having that one component waiting for you makes your dinner decisions so much easier. Here are some popular freezer meals from the website, but check out our full freezer category page here.
Prep meal components
Pre-chopping or cooking vegetables and shaking up sauces is another great way to save time on week nights. Here are some ideas to get a head start on dinners:
Crockpot freezer meals
Crockpot freezer meals are assembled ahead and frozen. When you are ready to cook, thaw, add to the slow cooker, and cook it up! This saves you time chopping and measuring in the morning. Find more ideas on the freezer slow cooker page.
Big batch protein
One of my favorite ways to get a head start on dinner is to cook a big batch of protein and use it up in multiple meals. Here are some of my favorite proteins to prep ahead (some of these include a full meal prep plan and shopping list; find all of my meal prep plans here).
Big salad
I love a good 'big salad'. Often, salads taste better as they sit and the flavors meld together, and it can take care of the side dish for multiple meals. Here are some of my faves: