This crock pot pulled pork cooks low and slow, delivering perfectly juicy pork with a sweet and tangy sauce. Use it in sandwiches, tacos, salads and more. With a homemade seasoning blend, and a few simple pantry ingredients, this recipe comes together quickly, and can also be made in the Instant Pot.
I love a slow cooker meal that can be prepped in 10 minutes and feed the family for multiple days. Slow cooker honey lime shredded chicken, and crockpot BBQ chicken are two super simple recipes we have on regular rotation, as is this crock pot pulled pork!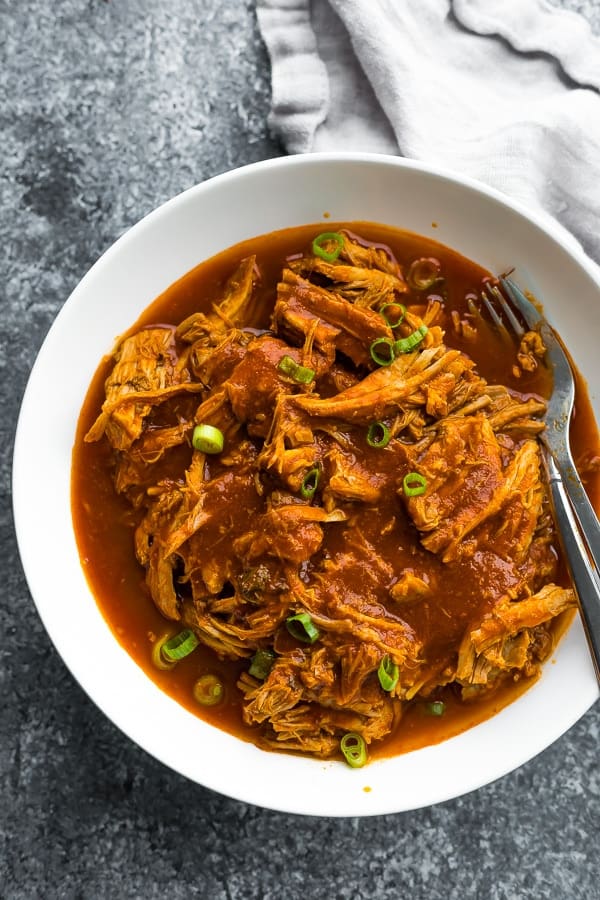 This recipe is simple yet so flavorful, and is the perfect protein to base several meals around. You can freeze it (before and after cooking), or cook it up and use it in several meals.
After simmering for 8 hours in a delicious homemade seasoning blend with a few extra pantry staples, the pork is tender, juicy and full of flavor!
Recipe video
Wondering how to meal make this recipe? Watch this 1 minute video to see how easy it is to prepare! You can find more of my recipe videos on my YouTube channel.
The best cut of meat for pulled pork
Pulled pork is the perfect opportunity to use tough, cheap cuts of meat. A long cook time means that tough collagen fibres have enough time to break down and melt into the meat, giving the pork a tender, melt-in-your-mouth quality.
For this recipe, I recommend a pork shoulder cut as it is well marbled with fat and connective tissue; bone-in or boneless work well. Depending on where you live, your grocery store or butcher may have more precise names for the pork including:
pork butt- higher on the shoulder, uniform in size and great for pulled pork
pork shoulder or picnic roast- lower down on shoulder and may contain part of the leg and skin
If you have a choice, I would recommend the boneless pork butt, as it is more uniform in size, and the boneless cut makes the pork easier to shred after cooking. With that being said, I have also made pulled pork with a picnic roast, and it was plenty tender and delicious.
To sear or not to sear
Searing your pork shoulder before placing it in the slow cooker can help develop deeper flavor and and give the outer layer of the pork shoulder a great texture.  This is certainly something you can do if you'd wish, however this recipe skips that step in favor of quick prep as we find it to have plenty of delicious flavor without the browning step.
To sear the pork shoulder, cook in a large skillet with a 2 tablespoons of olive oil over medium heat, rotating as needed until all sides are browned.
Don't forget to pin this post to save it for later!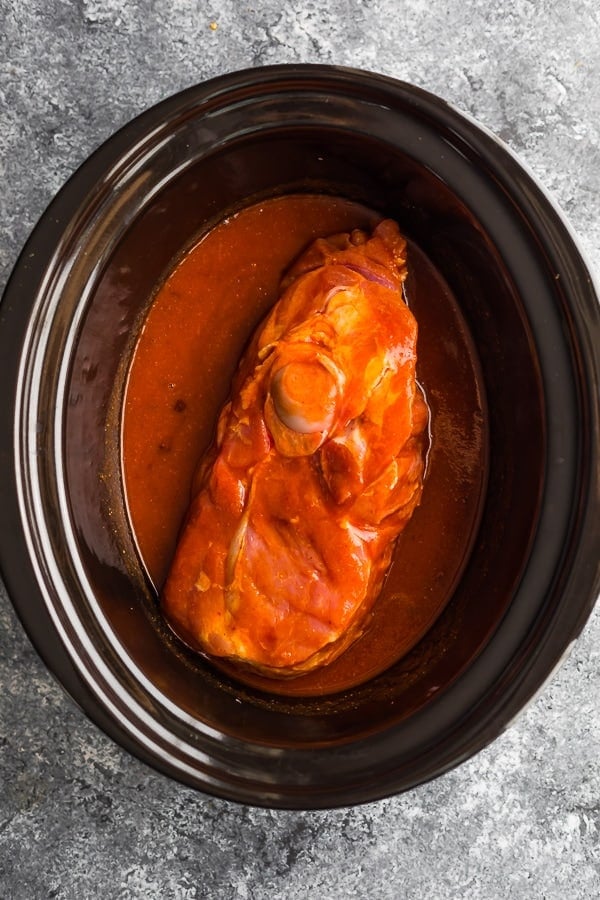 Don't trim the fat
Pork shoulder can come with a layer of fat over it, and some recipes recommend to trim it off before cooking. For this recipe, we do not trim the fat off, as the fat provides extra flavor and melts down during the long cooking time keeping the pork nice and juicy.
After cooking, we use a pair of tongs to remove large fatty pieces. If you choose to do so, you can skim excess fat from the cooking liquid after cooking. This can be accomplished by placing the slow cooker in the fridge for an hour or so until the fats float to the surface and begin to solidify.
Simple seasonings for big flavor
This recipe achieves delicious sweet and tangy flavor without the need for bottled barbecue sauce, sodas or other processed ingredients. The key to this flavor is the perfect balance between maple syrup and apple cider vinegar.
This is rounded out by tomato sauce to give thickness and body to the sauce, and a collection of pantry spices (chili powder, cumin, salt, onion and garlic powder) to give depth and dimension to the sauce.
The final important ingredient is chipotle chili powder, which brings a delicious smokiness to the sauce.
The finishing touches
Once the pork shoulder has cooked for 8 hours, you are just a few simple steps away from dinner!
transfer pork shoulder to a clean bowl
pull of obvious globs of fat using a set of tongs
shred pork using two forks or an electric hand mixer
toss in cooking liquid to taste
I enjoy a lot of sauce on my pork and use most of the cooking liquid, but you can customize to taste.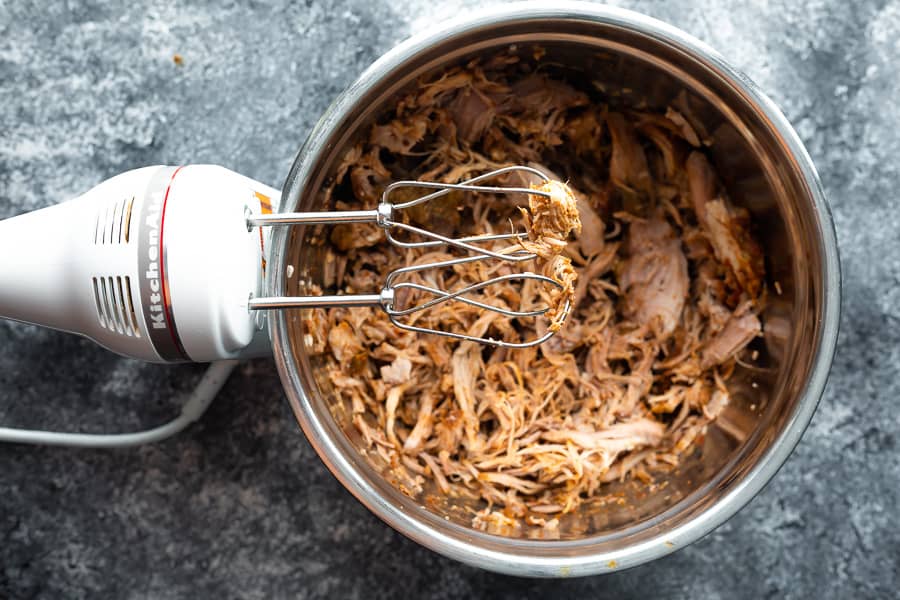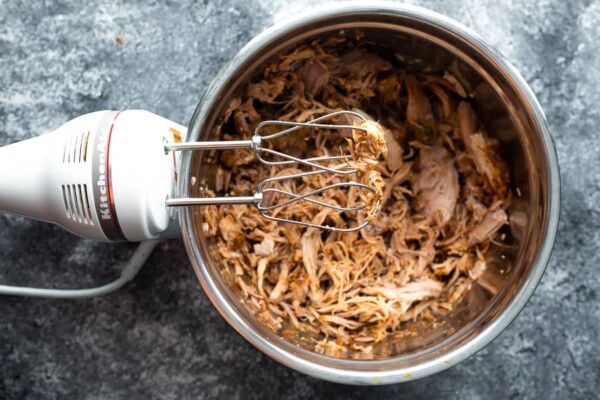 How to use pulled pork
A whole pork shoulder produces a large batch of shredded pork, from 4-8 cups, depending on the size of your pork roast. That makes it perfect to serve a crowd, or to cook once and eat for multiple meals through the week.
Here are some ways to use up your leftover pulled pork:
on a bun with a quick cabbage slaw
Meal prep plan
This recipe is part of a meal prep plan where we spend 1 hour of active time to prepare 3 dinners for the week.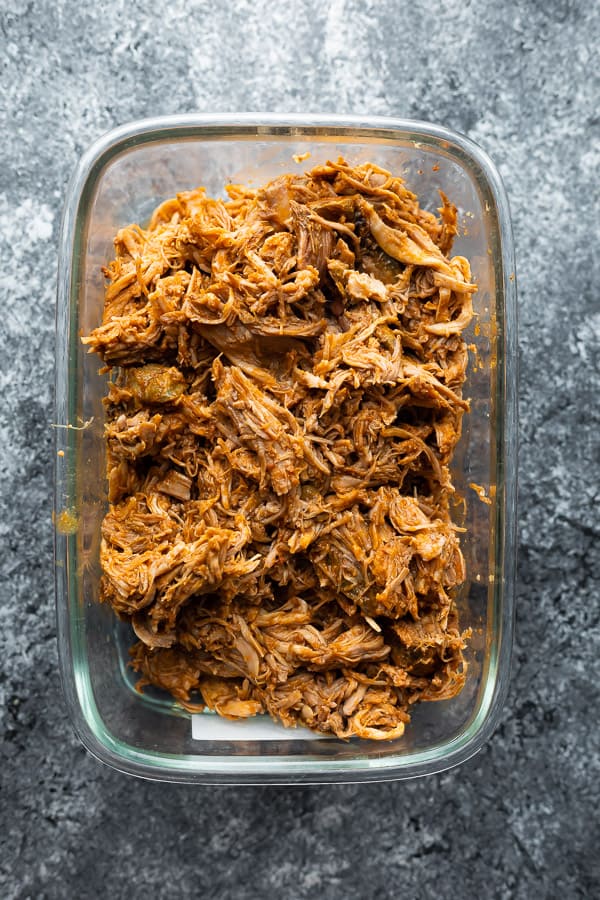 More pork recipes
Did you make this? Tag me on social @sweetpeasandsaffron and be sure to leave a comment and rate the recipe!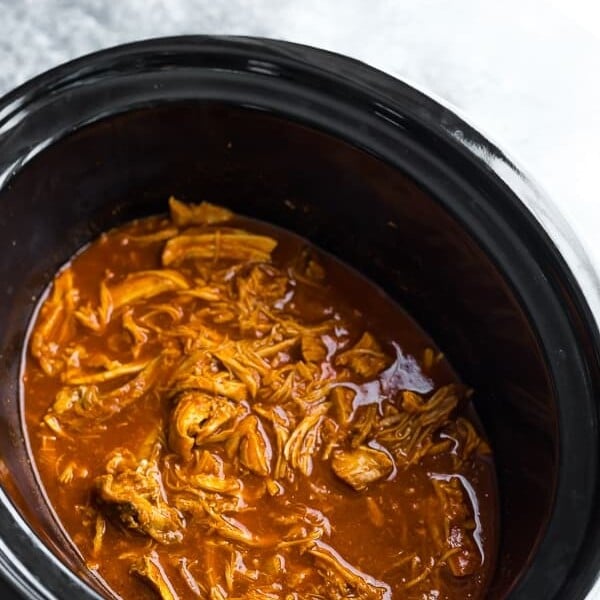 Crock Pot Pulled Pork
This crock pot pulled pork is made with pork shoulder simmered in clean ingredients (no sodas or pre-packaged ingredients). Makes a great freezer crock pot recipe!
Ingredients
13.5

oz

can of tomato sauce 398 mL

1

tablespoon

chili powder

1

teaspoon

cumin

1

teaspoon

salt

1

teaspoon

chipotle chili powder

½

teaspoon

onion powder

½

teaspoon

garlic powder

⅓

cup

apple cider vinegar

⅓

cup

maple syrup

2-3

lb

pork shoulder

(see *notes)
Instructions
Combine all ingredients except the pork shoulder in the base of a 6 quart slow cooker. Stir until smooth.

Add the pork shoulder, turning to coat.

Transfer pork shoulder to a bowl. Remove visible globs of fat using tongs, then shred with two forks or an electric hand mixer.

Add cooking liquid to the pork as desired. If you like a saucy pulled pork, return to the slow cooker and toss in all of the cooking liquid.
Storage
Leftovers keep in the fridge for up to 4 days. They freeze well and can be kept for up to 3 months.
To make ahead and freeze
To convert this recipe into a freezer crock pot recipe, combine all ingredients in a sturdy gallon-sized freezer bag. Squeeze out air and freeze for up to 3 months.

Thaw completely before transferring to the slow cooker and cooking as directed above.
Tips:
*I recommend a boneless pork butt, but bone-in works as well. I have also use a picnic roast, but prefer a pork butt as it is more uniform in size and easy to work with
**For added flavor, you can sear the pork shoulder before adding it to the slow cooker. To sear the pork shoulder, cook in a large skillet with a 2 tablespoons of olive oil over medium heat, rotating as needed until all sides are browned.
Nutrition Information
Serving:
1
/2 cup
,
Calories:
217
kcal
,
Carbohydrates:
11
g
,
Protein:
13
g
,
Fat:
13
g
,
Saturated Fat:
0
g
,
Polyunsaturated Fat:
0
g
,
Monounsaturated Fat:
0
g
,
Trans Fat:
0
g
,
Cholesterol:
0
mg
,
Sodium:
330
mg
,
Potassium:
40
mg
,
Fiber:
1
g
,
Sugar:
8
g
,
Vitamin A:
385
IU
,
Vitamin C:
2.6
mg
,
Calcium:
24
mg
,
Iron:
1.1
mg
© Sweet Peas & Saffron - Content and photographs are copyright protected. Sharing of this recipe is both encouraged and appreciated. Copying and/or pasting full recipes to any social media is strictly prohibited.