Turn a pork shoulder into three dinner recipes with this pulled pork meal prep plan! With a printable shopping list and video demo to help you, spend 1 hour or less of active prep time to save a ton of time during the work week.
After sharing this 7 Ingredient Meal Prep Plan, we are back with another prep ahead dinner meal prep plan, and this time? It's all about the pulled pork.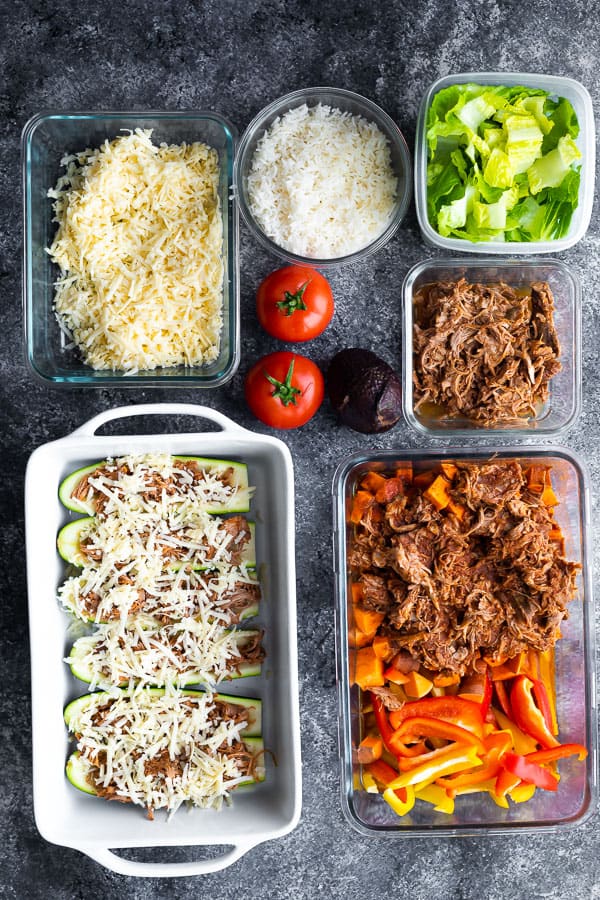 This meal prep plan takes one pork shoulder and turns it into three dinners. We've made it as easy as possible for you: watch the video prep demo below, then print off your printable shopping list!
DOWNLOAD YOUR PRINTABLE SHOPPING LIST HERE
Don't forget to pin this post to save it for later!
Pulled Pork Meal Prep Plan Video Demo
Want to see how this all comes together? Watch the video below for a visual guide. You can find more videos on my YouTube channel!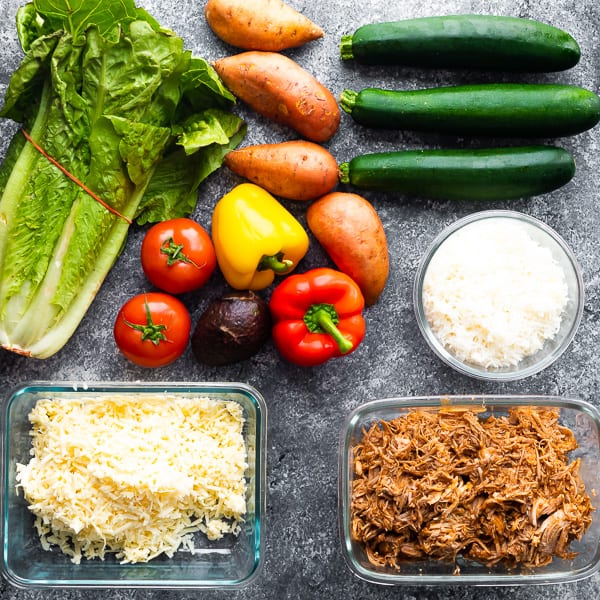 Meal prep day
cook Crock Pot Pulled Pork- get this going first as it takes the longest. You can also cook it in the Instant Pot!
shred cheese- 2 cups. You can purchase pre-shredded cheese as an optional shortcut.
cook rice- ¾ cup uncooked rice of your choice should produce 2 cups of cooked rice. Cool and store in a meal prep container.
wash + shred lettuce- 4 cups total. Dry as much as you can and store in an air tight container.
assemble zucchini boats- full directions in this post.

Slice 3 medium-sized zucchinis in half, then scoop out part of the seeds.
Arrange in a 9 x 13 inch baking dish. Spoon pulled pork in, sprinkle with 1 cup cheese.
Cover and refrigerate for up to 4 days.

assemble pulled pork skillet- full directions in this post.

Slice 2 bell peppers into strips and place on one end of a large meal prep container.
Slice 4 cups of ½ to ¾ inch sweet potato cubes and place on the other end.
Place 4 cups of pulled pork over the sweet potatoes and pour 1 ½ cups of cooking liquid over the sweet potatoes.
Cover and refrigerate for up to 4 days.
Once you have prepped the zucchini boats, pulled pork skillet, and ingredients for the burrito bowls, store in the fridge for up to 4 days.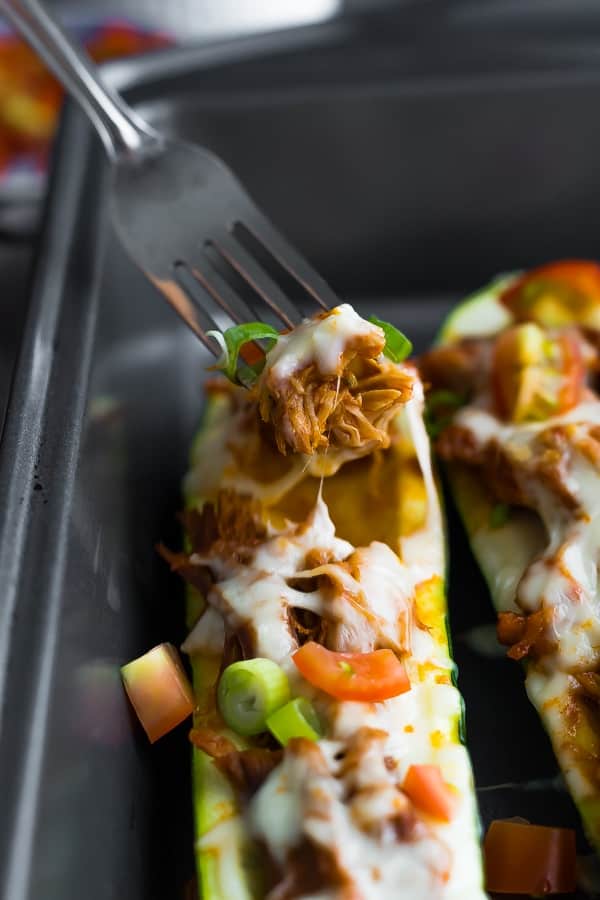 Dinner 1- Pulled Pork Zucchini Boats
Grab the full printable Pulled Pork Zucchini Boats recipe here!
To cook this dinner, we will simply place our covered baking dish into a 400°F oven and bake for 25 or so minutes. The cheese should be bubbly and zucchini slightly tender.
Sprinkle with fresh tomatoes and green onions, or your favorite toppings.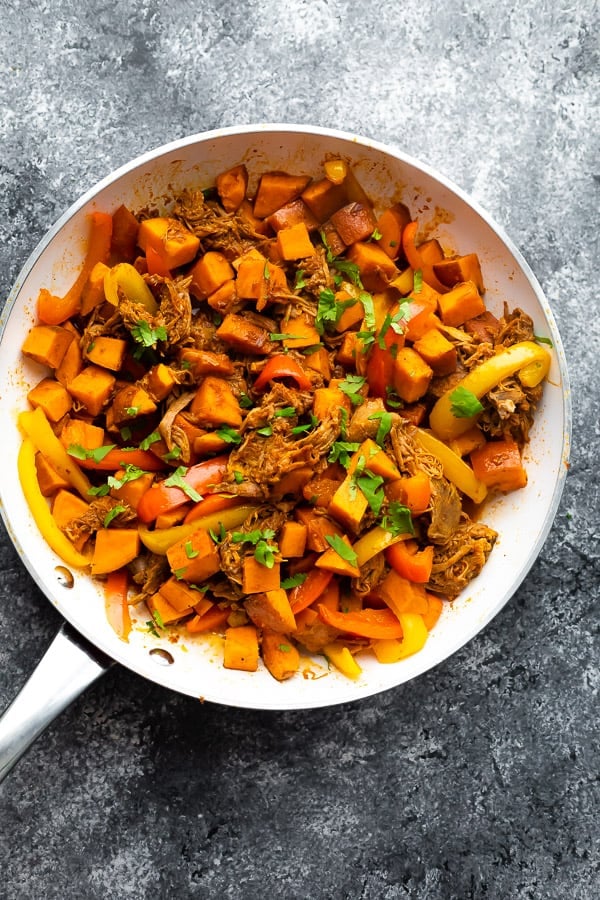 Dinner 2- Pulled Pork Sweet Potato Skillet
Grab the printable Pulled Pork Sweet Potato Skillet recipe here!
To cook this skillet recipe, simply dump the contents of your meal prep container into a large pan, stir it up, cover with a lid, and cook. Cook for a total of 15-20 minutes (stirring every 5 or so minutes), or until sweet potatoes are tender.
We love serving this with cheese and tortilla chips, but it would also be great wrapped up in a tortilla and served as a wrap.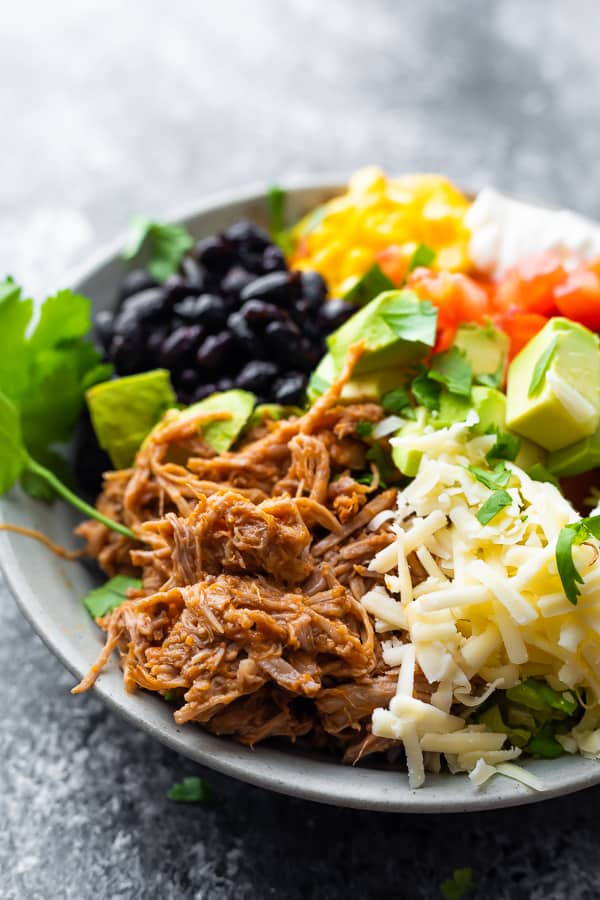 Dinner 3- Pulled Pork Burrito Bowls
Get the printable Pulled Pork Burrito Bowls recipe card here!
This is a totally loose recipe that you can mix and match with your favorite ingredients. We have combined rice, lettuce, cheese, pulled pork, tomatoes, corn, avocado, black beans and salsa or sour cream.
Do not mix together until just before you serve, and you might want to 'wake up' the pulled pork by heating it in a frying pan for 5-10 minutes first.


That's it for our pulled pork meal prep plan. I hope you enjoy it, and that it makes your life easier!
Question? Ask below.
Take care,