This healthier Instant Pot pulled pork recipe is cooked up in a sweet, tangy, spicy and smoky sauce made without packaged ingredients. The pressure cooker cooks it quickly to fall-apart-tender and juicy perfection!
Pulled pork is easy to prepare, but can take a long time; crock pot pulled pork and slow cooker maple pulled pork each take 8 hours in the slow cooker. Enter the Instant Pot: perfectly juicy pulled pork can be on your table in half the time!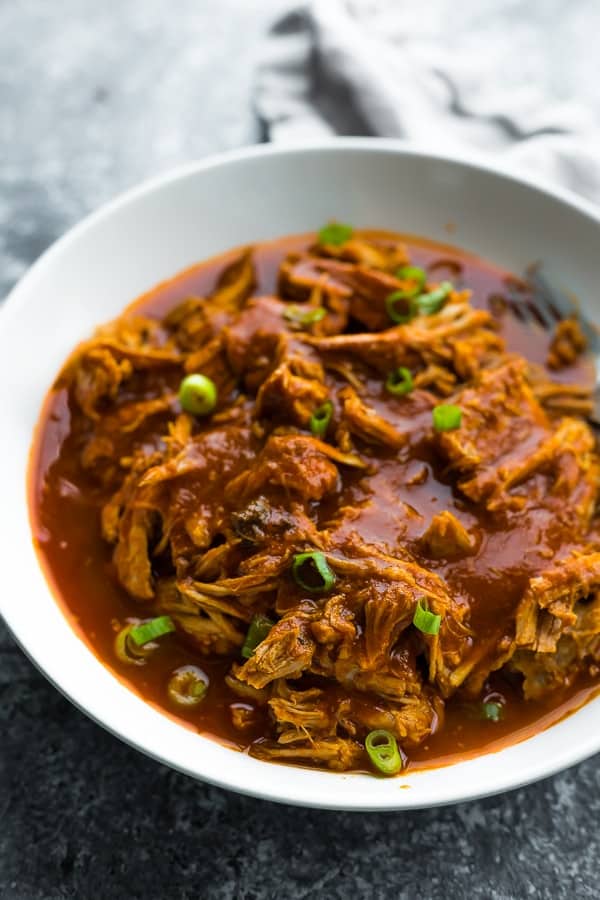 Simple, saucy, and so flavorful, this pulled pork recipe works great for meal prep- since it makes a big batch, it's perfect to use up in multiple meals through the week!
Reasons you'll ♡ Instant Pot pulled pork
it has a simple ingredient list and does not require sautéing
it's got a sweet, smoky, tangy sauce and the pork is juicy and tender
it makes a big batch of pulled pork, so you can enjoy it for multiple meals through the week
Don't forget to pin this post to save it for later!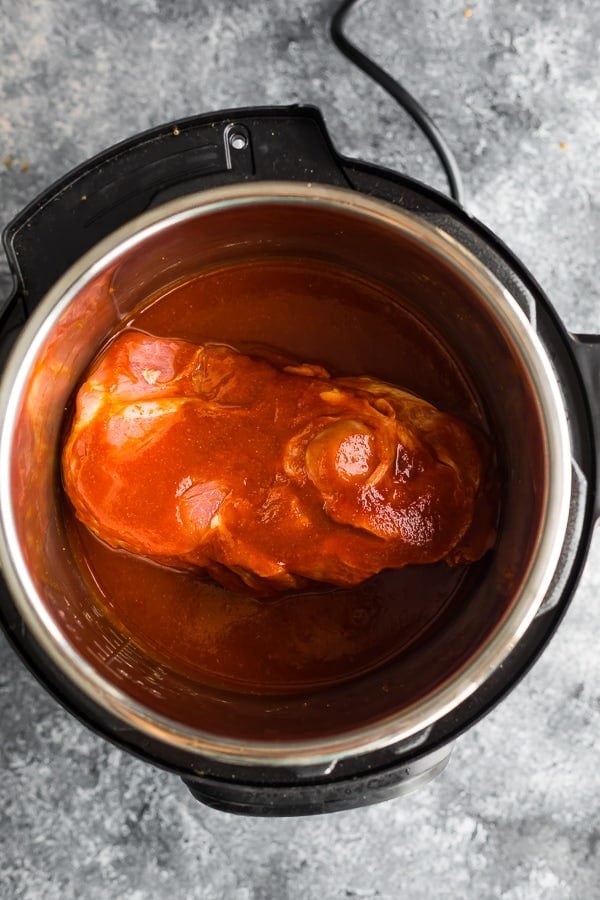 The best cut of meat for pulled pork
Pulled pork is the perfect opportunity to use tough, cheap cuts of meat. A long cook time means that tough collagen fibres have enough time to break down and melt into the meat, giving the pork a tender, melt-in-your-mouth quality.
For Instant Pot pulled pork, I recommend a pork shoulder cut as it is well marbled with fat and connective tissue; bone-in or boneless work well. Depending on where you live, your grocery store or butcher may have more precise names for the pork including:
pork butt- higher on the shoulder, uniform in size and great for pulled pork
pork shoulder or picnic roast- lower down on shoulder and may contain part of the leg and skin
If you have a choice, I would recommend the boneless pork butt, as it is more uniform in size, and the boneless cut makes the pork easier to shred after cooking. With that being said, I have also made pulled pork with a picnic roast, and it was plenty tender and delicious.
To sear or not to sear
Searing your pork shoulder before pressure cooking it can help develop deeper flavor and and give the outer layer of the pork shoulder a great texture.  This is certainly something you can do if you'd wish, however this recipe skips that step in favor of quick prep as we find it to have plenty of delicious flavor without the browning step.
To sear the pork shoulder, select the sautee function of the Instant Pot, add 2 tablespoons of olive oil, and sear until all sides are browned. You will want to make sure to deglaze the Instant Pot with ½ cup of water or stock to make sure nothing is stuck as this can trigger a burn warning.
Pressure cooking pork shoulder
*NOTE this recipe has only been tested in a 6 quart Instant Pot and I can't say for sure if it would work in an 8 quart
The beauty of the Instant Pot is that it cuts the cook time down significantly when making pulled pork. 90 minutes is the perfect amount of time to break down the tough collagen fibres in the pork shoulder; if your roast is on the smaller side, 60 minutes may suffice.
When cooked properly, the pork should become fall-apart-tender. If you find that your pork shoulder is not shredding easily, put it back into the Instant Pot and cook for another 20-30 minutes. The Instant Pot should come back to pressure quickly.
Quick or natural pressure release
This is a supremely flexible recipe- you can do a quick pressure release or a natural pressure release depending on what is going on in your schedule. The pork shoulder will not be adversely affected by leaving to naturally release for 20-30 minutes.
quick pressure release- after the cooking cycle is complete, switch the steam release handle from the sealing to the venting position. *caution* never place your face, hand, or any other object over the valve when releasing steam.
natural pressure release- after the cooking cycle is complete, the Instant Pot will switch over to 'keep warm'. You can either unplug it or let it sit on 'keep warm' until the pressure has fully released (as indicated by the pin dropping). This can take 20-30 minutes, or longer.
For more information on when to use a quick versus natural pressure release, check out Instant Pot 101.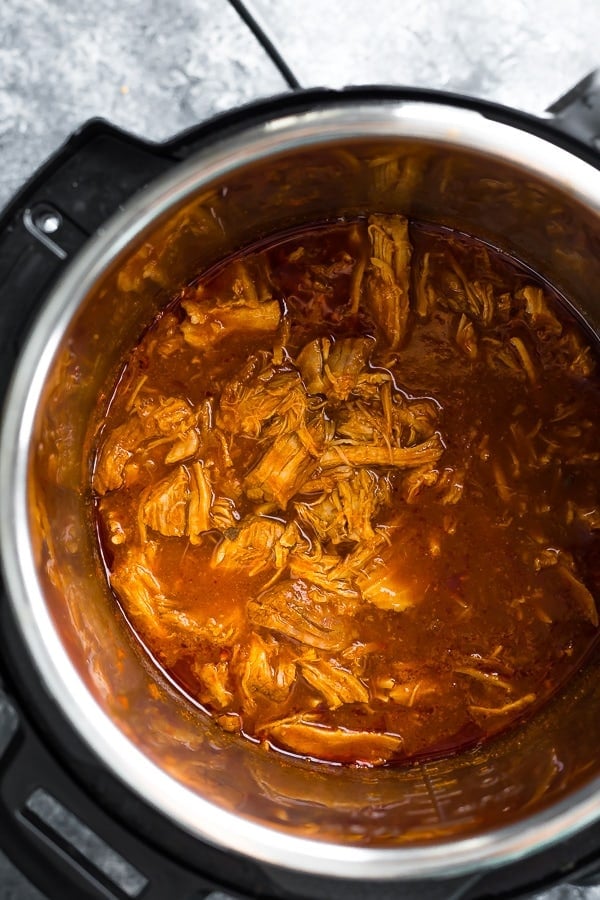 The finishing touches
Once the pork shoulder has cooked through, you are just a few simple steps away from dinner!
transfer pork shoulder to a clean bowl
pull off obvious globs of fat using a set of tongs
shred pork using two forks or an electric hand mixer
toss in cooking liquid to taste
I enjoy a saucy pulled pork and use most of the cooking liquid, but you can customize to taste.
How to use pulled pork
A whole pork shoulder produces a large batch of pulled pork, from 4-8 cups, depending on the size of your pork roast. That makes it perfect to serve a crowd, or to cook once and eat for multiple meals through the week.
Here are some ways to use up your leftovers:
on a bun with a quick cabbage slaw
Meal prep plan
We have a meal prep plan which uses the slow cooker version of this recipe up in 3 dinners for the week. You could easily use this Instant Pot recipe in place!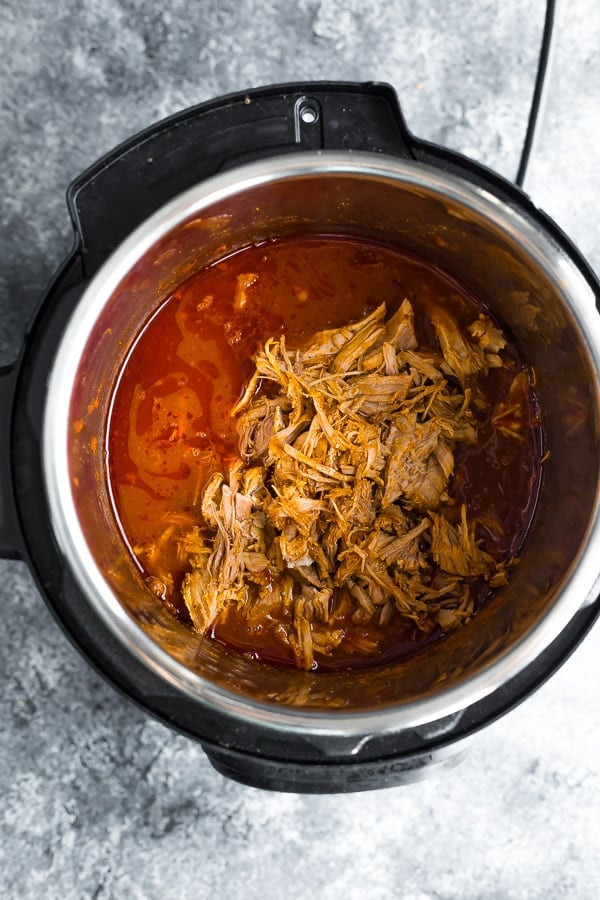 How to serve it
on a bun with a quick cabbage slaw
More Instant Pot recipes
Did you make this? Tag me on social @sweetpeasandsaffron and be sure to leave a comment and rate the recipe!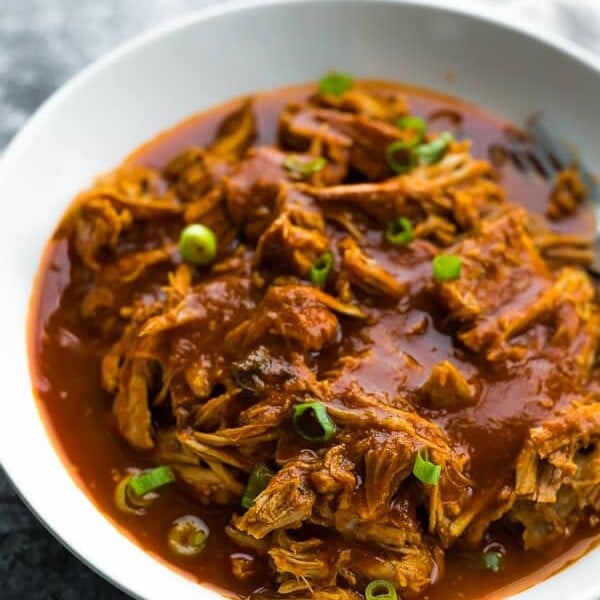 Instant Pot Pulled Pork Recipe (tangy + smoky!)
This healthier Instant Pot pulled pork recipe is cooked up in a sweet, tangy, spicy and smoky sauce made without packaged ingredients. The pressure cooker cooks it quickly to fall-apart-tender and juicy perfection!
Ingredients
13.5

oz

can of tomato sauce

398 mL; see note 1

1

tablespoon

chili powder

see note 2

1

teaspoon

cumin

1

teaspoon

salt

1

teaspoon

chipotle chili powder

see note 3

½

teaspoon

onion powder

½

teaspoon

garlic powder

⅓

cup

apple cider vinegar

⅓

cup

maple syrup

2-3

lb

pork shoulder

see note 4
Instructions
In the stainless steel insert of a 6 quart Instant Pot, stir together all ingredients except the pork shoulder.

Add the pork shoulder, flip it over to coat in the sauce.

Put the lid on the Instant Pot, set the valve to 'sealed' and pressure cook (high pressure) for 90 minutes. When the 90 minutes is up, release pressure immediately, or you can allow it to release naturally for 10-20 minutes.

Remove the pork shoulder from the pot and transfer to a clean bowl. Shred with a couple of forks, or an electric hand mixer, then carefully pour cooking liquid over the shredded pork (see note 5).
Tips:
1- this is puréed tomatoes and does not refer to ketchup; may also be called passata
2- use the paprika-based spice blend, not pure powdered chilies
3- if you can't find chipotle chili powder, add 1 diced adobo pepper + 2 tablespoons adobo sauce for a spicy and smoky flavor
4- I recommend a boneless pork butt, but if you can only find bone-in that's fine (pull bones out after cooking through). Pork picnic will work fine as well; you may need to remove any skin after cooking.
5- add as much or as little cooking liquid as you'd like; if you like it saucy, add all the cooking liquid.
Storage
Cool the pork completely, then add to your favorite larger meal prep container. Store in the fridge for up to 4 days, or freeze for up to 3 months.
Reheating
The best way to reheat is in a non stick pan over medium heat. Use tongs to stir and flip the pork until heated through and loosened up.
Nutrition Information
Serving:
1
/2 cup
,
Calories:
217
kcal
,
Carbohydrates:
11
g
,
Protein:
13
g
,
Fat:
13
g
,
Saturated Fat:
0
g
,
Polyunsaturated Fat:
0
g
,
Monounsaturated Fat:
0
g
,
Trans Fat:
0
g
,
Cholesterol:
0
mg
,
Sodium:
330
mg
,
Potassium:
40
mg
,
Fiber:
1
g
,
Sugar:
8
g
© Sweet Peas & Saffron - Content and photographs are copyright protected. Sharing of this recipe is both encouraged and appreciated. Copying and/or pasting full recipes to any social media is strictly prohibited.