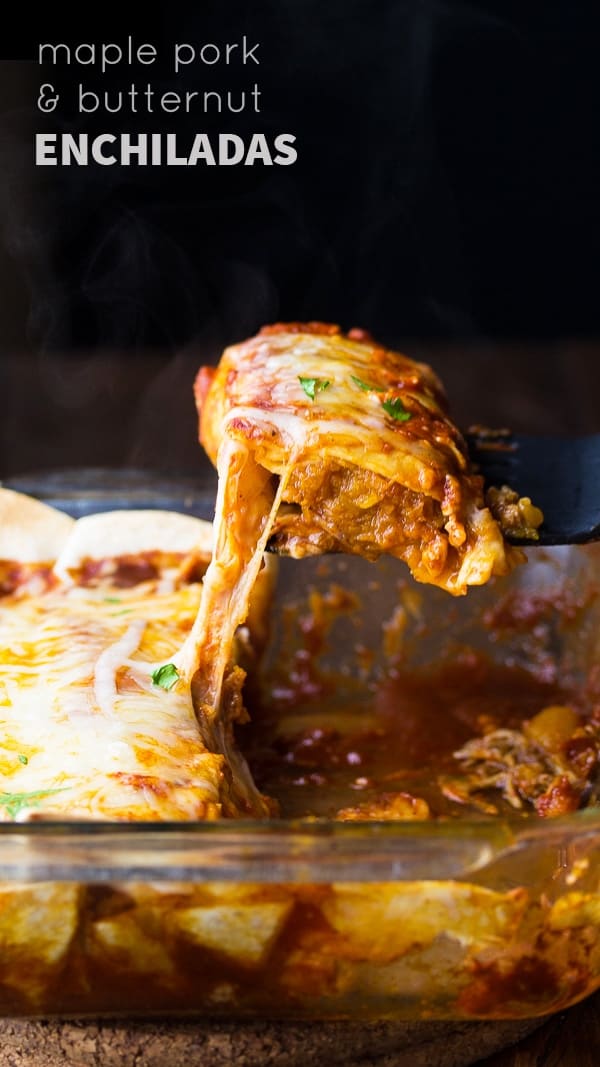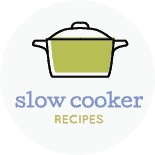 These pulled pork enchiladas are made with slow cooker maple pulled pork and pureed butternut squash.  By making the pulled pork ahead of time, these enchiladas make for an easy week-night dinner recipe!
Note: this is part of a series where I provide one base slow cooker recipe and three ways to use up all of your left-overs!  For the base Slow Cooker Maple Pulled Pork recipe, click here!
Day 2 on the Maple Pulled Pork!  Today we're making pulled pork enchiladas.
I love enchiladas, but we almost never eat them, because it seems like there are a million components…I guess there's really only two: filling and sauce, but altogether it all feels like too much effort and too many dishes for a weeknight dinner.
But using pre-made maple pulled pork makes these enchiladas a total breeze to make, and ready in 45 minutes!  So easy.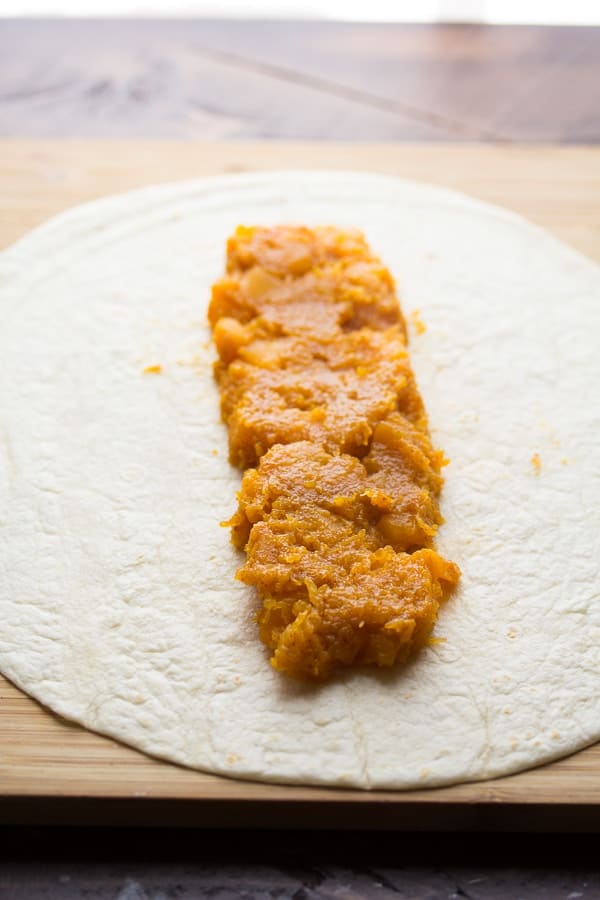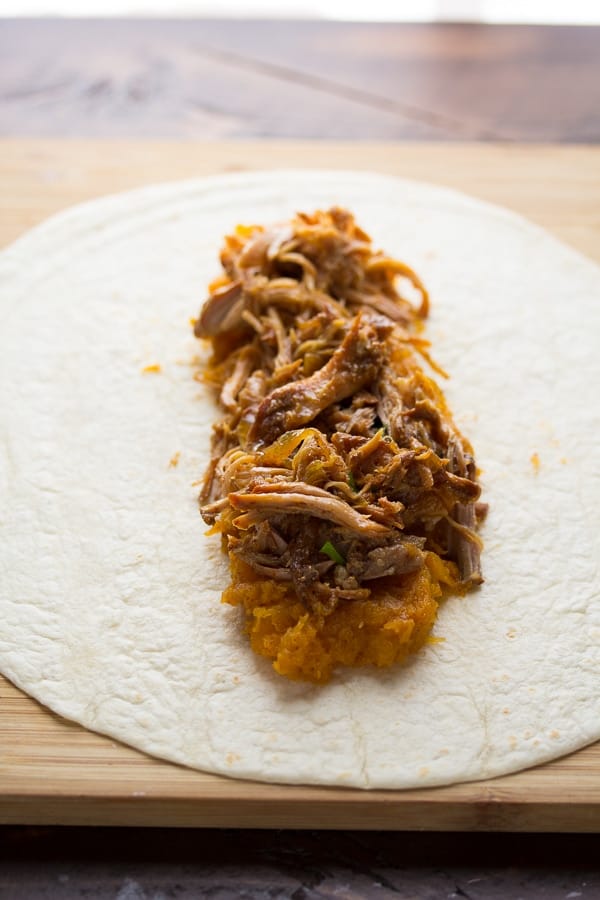 In addition to the pulled pork, there is butternut squash!  I am so happy fall is here because it means butternut squash is back and seriously can't get enough of it!
I tried these enchiladas with cubed butternut, but I didn't get enough of the flavor, so I ended up mashing the cooked butternut slightly and spreading a generous amount onto the enchilada before topping with the pulled pork.  It worked out amazingly!
The butternut goes so well with the subtle maple flavors from the pulled pork, and the spices in the enchilada sauce.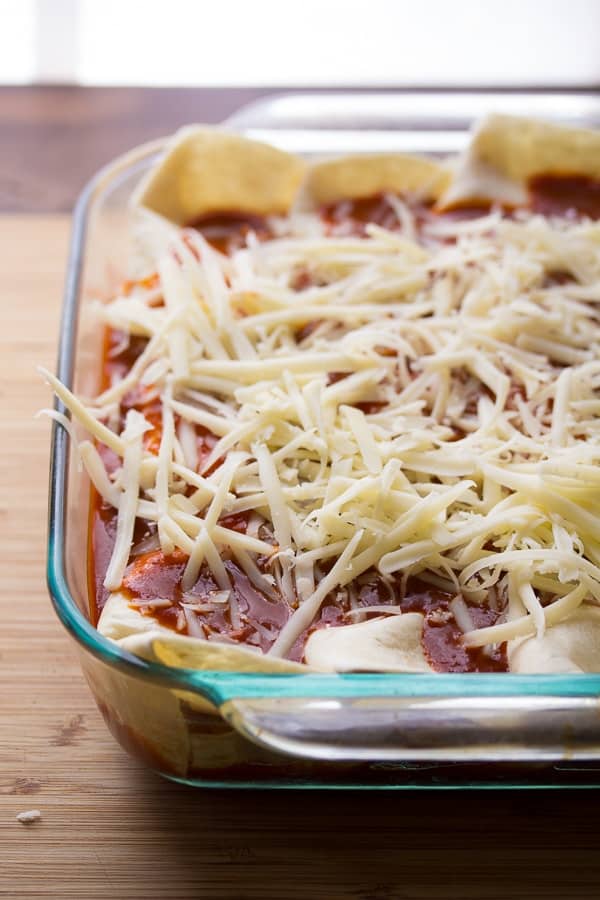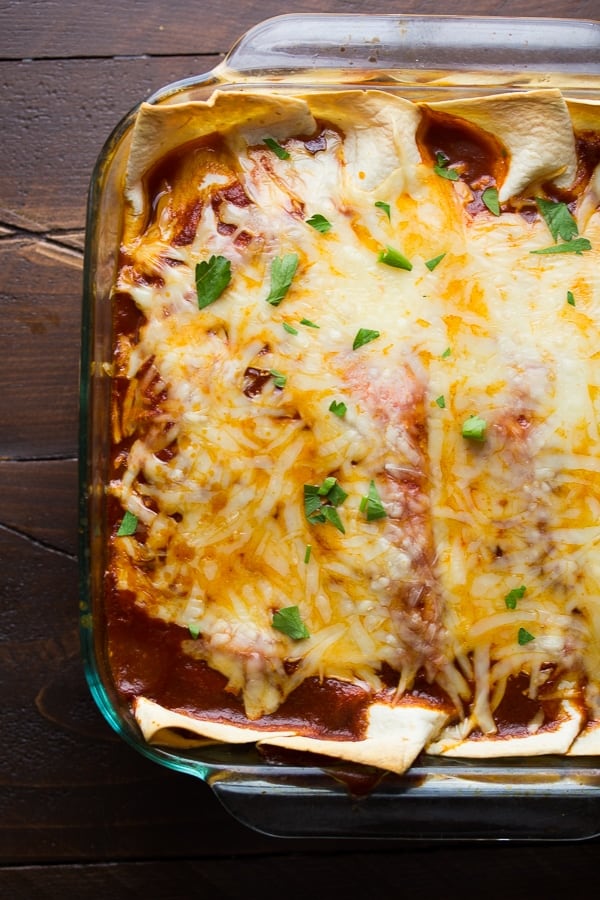 All-together this is an easy weeknight dinner, packed with fall flavors.  You are definitely still getting a good serving of veggies with the butternut squash hiding in there, but you are also getting a good dose of cheese.  A good compromise!
It is simple, good, comfort food.
I think I'll be making enchiladas more often 😉
Have a great Tuesday!  Hope you are ready for some more Maple Pulled Pork recipes because I have two more coming your way this week!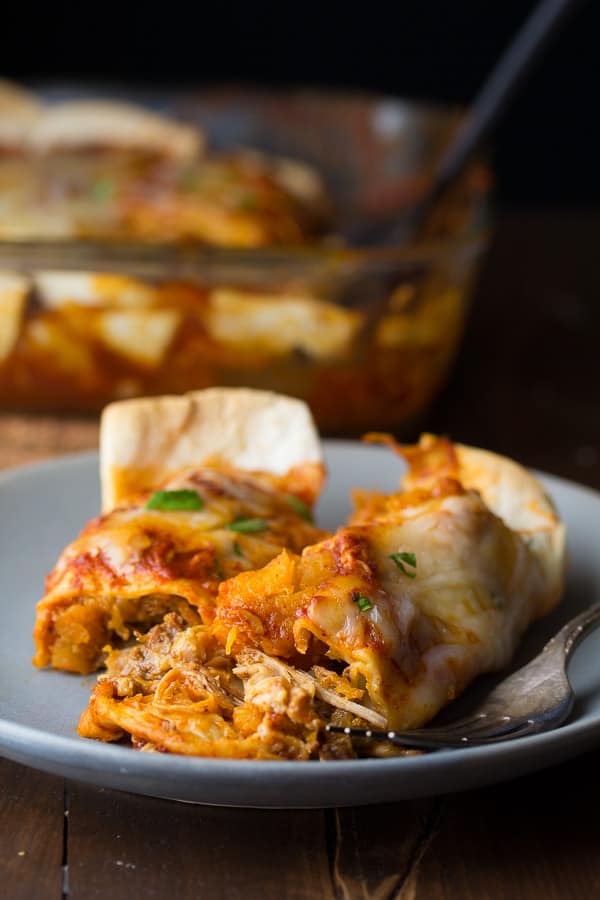 Check out the other Maple Pulled Pork recipes in this series:
1. Slow Cooker Maple Pulled Pork (base recipe)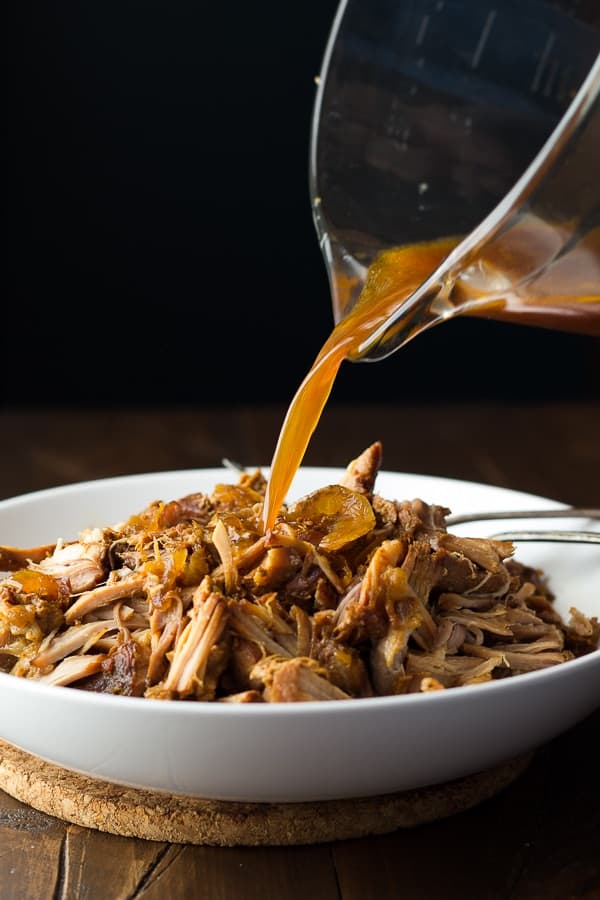 2. Maple Pulled Pork Tacos with Kale Slaw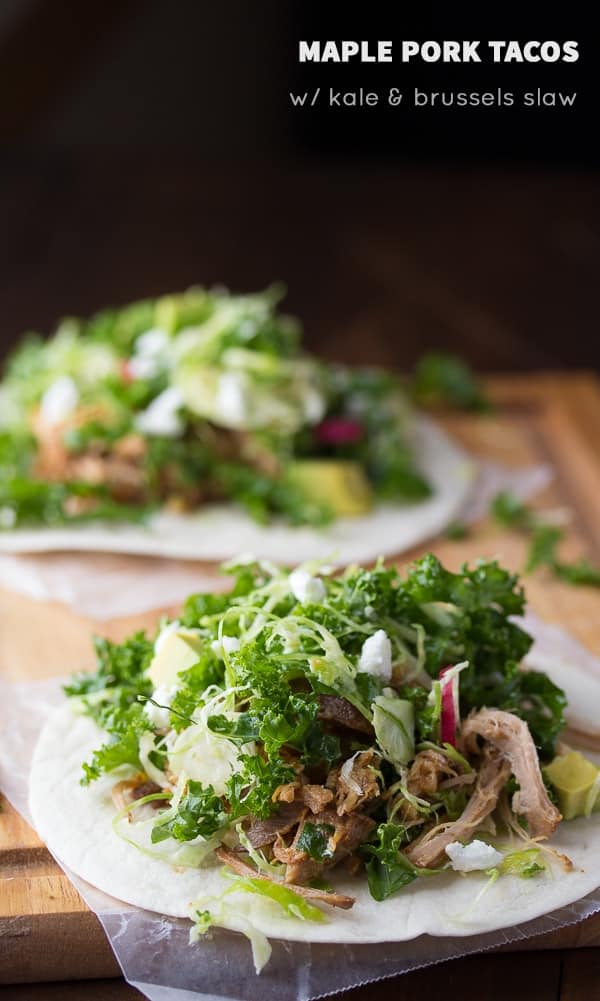 3. Pulled Pork Burrito Bowls with Sweet Potatoes and Pepitas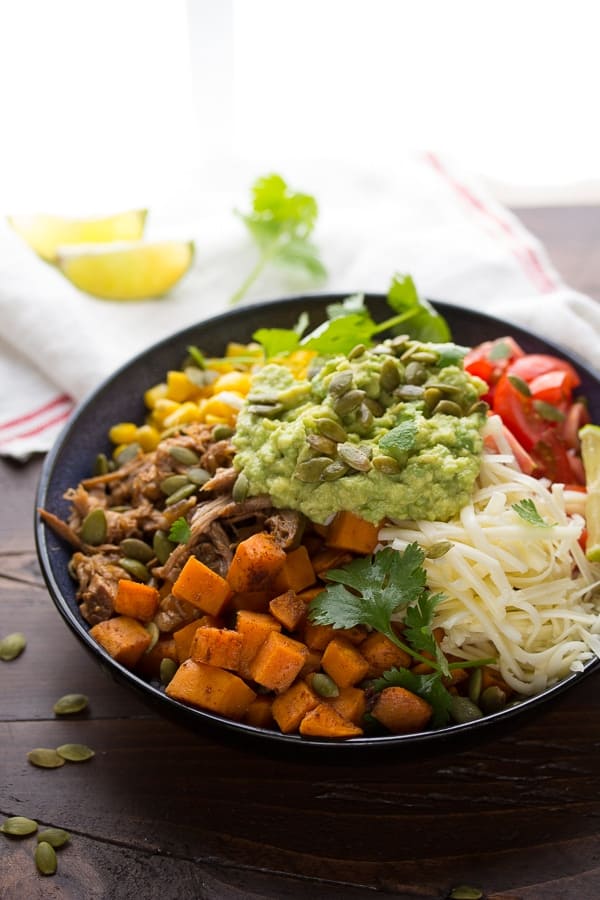 And here's the recipe for the Maple Pulled Pork Enchiladas with Butternut Squash:
Maple Pulled Pork Enchiladas with Butternut Squash
4
adjust servings
Ingredients
1

tablespoon olive oil

1

butternut squash, peeled, seeds scooped out, and cut into 1/2 inch cubes (4-5 cups, and depending on the size of your butternut squash you may have left-overs)

2

teaspoons chili powder

1/4

cup water

284

mL/9.6 oz can of enchilada sauce (Canadians: I found mine at Co-op)

1

cup shredded cheese

1

cup maple pulled pork

4 12-inch

flour tortillas
Instructions
Pre-heat oven to 350°F.
Heat olive oil over medium heat in a large pan.
Add butternut squash and chili powder and cook for 5-7 minutes, stirring occasionally.
Add ¼ cup of water, cover pan and cook for another 5-7 minutes, until squash is tender when poked with a fork.
Transfer butternut squash to a large bowl and mash with a potato masher or fork.
In the bottom of a 9X9 inch pan, pour ⅓ cup of the enchilada sauce, spreading to all corners of the pan.
Spread approximately ¼ cup of butternut squash on a large flour tortilla. Top with ¼ cup of maple pulled pork.
Roll the enchilada and place in the 9X9 inch pan. Repeat with 3 more tortillas.
Pour remaining enchilada sauce over tortillas, and top with cheese.
Bake for 20 or so minutes, until enchilada sauce is bubbly and cheese is melted all over.
Serve immediately.
Recipe Notes
If you have trouble finding enchilada sauce, I've used this recipe with success in the past: http://www.gimmesomeoven.com/red-enchilada-sauce/
Products used in this recipe: