Delicious pulled pork burrito bowls packed with sweet potatoes, pepitas, and plenty of guacamole. Ready in 30 minutes when using pre-made maple pulled pork!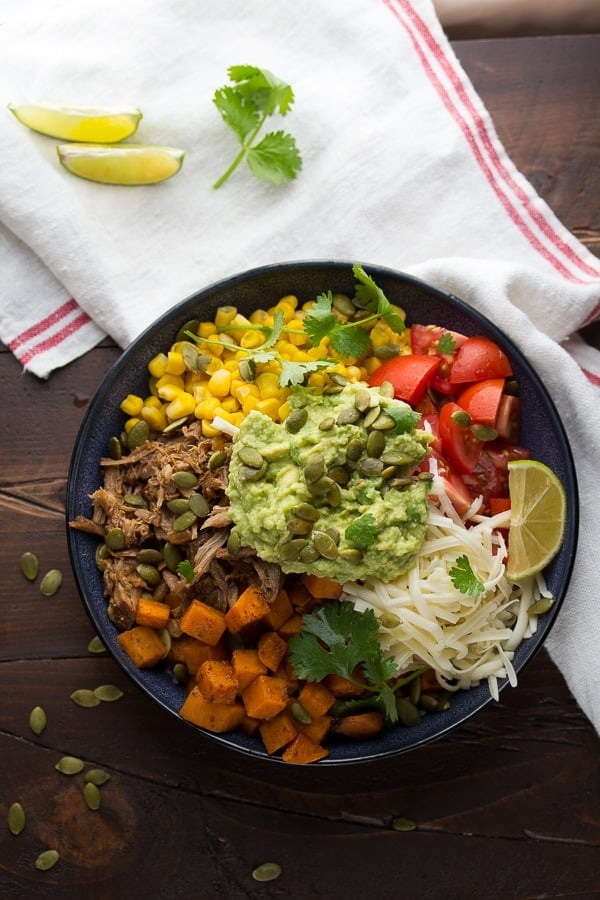 Note: This is part of a series where I provide a base slow cooker recipe and three ways to enjoy the left-overs. For the base Slow Cooker Maple Pulled Pork recipe, click here!
It's Friday! This week pretty much just blew by!
And there is absolutely no doubt that fall. is. here. Did I mention that we live right adjacent to the Rockies? So we actually feel those fall breezes sometime in late August.
And mid-September fall is in its full glory. The leaves are gorgeous right now, there is definitely a cool breeze but the days are still warm and sunny. September days are some of my favorites! Except when it snows.
Our nighttime routine is to go to the park every night after dinner…we have been putting in a ton of time at the parks the last few weeks, because we know our time is limited.
So fast, easy dinners are a must. Bonus points for easy clean-up! And I have another one of those fast/easy dinner recipes for you today in the form of these pulled pork burrito bowls!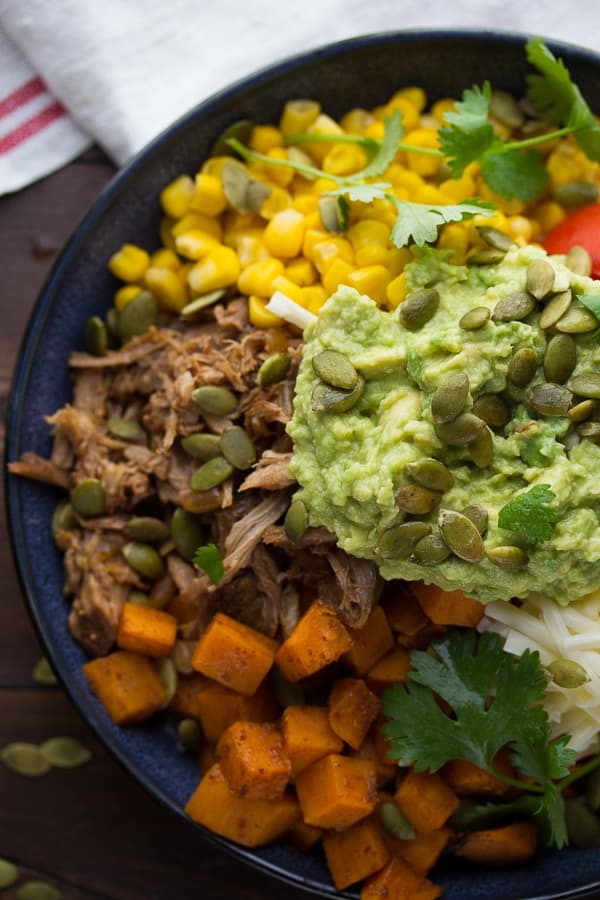 This is our very last Maple Pulled Pork recipe. We've had some delicious pulled pork enchiladas, and some super yummy pulled pork tacos with kale slaw. Now we have a big bowl full of goodies. Some people might call it a salad?
You probably can't tell from the photos, but there is rice hiding under all of the goodies. I decided to do a fun twist on the burrito bowl, using the left-over Maple Pulled Pork, some sweet potatoes and pepitas to give it a bit of a fall twist.
In all honesty, the maple flavors from the pork don't shine through in these pulled pork burrito bowls as much as they did in the enchiladas and tacos, but this is one serious bowl of deliciousness…there was very little dinner conversation, because Ben and I were too busy eating. That is the sign of a good meal at our house 😉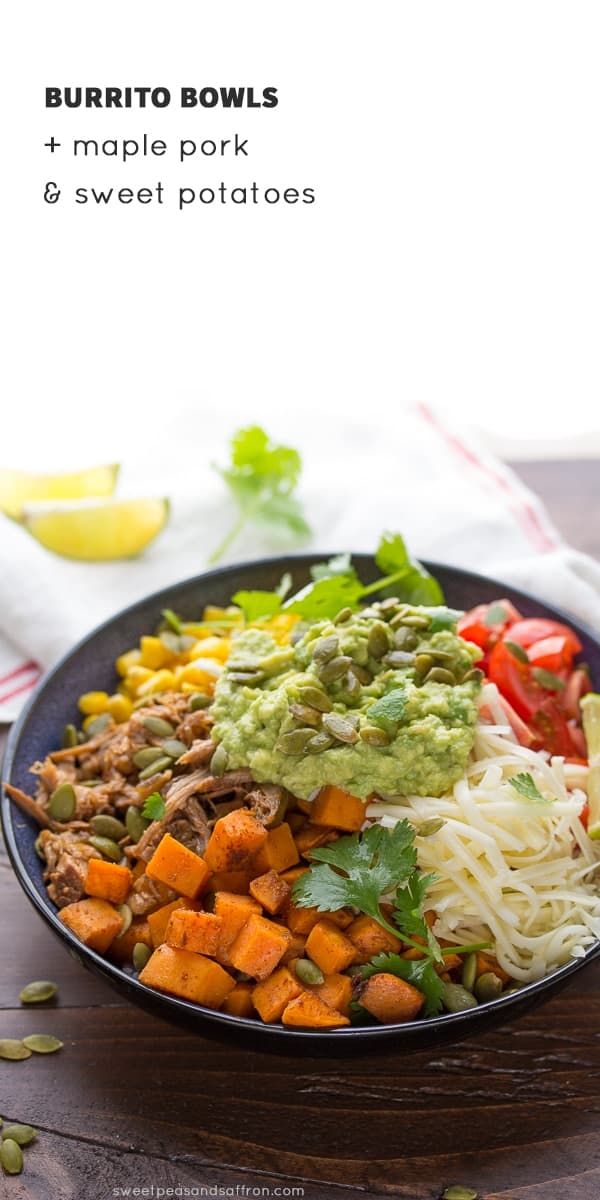 Here's how it all goes down:
Cook your rice.
Cook up your sweet potatoes with a little chili powder and cumin.
Heat up your maple pulled pork.
Toss it all together with some fresh guacamole, shredded cheese, corn and tomatoes.
Dinner is served!
Have yourselves a wonderful fall week-end filled with delicious food!
Check out the other Maple Pulled Pork Recipes in this series: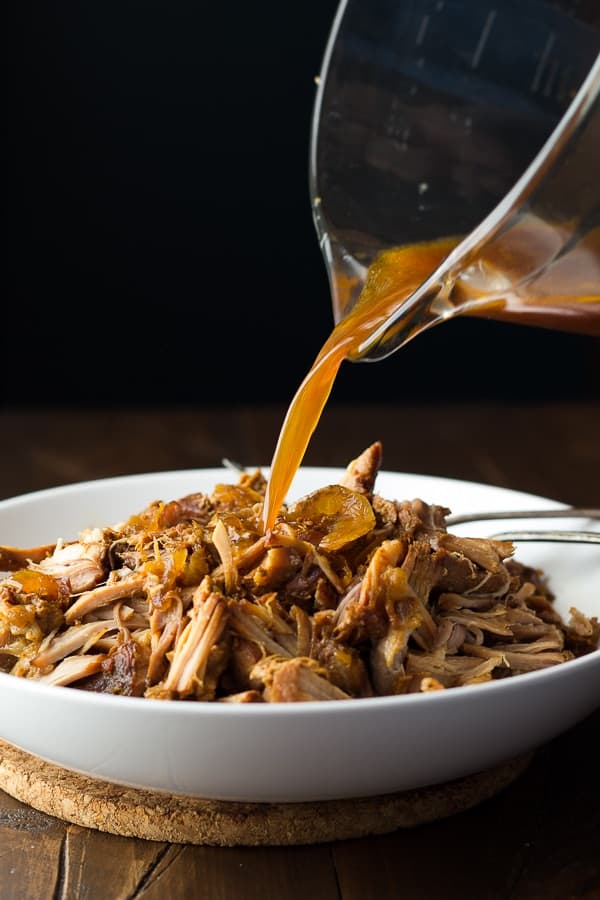 2. Maple Pork & Butternut Squash Enchiladas: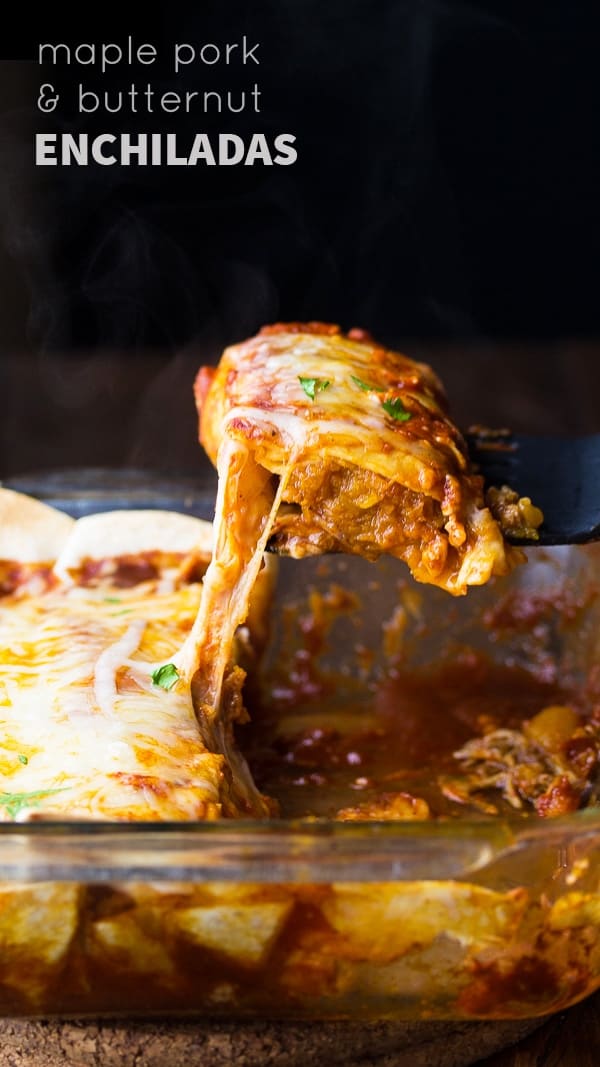 3. Maple Pulled Pork Tacos with Kale Slaw (Slow Cooker)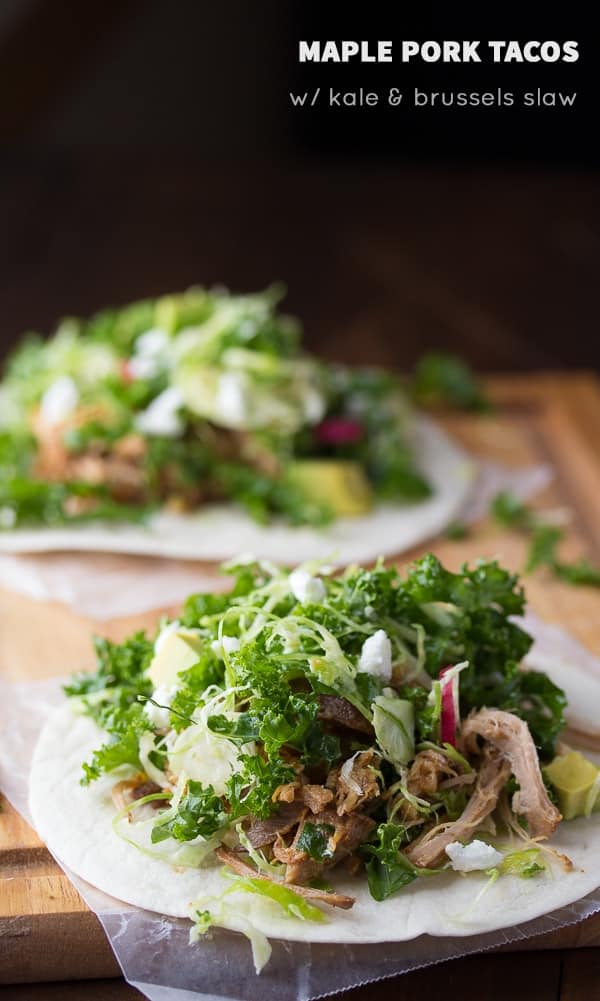 And here is the Pulled Pork Burrito Bowl recipe:
Maple Pulled Pork Burrito Bowls with Sweet Potatoes and Pepitas
An easy burrito bowl recipe that is packed full of delicious goodies: maple pork, sweet potatoes, pepitas, and the usual suspects: rice, guacamole, cheese, corn and tomatoes.
Ingredients
Sweet Potatoes:
1

tablespoon

olive oil

3

cups

sweet potatoes

diced into 1/2 inch cubes

1

teaspoon

chili powder

1/2

tespoon ground cumin

1/2

cup

water
Guacamole:
2

ripe avocados

1/4

teaspoon

salt

juice of half a lime

roughly 1 1/2 tablespoons

1

clove

garlic

minced
Burrito Bowls (serves 4):
2

cups

cooked rice

roughly 2 cups uncooked

1

cup

shredded cheese

2

cups

Maple Pulled Pork

reheat slightly

1

can of corn kernels

drained and rinsed

1

cup

tomaotes

diced

1/2

cup

pepitas
Instructions
Cook rice according to package directions.

Sweet Potatoes Heat oil over medium heat in a large skillet.

Add the sweet potatoes, chilli powder and cumin, and cook, stirring occasionally, for 5 minutes.

Add the water and stir. Allow water to reduce to about ½ of its volume, then cover the pan and allow to cook for another 5-10 minutes, stirring occasionally, until sweet potatoes are cooked through. There shouldn't be much liquid left at this point.

Set aside.

Guacamole While sweet potatoes are cooking, mash together all guacamole ingredients.
Assemble Burrito Bowls:
For each burrito bowl, top 1/2 cup of cooked rice with:


-1/2 cup warmed Maple Pulled Pork

-1/4 cup shredded cheese
-1/4 cup corn kernels (roughly)
-1/4 cup diced tomatoes
-1/2 cup cooked sweet potatoes
-2 tablespoons of pepitas
-guacamole
-cilantro & lime (optional garnishes)
-salsa, sour cream or other condiments
Serve warm. Also good cold, though.

Products used in this recipe: