This vegan pantry meal prep plan covers you for healthy, plant-based breakfasts, lunches and dinners for several days! Plus a video tutorial and shopping list help you get started.
Our last vegan meal prep plan helped us stock up the freezer with 5 vegan freezer meals, and I'm back again with a pantry-friendly plan for us!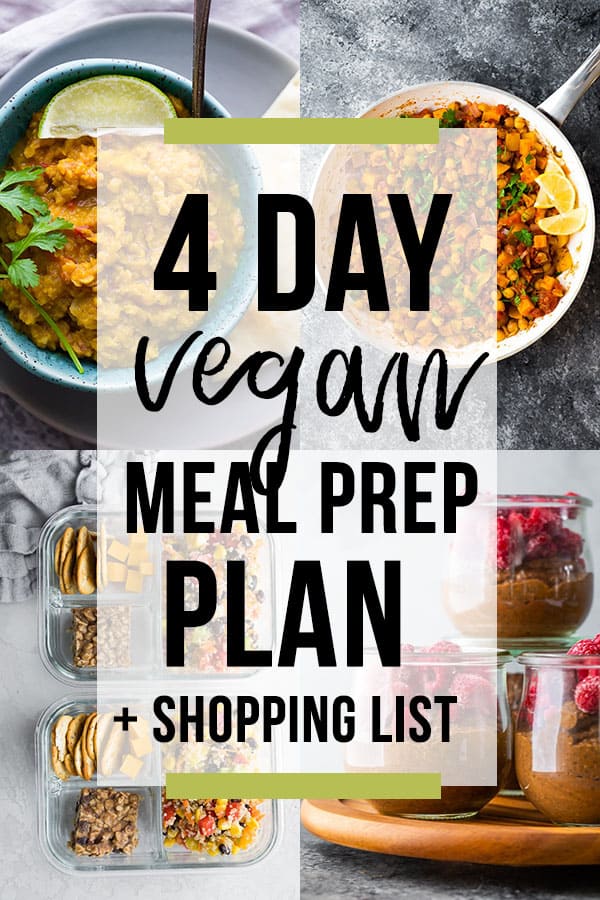 Vegan pantry staples meal prep plan
Popping out to the grocery has gotten challenging in 2020, which inspired me to put this meal prep plan together. Focussed heavily on pantry staples, it includes a variety of plant-based proteins: lentils, chickpeas and black beans.
How to use this meal prep plan
prep the chia puddings up to 4 days ahead
cook the butternut squash curry ahead, portion out with rice, and store in the fridge (4 days) or freezer (3 months)
cook and assemble the black bean quinoa salad ahead, and store in the fridge for up to 4 days
you can either cook the Moroccan chickpea skillet ahead and store in the fridge for 4 days OR you can assemble all ingredients in a bag or meal prep container and freeze for up to 3 months.
Meal prep plan
Start by cooking the slow cooker butternut squash curry as this will take 8 hours in the slow cooker. It's a great idea to plan this as dinner on meal prep day; as it serves 8, you can enjoy leftovers another night or for lunches through the week.
Next, assemble the chia puddings and store in the fridge.
Next, get the quinoa cooking for the black bean quinoa salad.
Chop the vegetables and shake up the vinaigrette.
Toss the cooked and cooled quinoa with the vegetables, black beans and vinaigrette.
Cook and assemble the Moroccan chickpea skillet.
Once curry is cooked, portion out or serve with rice.
Shopping list
Grab your free printable shopping list by clicking this link!
Don't forget to pin this post to save it for later!
Recipe video
Want to see how these meals are cooked? Watch the video below! You can find more videos like this on my YouTube channel!
Recipes in this meal plan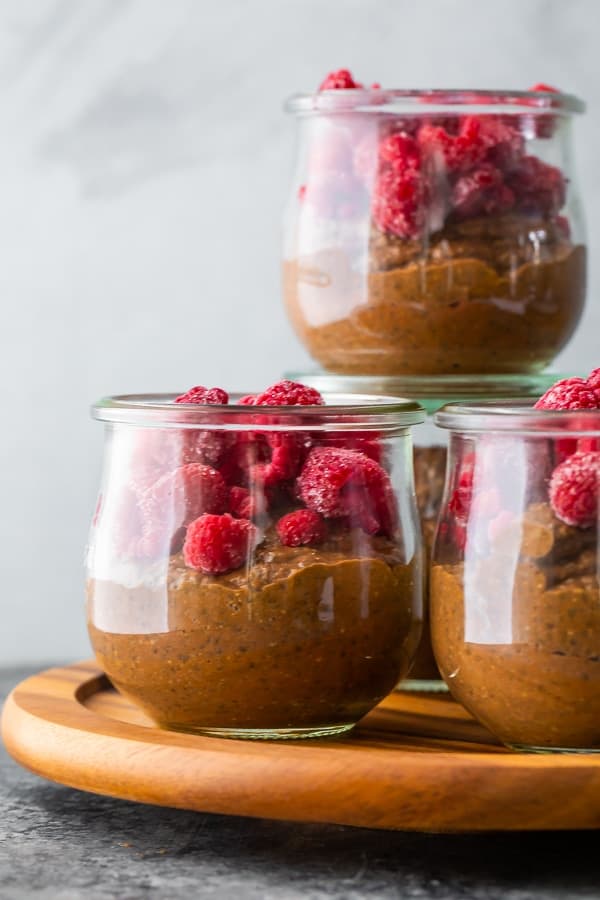 Chocolate Chia Pudding
Chia pudding is a great breakfast or snack, and you can prep four portions in 10 minutes or less! In the video, I show you how to blend the chia pudding with an immersion blender, which helps to get rid of the chia seed texture. It actually works a lot better with a Vitamix, and even gets fluffy and light, like a mousse!
Recipe tips
top with your favorite fresh or frozen fruit
store in the fridge for up to 4 days
enjoy cold
Grab the printable chocolate chia seed pudding recipe here.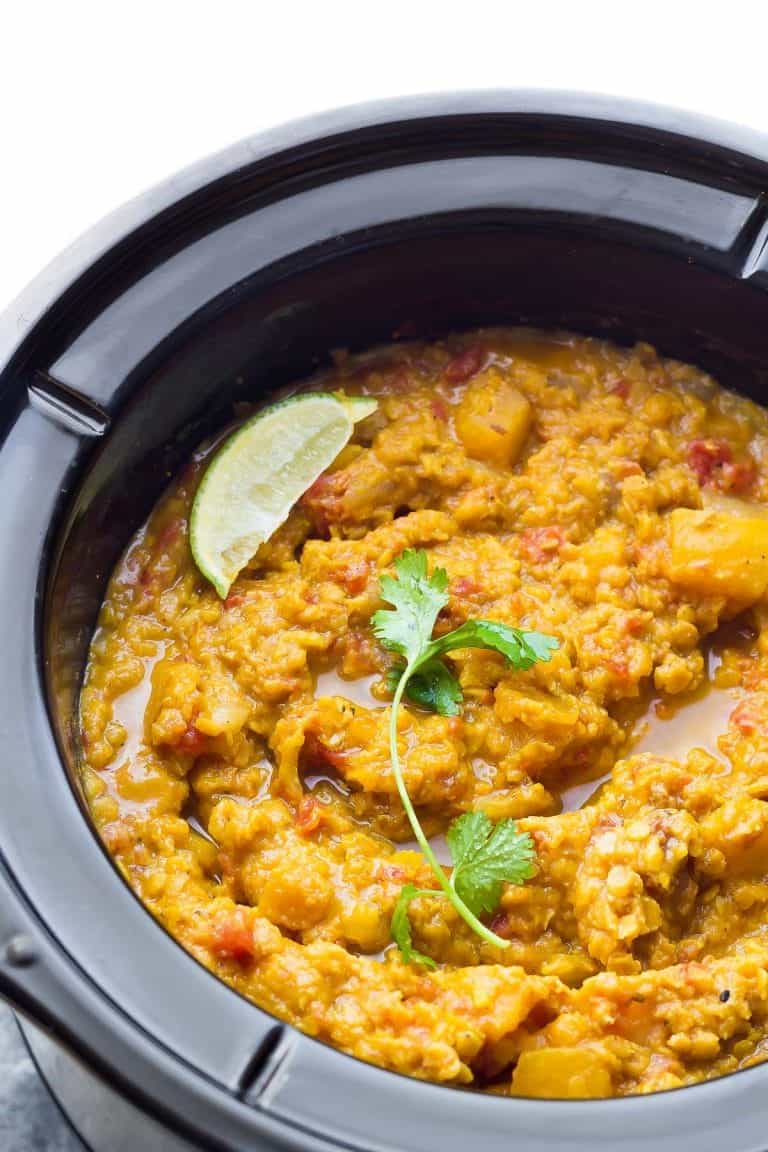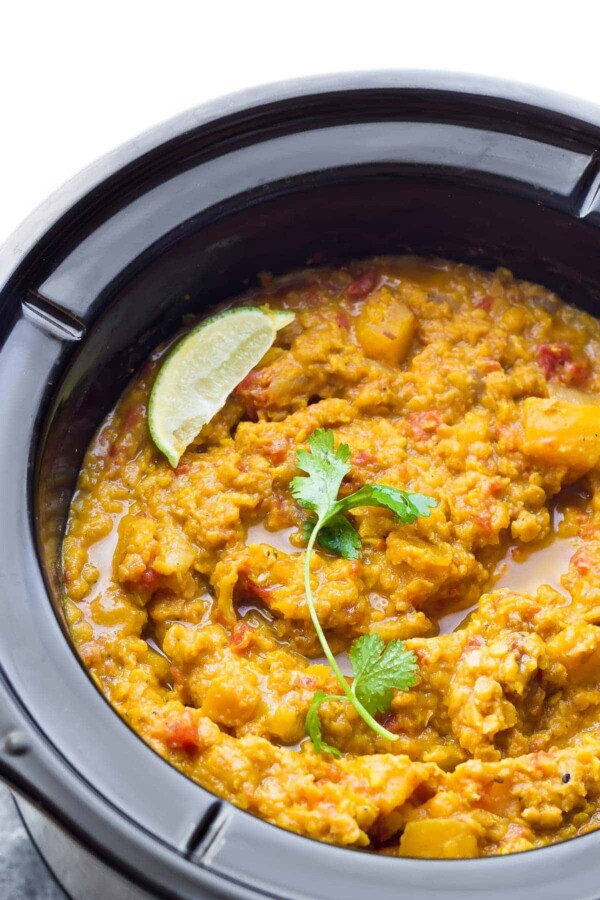 2. Butternut Squash Lentil Curry
Inspired by dal, but with the addition of butternut squash, this recipe can get into the crockpot to cook in 15 minutes or less. Check your freezer aisle for frozen, cubed butternut squash, which significantly reduces the prep time. This is not a spicy curry, and is a popular option on the blog.
Recipe tips
get it cooking first as it requires 8 hours in the slow cooker
you can probably cook it on the stovetop by simmering for 30-45 minutes, but I have not tried
mash with a potato masher to get it nice and creamy
portion out with rice and store in the fridge for 4 days, freezer for 3 months
makes a big batch! Cut the recipe in half and cook in a 2.5 quart slow cooker if you'd like
Grab the printable butternut squash lentil curry recipe here!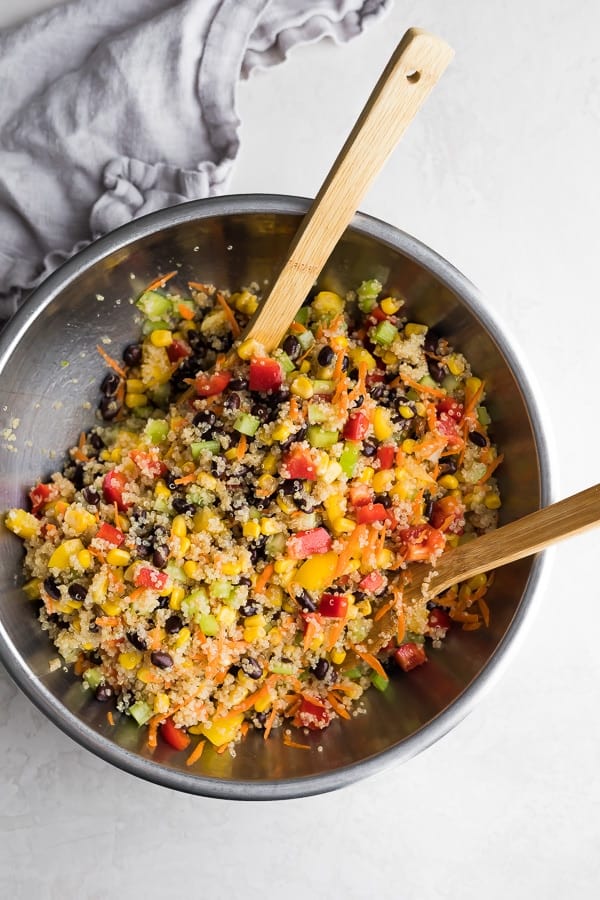 3. Black bean quinoa salad
This is the kind of salad that tastes better as it sits in the vinaigrette! Be sure to swap the honey for maple syrup to make the recipe 100% vegan. You can swap out the vegetables for what you have in your fridge.
Recipe tips
makes a big batch (8), so cut it in half if you don't have plans for all those portions
double up the black beans for a more protein-packed meal
this recipe cannot be frozen
store in the fridge for up to 4 days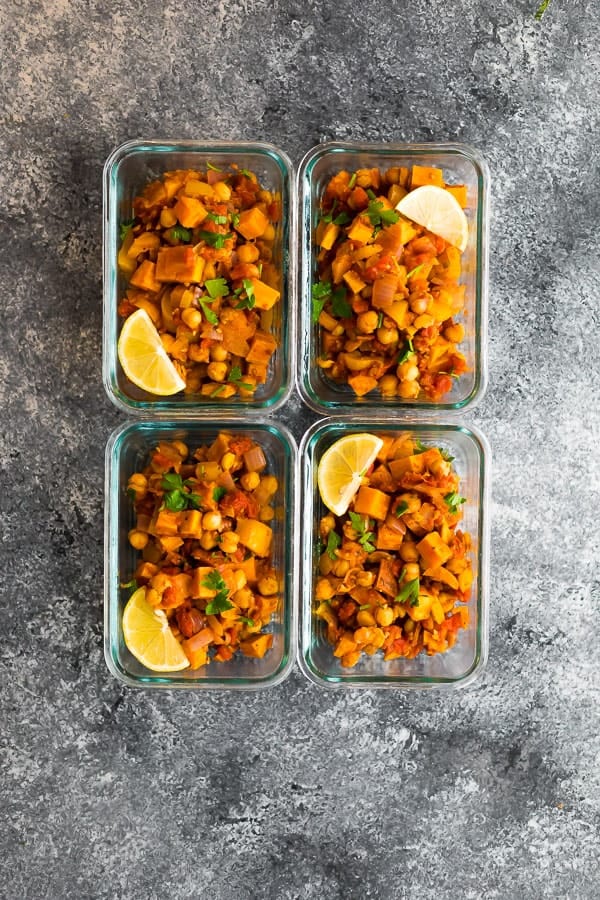 4. Moroccan chickpea skillet
A simple, but flavorful meal that serves 4. This recipe can be assembled ahead and frozen as a freezer to skillet meal (thaw first), or it can be cooked ahead and portioned out into meal prep containers for the week.
Recipe tips
if you are making freezer meals, be sure that the sweet potato goes on the bottom of the container or bag and is covered by the diced tomatoes/liquids. This prevents the potatoes from hardening and becoming inedible.
feel free to swap the chickpeas for lentils or black beans
store leftovers in the fridge for up to 4 days
reheat until steaming hot and serve with coconut yogurt, rice or naan bread.
Grab the printable Moroccan chickpea skillet recipe here!
More meal prep plans (with shopping lists!)