Taking two proteins, two carbs, a few sauces and a big bag of veggies and transforming them into 12 meals in under one hour! Mix and match to get 12 different meal prep bowls.
I've shared how to prep 24 lunched in 2 hours before, but you don't have to be in the kitchen for two full hours to crank out a bunch of meals. Today we're talking efficiency and taking some shortcuts to get these 12 meals ready in under an hour!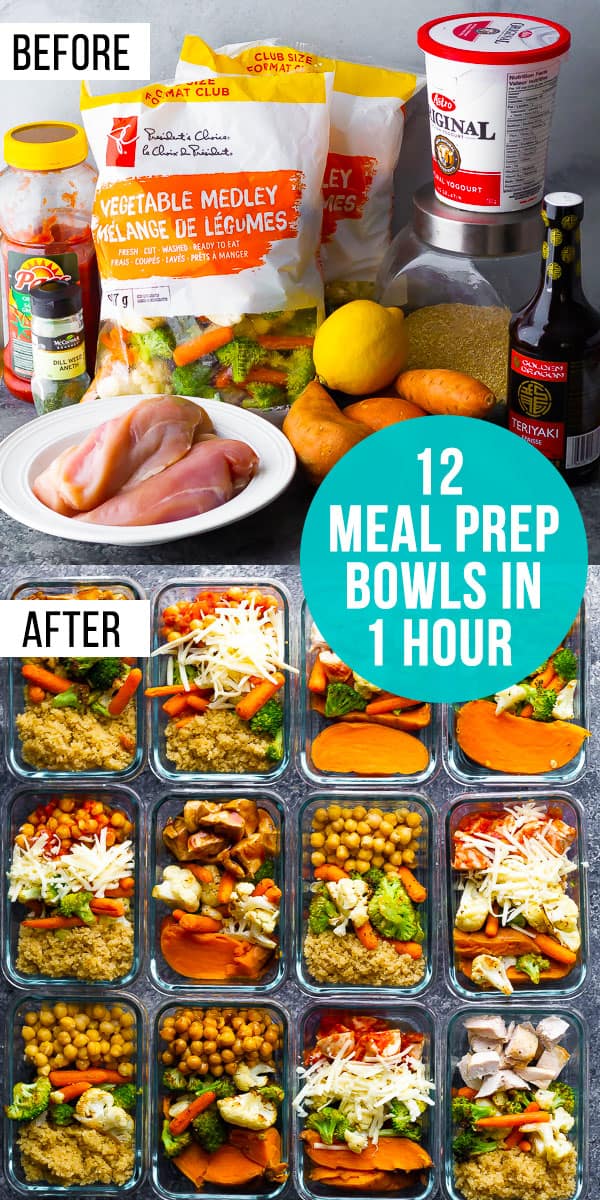 Today's meal prep is for those of you who are short on time, but still want some variety in your meal prep routine. This meal prep session makes 12 unique meal prep bowls with three different flavor profiles, two different carb options and two different proteins.
These are not real 'recipes', and to be honest I was pretty much winging it here. My goal was to show you a formula you can use to get variety in your meal prep and getting them prepped quickly!
Take these 'recipes', switch out the sauce, or the protein or the carbs, and make it your own.
The mix & match formula
2 carbs- I am using quinoa (½ cup per bowl) and sweet potato (½ sweet potato per bowl)
2 proteins- I am using  chicken breast (3-4 oz per bowl) and chickpeas (½ cup per bowl)
3 sauces- I made my own lemon dill yogurt sauce, used store-bought teriyaki and store-bought salsa
veggies- I grabbed 2 big bags of pre-chopped & washed veggies and roasted them up
Don't forget to pin this post to save it for later!
Watch the video below to see exactly how I put together this prep ahead meal plan. It's so easy! You can find more of my recipe videos on my YouTube channel, or on Facebook.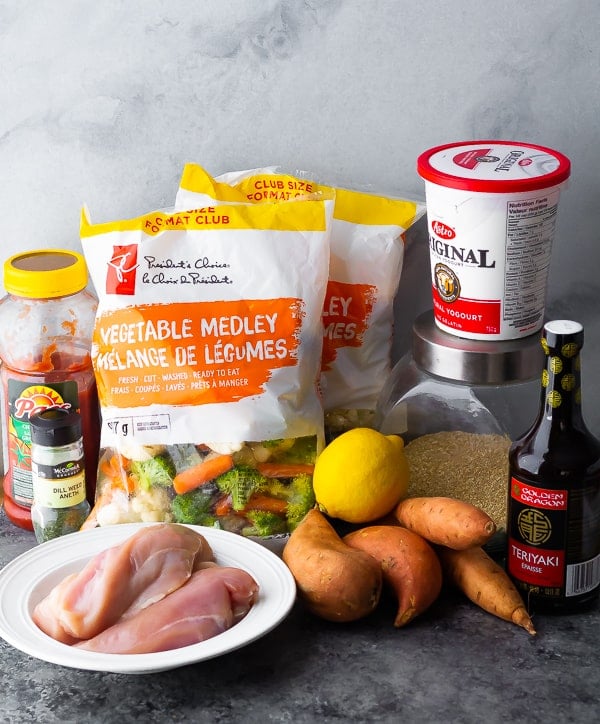 How to meal prep it
Start with your carbs- I got my quinoa cooking in a rice cooker and my sweet potatoes cooking in an Instant Pot first thing.
Move to your veggies- I tossed 12 cups of veggies in a little bit of olive oil, spread them out on 2 sheet pans and sprinkled with salt and pepper.
Prep your protein- I tossed 3 chicken breasts (enough for 6 portions) in olive oil and added them to the sheet pan with the veggies.
Bake veggies + chicken- cook time depends on the size of your chicken and veggies. My veggies took 20 minutes at 450°F and my chicken took 25 minutes.
Sauce it up- I stirred together my lemon dill yogurt sauce while everything cooked.
Portion- arrange meal prep containers out and divide up the carbs. Portion out the veggies once ready.
Chicken time- allow chicken to rest before chopping into bite-sized pieces.

divide one of the chicken breasts between two containers (one with quinoa and one with sweet potato)
toss one of the chicken breasts in teriayki sauce then divide between two containers (one with quinoa and one with sweet potato)
toss the last chicken breast in salsa then divide between two containers (one with quinoa and one with sweet potato)

Chickpea time- drain and rinse the chickpeas, then divide up as you did for the chicken:

1 cup of chickpeas (plain) divided between two containers
1 cup of chickpeas tossed in teriyaki, then divided between two containers
1 cup of chickpeas tossed in salsa, then divided between two containers

Extras- add ¼ cup of shredded cheese to all salsa bowls. Portion yogurt sauce on and store with the plain (unflavoured chicken/chickpeas) bowls.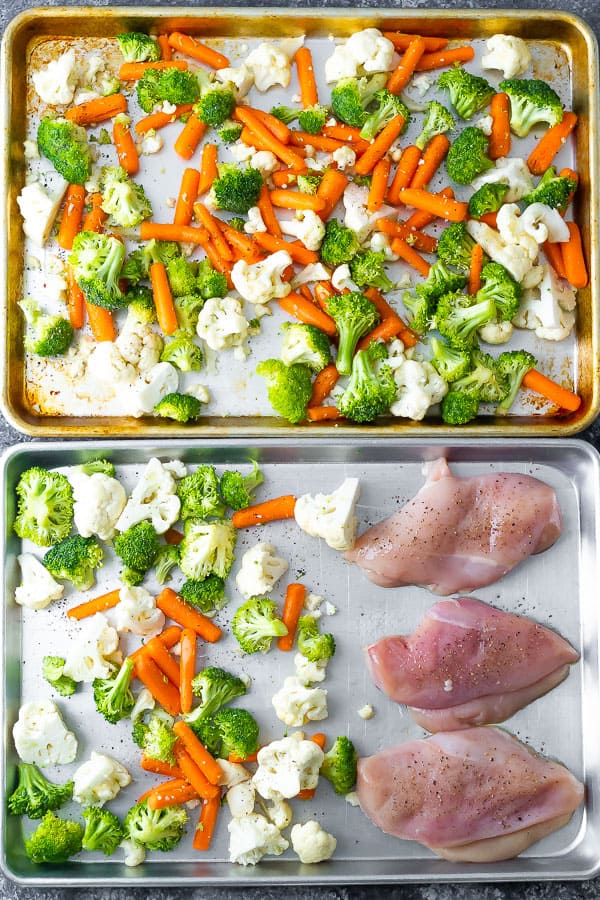 Swaps & substitutions
This is a completely flexible meal prep and you can totally change things up.
carbs- swap quinoa and sweet potato for

rice
potatoes
your favorite grain
zoodles
cauliflower rice

proteins- Beware that different proteins will likely have different cook times. Swap for

chicken thighs
pork tenderloin
shrimp
salmon
ground beef/turkey
black beans
tofu

veggies- Beware that different veggie blends will likely have different cook times. Swap for:

frozen veggies
stir fry mix (shredded carrots, snow peas, mushrooms, peppers)
slaw mix (shredded cabbage, broccoli, carrots)
piralized vegetables
your favorite bagged vegetables

sauces- this is where you can go completely different! Scan the bottled sauces section of your store and pick your fave. Here are some ideas:

barbecue sauce (add pineapple)
balsamic reduction (pair with feta cheese)
tikka masala sauce
buffalo sauce (pair with blue cheese)
Jamaican jerk sauce (add fresh mango)
honey garlic sauce
Korean barbecue sauce
chimmichurri sauce
szechuan sauce
peanut sauce
Mix & Meal Prep
Once you put these meals all together, you end up with three distinct flavors: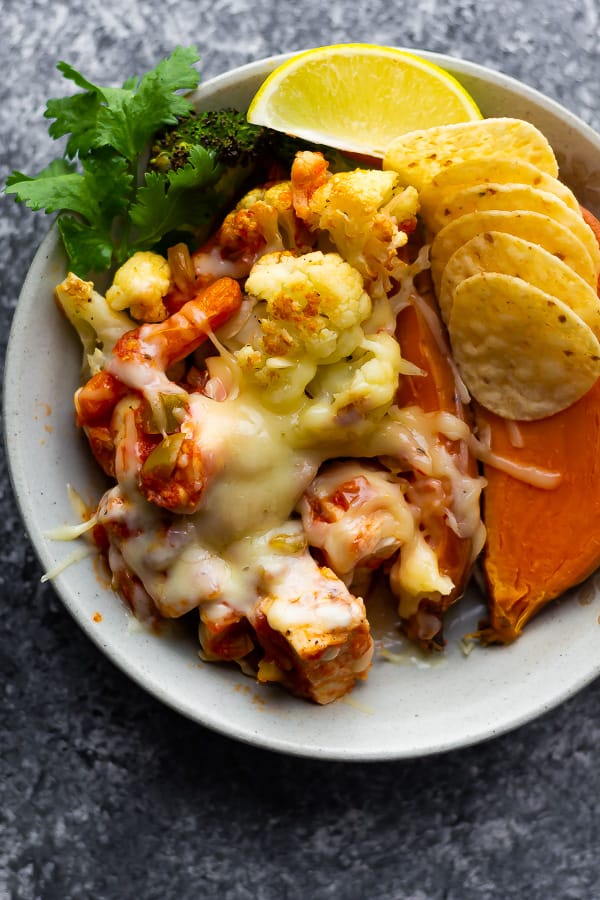 Salsa bowls-
I served with some tortilla chips. It was a little weird to have carrots and broccoli in a salsa chicken bowls but even though it looks weird, it tasted great!
What I would change next time
I would swap the chickpeas for black beans as I feel that they would work better together.
Maybe swap the veggies- I didn't mind them in these bowls but feel like bell peppers and onions would work better.
OR instead of swapping the protein and veggies I might just swap the sauce for a peanut sauce which I think would work great with everything.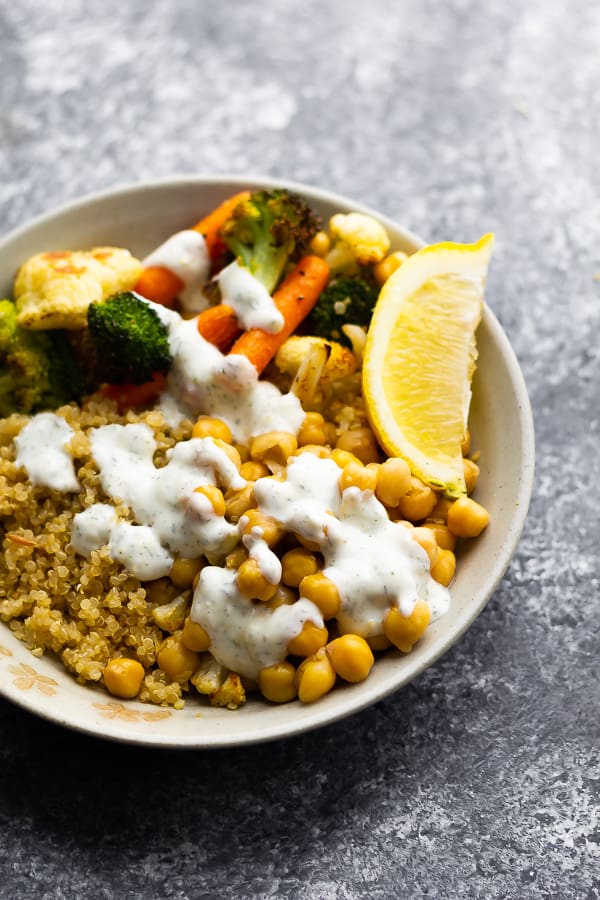 Mediterranean bowls
Possibly my favorite in the bunch! The lemon dill yogurt sauce works so well with all of my carb and protein options. This was two big thumbs up!
What I would change next time
Nothing, these were perfect as they are!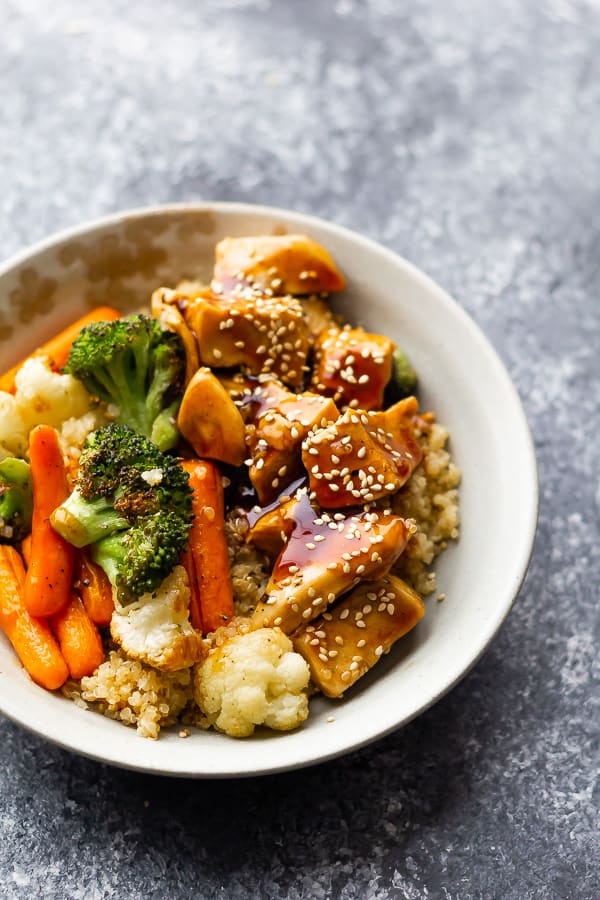 Teriyaki bowls
These were delish and loved by the kids as well! The teriyaki sauce worked surprisingly well with chickpeas (who would have thought!).
What I would change next time
Nothing, these worked out surprisingly well.

That takes care of our Mix & Match Meal Prep! I hope this gives you some ideas for how you can make this your own.
As always, ask me any questions below and I'm happy to respond!
XO