How to prep 24 freezer-friendly lunches in 2 hours + shopping list. This is the perfect way to stock up your freezer with healthy lunches, and to squeeze some variety into your meal prep routine!
Are you ready to stock up the freezer with healthy freezer-friendly lunches? Because today that's exactly what we're doing! All you need is 2 hours and the recipes below to get going!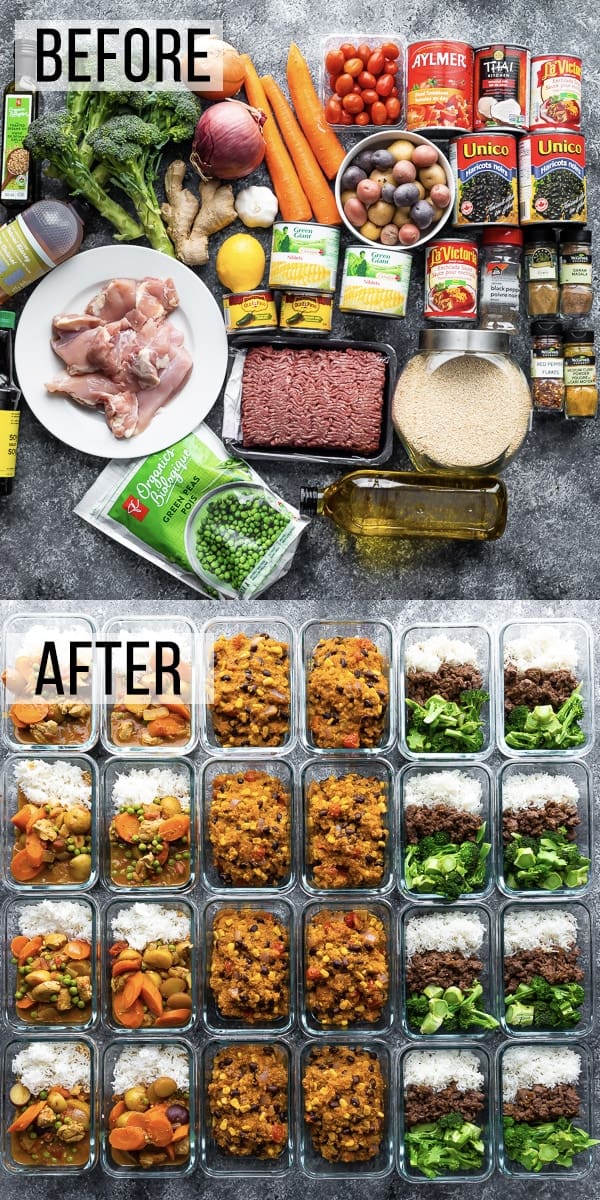 Sick of eating the same thing for lunch 4 days in a row? You need a freezer stash of lunches!
My freezer lunch stash makes it easy to swap meals in for a bit of variety. Check out this post for How to Add Variety to Your Meal Prep.
We are doing a big meal prep session today and stocking up with 24 freezer-friendly lunches, but fear not, because I have done all the planning for you! I have a printable shopping list and meal prep plan for you and am showing you how I am cooking these meals in a video.
Don't forget to pin this post to save it for later!
These lunches are:
freezer-friendly
made in the Instant Pot and on the stove
can be converted to vegetarian with a few simple swaps
Watch the video below to see exactly how I prepped these 24 lunch recipes! It's so easy! You can find more of my recipe videos on my YouTube channel, or on Facebook.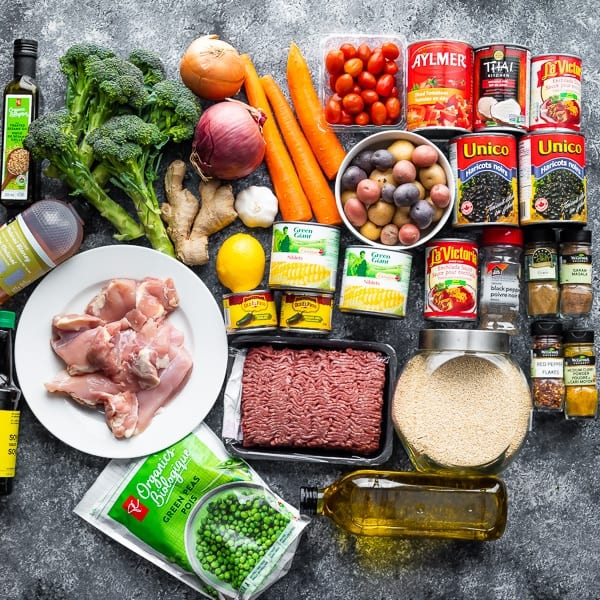 What you will need for these freezer-friendly lunches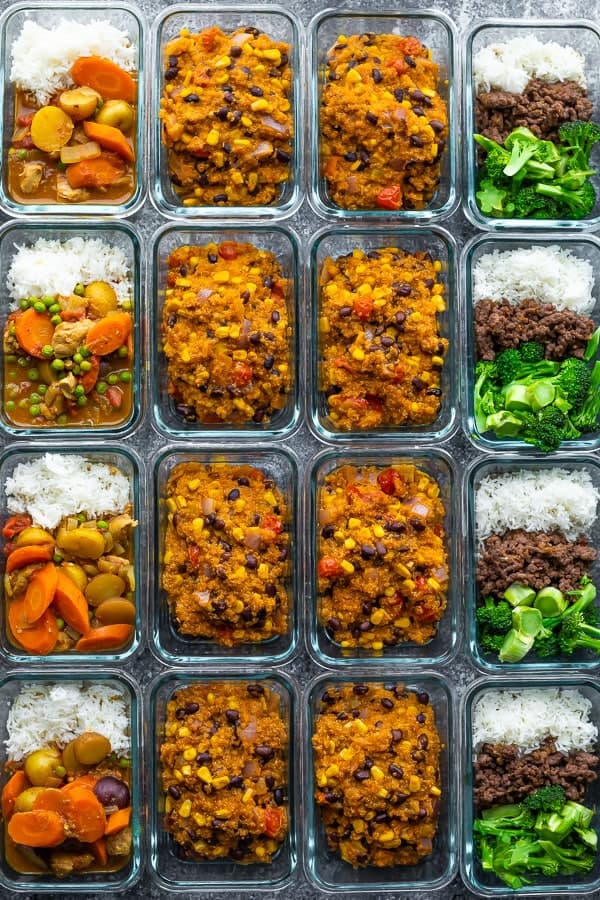 How to prep these meals
We are going to start with cooking the grains for the meals, then prep the veggies, then the meat, then we will start cooking everything up.
Cook your rice- for the curry and Korean turkey. 16 ½ cup portions means we need 8 cups of cooked rice. This is approximately 2 ½ cups of uncooked rice.
Chop up all vegetables-
CURRY- 1 onion (brown), 3 cloves garlic, 1 inch ginger, 3 carrots, 15 baby potatoes
QUINOA CASSEROLE- 1 onion (red), 2 cups fresh tomatoes
KOREAN TURKEY- 8 cloves garlic, 2 inches ginger, 2 heads of broccoli
Cut boneless skinless chicken thighs for curry into 1 inch cubes.
Open all cans, gather spices, shred cheese.
Cook the Quinoa Enchilada Casserole- follow directions on the recipe card at Instant Pot Quinoa Enchilada Casserole.
Cook the Chicken Curry- get it simmering...follow directions on the recipe card at Easy Chicken Curry
Cook the Korean Turkey- follow directions on the recipe card at Korean Turkey Meal Prep
Steam broccoli for Korean Turkey- portion out into containers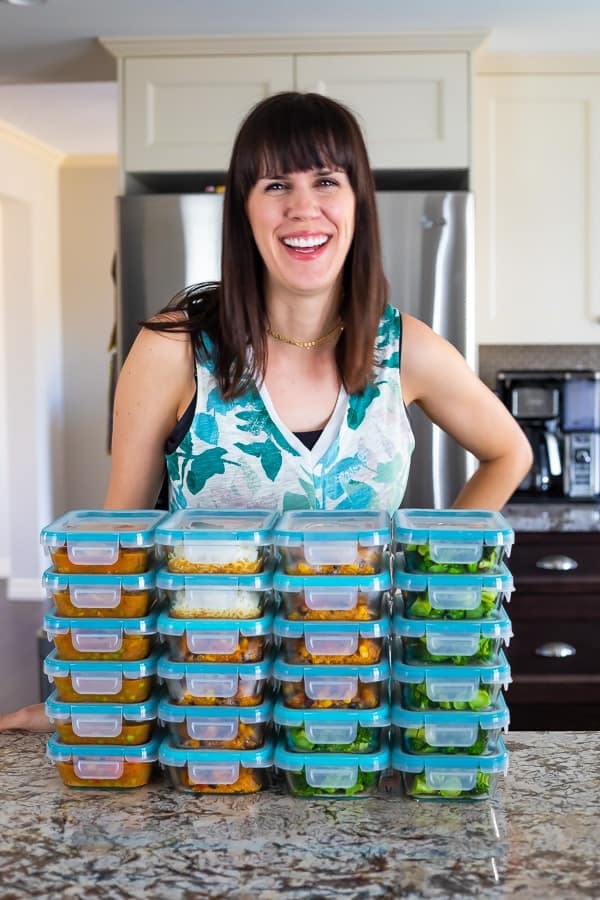 Freezer meal rules
let meals cool to room temperature before putting the lids on and freezing
freeze for up to 3 months
thaw completely before re-heating in the microwave
do not thaw more than once
do not re-heat more than once
How can I make these meals vegetarian?
swap the chicken in the Easy Chicken Curry for 1-2 cans of cooked chickpeas
swap the ground turkey in the Korean Turkey recipe for crumbled tofu (broiling crumbled tofu for 3-5 minutes helps it get a good texture before cooking it in the sauce)
What if I want to skip a recipe?
Each recipe has a number corresponding to it. To skip a recipe, simply cross all ingredients with that number off the shopping list.
Can I use cauliflower rice? 
Cauliflower rice will get soggy with these recipes so I don't recommend unless you'll be adding it fresh.
Does this really take 2 hours?
It took me 2 hours, and I was not slacking off. If you want to get this done in 2 hours you need to hustle. You can also break it into a two-day event. Prep all ingredients on day 1 and cook everything on day 2!
Have a question I have not addressed? Ask it in the comments below and I will answer!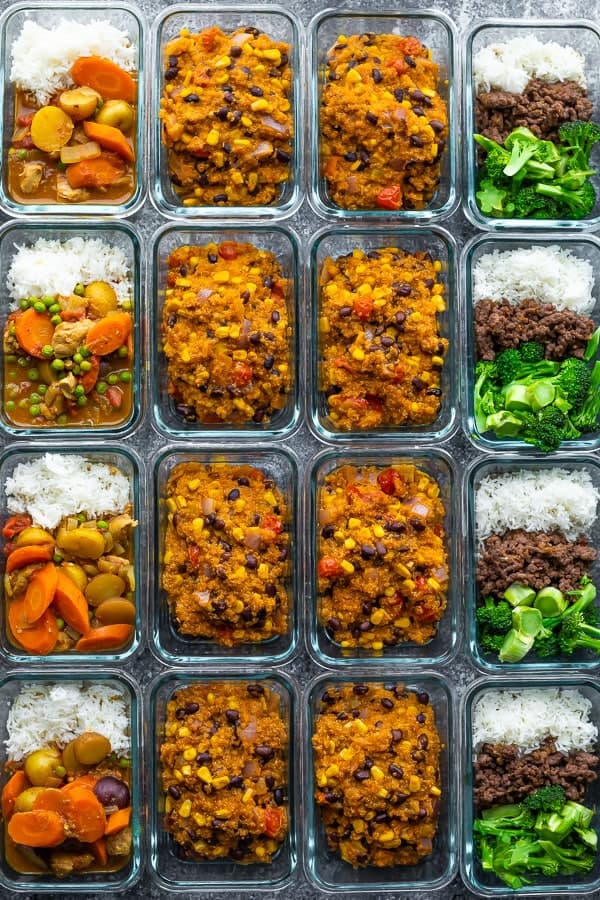 Recipe 1: Instant Pot Enchilada Quinoa Casserole
You will need an 8-quart Instant Pot for this recipe, and we are doubling the recipe as written (just drag the little bar on the recipe card to get it to 8 servings!)
Can you cook this on the stovetop? I suspect yes! Double the water and follow these directions for Perfect Fluffy Quinoa.
Get the printable Instant Pot Enchilada Quinoa Casserole Recipe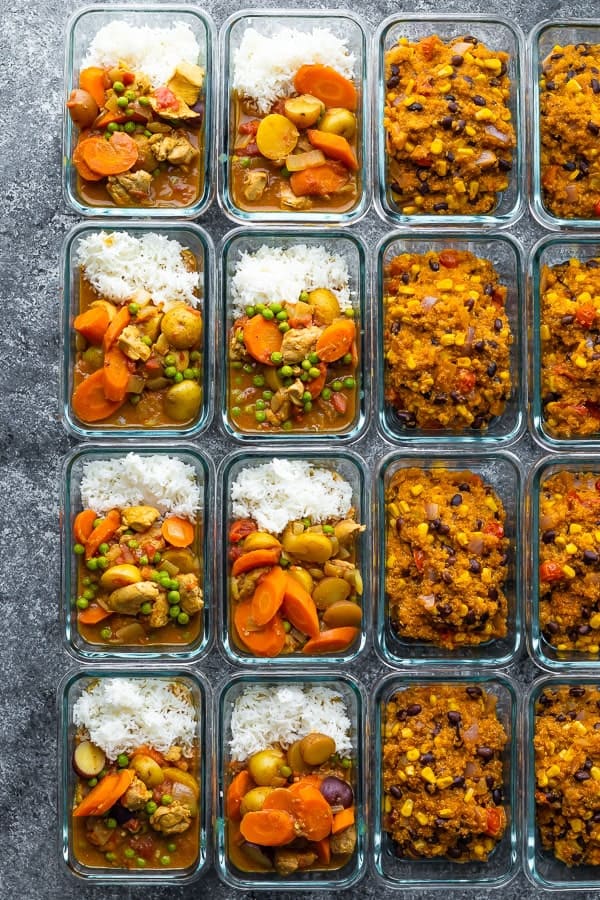 Recipe 2: Easy Chicken Curry
This chicken curry simmers on the stovetop while you prep other ingredients. Want to make it vegan? Swap the chicken for chickpeas!
Can I make this in the Instant Pot? I suspect yes! Follow the cook times specified for this Instant Pot Chickpea Curry
I use mild curry powder so this is not spicy
swap the carrots & potatoes for your favorite veggies
I swapped the green beans for frozen peas
Get the printable Easy Chicken Curry recipe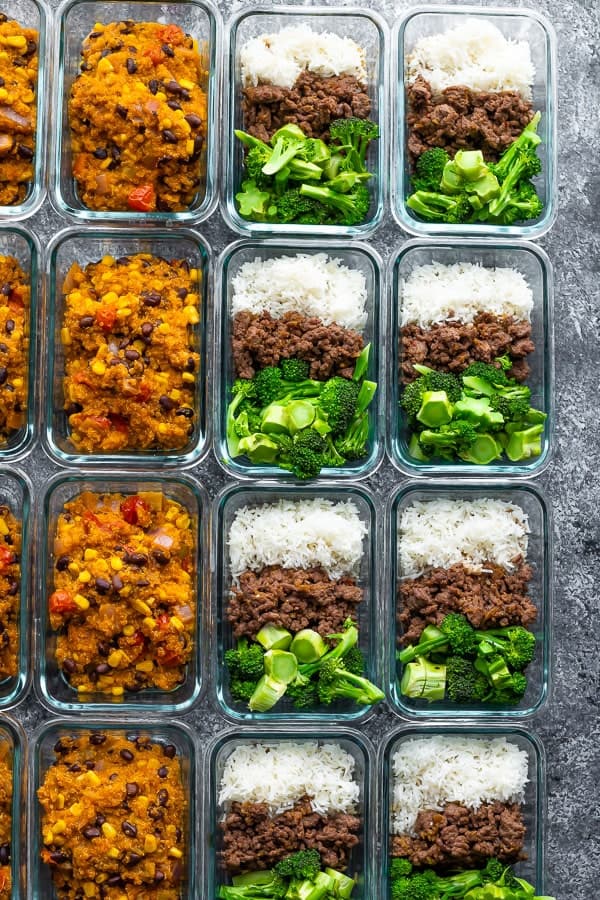 Recipe 3: Korean Turkey (or beef) Meal Prep Bowls
An easy, mild recipe with a sweet & savory sauce. Serve with rice! We are doubling the recipe as written (just drag the little bar on the recipe card to get it to 8 servings!)
I swapped the ground turkey for beef
You can swap the meat for crumbled tofu
use your favorite veggie in place of broccoli
Get the printable Korean Turkey Meal Prep recipe
Get the printable shopping & prep list


That's it for today! I hope these recipes inspire you to make your own freezer stash!
XO


PS- looking for more meal prep meal plans (with printable shopping lists)? Check out