How to cook quinoa in a rice cooker- this hands off trick makes cooking quinoa even easier! Cooking quinoa in rice cooker means no more worrying about your water boiling over, and perfect fluffy quinoa every time.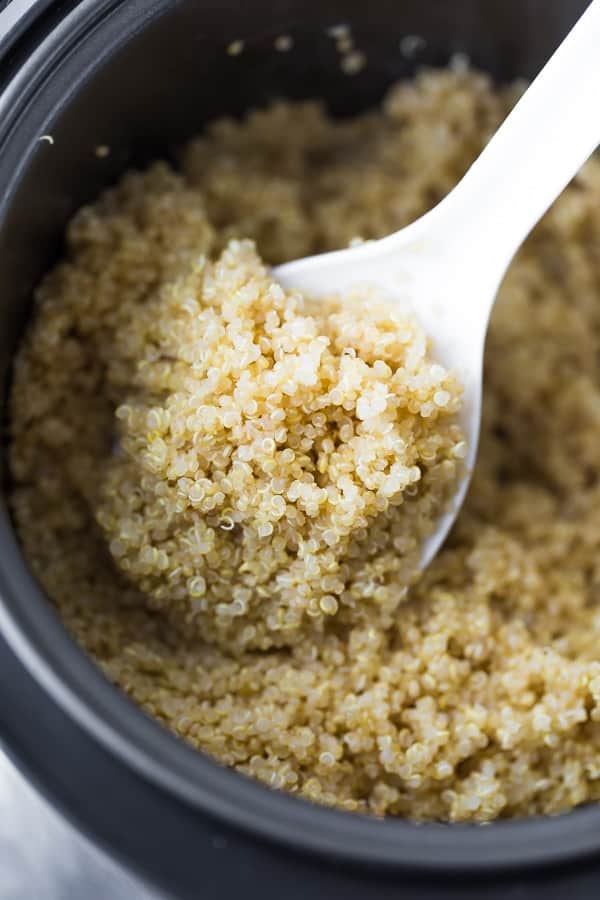 Hands down one of my favorite kitchen appliances is a rice cooker! I know, I go on and on about my Instant Pot, and there have been a ton of slow cooker recipes on this blog over the years.
But when it comes down to the appliance that we use on a daily basis, it's the rice cooker.
I first started using one when Ning, Ben's Thai step mom, came to visit us. She insisted that we needed a rice cooker. I initially thought it was crazy…think how easy it is to cook rice on the stove top, why would we need a rice cooker?
Why use a rice cooker?
it gives you perfect rice
it won't boil over
you won't be tempted to peek
it makes cooking hands off so you can focus your attention on other things
it cooks other things like quinoa and barley
Yes, you read that right, the rice cooker also happens to make perfect, fluffy quinoa! I'm sharing how to cook quinoa in a rice cooker with you here today.
Don't forget to pin this post to save it for later!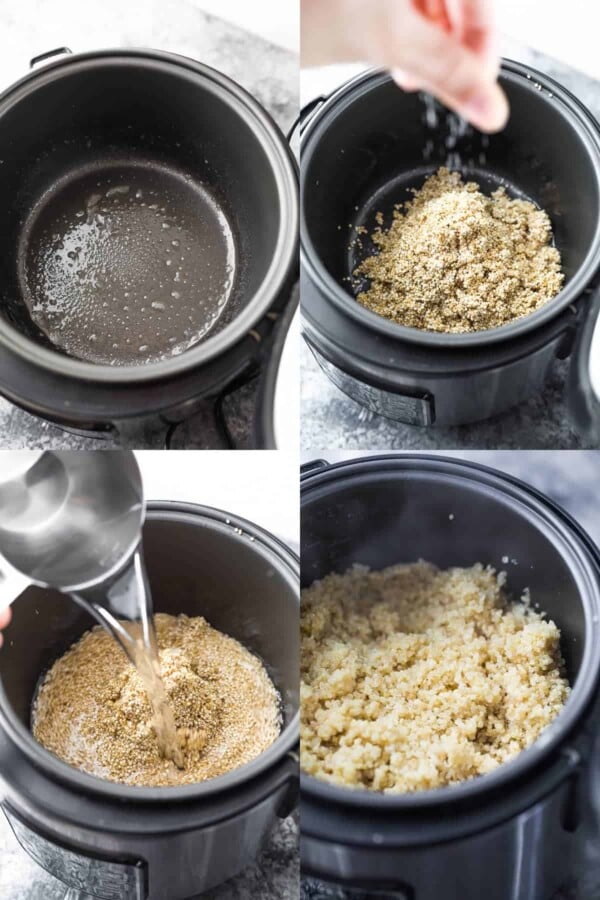 How to cook quinoa in a rice cooker
One of my favorite meal prep tips is to get your quinoa or rice cooking in the rice cooker while you prep your other ingredients.
Steps for cooking quinoa in rice cooker:
Spray the rice cooker base with oil- I find it really helps to keep the quinoa from sticking and drying. My faves are either coconut oil or avocado oil.
Rinse the quinoa- supposedly you don't need to do it, but I find my quinoa ends up even fluffier with a quick rinse. We use a colander and just rinse it under the tap for 20 or so seconds.
Add a pinch of salt.
Add the water. We are doing 2 parts water to 1 part quinoa.
Cook! If you have a fancy rice cooker, select the option for white rice. If your rice cooker only has one button, push the button. That's seriously how easy it is.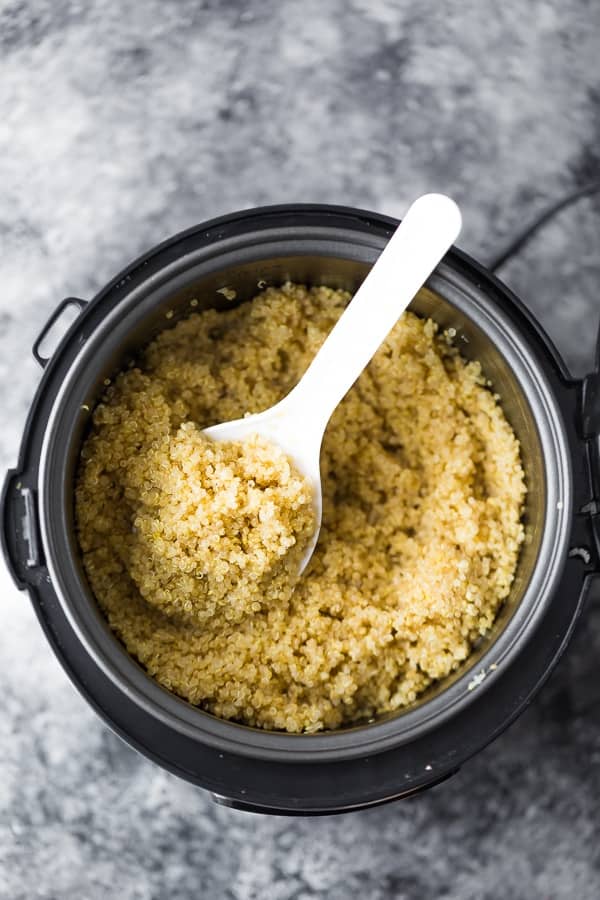 Which rice cooker should I buy? We are actually on our third rice cooker. Hands down my top pick for a rice cooker is the Aroma 8 Cup Rice Cooker
. It is smaller, the lid is super easy to wash, and it cooks basmati rice in under 30 minutes (our first rice cooker took a full hour for basmati!!!). If you have a large family, I'd advise going for the Aroma 20 Cup Rice Cooker. When they say 8 cups, they are talking fully cooked rice. So that's maybe 2 cups uncooked rice you can do.
What else can I cook in my rice cooker? Apparently you can cook all sorts of things in the rice cooker including frittatas and mac and cheese (not really sure why you'd want to though?). I myself have cooked barely in the rice cooker (make sure you rinse it REALLY well, as it's so starchy it can really clog up the steam valve). I will have to try farro next time. The Aroma rice cooker also comes with a steamer basket so you can steam veggies in there while the rice cooks.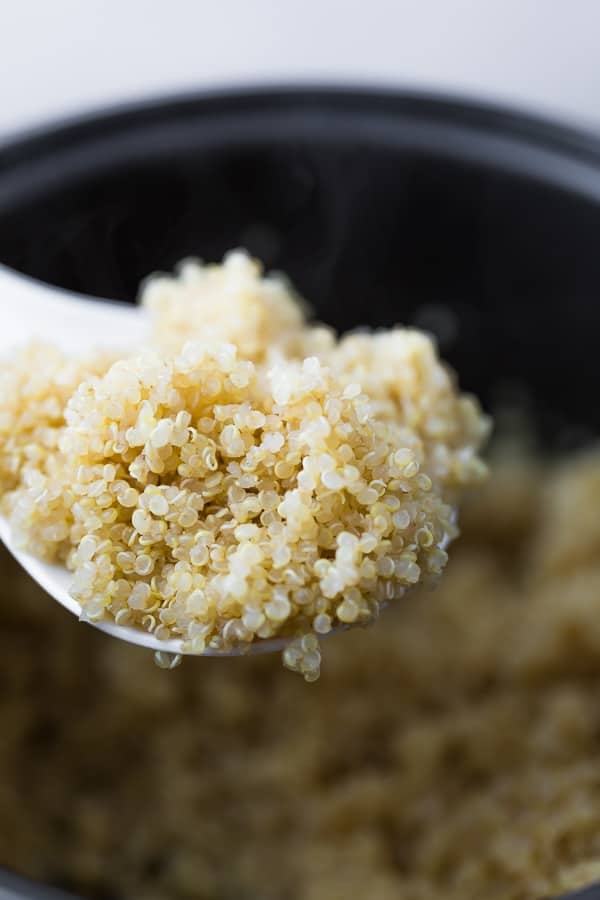 Looking to add more flavor to your quinoa?
There are so many ways to flavor your quinoa. Here are some great ways to add a bit of flavor to your quinoa without adding a ton of calories:
How to Cook Quinoa in a Rice Cooker
How to cook quinoa in a rice cooker- this trick makes cooking quinoa hands off and even easier! No more worrying about your water boiling over, and perfect fluffy quinoa every time.
Instructions
Spray the rice cooker insert lightly with oil (optional but I find it helps keep the quinoa nice and fluffy all the way through).

Rinse quinoa under the tap for 20 seconds in a fine mesh sieve. Shake off excess water and add to the pot.

Add a pinch of salt, then 2 cups of water.

Cook rice using the 'white rice' function (if your rice cooker has that option; otherwise just press cook).
Notes
1- for added flavor, swap the water for vegetable or chicken stock
2- quinoa triples in size as it cooks, so 1 cup of uncooked quinoa should yield 3 cups of cooked quinoa
Storage
Cooked quinoa should be stored in the fridge within 2 hours of cooking.
Store in an air tight container for up to 4 days, or freeze in a freezer bag or meal prep container for up to 3 months.
Adding flavor
Consider swapping the water for chicken stock, or using the spice ratios in these 7 rice recipes
Nutrition
Serving:
1
/4 batch
|
Calories:
158
kcal
|
Carbohydrates:
27
g
|
Protein:
6
g
|
Fat:
2
g
|
Saturated Fat:
0
g
|
Cholesterol:
0
mg
|
Sodium:
18
mg
|
Potassium:
239
mg
|
Fiber:
2
g
|
Sugar:
0
g
|
Calcium:
24
mg
|
Iron:
1.9
mg