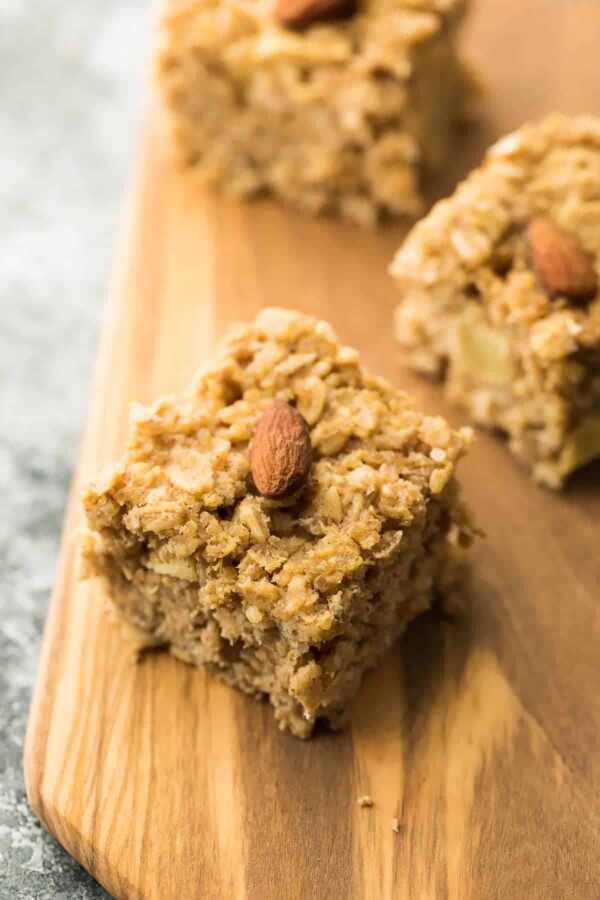 Make these apple quinoa breakfast bars on the weekend for an easy grab and go meal prep breakfast or snack! No refined sugar and full of healthy ingredients to start your day off on the right path.
Breakfast is always going to be a struggle for me.
I was told that I would become a 'morning person' when I was older, that I would grow out of sleeping in and waking up groggy.  That has not been the case!
True, after kids, you have no choice but to get up when they get up, but that doesn't mean that I'm magically peppy and singing in the kitchen while making a triple batch of pancakes.  Nope, nope, nope.
I still find myself staying in bed until the last possible minute, then rushing around a bit of a stress case while trying to get out of the door.  Thank goodness for meal prep breakfasts.  If I couldn't prep my breakfasts ahead, it would be the drive-thru or coffee shop for me.  And that never sets your day off right, does it?
Today I'm sharing a healthier grab and go breakfast recipe: these apple quinoa breakfast bars.  They are so tasty that they almost knock the grump out of me!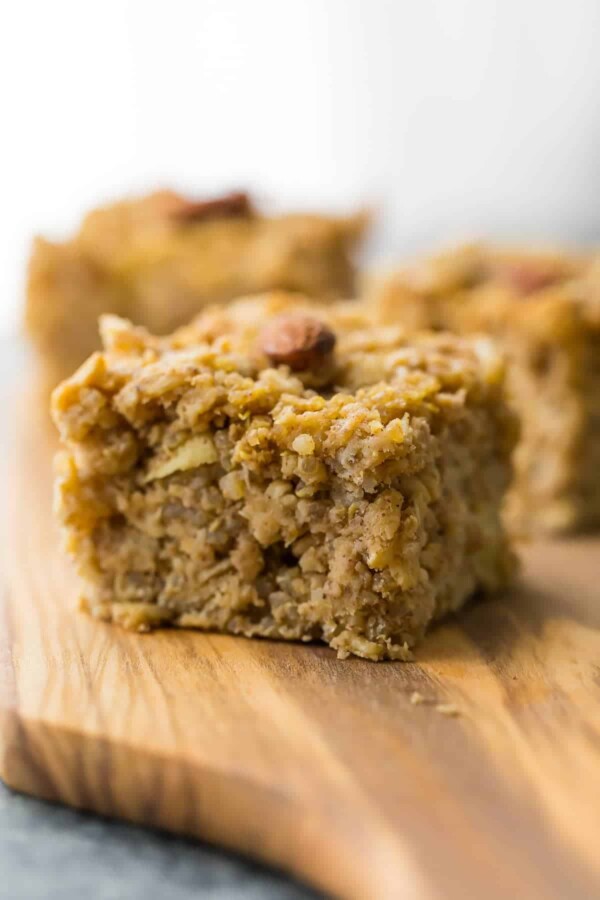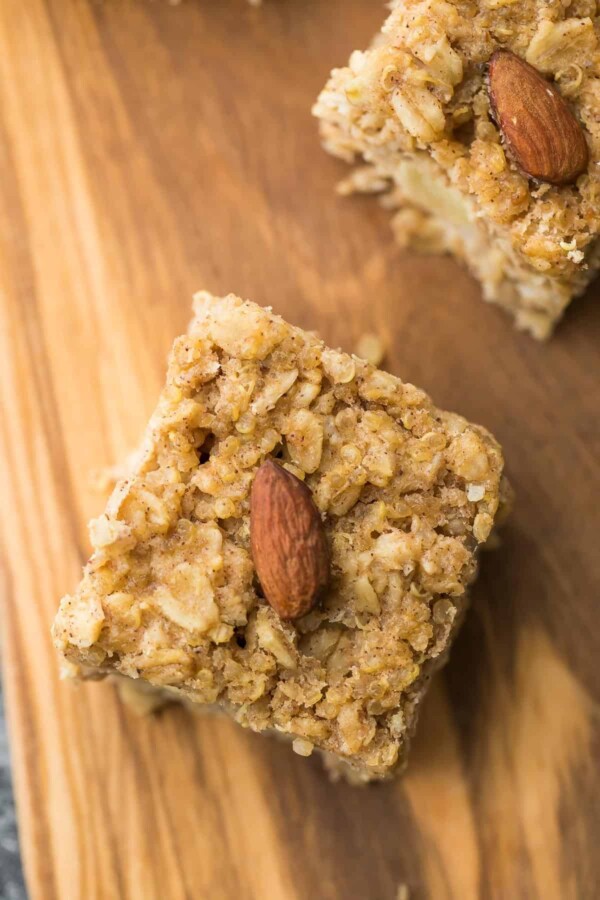 They're not much to look at, but thank goodness they taste good 😉
These apple quinoa breakfast bars are actually a combination of cooked quinoa and rolled oats.  Apple sauce, peanut butter and eggs help bind the dry ingredients, and a whole apple is chopped up so you get lots of apple taste in each bite!
I've never been a fan of dry oatmeal bars, so I wanted these to be moist and almost cakey, and I was so happy with how they turned out.  Because of this, they are probably best eaten with a fork.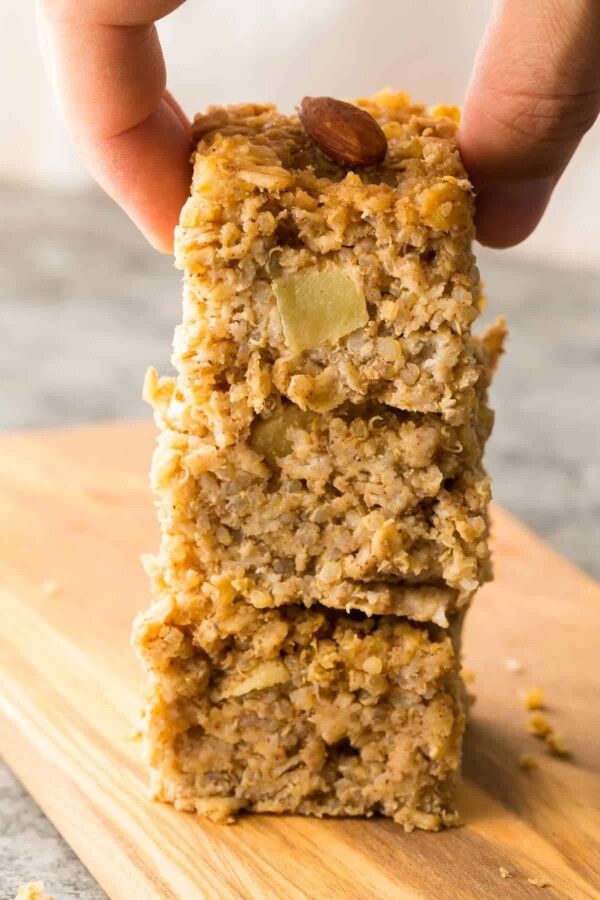 Between the quinoa, the eggs and the nut butter, there are 7 g of protein per bar, which is the same as one of these breakfast egg muffins.  That means you get just a little extra staying power from these guys.
We enjoyed them as a breakfast but also as a morning snack…they are perfect with a cup of coffee!
Happy Monday, friends!  Let's make it a good week 😉
Tips for perfect apple quinoa breakfast bars
Apple Quinoa Breakfast Bars
Ingredients
1 cup unsweetened apple sauce
1/4 cup peanut butter
1 teaspoon vanilla
1/2 teaspoon cinnamon
1/4 cup coconut oil
2 eggs
1.5 cups cooked & cooled quinoa
1.5 cups rolled oats
1/2 teaspoon baking powder
1 apple, peeled and chopped into 1/2 inch chunks
Directions
Heat oven to 350°F.
Spray a 8x8 inch baking dish with oil and set aside.
In a large bowl, stir together the apple sauce, peanut butter, vanilla, cinnamon, coconut oil and eggs.
Mix in the cooked quinoa, rolled oats and baking powder until completely incorporated.
Fold in the apple.
Spread the mixture into the prepared baking dish, spreading it to each corner.
Bake for 40 minutes, or until a toothpick comes out clean.
Cool completely before slicing and storing.
Storage
Store in the fridge for 5-6 days or the freezer for up to 3 months.
Recipe Notes
Loading nutrition data...