This chickpea meal prep turns one pound of chickpeas into three different meals with just one hour of prep time. Grab a printable shopping list and watch the video prep demo to learn how to make these recipes!
After sharing the Whole Chicken Meal Prep plan, it's time for a vegetarian option: chickpeas! Today's meal plan will set you up for healthy eating success during the week and should require just one hour of active prep time.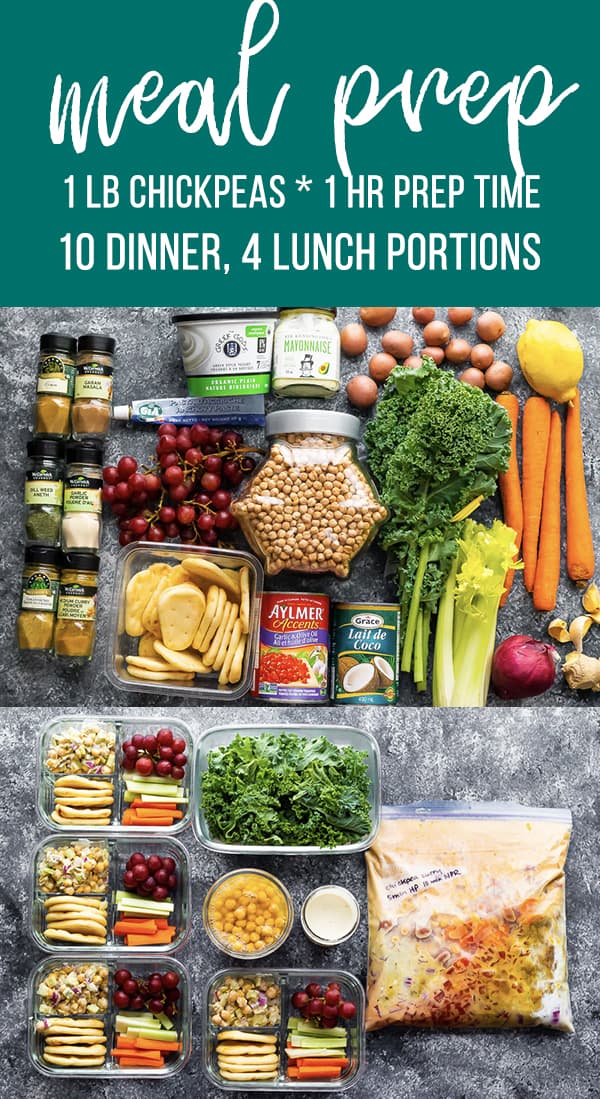 Today, we are spending a bit of time doing some meal prep so that we have healthy lunches and two dinner options during the week.
Click here to download your printable shopping list!
Today we are meal prepping
Watch the video below to see exactly how to put these meals together into a plan! Check out my YouTube channel for more meal prep videos.
Don't forget to pin this post to save it for later!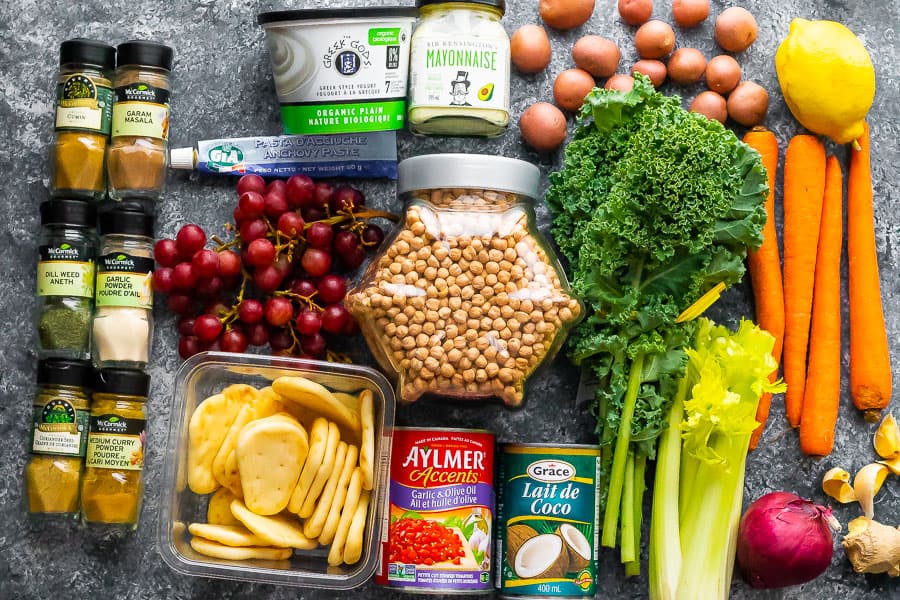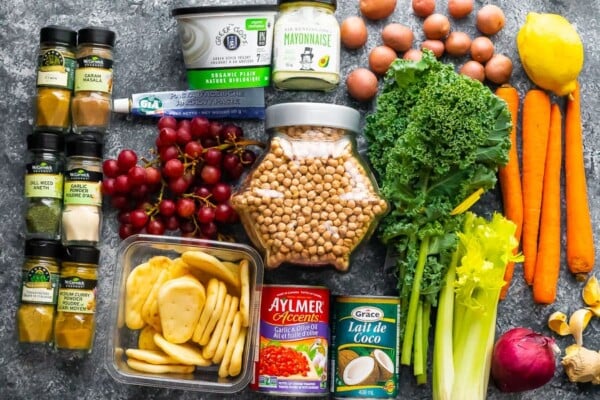 Ingredients
For this meal plan, you will need a number of ingredients. Grab your free printable shopping list here!
Here's a few notes about this menu:
Chickpeas- this meal plan includes cooking your chickpeas from scratch HOWEVER you may skip this and replace with three 15 oz cans of cooked chickpeas.
Vegan- if you are vegan or vegetarian, I suggest you swap the mayo for vegan mayo, and find a vegan alternative to the kale caesar salad. Other than that, these recipes are vegan 🙂
Freezer- if you don't want to eat this many chickpeas in a week (I get you), you may stash the chickpea curry in the freezer (before or after cooking), for up to 3 months.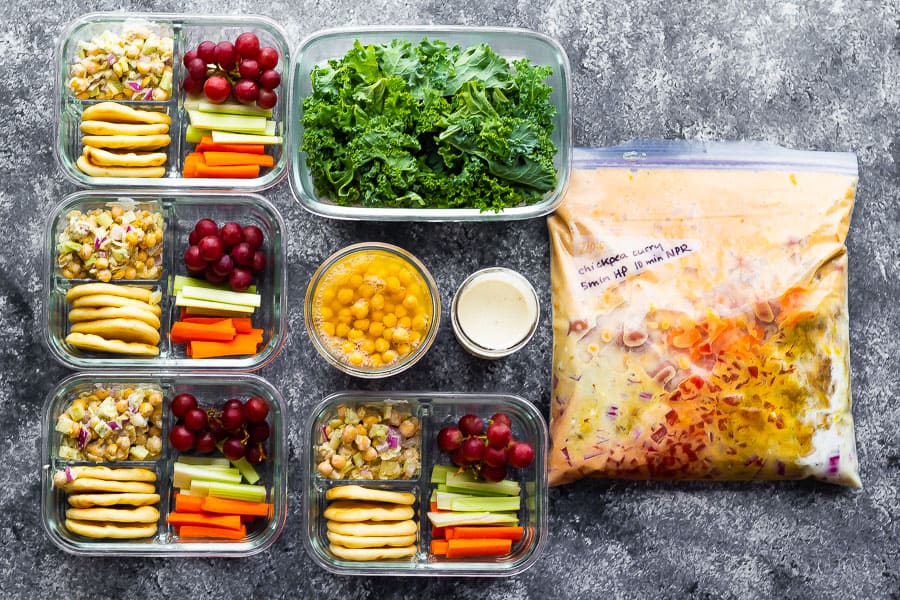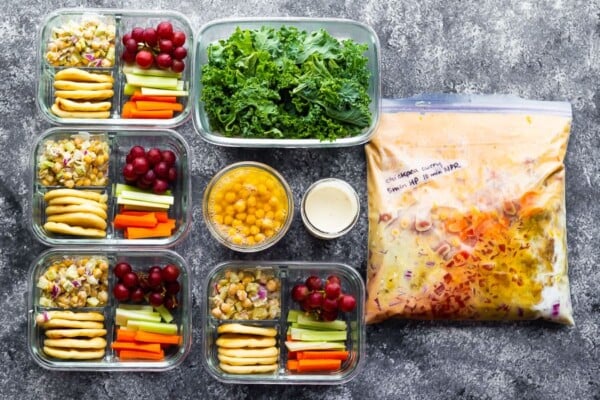 Meal prep day
Start with cooking the chickpeas as this will take about an hour to cook, plus you want them to cool before adding them into the meals.
While chickpeas are cooking, start on your other recipes.
Kale Caesar Salad- shred, wash, dry kale. Store in an airtight container. Shake up caesar salad dressing.
Vegan Curry- place all ingredients in a large meal prep container (I like the 3 quart ones from Ikea), or a gallon-sized reusable silicone bag. I used plastic this time only because we were taking this camping. Store in the fridge for up to 4 days or the freezer for up to 3 months.
Chickpea Salad- divide all grapes, veggie sticks and naan bread between four bento boxes. Stir up chickpea salad ingredients and set aside until chickpeas are ready.
Add chickpeas into the recipes: 2 cups drained & rinsed to curry. 2 cups in cooking liquid in a jar for the kale salad. Mash up 2 cups (drained & rinsed), and stir into the chickpea salad.
Portion chickpea salad into the bento containers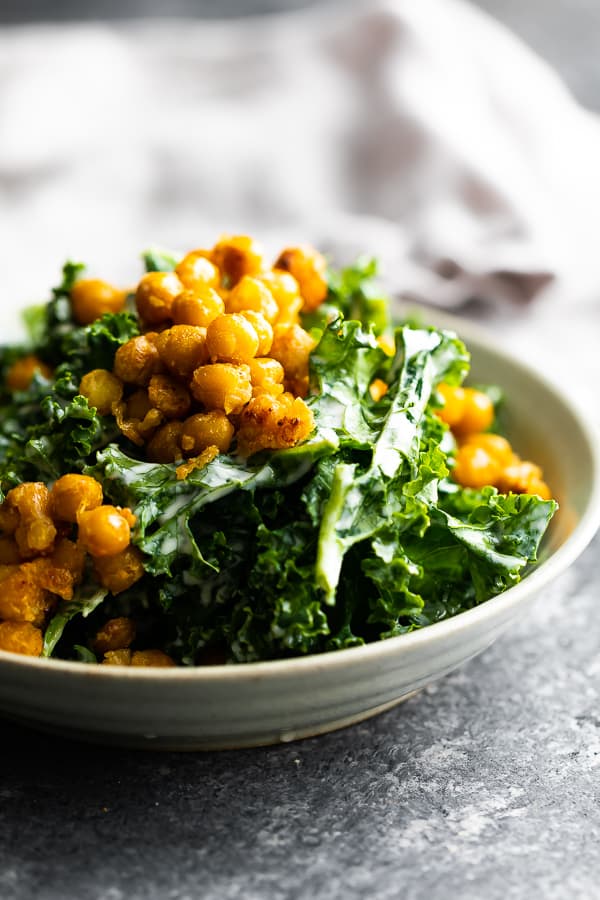 Kale Caesar Salad + Garlic Chickpeas
Get the printable recipe here.
prep day- cook chickpeas. Wash & shred kale. Shake up dressing.
cook day- drain chickpeas and blot dry. Fry up with seasonings. Toss salad in dressing, top with chickpeas & enjoy. (20 minutes)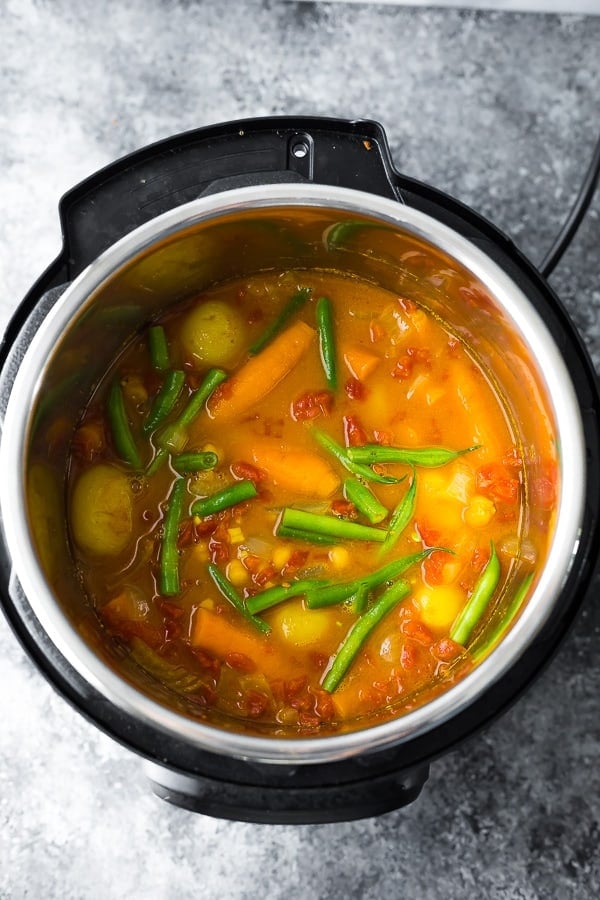 Instant Pot chickpea curry
I suspect this would work just fine in a slow cooker (low 4-6 hours) or on the stove top (simmer 30 min or until potatoes are soft), however I have not tested.
Get the printable recipe here.
This recipe works in both a 6 quart Instant Pot and an 8 quart Instant Pot
prep day- cook chickpeas. Assemble all ingredients in a gallon-sized freezer bag, 3 quart meal prep container (I got mine at Ikea), or gallon-sized reusable silicone bag
cook day- thaw completely if frozen. Dump in the Instant Pot and cook on high pressure for 5 minutes. Follow remaining instructions on recipe card.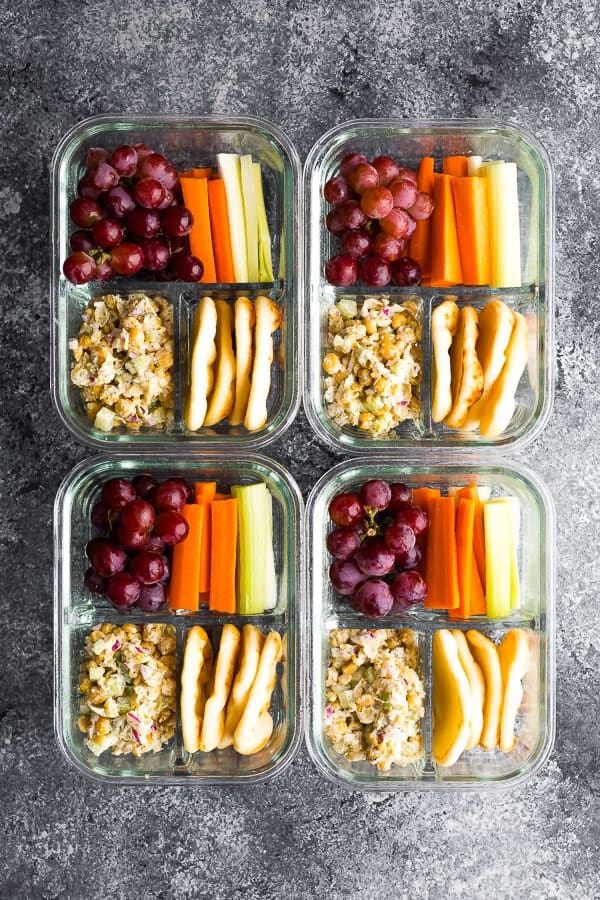 Chickpea Salad Bento Box
This recipe makes four lunch portions and comes together so quickly! You can also serve the chickpea salad in a pita or on a sandwich.
Find the printable recipe here.
prep day- cook chickpeas. Stir together chickpea salad. Portion ingredients out into 3 compartment meal prep containers.
cook day- no cooking! Serve cold.


So that takes care of our chickpea meal prep!
What do you guys think? Do you want more vegetarian and vegan-friendly meal plans like this?
Let me know!
Have a great day,


Check out some other meal plans on my site: