How to make Instant Pot Chickpeas- no soaking required! Cooking your chickpeas from scratch will save you money and tastes so much better than canned.
The Instant Pot has opened so many new opportunities to me! Exhibit A: cooking beans from scratch. Normally, this process takes a lot of time and effort, and you need to keep an eye on them while they simmer on the stove. Thanks to the Instant Pot, you can push a few buttons and have delicious chickpeas from scratch waiting for you.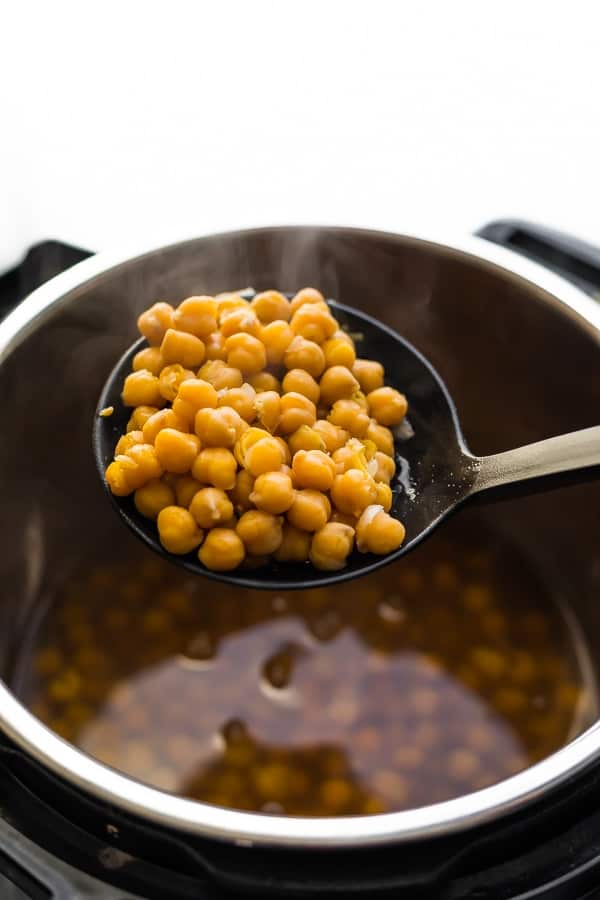 Today I'm talking to you about Instant Pot chickpeas. I've been making my chickpeas this way for a few months now and I don't think I can go back to canned now!
Not only does it save money (a 4 lb bag of chickpeas costs me $5.80 and is the equivalent of  about 24 cups, or 12 cans of chickpeas!!), but they just taste better. Let's discuss!
Don't forget to pin this post to save it for later!
We love Instant Pot chickpeas because
they save us money
they taste way better than canned
thanks to the Instant Pot, they are so quick & easy to make
you can skip the soaking step if you're like me and always forget!
you can cut this recipe in half and cook for the same amount of time if you don't want to eat chickpeas all month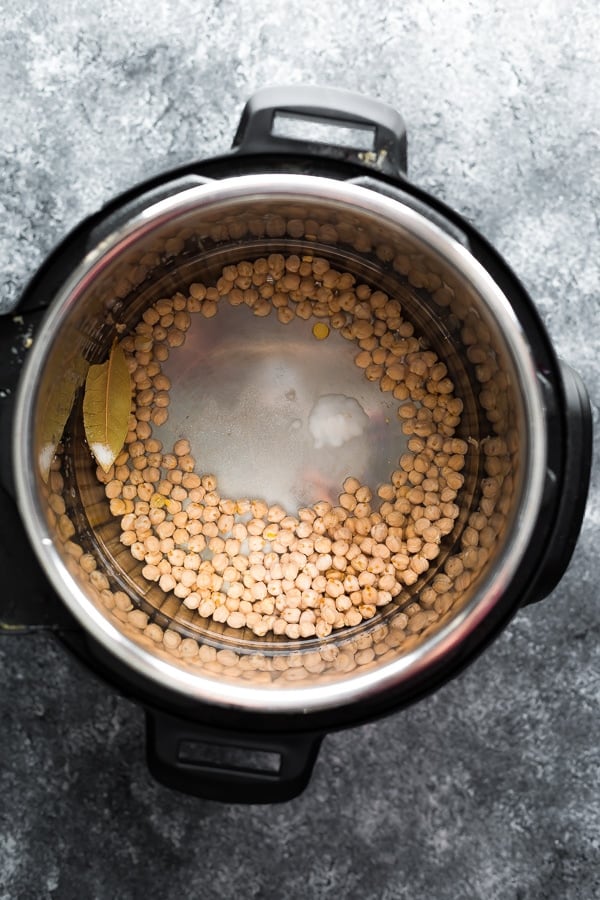 How to cook chickpeas in an Instant Pot
Cooking chickpeas in an Instant Pot is pretty much the easiest way to cook them!
Combine chickpeas, water, salt and bay leaves in an Instant Pot
Pressure cook! Depending on if you soaked or not, you will use different times
Natural release for 10 minutes, then release the rest of the pressure.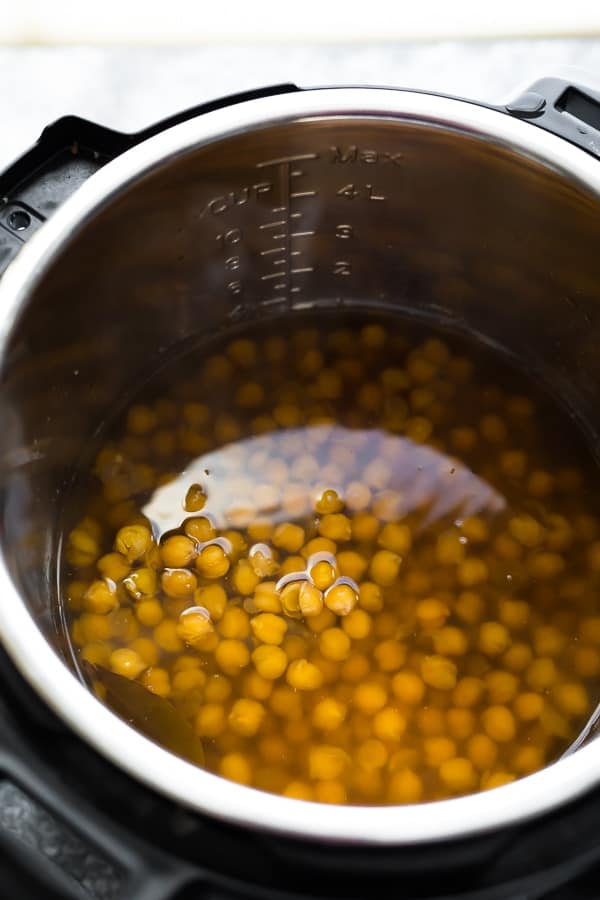 How to store Instant Pot chickpeas? Store in the fridge in a sealed container (and some of the cooking liquid) for up to 4 days. For longer term storage, freeze! I freeze in jars (leave 1/4 of the jar empty to account for expansion, and leave the jars off until completely frozen).
Don't I need to soak the chickpeas? This is a very controversial subject (in terms of chickpeas, LOL!). Some people swear that soaking chickpeas makes them easier to digest. I have not personally noticed a difference. I skip this step in favor of easy prep.
How can I use up my Instant Pot Chickpeas? Guess what? I have a LOT of chickpea recipes for ya!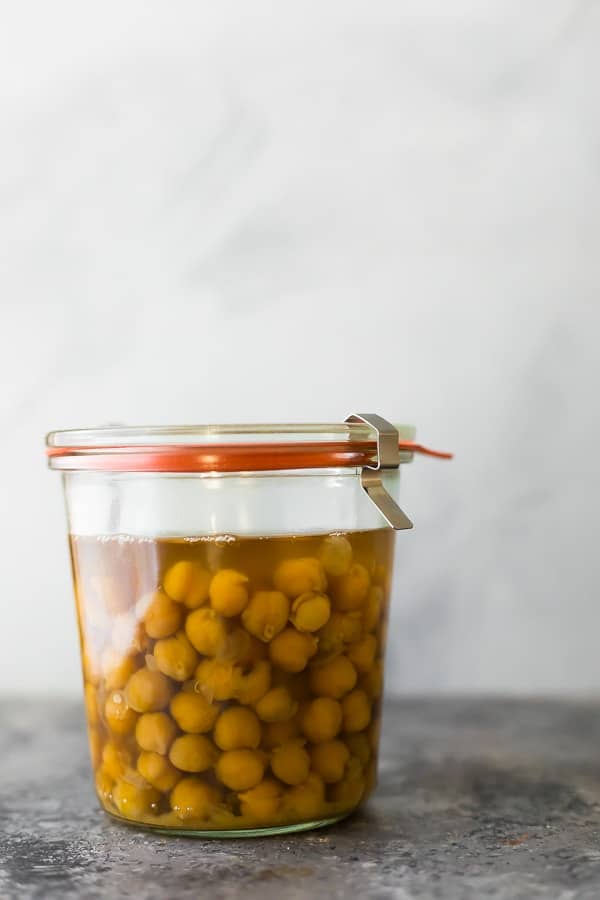 Tips & Equipment for Instant Pot chickpeas
Instant Pot Chickpeas
How to make Instant Pot Chickpeas- no soaking required! Cooking your chickpeas from scratch will save you money and tastes so much better than canned.
Ingredients
1

lb

dry chickpeas

(roughly 2 1/4 cups)

6-7

cups

water

(cover by 1.5 inches)

1

teaspoon

salt

2

bay leaves
Instructions
Rinse chickpeas and look through to pick out any bad ones or stones.

Add to the Instant Pot with all remaining ingredients

Cook on manual high pressure for 35 minutes.

Al dente chickpeas- Allow pressure to naturally release 20 minutes before releasing remaining pressure.Softer chickpeas- allow pressure to fully naturally release until the pin drops (40-50 minutes).

Cool completely and store.
Storage
Store in a sealed container in the fridge for up to 4 days or freeze for up to 6 months.
Notes
*this makes a big batch of chickpeas! If you want a smaller batch, cut everything in half (including water), but keep the cook time the same. 
Recipe updated on 5/6 2019 to address issues for soaked chickpeas
Nutrition
Serving:
0.5
cup
|
Calories:
137
kcal
|
Carbohydrates:
22
g
|
Protein:
7
g
|
Fat:
2
g
|
Saturated Fat:
0
g
|
Cholesterol:
0
mg
|
Sodium:
300
mg
|
Potassium:
330
mg
|
Fiber:
6
g
|
Sugar:
4
g
|
Vitamin A:
25
IU
|
Vitamin C:
1.5
mg
|
Calcium:
43
mg
|
Iron:
2.4
mg