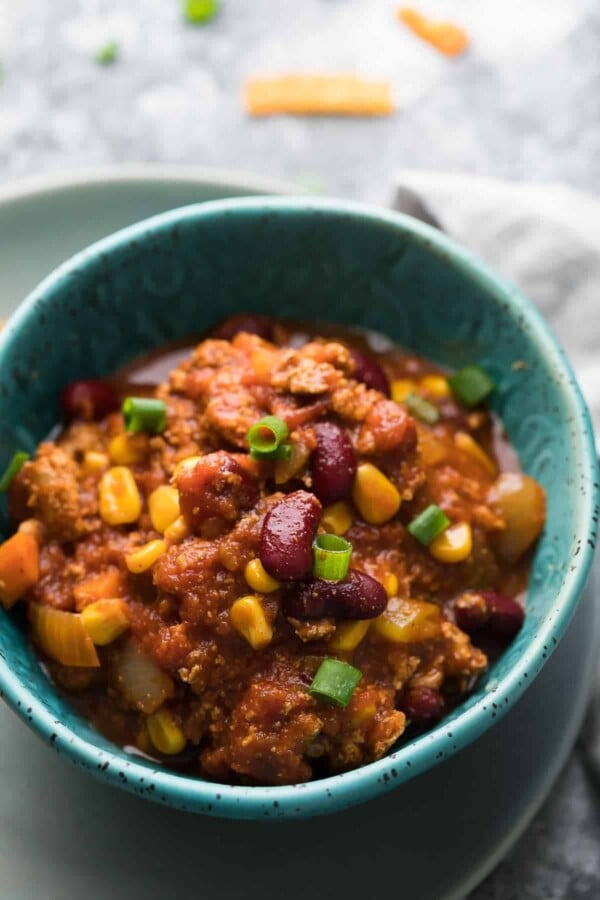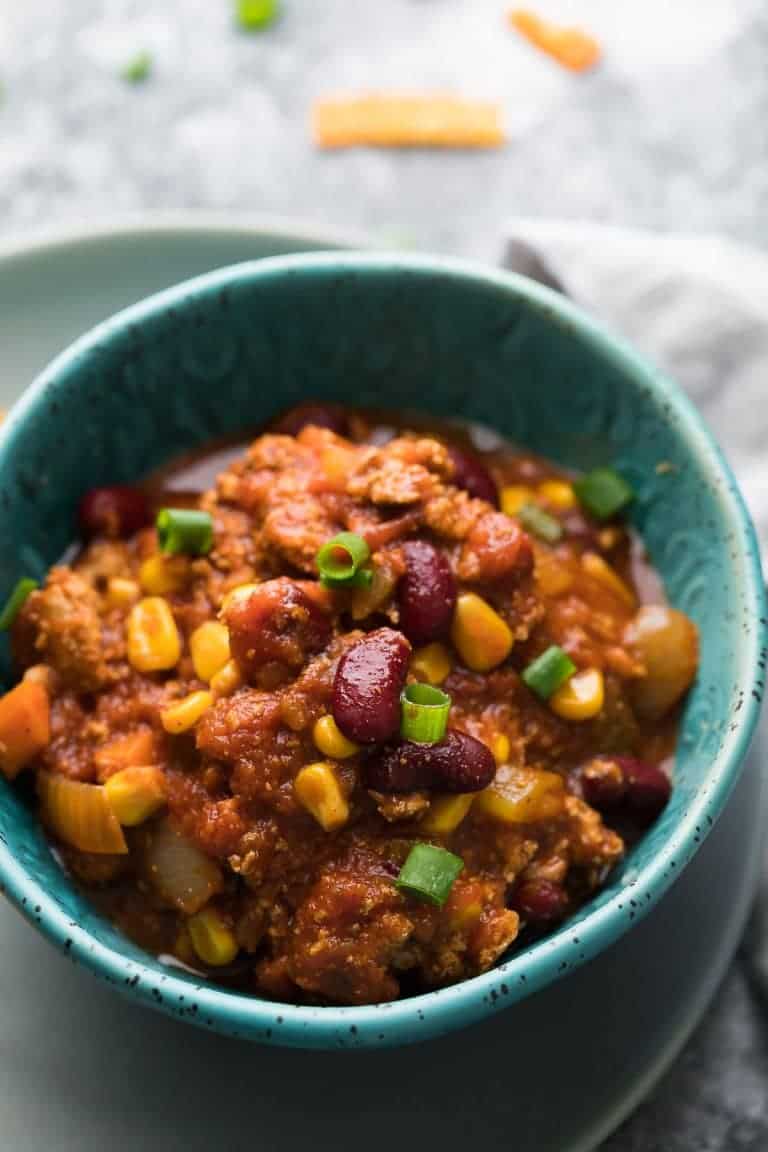 Assemble this slow cooker smoky turkey chili ahead of time and store it in the freezer for up to 3 months. When you're ready to cook: thaw, dump it in the slow cooker, push 'start' and walk away. So easy!
Today's recipe is brought to you by pregnancy cravings. And despite the fact that I prepped this recipe at the end of summer, when it was sweltering hot, I was still craving chili!
I have a few chili recipes on my site (Slow Cooker White Chicken Chili, Slow Cooker Sweet Potato Chickpea Chili and Slow Cooker Roasted Red Pepper Chili), but I don't have a turkey chili and I figured it was about time that should change. Plus, chili is one of the absolute best recipes to stock your freezer with.
You can actually stock your freezer with this slow cooker smoky turkey chili recipe in a few different ways: cook it all first, then freeze, or assemble it uncooked and freeze. Hands up if you like options! Meeeee!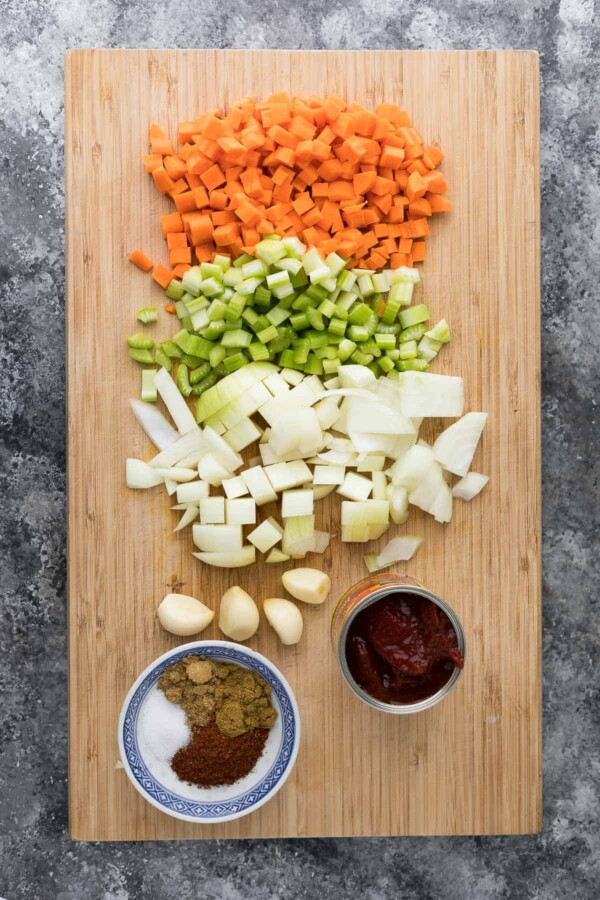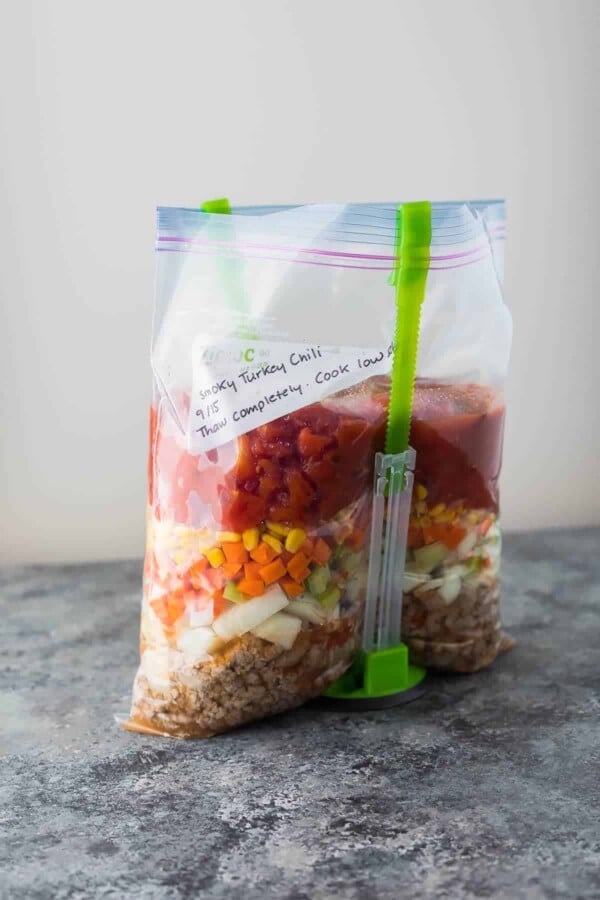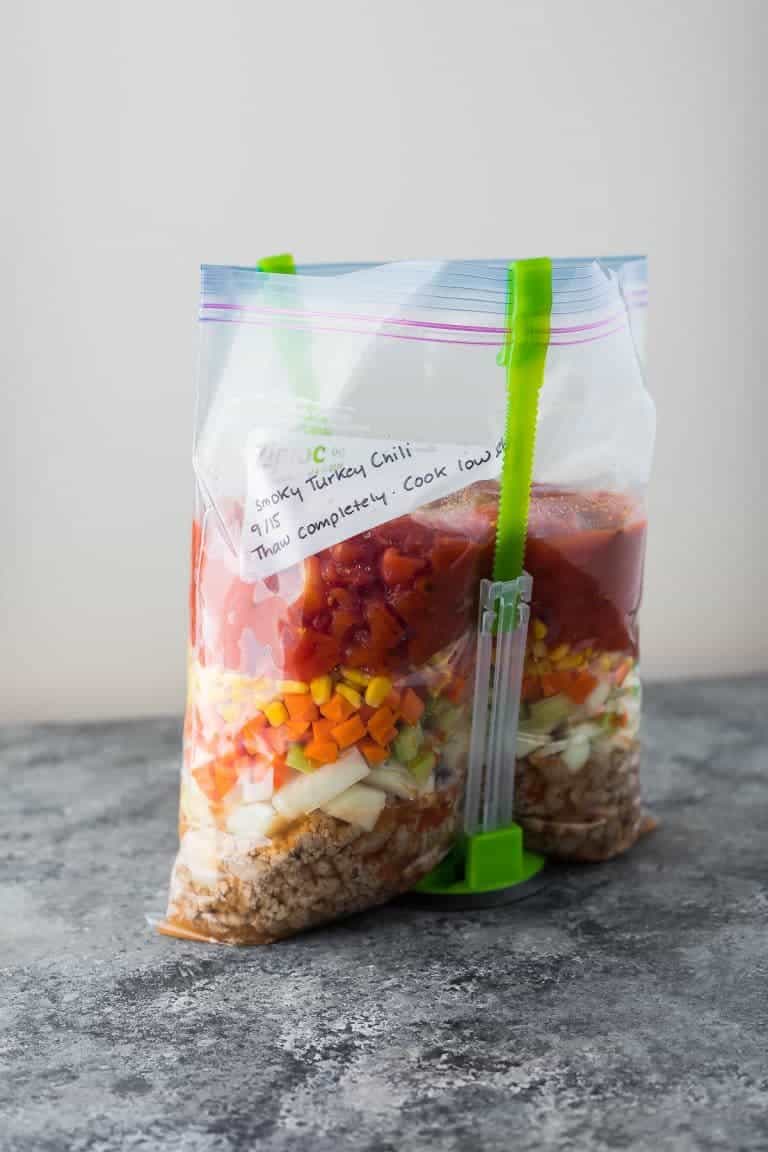 Now, you may notice that I pre-cooked the ground turkey. I recommend that you pre-cook your turkey as it can release a ton of liquid…sometimes none, but this time, a LOT.
So. Cook and cool your ground turkey. Place in a bag. Top with remaining chili ingredients. You may want to leave out the diced tomatoes and tomato sauce until cook day…as you can see my bag was getting quite full. I've never had a freezer bag leak yet (knock on wood!), but over-filling the bag can increase your risk of bags breaking and leaking.
If you do leave out the tomatoes from the freezer bag, just make sure you label your bag with specific instructions.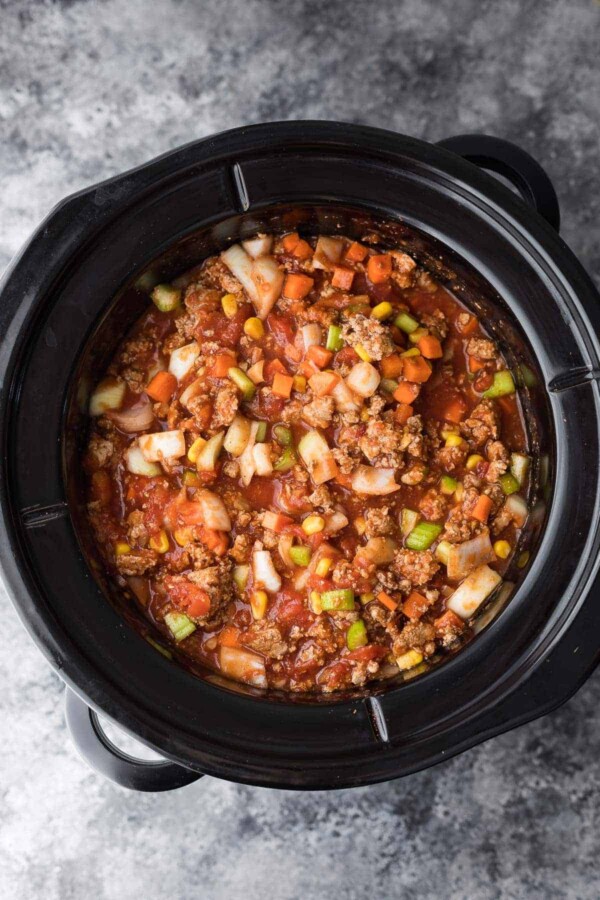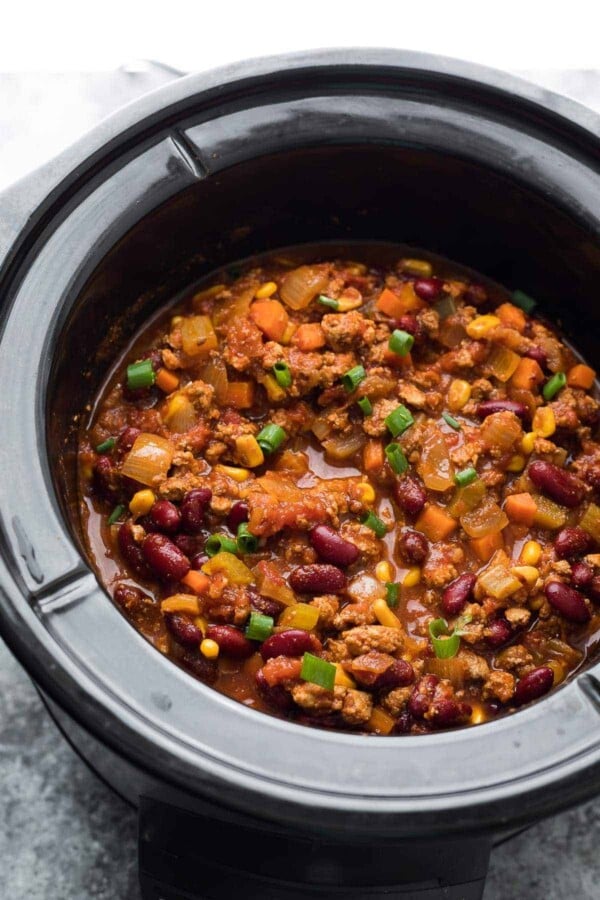 Like I mentioned, you can also cook this slow cooker smoky turkey chili ahead of time, cool it, and freeze it in handy portions. This is probably the best and most convenient option for prepping ahead, but we don't always have time to cook the whole batch, so it's good to have other options.
What is your favorite way to freeze soups and chilis? I have been using these these plastic freezer jars
, which are BPA free, and heavy-duty for re-using multiple times. I haven't had the courage to try mason jars.
If you use mason jars, let me know your tips to prevent jars from bursting! I think I'm ready to graduate to jars 😉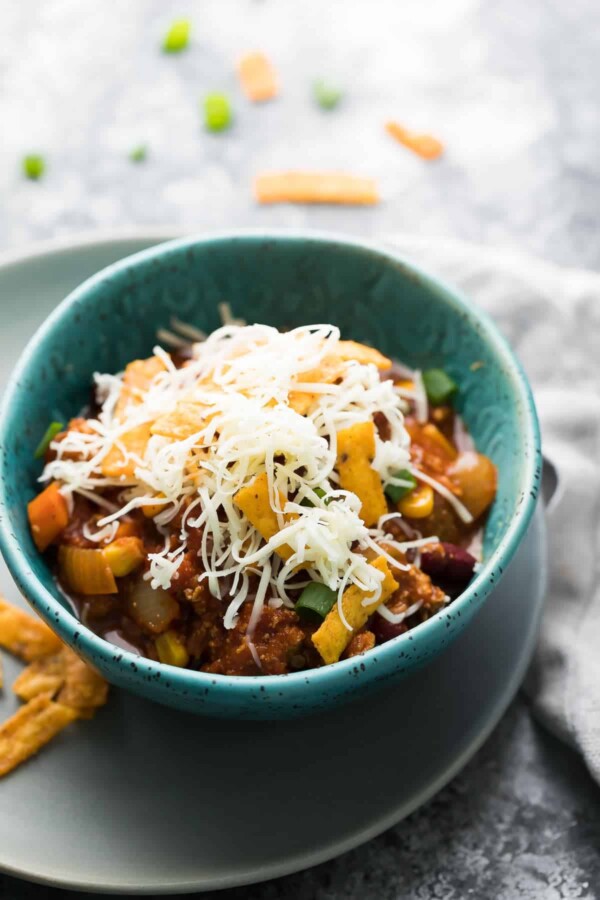 That's it for today! Have a great week 🙂
Tips for your perfect Slow Cooker Smoky Turkey Chili
Slow Cooker Smoky Turkey Chili
Ingredients
1.5 lb ground turkey (lean)
2 cups onion, chopped
2 carrot, chopped
2 celery, chopped
4 cloves garlic, minced
11 oz can of corn, drained
19 oz can kidney beans, drained & rinsed
2 tablespoons chili powder
1 teaspoon ground cumin
1 teaspoon ground coriander
1/2 teaspoon salt
2 chipotle peppers, chopped
4 tablespoons adobo sauce (from the can of chipotles)
28 oz can of diced tomatoes
23 oz/680mL tomato sauce (I used two 13.5 oz/398 mL cans)
Directions
Cook ground turkey in a large pan over medium heat, breaking it up into small pieces, until no pink remains (5-8 minutes)
Place all ingredients in a 5 quart slow cooker and cook on low for 8 hours

To assemble ahead & freeze

Place all ingredients except the diced tomatoes & tomato sauce in a gallon-sized heavy duty freezer bag. Squeeze out as much air as possible, then freeze for up to 3 months.
Thaw completely before placing in a 5 quart slow cooker with the diced tomatoes & tomato sauce and cooking on low for 8 hours.
Loading nutrition data...