High protein snacks to power you up and keep you full! Check out these sweet and savory healthy snack ideas that are perfect for meal prep or lunches on the go.
When meal prepping your breakfasts and lunches, don't forget about snacks! It can be so easy to overlook snacks when you are meal planning or doing your meal prep for the week, but they are so important to consider. When hunger strikes, those healthy snacks will keep you from diving into the bag of chocolate chips (or tortilla chips!).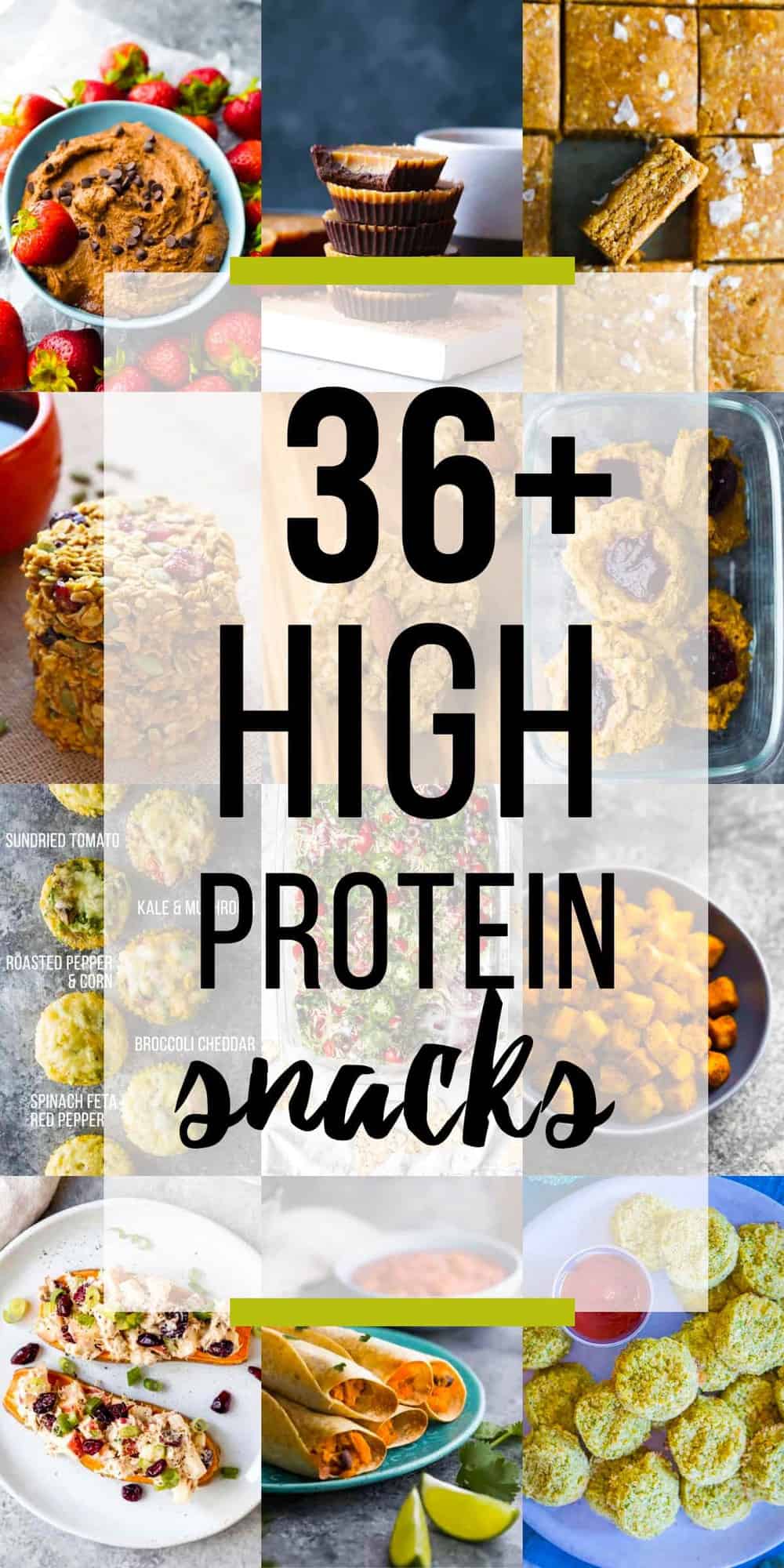 High protein snacks
Today we are talking healthy high protein snacks! I am down with snacking on healthy kale chips, but let's be honest: you're going to be hungry 10 minutes later.
Prepping your snacks ahead will
save you time
make your healthy choice for you (taking willpower out of the equation)
save you money (no more hitting the vending machine)
keep you feeling full and power you through your day
Many of these snacks would would so well for kids lunches as well! I have a post on stocking up a kids snack drawer here.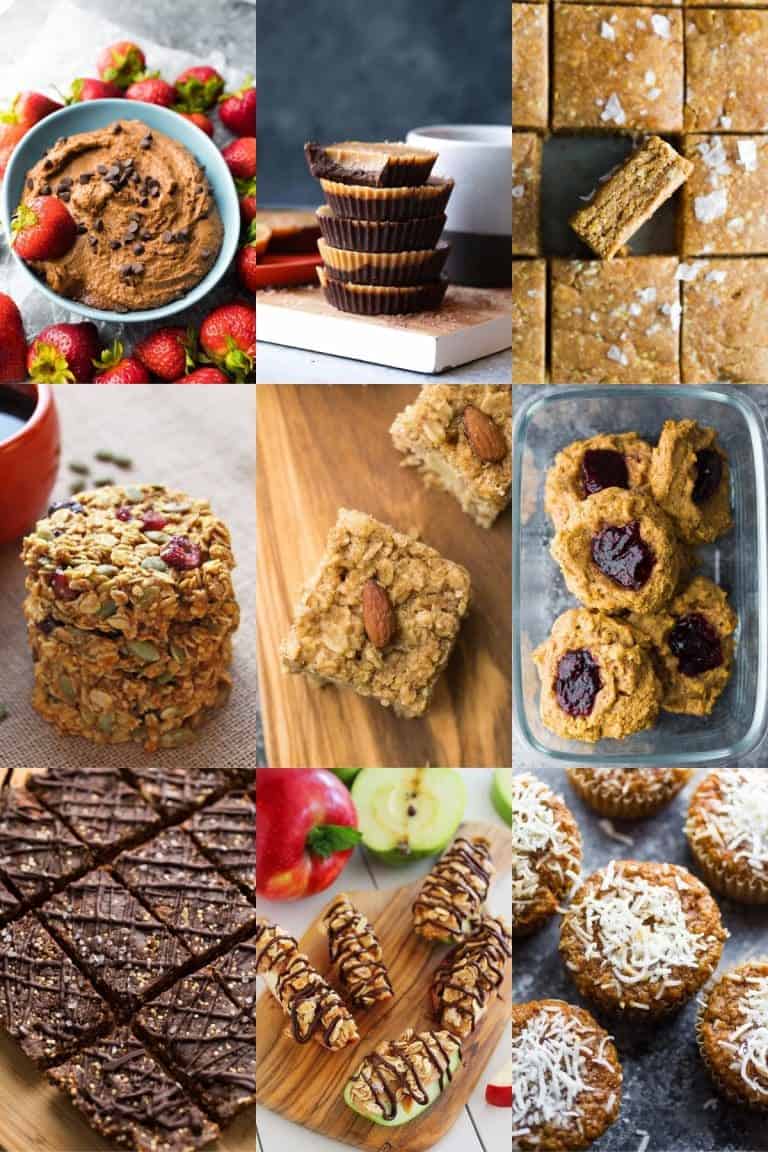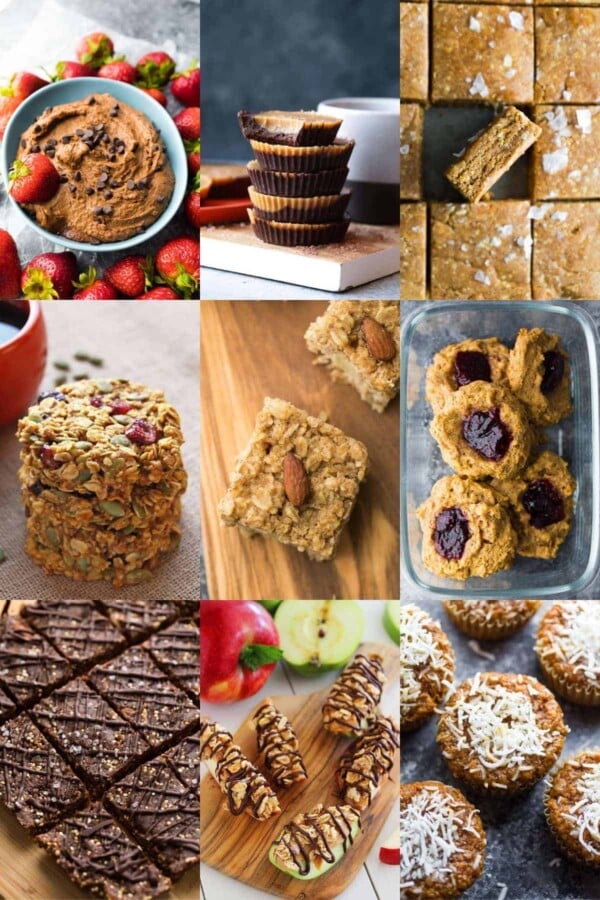 1. Creamy Chocolate Dessert Hummus by Sweet Peas and Saffron
2. Healthy Peanut Butter Cups by Fit Foodie Finds
3. Easy Homemade Protein Bars (Cinnamon Roll) by Sweet Peas and Saffron
4. Pumpkin Breakfast Cookies by Leelalicious
5. Apple Quinoa Breakfast Bars (Gluten Free) by Sweet Peas and Saffron
6. Peanut Butter & Jam Breakfast Cookies by Sweet Peas and Saffron
7. Chocolate Almond Quinoa Snack Bars by Sweet Peas and Saffron
8. Chocolate-Peanut Butter Granola Apple Bites by The Comfort of Cooking
9. Coconut Carrot High Protein Muffins by Sweet Peas and Saffron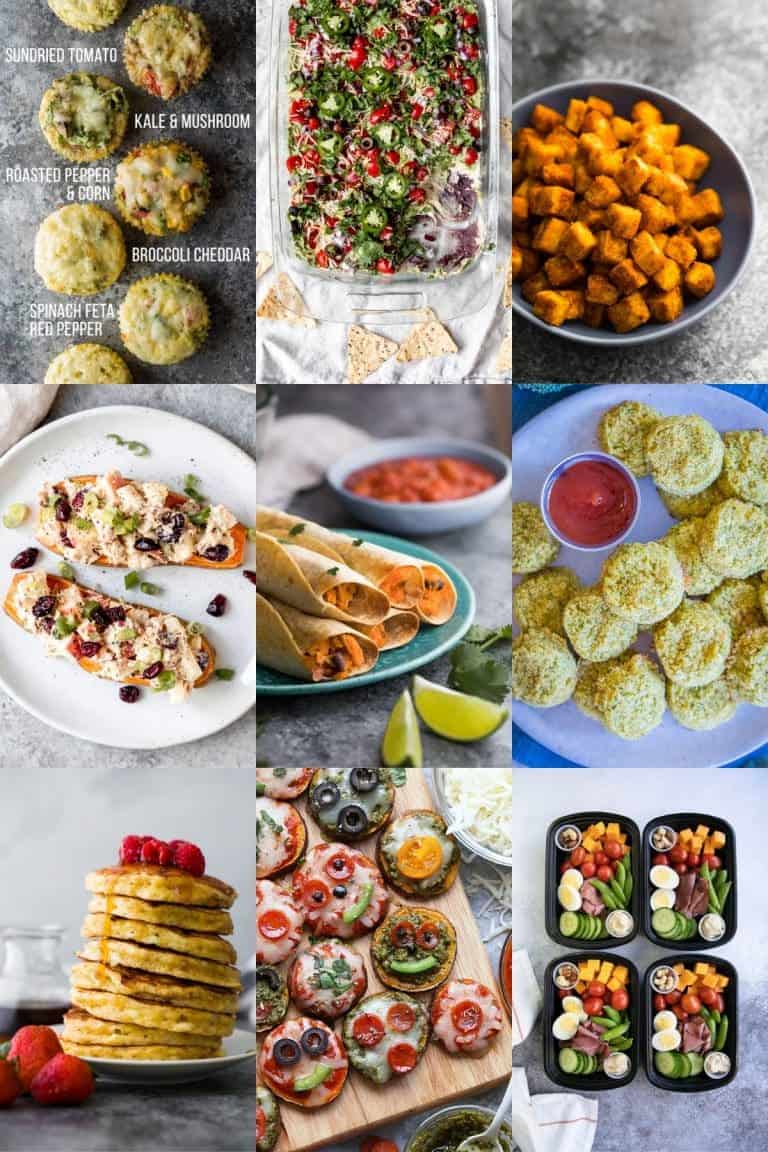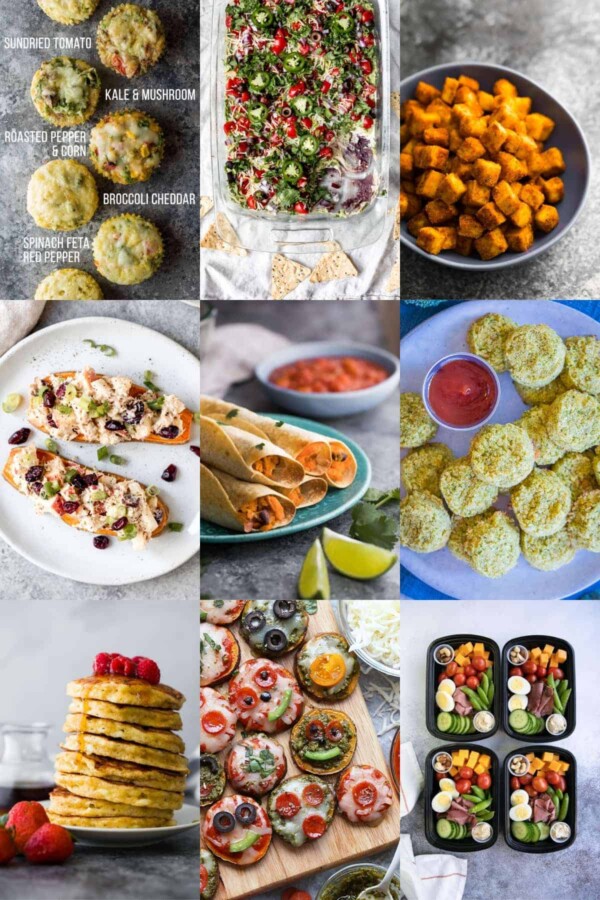 10. 7 Healthy Breakfast Egg Muffins (Freezer) by Sweet Peas and Saffron
11. Fresh & Healthy 7-Layer Dip by Ambitious Kitchen
12. Easy Baked Tofu by Sweet Peas and Saffron
13. Honey Mustard Apple Tuna Salad by Ambitious Kitchen
14. Freezer Sweet Potato Baked Taquitos by Sweet Peas and Saffron
15. Protein Packed Broccoli Cheese Bites by She Likes Food
16. Cottage Cheese Pancakes by Sweet Peas and Saffron
17. Kid-Friendly Sweet Potato Pizza Bites by Fit Foodie Finds
18. Protein Snack Pack - Lunch Meal Prep by The Forked Spoon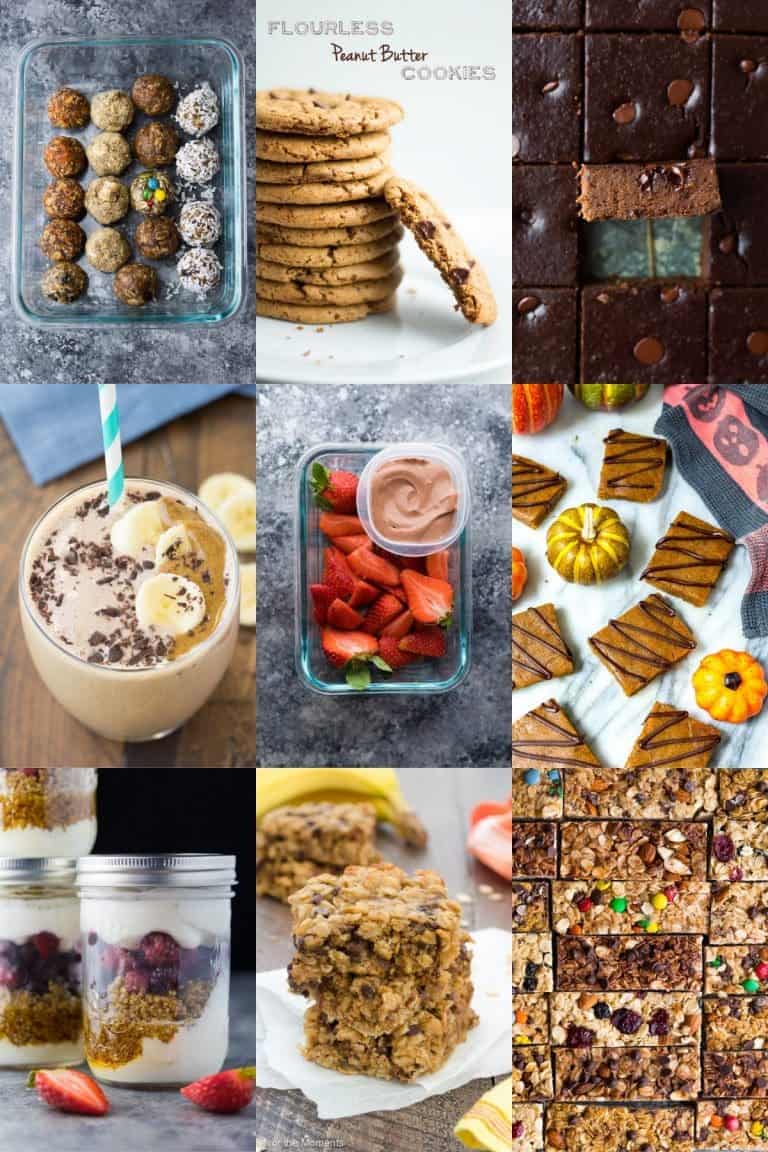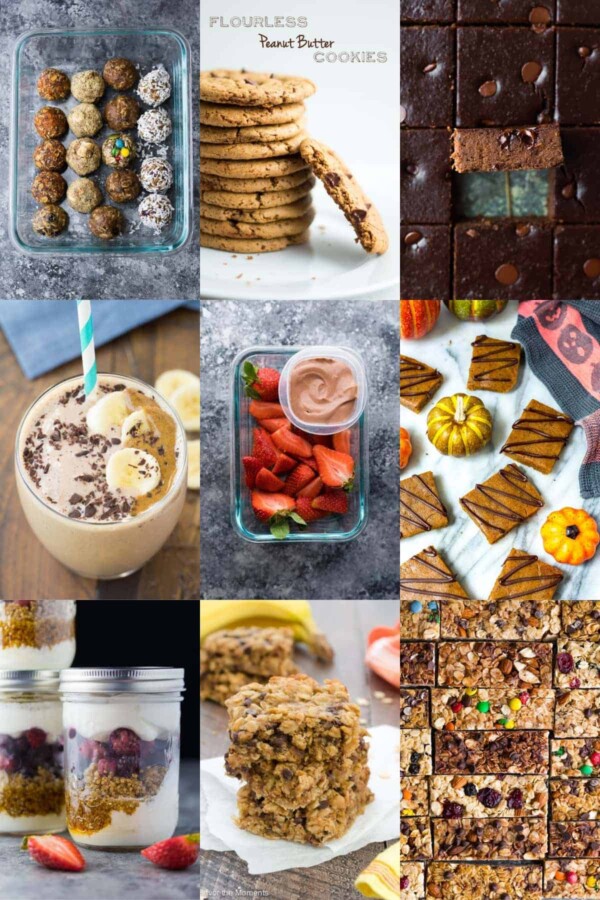 19. No Bake Energy Bites 7 Ways (Make Ahead) by Sweet Peas and Saffron
20. Flourless Peanut Butter Cookies by Green Healthy Cooking
21. Fudgy Black Bean Brownies by Sweet Peas and Saffron
22. Cocoa Almond Protein Smoothie by Kristine's Kitchen
23. Creamy Greek Yogurt Fruit Dip 3 Ways by Sweet Peas and Saffron
24. Pumpkin Spice Latte Protein Bars by The Girl On Bloor
25. Berry Quinoa Yogurt Parfaits (Make Ahead) by Sweet Peas and Saffron
26. Peanut Butter Banana Chocolate Chip Oat Bars by Flavor the Moments
27. 7 Homemade Granola Bars by Sweet Peas and Saffron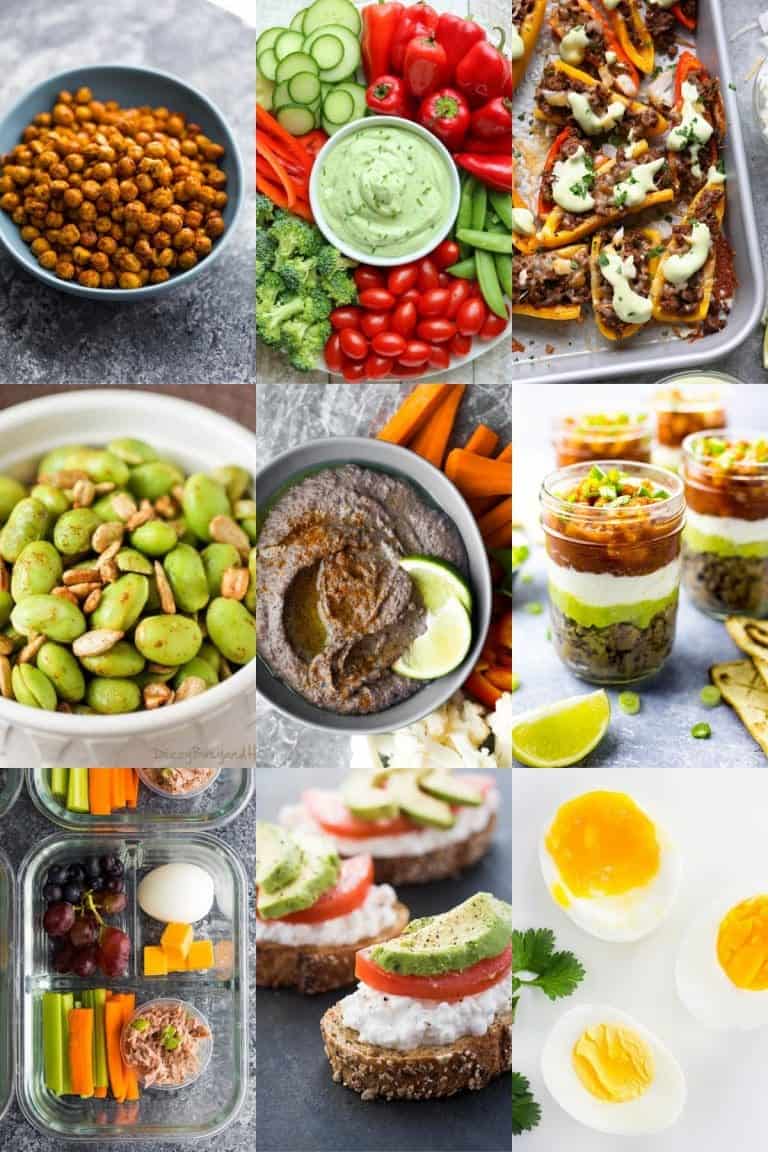 28. Spicy Roasted Chickpeas by Sweet Peas and Saffron
29. 5-Minute Avocado Ranch Dip with Greek Yogurt by Two Healthy Kitchens
30. Fajita "Nachos" with Avocado Creme by Fit Foodie Finds
31. Chipotle Lime Edamame by Dizzy Busy and Hungry
32. 5 Minute Black Bean Hummus by Sweet Peas and Saffron
33. Mini Buffalo Chicken Salsa Dip Jars by The Girl on Bloor
34. Tuna Protein Box by Sweet Peas and Saffron
35. Avocado Toast with Cottage Cheese and Tomatoes by The Lemon Bowl
36. How to Boil Eggs Perfectly Every Time- Easy Peel by Wholesome Yum