36+ healthy soup recipes to warm you up this fall! Tons of easy soup recipes that are healthy and simple to prepare.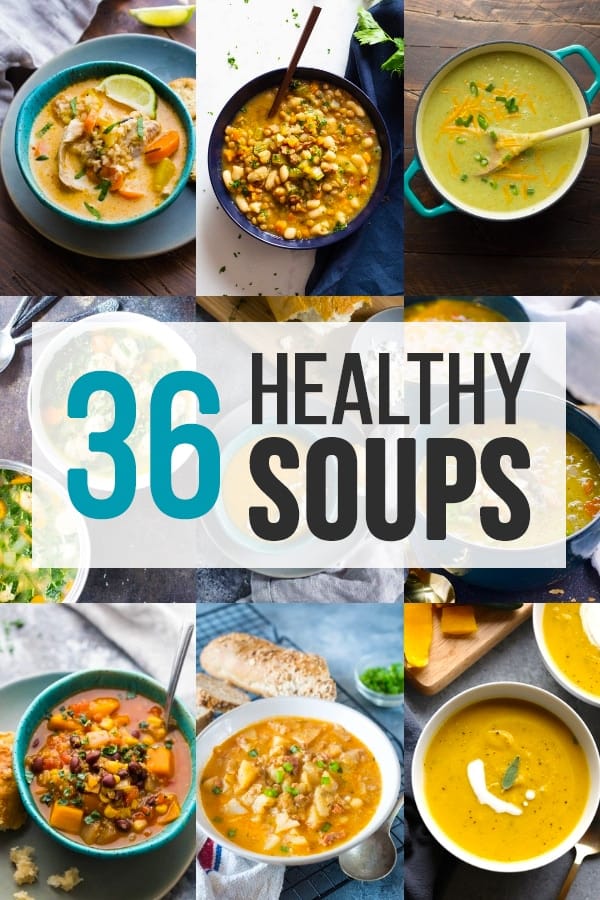 Soups are one of my favorite things to cook, because they are the ultimate one pot meal! I love that most soup recipes are packed with healthy vegetables that help me stay on track with healthy eating. They are easy to cook, store really well, and warm me up on a cold day.
Not only that but soup is one of the most freezer-friendly meals out there! I love stocking up my freezer with easy soup recipes because it means I'll always have something to eat when I run out of meal prep lunches, or defrost when we have guests in town.
Today we're rounding up more than 36 healthy soup recipes from around the web, and there's something for everyone: healthy soups, creamy soups, instant pot and slow cooker soups, vegan soups and soups with meat. There is such a great variety out there and I now have a whole list of the best soup recipes that I want to try!
Don't forget to pin this post to save it for later!
Tips preparing and storing these healthy soup recipes
Always taste your soup before serving. Often it might need a little 'something' after cooking, like a squeeze of citrus, splash of balsamic vinegar or soy sauce, or a little extra salt
I love swapping cream for a potato. Sounds weird but pureeing a potato helps get your soup nice and creamy– cauliflower can also work!
consider making a double batch of soup and freezing half!
When freezing soup, leave 1/4 of the container empty to account for expansion of the soup when it freezes
Let's check out the best soup recipes on the web!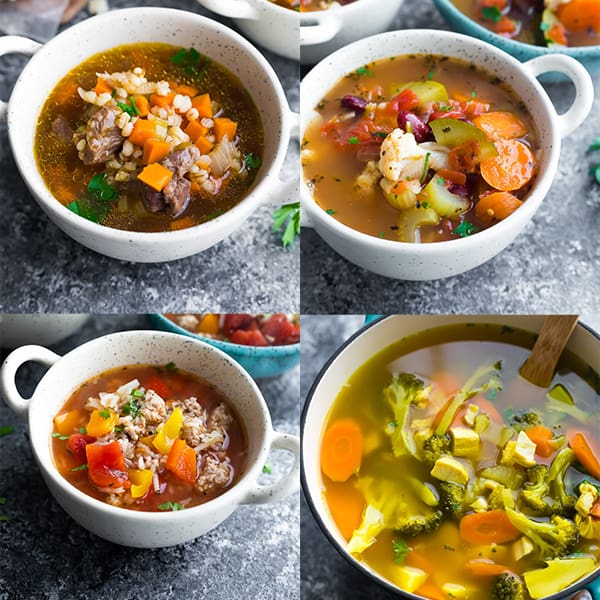 NEW! These recipes have just been added to the round up: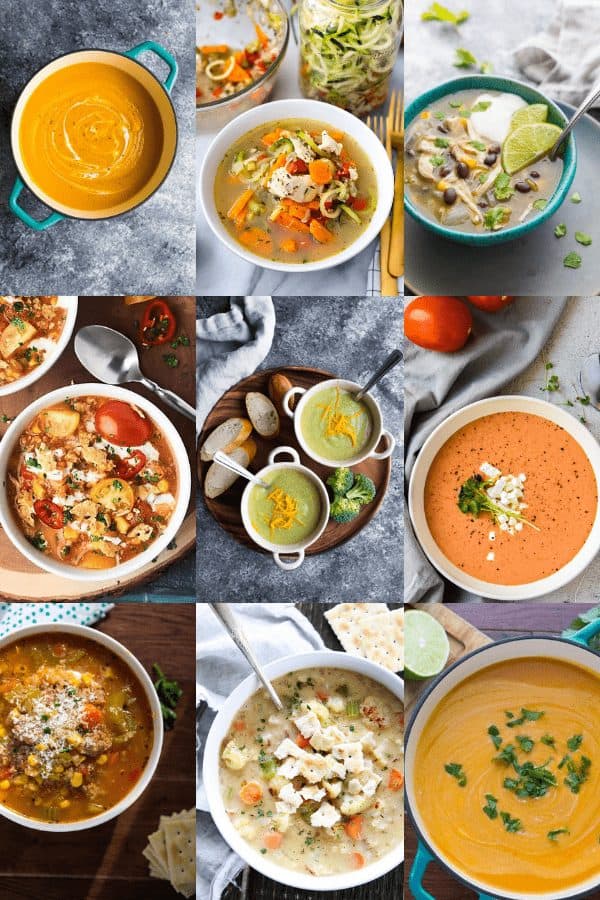 1. Butternut Squash Soup Recipe by Sweet Peas and Saffron
2. Spiralized Zucchini Chicken Noodle Soup Jars by The Girl On Bloor
3. Shortcut Instant Pot Chicken Chile Verde Soup by Sweet Peas and Saffron
4. Healthy Turkey Taco Chili Recipe by Show Me the Yummy
5. Healthy Broccoli Cheese Soup by Sweet Peas and Saffron
6. Instant Pot Smoky Tomato Soup {Freezer Friendly} by Meal Plan Addict
7. Mom's Quinoa Minestrone With Corn by Sweet Peas and Saffron
8. Creamy Roasted Cauliflower Chowder by Two Peas and Their Pod
9. Creamy Thai Curry Red Lentil Soup by Sweet Peas and Saffron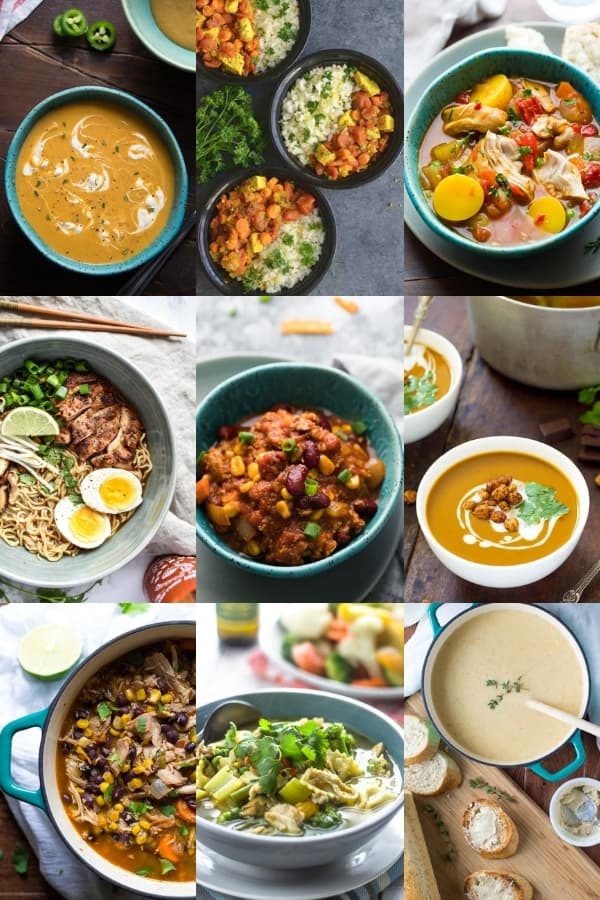 10. Caribbean Sweet Potato Soup by Sweet Peas and Saffron
11. Moroccan Turmeric Chicken Stew by Meal Prep On Fleek
12. Slow Cooker Spanish Chicken Stew by Sweet Peas and Saffron
13. Simple Shiitake Mushroom Chicken Ramen by Project Meal Plan
14. Slow Cooker Smoky Turkey Chili (Freezer Slow Cooker) by Sweet Peas and Saffron
15. Chocolate Roasted Butternut Squash Soup + Chili Cocoa Roasted Chickpeas by Leelalicious
16. Crockpot Mexican Chicken Stew by Sweet Peas and Saffron
17. Vegetable Lovers Chicken Soup by Gimme Delicious
18. Creamy Roasted Cauliflower Soup with Thyme by Sweet Peas and Saffron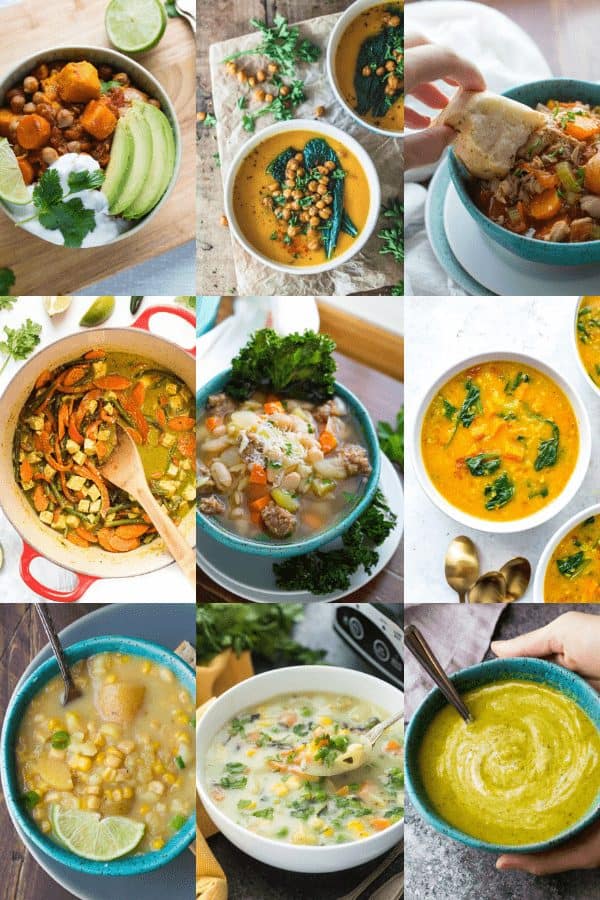 19. Slow Cooker Sweet Potato Chickpea Chili (Instant Pot) by Sweet Peas and Saffron
20. Roasted Pumpkin Cream Soup with Crispy Chickpeas by Vibrant Plate
21. Instant Pot Tuscan Chicken Stew by Sweet Peas and Saffron
22. Easy Vegan Green Curry with Forbidden Rice by Simply Quinoa
23. White Bean Sausage Soup with Orzo and Kale Chips by Sweet Peas and Saffron
24. Instant Pot Golden Turmeric Lentil Soup by The Girl On Bloor
25. Slow Cooker Potato, Corn and Jalapeno Soup by Sweet Peas and Saffron
26. Slow Cooker Creamy Vegetable Soup by Recipe Rebel
27. Anti-Inflammatory Broccoli, Ginger and Turmeric Soup (Slow Cooker) by Sweet Peas and Saffron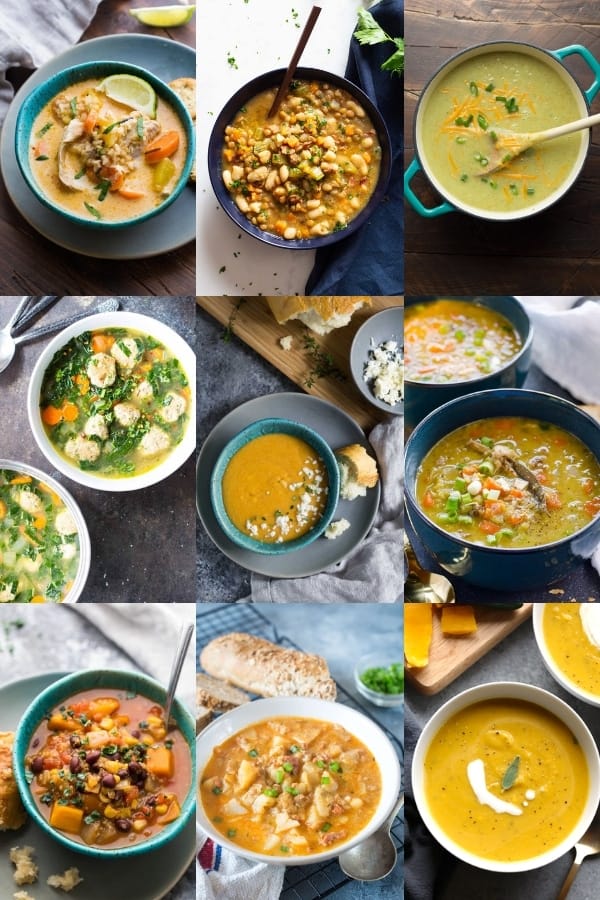 28. Thai Slow Cooker Chicken and Wild Rice Soup by Sweet Peas and Saffron
29. Instant Pot Lentil Soup by Green Healthy Cooking
30. Roasted Poblano Soup with Potatoes and Cheddar by Sweet Peas and Saffron
31. 30-Minute Turkey Meatball and Kale Soup by Savory Lotus
32. Greek Lentil Soup by Sweet Peas and Saffron
33. Green Split Pea Soup by iFoodReal
34. Slow Cooker Black Bean, Quinoa and Sweet Potato Stew by Sweet Peas and Saffron
35. Chorizo and Potato Soup by Eazy Peazy Mealz
36. 30-Minute Spicy Butternut Squash Soup by Fit Foodie Finds