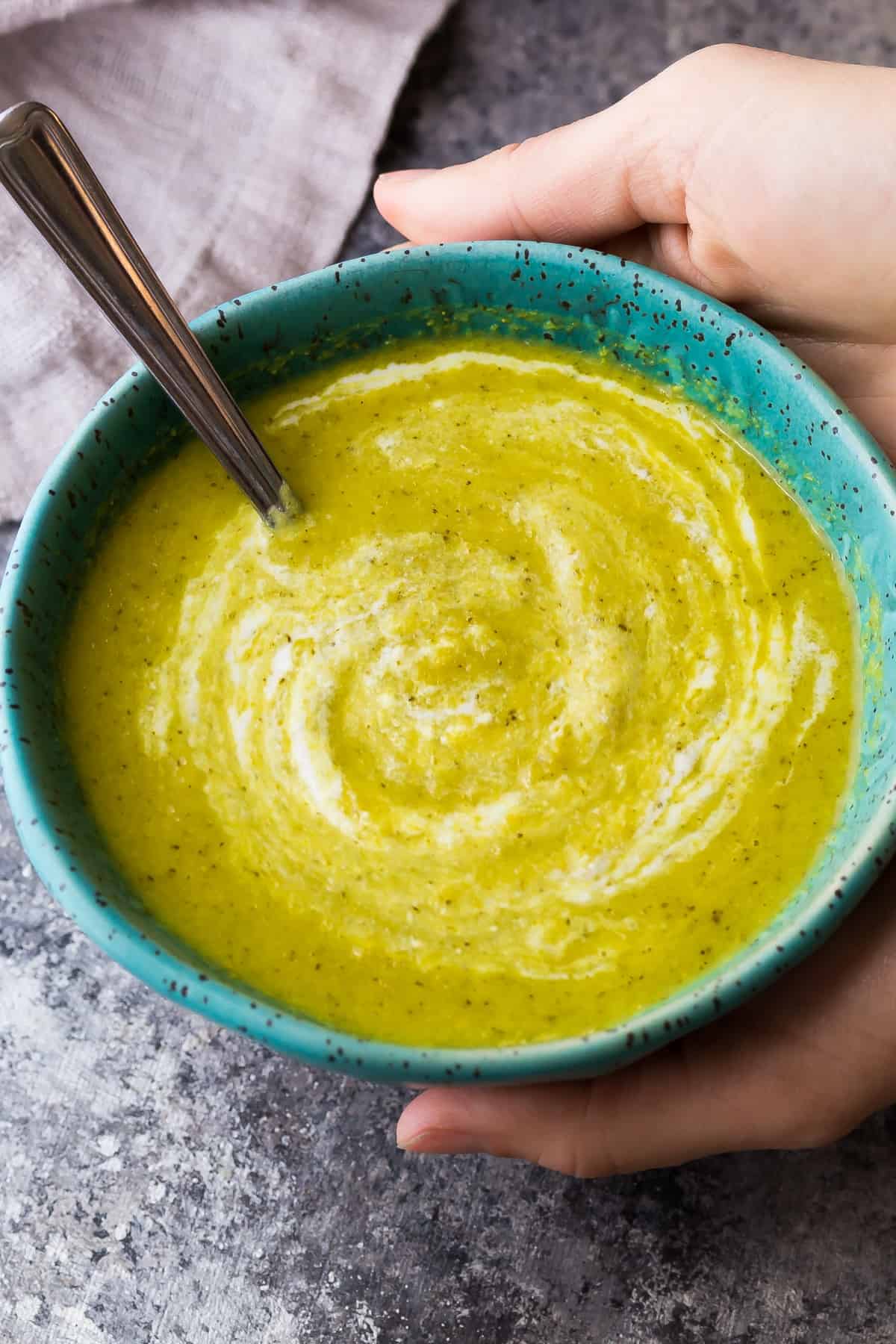 This super healthy broccoli, ginger and turmeric soup is a powerhouse of anti-inflammatory ingredients and will warm you right up on a cold day.
I've been going souper crazy with the soups lately!
Well, it's cold.  I'm always cold!  My favorite thing is to warm my cold hands up on Kai's tummy.  He thinks it's hilarious, and his tummy is always pretty warm so it's a win/win situation.
Not only that but it's cold and flu season, and I'm just hoping I don't get sick this year.  I thought it would be great to share a super healthy soup recipe that will fill us with nutrients to hopefully stave off any sickness.
And it just so happens to be JAM packed with fresh veggies, filling way more than Half Your Plate (or half your bowl!)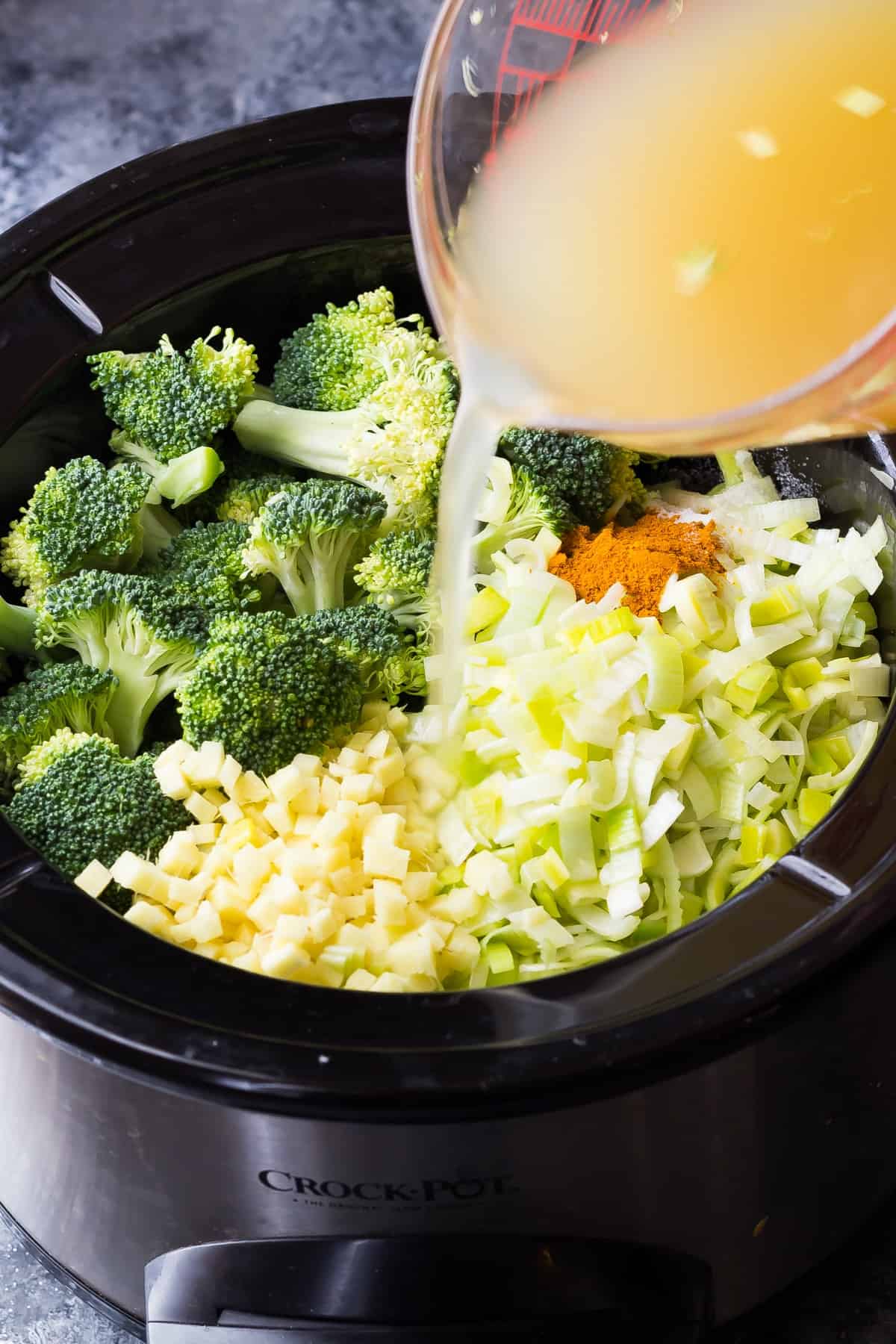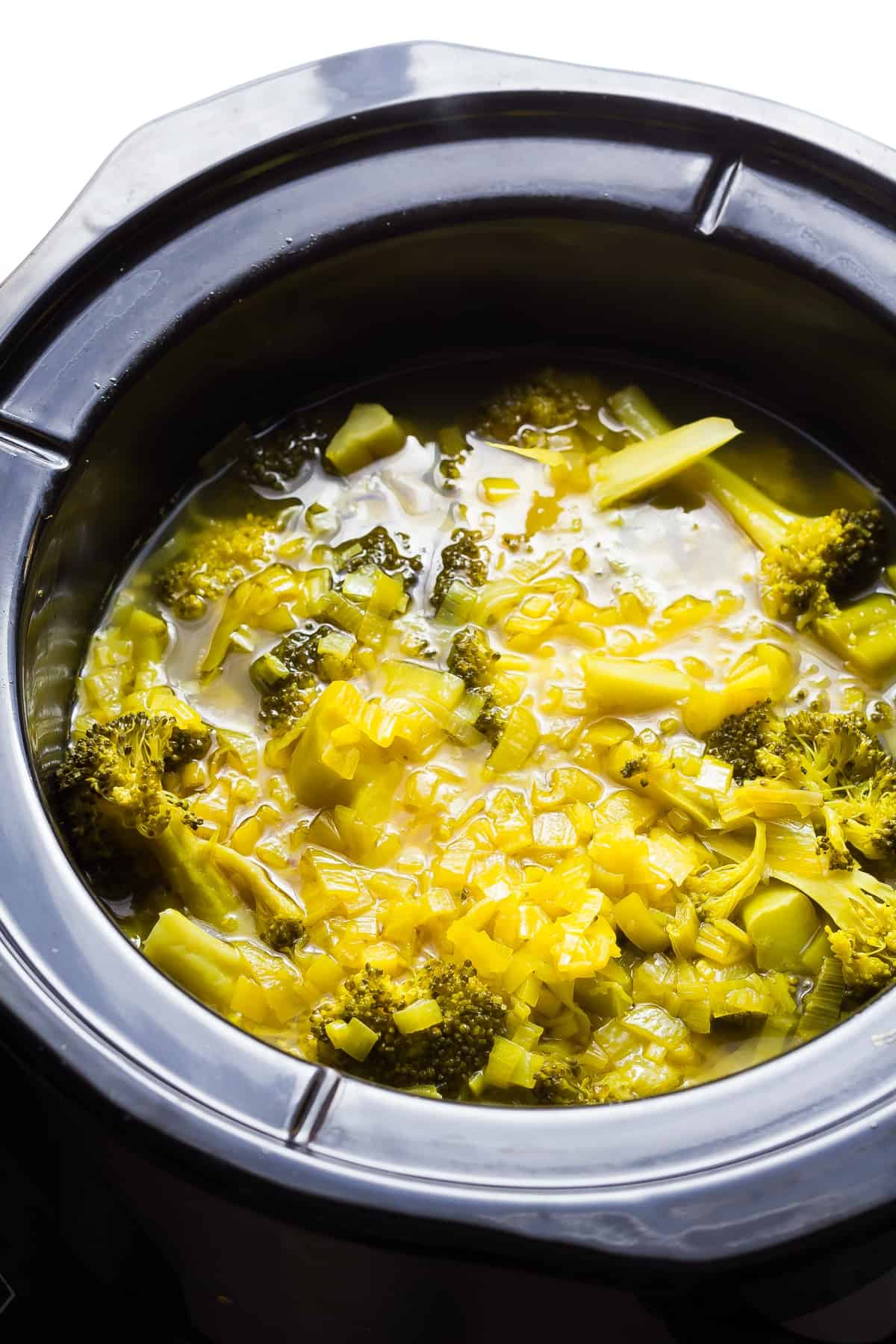 Today's post is in partnership with Half Your Plate, whose mission is to help us to fill half our plates with fruit and veggies.  It can be especially difficult at this time of year when the holiday cookies are a-plenty.
Well, with this soup, you are filling more than half your plate (ahem…bowl) with veggies.  This broccoli, ginger and turmeric soup is seriously packed with healthy veggies.
For more tips and tricks on filling half your plate with veggies, check out the Half Your Plate website!  There's a ton of great ideas and information.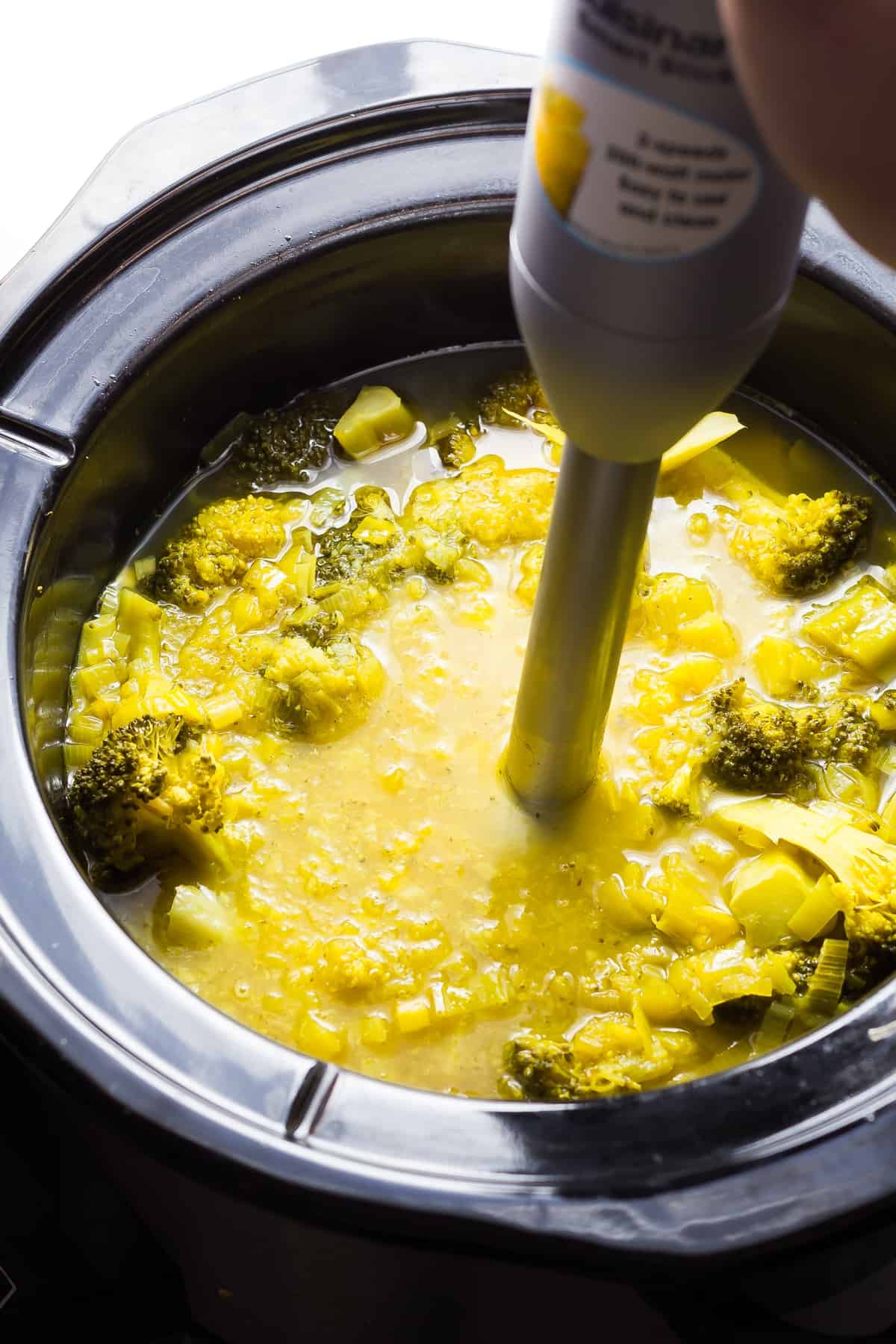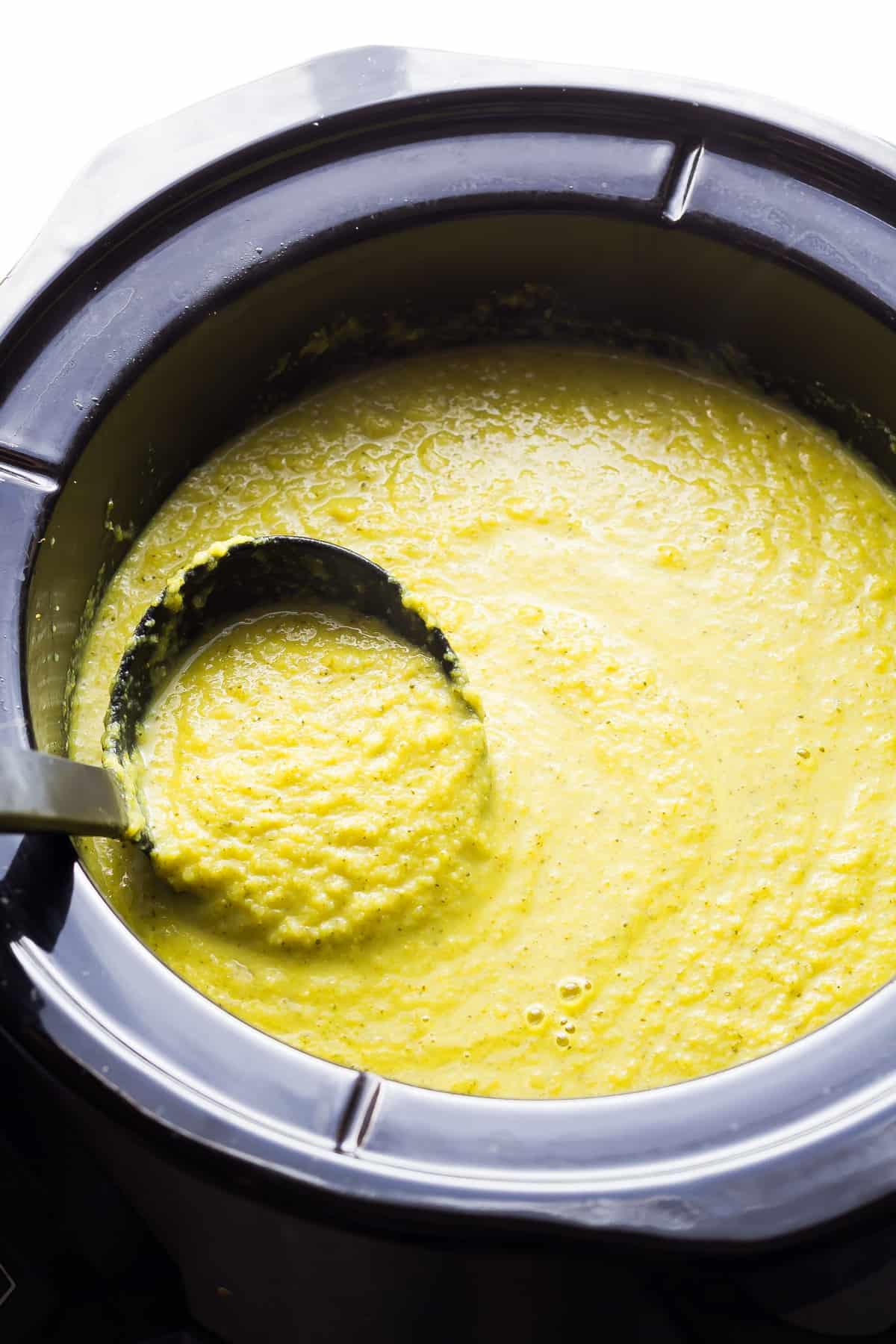 Today's broccoli, ginger and turmeric soup is not only packed full of veggies, but also with anti-inflammatory ingredients: turmeric, broccoli, ginger and leeks.
Of course these veggies also have a ton of other benefits including lowering oxidative stress.  <– know what that means?  The fountain of youth.  Shall I re-name this the 'fountain of youth' soup?  😉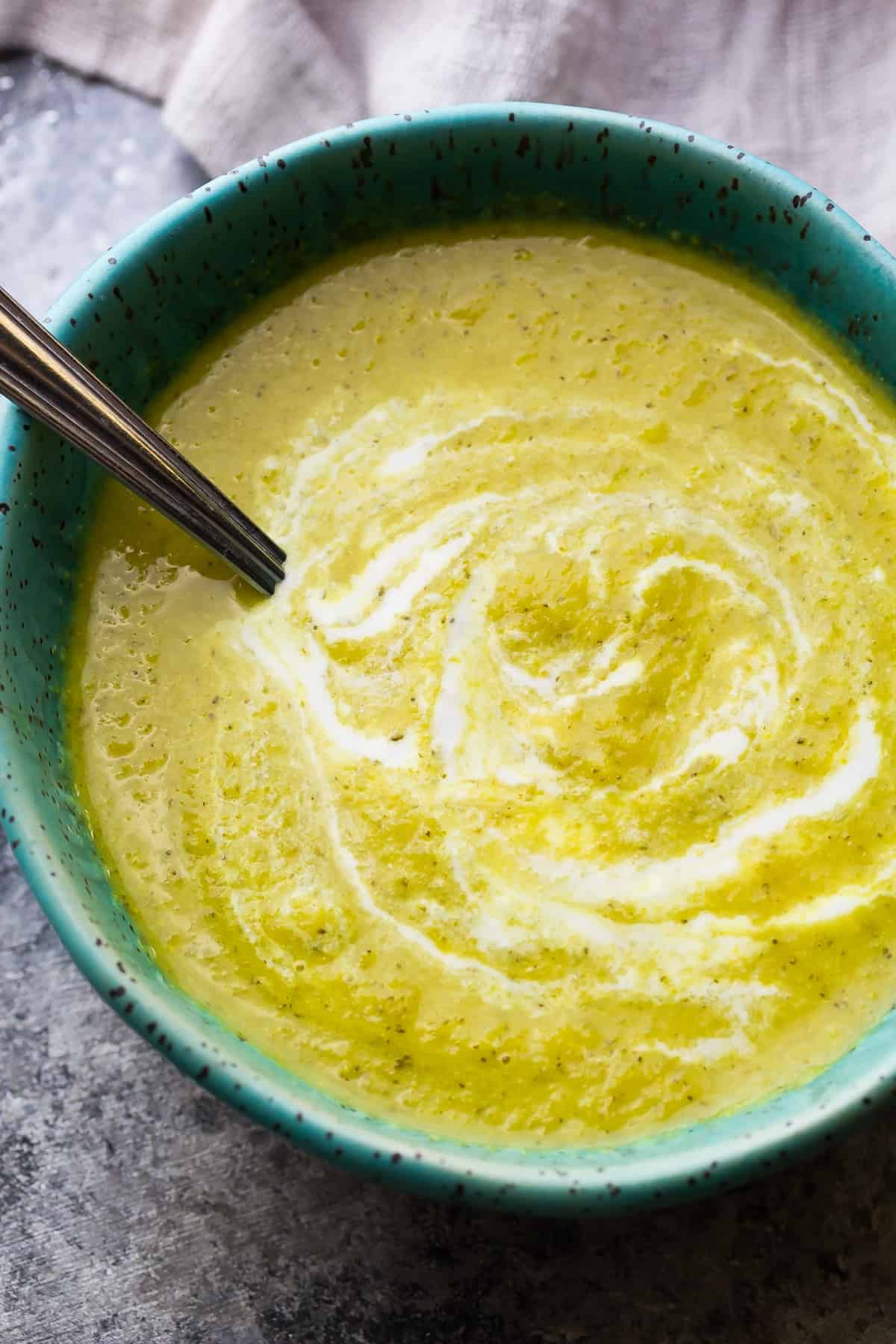 Did I forget to mention that this broccoli, ginger and turmeric soup is made in the slow cooker?  Well it is, and it's ridiculously easy to make, too.
I couldn't resist sautéing up the leeks in some butter first because in my opinion, there is no better smell in the world than butter + leeks.
Then all you have to do is throw everything into the crock pot, hit start, and you are done for the next 3 hours.  When the time is up, just puree your soup with a blender or immersion blender until smooth.
This soup is great as is, or you can swirl some tangy yogurt in.  So good!
Disclaimer: this post was sponsored by Half Your Plate.  As always, all opinions are my own.
Anti-Inflammatory Broccoli, Ginger and Turmeric Soup (Slow Cooker)
6-8
adjust servings
Ingredients
2

tablespoons butter

4

cups of leeks, chopped

2

tablespoons ginger, chopped

8

cups of broccoli florets (roughly 2 heads)

1

teaspoon ground turmeric

1

teaspoon salt

pinch of black pepper

1

tablespoon sesame oil

6

cups stock
Instructions
Heat a large pan over medium heat, and melt the butter. Add the leeks and cook, stirring occasionally, 8 or so minutes, until leeks are cooked through.
Transfer the leeks to a 5 quart slow cooker with the ginger, broccoli, turmeric, salt, sesame oil and stock.
Cover and cook on low for 3-4 hours, until broccoli is tender.
Using a blender or immersion blender, blend until creamy and smooth.
Serve with yogurt and big chunks of bread.
Recipe Notes
Nutritional Information:
Calories 126 // Fat 7 g // Saturated Fat 3 g // Cholesterol 10 mg // Sodium 894 mg // Carbohydrate 11 g // Fiber 5 g // Sugars 4 g // Protein 7 g
CAUTION: do not cook this on high and be cautious to not overcook the soup (can cause bitterness)
Excellent served with yogurt or sour cream