Low carb lunch recipes that work great for meal prep, with net carbs listed so you don't have to track them down. With healthy fats, protein and vegetables to keep you feeling full, these recipes are easy to prep ahead and portable for a convenient work lunch.
Meal prep is one of the most effective ways to help you stick to your healthy eating goals. Why is that? Because it is SO hard to argue with convenience. After posting these 45 meal prep lunch ideas, I had a ton of questions asking about low carb lunch options.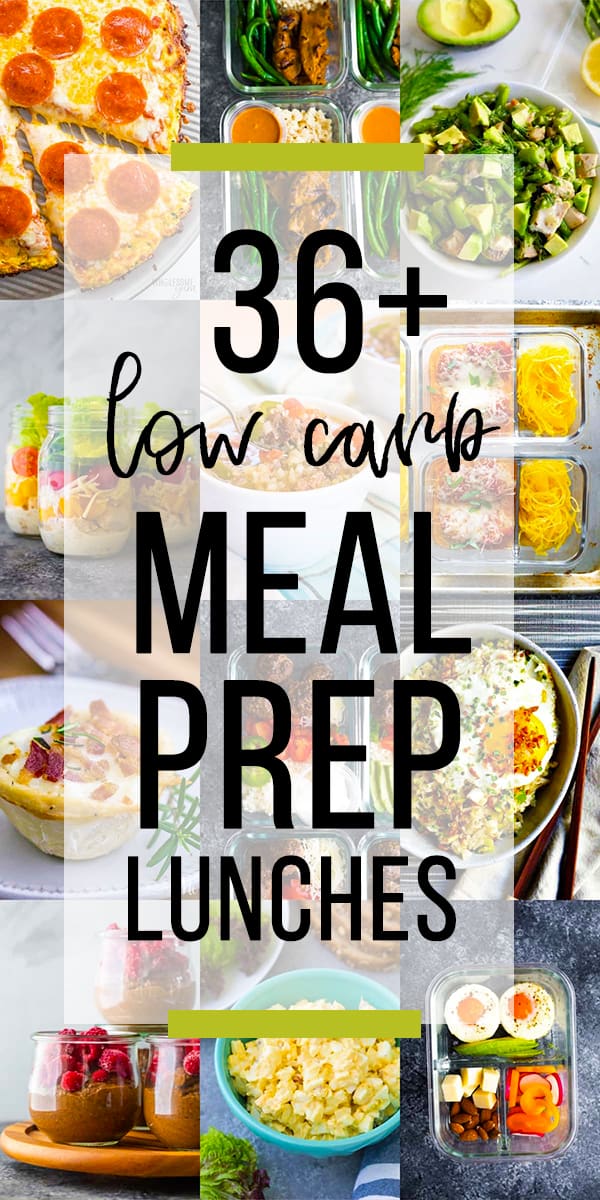 Low carb lunches
These lunch recipes are filled with healthy low carb vegetables, protein and fats to keep you feeling full. From portable lunches and snack options, these are great for prepping ahead, and they are portable making them convenient to bring along to work.
We have hot and cold options, snacks for your low carb lunch, even a breakfast or two.  And there are so many different flavors to pick from!
And the best part? We've tracked down the net carbs for you!
Lunch packing tips
keep avocado off until you serve to prevent browning
store condiments and sauces separate until serving (we love these condiment containers!)
cook your veggies 'al dente' as they will cook a second time when reheating
glass meal prep containers can keep your food fresher and reheat it more evenly. Check out our favorite glass meal prep containers!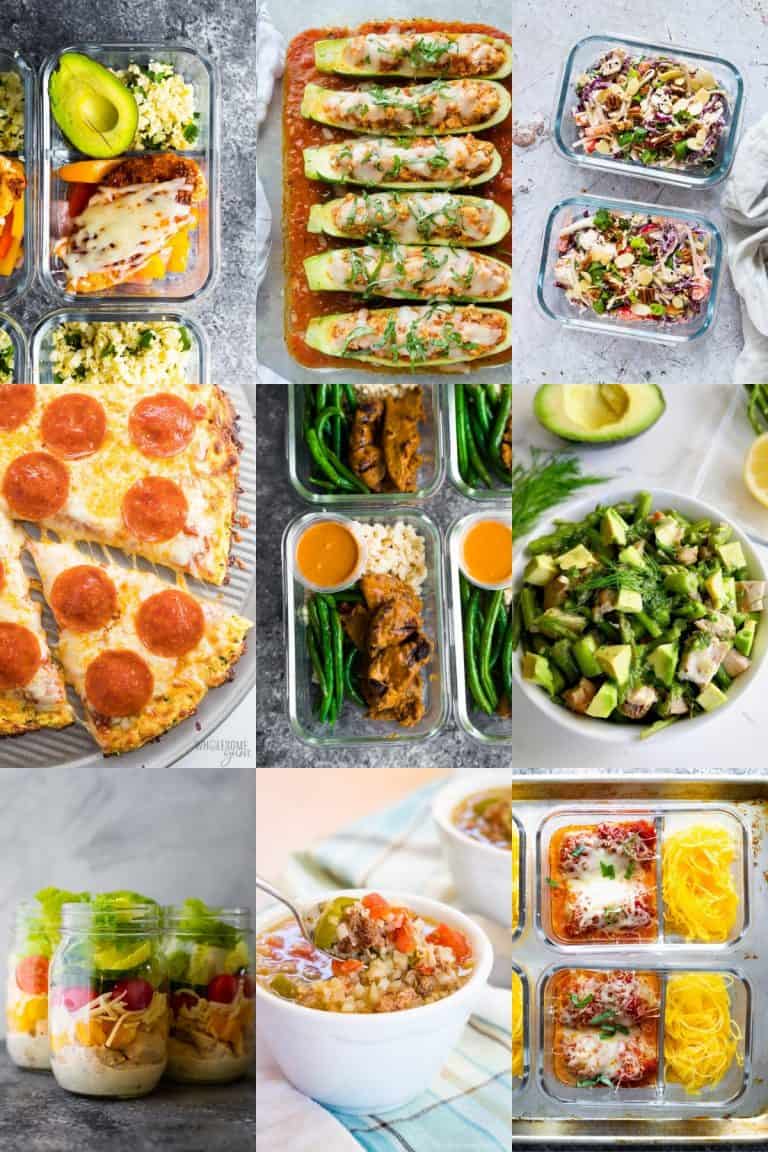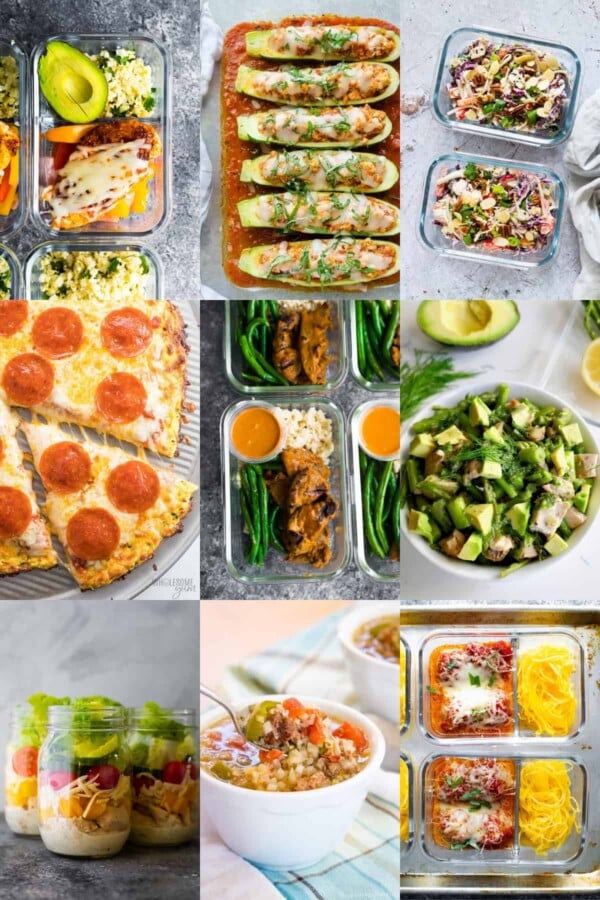 1. Santa Fe Low Carb Chicken Meal Prep 8g net carbs by Sweet Peas and Saffron
2. Chicken Parmesan Stuffed Zucchini Boats 11g net carbs by Flavor the Moments
3. Crunchy Healthy Turkey Salad Recipe 13g net carbs by Recipes from a Pantry
4. The BEST Zucchini Pizza Crust Recipe 2g net carbs by Wholesome Yum
5. Low Carb Satay Beef Meal Prep 6g net carbs by Sweet Peas and Saffron
6. Avocado Asparagus Chicken Salad by Tasting Page
7. Ranch Chicken Jar Salads 6g net carbs by Sweet Peas and Saffron
8. Low Carb Stuffed Pepper Soup 5g net carbs by Cupcakes and Kale Chips
9. Baked Meatball Meal Prep with Spaghetti Squash 11g net carbs by Sweet Peas and Saffron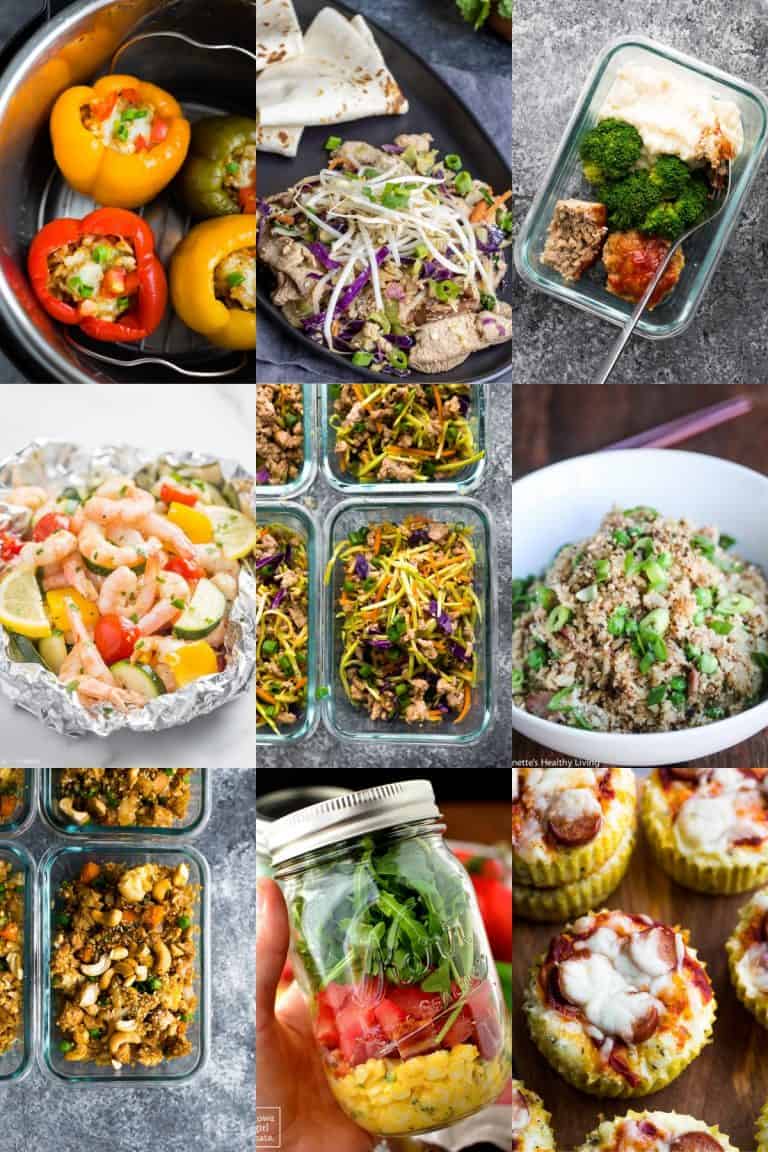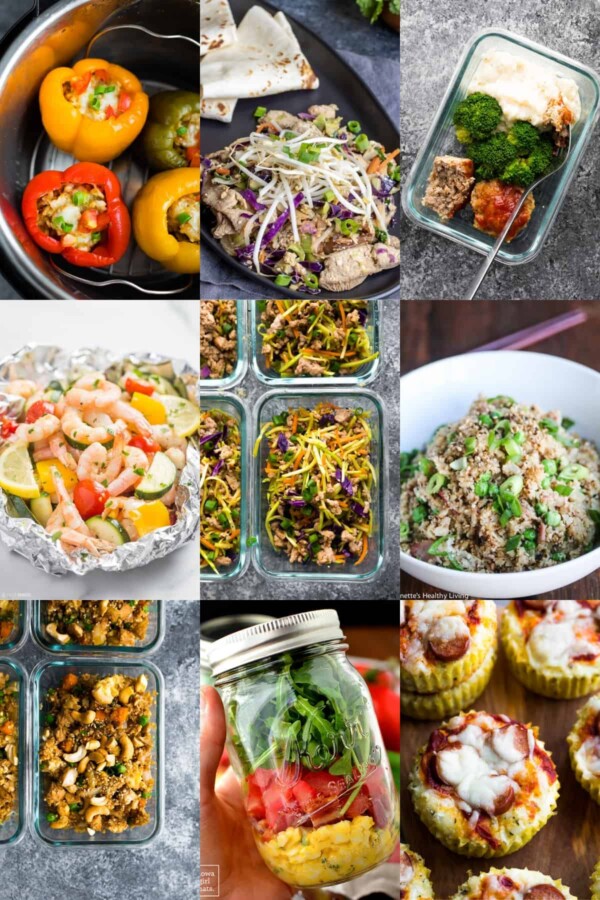 10. Instant Pot Ground Turkey Stuffed Peppers 21g net carbs by Sweet Peas and Saffron
11. Low Carb Moo Shu Pork by Home Made Interest
12. Low Carb Meatloaf & Cauliflower Mash 7g net carbs by Sweet Peas and Saffron
13. Shrimp Foil Packets 7g net carbs by Noshtastic
14. Egg Roll in a Bowl 7g net carbs by Sweet Peas and Saffron
15. Bacon Cauliflower Garlic Fried Rice by Jeanette's Healthy Living
16. Easy Cauliflower Fried Rice Recipe 14g net carbs by Sweet Peas and Saffron
17. Make-Ahead BLT Egg Salad Jars by Iowa Girl Eats
18. Low Carb Cauliflower Pizza Muffins 3g net carbs by Sweet Peas and Saffron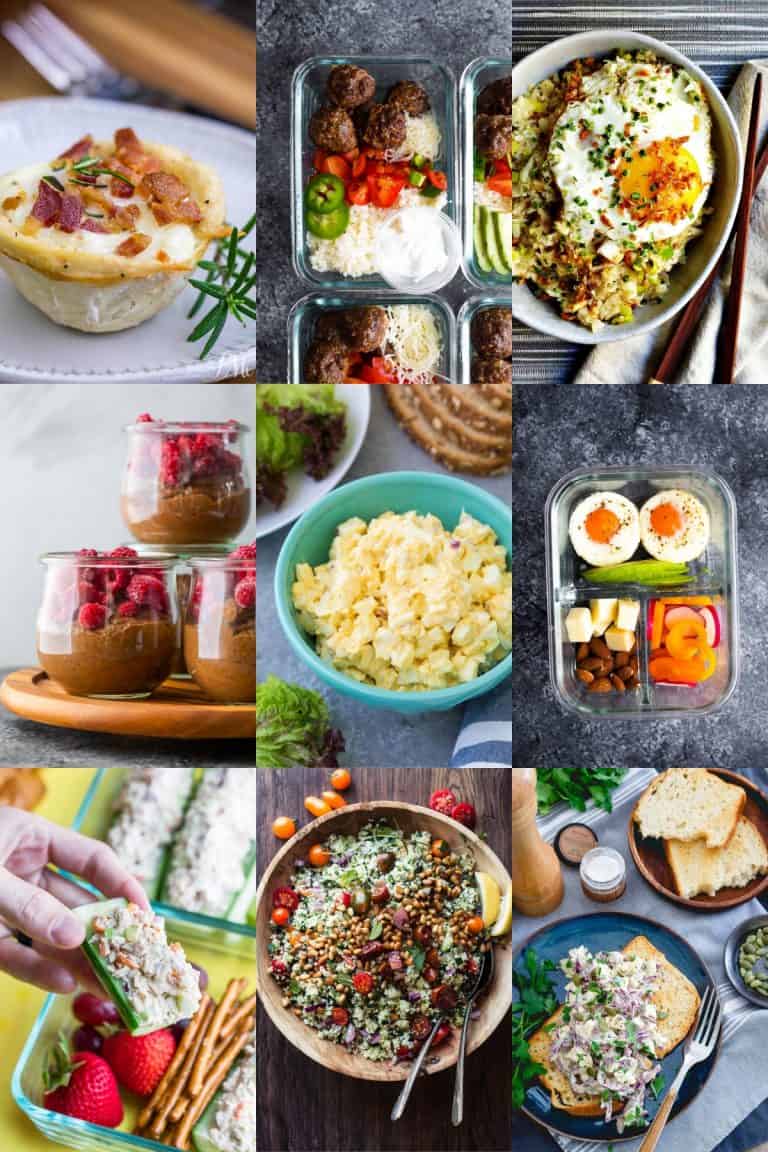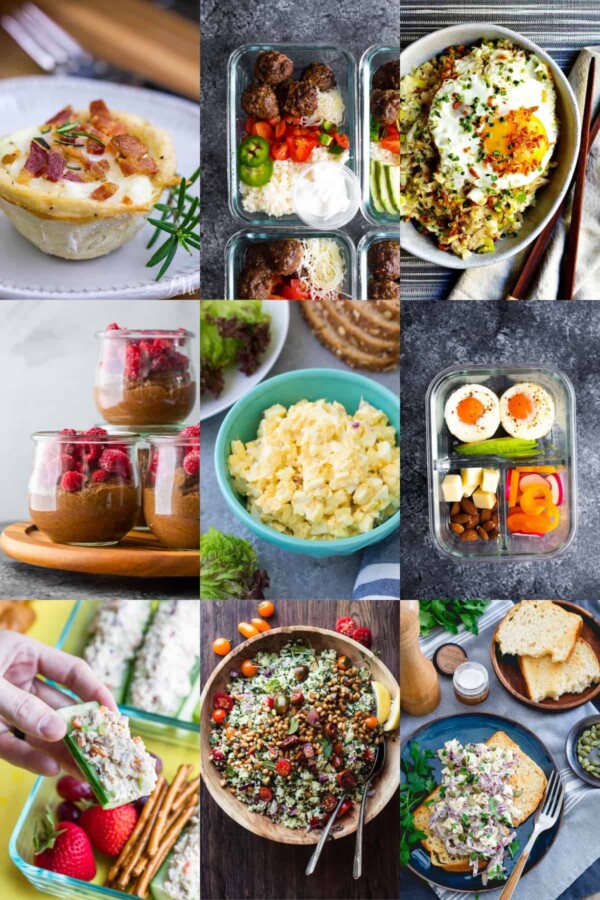 19. Keto Low Carb Baked Crack Chicken Cups Recipe 2g net carbs by Call Me PMC
20. Low Carb Meatball Burrito Bowls 5g net carbs by Sweet Peas and Saffron
21. Cauliflower Fried Rice 9g net carbs by Pinch and Swirl
22. Chocolate Chia Pudding 3g net carbs by Sweet Peas and Saffron
23. Easy Egg Salad 3g net carbs by Kristine's Kitchen
24. Meal Prep Baked Eggs by Sweet Peas and Saffron
25. Tuna Salad Cucumber by Peas and Crayons
26. Cauliflower Rice Tabbouleh by The View from Great Island
27. Creamy Dijon Egg Salad by Running to the Kitchen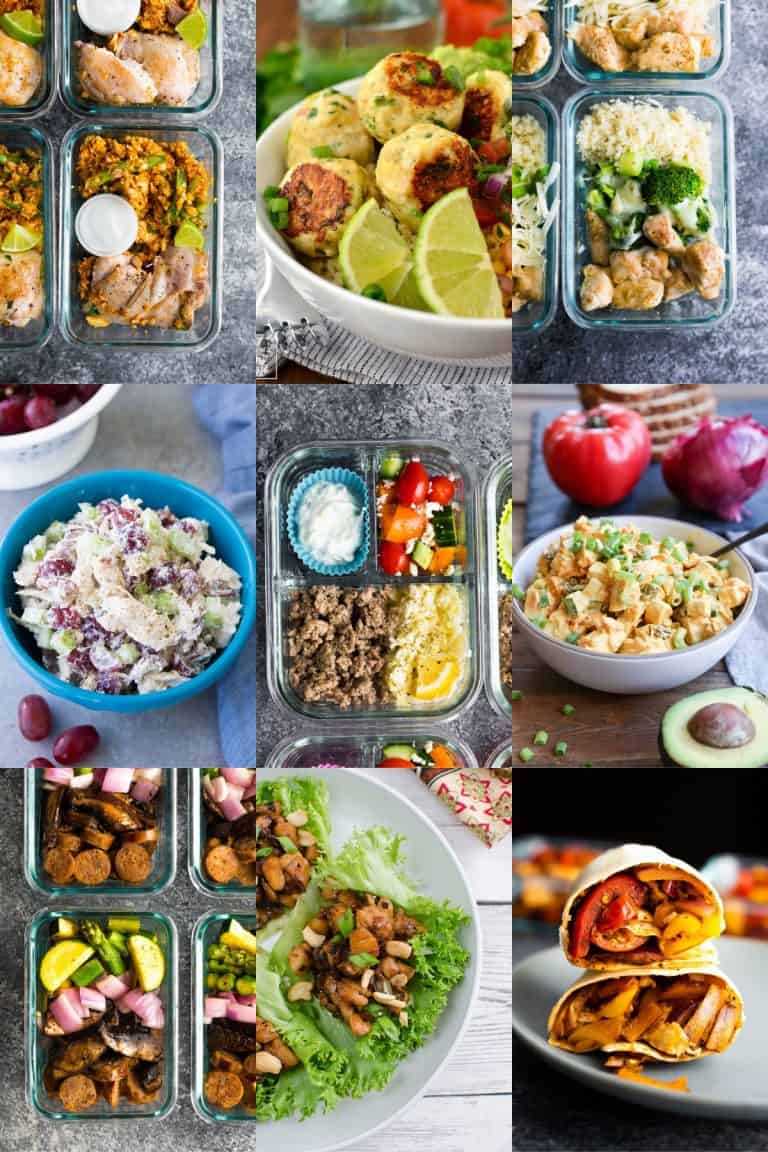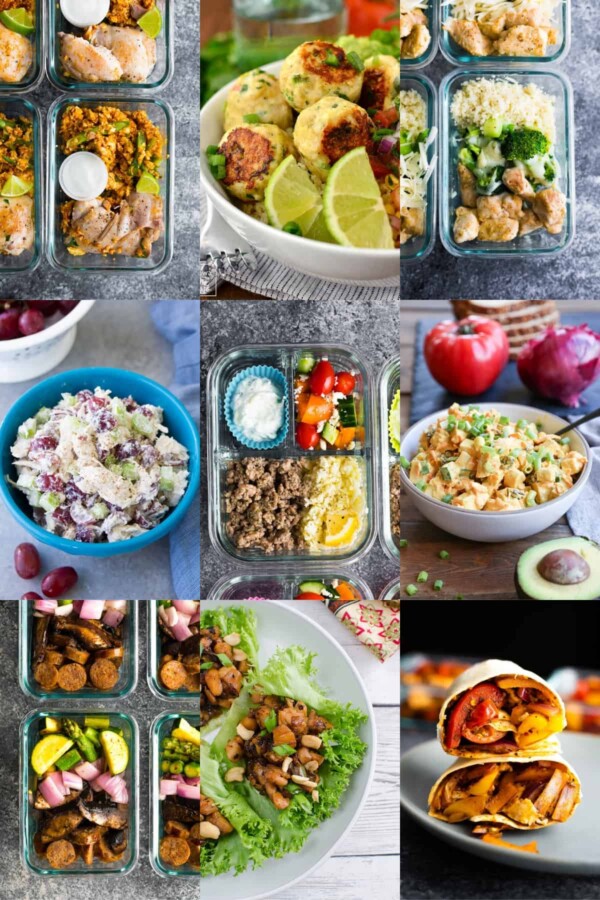 28. Low Carb Indian Chicken Skillet 5g net carbs by Sweet Peas and Saffron
29. Cilantro-Lime Chicken Meatball Bowls with Sweet Corn Pico de Gallo and Cauli-Rice by Iowa Girl Eats
30. Low Carb Cheesy Chicken and Rice Meal Prep 4g net carbs by Sweet Peas and Saffron
31. Easy Chicken Salad Recipe 3g net carbs by Kristine's Kitchen
32. Low Carb Greek Turkey Meal Prep 7g net carbs by Sweet Peas and Saffron
33. Copycat Trader Joe's Curried Chicken Salad by The Roasted Root
34. Low Carb Breakfast Meal Prep Bowls 8g net carbs by Sweet Peas and Saffron
35. Cashew Chicken Lettuce Wraps by Fake Ginger
36. Cajun Chicken Wrap Recipe 23g net carbs by Sweet Peas and Saffron