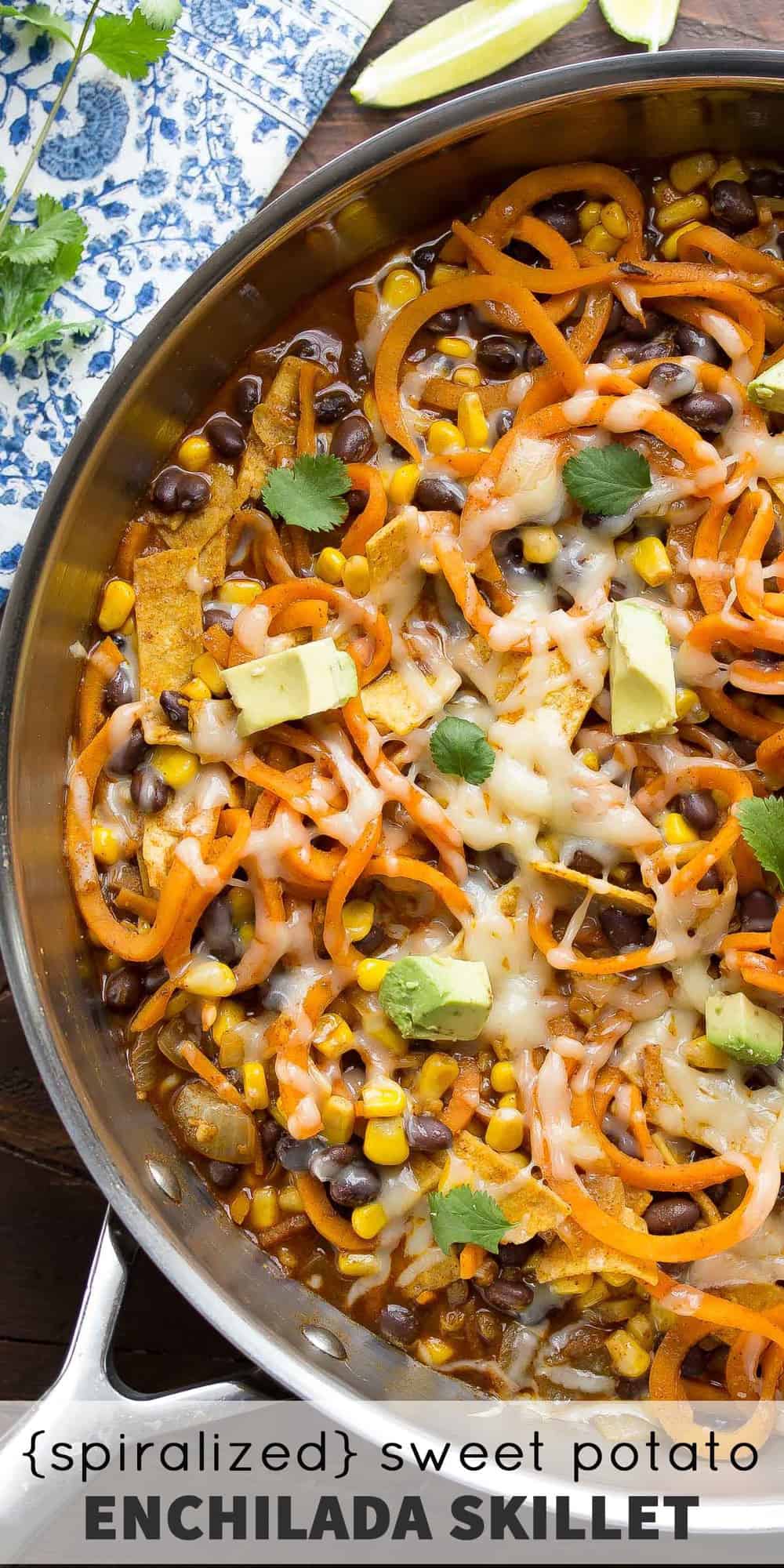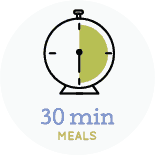 This spiralized sweet potato enchilada skillet contains spiralized sweet potatoes, corn, black beans, and enchilada ingredients.  It is an enchilada shortcut that gets dinner on your table in 30 minutes!
Well, this certainly wasn't planned, but why don't we call this week the week of 'Denise trying out food trends'.  Because Tuesday, I found out just how amazing Black Bean Brownies are, and now here I am today, discovering the wonders of my new spiralizer.
I asked you all whether or not you want to see some spiralizer recipes on the blog, and it was pretty much 50% 'yes please' and 50% 'what is a spiralizer?!'
And I will be the first person to tell you that I am still not so sure about this veggie noodles thing.  Because I'm almost 6 feet tall and I need a solid meal to really fill me up, I'm 99.999% sure that my body is going to know that the noodle it just ate was zucchini.  But I really do love the idea of adding new textures to a dish and so I decided to get myself a fancy spiralizer.
And I am definitely a fan of it!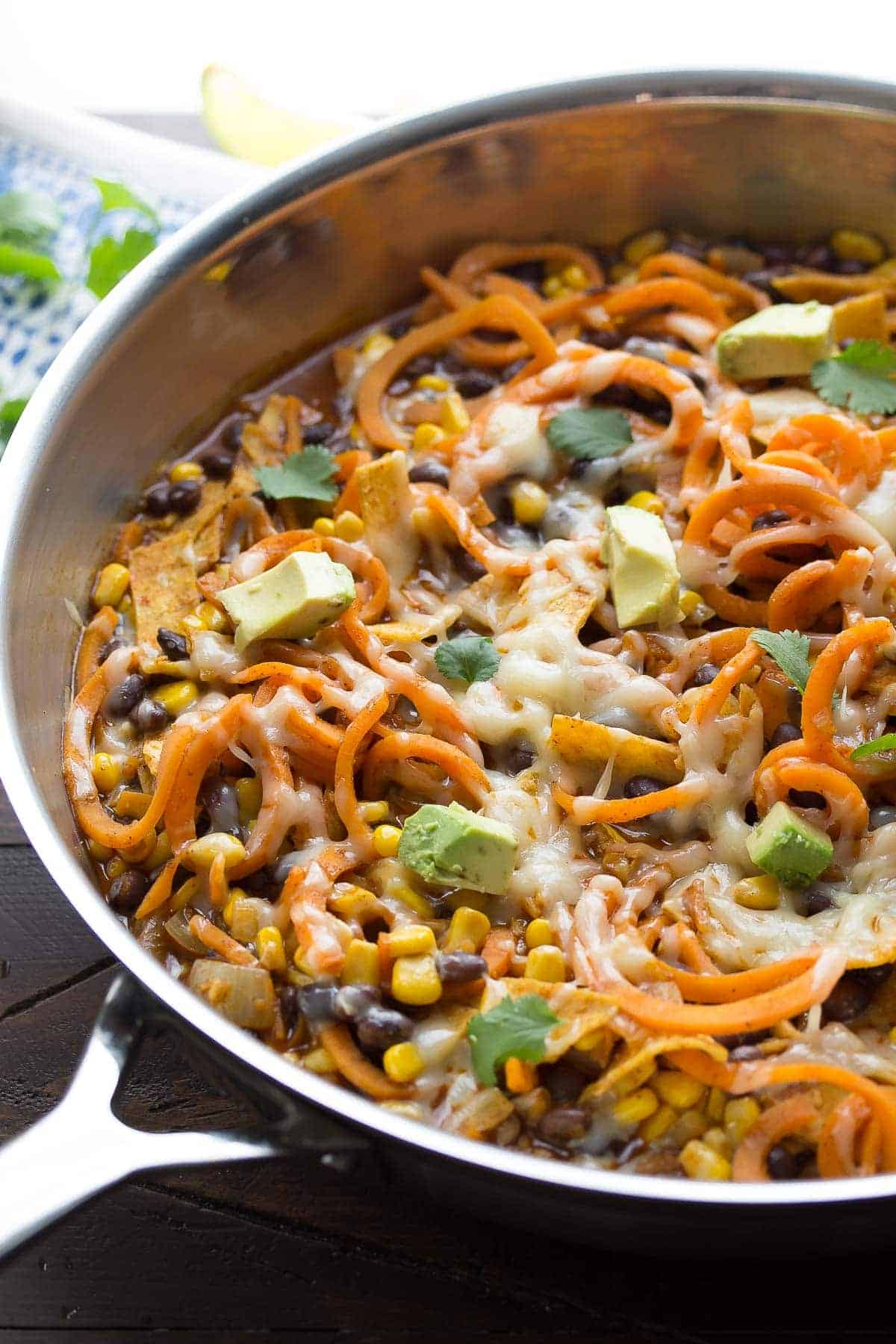 OBVIOUSLY the first thing I wanted to spiralize was a sweet potato…because clearly I am a sweet potato crazy person.
Spiralizing the sweet potato was a bit tricky at first, but once I got the hang of it, it was SUPER easy.
So here's how this spiralized sweet potato enchilada skillet recipe works: first you cook the sweet potatoes with some onion and garlic, until they are al dente.  I saw a lot of recipes that call for 8 or so minutes, but my noodles were definitely still crunchy.  So I say 10+ minutes.  You don't want crunchy sweet potato noodles (although you don't want totally soft and smushy noodles either, so keep an eye on things!)
Next you add the corn, black beans, tortilla strips and enchilada sauce.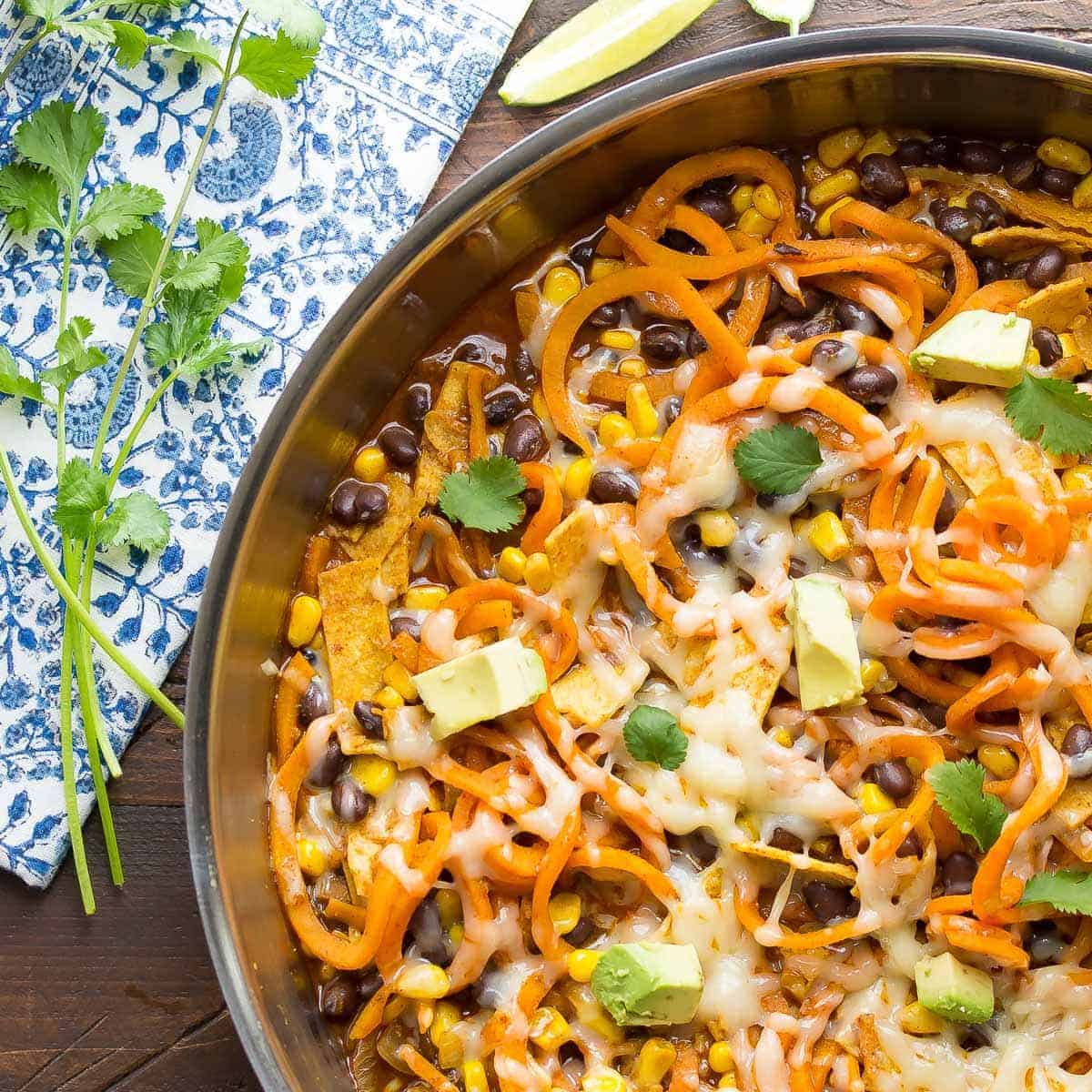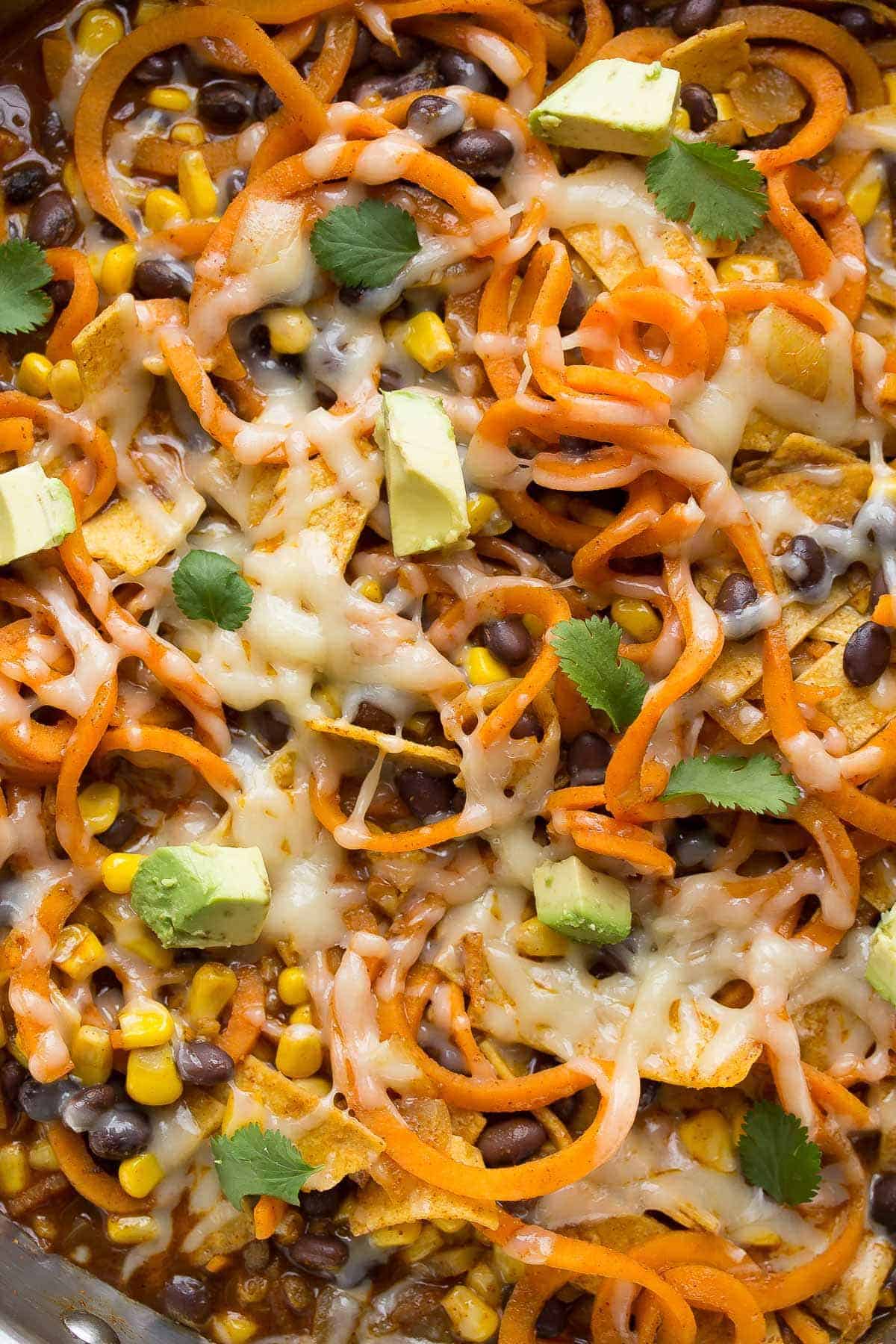 If you are from Canada then you feel my pain.  Enchilada sauce is a HUGE PAIN to find here!  So instead of trying to hunt it down, I used Ali from Gimme Some Oven's recipe for enchilada sauce.  I leave out the salt, and make sure that the final volume is 2 cups, because if it over-reduces, it is overpowering in this recipe.
OK.  Then you add the cheese.  Obviously the most important part of the recipe.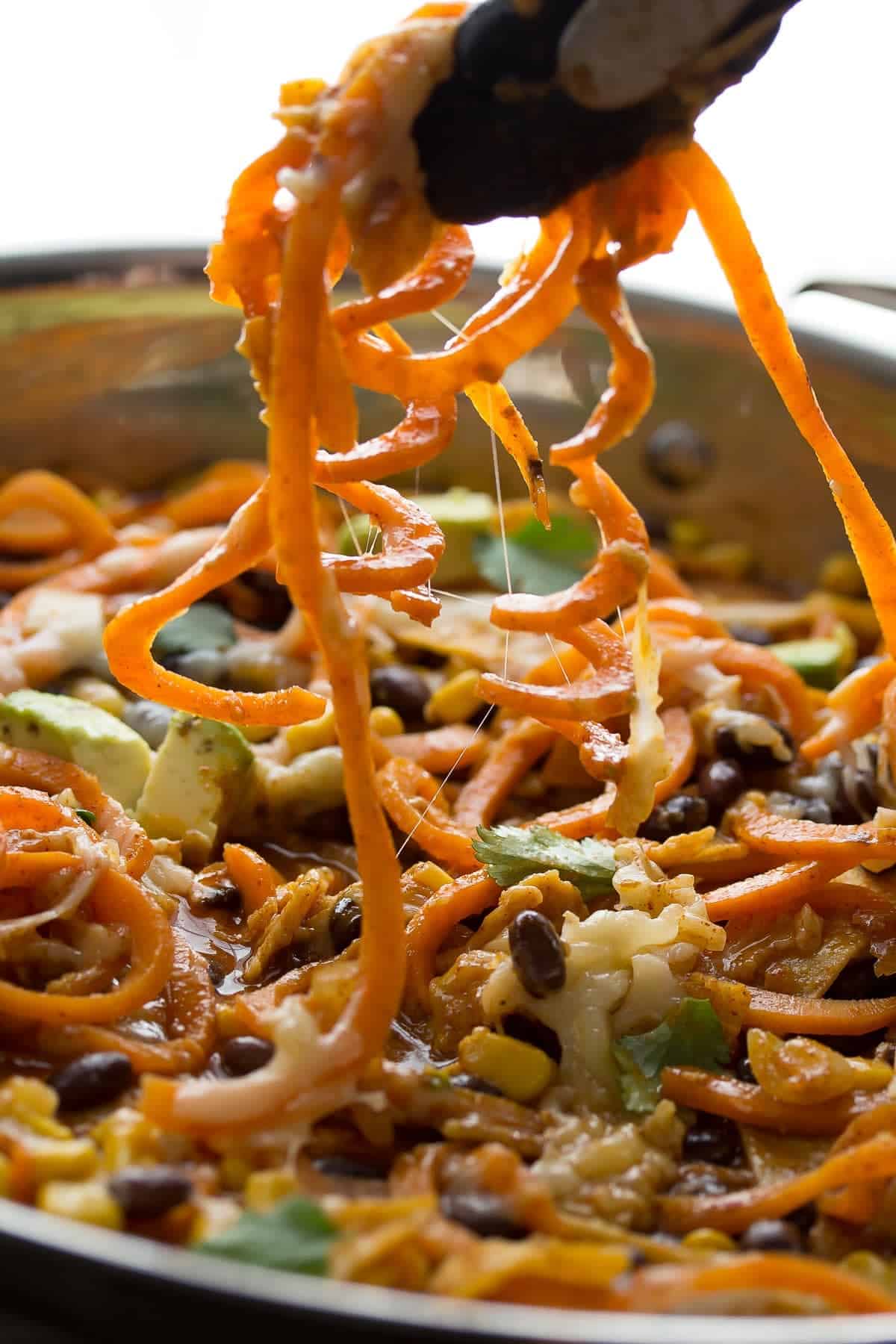 I put the skillet in the oven for a few minutes until the cheese melted through and the enchilada sauce got nice and bubbly, then gobbled it up.  Seriously.  SO good.
I honestly wonder if I will make bona fide enchiladas again, because this spiralized sweet potato enchilada skillet was darn good, and about 10 times faster.  It's absolutely perfect for a weeknight dinner!
I love how gooey the tortillas get in this skillet, and the flavor that the sweet potato noodles bring to it.  Definitely a new favorite dinner recipe around these parts!
So in the case of spiralizers, are you a yay or a nay?  So far, I'm a big YAY!
More spiralizer recipes
Spiralized Sweet Potato Enchilada Skillet
Enchiladas get a speedy make-over in this skillet version which also includes spiralized sweet potato.
Ingredients
1

tablespoon

olive oil

1

small onion

300

g/11 oz sweet potato noodles

roughly 6 loosely packed cups; use the 1/4 inch spacing spiralizer blade

2

cloves

garlic

minced

1

can black beans

540mL/ 19oz, drained and rinsed

1

can corn kernels

340mL/ 12oz, drained and rinsed

4 6-

inch

corn tortillas

cut into 1/2 inch strips (flour tortillas work too)

2

cups

enchilada sauce

*see note

2

cups

of mozzarella cheese

divided
to serve
cilantro

avocado

Greek yogurt
Instructions
Pre-heat oven to 350°F.

In a large, ovenproof skillet (12 inches) heat the olive oil over medium heat.

Add the onion and cook for 5 or so minutes, until translucent and soft.

Add the sweet potato noodles, and cook for 10 or so minutes, until al dente. They should have a bite to them and not be completely soft.

Add the garlic and cook for one minute.

Add the black beans, corn, tortillas, enchilada sauce and half of the cheese. Stir until completely combined.

Sprinkle with the remaining cheese and place in the oven for 5 or so minutes, until cheese is melted and the enchilada sauce bubbles.

Serve with optional toppings listed.
Recipe Notes
Nutritional Information
Calories 430 // Fat 18 g // Saturated Fat 6 g // Cholesterol 27 mg // Sodium 1302 mg // Carbohydrate 58 g // Fiber 16 g // Sugars 9 g // Protein 20 g
* I used
this recipe
for the enchilada sauce, omitting the salt and bringing it back up to a volume of 2 cups.
Reheats well.
Nutrition Facts
Spiralized Sweet Potato Enchilada Skillet
Amount Per Serving
Calories 430
Calories from Fat 162
% Daily Value*
Total Fat 18g 28%
Cholesterol 27mg 9%
Sodium 1302mg 54%
Total Carbohydrates 58g 19%
Protein 20g 40%
* Percent Daily Values are based on a 2000 calorie diet.
Products used in this recipe:
More enchilada skillet inspiration: