These easy vegan sweet potato noodles are tossed with linguine, corn and black beans in a creamy garlic avocado sauce, and are on your table in 30 minutes!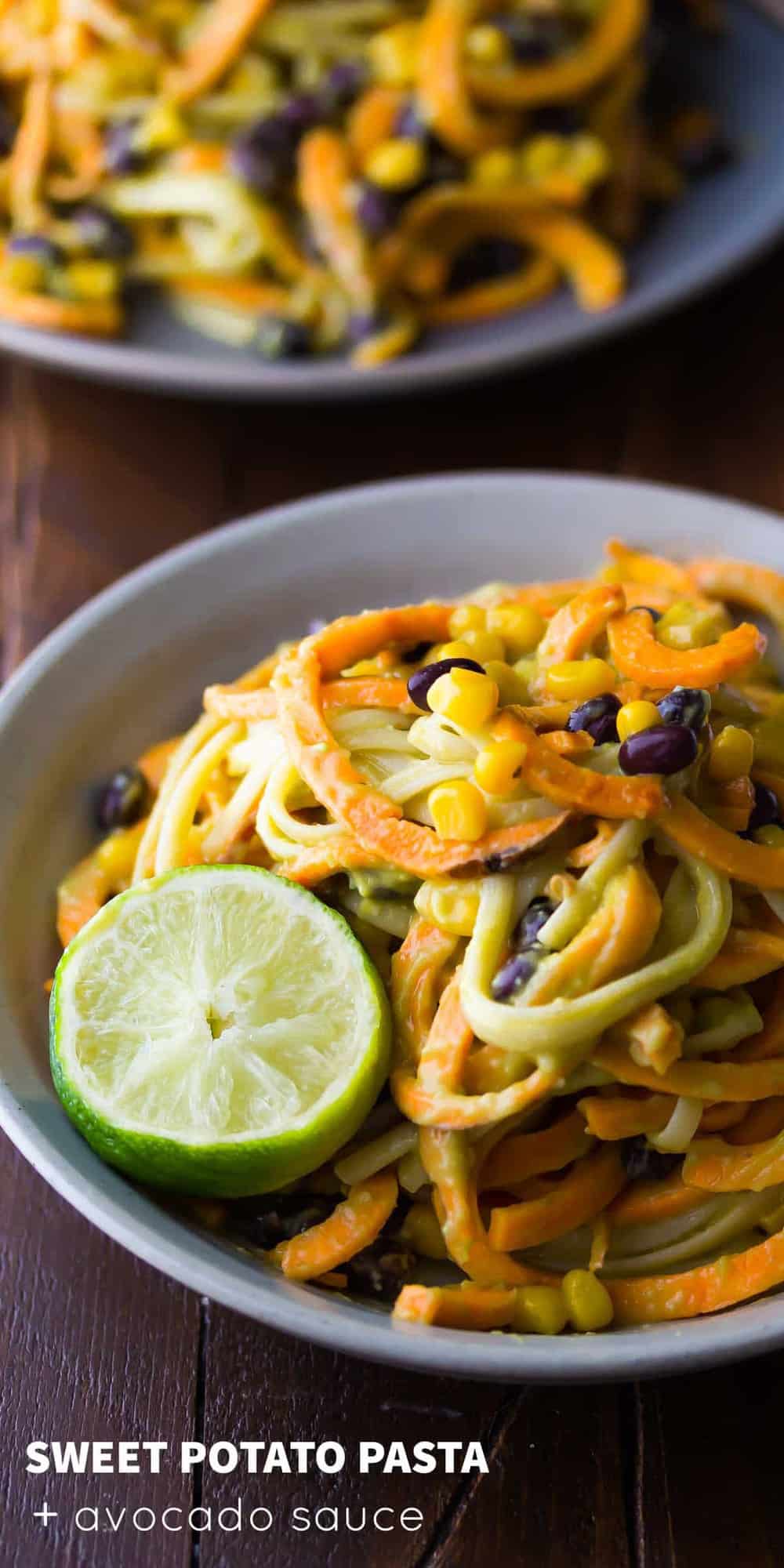 Hi friends, it's Thursday. And it's JUNE! HOW did that happen!?
And when I was looking at my June calendar, I suddenly realized that I am convocating (aka: graduating) NEXT WEEK. You guys. I've been going to school for 12 years. Isn't that INSANE?!!?
And you know what all of this has taught me? Well here's a short list:
Hard work > brains. I got my degree by sheer determination. And a lot of studying. I'm really not that smart.
Dry ice is fun
Scientists are the HARDEST working people on this planet. No joke. And they do it for very little recognition. There should be 'hug a scientist' day.
Don't forget to turn off the hot plate. Or the bunsen burner. Or your cell phone when you're in a seminar!!
If I can get my PhD in biochemistry, I can pretty much do anything I set my mind to.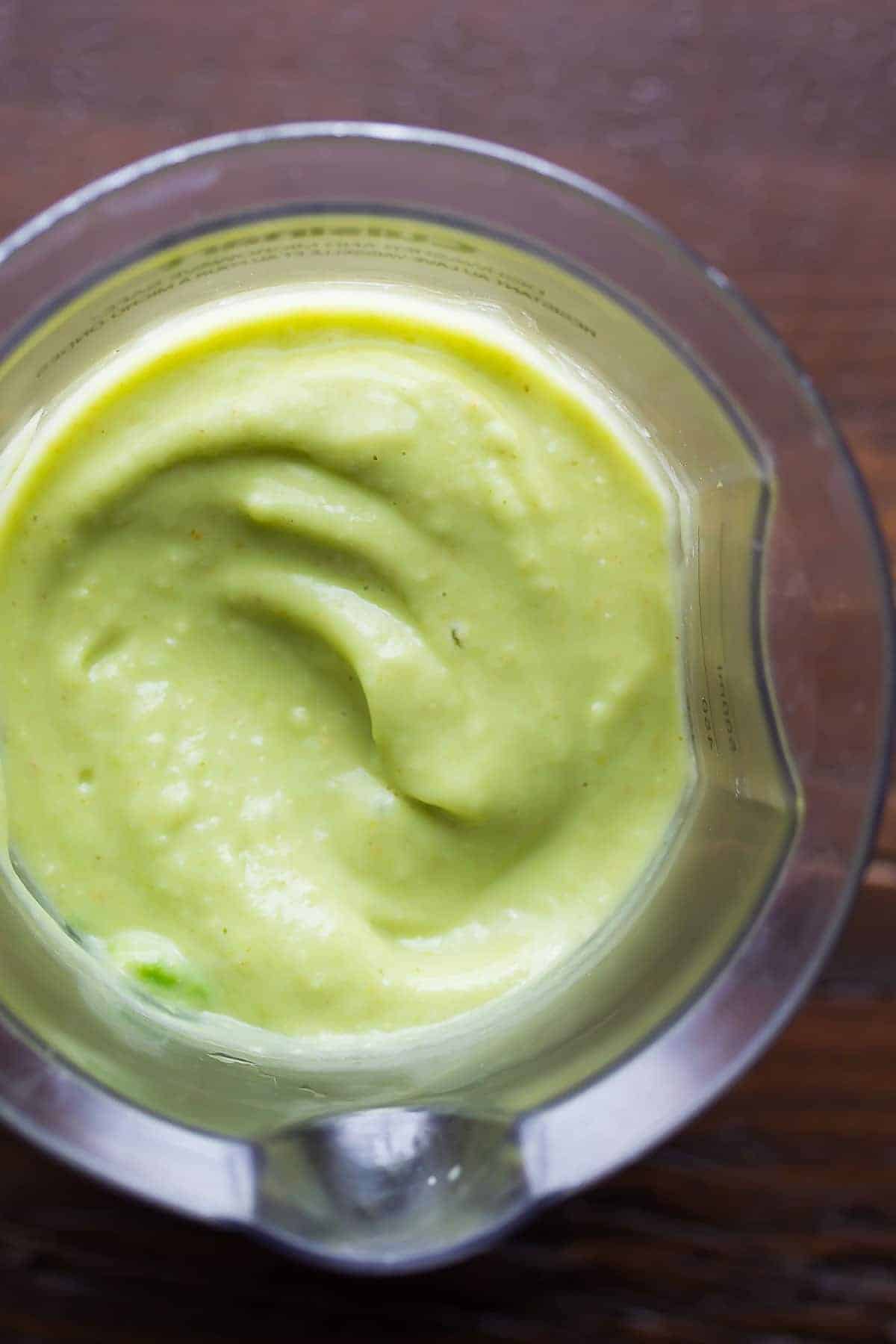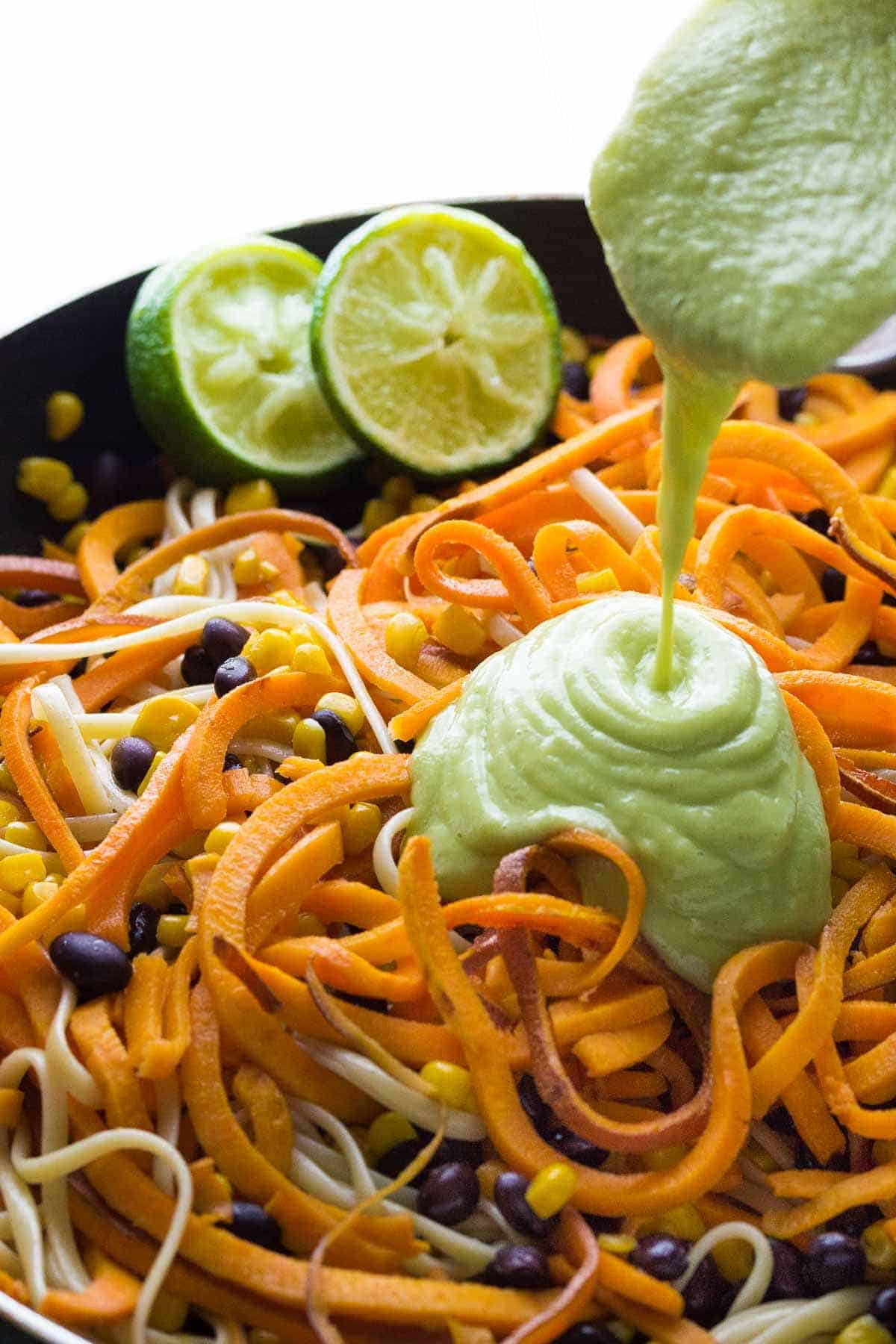 I know you're here for that big old plate of sweet potato noodles and probably skipped over all of those words up there, but I love to look back through old blog posts and read about different milestones in my life, and I couldn't let this pass by without mentioning it.
So on to less serious matters, but much more delicious matters.
These sweet potato noodles. Ohmygorsh. So good. And vegan! I made something vegan without even realizing it, and it was delicious, and totally satisfying!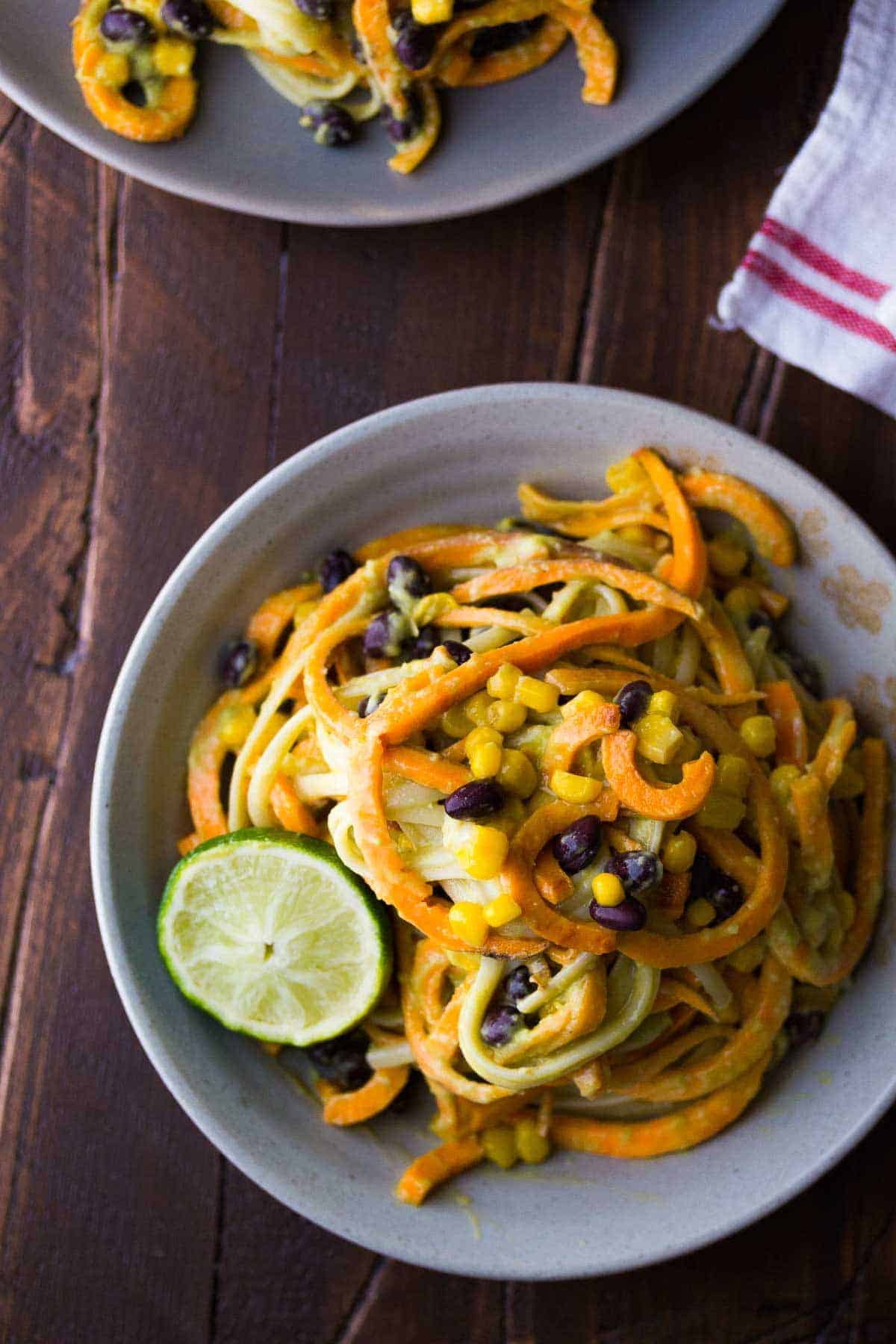 Ok. So I chickened out on the 100% veggie noodles thing again, and went for a 50/50 ratio of sweet potato noodles and linguine.
The sweet potato noodles are sauteed for 10 or so minutes, then tossed with the linguine with corn and black beans in the creamiest, dreamiest avocado sauce you will ever find.
You know me. I can't NOT put avocado in my recipes. No apologies.
You are going to love this recipe: PACKED with fresh veggies, so good for you, and ready in 30 minutes! Now if that's not worth celebrating, I don't know what is!
Happy Thursday, friends. Don't forget to check out the recipes in this month's 30 Minute Thursday!
Basil Pesto Pasta with Broccoli and Mushrooms from Pumpkin 'n Spice
Crispy Salmon with Greek Orzo from Bake.Eat.Repeat.
Blackened Grilled Salmon with 'Kickin Corn Pico de Gallo from Whole and Heavenly Oven
Avocado Toast with Spicy Marinated Chickpeas and Zucchini from Floating Kitchen
Unstuffed Bell Pepper Skillet from Kristine's Kitchen
Grilled Pineapple Teriyaki Chicken Caesar Salad from Life Made Sweeter
Honey Pineapple Barbecue Chicken Sandwich from Flavor the Moments
Sweet Potato Noodles with Black Beans and Creamy Avocado Sauce
These easy vegan sweet potato noodles are tossed with linguine, corn and black beans in a creamy garlic avocado sauce, and are on your table in 30 minutes!
Ingredients
4

oz

uncooked linguine

2

tablespoons

olive oil

8

cups/400g spiralized sweet potato

using the large/ 1/4 inch spaced blade

1

cup

corn

1

cup

black beans
Garlic Avocado Sauce
1

large ripe avocado

3

large garlic cloves

1/2

teaspoon

ground cumin

1/2

teaspoon

ground coriander

1

teaspoon

salt

3/4

cup

water

juice from 1 lime
Instructions
Cook linguine according to package directions.

While linguine is cooking, heat the olive oil in a large skillet over medium heat. Add the sweet potato noodles and cook, stirring frequently, for 8-12 minutes.

While sweet potato noodles are cooking, combine all of the avocado sauce ingredients in a blender, and blend until smooth.

When sweet potato noodles become softened (but NOT mushy!), add the cooked linguine, corn, black beans and avocado sauce. Toss to coat.
Nutrition
Serving:
1
/4 batch
|
Calories:
416
kcal
|
Carbohydrates:
64
g
|
Protein:
11
g
|
Fat:
14
g
|
Saturated Fat:
2
g
|
Sodium:
159
mg
|
Fiber:
12
g
|
Sugar:
6
g
Products used in this recipe: