Chewy peanut butter granola bars made with clean ingredients and no refined sugar! Full of peanut butter flavor, easy to prepare (no oven required!) and perfect for a healthier treat.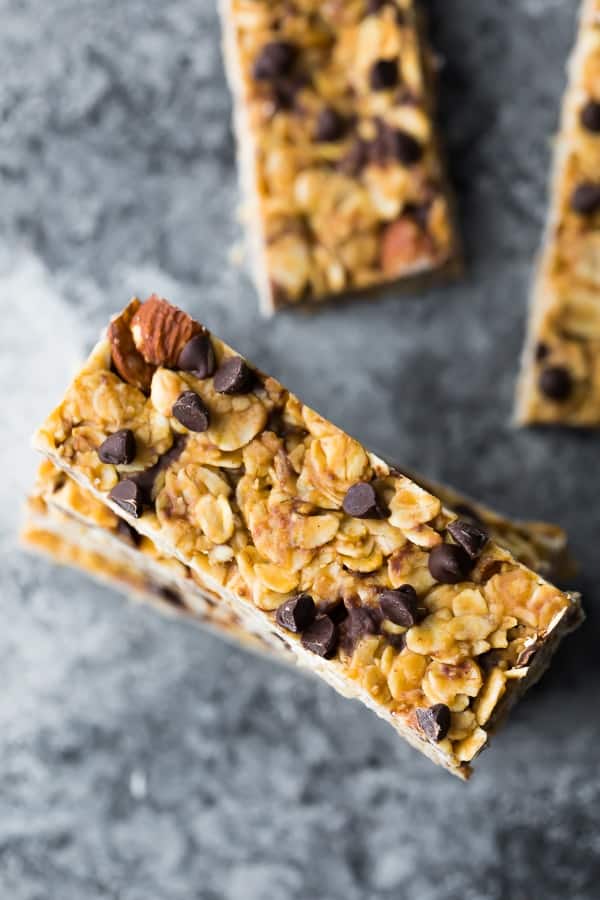 Whoa nelly. 10 batches later and I can FINALLY share my chewy peanut butter granola bars recipe with you guys. Who would think that granola bars could be so tricky?
I am a bit of a snob with granola bars and it is alllll about the texture. Chewy, but holds together. That was my criteria. And I finally nailed it!
You're probably reading this post because you want to make your own granola bars, either to save money at the grocery store, or to avoid the crazy list of unpronounceable ingredients that store bought granola bars often contain.
And I'm so happy to tell you that you can do it, and not only that but it's EASY. You don't even need to turn on your oven. Can I get a hallelujah?
Don't forget to pin this recipe to save it for later!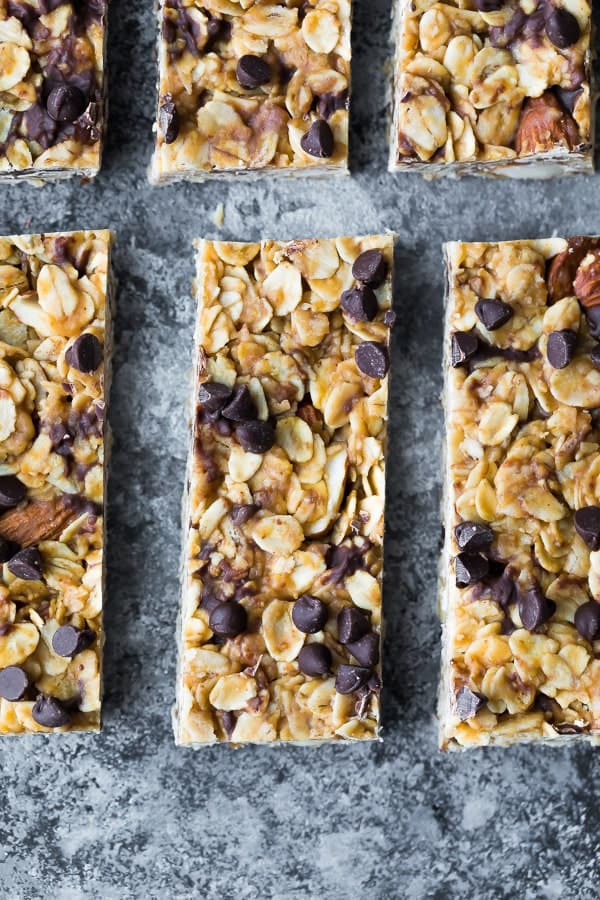 How to make peanut butter granola bars from scratch
I stuck to unprocessed, healthy ingredients for these granola bars. I have used rice cereal in previous bar recipes and I totally LOVE that texture it gives, but for this recipe I wanted only 1-ingredient ingredients. LOL, does that make sense?
Here's how I made these homemade peanut butter granola bars:
Combine coconut oil, natural peanut butter and honey in a saucepan. Guess what? I weighed the ingredients for you so you can put the pot on your kitchen scale and not dirty any measuring cups. WIN!
Melt everything, then bring to a simmer. THIS IS THE IMPORTANT PART! Sorry for yelling, I just really want you to read this part 😉 Simmering the coconut oil, peanut butter and honey for one minute reduces is it and gives it the consistency necessary to bind the bars and hold everything together.
Remove from heat and stir in the vanilla and salt. Cool for 10-15 minutes.
Stir in the chopped almonds, oatmeal, and chocolate chips. You chocolate chips will probably melt a bit and that's not a bad thing at all 😉
Press into a parchment or foil-lined 8 x 8 inch baking pan. TIP: spray your spatula with spray oil to prevent the mixture from sticking to it. Press down firmly. Really, don't be shy.
Sprinkle with some extra chocolate chips, then cool in the fridge for at least two hours. If you can do overnight, more power to you.
Cut into bars and store in the fridge. These bars do best stored in the fridge. They can soften up and be hard to handle when stored at room temperature.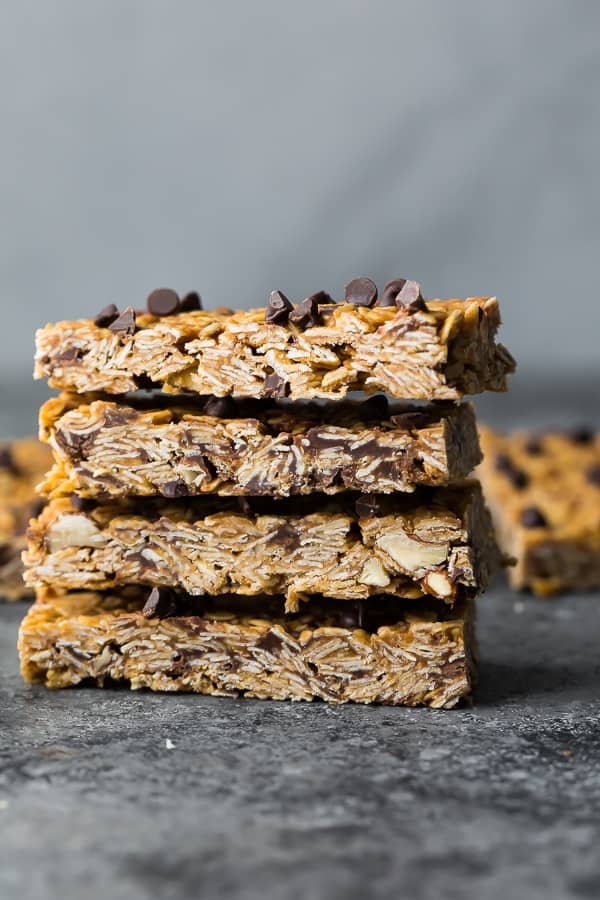 Can I leave out the peanut butter? Not in this recipe, they just don't hold together. But fear not, as I'm testing another round of granola bars that will be nut-free.
Can I make these granola bars vegan? Sadly my maple syrup experiment was one big crumbly mess. It seems to be a bit too thin to act as a binder the way honey does in this recipe.
What else can I add to these granola bars? I have only tested them as written, but I'm sure you could swap the chopped almonds for any other nut, seed or dried cranberries/raisins. I don't suggest using regular-sized chocolate chips as the mini chocolate chips are important in keeping the bars together.
How long do these granola bars last? We stored ours in the fridge. They were best eaten within a week, but were still edible two weeks after prepping them. You can also freeze them for 1-2 months.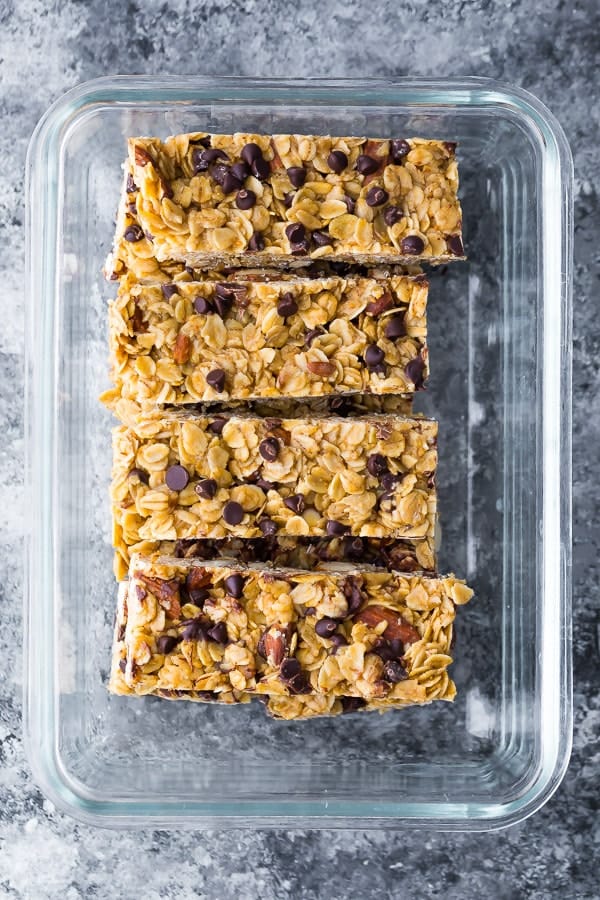 Now just because these chewy peanut butter granola bars are filled with healthier ingredients doesn't mean we get to go nuts and eat a million of them. My family enjoyed them as a healthier treat option.
Sometimes my sweet tooth kicks in and these granola bars are a much healthier option than a sugary cookie, you know? Perfect with a cup of coffee in the morning, or for an after-dinner treat.
They are peanut buttery, with bites of chocolatey flavor and crunch from the almonds. The oats become nice and chewy thanks to the PB/coconut oil/honey mixture!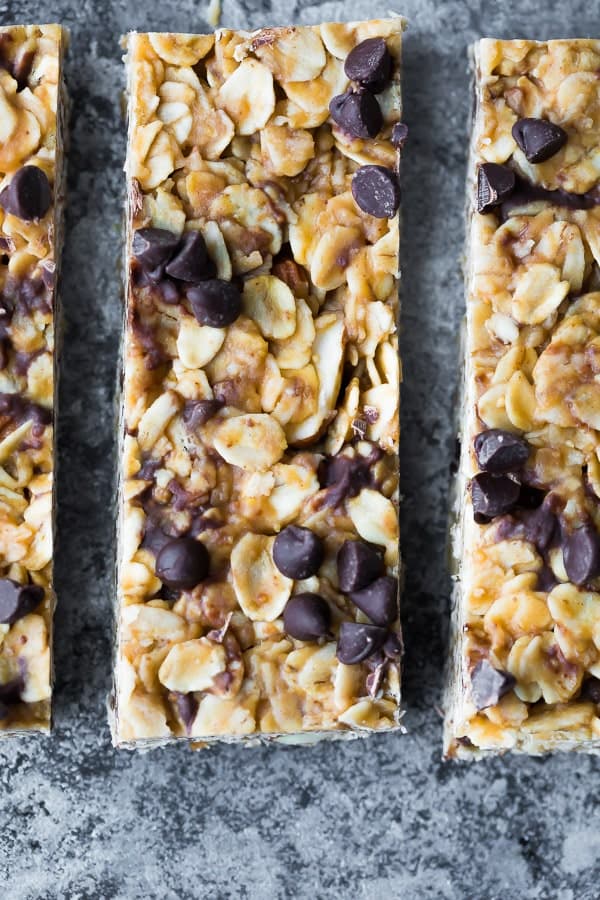 Watch the video below to see exactly how I prepped these peanut butter granola bars recipe. It's so easy! You can find more of my recipe videos on my YouTube channel, or on Facebook.
Tips and equipment for this peanut butter granola bar recipe
Chewy Peanut Butter Granola Bars
Chewy peanut butter granola bars made with clean ingredients and no refined sugar! Full of peanut butter flavor, easy to prepare (no oven required!) and perfect for a healthier treat.
Ingredients
1/3

cup

honey

(98 g)

1/4

cup

all natural peanut butter

(64 g)

1/4

cup

coconut oil

(52 g; refined coconut oil recommended)

1

teaspoon

vanilla extract

1

pinch

salt

1/2

cup

almonds

coarsely chopped (70 g)

2

cups

rolled oats

(184 g)

1/4

cup

mini chocolate chips

plus extras for sprinkling on top (45 g + 18 g)
Instructions
Line an 8 x 8 inch baking sheet with parchment or foil (use spray oil on the foil) and set aside.

In a medium saucepan, combine the honey, peanut butter and coconut oil. Heat over medium heat, stirring until everything is melted and smooth.

Bring to a simmer and cook for 1 minute, stirring frequently. Remove from heat, stir in the vanilla and salt, and allow to cool 10-15 minutes.

Once the pot has cooled slightly, stir in the almonds, rolled oats and chocolate chips.

Spread the mixture into the prepared pan, pressing it down firmly using a spatula. It is important to press it down very firmly, and spraying the spatula lightly with oil helps prevent everything from sticking.

Sprinkle tops with a few extra mini chocolate chips and refrigerate the bars for minimum of 2 hours.

Cut into bars and store in a large container in the fridge for up to 2 weeks.
Notes
Make sure to take the time to simmer the mixture for 1 minute! This is extremely important in helping the bars stick together.
Nutrition
Serving:
1
bar
|
Calories:
204
kcal
|
Carbohydrates:
21
g
|
Protein:
4
g
|
Fat:
11
g
|
Saturated Fat:
5
g
|
Sodium:
31
mg
|
Potassium:
130
mg
|
Fiber:
2
g
|
Sugar:
10
g
|
Vitamin A:
10
IU
|
Calcium:
29
mg
|
Iron:
1
mg