This post shows you how to cook sweet potatoes using eight different methods (with photos!). We also share how to store them for meal prep, and lots of recipe ideas!
I'm very excited to be talking about how to cook sweet potatoes today, since it's one of my absolute favorite vegetables!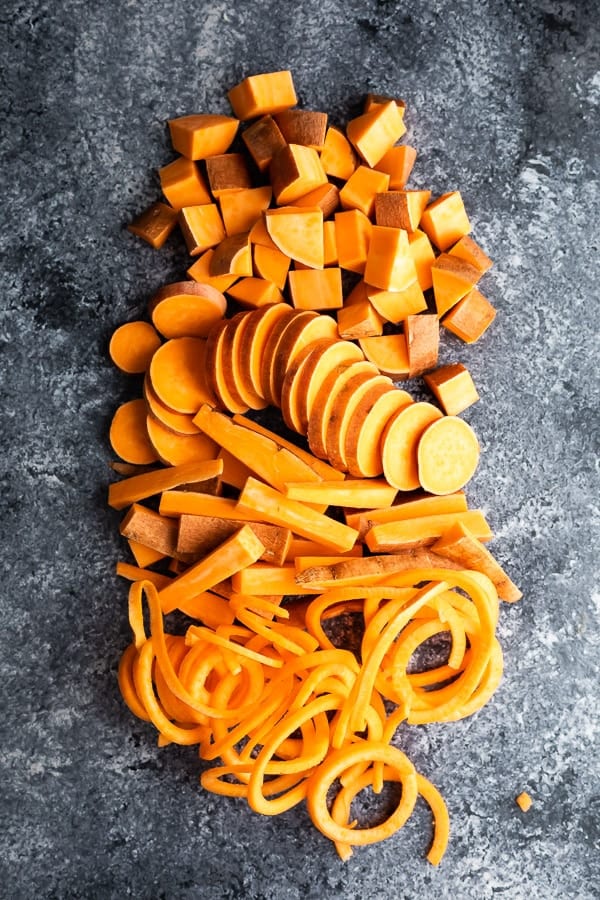 Want to know why you should be eating more sweet potatoes?
They are an excellent source of vitamins A & C, contain anti-inflammatory properties, are packed full of antioxidants, and despite being sweet, sweet potatoes will not hugely spike your blood sugars (thanks to fiber which burns slowly). Find more sweet potato health benefit facts here!
Not only are they so healthy for you, but sweet potatoes are absolutely delicious as well! I am sharing some of my go-to sweet potato cooking methods.
Don't forget to pin this post to save it for later!
Equipment & Tools
For the recipes in this post, I recommend the following tools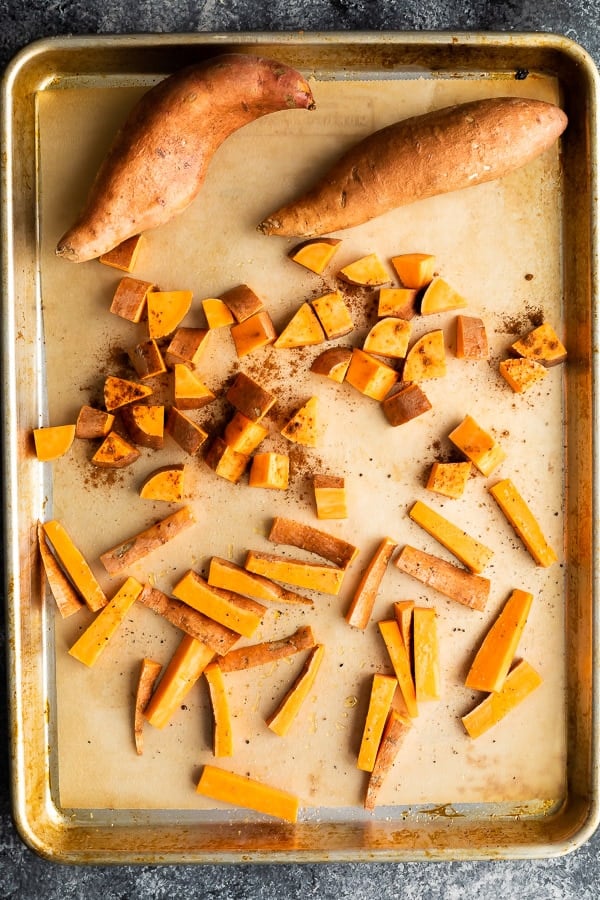 Cooking sweet potatoes in the oven
There are many different ways you can cook your sweet potatoes in the oven, and the time + temperature will vary based on the size you have cut them. Pictured above are the three ways I cut my sweet potatoes to bake in the oven.
Here are three methods for cooking sweet potatoes in the oven:
1. whole- works best for small and medium potatoes. Roast at 400°F for 45 minutes- 1h 30 minutes. Find full directions and a TON of tips in my How to Bake Sweet Potatoes post!
2. cubes- I aim for ¾ inch cubes. Toss in olive oil, sprinkle with seasoning, and bake at 425°F for 25 minutes, stirring them up halfway.
3. fries- about ⅓ inch across and 2-3 inches long, but as you can see, size will vary. Toss in olive oil, season with salt & pepper, and bake at 425°F for 25-35 minutes, flipping them over halfway.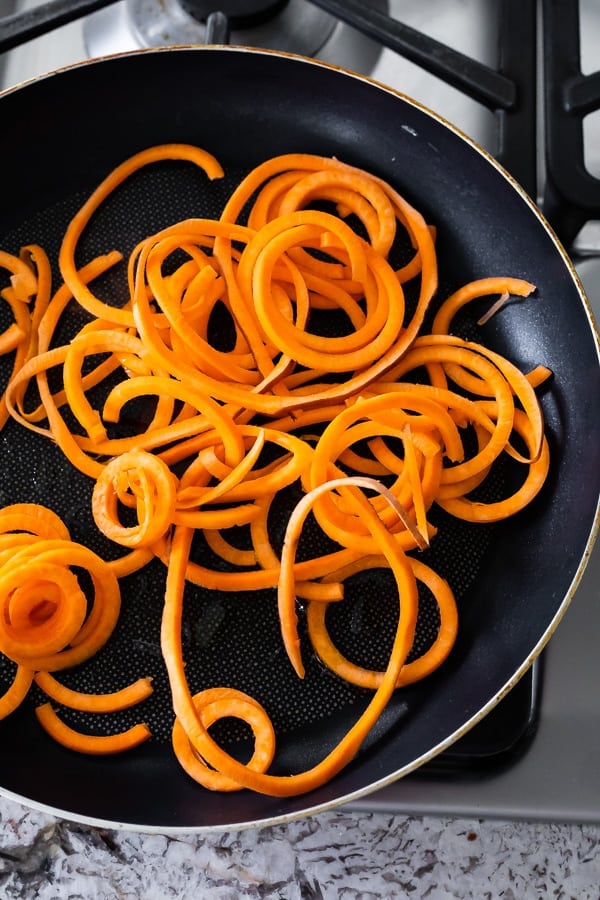 How to cook sweet potatoes on the stove
If you are in a rush, the stove is the fastest way to cook your sweet potatoes. My two 'go-to' methods for the stove-top is to either spiralize or steam them.
Here are my two favorite stove top methods:
4. Sweet potato noodles- spiralize using the ¼ inch spacing spiralizer blade, and sautee with some olive oil until cooked through, but not mushy (approximately 7 minutes).
5. Steamed sweet potato- add 1 cm of water to the bottom of a pot. Peel, then cut into chunks. Add to pot and cook for 15 or so minutes, until a fork inserts easily (this will depend on the size of your sweet potatoes)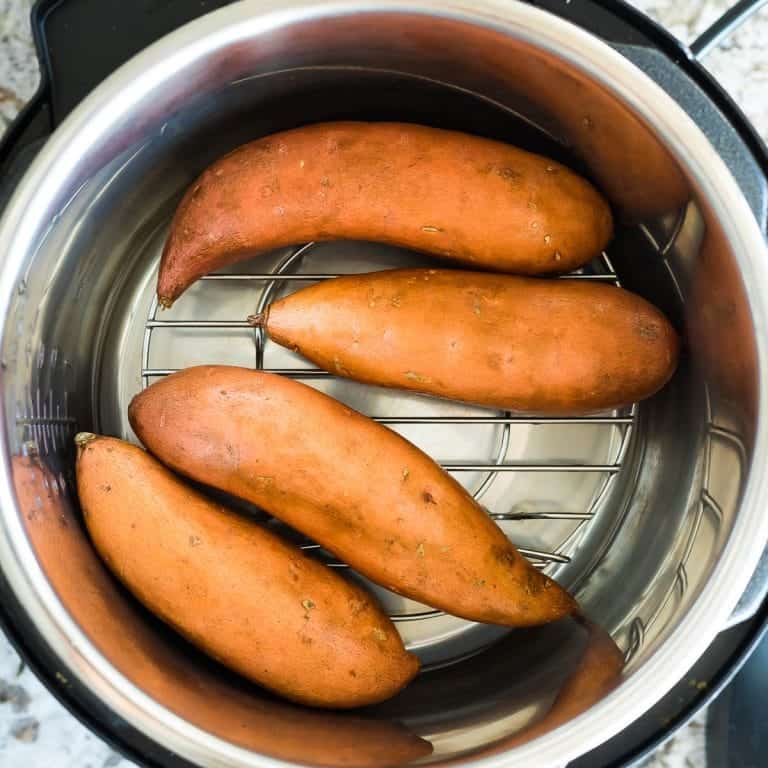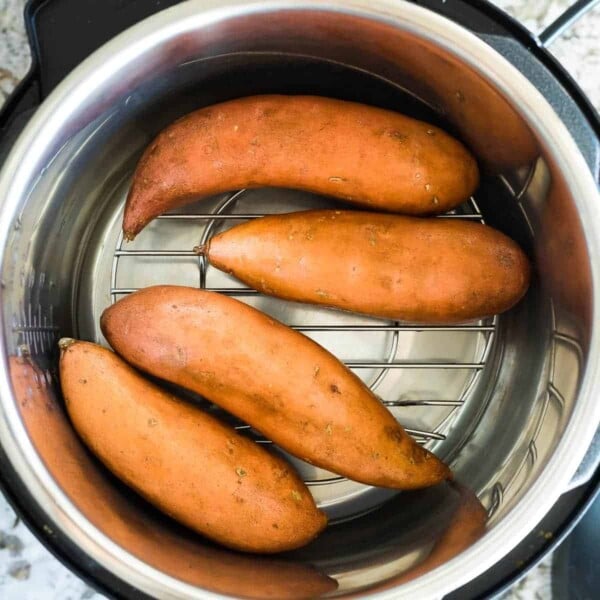 How to cook in an Instant Pot or Slow Cooker
I love using my Instant Pot or my slow cooker to cook sweet potatoes, because it's completely hands off, and cooks them to perfect, creamy perfection.
Just like in the oven, the cook time will depend on the size of your sweet potatoes.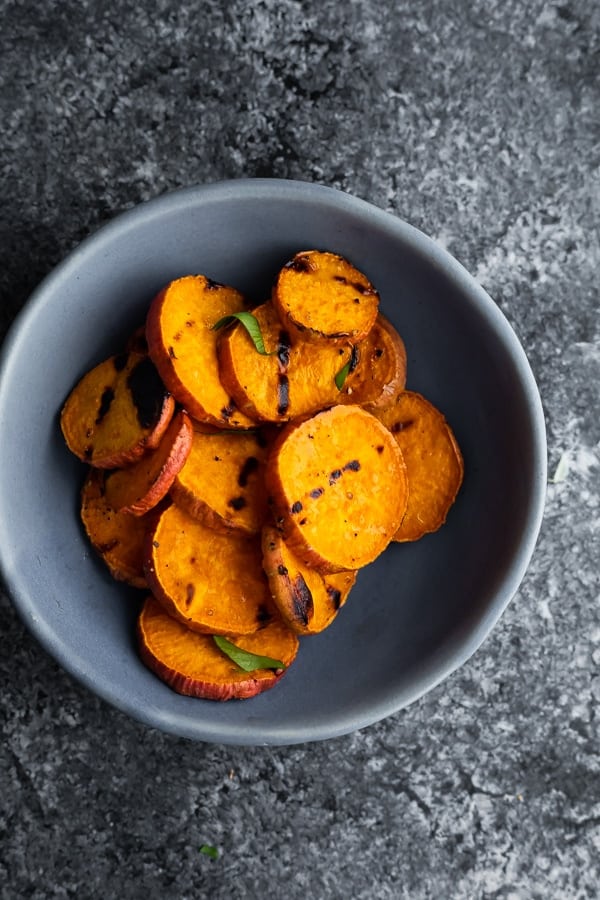 8. How to grill sweet potatoes
When the summer warms up, my favorite way to cook sweet potatoes is on the grill!
Cut into rounds
Toss in olive oil, salt & pepper (and a squeeze of fresh lime)
Grill on a vegetable grilling plate over medium-high heat
Enjoy with ketchup or your favorite dip! We love chipotle mayo.

Storing for meal prep
When it comes to meal prepping with sweet potatoes, there are some do's and don'ts.
don't- cut them and store uncooked- they will harden and not be usable.
do- cook them and store for up to 4 days in the fridge
do- freeze them raw (at least in crock pot freezer meals!) They are still good after freeze/thawing and cooking in freezer crock pot meals. I can't say if they would hold up for roasting as the texture does soften a touch.
do- roast them whole and re-heat through the week (roasting them ahead saves a ton of time during the week!)
do- freeze whole roasted sweet potatoes and sweet potato puree
don't- freeze roasted sweet potato cubes, spiralized sweet potatoes, or sweet potato fries- they get slimy upon thawing...basically anything you want to retain any texture, do not freeze 🙂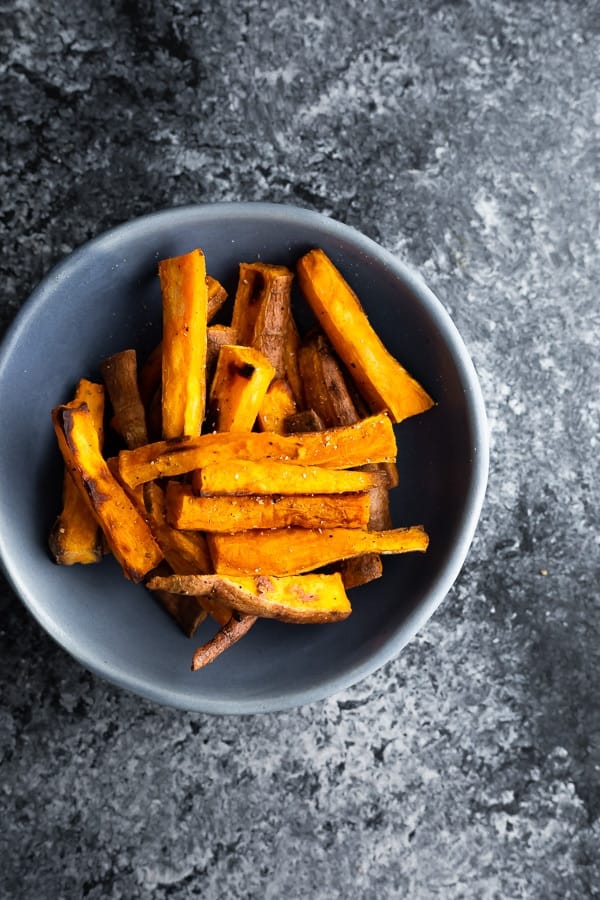 Sweet potato recipes
Looking for some delicious recipes to use up your sweet potatoes? I have a TON for you!