Enchilada Stuffed Sweet Potatoes that can go directly from the freezer into your oven! Make them ahead for an easy (vegetarian) meal prep lunch or dinner.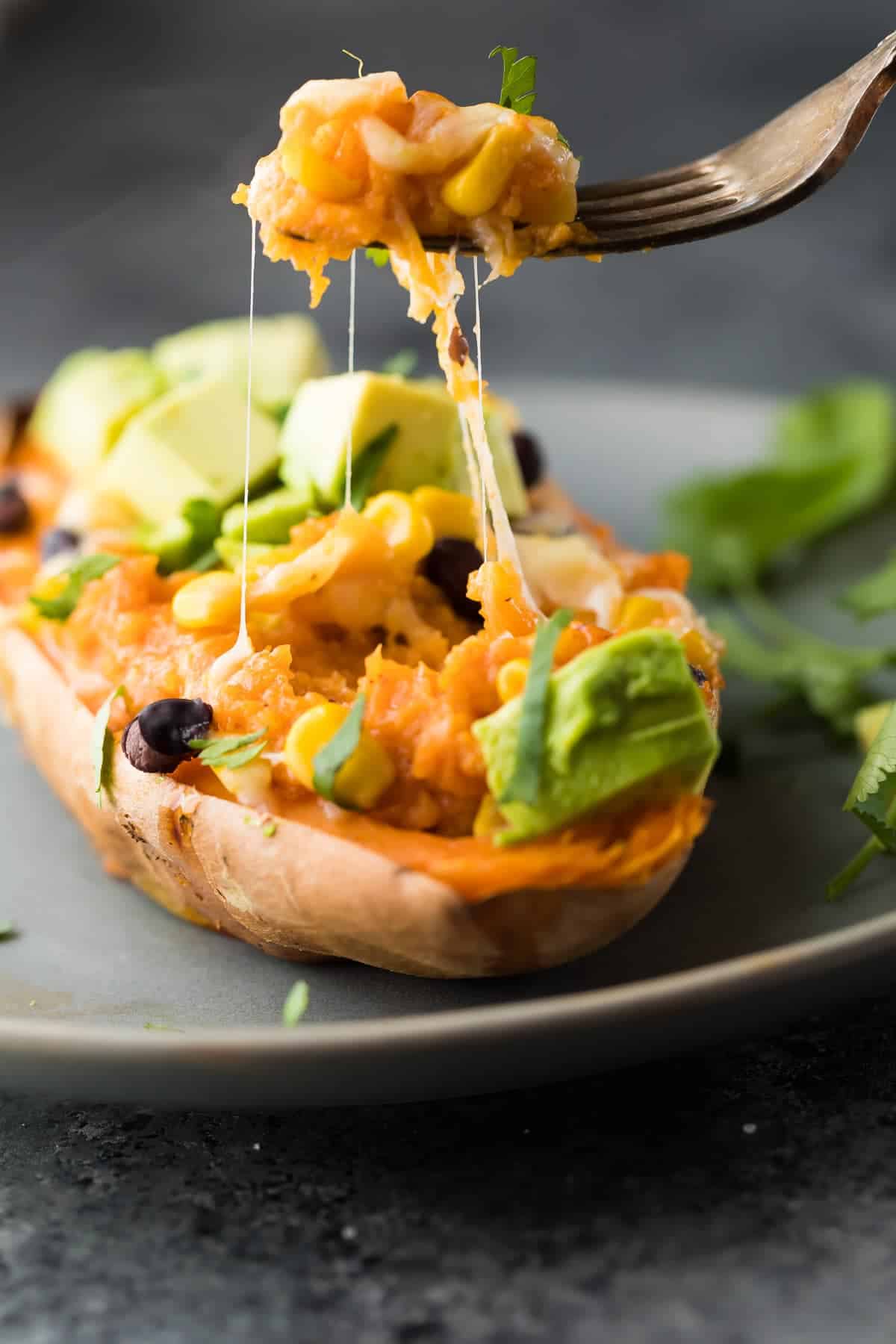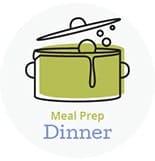 I know they tell you all about the terrible two's, but I have to tell you, so far three is no piece of cake. I have heard someone refer to three-year olds as 'three-nagers' and I totally think that's accurate...so. much. attitude.
I've been struggling with parenting for the past several months, and it has had me questioning my whole way of doing things (which I call 'going with your gut and not reading parenting books'. Ha ha.). But I had a breakthrough the other day...a major AHA moment!
Getting Kai to help me with whatever it is I'm trying to get done totally stops the attitude. He wants to help and learn and it makes everything more enjoyable...for everyone. The other day he 'helped' me clean the house (he got his own duster). And last night he 'helped' me make salad for dinner (he put the veggies into each bowl and crumbled the feta cheese). BONUS: he ATE the salad he helped me make. OMG what is this magic I've stumbled upon?!
Maybe if he'd helped me make these enchilada stuffed sweet potatoes, he would have eaten some. But alas, he was not interested in them after having a taste test, and that was OK...because it meant more for Ben and I!
Don't forget to pin this recipe to save it for later!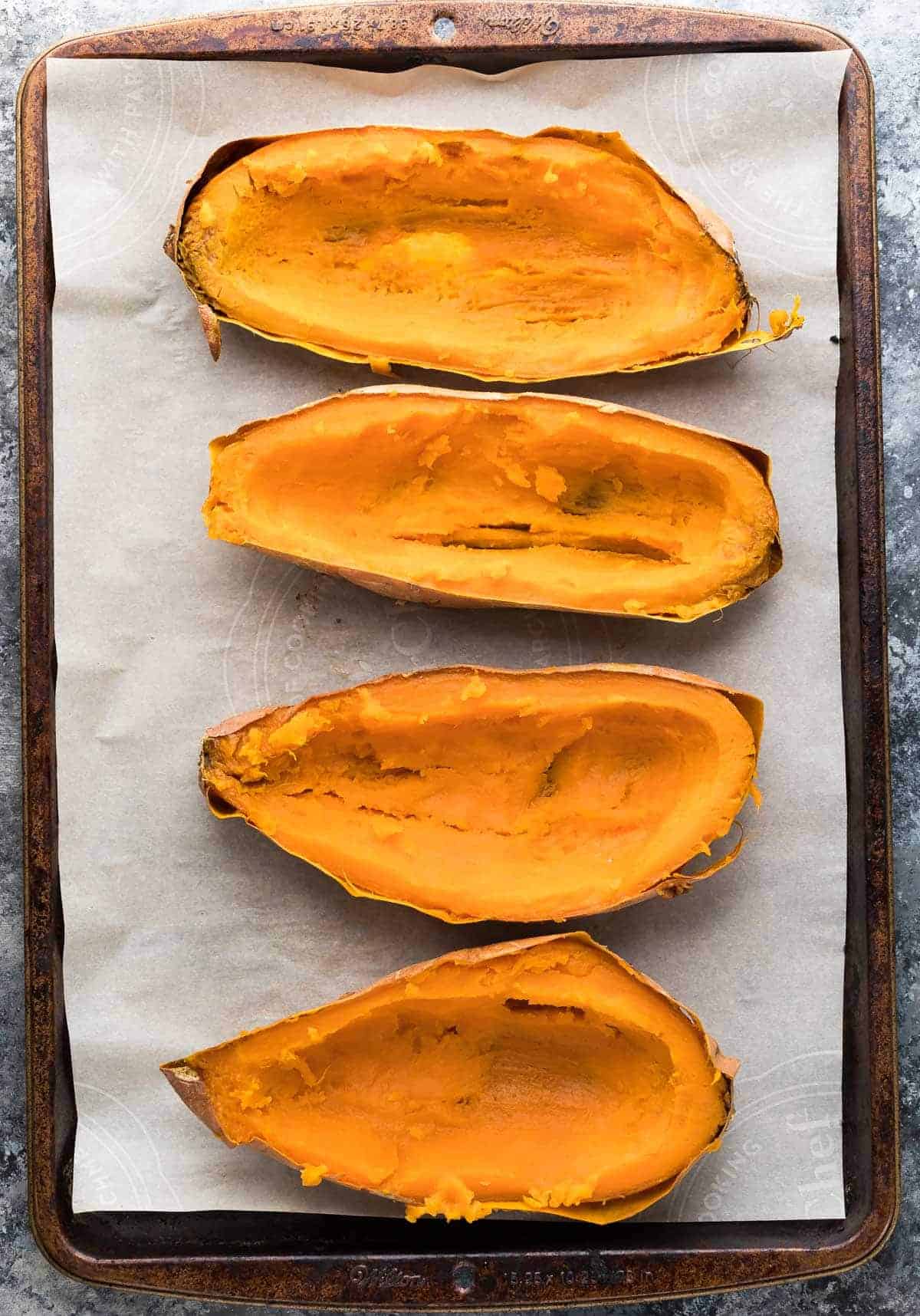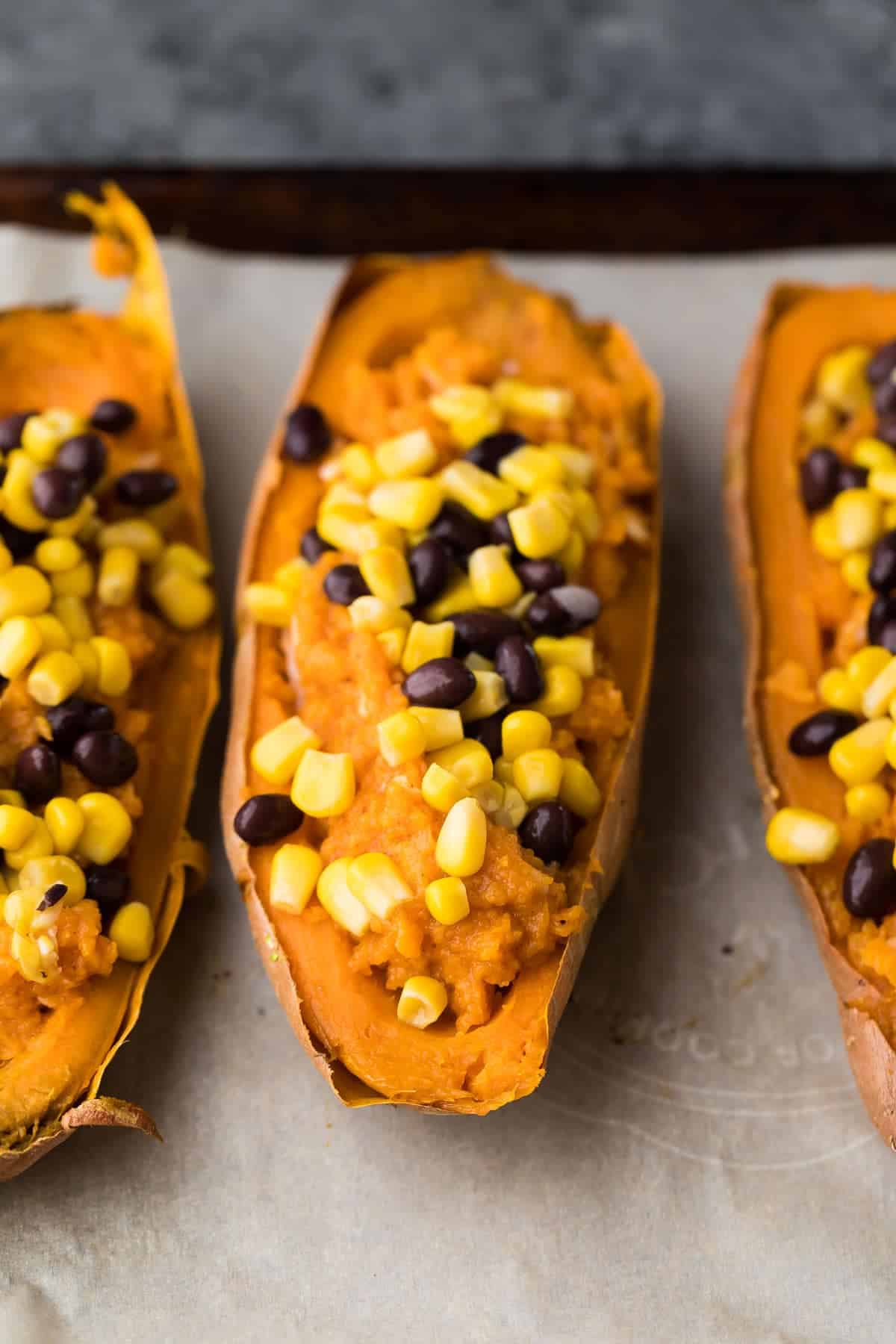 I have been on a mission so far in 2017: more meal prep dinner recipes. And here I have another one, and these enchilada stuffed sweet potatoes might just be my favorite, because a) they are freezer friendly and b) they can go directly from the freezer to the oven.
I mean really. How convenient is that?!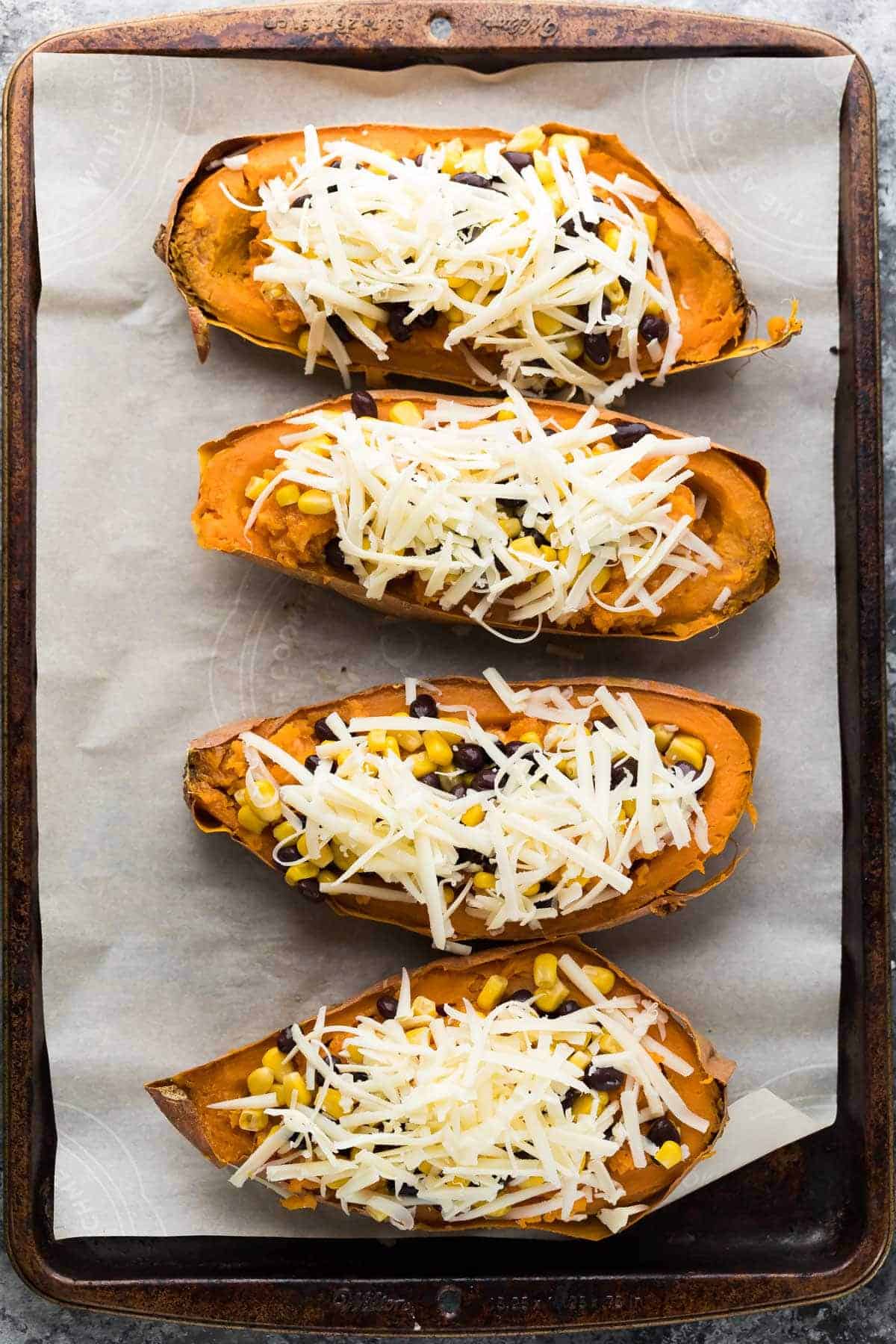 The method for these bad boys is so simple: twice baked sweet potatoes, with the sweet potato flesh mixed with some enchilada sauce, corn and black beans, and smothered with cheese. Here's the 'meal prep' part of the recipe: you don't do the second bake until right before you serve them.
You can prep these enchilada stuffed sweet potatoes on the weekend and keep them in the fridge for around 4 days. OR you can wrap them and stash them in the freezer for longer...up to 3 months! When you bake them up, they will taste like you just baked them fresh...you can't even tell they were ever frozen.
We enjoyed them for dinner, (served with a salad), but they would also be great as a lunch!
Make these enchilada stuffed sweet potatoes your own!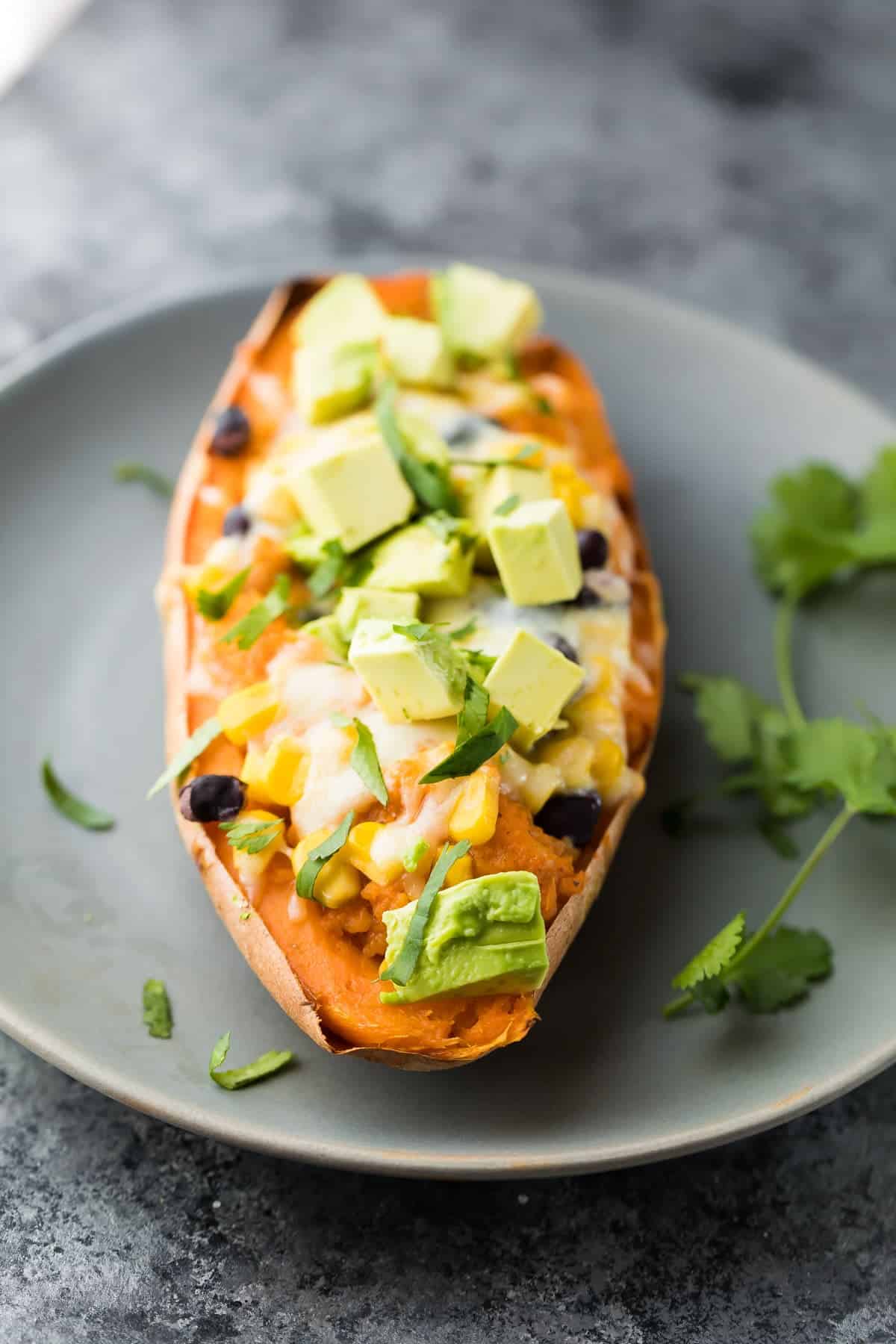 Watch the video below to see exactly how I prepped these enchilada stuffed sweet potatoes. It's so easy! You can find more of my recipe videos on my YouTube channel, or on Facebook.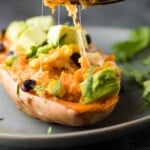 Print Recipe
Freezer to Oven Enchilada Stuffed Sweet Potatoes
With delicious TexMex flavors, these enchilada stuffed sweet potatoes are great for lunch or dinner. You can prep them ahead and freeze for easy meals during busy weeks.
Ingredients
2

sweet potatoes

see note 1

½

cup

enchilada sauce

see note 2

¼

teaspoon

salt

¼

teaspoon

chili powder

see note 3

⅛

teaspoon

ground cumin

1

cup

black beans

1

cup

corn

1.5

cups

cheese

shredded; ¾ mixed in, ¾ on tops
Serving suggestions
avocado

salsa

sour cream

cilantro
Instructions
Bake sweet potatoes- Heat oven to 400°F. Wash sweet potatoes, scrubbing the skin. Pat dry, and prick 5-10 times with a fork. Arrange on a baking sheet, and bake at 400°F for 45- 90 minutes, until soft when squeeze with an oven mitt-protected hand.

Mash filling- Allow sweet potatoes to cool slightly, until they are safe to handle. Slice in half, then gently scoop out the filling, leaving a barrier around the edge of the skin. Mash the filling with enchilada sauce, salt, chili powder and cumin. Stir in the beans, corn and ¾ cup cheese.

Second bake- Spoon the filling carefully back into the sweet potato skins. Sprinkle with reserved cheese. Return to the oven for 10-15 more minutes, until cheese is bubbly and melted.

Serve- top with cilantro, avocado, salsa, or your favorite enchilada toppings!
Notes
1- sweet potatoes vary greatly in size, and so can the cook time; I recommend medium (2- 2.5 inches across, 5-6 inches long)
2- La Victoria and Fronterra are two brands I recommend
3- a paprika based blend, not pure powdered chiles
Fridge
Store in an air tight container in the fridge for up to 4 days.
Freezer
Cool completely, then wrap in parchment or foil, followed by plastic wrap.
Freeze for up to 3 months.
Thaw overnight in the fridge, or bake from frozen.
Baking from frozen
Unwrap frozen sweet potatoes and arrange in a baking dish.
Cover with foil or a reusable silicone lid, and bake at 425°F for 40 minutes.
Remove foil and bake for another 15-20 minutes until cheese bubbles and potatoes are heated through.
Nutrition
Serving:
1
/2 a sweet potato/1 sweet potato boat
|
Calories:
359
kcal
|
Carbohydrates:
33
g
|
Protein:
18
g
|
Fat:
18
g
|
Saturated Fat:
10
g
|
Cholesterol:
50
mg
|
Sodium:
686
mg
|
Fiber:
7
g
|
Sugar:
5
g